Julia Weeks
AP Photo, Pictures of the week, Dar Yasin, Ebrahim Noroozi, Ariana Cubillos, Francisco Seco, Eugene Hoshiko, Patrick Semansky, Hassan Ammar, Scott Threlkeld, Alvaro Barrientos, Dita Alangkara, Robert F. Bukaty
Comment
Pictures of the week
Highlights from the weekly AP photo report, a gallery featuring a mix of front-page photography, the odd image you might have missed and lasting moments our editors think you should see.
This week's gallery features images of women voters in Iran, protesters in Venezuela and bullfighters in Madrid.
This gallery contains photos published May 6-12, 2017.
A Kashmiri boy hides behind a piece of plywood to shield himself from stones and glass marbles during a clash between Indian police and protesters during a protest in Srinagar, Indian controlled Kashmir, Friday, May 19, 2017. Separatist leaders called for a protest against the detention of female separatist leader Asiya Adrabi, chairman of Dukhtaran-e-Millat (Daughters of the Nation). They also demanded the release of all political prisoners from Indian prisons. (AP Photo/Dar Yasin)
A first-year midshipman, known as a "plebe," carries a dummy rifle covered in mud during Sea Trials, a day-long training exercise that caps off their plebe year at the U.S. Naval Academy in Annapolis, Md., Tuesday, May 16, 2017. (AP Photo/Patrick Semansky)
A statue of Confederate Gen. P.G.T. Beauregard is removed from the entrance to City Park in New Orleans, just after 3 a.m. Wednesday, May 17, 2017. The removal of the statue comes after the city has already taken down a statue of Jefferson Davis, the Confederacy's only president, and a memorial to a white rebellion against a biracial Reconstruction-era government in the city. (AP Photo/Scott Threlkeld)
Female voters queue at a polling station for the presidential and municipal council election in the city of Qom, Iran, 78 miles (125 kilometers) south of the capital Tehran, Friday, May 19, 2017. Iranians began voting Friday in the country's first presidential election since its nuclear deal with world powers, as incumbent Hassan Rouhani faced a staunch challenge from a hard-line opponent over his outreach to the wider world. (AP Photo/Ebrahim Noroozi)
Dan Copeland, left, and Alex Morneau of Biddeford, Maine, former high school cheerleaders, perform back flips during record-breaking heat, Thursday, May 18, 2017, at Old Orchard Beach, Maine. The temperature climbed into the 90s in many locations throughout the state. (AP Photo/Robert F. Bukaty)
A man surveys damage at the mountain resort town of Zabadani in the Damascus countryside, Syria, on Thursday, May 18, 2017. An estimated 400,000 have been killed and half the population displaced by the 6-year-old civil war. (AP Photo/Hassan Ammar)
Anti-government protesters shield themselves from tear gas canisters as security forces disperse an opposition march and block them from reaching the Interior Ministry in Caracas, Venezuela, on Thursday, May 18, 2017. Venezuela has reached almost two months of anti-government unrest in which more than 40 people have been killed. (AP Photo/Ariana Cubillos)
Bullfighters and assistants walk along the ring during the "paseillo" (ritual entrance) to the arena before a bullfight at the Las Ventas bullring in Madrid, Thursday, May 18, 2017. (AP Photo/Francisco Seco)
A Buddhist monk offers prayers in front of a window display of hats at a department store in the Ginza shopping district in Tokyo Tuesday, May 16, 2017. (AP Photo/Eugene Hoshiko)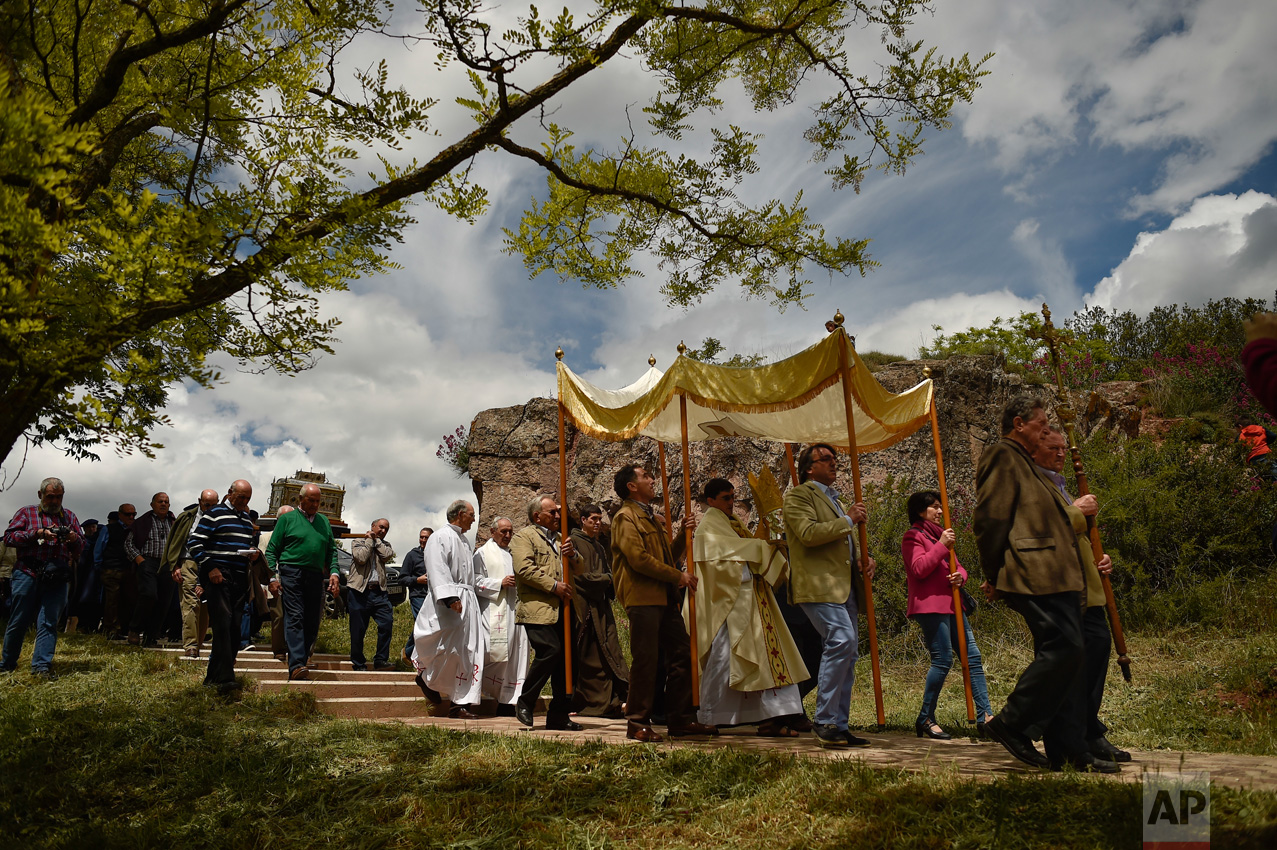 Devotes take part in the pilgrimage with the ancient relic of Saint Gregory in Sorlada, northern Spain, Sunday, May 14, 2017. Every year, devotes of the saint celebrate the blessing of the fields during the pilgrimage carrying the silver head of Saint Gregory, the saint known as Saint Protector of the Fields since the thirteenth century. (AP Photo/Alvaro Barrientos)
A city bus crew member stands next to his vehicle as he is illuminated red by the tail lights of other vehicles in rush hour traffic in Jakarta, Indonesia, Friday, May 19, 2017. (AP Photo/Dita Alangkara)