Highlights from the weekly AP photo report, a gallery featuring a mix of front-page photography, the odd image you might have missed and lasting moments our editors think you should see.
This week's gallery features images of demonstrators in Brazil and Venezuela, and Russian Orthodox Christians kissing relics of Saint Nicholas.
This gallery contains photos published May 20-26, 2017.
U.S. Navy Blue Angels fighter jets perform a flyover above graduating U.S. Naval Academy midshipmen during the Academy's graduation and commissioning ceremony in Annapolis, Md., Friday, May 26, 2017. (AP Photo/Patrick Semansky)
Russian Orthodox believers gather to kiss the relics of Saint Nicholas in the Christ the Savior Cathedral in Moscow, Russia, on Sunday, May 21, 2017. Relics of Saint Nicholas, one of the Russian Orthodox Church's most revered figures, arrived in Moscow on Sunday from an Italian church where they have lain for 930 years. An icon of of Saint Nicholas is in the center. (AP Photo/Alexander Zemlianichenko)
Pedestrians cast shadows as they walk along a sidewalk in Beijing, Thursday, May 25, 2017. (AP Photo/Mark Schiefelbein)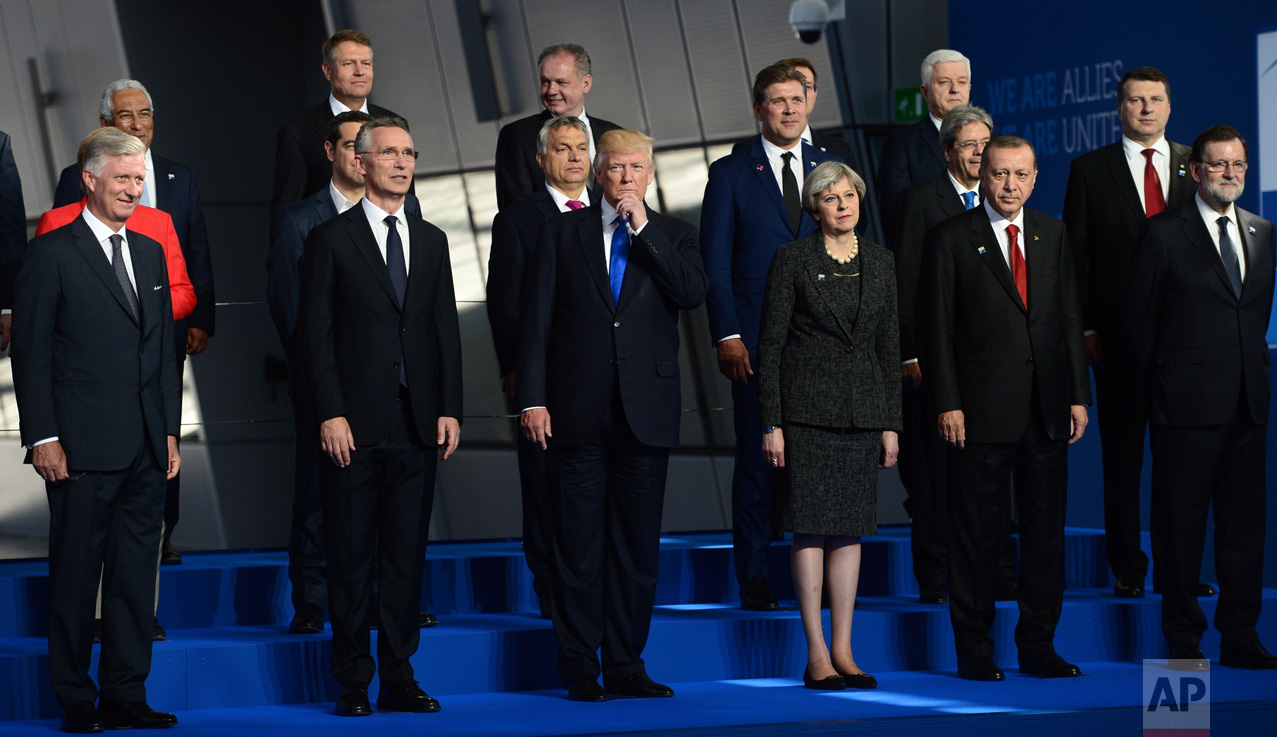 U.S. President Donald Trump, center, flanked by British Prime Minister Theresa May, third from right, and NATO Secretary General Jens Stoltenberg, second from left, joins fellow leaders in a group photo at NATO headquarters during the NATO Summit in Brussels, Belgium on Thursday, May 25, 2017. (Sean Kilpatrick/The Canadian Press via AP)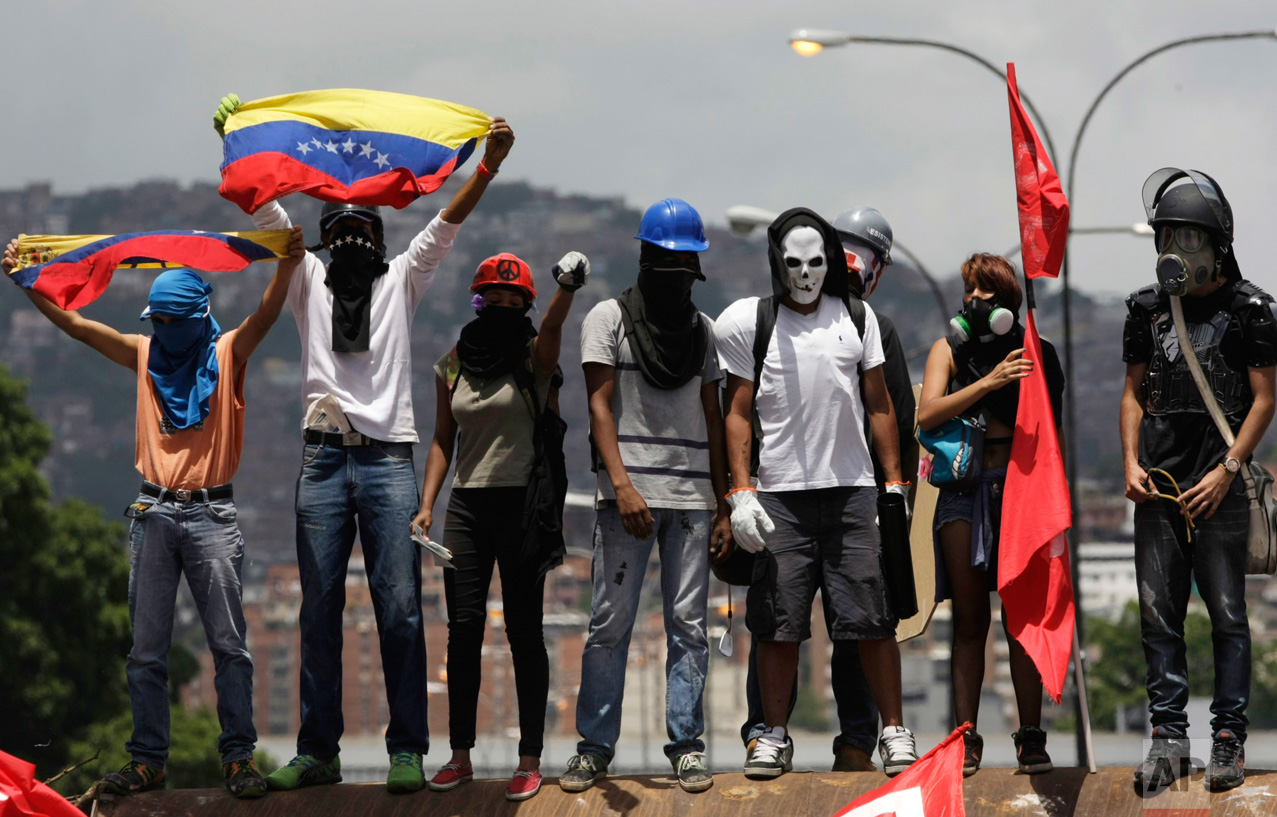 Opponents of President Nicolas Maduro gather to block a major highway in Caracas, Venezuela, Saturday, May 20, 2017. The anti-government protesters took to the streets again after weeks of unrest have left more than 40 dead. (AP Photo/Fernando Llano)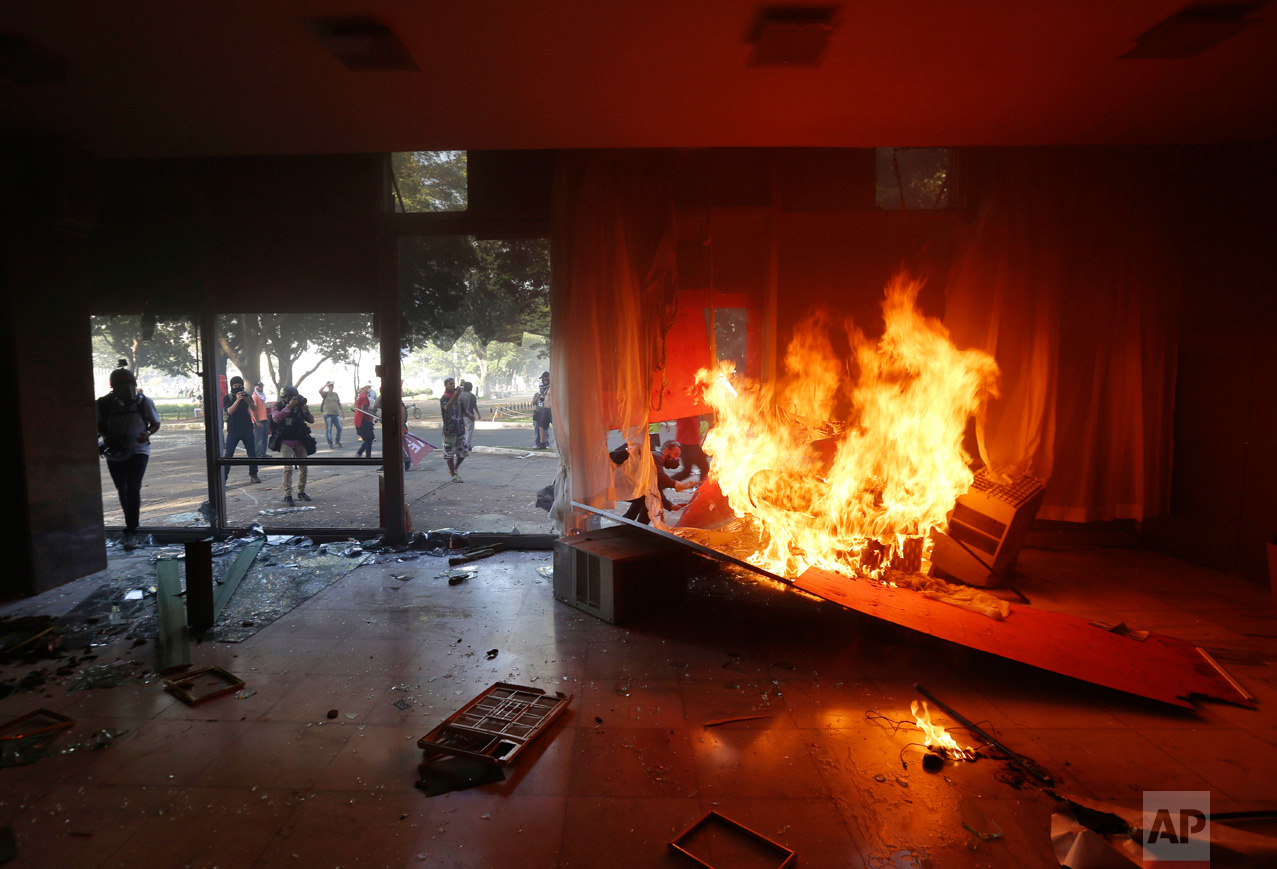 Demonstrators torch the Ministry of Agriculture during an anti-government protest in Brasilia, Brazil, Wednesday, May 24, 2017. Brazil's president ordered federal troops to restore order in the country's capital following the evacuation of some ministries during clashes between police and protesters who are seeking the leader's ouster. (AP Photo/Eraldo Peres)
Helpers attend to injured people inside the Manchester Arena in Manchester, England, after a blast Monday, May 22, 2017. An apparent suicide bomber attacked an Ariana Grande concert as it ended Monday night, killing over a dozen of people among a panicked crowd of young concertgoers. (PA via AP)
Activists dressed as characters from "The Handmaid's Tale" chant in the Texas Capitol Rotunda as they protest SB8, a bill that would require health care facilities, including hospitals and abortion clinics, to bury or cremate any fetal remains whether from abortion, miscarriage or stillbirth, and they would be banned from donating aborted fetal tissue to medical researchers, Tuesday, May 23, 2017, in Austin. (AP Photo/Eric Gay)
A demonstrator clashes with a police officer during an anti-government protest in Brasilia, Brazil, Wednesday, May 24, 2017. Brazil's president ordered federal troops to restore order in the country's capital following the evacuation of some ministries during clashes between police and protesters who are seeking the leader's ouster. Protesters demanded President Michel Temer's removal amid allegations against him of corruption. (AP Photo/Eraldo Peres)
Jewish men and women gather next to the Western Wall, the holiest place where Jews can pray, in Jerusalem's Old City, during Jerusalem Day celebrations on Wednesday, May 24, 2017, commemorating the capture of the city's eastern sector in the 1967 Mideast war. (AP Photo/Ariel Schalit)
Britain's Prince George, foreground center, reacts after the wedding of his aunt, Pippa Middleton to James Matthews, at St Mark's Church in Englefield, England on Saturday, May 20, 2017. Middleton, the sister of Kate, Duchess of Cambridge, married hedge fund manager James Matthews in a ceremony Saturday where her niece and nephew Prince George and Princess Charlotte was in the wedding party, along with sister Kate and princes Harry and William. (Justin Tallis/Pool Photo via AP)