Julia Weeks
AP Photo, Pictures of the week, Manish Swarup, Fernando Llano, Felipe Dana, Dolores Ochoa, Matthias Schrader, Mukhtar Khan, Yorgos Karahalis, Andre Penner, Charlie Riedel, Evan Vucci, G-Jun Yam
Comment
Pictures of the week
Highlights from the weekly AP photo report, a gallery featuring a mix of front-page photography, the odd image you might have missed and lasting moments our editors think you should see.
This week's gallery features images of an attack on opposition lawmakers in Venezuela; civilians fleeing the fighting in Mosul, Iraq; Tibetan children preparing to perform during celebrations for the Dalai Lama's 82nd birthday.
This gallery contains photos published July 1-7, 2017.
Fleeing Iraqi civilians walk past the heavily damaged al-Nuri mosque as Iraqi forces continue their advance against Islamic State militants in the Old City of Mosul, Iraq, Tuesday, July 4, 2017. (AP Photo/Felipe Dana)
A suspected Islamic State fighter sits in a basement as Iraqi forces continue their advance against Islamic State militants in the Old City of Mosul, Iraq, Monday, July 3, 2017. (AP Photo/Felipe Dana)
Tibetan children watch others dance as they wait for their turn to perform during celebrations marking the 82nd birthday of their spiritual leader, the Dalai Lama, at a Tibetan settlement in New Delhi, India, Thursday, July 6, 2017. (AP Photo/Manish Swarup)
U.S. President Donald Trump meets with Russian President Vladimir Putin at the G-20 Summit, Friday, July 7, 2017, in Hamburg. (AP Photo/Evan Vucci)
Opposition lawmakers fight with pro-government militia members who are trying to force their way into the National Assembly during a special session coinciding with Venezuela's independence day, in Caracas, Wednesday, July 5, 2017. (AP Photos/Fernando Llano)
Indigenous leaders from across Ecuador march to the government palace to meet with President Lenin Moreno in Quito, Ecuador, Tuesday, July 4, 2017. (AP Photo/Dolores Ochoa)
A relative cries near the body of killed rebel Jehinger Ahmad during his funeral at Keller, 49 kilometers (30 miles) south of Srinagar, Indian controlled Kashmir, Tuesday, July 4, 2017. (AP Photo/Mukhtar Khan)
Dale Brumfield, of Doswell, Va., left, stands with Jack Payden-Travers, of Lynchburg, Va., on the day of the execution of William Morva in Jarrett, Va., Thursday, July 6, 2017. (Shaban Athuman/Richmond Times-Dispatch via AP)
A masked man kicks wooden boards from a scaffold during a protest against the G-20 summit in Hamburg, northern Germany, Friday, July 7, 2017. (AP Photo/Matthias Schrader)
A boy peers from his home's window as firefighters extinguish the last flames of a nearby fire in the Osasco neighborhood of the greater Sao Paulo area of Brazil, Monday, July 3, 2017. (AP Photo/Andre Penner)
Water from a pool is pumped out before a vehicle is towed at the Cheyenne Mountain Resort in Colorado Springs, Colo., Monday, July 3, 2017. (Jerilee Bennett/The Gazette via AP)
People swim past the top of a pagoda at a flooded riverside park in Wuhan in central China's Hubei Province on Monday, July 3, 2017. (Chinatopix via AP)
A man takes a shower at a beach of Alimos suburb in Athens, on Saturday, July 1, 2017. (AP Photo/Yorgos Karahalis)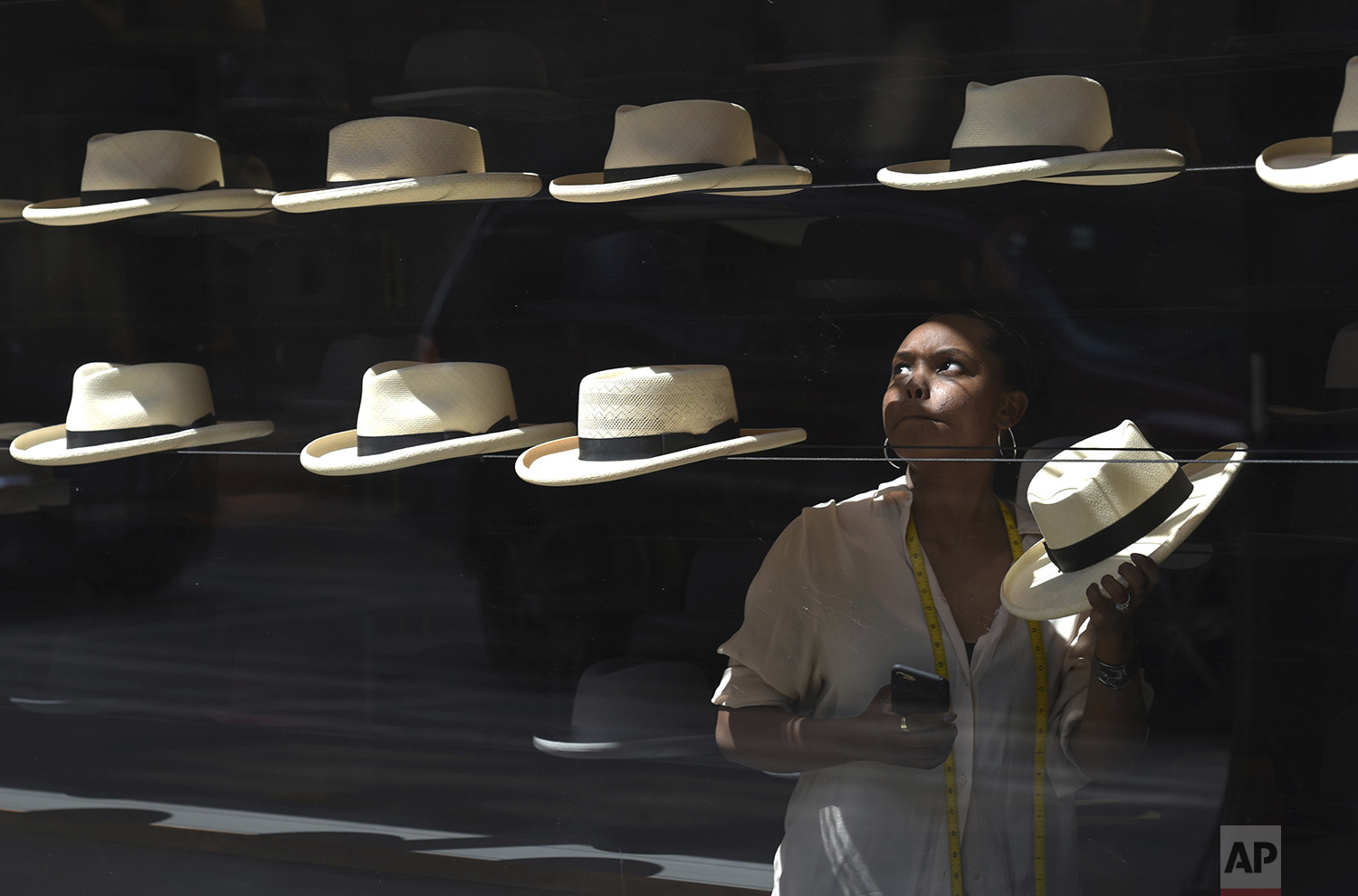 Late morning light illuminates Tiffany Bell as she works at a hat maker shop in downtown Chicago, Friday, July 7, 2017. (AP Photo/G-Jun Yam)
People ride a roller coaster at dusk at the Worlds of Fun amusement park in Kansas City, Mo., on Monday, July 3, 2017. (AP Photo/Charlie Riedel)