Julia Weeks
AP Photo, Pictures of the week, Esteban Felix, Felipe Dana, J. Scott Applewhite, Noah Berger, Darryl Dyck, Petros Giannakouris, Alvaro Barrientos, Carlos Osorio, Mukhtar Khan, Mary Altaffer, Matt Dunham
Comment
Pictures of the week
Highlights from the weekly AP photo report, a gallery featuring a mix of front-page photography, the odd image you might have missed and lasting moments our editors think you should see.
This week's gallery features images of police confronting protesters in Santiago, Chile; a wildfire consuming a home near Oroville, California; and the sun setting in war-torn Mosul, Iraq.
This gallery contains photos published July 8-14, 2017.
Police walk past a mural as they confront protesters from the self-proclaimed "Bus of Freedom" which rejects transgender children in schools, next to an art museum in Santiago, Chile, Monday, July 10, 2017. Demonstrators aboard the bus were met by counter-protesting gay rights activists after they drove past the presidential palace in Santiago on Monday. (AP Photo/Esteban Felix)
A demonstrator is taken into custody by U.S. Capitol Police as activists protest against the Republican health care bill outside the offices of Sen. Jeff Flake, R-Ariz., and Sen. Ted Cruz, R-Texas, Monday, July 10, 2017, on Capitol Hill in Washington. (AP Photo/J. Scott Applewhite)
Police officers stand at attention as the funeral procession for slain police officer Miosotis Familia leaves at the World Changers Church after her funeral service, Tuesday, July 11, 2017, in the Bronx borough of New York. Officer Familia was ambushed and killed in a parked police vehicle. (AP Photo/Mary Altaffer)
A firefighter sprays water as flames from a wildfire engulf a residence near Oroville, Calif., on Sunday, July 9, 2017. (AP Photo/Noah Berger)
The remains of mobile homes destroyed by a wildfire are seen in Boston Flats as a fire burns on a mountain near Ashcroft, British Columbia, Canada, on Sunday, July 9, 2017. (Darryl Dyck/The Canadian Press via AP)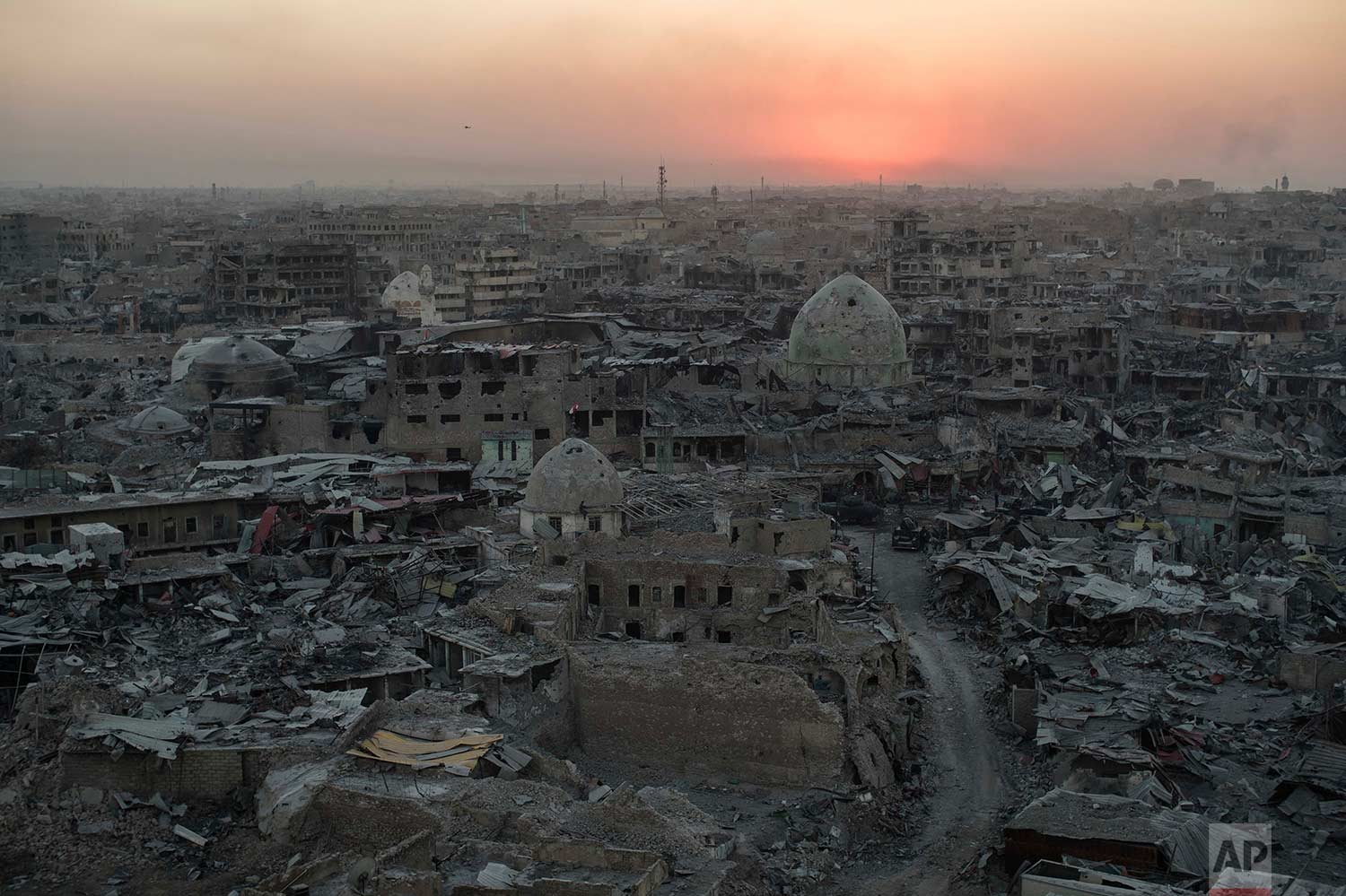 The sun sets behind destroyed buildings in the west side of Mosul, Iraq on Tuesday, July 11, 2017. The 9-month fight to defeat the Islamic State group in Mosul ended in a crescendo of bombardment that damaged or destroyed a third of its historic Old City in just three weeks. (AP Photo/Felipe Dana)
Kids participate in a race during Mud Day at the Nankin Mills Park in Westland, Mich., on Tuesday, July 11, 2017. (AP Photo/Carlos Osorio)
An Indian police officer fires a teargas shell to disperse Kashmiri protesters after the funeral of local rebel Aqib Ahmad in Srinagar, Indian controlled Kashmir, Wednesday, July 12, 2017. (AP Photo/Mukhtar Khan)
A man takes a shower at a beach in the Alimos suburb of Athens on Wednesday, July 12, 2017. A summer heatwave has hit Greece, with temperatures reaching a high of 39 degrees Celsius (102 Fahrenheit) in the Greek capital. (AP Photo/Petros Giannakouris)
U.S President Donald Trump and first lady Melania Trump tour Napoleon's Tomb at Les Invalides museum in Paris, Thursday, July 13 2017. (Ian Langsdon/Pool via AP)
Queen Elizabeth II, her husband Prince Philip, Spain's King Felipe and his wife, Queen Letizia, pose for a group photograph before a State Banquet at Buckingham Palace in London, Wednesday, July 12, 2017. (AP Photo/Matt Dunham, Pool)
Spanish bullfighter Roca Rey is upended by a bull from the Jandilla ranch during a bullfight at the San Fermin Fiestas in Pamplona, Spain, Tuesday July 11, 2017. (AP Photo/Alvaro Barrientos)