Julia Weeks
AP Photo, Pictures of the week, Amel Emric, Dmitri Lovetsky, Natacha Pisarenko, Alvaro Barrientos, Thibault Camus, Lee Jin-man, Fernando Llano, Maya Alleruzzo, Vahid Salemi, Farah Abdi Warsameh, Daniel Chan
Comment
Pictures of the week
Highlights from the weekly AP photo report, a gallery featuring a mix of front-page photography, the odd image you might have missed and lasting moments our editors think you should see.
This week's gallery features images of a man pushing two children in a wheelchair as they flee fighting in Mosul, Iraq; South Korean presidential candidate Moon Jae-in raising his arms as he watches results of exit polls in the presidential elections; Police clashing with protesters during a demonstration called by labor unions the day after the French presidential election.
This gallery contains photos published May 6-12, 2017.
Roma girl Samira Ramic holds a boiled egg as she poses for a photo during a St. George's Day celebration with her family, in the village of Kiseljak, near Tuzla, Bosnia-Herzegovina, 140 kilometers (87 miles) north of Sarajevo, on Saturday, May 6, 2017. Members of the Roma minority community in the country celebrated their biggest holiday, St. George's Day (Djurdjevdan), marking the advent of spring, with traditional rituals such as using water from church wells to bathe and their wash hands, and cracking eggs. (AP Photo/Amel Emric)
Snow falls as a woman walks her dog in the village of Podolye, 70 kilometers (43 miles) east of St. Petersburg, Russia, early Thursday, May 11, 2017. North winds brought snow to the east of the St. Petersburg region. (AP Photo/Dmitri Lovetsky)
Police officer Analia Pasantino poses for a picture during an interview in Buenos Aires, Argentina, on Thursday, May 11, 2017. "This is a milestone," Pasantino said. "I'm the first transgender police chief in Latin America. It's an unprecedented and important step to show Latin America and the world that we are an open institution." (AP Photo/Natacha Pisarenko)
Presidential candidate Moon Jae-in of the Democratic Party raises his arms for photographers as his party leaders, members and supporters watch results of exit polls for the presidential election at National Assembly in Seoul, South Korea, Tuesday, May 9, 2017. South Korea's new president is taking on a challenge that has defied all of his predecessors: reforming the big family-controlled conglomerates that dominate the economy. (AP Photo/Lee Jin-man)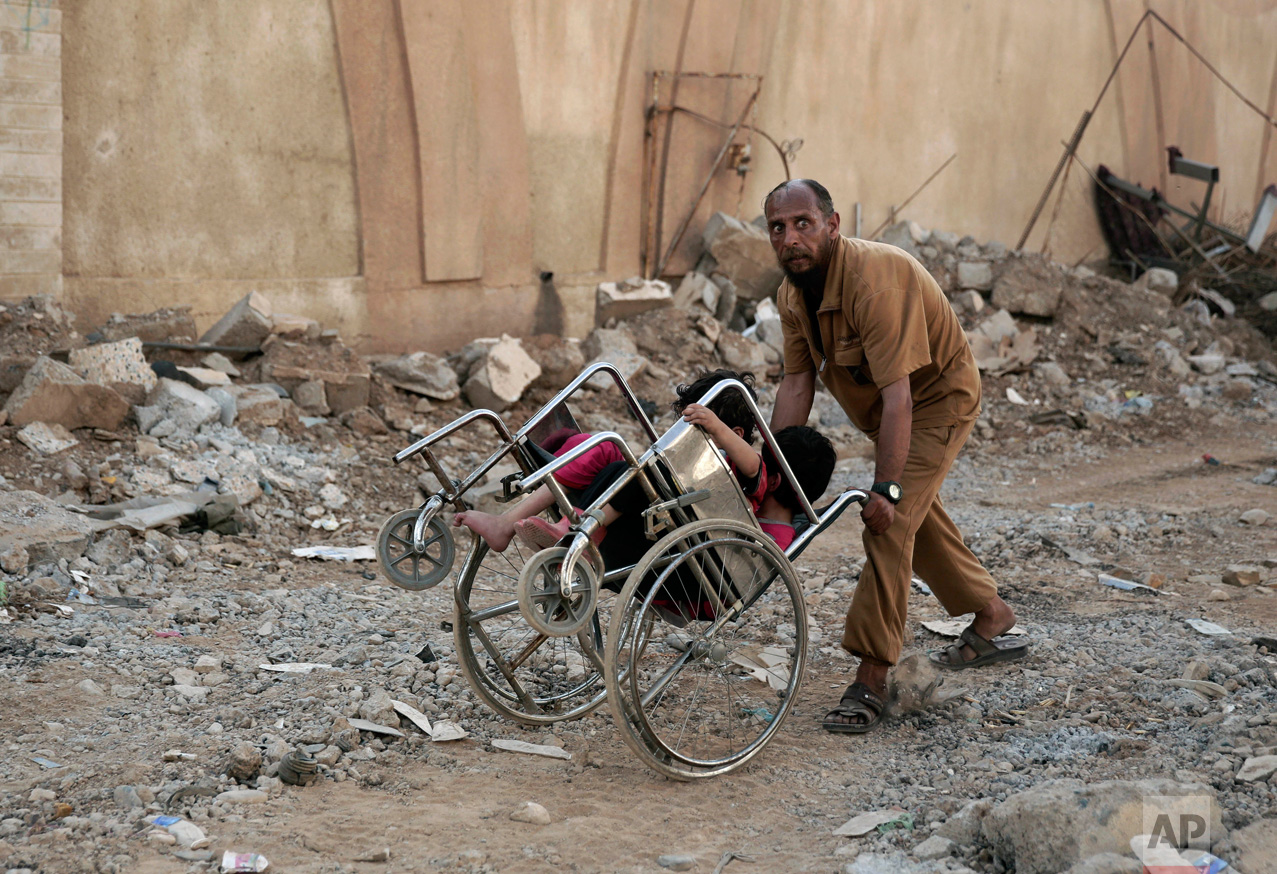 A man pushes two children in a wheelchair as they flee heavy fighting between Islamic State militants and Iraqi special forces in Mosul, Iraq, Wednesday, May 10, 2017. Iraqi army, federal police and special forces, backed by the U.S.-led coalition, are slowly retaking territory in Mosul where IS remains in control of a small cluster of neighborhoods in the city's western half. (AP Photo/Maya Alleruzzo)
French President-elect Emmanuel Macron casts a shadow as he walks towards the stage to address his supporters at the Louvre Palace in Paris, on Sunday May 7, 2017. The centrist was elected France's next president, putting a 39-year-old political novice at the helm of one of the world's biggest economies and slowing a global populist wave. (AP Photo/Christophe Ena, Pool)
Police clash with protesters during a demonstration called by labor unions the day after the French presidential election, in Paris on Monday, May 8, 2017. Former civil servant and investment banker French President-elect Emmanuel Macron and his fledgling political movement La Republique En Marche (Republic On the Move), are preparing for government after defeating far-right National Front leader Marine Le Pen in Sunday's presidential runoff vote. Placard at center reads "Freedom." (AP Photo/Thibault Camus)
Security troops walk past burning cars after a fatal car bomb attack on a restaurant in Mogadishu, Somalia, on Monday, May, 8, 2017. Al-Shabab, Somalia's homegrown Islamic extremist rebels who are linked to al-Qaida, have claimed responsibility for the blast. Despite being ousted from most cities and towns, al-Shabab continue to carry out deadly attacks in Mogadishu and across large parts of Somalia. (AP Photo/Farah Abdi Warsameh)
A fan of Persepolis ignites a flare during an AFC Champions League soccer match against Al Wahda at the Azadi stadium in Tehran, Iran, Monday, May, 8, 2017. Persepolis won the match 4-2. (AP Photo/Vahid Salemi)
Protesters sing and chant in front of a burning barricade in the Ennerdale, Johannesburg township of South Africa on Tuesday, May 9, 2017. Violent protests have erupted in South Africa's biggest city for a second day as protesters demand housing and other government services. (AP Photo)
Participants of ''Prioresses Procession'', take part in the ceremony in honor of Domingo de La Calzada Saint (1019-1109), who helped poor people and pilgrims, in Santo Domingo de La Calzada, northern Spain, on Wednesday, May 10, 2017. Every year during the spring, ''Las Prioras'' (Prioresses) don a basket covered with white cloth and dress in black while they walk through the old village in honor of the saint. (AP Photo/Alvaro Barrientos)
An anti-government protester points a Venezuelan flag at a security forces in a water canon vehicle during an opposition march in Caracas, Venezuela, on Wednesday, May 10, 2017. Opponents of President Nicolas Maduro attempted to march to the Supreme Court to protest its decision to gut the opposition-controlled congress of its powers _ a ruling that was quickly rescinded under a barrage of international criticism but that set off weeks of political unrest that have left some three dozens killed. (AP Photo/Fernando Llano)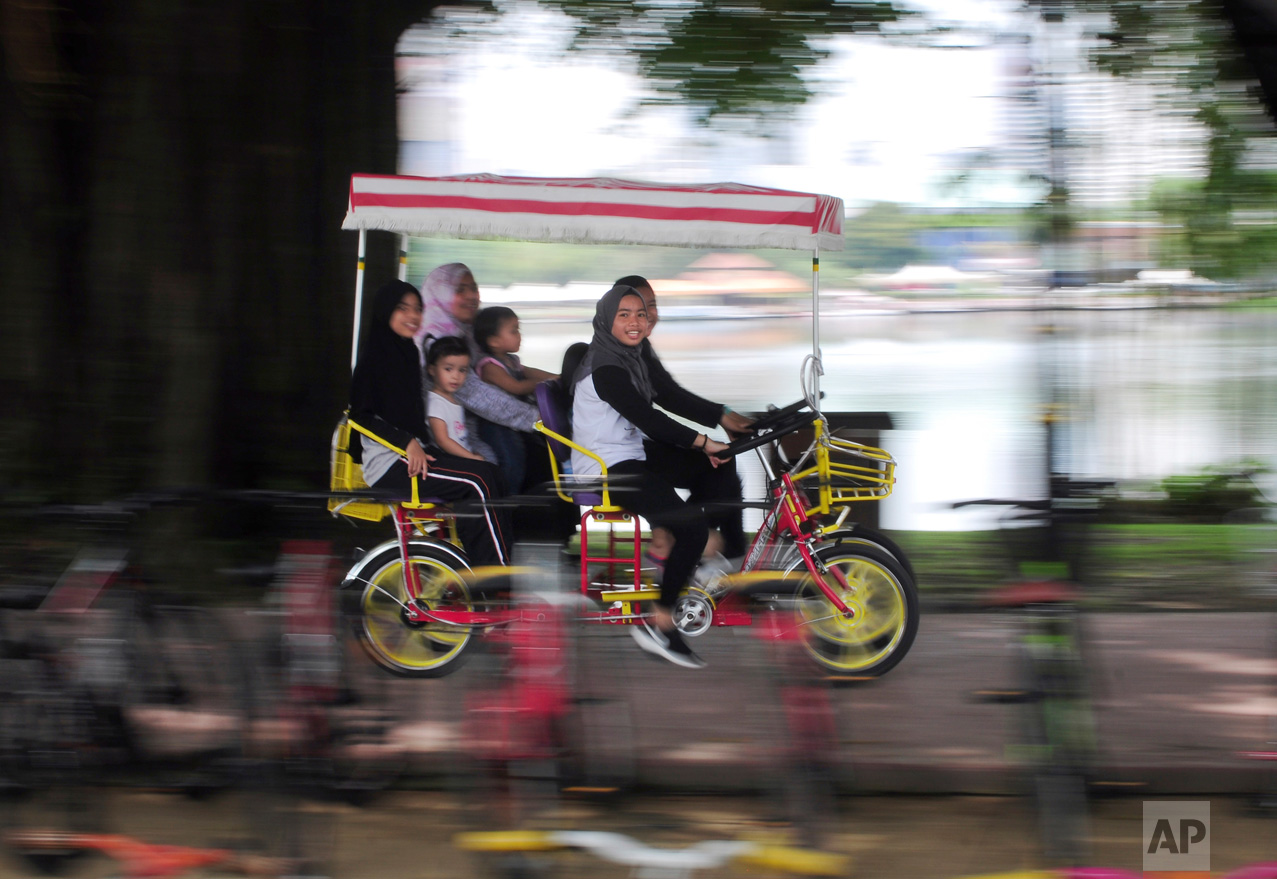 A family rides a cycle together at the Titiwangsa lake gardens in Kuala Lumpur, Malaysia, on Saturday, May 6, 2017. Titiwangsa lake gardens is a recreational park with a large lake located in the north-eastern fringe of Kuala Lumpur city center. (AP Photo/Daniel Chan)