Julia Weeks
Pictures of the week, AP Photo, Santi Palacios, Wong Maye-E, Aaron Favila, Rebecca Blackwell, Robert F. Bukaty, Ariana Cubillos, Andre Penner, Armando Franca, Fernando Llano, Oded Balilty, Hussein Malla, Charlie Riedel, Sunday Alamba, Andrew Medichini
Comment
Pictures of the week
Highlights from the weekly AP photo report, a gallery featuring a mix of front-page photography, the odd image you might have missed and lasting moments our editors think you should see.
This week's gallery features images of African migrants at sea, Manilla flooded and a North Korean celebration.
This gallery contains photos published July 21-28, 2017.
African migrants try to reach a Spanish NGO Proactiva Open Arms rescue ship after falling from a punctured rubber boat in the Mediterranean Sea, about 12 miles north of Sabratha, Libya on Sunday, July 23, 2017. (AP Photo/Santi Palacios)
Boys play outside their flooded homes after heavy rains from tropical storm Gorio flooded parts of metropolitan Manila, Philippines on Thursday, July 27, 2017. (AP Photo/Aaron Favila)
University students wearing traditional Korean dresses wait in the rain for the start of a group dance on Thursday, July 27, 2017, in Pyongyang, North Korea as part of celebrations for the 64th anniversary of the armistice that ended the Korean War. (AP Photo/Wong Maye-E)
Tables and chairs of a cafe sit empty in the flooded Marktplatz square in Goslar, Germany, Wednesday, July 26, 2017. (Swen Pfoertner/dpa via AP)
Railroad ties burn at the Barca da Amieira-Envendos train station outside the village of Sao Jose das Matas, near Macao, central Portugal, Wednesday, July 26 2017. (AP Photo/Armando Franca)
The Islamic Dome of the Rock in Jerusalem's Old City is seen trough a door decorated with a Jewish Star of David, Tuesday, July 25, 2017. (AP Photo/Oded Balilty)
A Kurdish man mourns as he sits next to the grave of his friend who was killed while fighting against Islamic State militants in Raqqa, at a cemetery in Kobani, Syria, Friday, July 28, 2017. (AP Photo/Hussein Malla)
A U.S.-backed Syrian Democratic Forces fighter runs in front of a damaged building as he crosses a street on the front line, in Raqqa city, Syria, Thursday, July 27, 2017. (AP Photo/Hussein Malla)
A demonstrator waves a flag with a crossed out image of President Nicolas Maduro during a tribute to those killed during protests against his administration, in Caracas, Venezuela, Monday, July 24, 2017. (AP Photo/Fernando Llano)
Farmers wearing straw hats take part in a march protesting the North American Free Trade Agreement in Mexico City, Wednesday, July 26, 2017. (AP Photo/Rebecca Blackwell)
Isabel Nunes, who works as a beautician, attends a women's march to mark the International Afro-Latin American and Afro-Caribbean Women's Day, and protest against racist and sexist oppression, in Sao Paulo, Brazil, Tuesday, July 25, 2017. (AP Photo/Andre Penner)
In this photo made with a long exposure, cars drive by as lightning strikes during thunderstorms in Oberursel, Germany, near Frankfurt on Saturday, July 22, 2017. (Jan Eifert/dpa via AP)
Anti-government protesters run from advancing Venezuelan Bolivarian National Guard officers on the first day of a 48-hour general strike in protest of government plans to rewrite the constitution, in Caracas, Venezuela, Wednesday, July 26, 2017. (AP Photo/Ariana Cubillos)
People walk along the shore of Lake Bracciano, about 35 kilometers (22 miles) northwest of Rome, Thursday, July 27, 2017. (AP Photo/Andrew Medichini)
Rescue workers looking for survivors watch as debris falls from a collapsed building in a densely populated neighborhood in Lagos, Nigeria, Wednesday, July 26, 2017. (AP Photo/Sunday Alamba)
Kids play on rocks in Sunset Bay as the sun sets over the Pacific Ocean on Sunday, July 23, 2017, in Coos Bay, Ore. (AP Photo/Charlie Riedel)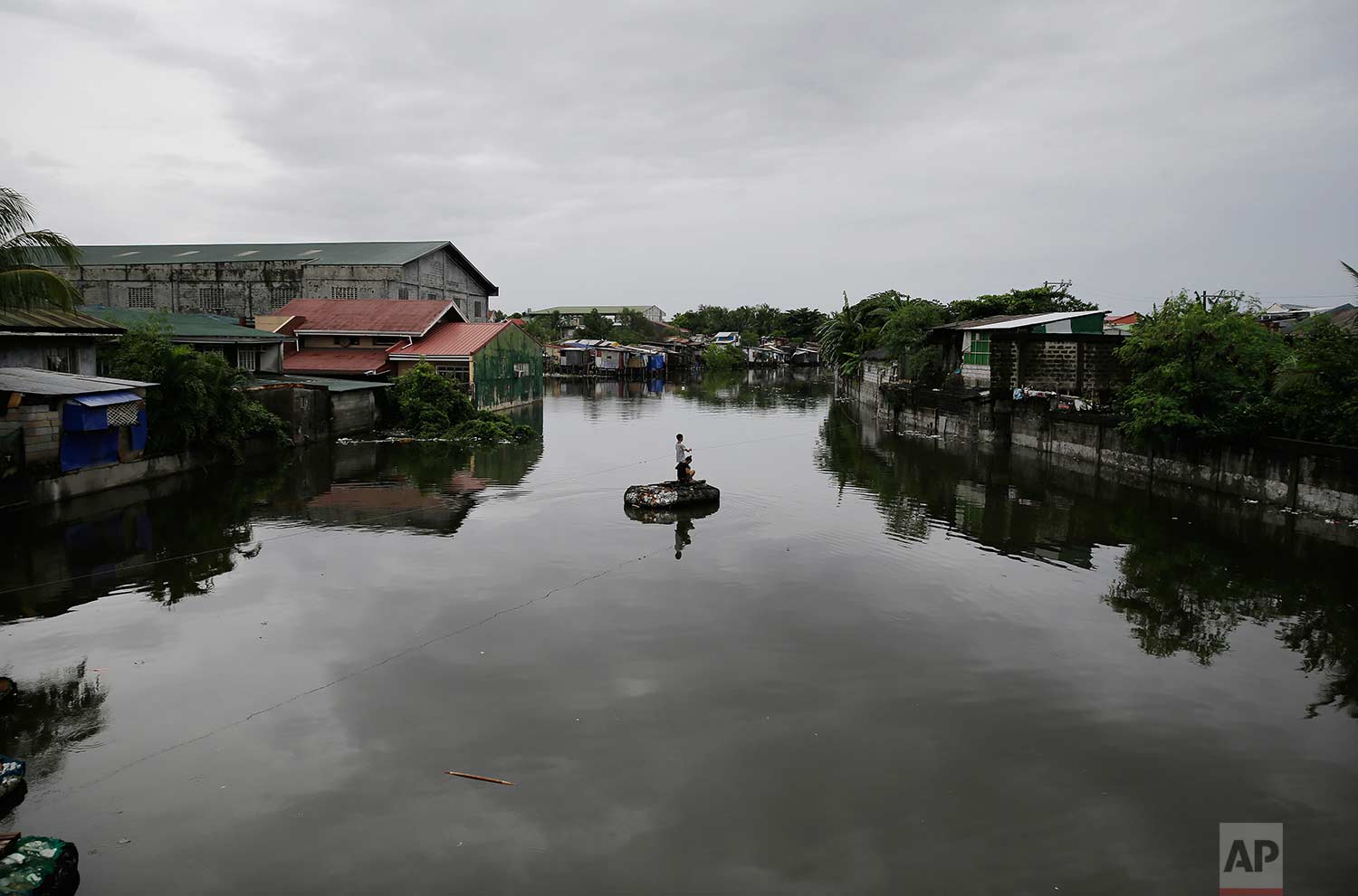 Residents pull a rope in an improvised raft to cross a swollen river caused by tropical storm Gorio on the outskirts of Manila, Philippines on Wednesday, July 26, 2017. (AP Photo/Aaron Favila)
A billowy layer of fog hovers over Webb Lake on a chilly morning where the temperature dropped into the mid-40s, Wednesday, July 26, 2017, in Weld, Maine. (AP Photo/Robert F. Bukaty)