Julia Weeks
AP Photo, Pictures of the week, Linus G. Escandor ll, Nati Harnik, Francisco Seco, Ariel Schalit, Emilio Morenatti, Eric Gay, Esteban Felix, Farah Abdi Warsameh, Baba Ahmed, Jacquelyn Martin, Mark Schiefelbein
Comment
Pictures of the week
Highlights from the weekly AP photo report, a gallery featuring a mix of front-page photography, the odd image you might have missed and lasting moments our editors think you should see.
This gallery contains photos published June 17-23, 2017.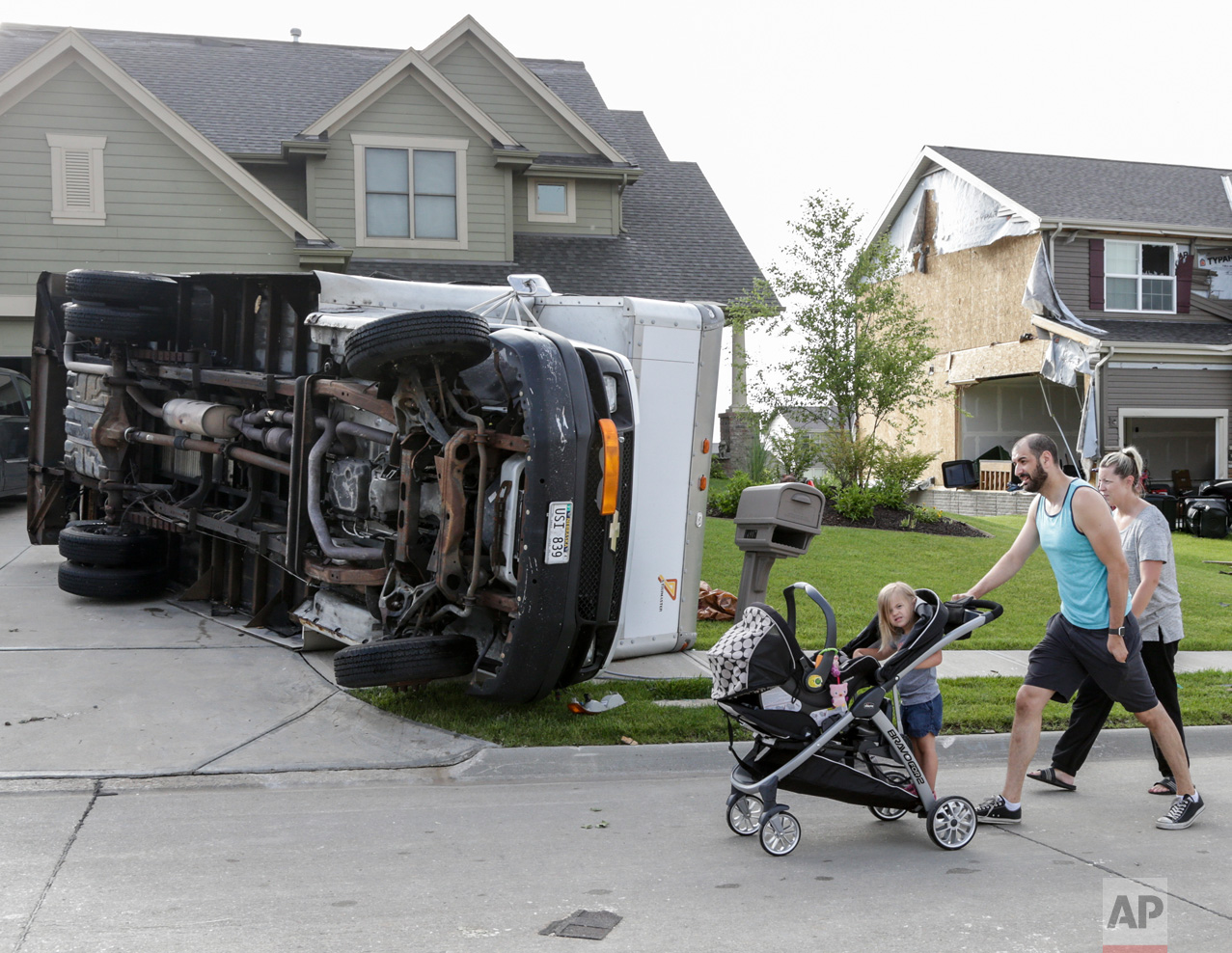 Vincent and Lindsey Mercado and their children walk past an overturned truck and weather-damaged homes in the Hyda Hills neighborhood in Bellevue, Neb., Saturday, June 17, 2017. A severe weather front passed through the area the previous evening. (AP Photo/Nati Harnik)
A woman on her bicycle is lifted and placed by police into a wagon during a protest march demanding the government overhaul the education funding system that would include canceling their student loan debt, in Santiago, Chile, Wednesday, June 21, 2017. (AP Photo/Esteban Felix)
A storm moves in over a couple visiting White Sands National Monument, Wednesday, June 21, 2017, near Alamogordo, N.M. Temperatures in the area hit 105 degrees Wednesday. (AP Photo/Eric Gay)
A gun and a body are seen at the Campement Kangaba tourist resort following an attack near Bamako, Mali, Wednesday, June 21, 2017. Authorities in Mali say one woman is still missing three days after Islamic extremists attacked a resort area near the capital. (AP Photo/Baba Ahmed)
People dance around a bonfire during a solstice celebration in Freiburg, southern Germany on Wednesday, June 21, 2017. (Patrick Seeger/dpa via AP)
A demonstrator holds up a picture of a bull during a protest against bullfighting in Madrid, Wednesday, June 21, 2017. For some people bullfighting is a traditional spectacle in Spain but animal rights activists see it as torture against animals. (AP Photo/Francisco Seco)
An Israeli border police officer stands guards as people participate in the first Gay Pride Parade in Beersheba, Israel, Thursday, June 22, 2017. Around 3500 people marched. (AP Photo/Ariel Schalit)
Two men from Sudan talk on the deck of the Golfo Azzurro rescue ship, after being rescued from a rubber boat out of control near the Libyan coast, on Thursday, June 22, 2017. (AP Photo/Emilio Morenatti)
A woman walks past the scene of a suicide car bomb attack on a police station in Mogadishu, Somalia Thursday, June 22, 2017. A number of people are dead and several others wounded in the blast in Somalia's capital, police said Thursday, adding that the bomber was trying to drive into the police station's gate but detonated against a wall. (AP Photo/Farah Abdi Warsameh)
Stephanie Woodward, of Rochester, N.Y., who has spina bifida and uses a wheelchair, is removed from a sit-in at Senate Majority Leader Mitch McConnell's office as she and other disability rights advocates protest proposed funding caps to Medicaid, Thursday, June 22, 2017, on Capitol Hill in Washington. (AP Photo/Jacquelyn Martin)
People holding umbrellas climb an outdoor staircase on a rainy day in Beijing, Thursday, June 22, 2017. Although Beijing is in a semi-dry climate, it receives much of its annual precipitation during the summer months. (AP Photo/Mark Schiefelbein)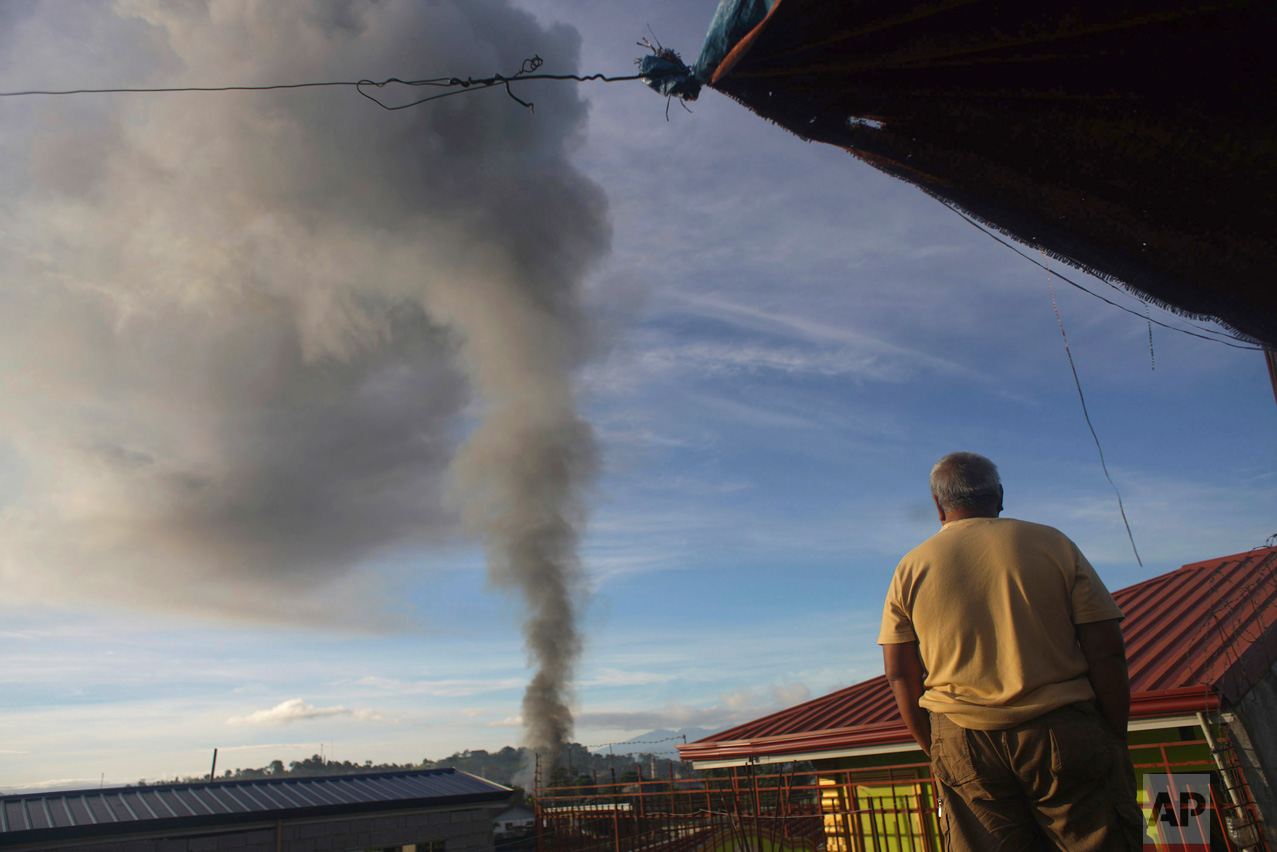 A man looks at a burning structure during early morning airstrikes by government forces in the continuing fight for Marawi city by Muslim militants Friday, June 23, 2017, in southern Philippines. The siege by militants aligned with the Islamic State group continues as it enters its second month Friday. (AP Photo/Linus Guardian Escandor II)
This gallery was produced by Patrick Sison in New York.
Text from the AP news story, AP PHOTOS: A selection of pictures from the past week.
See these photos on AP Images
Follow AP photographers on Twitter
Written content on this site is not created by the editorial department of AP, unless otherwise noted.