Julia Weeks
AP Photo, Pictures of the week, Alexander Zemlianichenko, Peter Komka, Matt Dunham, Francisco Seco, Ramon Espinosa, Farah Abdi Warsameh, Thein Zaw, Wong Maye-E, Emilio Morenatti
Comment
Pictures of the week
Highlights from the weekly AP photo report, a gallery featuring a mix of front-page photography, the odd image you might have missed and lasting moments our editors think you should see.
This gallery contains photos published June 10-16, 2017.
Tourists walk down from a hill near an Assumption Cathedral built in the 16th Century in the small Russian town of Dmitrov, Russia, 75 kilometers (47 miles) north from Moscow on Sunday, June 11, 2017. (AP Photo/Alexander Zemlianichenko)
A recortador jumps over a bull during a recortadores festival at Las Ventas bullring in Madrid, Sunday, June 11, 2017. Recortadores is a performance consisting of acrobatically leaping over a bull, and those who get closer to the bull and show less fear are the winners. (AP Photo/Francisco Seco)
Police detain a protester In Moscow, Russia, on Monday, June 12, 2017. Demonstrators in Monday's opposition protests across Russia say they are fed up with endemic corruption among officials. The protest gatherings in cities from Far East Pacific ports to St. Petersburg were spearheaded by Alexei Navalny, the anti-corruption campaigner who has become the Kremlin's most visible opponent. (Evgeny Feldman/Pool Photo via AP)
Rescuers pull out the body of a victim after the previous day's massive landslide in Rangamati district, Bangladesh, Wednesday, June 14, 2017. Rescuers struggled on Wednesday to reach villages hit by massive landslides that have killed more than a hundred while also burying roads and cutting power in southeastern Bangladesh, officials said. (AP Photo)
A resident in a nearby building watches smoke rise from a building on fire in London, Wednesday, June 14, 2017. Grief turned to outrage Friday amid reports that materials used in the building's renovation could have fueled the inferno that left dozens dead and missing as it decimated the public housing block. (AP Photo/Matt Dunham)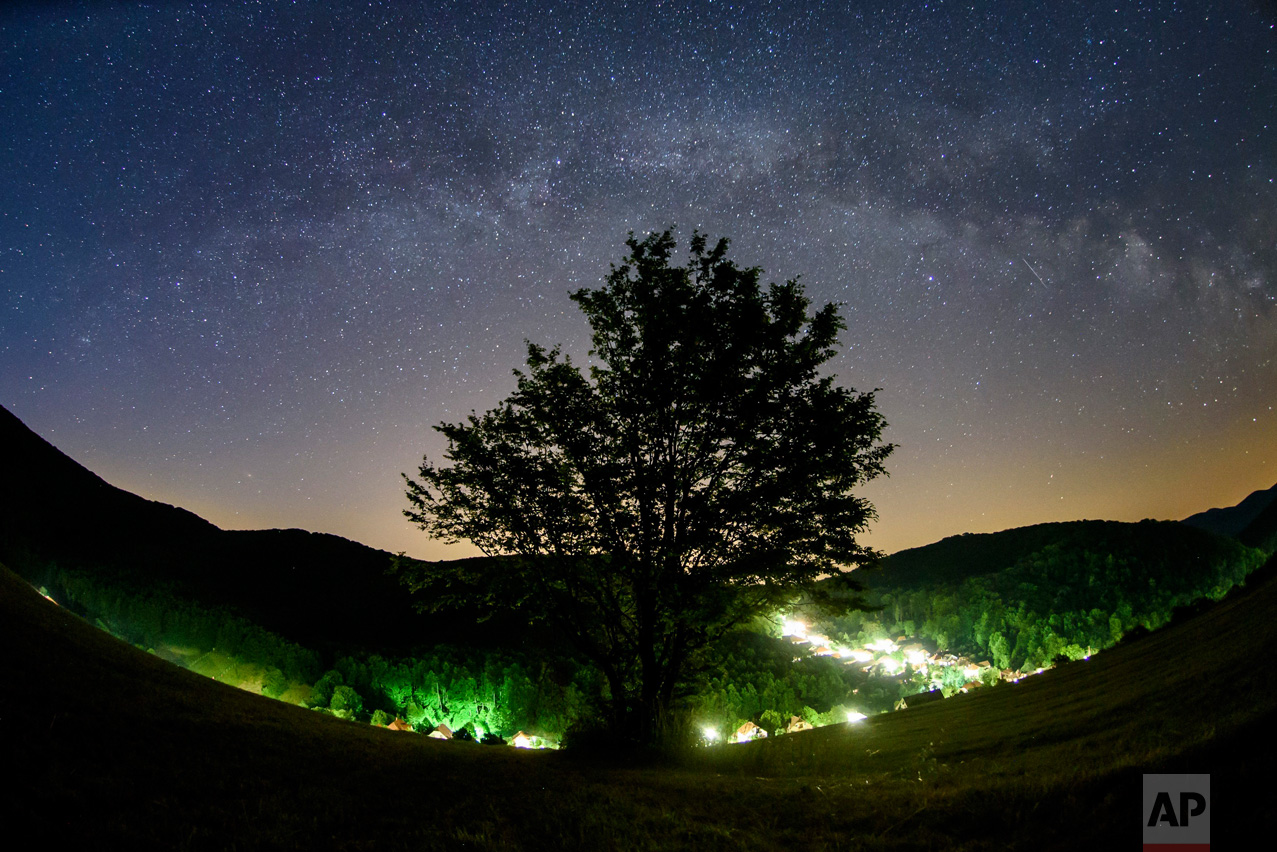 The Milky Way arcs in the summer night sky seen near Repashuta, 170 kilometers (105 miles) northeast of Budapest, Hungary, on Thursday, June 15, 2017. (Peter Komka/MTI via AP)
A mother whose daughter was shot in the head by attackers during a militant attack on a restaurant, grieves in Mogadishu, Somalia, on Thursday, June 15, 2017. Somalia's security forces early Thursday morning ended a night-long siege by al-Shabab Islamic extremists at the popular "Pizza House" restaurant in the capital. (AP Photo/Farah Abdi Warsameh)
Migrants and refugees stand on the deck of the vessel Golfo Azzurro after being rescued by Spanish NGO Proactiva Open Arms workers on the Mediterranean Sea, Friday, June 16, 2017. A Spanish aid organization Thursday rescued more than 600 migrants who were attempting the perilous crossing of the Mediterranean Sea to Europe in packed boats from Libya. (AP Photo/Emilio Morenatti)
Michelle Carter cries while flanked by defense attorneys Joseph Cataldo, left, and Cory Madera, after being found guilty of involuntary manslaughter in the suicide of Conrad Roy III, Friday, June 16, 2017, in Bristol Juvenile Court in Taunton, Mass. The trial of Carter, who sent her boyfriend, Roy, a barrage of text messages urging him to kill himself when they were both teenagers, raised questions about whether words can kill. (Glenn C.Silva/Fairhaven Neighborhood News, Pool)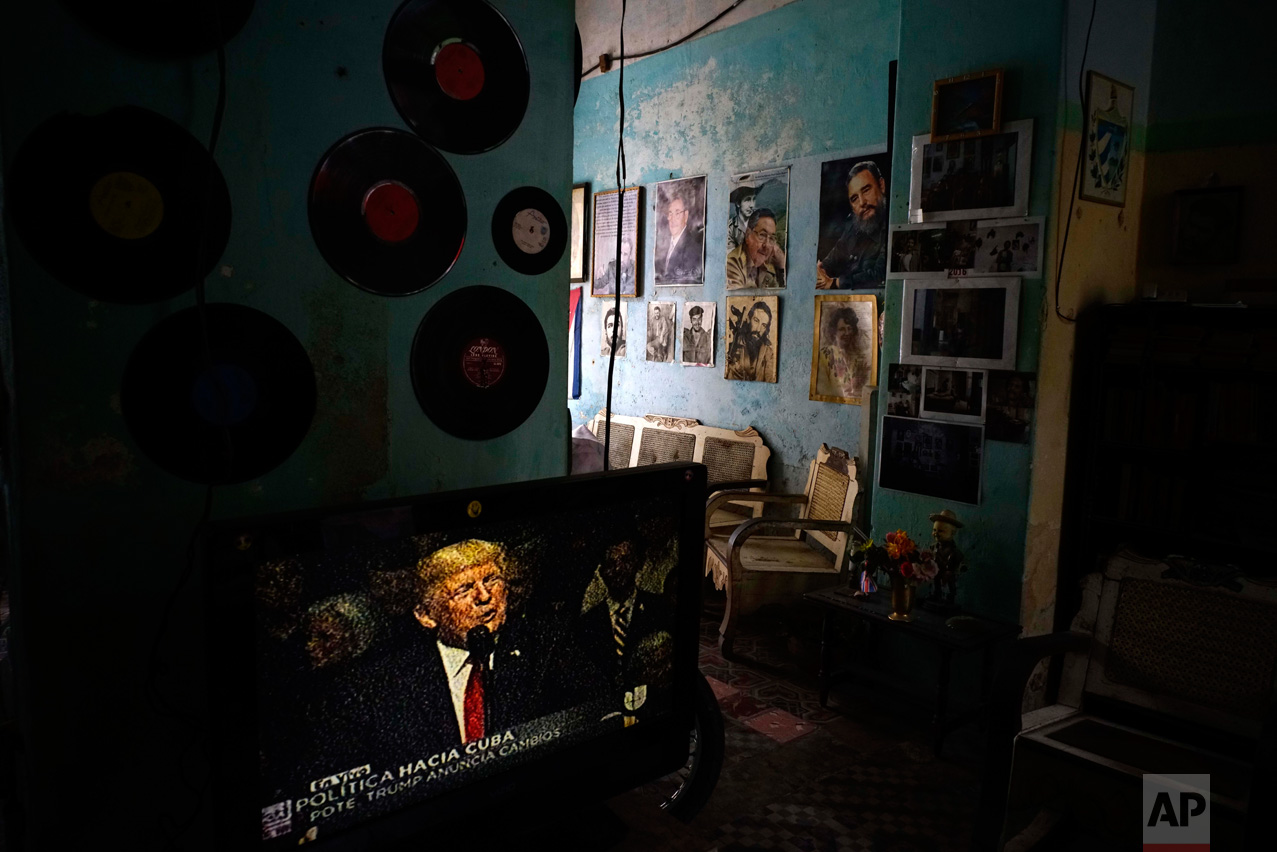 A television set shows U.S. President Donald Trump announcing his new Cuba policy, in a living room decorated with images of Cuban leaders at a house in Havana, Cuba, Friday, June 16, 2017. Trump declared he was restoring some travel and economic restrictions on Cuba that were lifted as part of Barack Obama's historic easing. (AP Photo/Ramon Espinosa)
Buddhist monks walk to collect their morning "alms" (offerings) in Yangon, Myanmar, on Friday, June 16, 2017. (AP Photo/Thein Zaw)
A woman looks into the window of a kiosk selling gifts and flowers in Pyongyang, North Korea, as a pedestrian waits to cross the street on Friday, June 16, 2017. Kiosks like these are a common sight around the city, some also selling food and drinks. (AP Photo/Wong Maye-E)
This gallery was produced by Patrick Sison in New York.
Text from the AP news story, AP PHOTOS: A selection of pictures from the past week.
See these photos on AP Images
Follow AP photographers on Twitter
Written content on this site is not created by the editorial department of AP, unless otherwise noted.