Julia Weeks
AP Photo, Pictures of the week, Mahesh Kumar A., Ben Curtis, Halden Krog, Dar Yasin, Eugene Hoshiko, Branden Camp, Anupam Nath, Aaron Favila, Jens Meyer, Fars News Agency
Comment
Pictures of the week
Highlights from the weekly AP photo report, a gallery featuring a mix of front-page photography, the odd image you might have missed and lasting moments our editors think you should see.

This gallery contains photos published June 3-9, 2017.
The coal-fired Plant Scherer, one of the nation's top carbon dioxide emitters, stands in the distance in Juliette, Ga., Saturday, June, 3, 2017. U.S. President Donald Trump declared Thursday he was pulling the U.S. from the landmark Paris climate agreement, striking a major blow to worldwide efforts to combat global warming and distancing the country from its closest allies abroad. (AP Photo/Branden Camp)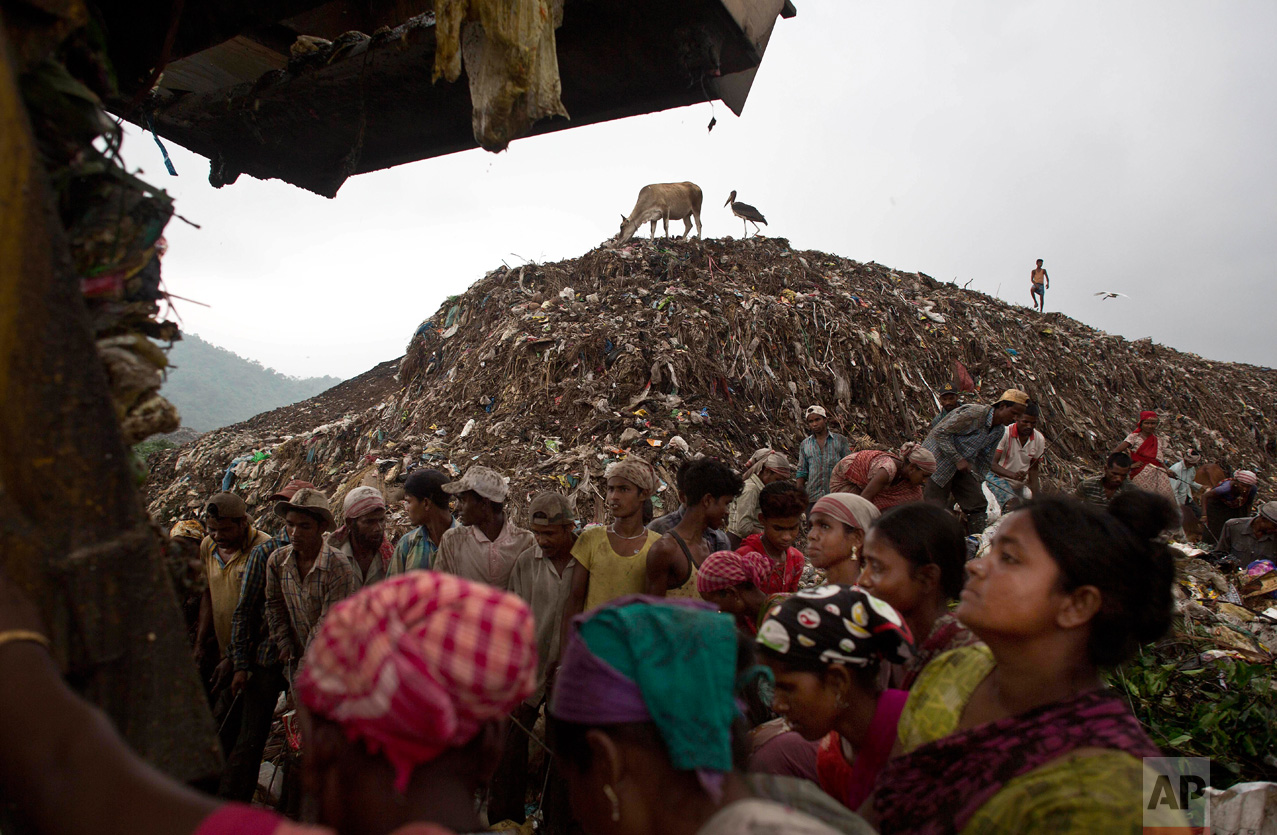 Indian "ragpickers" wait to collect recyclable materials as a truck prepares to unload garbage at a dump on the outskirts of Gauhati, Assam state, India, Monday, June 5, 2017. Monday marks World Environment Day. (AP Photo/Anupam Nath)
Women dressed in the traditional clothes of the Sorbs carry the statue of Virgin Mary during a procession in front of the church in Rosenthal, eastern Germany, Monday, June 5, 2017. On White Monday, Catholic Sorbs, a Slavic minority near the German-Polish border, celebrate an open air mass in the small village east of Dresden. (AP Photo/Jens Meyer)
South Sudanese refugees who recently crossed the border into Uganda sit on a bus bringing them to the Imvepi reception center, where newly-arrived refugees are processed before being allocated plots of land in the nearby Bidi Bidi refugee settlement in northern Uganda, Tuesday, June 6, 2017. Bidi Bidi is a sprawling complex of mud-brick houses that is now the world's largest refugee settlement holding some of those who fled the civil war in South Sudan, which has killed tens of thousands and driven out more than 1.5 million people in the past three years. (AP Photo/Ben Curtis)
A large wave slams into the promenade during heavy storms in the Sea Point neighborhood of Cape Town, South Africa, on Wednesday, June 7, 2017. A fatal storm hit the surrounding coastline, causing floods and high winds that fanned deadly blazes. The region has been suffering a severe drought. (AP Photo/Halden Krog)
A man hands a child to a security guard after an assault on the parliament building in Tehran, Iran, on Wednesday, June 7, 2017. Suicide bombers and gunmen simultaneously targeted the legislature and a shrine of late founder of the Islamic Republic Ayatollah Ruhollah Khomeini. (Fars News Agency, Omid Vahabzadeh via AP)
Fires smolder in Knysna, South Africa, Thursday, June 8, 2017. Fatal fires fanned by high winds spread to nearby Plettenburg Bay and Knysna in the Western Cape Province, destroying homes and forcing the evacuation of thousands. (AP Photo/Halden Krog)
A man is reflected in glass windows as he walks in Tokyo on Thursday, June 8, 2017. (AP Photo/Eugene Hoshiko)
A man holds a live fish after inserting a piece of traditional medicine in its mouth prior to administering it to an asthma patient in Hyderabad, India, on Thursday, June 8, 2017. Every year thousands of asthma patients arrive to receive the fish therapy which is a secret formula of herbs, handed down generations only to members of the Bathini Goud family. The herbs are inserted in the mouth of a live sardine, or murrel fish, and slipped into the patient's throat. (AP Photo/Mahesh Kumar A.)
A Kashmiri protester throws back a detonated tear gas shell at Indian police during a protest in Srinagar, Indian controlled Kashmir, on Friday, June 9, 2017. Parts of Indian-controlled Kashmir remained under curfew Friday, while general strikes were being staged in other areas after Kashmiri separatists called for strike to protest the Tuesday killing of a civilian by government forces during a search operation to flush out Kashmiri rebels in the southern town of Indian controlled Kashmir. (AP Photo/Dar Yasin)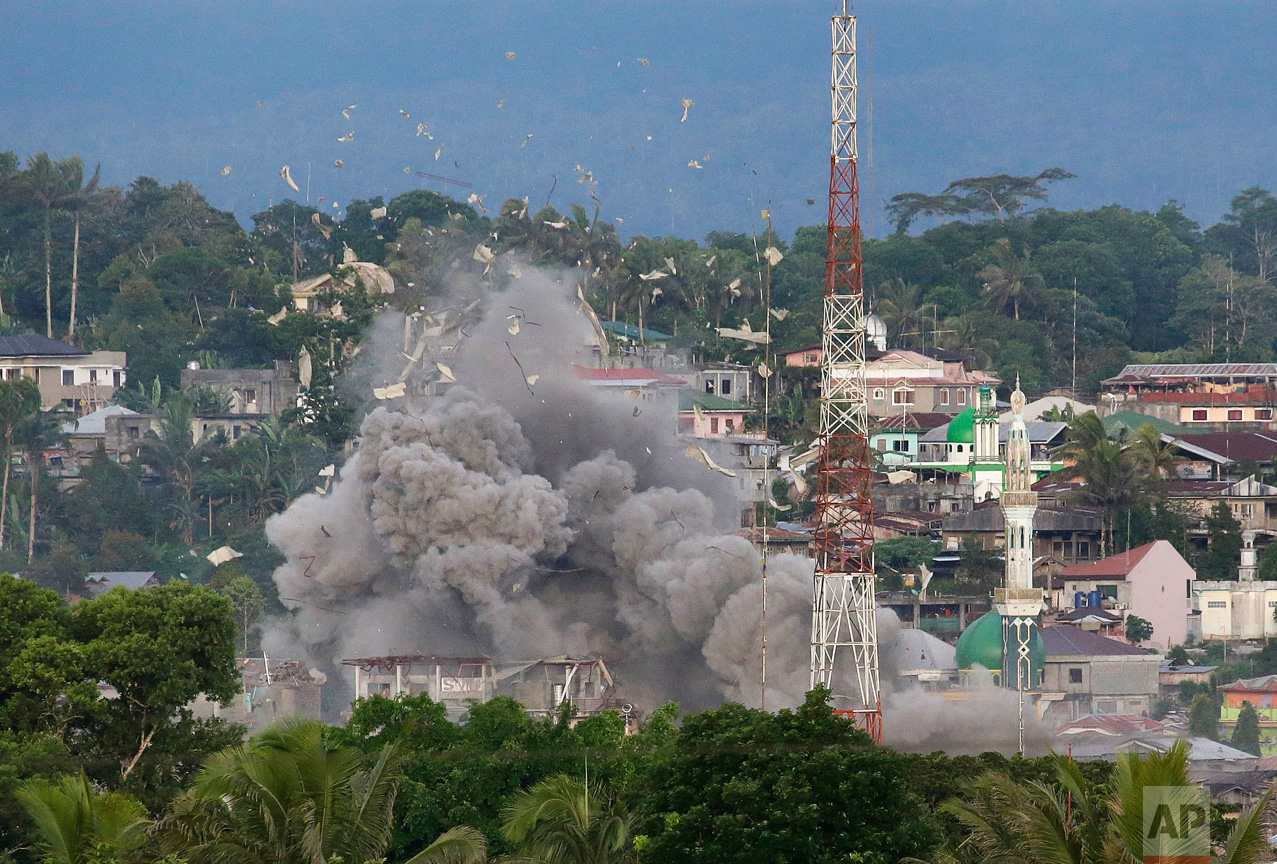 Debris flies in the air as Philippine Air Force fighter jets bomb suspected locations of Muslim militants as fighting continues in Marawi city, southern Philippines Friday, June 9, 2017. It's unclear how many people remain trapped in Marawi as government troops battle Muslim militants led by the "Maute" group, but army officers have put the figure this week at anywhere from 150 to 1,000. (AP Photo/Aaron Favila)
This gallery was produced by Patrick Sison in New York.
Text from the AP news story, AP PHOTOS: A selection of pictures from the past week.
See these photos on AP Images
Follow AP photographers on Twitter
Written content on this site is not created by the editorial department of AP, unless otherwise noted.