Latin America in review
Latin America in review is a monthly gallery that features some of the top photojournalism made by AP staff photographers and freelancers based in our Latin America region.
This month's selection begins in Argentina, where a clown marches with a balloon in Buenos Aires.
In Mexico, rescue workers use a crane to lift a vehicle that drove into a sinkhole on a highway.
Fans of Paraguay's Cerro Porteno cheer for their team during a Copa Sudamericana soccer match against Uruguay's Boston River in Asuncion, Paraguay.
In Haiti, a bodybuilder peers from behind the curtain to watch his competitors perform at the Haiti Bodybuilding Classic in Port-au-Prince.
In Venezuela, opposition leader Leopoldo Lopez holds up a Venezuelan national flag as he greets supporters outside his home in Caracas.
This gallery was curated by Latin America photo editors Leslie Mazoch, Tomas Stargardter and News Director of Mexico and Central America Enric Marti.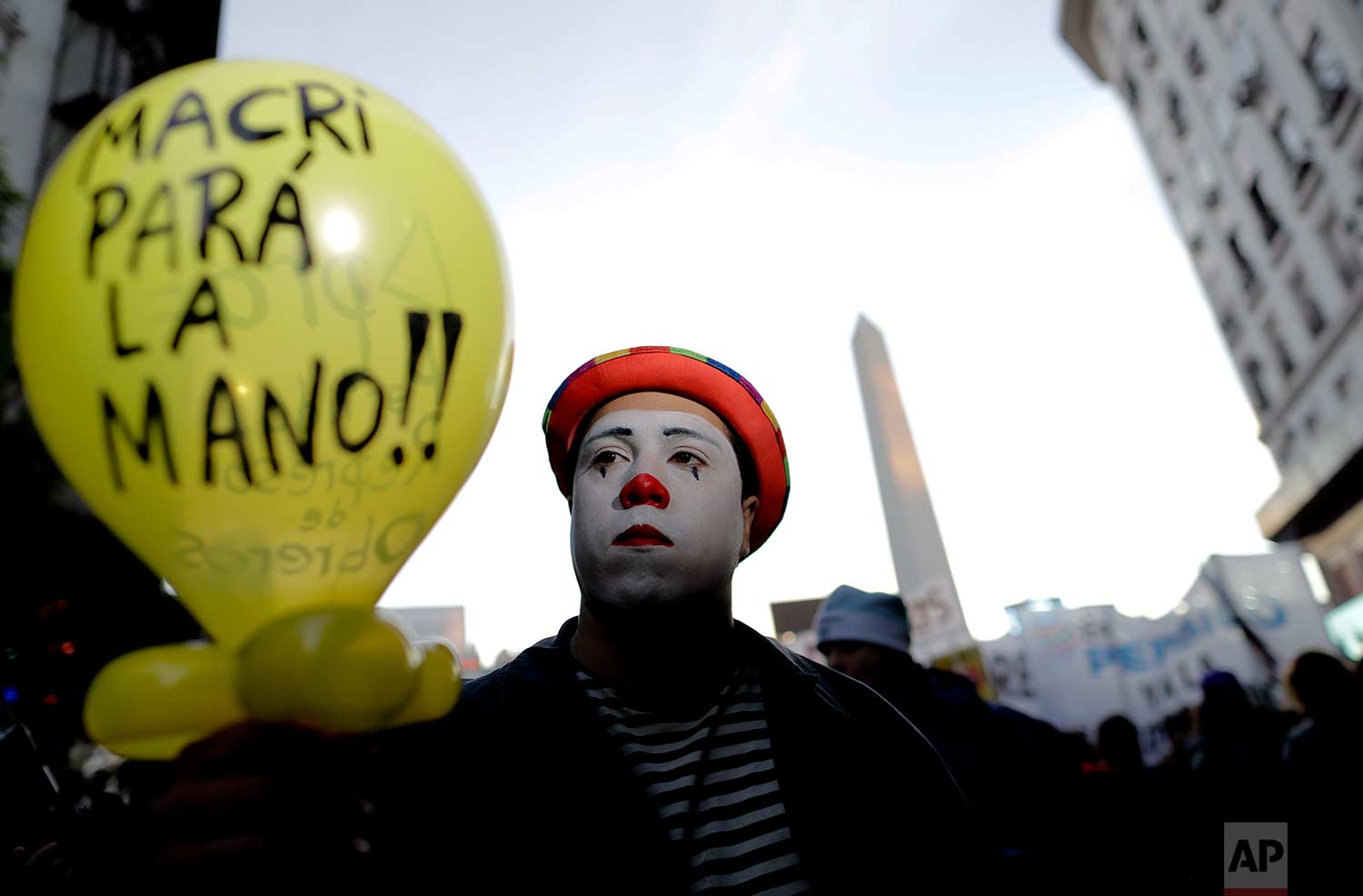 A clown marches with a balloon with text written in Spanish that reads "Macri, take it easy," in Buenos Aires, Argentina, Tuesday, July 18, 2017. (AP Photo/Natacha Pisarenko)
Pumas' Nicolas Castillo, top left, goes for a header against Pachuca's Fabian Murillo, top center, and Robert Herrera, top right, as Pumas' Gerardo Alcoba (3), goalie Alfredo Saldivar (1), Luis Fernando Quintana (4) and Allan Mendoza (5) look on during a Mexico soccer league match in Mexico City, Sunday, July, 23, 2017. Pumas won the match 1-0. ( AP Photo/ Marco Ugarte)
In this July 20, 2017 photo, bodybuilder Spely Laventure trains for an upcoming competition between Haiti and Dominican Republic in Port-au-Prince, Haiti. (AP Photo/Dieu Nalio Chery)
An anti-government demonstrator and her daughter wrapped in the Venezuelan flag walk on an empty street in Caracas, Venezuela, Sunday, July 30, 2017. (AP Photo/Ariana Cubillos)
Maria Isabel cries over her late mother Marlene Maria da Conceicao, during the funeral for her mother as well as her sister Ana Cristina da Conceicao, behind, in Rio de Janeiro, Brazil, Monday, July 3, 2017. (AP Photo/Silvia Izquierdo)
Worker Karina Lopez stands next to her team workers after clashes with police outside the PepsiCo plant on the outskirts of Buenos Aires, Argentina, Thursday, July 13, 2017. (AP Photo/Natacha Pisarenko)
In this June 16, 2017 photo, Batel Delciner, 23, removes wood from a furnace to lower the heat cooking sugar juice at the Ti Jean distillery, which produces clairin, a sugar-based alcoholic drink, in Leogane, Haiti. (AP Photo/Dieu Nalio Chery)
Residents of Petare neighborhood walk near a barricade made by anti-government demonstrators to protest against President Nicolas Maduro's plan to rewrite the constitution in Caracas, Venezuela, Saturday, July 29, 2017. (AP Photo/Ariana Cubillos)
A man who is a resident of Petare neighborhood crosses through a barricade set up by demonstrators to protest against President Nicolas Maduro's plan to rewrite the constitution in Caracas, Venezuela, Saturday, July 29, 2017. (AP Photo/Ariana Cubillos)
Farmers from northern Paraguay participate in a meeting at their camp at the "Plaza de Armas" in downtown Asuncion, Paraguay, Wednesday, July 12, 2017. (AP Photo/Jorge Saenz)
Rescue workers use a crane to lift a vehicle that drove into a sinkhole on a highway in Cuernavaca, Mexico, Wednesday, July 12, 2017. (AP Photo/Tony Rivera)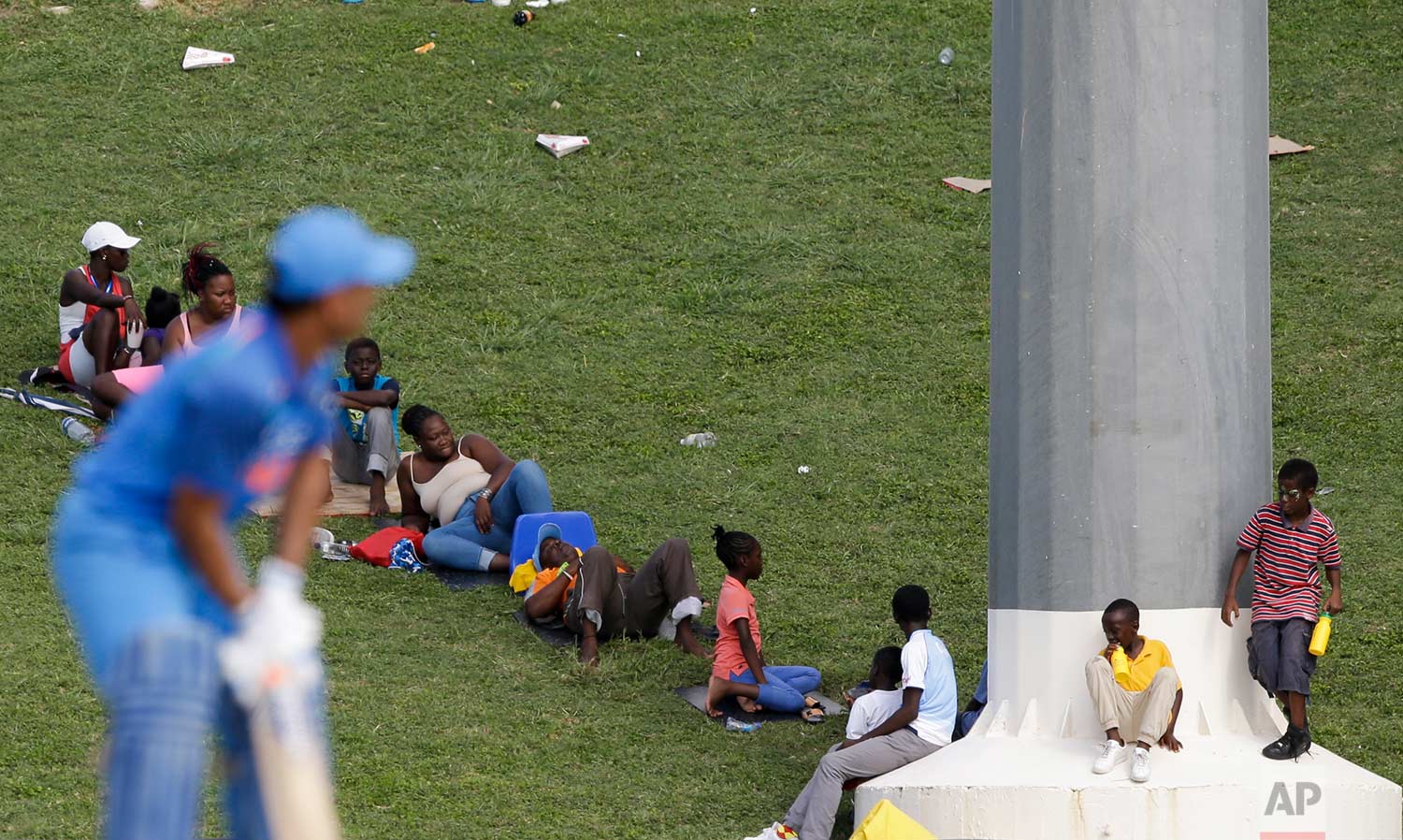 In this July 2, 2017 photo, spectators watch the fourth ODI cricket match between India and West Indies as India's MS Dhoni waits for a delivery at the Sir Vivian Richards Stadium in North Sound, Antigua and Barbuda. (AP Photo/Ricardo Mazalan)
In this July 6, 2017 photo, Brazil's President Michel Temer attends a ceremony at the Planalto Presidential Palace, in Brasilia, Brazil. (AP Photo/Eraldo Peres)
In this June 17, 2017 photo, Ronald Sincere, 20, right, lights his cigarette from that of Medez Cazeau, 42, as they take a break from cutting sugar cane on the Aubry farm in a rural area of Leogane, Haiti. (AP Photo/Dieu Nalio Chery)
A police officer stands by as a woman carries her belongings during an eviction of people living in shacks beneath an overpass, in Sao Paulo, Brazil, Saturday, July 29, 2017. (AP Photo/Andre Penner)
In this June 24, 2017 photo, a girl looks out from her window at the former Federal Police headquarters building in downtown Sao Paulo, Brazil. (AP Photo/Andre Penner)
A protester taking part in an anti-government march to the Supreme Court is detained and driven away by Bolivarian National Guard soldiers in Caracas, Venezuela, Thursday, July 6, 2017. (AP Photo/Ariana Cubillos)
A protester holds a sign that reads in Portuguese "Get out Temer," referring to Brazil's President Michel Temer, in Rio de Janeiro, Brazil, Thursday, July 20, 2017. (AP Photo/Silvia Izquierdo)
In this June 12, 2017 photo, Rudy Espiriya and his three-year-old son Dayiro Tahuara, pose for a portrait in the Sinakara Valley, in Peru's Cusco region, during the Qoyllur Rit'i festival, translated from the Quechua language as Snow Star. (AP Photo/Rodrigo Abd)
Brazil's former President Dilma Rousseff looks out over Guanabara Bay, before the start of an interview at the offices of the Associated Press in Rio de Janeiro, Brazil, Friday, July 14, 2017. (AP Photo/Silvia Izquierdo)
A homeless person sleeps on the sidewalk during a cold night in downtown Sao Paulo, Brazil, Wednesday, July 19, 2017. (AP Photo/Andre Penner)
A boy peers from his home's window as firefighters put out the last flames of a nearby fire in Osasco in the greater Sao Paulo area of Brazil, Monday, July 3, 2017. (AP Photo/Andre Penner)
In this July 21, 2017 photo, a cowboy drives his team of oxen, during the ascent to the Serra da Boa Vista, during the Ox Cart Festival in Vazante, Minas Gerais state, Brazil. (AP Photo/Eraldo Peres)
An woman sits with her dog on a couch placed in the middle of the street during a call by the opposition to block roads for 10 hours in Caracas, Venezuela, Monday, July 10, 2017. (AP Photo/Ariana Cubillos)
An anti-government protester screams at security forces blocking a march to the Supreme Court to oppose President Nicolas Maduro's plan to rewrite the constitution, in Caracas, Venezuela, Saturday, July 22, 2017. (AP Photo/Fernando Llano)
A woman touches the box containing the ashes of of Mexican painter Jose Luis Cuevas, in the Palace of Fine Arts in Mexico City, Tuesday, July 4, 2017. (AP Photo/Eduardo Verdugo)
Mexico's former Veracruz state Gov. Javier Duarte smiles as he leaves court in handcuffs after a hearing in Guatemala City, Tuesday, July 4, 2017. (AP Photo/Moises Castillo)
Brazil's former President Luiz Inacio Lula da Silva addresses supporters protesting his conviction in Sao Paulo, Brazil, Thursday, July 20, 2017, after a judge ordered the seizure of more than $2.8 million in pension funds from Silva in connection with his corruption conviction. (AP Photo/Andre Penner)
Police break up a protest, that was blocking a street, demanding an end to the current Pension Fund Administrators (AFP) system in Santiago, Chile, Monday, July 24, 2017. (AP Photo/Esteban Felix)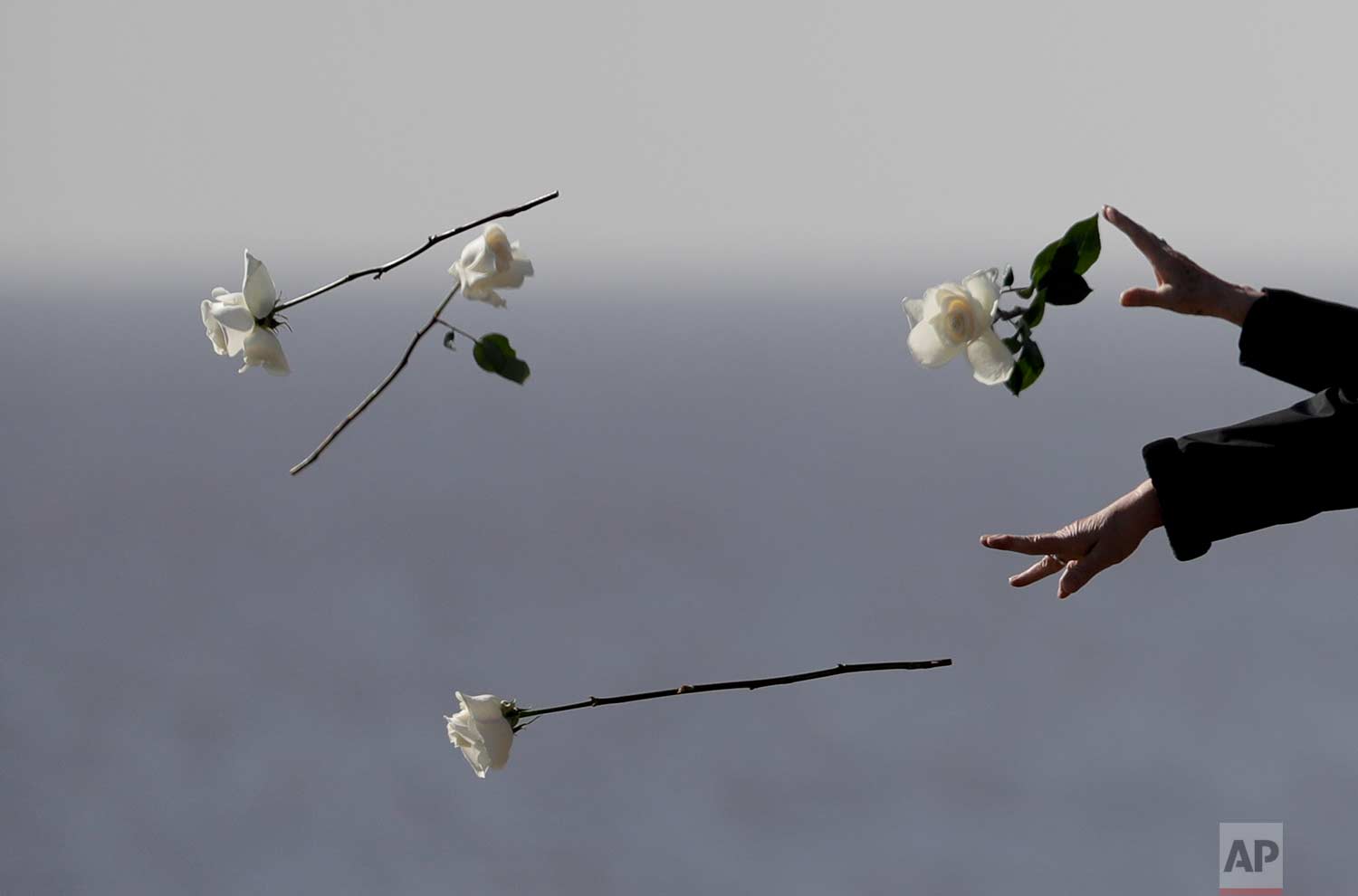 Chile's President Michelle Bachelet, bottom, throws a flower in the river during a visit to Memory Park which honors the victims of the country's dictatorship, in Buenos Aires, Argentina, Thursday, July 20, 2017. (AP Photo/Natacha Pisarenko)
Bolivarian National Guards detain an anti-government demonstrator during clashes in Caracas, Venezuela, Friday, July 28, 2017, two days before the vote to begin the rewriting of Venezuela's constitution. (AP Photo/Ariana Cubillos)
Bills of U.S. dollars are placed over the body of a tourist after they were found in pockets of her clothes as rescue workers and policemen work the scene of a deadly bus accident in Lima, Peru, Sunday, July 9, 2017. (AP Photo/Rodrigo Abd)
Fans of Paraguay's Cerro Porteno cheer for their team during a Copa Sudamericana soccer match against Uruguay's Boston River in Asuncion, Paraguay, Tuesday, July 11, 2017. (AP Photo/Jorge Saenz)
An injured anti-government protester is removed from clashes with security forces, during a call by the opposition to block roads for 10 hours in Caracas, Venezuela, Monday, July 10, 2017. (AP Photo/Ariana Cubillos)
Supporters get emotional as the say farewell to Ecuador's former president Rafael Correa, before he departs for Belgium, in Quito, Ecuador, Monday, July 10, 2017. (AP Photo/Dolores Ochoa)
Leandro Damiao of Brazil's Flamengo celebrates with his teammates after scoring against Chile's Palestino during a Copa Sudamericana soccer match in Santiago, Chile, Wednesday, July 5, 2017. (AP Photo/Esteban Felix)
Paco de la Fuente celebrates after he was presented with the best new actor award for his performance in "El alien y yo", at the 59th Ariel Awards ceremony at the Palacio de Bellas Artes in Mexico City, Tuesday, July 11, 2017. (AP Photo/Rebecca Blackwell)
In this July 13, 2017 photo, a farmer takes advantage of a motorized boat to move faster along the channels of Xochimilco to his floating farm known as a "chinampa" in Mexico City. (AP Photo/Marco Ugarte)
A member of the traditional cavalry regiment known as the Husares de Junin tends to his horse who inexplicably fell during a military parade that was part of the Independence Day celebrations, in Lima, Peru, Saturday, July 29, 2017. (AP Photo/Rodrigo Abd)
In this July 22, 2017 photo, a cowboy rears up his horse before the ascent to the Serra da Boa Vista, during the Ox Cart Festival in Vazante, Minas Gerais state, Brazil. (AP Photo/Eraldo Peres)
Farmers donning Mexican straw hats take part in a march protesting the North American Free Trade Agreement, in Mexico City, Wednesday, July 26, 2017. (AP Photo/Rebecca Blackwell)
A federal police officer peers out from inside the hangar of the attorney general's office at the Mexico City airport, as former Veracruz State Governor Javier Duarte is processed inside after arriving from Guatemala, Monday, July 17, 2017. (AP Photo/Rebecca Blackwell)
A juvenile inmate is attended by a medic and interrogated by a police officer, after he was injured during the recapture of the Juvenile Correctional Center Gaviotas by police, in Guatemala City, Monday, July 3, 2017. (AP Photo/Moises Castillo)
National Civil Police Special Forces escort recaptured inmates from the Juvenile Correctional Center Gaviotas in Guatemala City, Monday, July 24, 2017. (AP Photo/Moises Castillo)
Opposition leader Leopoldo Lopez holds up a Venezuelan national flag as he greets supporters outside his home in Caracas, Venezuela, July 8, 2017 photo. (AP Photo/Fernando Llano)
In this July 23, 2017 photo, a Haitian bodybuilder peers from behind the curtain to watch his competitors perform at the Haiti Bodybuilding Classic, an event with Haitian and Dominican Republic athletes, in Port-au-Prince, Haiti. (AP Photo/Dieu Nalio Chery)
The silhouette of an anti-government protester is seen through a Venezuelan flag during a call by the opposition to block roads for 10 hours in Caracas, Venezuela, Monday, July 10, 2017. (AP Photo/Fernando Llano)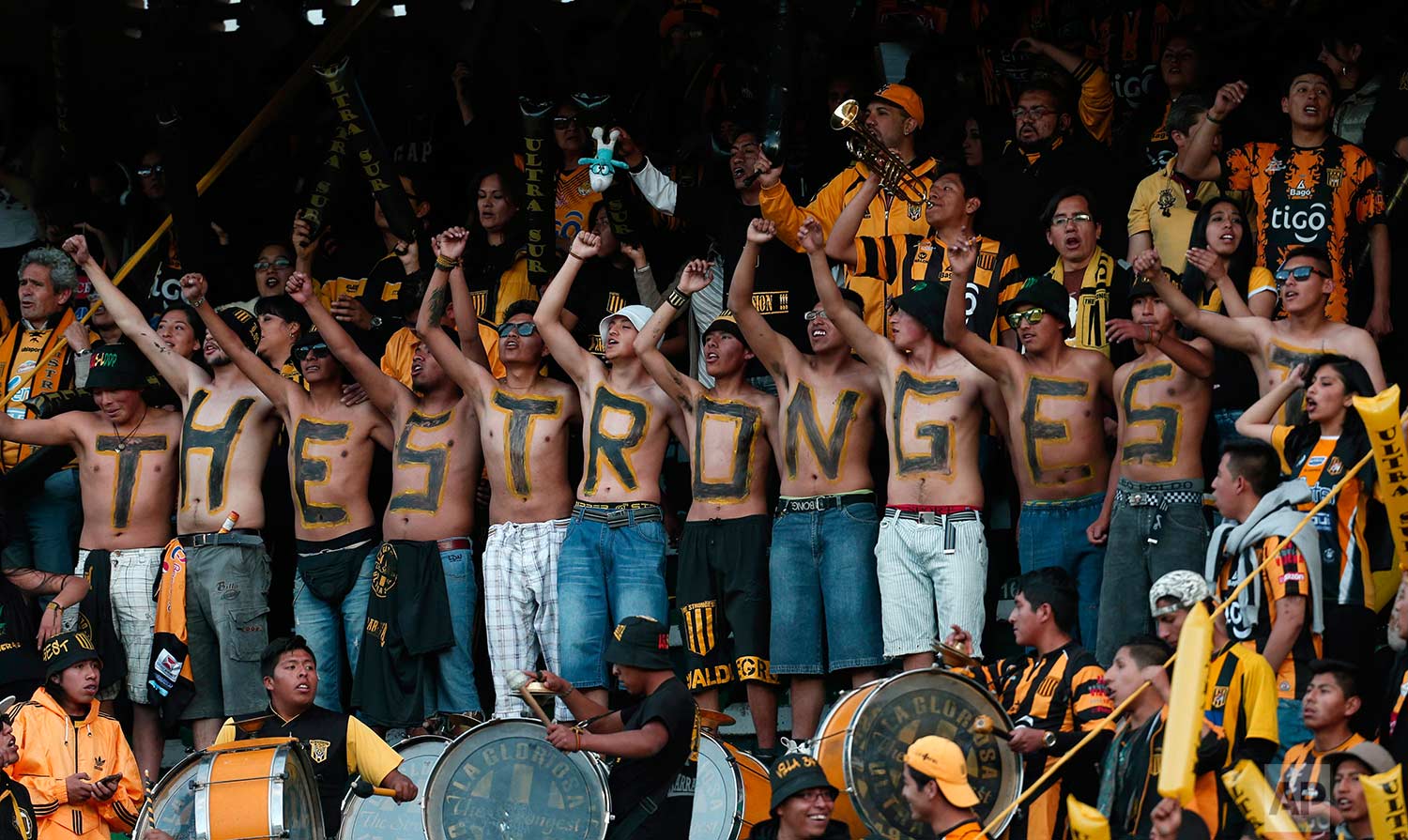 Fans of Bolivia's The Strongest cheer for their team before a Copa Libertadores soccer match against Argentina's Lanus in La Paz, Bolivia, Thursday, July 6, 2017. (AP Photo/Juan Karita)
A youth has his face rinsed from the effects of tear gas after security forces lobbed tear gas at demonstrators sheltering inside a shopping mall during a protest march in Caracas, Venezuela, Thursday, July 6, 2017. (AP Photo/Ariana Cubillos)
Opposition lawmakers brawl with pro-government militias who are trying to force their way into the National Assembly during a special session coinciding with Venezuela's independence day, in Caracas, Wednesday, July 5, 2017. (AP Photos/Fernando Llano)
Larco Herrera Psychiatric Hospital patients wait to take part in the hospital's Independence Day parade, in Lima, Peru, Friday, July 21, 2017. (AP Photo/Rodrigo Abd)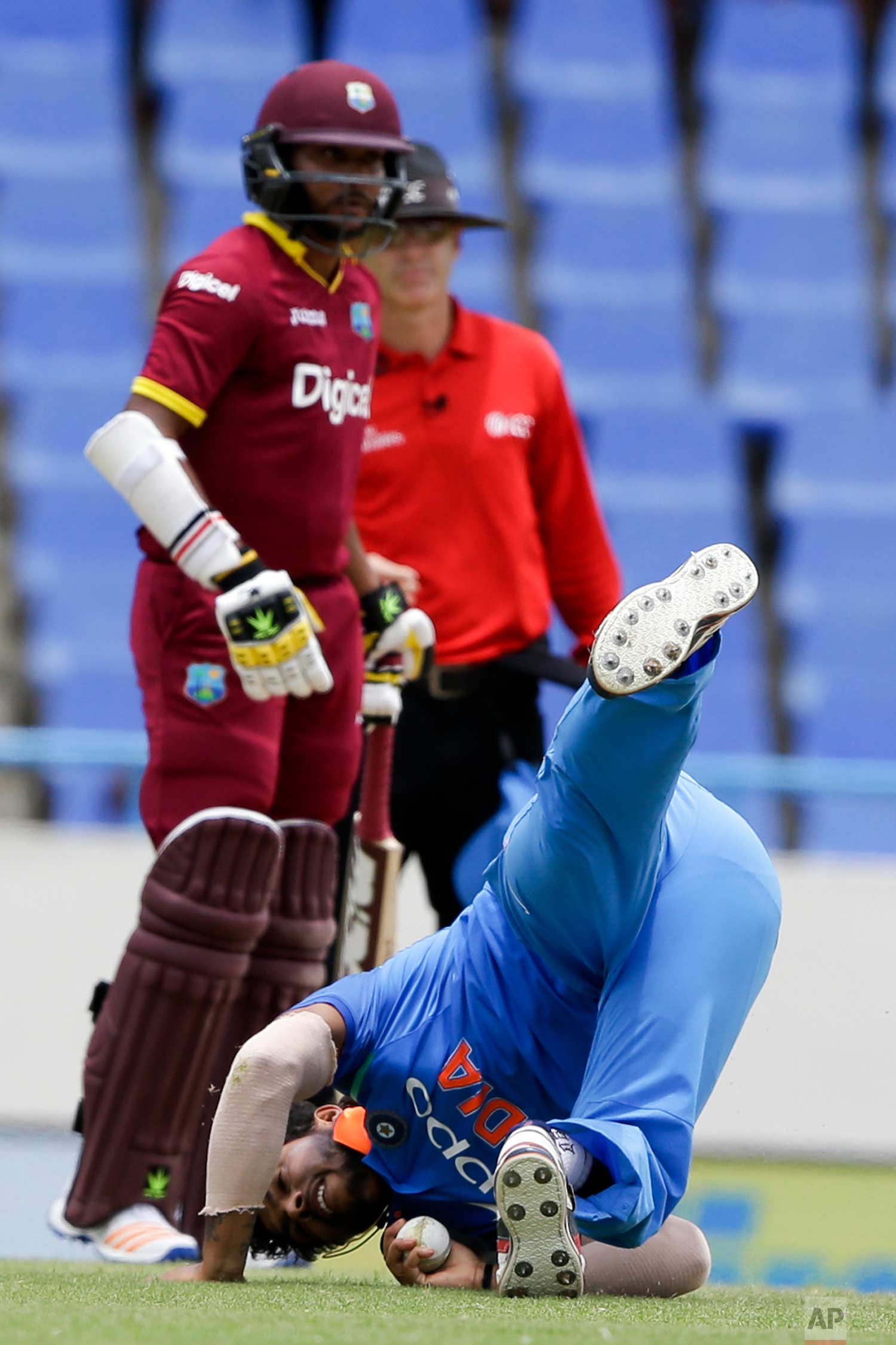 India's Umesh Yadav takes the catch from his own bowling to dismiss West Indies' Ashley Nurse during their fourth ODI cricket match at the Sir Vivian Richards Stadium in North Sound, Antigua and Barbuda, Sunday, July 2, 2017. (AP Photo/Ricardo Mazalan)
A young woman with the World Wildlife Fund carries a papier mache replica of the critically endangered porpoise known as the vaquita marina, during an event in front of the National Palace calling on the Mexican government to take additional steps to protect the world's smallest marine mammal, in Mexico City, Saturday, July 8, 2017. (AP Photo/Rebecca Blackwell)
An anti-government protester holds a homemade shield brandished with photos of President Nicolas Maduro, government officials and a gun sight, during clashes with security forces blocking a march to the Supreme Court, in Caracas, Venezuela, Saturday, July 22, 2017. (AP Photo/Fernando Llano)
Protesters, representing forcibly sterilized women by the government during the presidency of Alberto Fujimori, perform during a march in Lima, Peru, Friday, July 7, 2017. (AP Photo/Rodrigo Abd)
A woman is launched into the air during a pro-government candidates' rally in Caracas, Venezuela, Tuesday, July 25, 2017. (AP Photo/Ariana Cubillos)
Members of the roofless moment march to protest the conviction of Brazil's former President Luiz Inacio Lula da Silva in Sao Paulo, Brazil, Thursday, July 20, 2017. (AP Photo/Andre Penner)
Bolivarian National Guards fire rubber bullets as they advance on anti-government demonstrators in Caracas, Venezuela, Friday, July 28, 2017, two days before the vote to begin the rewriting of Venezuela's constitution. (AP Photo/Ariana Cubillos)