Julia Weeks
AP Photo, Best of Latin America, Diego Herculano, Esteban Felix, Arnulfo Franco, Rodrigo Abd, Rebecca Blackwell, Felipe Dana, Mario Lobao, Marco Ugarte, Natacha Pisarenko, Christian Torres, Dieu Nalio Chery, Rashide Frias, Ramon Espinosa, Luis Gutierrez, Leo Correa, Fernando Vergara, Mauro Pimentel, Silvia Izquierdo, Maxi Jonas, Luis Soto, Dolores Ochoa, Eduardo Verdugo, Juan Karita, Carlos Junior, Andre Penner
1 Comment
Latin America in review
Julia Weeks
AP Photo, Best of Latin America, Diego Herculano, Esteban Felix, Arnulfo Franco, Rodrigo Abd, Rebecca Blackwell, Felipe Dana, Mario Lobao, Marco Ugarte, Natacha Pisarenko, Christian Torres, Dieu Nalio Chery, Rashide Frias, Ramon Espinosa, Luis Gutierrez, Leo Correa, Fernando Vergara, Mauro Pimentel, Silvia Izquierdo, Maxi Jonas, Luis Soto, Dolores Ochoa, Eduardo Verdugo, Juan Karita, Carlos Junior, Andre Penner
1 Comment
Latin America in review is a monthly gallery that features some of the top photojournalism made by AP staff photographers and freelancers based in our Latin America region.
This month's selection begins in Brazil, where the son of slain civil police officer Mario Marcelo de Albuquerque is comforted during his father's funeral. Mario Marcelo de Albuquerque was shot to death when he tried to impede a robbery.
In Peru, dancers get ready near Lake Titicaca prior to their performance at Virgin of Candelaria celebrations in Puno. Dancers in colorful masks and elaborate costume celebrate the Virgin of Candelaria, patron saint of communities along the shore of Lake Titicaca, in what's considered the largest Catholic festival in the Andes.
At a wax museum in Mexico City, a worker styles the hair on a wax replica of U.S. President Donald Trump.
In Chile, a flower shoots through a landscape razed by wildfires in Chile's Cauquenes community, where the national forestry agency says Chile's raging wildfires have destroyed nearly 904,000 acres (366,000 hectares) since Jan. 15. Chile's President Michelle Bachelet said, adding that her country was living through "the greatest forest disaster in our history."
In Port-au-Prince, Haiti, a woman cries near the coffin containing the body of a relative who died at the country's largest prison. Relatives wailed in grief or stared stoically as flowers were placed on 20 caskets at a mass funeral for the latest group of inmates who died from malnourishment in Haiti's largest prison, most without ever having been convicted of any crime.
This gallery was curated by Latin America photo editors Leslie Mazoch and Tomas Stargardter and News Director of Mexico and Central America Enric Marti.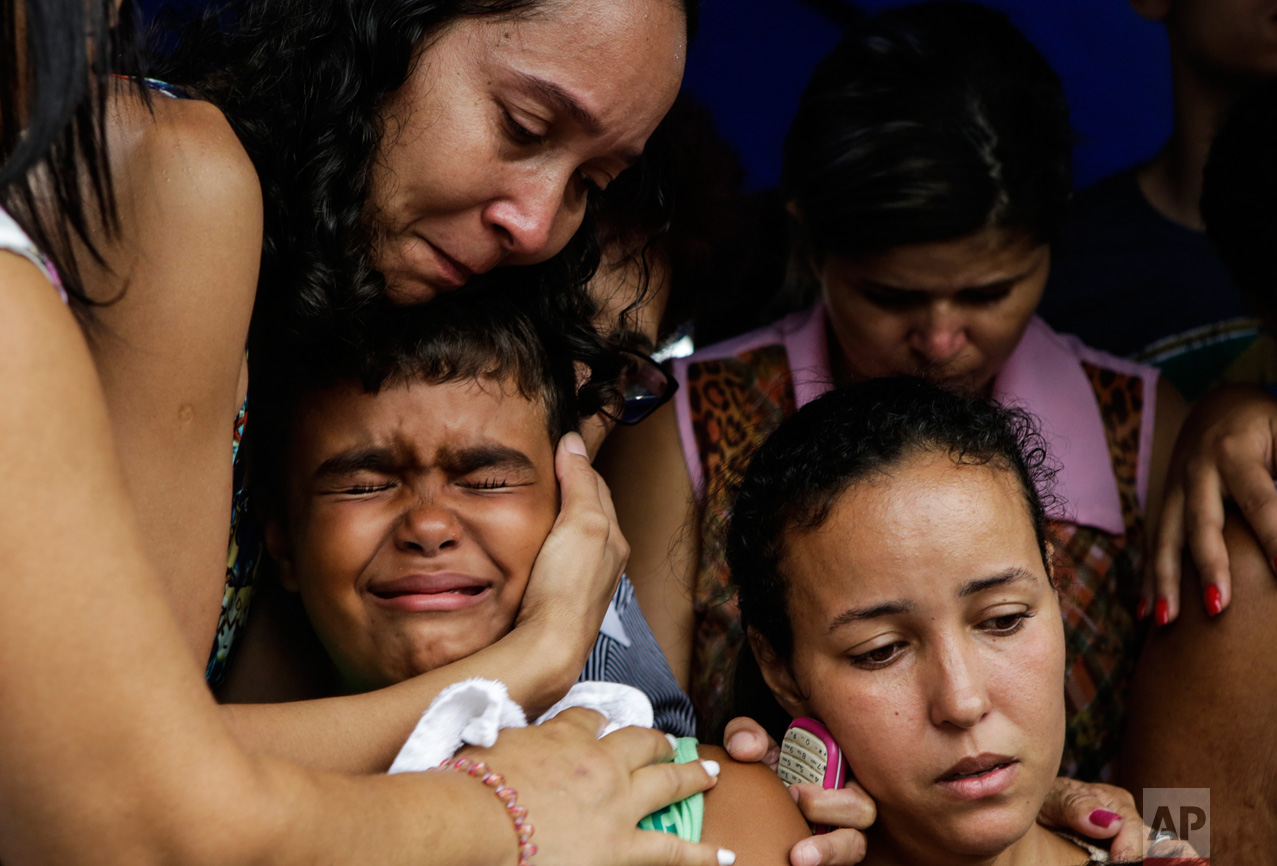 Kailua, center, son of slain civil police officer Mario Marcelo de Albuquerque Espirito, is comforted during his father's funeral, alongside his mother Patricia Albuquerque, right, in Serra, Espirito Santo state, Brazil, Wednesday, Feb 8, 2017. Mario Marcelo de Albuquerque was shot to death when he tried to impede a robbery. (AP Photo/Diego Herculano)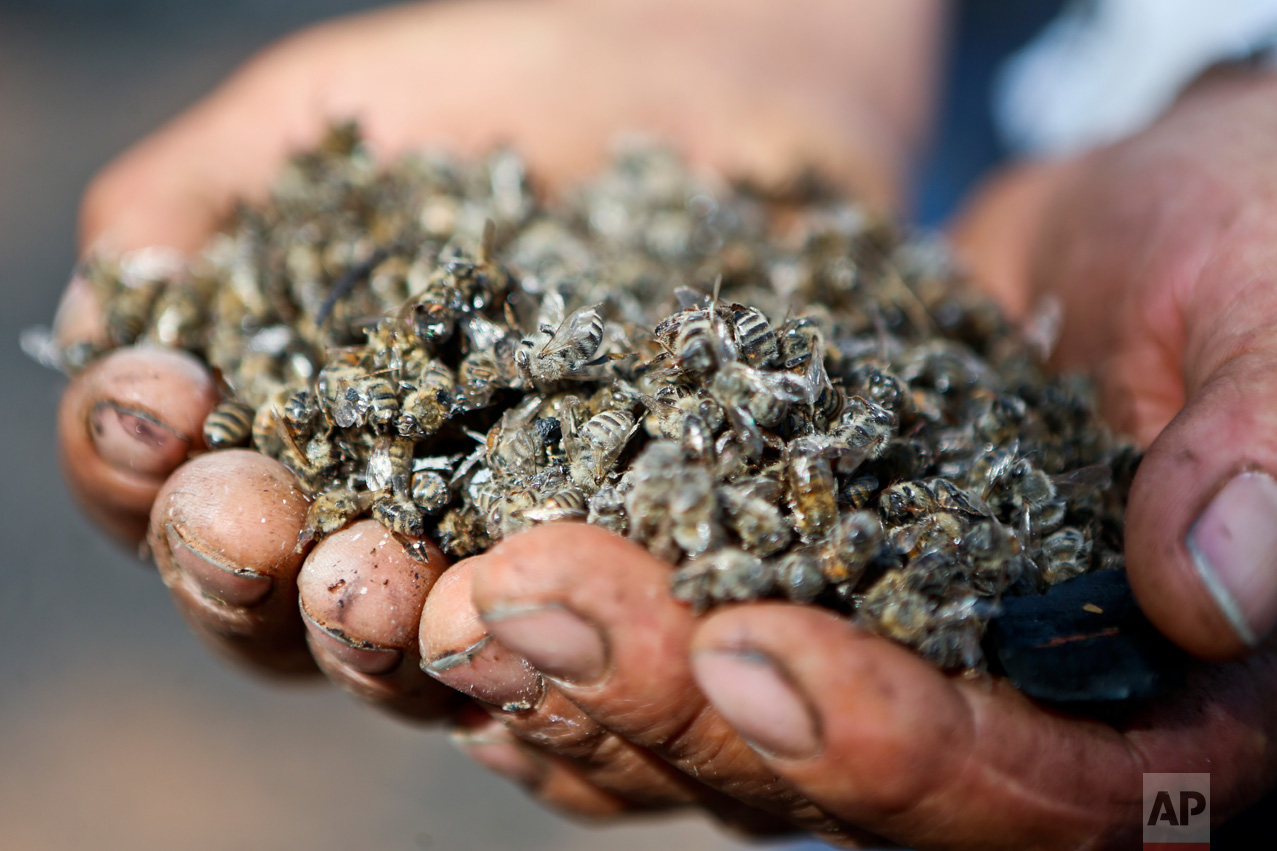 In this Wednesday, Feb. 1, 2017 photo, Eliazar Enriquez holds dead bees at his apiary affected by wildfires in Chile's Quebrada del Maule community. About 63 million bees died in the area and some 240 million bees are at high risk, said forestry engineer and beekeeper consultant Carlos Correa. (AP Photo/Esteban Felix)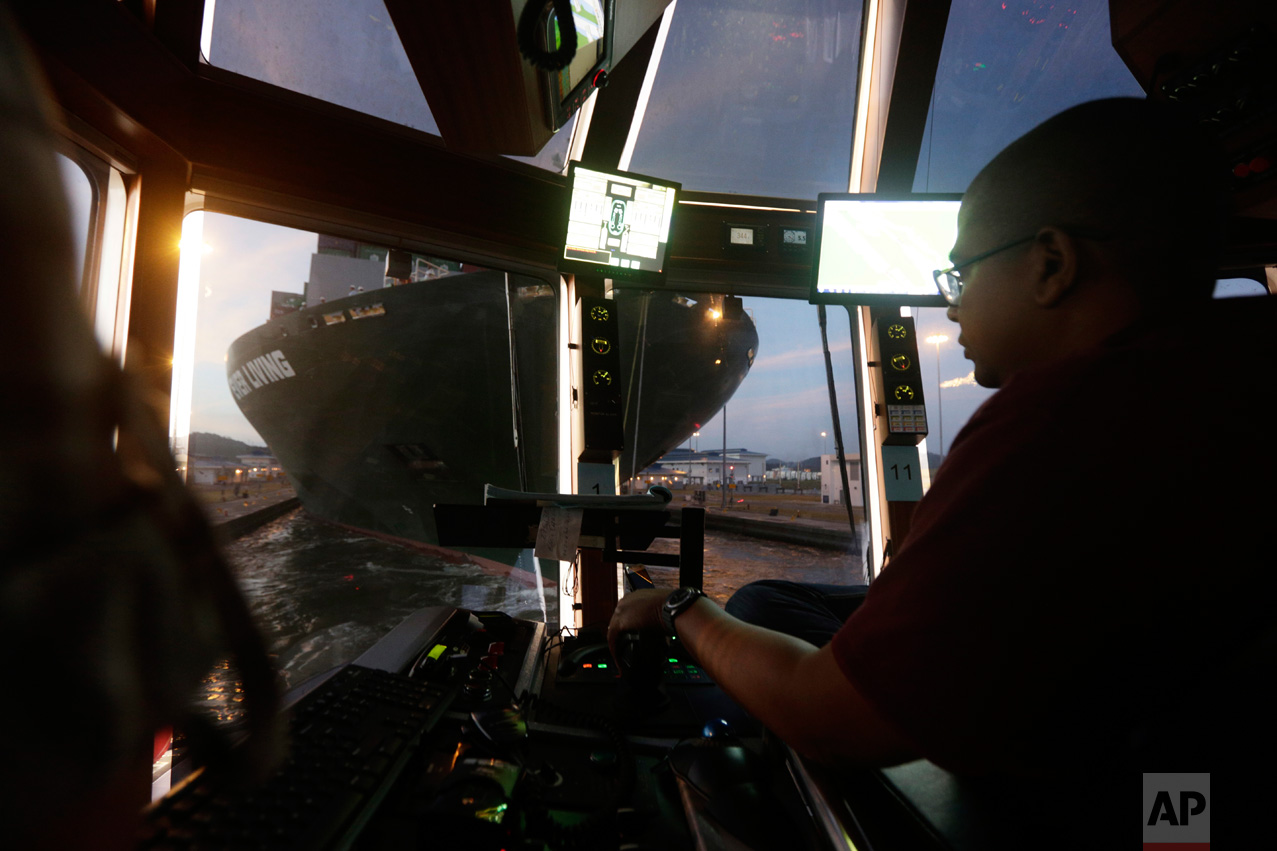 In this Jan. 18, 2017 photo, tugboat Captain Antonio Wray guides the Ever Living, a Neo-Panamax cargo ship, through the Cocoli locks that are part of the new Panama Canal expansion project in Cocoli, Panama. Before the canal opened in late June 2016, tugboat pilots expressed concern about what they said was insufficient training for new maneuvers that are now required. (AP Photo/Arnulfo Franco)
In this Jan. 29, 2017 photo, dancers get ready near Lake Titicaca prior to their performance at Virgin of Candelaria celebrations in Puno, Peru. The festivities start this week. (AP Photo/Rodrigo Abd)
Museum worker Monica Alcantara adjusts the hair on a wax replica of U.S. President Donald Trump at the Wax Museum in Mexico City, Wednesday, Feb. 1, 2017. The wax figure of Trump went on display the day of his inauguration, Jan. 20, and currently stands next to Mexican President Enrique Pena Nieto at the museum's entrance. (AP Photo/Rebecca Blackwell)
In this Jan. 20, 2017 photo, people pray for peace as they face Alcacuz prison in Nisia Floresta, near Natal, Brazil. Authorities acknowledge that Alcacuz is beyond saving. Rio Grande do Norte state Gov. Robinson Faria has announced it will close, though only after three new prisons are ready. In the meantime, an emergency force of corrections agents has been sent in to establish order and repair the damaged facility. (AP Photo/Felipe Dana)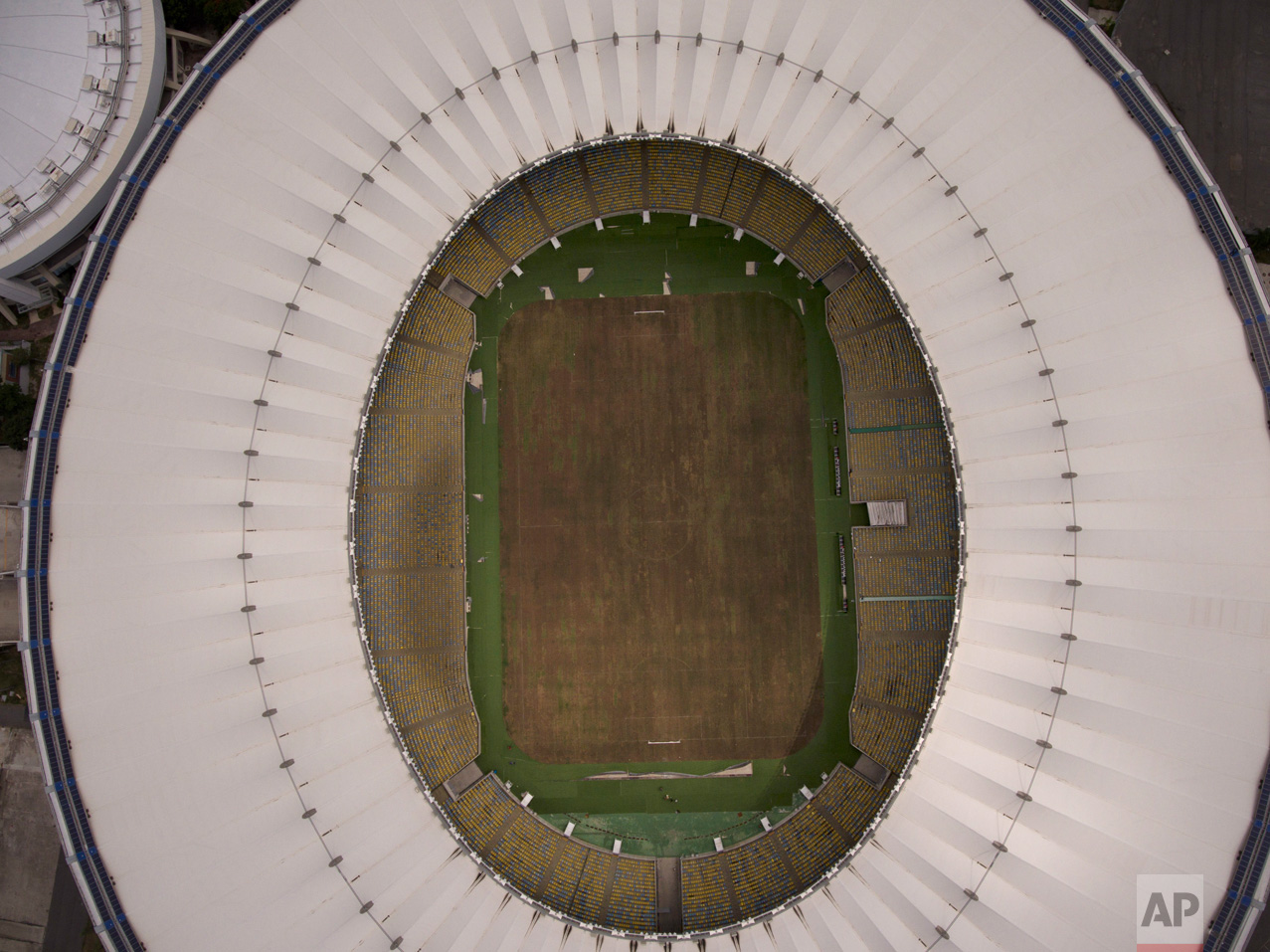 This Feb. 2, 2017 photo shows Maracana stadium's dry playing field in Rio de Janeiro, Brazil. The stadium was renovated for the 2014 World Cup at a cost of about $500 million, and largely abandoned after the Olympics and Paralympics, then hit by vandals who ripped out thousands of seats and stole televisions. (AP Photo/Mario Lobao)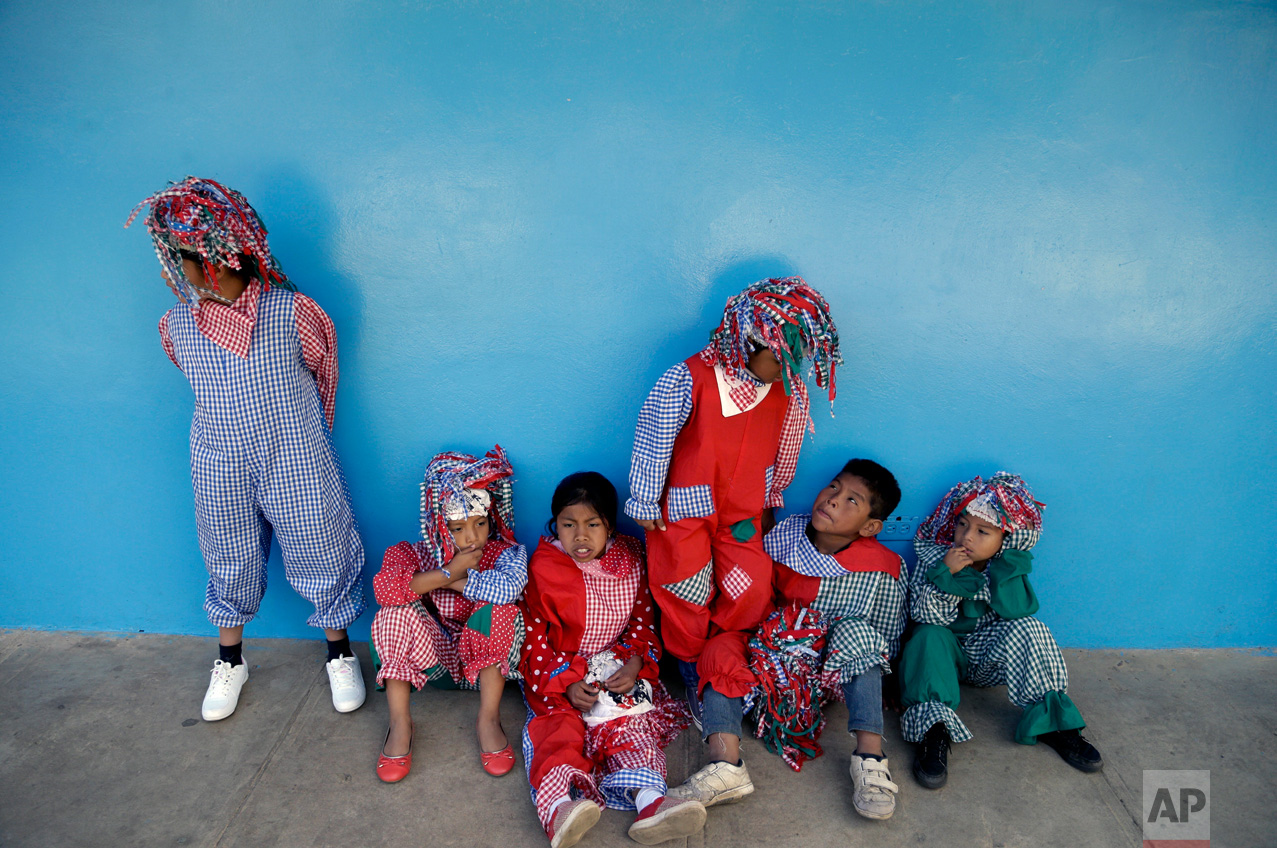 Children dressed as clowns wait to dance for Nobel Peace Prize Laureate Kailash Satyarthi, from India, as he visits the school "Casa Esperanza," or Hope Home, in Boquete, Panama, Tuesday, Feb. 7, 2017. Satyarthi is in Panama at the invitation of the first lady Lorena Castillo de Varela who is working in eradicate child labor. Casa Esperanza, which offers fee education to the children of poor, mostly hired farm hands, say they have rescued more than 30,000 children from child labor since 1992. (AP Photo/Arnulfo Franco)
Demonstrators holding fireworks as weapons stand behind a barricade during clashes with police as they protest the state government in Rio de Janeiro, Brazil, Thursday, Feb. 9, 2017. The protesters are denouncing a proposal to privatize the state's water and sewage company. (AP Photo/Felipe Dana)
A flower shoots through a landscape razed by wildfires in Chile's Cauquenes community, Thursday, Feb. 2, 2017. The national forestry agency says Chile's raging wildfires have destroyed nearly 904,000 acres (366,000 hectares) since Jan. 15. (AP Photo/Esteban Felix)
Eric Peralta loads stalks of harvested corn on his wagon in San Salvador Atenco, México, Wednesday, Feb. 1, 2017. Peralta's land is right next to Mexico City's future airport which is expected to be ready by mid-2020. (AP Photo/Marco Ugarte)
Italy's Paolo Lorenzi cools down with water during a Davis Cup first round tennis match against Argentina's Guido Pella in Buenos Aires, Argentina, Friday, Feb. 3, 2017. (AP Photo/Natacha Pisarenko)
A protester dressed as a diabolical version of Uncle Sam holds a suitcase full of money at the U.S. border fence in Ciudad Juarez, Mexico, Sunday, Feb. 26, 2017. A group of about 30 protestors gathered to paint slogans on the border wall and stage a performance mocking the relationship between Presidents Donald Trump and Enrique Pena Nieto. (AP Photo/Christian Torres)
Musicians check their cell phones during a pause in the procession celebrating the feast day of the Virgin of Candelaria, in Puno, Peru, Thursday, Feb. 2, 2017. (AP Photo/Rodrigo Abd)
A woman cries near the coffin containing the body of a relative who died at the country's largest prison in Port-au-Prince, Haiti, Tuesday Feb. 21, 2017. Relatives wailed in grief or stared stoically as flowers were placed on 20 caskets at a mass funeral for the latest group of inmates who died miserably in Haiti's largest prison, most without ever having been convicted of any crime. (AP Photo/Dieu Nalio Chery)
A reveler wearing a wonder woman costume sits at a bar during carnival festivities at the Cidade de Deus, or "City of God" slum in Rio de Janeiro, Brazil, Monday, Feb. 27, 2017. (AP Photo/Felipe Dana)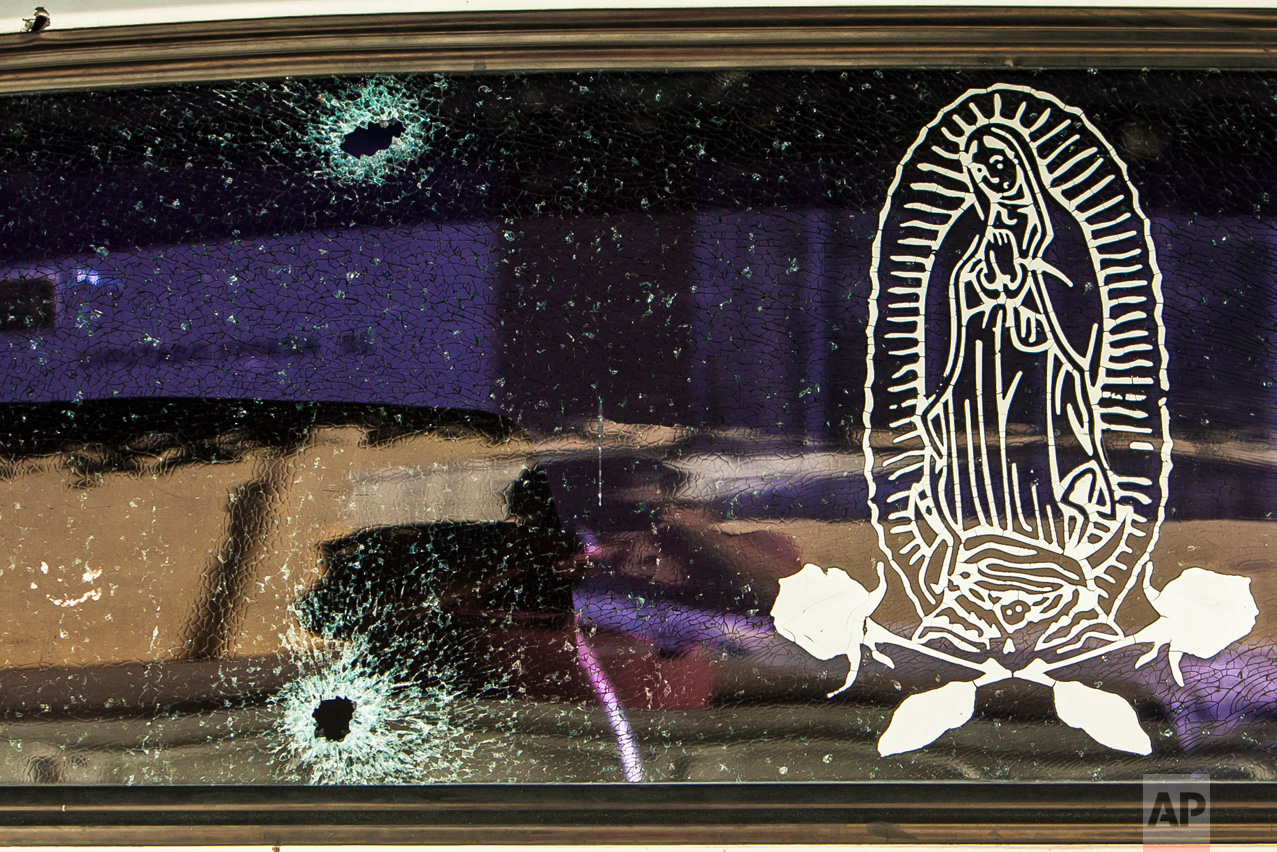 The rear windshield of a vehicle is held together by a transparent film with an image of the Virgin of Guadalupe, after being struck by a couple of bullets in Culiacan, Mexico, Tuesday, Feb. 7, 2017. The Sinaloa state prosecutor's office said in a statement that several suspects and a Mexican marine died in an early morning clash after heavily armed men attacked the marines while on patrol in the city. (AP Photo/Rashide Frias)
Men in bikini tops hold signs that read in Spanish "Why can I go topless and they can't" during a bare-breasted demonstration in Buenos Aires, Argentina, Tuesday, Feb. 7, 2017. People protested after police threatened several weeks ago to detain several women sunbathing topless on a beach in Argentina. (AP Photo/Natacha Pisarenko)
Marcelino Rogelio Estrada performs the role of a priest during the annual celebration known as the Burial of Pachencho, played by Divaldo Aguiar, who lies in a coffin during the mock funeral service, in Santiago de Las Vegas, Cuba, Sunday, Feb. 5, 2017. Residents stage the mock funeral and burial of Pachencho in a boozy festival that has become an annual tradition to mark the end of the local carnival season. (AP Photo/Ramon Espinosa)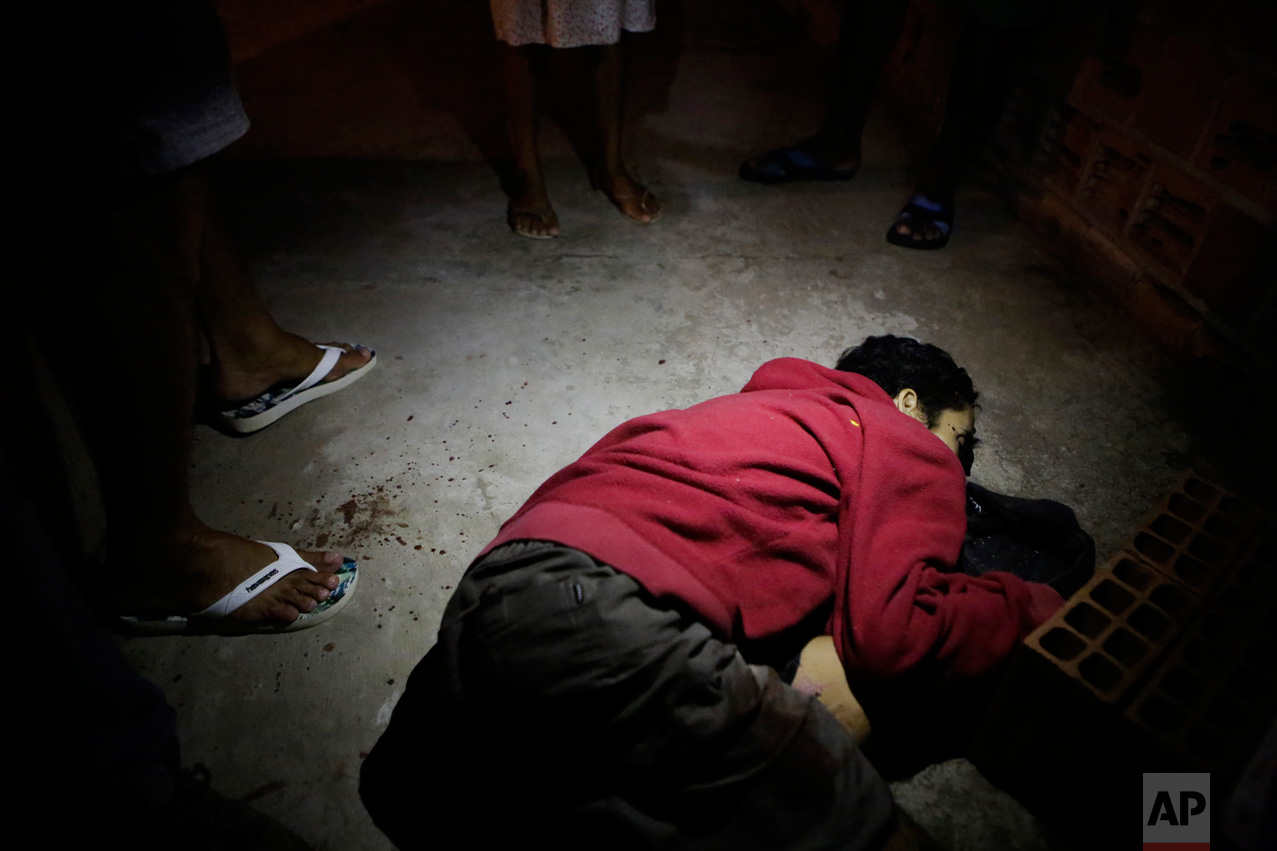 In this Thursday, Feb 9, 2017 photo, Nelson Eduardo Conclaves lies in a pool of blood as a neighbor stands over him in Vitoria, Espirito Santo state, Brazil. According to his mother Erlita Pereira Goncalves, her 30-year-old son was shot dead by attackers who broke into their home and killed him in front of her. (AP Photo/Diego Herculano)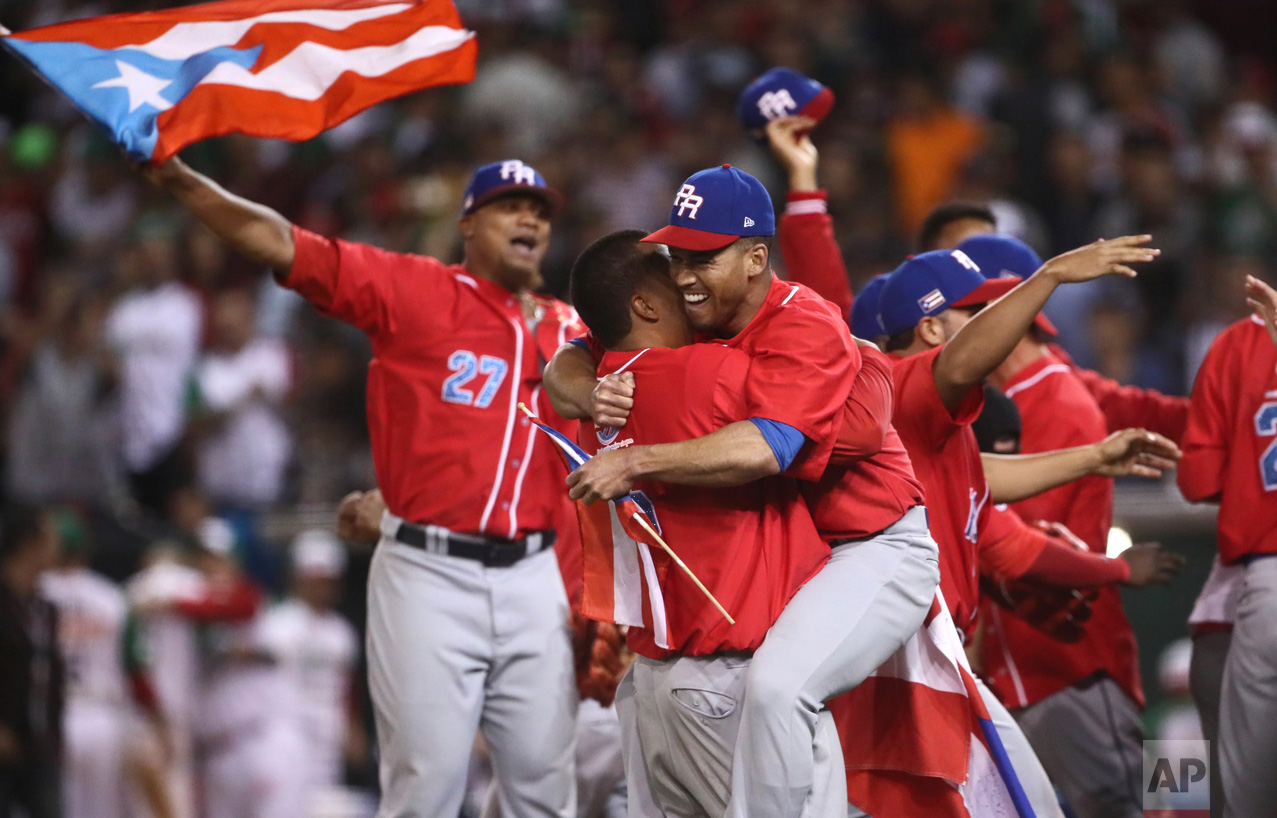 Puerto Rico's Criollos de Caguas players celebrate after the team won the Caribbean Series baseball championship title game, 1-0 over Mexico's Aguilas de Mexicali in Culiacan, Mexico, Tuesday, Feb. 7, 2017. (AP Photo/Luis Gutierrez)
Dancers eat lunch during a break from performing at the Virgin of Candelaria celebrations in Puno, Peru, Sunday, Feb. 5, 2017. (AP Photo/Rodrigo Abd)
In this Jan. 23, 2017 photo, Maria Jose de Souza reacts as she talks about her husband who died in a massacre inside Alcacuz prison in Natal, Brazil. A surviving inmate posted cellphone video of the carnage on WhatsApp, and Souza recognized a tattoo on the body of her beheaded husband. He had been in prison for three years for robbery and manslaughter, and was to be released in June. (AP Photo/Felipe Dana)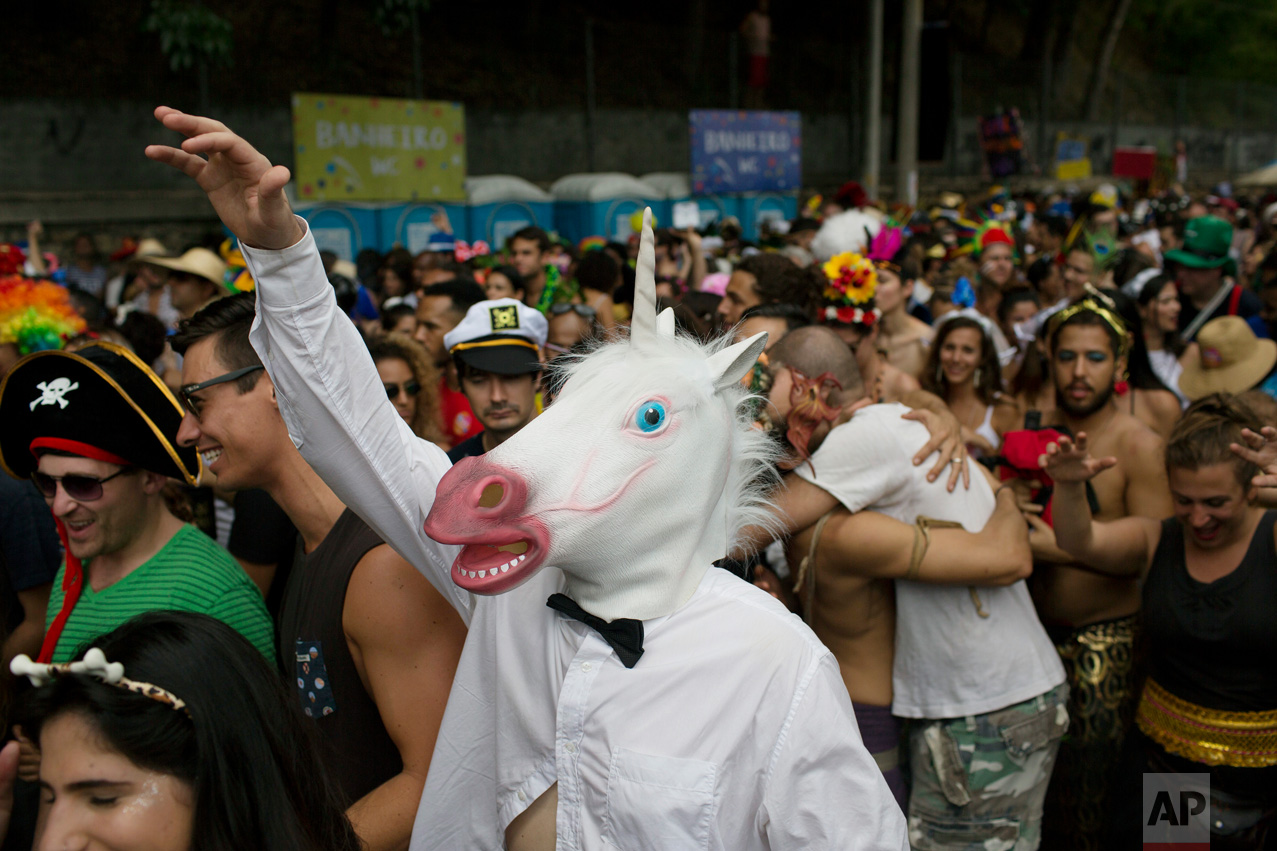 A reveler wearing a unicorn mask enjoys the "Ceu na Terra" or Heaven on Earth street party in Rio de Janeiro, Brazil, Saturday, Feb. 25, 2017. Merrymakers take to the streets in hundreds of open-air "bloco" parties during Rio's over-the-top Carnival, the highlight of the year for many. (AP Photo/Leo Correa)
Lucho Gonzalez of Brazil's Atletico Paranaense, left, tries to block a kick by Henry Rojas of Colombia's Millonarios, during a Copa Libertadores soccer match in Bogota, Colombia, Wednesday, Feb. 8, 2017. (AP Photo/Fernando Vergara)
A riot police fires towards demonstrators during a protest against the state government in Rio de Janeiro, Brazil, Thursday, Feb. 9, 2017. The protesters are denouncing a proposal to privatize the state's water and sewage company. (AP Photo/Felipe Dana)
In this Feb. 4, 2017 photo, a child holds a bowl of hot food as the Avila family has lunch at their home in Coata, a small village on the shore of Lake Titicaca in the Puno region of Peru. Lake Titicaca was once worshipped by Incas who proclaimed its deep blue waters the birthplace of the sun, but today high levels of mercury, cadmium, zinc and copper are found in the fish locals consume, according to a 2014 government study. (AP Photo/Rodrigo Abd)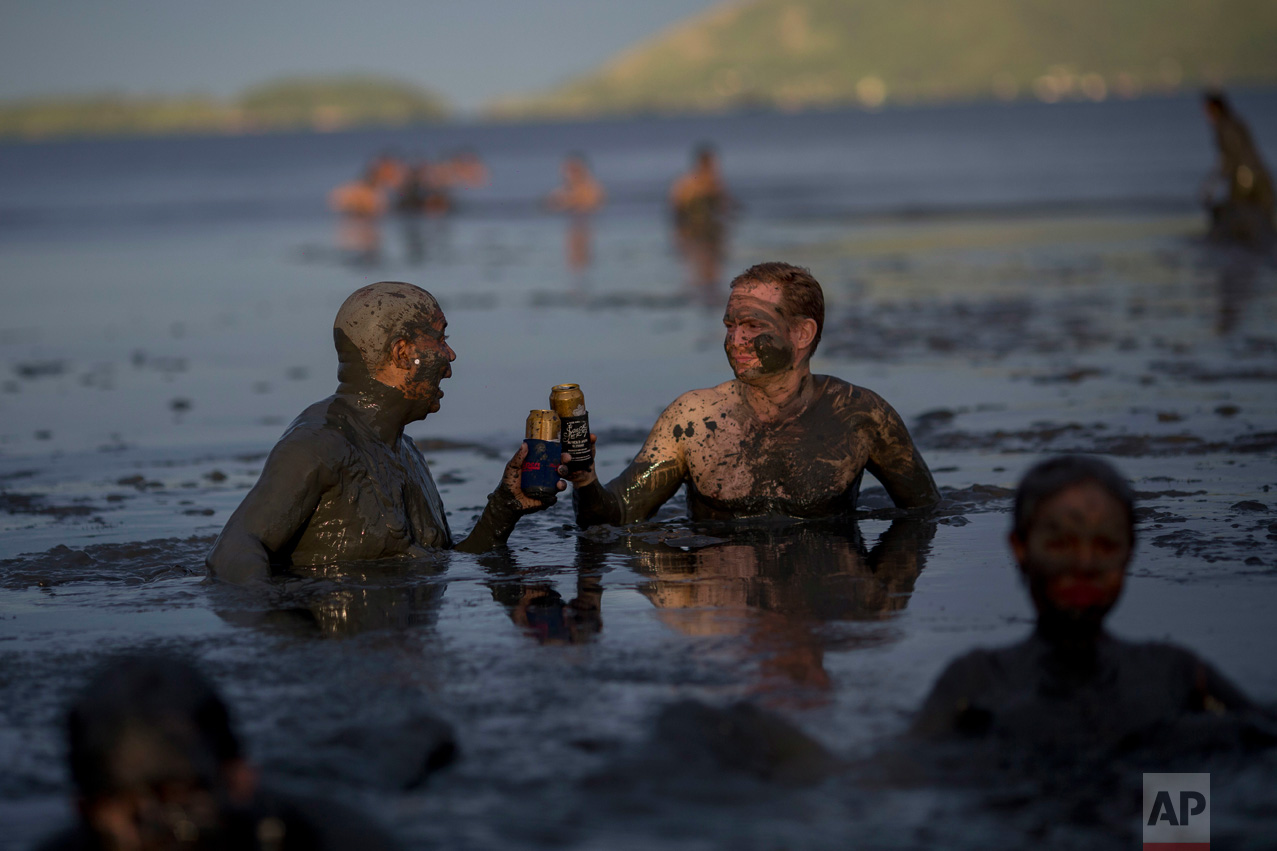 Two men toast beer while wading in mud during the traditional "Bloco da Lama" or "Mud Street" carnival party, in Paraty, Brazil, Saturday, Feb. 25, 2017. Legend has it the "bloco" was born in 1986 after local teens hiking in a nearby mangrove forest smeared themselves with mud to discourage mosquitoes and then wandered through Paraty. The party grew year after year, but revelers eventually were banned from parading in the colonial downtown after shopkeepers complained pristine white walls were stained with the hard-to-remove mud. (AP Photo/Mauro Pimentel)
In this Feb. 13, 2017 photo, a prisoner, too weak to stand, lies in the prison infirmary at the National Penitentiary in downtown Port-au-Prince, Haiti. Haitian prosecutors and rights activists are sounding an alarm about collapsing conditions at the impoverished country's prisons as malnutrition from acute food shortages and a slew of preventable illnesses are leading to an upsurge of inmate deaths. (AP Photo/Dieu Nalio Chery)
This Feb. 13, 2017 photo shows the tattoos on the chest and abdomen of a prisoner incarcerated at the National Penitentiary in downtown Port-au-Prince, Haiti. The tattoo on his chest reads in Haitian Creole: "After suffering is deliverance." ( AP Photo/Dieu Nalio Chery)
People break into a store during clashes with riot police at a protest against the state government in Rio de Janeiro, Brazil, Thursday, Feb. 9, 2017. The protesters are denouncing a proposal to privatize the state's water and sewage company. (AP Photo/Felipe Dana)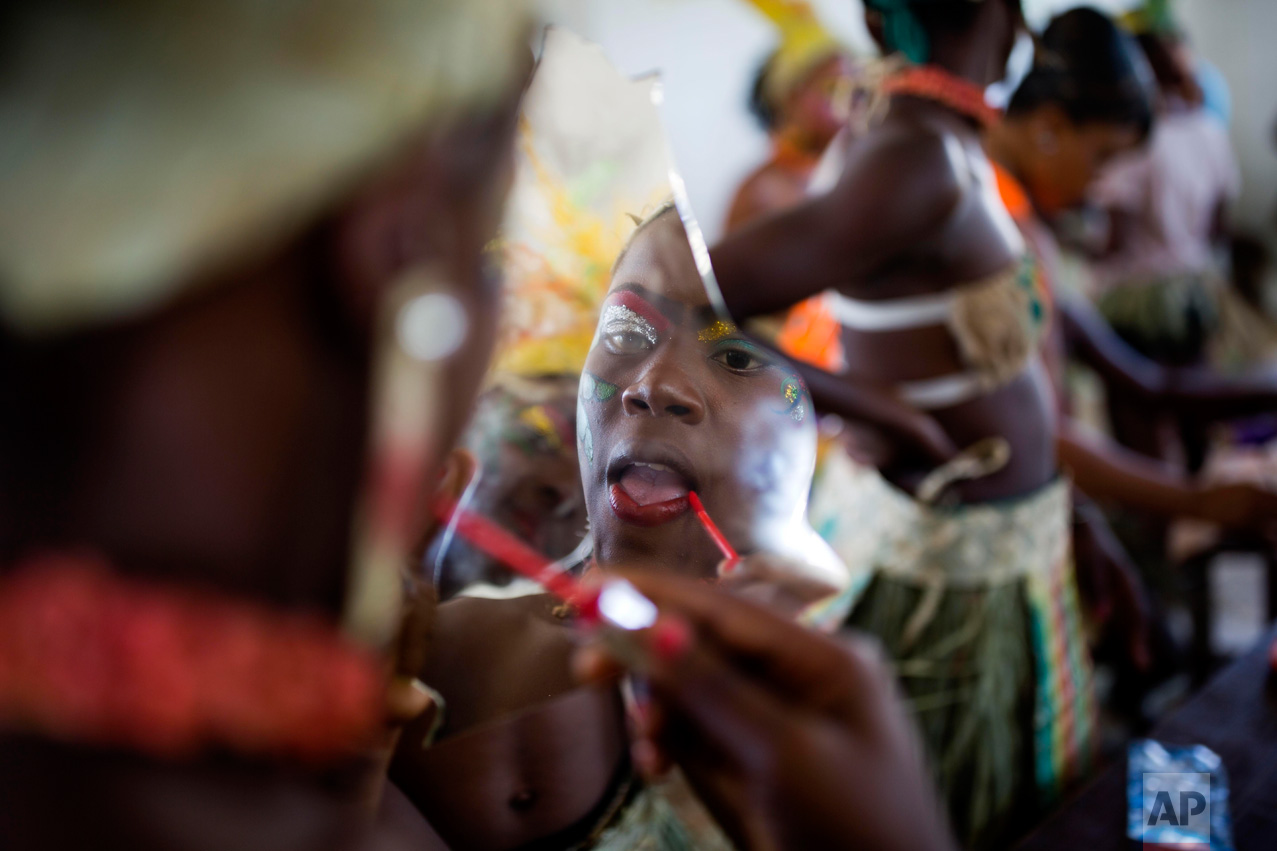 A Carnival performer holds a mirror shard as she puts on lipstick in Les Cayes, Haiti, Tuesday, Feb. 28, 2017. Haiti's three-day Carnival festivities have brought rum-fueled parties, imaginative costumes and high-energy dance music to a southern city that's still recovering from last year's punishing Hurricane Matthew. (AP Photo/Dieu Nalio Chery)
Italy's Fabio Fognini twirls his shirt as he celebrates his Davis Cup first round tennis match victory over Argentina's Guido Pella, in Buenos Aires, Argentina, Monday, Feb. 6, 2017. Fognini defeated Pella 2-6, 4-6, 6-3, 6-4, 6-2. (AP Photo/Natacha Pisarenko)
Costumed patients from the Nise da Silveira Mental Health Institute wait for the start of their Carnival parade, coined in Portuguese: "Loucura Suburbana," or Suburban Madness, in the streets of Rio de Janeiro, Brazil, Thursday, Feb. 23, 2017. Patients, their relatives and institute workers held their parade one day before the official start of Carnival. (AP Photo/Silvia Izquierdo)
Penguins walk on a beach at Punta Tombo peninsula in Argentina's Patagonia, on Friday, Feb. 17, 2017. Drawn by an unusually abundant haul of sardines and anchovies, over a million penguins visited the peninsula during this years' breeding season, a recent record number according to local officials. Punta Tombo represents the largest colony of Magellanic penguins in the world. (AP Photo/Maxi Jonas)
Erlita Pereira Goncalves shows police and photographers the casings of bullets she said were used to kill her son Nelson Eduardo in Vitoria, Espirito Santo state, Brazil, Thursday, Feb 9, 2017. Goncalves said her 30-year-old son was shot dead by attackers who broke into their home and killed him in front of her. (AP Photo/Diego Herculano)
A supporter of Haiti's President Jovenel Moise impersonates the new president, with a sign behind him that reads in Creole "Energy plus encouragement plus movement plus work" during Moise's inauguration in Port-au-Prince, Haiti, Tuesday, Feb. 7, 2017. Moise was sworn-in as president for the next five years after a bruising two-year election cycle, inheriting a struggling economy and a deeply divided society. (AP Photo/Dieu Nalio Chery)
Forensic medics investigate a crime scene where two people were shot dead by unidentified attackers in Culiacan, Mexico, late Tuesday, Feb. 7, 2017. More people have been killed in Sinaloa state, hours after several suspects and a marine died during a clash in the city. (AP Photo/Rashide Frias)
A youth sells foam cans to revelers during the "Get out Temer" carnival street party in Rio de Janeiro, Brazil, Friday, Feb. 24, 2017. Merrymakers took to the streets to protest Brazil's President Michel Temer. (AP Photo/Silvia Izquierdo)
Benito Cerati listens to questions during an interview in Mexico City, Wednesday, Feb. 22, 2017. Cerati, son of the late Argentine rock star Gustavo Cerati, is in Mexico to perform and promote his band's album Zero Kill. (AP Photo/Marco Ugarte)
A guest wearing a mask attends a traditional Carnival ball at the Copacabana Palace hotel in Rio de Janeiro, Brazil, Saturday, Feb. 25, 2017. In stark contrast to the hundreds of hard-charging street parties across Rio that are open to anyone, the "Baile do Copa" bills itself as a fairytale event where the country's elite can see and be seen in a hotel known for both opulence and a lengthy tradition of welcoming world leaders and stars. (AP Photo/Leo Correa)
Supreme Court Justice Blanca Stalling looks out from a cell at a court in Guatemala City, Wednesday, Feb. 8, 2017. Prosecutors in Guatemala say Stalling has been arrested on a charge of influence peddling for trying to help her son in a corruption case. (AP Photo/Luis Soto)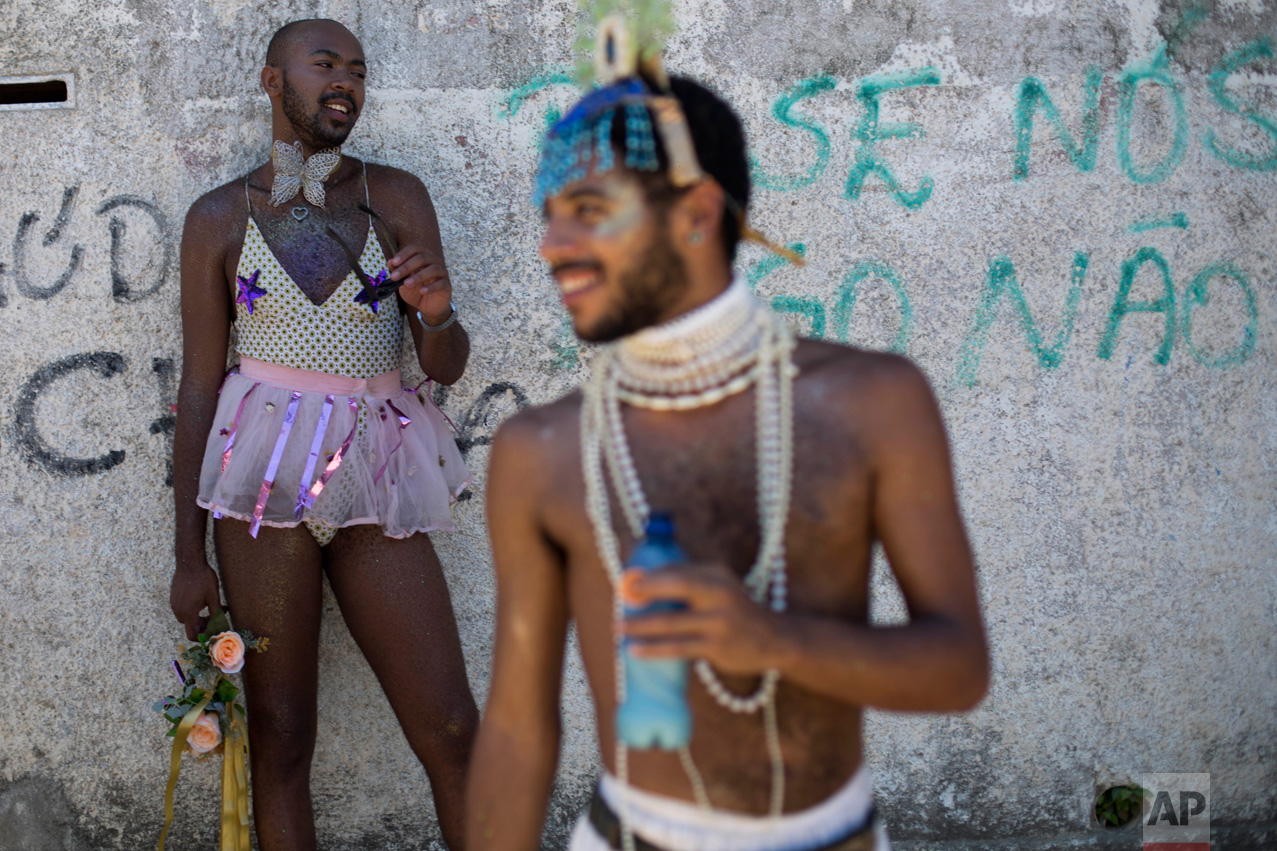 Revelers take part in the "Guanabara Pearl" carnival street party at Paqueta island, in Rio de Janeiro, Brazil, Saturday, Feb. 18, 2017. Merrymakers ferry cross Guanabara Bay to Paqueta island to participate in the "Guanabara Pearl" parade. (AP Photo/Mauro Pimentel)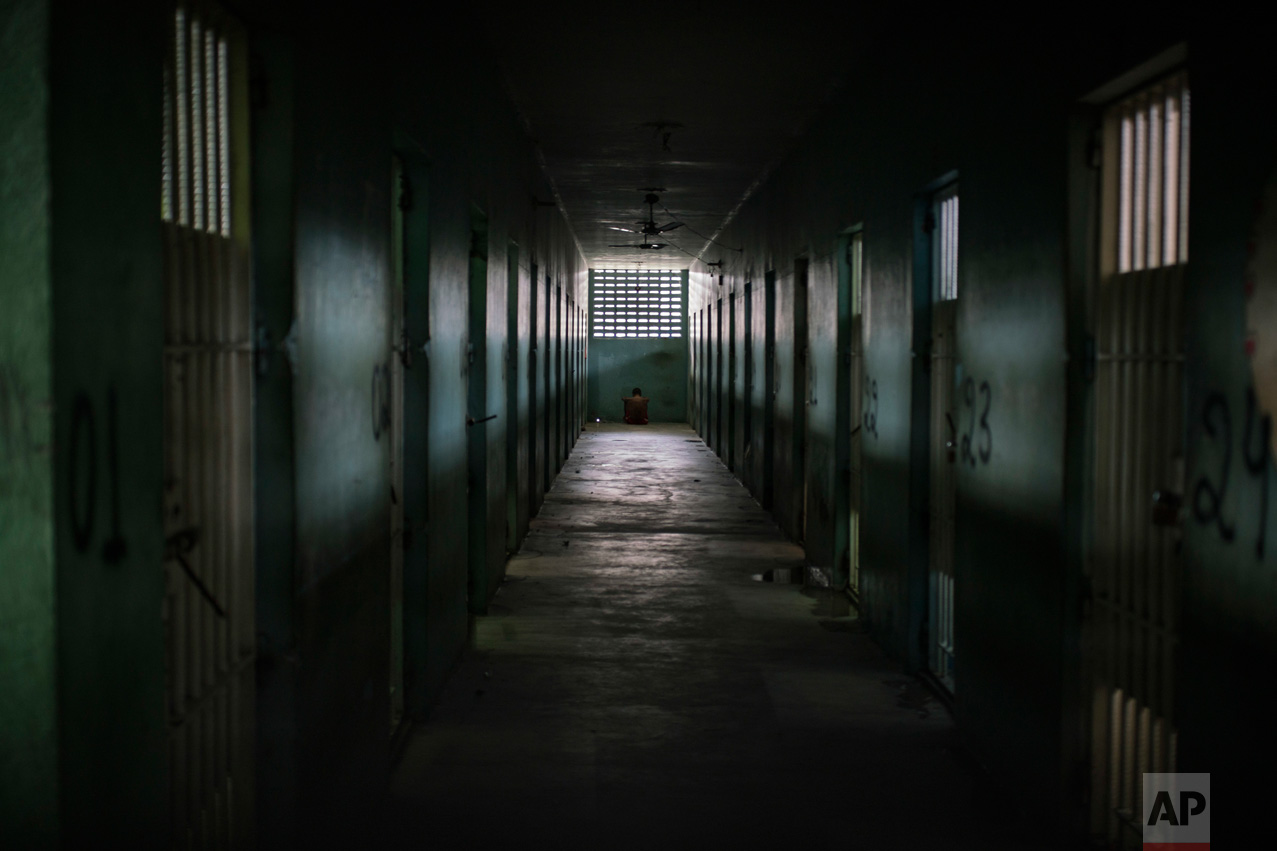 In this Feb. 2, 2017 photo, an inmate sits facing the wall at the end of a corridor between cells at the Monte Cristo agricultural penitentiary in Boa Vista, Brazil. Some prisoners serving time for lesser crimes were forced to participate in gang-driven slaughters that left at least 130 inmates dead in January at this jail, and one other. (AP Photo/Felipe Dana)
"Mike" dressed in a boxer costume, takes part in the "Blocao" dog carnival parade in Rio de Janeiro, Brazil, Saturday, Feb. 25, 2017. Carnival goes to the dogs as pet owners take to the streets for their own party, with their four-legged friends in ornate costumes. (AP Photo/Silvia Izquierdo)
In this Feb. 11, 2017 photo, Uruguay's goalkeeper Santiago Mele, center, celebrates his team's victory at the U-20 South America qualifying soccer tournament in Quito, Ecuador. Uruguay, Brazil, Ecuador and Venezuela qualified for the 2017 South Korea U-20 World Cup. (AP Photo/Dolores Ochoa)
Performers from the Uniao da Ilha samba school parade during Carnival celebrations at the Sambadrome in Rio de Janeiro, Brazil, Monday, Feb. 27, 2017. Competitors work for months to ready for Brazil's world famous Carnival parades of samba dancing, costumes and magnificent floats. (AP Photo/Mauro Pimentel)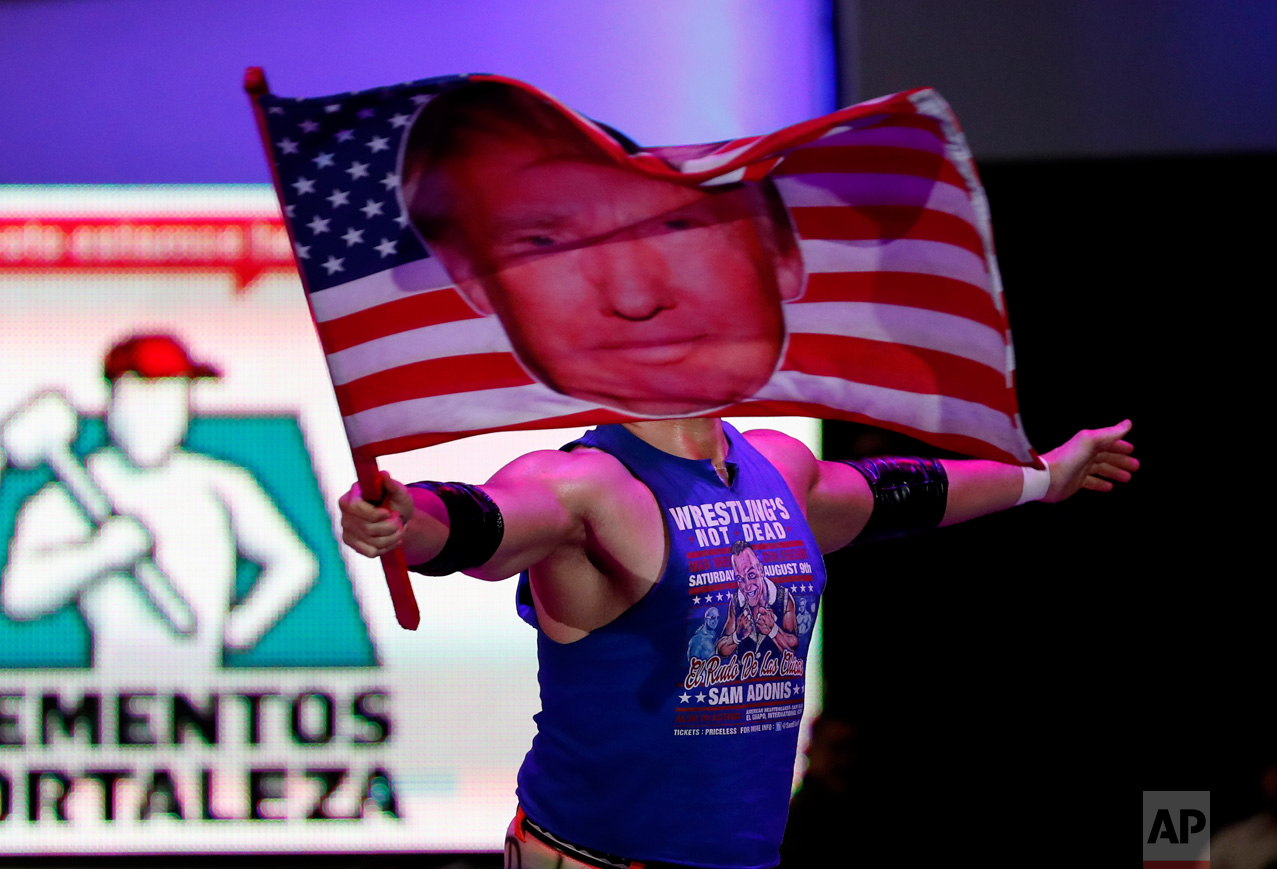 American pro wrestler Sam Polinsky aka Sam Adonis takes the ring at Arena Mexico waving an American flag emblazoned with a photo of U.S. President Donald Trump, in Mexico City, Sunday, Feb. 12, 2017. He's the guy Mexicans love to hate: The wrestler has become a sensation in Mexico City by adopting the ring persona of a flamboyant Trump supporter. (AP Photo/Eduardo Verdugo)
Revelers attend the Ceu na Terra, or 'Heaven on Earth' carnival street party in Rio de Janeiro, Brazil, Saturday, Feb. 18, 2017. Merrymakers take to the streets in hundreds of open-air "bloco" parties ahead of Rio's over-the-top Carnival, the highlight of the year for many. (AP Photo/Felipe Dana)
A masked demonstrator stands in front a bus as he blocks a street next to the Sambodrome during a protest against the state government in Rio de Janeiro, Brazil, Monday, Feb. 20, 2017. The protesters are denouncing a proposal to privatize the state's water and sewage company. (AP Photo/Leo Correa)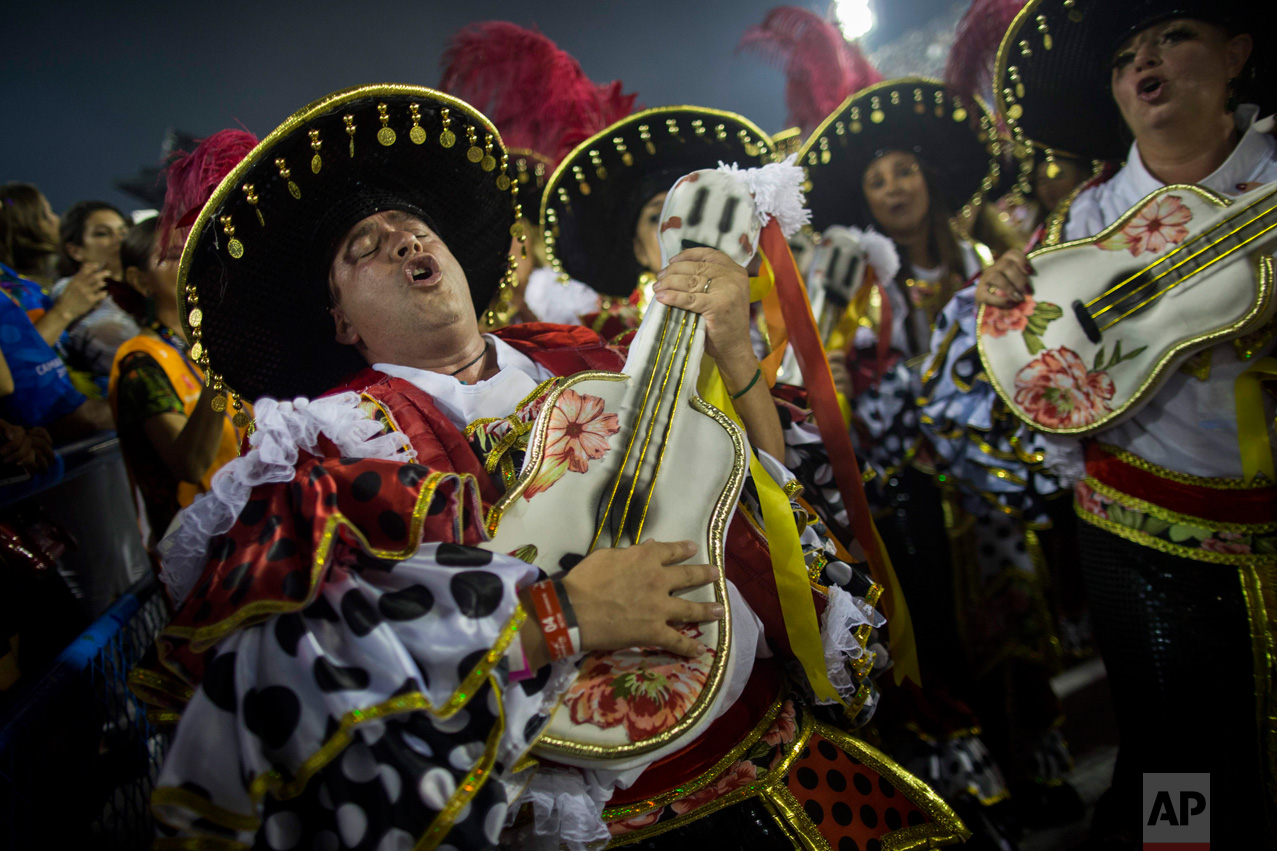 A performer from the Academicos do Grande Rio samba school parades during Carnival celebrations at the Sambadrome in Rio de Janeiro, Brazil, Monday, Feb. 27, 2017. (AP Photo/Mauro Pimentel)
Sludge fills the living room of a home, brought by the overflowing of the Estero San Jose River in San Alfonso, Santiago, Chile, Sunday, Feb. 26, 2017. Floods caused by Andean rainfall are causing havoc in parts of Chile, triggering landslides, cutting roads and isolating thousands of people. (AP Photo/Esteban Felix)
A Quechua Indian watches a protest march against Bolivia's President Evo Morales, while a woman holds a sign with a message that reads in Spanish; "Bolivia said no!" regarding a referendum ruling out his run for a fourth term, in La Paz, Bolivia, Tuesday, Feb. 21, 2017. (AP Photo/Juan Karita)
EDS NOTE: GRAPHIC CONTENT - An injured woman is helped after a float of the first samba school crash during Carnival celebrations at the Sambadrome in Rio de Janeiro, Brazil, Sunday, Feb. 26, 2017. A float in Rio de Janeiro's world famous Carnival parade crashed Sunday evening, and police said several people were injured. (AP Photo/Carlos Junior)
A man floats in the Pacific Ocean off Agua Dulce beach in Lima, Peru, Thursday, Feb. 23, 2017. Residents living in the capital city cool off on hot summer days by going to the nearby beaches. (AP Photo/Rodrigo Abd)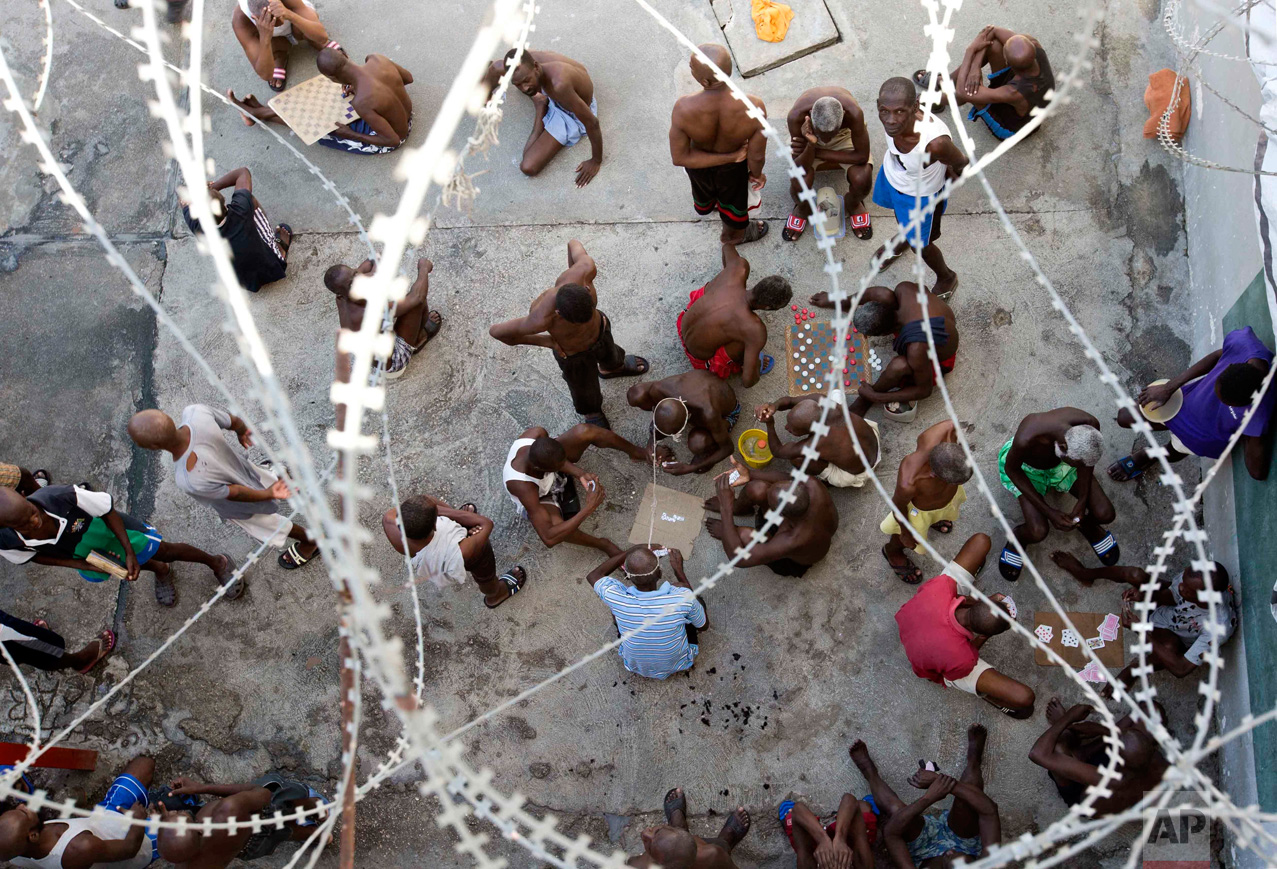 In this Feb. 13, 2017 photo, some prisoners play dominoes, checkers or card games, during recreation time inside the National Penitentiary in downtown Port-au-Prince, Haiti. Inmates, some waiting up to eight years to see a judge, try to keep their sanity by maintaining a daily routine of push-ups and lifting jugs filled with dirty water. Others play checkers or dominoes. (AP Photo/Dieu Nalio Chery)
A Carnival performer is painted by his friends before the start of a parade in Les Cayes, Haiti, Tuesday, Feb. 28, 2017. Tuesday's celebrations were the last major party day of Haiti's Carnival, a mixture of Catholic pre-Lenten festivities and African, Spanish and native cultures found throughout the Americas and the Caribbean. (AP Photo/Dieu Nalio Chery)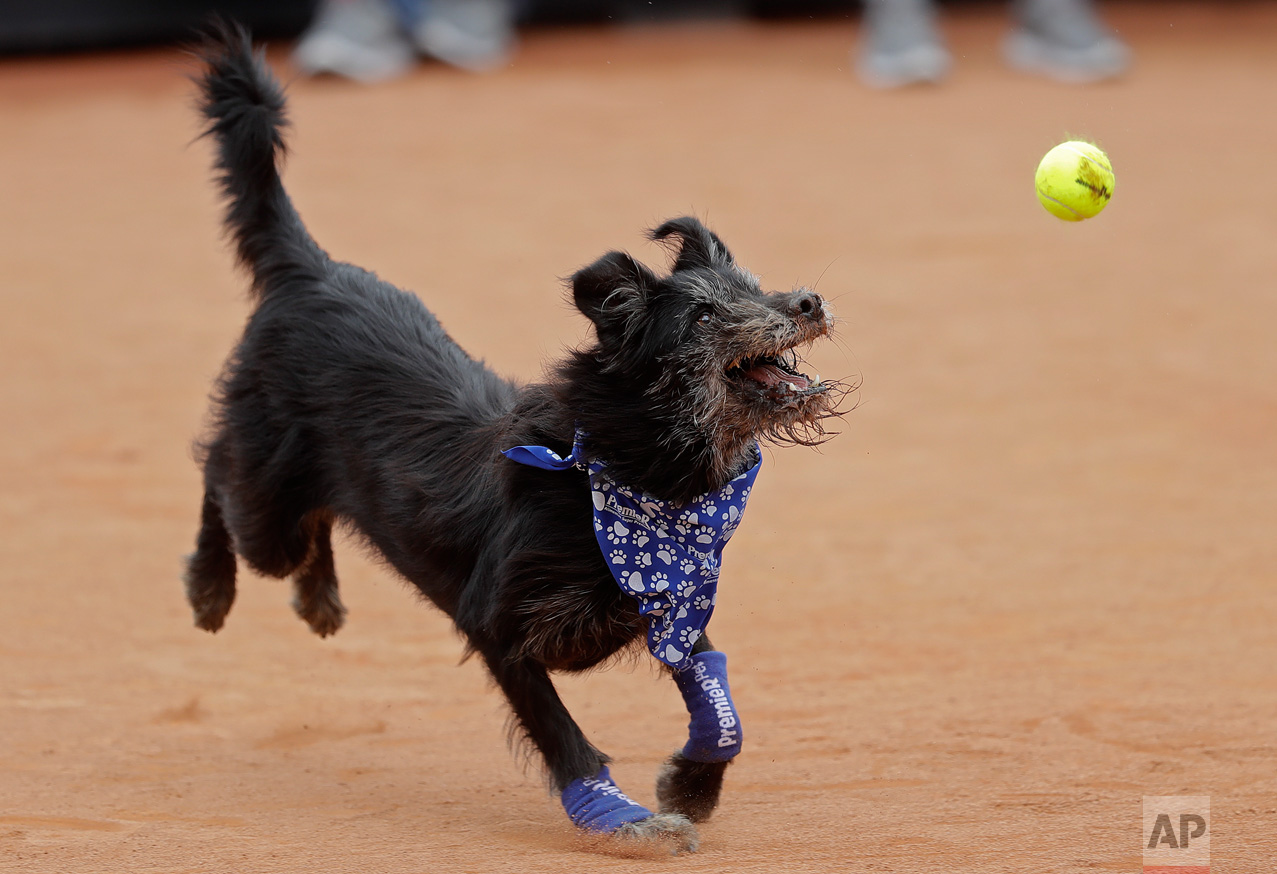 A shelter dog specially trained as a ball-retriever eyes a tennis ball during an exhibition event at the Brazil Open tournament in Sao Paulo, Brazil, Saturday, March 4, 2017. Wearing blue bandanas around their necks, specially trained shelter dogs showed off their talents shortly before Joao Sousa of Portugal met Spain's Albert Ramos-Vinolas in the day's first semifinal match. (AP Photo/Andre Penner)
In this Feb. 4, 2017 photo, Melinda Quispe walks on the trash strewn shore of Lake Titicaca, as she holds her dog, in her village Kapi Cruz Grande, in the Puno region of Peru. The governments of Peru and Bolivia signed a pact in January to spend more than $500 million to attack the pollution problem of Lake Titicaca, though the details were vague. (AP Photo/Rodrigo Abd)