Julia Weeks
AP Photo, Latin America in review, Fernando Vergara, Leo Correa, Rebecca Blackwell, Ivan Valencia, Eraldo Peres, Silvia Izquierdo, Andre Penner, Martin Mejia, Moises Castillo, Rodrigo Abd, Dolores Ochoa, Nelson Antoine, Natacha Pisarenko, Ramon Espinosa, Esteban Felix, Matilde Campodonico, Arnulfo Franco, Dieu Nalio Chery, Marco Ugarte, Juan Karita, Alvaro Martin Corral, Nicolas Aguilera, Jorge Saenz, Fernando Llano, Ariana Cubillos
Comment
Latin America in review
Julia Weeks
AP Photo, Latin America in review, Fernando Vergara, Leo Correa, Rebecca Blackwell, Ivan Valencia, Eraldo Peres, Silvia Izquierdo, Andre Penner, Martin Mejia, Moises Castillo, Rodrigo Abd, Dolores Ochoa, Nelson Antoine, Natacha Pisarenko, Ramon Espinosa, Esteban Felix, Matilde Campodonico, Arnulfo Franco, Dieu Nalio Chery, Marco Ugarte, Juan Karita, Alvaro Martin Corral, Nicolas Aguilera, Jorge Saenz, Fernando Llano, Ariana Cubillos
Comment
Latin America in review is a monthly gallery that features some of the top photojournalism made by AP staff photographers and freelancers based in our Latin America region.
This month's selection begins in Colombia, where tourists ride a cable car in the form of a Chiva, a bus used to serve rural routes.
In Ecuador, President Rafael Correa casts his ballot during presidential elections in Quito.
A model walks the runway during Fashion Week in Lima, Peru.
In Brazil, a fan of Universidad de Chile carries a mate that collapsed when they clashed with the police during a Copa Sudamericana soccer match against Brazil's Corinthians in Sao Paulo.
In Chile, people take part in a Palm Sunday Mass at the San Francisco church in Santiago.
This gallery was curated by Latin America photo editors Leslie Mazoch and Tomas Stargardter and News Director of Mexico and Central America Enric Marti.
Tourists ride a cable car in the form a of a Chiva, a bus used to serve rural routes, in Pitalito, Colombia, Tuesday, April 5, 2017. The ride called "La Chiva Voladora" costs about $0.70 and you zip along from about 800 meters from one side of a hill to another. (AP Photo/Fernando Vergara)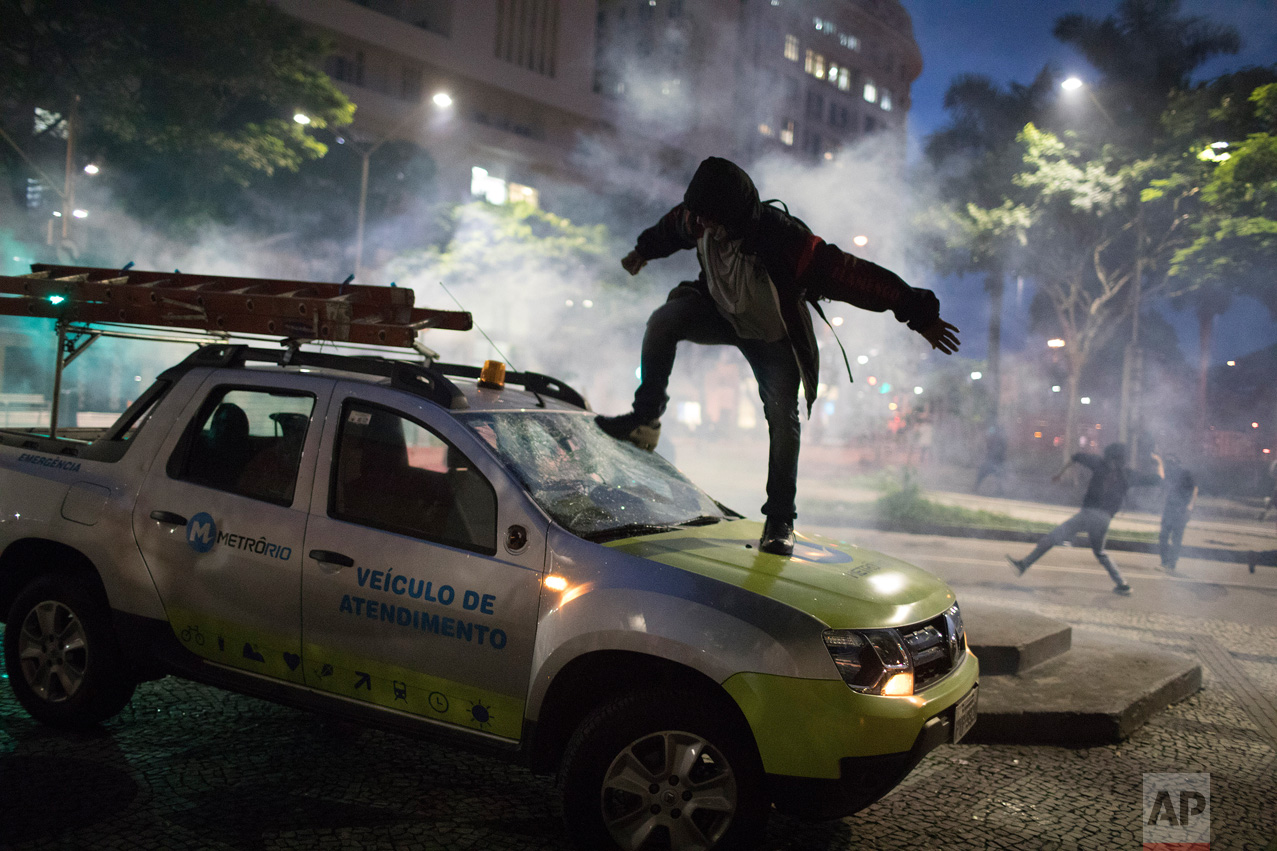 A demonstrator breaks the windshield of a truck that belongs to a subway maintenance crew after clashes with police broke out during a general strike in Rio de Janeiro, Brazil, Friday, April 28, 2017. Public transport largely came to a halt across much of Brazil on Friday and protesters blocked roads and scuffled with police as part of a general strike to protest proposed changes to labor laws and the pension system. (AP Photo/Leo Correo)
In this April 1, 2017 photo, day laborers harvest broccoli grown with wastewater, near Mixquiahuala, Hidalgo state, Mexico. Farmers in the Mezquital Valley use untreated sewage from Mexico City to water and fertilizer their crops. "Our life comes from these waters. It is the sustenance," says farmer Don Justino Lopez of Tepatepec. (AP Photo/Rebecca Blackwell)
Relatives cry during the burial of 13-year-old Maria Eduarda Alves da Conceicao, who was killed by a stray bullet during a shootout between police and alleged drug traffickers in Rio de Janeiro, Brazil, Saturday, March 1, 2017. A video showing the Thursday confrontation between police and suspect drug traffickers was shared widely on social media and led to protests. In the video, two officers are seen carrying automatic rifles. They both shoot suspects on the ground. One of the men appears to be moving when he is shot. Rio de Janeiro police spokesman Ivan Blaz told reporters on Friday that the two officers have been charged with murder. (AP Photo/Leo Correa)
Rescue workers bury their comrade Jesus Diago, who was killed while rescuing his family, in Mocoa, Colombia, Tuesday, April 4, 2017. Diago was killed when surging rivers sent an avalanche of floodwaters, mud and debris sweeping him away as he attempted to carry a cousin to safety. He had already managed to save the rest of his family and the young cousin was the last one to be rescued when they were both swept away and killed. (AP Photo/Ivan Valencia)
A presidential guard walks past a window that allows a view into the Planalto presidential palace's main lounge, decorated with an image of a Brazilian national flag, in Brasilia, Brazil, Thursday, April 13, 2017. Brazilian construction giant Odebrecht paid millions in bribes to President Michel Temer's party and another party, to ensure a contract with the state oil company, according to plea bargain testimony from a former executive at the company, released Wednesday, as part of the biggest corruption probe in Brazil's history. (AP Photo/Eraldo Peres)
Michele de Oliveira, mother of Paulo Henrique Oliveira, a 13-year-old who local media says was killed by a stray bullet during a shootout between police and criminals, cries during his burial in Rio de Janeiro, Brazil, Wednesday, April 26, 2017. (AP Photo/Silvia Izquierdo)
In this March 31, 2017 photo, farmer Manuel Ortega, 89, lights a cigarette following a strategy meeting by farmers in Tepatepec, Hidalgo state, Mexico. Ortega, who still works in the fields and gets around town by bicycle, said he was raised on the leafy greens, beans and zucchini grown here. "It never gave me the runs," he added with a laugh. (AP Photo/Rebecca Blackwell)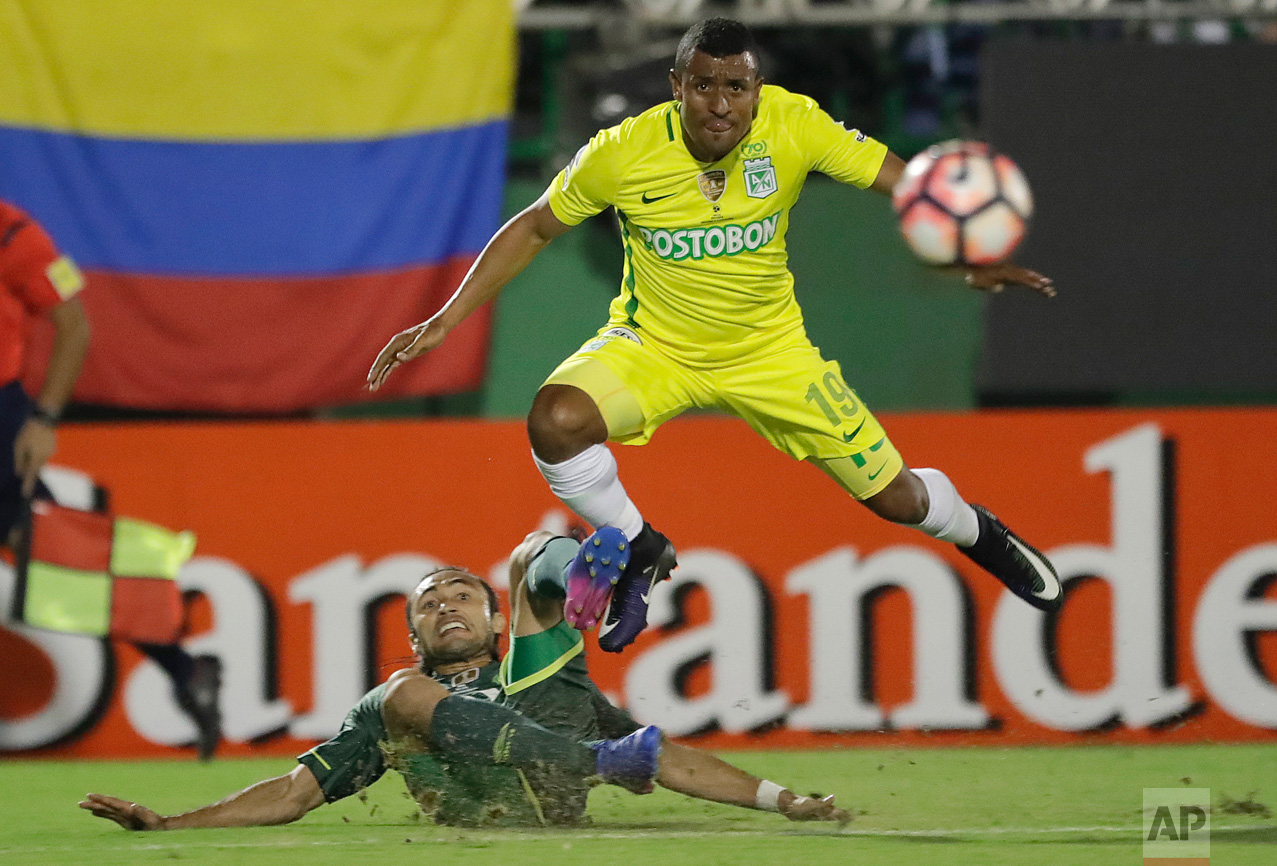 Farid Alfonso Diaz Rhenals of Colombia's Atletico Nacional, top, fights for the ball with Apodi of Brazil's Chapecoense during a Recopa Sudamericana first leg final soccer match in Chapeco, Brazil, Tuesday, April 4, 2017. (AP Photo/Andre Penner)
Police officers attempt to break into the Brazilian National Congress during a protest by police officers from several Brazilian states against pension reforms proposed by Brazil's President Michel Temer's government that would end the special pension retirement of police officers, in Brasilia, Brazil, Tuesday, April 18, 2017. (AP Photo/Eraldo Peres)
Destroyed homes are seen from the air in Mocoa, Colombia, Tuesday, April 4, 2017. Colombian authorities said at least 273 people were killed when rivers surrounding Mocoa overflowed and sent a wall of water and debris surging through the city over the weekend. The death toll was expected to rise since many more were missing and bodies are still being found. (AP Photo/Fernando Vergara)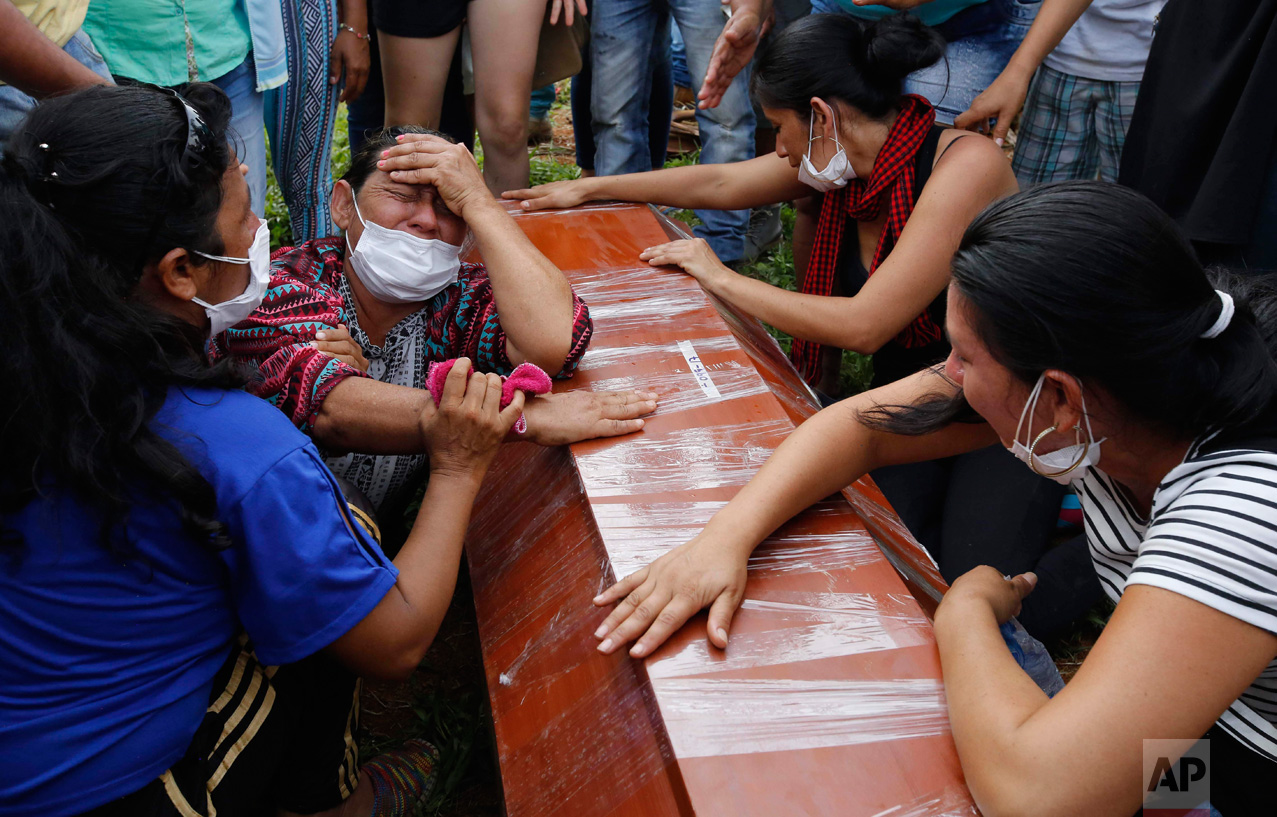 Women cry over the coffin of a relative, a victim of a deadly avalanche due to heavy rains, during a mass burial in Mocoa, Colombia, Monday, April 3, 2017. The grim search continues for the missing in southern Colombia after surging rivers sent an avalanche of floodwaters, mud and debris through the small city, killing more than 260 people and leaving many more injured and homeless. (AP Photo/Fernando Vergara)
Dozens of freshly dug graves are seen from the air in Mocoa, Colombia, Tuesday, April 4, 2017. Colombian authorities said at least 273 people were killed when rivers surrounding Mocoa overflowed and sent a wall of water and debris surging through the city over the weekend. The death toll was expected to rise since many more were missing and bodies are still being found. (AP Photo/Fernando Vergara)
A model wears a creation from the Ani Alvarez Calderon autumn/winter collection during Fashion Week in Lima, Peru, Tuesday, April 25, 2017. (AP Photo/Martin Mejia)
Mexico's former Veracruz state Gov. Javier Duarte boards a police van after attending a hearing in Guatemala City, Wednesday, April 19, 2017. Duarte wanted on corruption charges is appearing before a Guatemalan court that will consider his possible extradition. (AP Photo/Moises Castillo)
A man and his dog are silhouetted against an early evening landscape while walking along a Pacific Ocean shore, near the U.S. border fence that separates Tijuana, Mexico from San Diego, Calif., Tuesday, April 4, 2017. (AP Photo/Rodrigo Abd)
In this Sunday, April 2, 2017 photo, signs warning trespassers line a wooden bench surrounded by makeshift slip-ons known as "carpet shoes" on the porch of rancher Jim Chilton, in Arivaca, Ariz.. Hilton, who finds the slip-ons abandoned on his property, says they are worn by people illegally crossing the border as a way to keep authorities from finding their tracks. (AP Photo/Rodrigo Abd)
In this April 5, 2017 photo, construction worker Paul Johnson, 31, from San Diego, poses for the portrait in Tijuana, Mexico. Johnson was returning to the U.S. after spending some time at the beach south of Tijuana. (AP Photo/Rodrigo Abd)
In this Sunday, April 2, 2017 photo, Rachel Baker, a Unitarian minister from Las Vegas, Nev., puts her arms through the slats of the U.S.-Mexico border fence, to make a selfie as she takes part in a solidarity march in Nogales, Ariz. Baker argues we should be tearing down the existing barrier instead of talking about building a bigger one. "I think it's a terrible idea," she says. "I'm not interested in separating families." (AP Photo/Rodrigo Abd)
In this Monday, April 3, 2017 photo, Mark Hainds of Andalusia, Alabama, stands next to a road memorial honoring a Border Patrol agent killed in a car accident near Why, Arizona. Hainds is attempting to walk the length of the U.S.-Mexico border on foot. (AP Photo/Rodrigo Abd)
Soldiers and members of the Colombian Red Cross recover the body of a victim of a deadly avalanche that happened following heavy rains, in Mocoa, Colombia, Monday, April 3, 2017. The grim search continues for the missing in southern Colombia after surging rivers sent an avalanche of floodwaters, mud and debris through the small city, killing more than 260 people and leaving many more injured and homeless. (AP Photo/Fernando Vergara)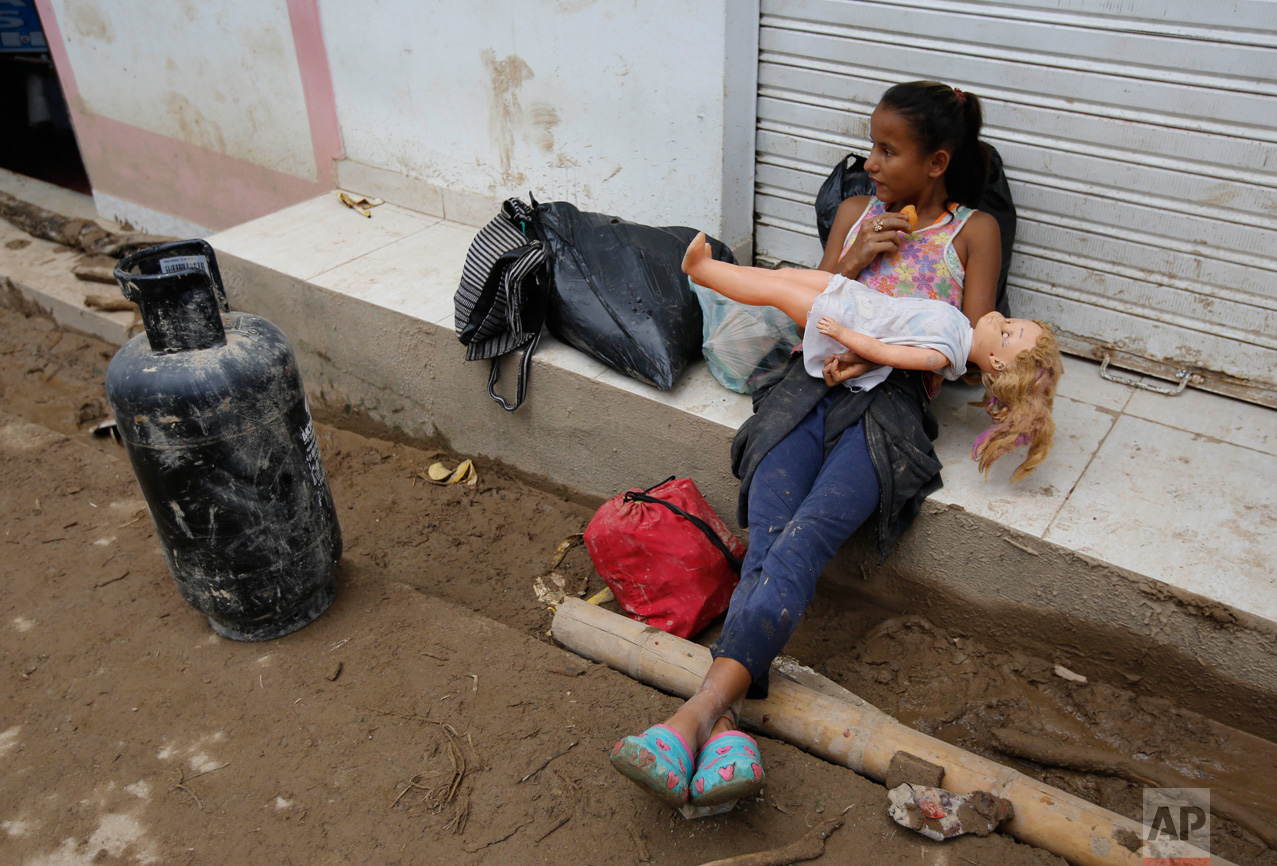 A girl holds a doll rescued from her damaged house in Mocoa, Colombia, Sunday, April 2, 2017. A grim search for the missing resumed at dawn Sunday in southern Colombia after surging rivers sent an avalanche of floodwaters, mud and debris through a city, killing at least 200 people and leaving many more injured and homeless. (AP Photo/Fernando Vergara)
Ecuador's President Rafael Correa casts his ballot during presidential elections Quito, Ecuador, Sunday, April 2, 2017. Polls showed a neck-and-neck vote between President Rafael Correa's hand-picked successor, Lenin Moreno, and conservative former banker Guillermo Lasso.(AP Photo/Dolores Ochoa)
A fan of Universidad de Chile carries a mate that collapsed when they clashed with the police during a Copa Sudamericana soccer match against Brazil's Corinthians in Sao Paulo, Brazil, Wednesday, April 5, 2017. (AP Photo/Nelson Antoine)
Protesters stand holding a banner as they block a street during a general strike in the outskirts of Buenos Aires, Argentina, Thursday, April 6, 2017. A national strike, the first in the era of Mauricio Macri's government, has forced all public transports services to not work Thursday. (AP Photo/Natacha Pisarenko)
In this April 4, 2017 photo, zoologist Marta Llanes caresses baby chimpanzee Anuma II, left, while Ada hangs on to her leg, at Llanes' apartment, in Havana, Cuba. She has forgiven them every transgression. It's hard to stay angry at a baby chimpanzee when it clambers up your leg and into your arms and plants a kiss on your cheek in a plea for forgiveness. (AP Photo/Ramon Espinosa)
People take part in a Palm Sunday Mass at the San Francisco church in Santiago, Chile, Sunday, April 9, 2017. For Christians, Palm Sunday marks Jesus Christ's entrance into Jerusalem, when his followers laid palm branches in his path, prior to his crucifixion. (AP Photo/Esteban Felix)
A South American cowboy known as a gaucho tries to tame a wild horse during the Criolla del Prado rodeo in Montevideo, Uruguay, Wednesday, April 12, 2017. During holy week the city of Montevideo organizes the rodeo to reward the best horse riders. (AP Photo/Matilde Campodonico)
A man jumps into Los Cajones river in Chame, Panama, on Thursday, April 6, 2017. (AP Photo/Arnulfo Franco)
A police officer kicks a demonstrator during a protest at a bus station in Rio de Janeiro, Brazil, Friday, April 28, 2017. Public transport largely came to a halt across much of Brazil on Friday and protesters blocked roads and scuffled with police as part of a general strike to protest proposed changes to labor laws and the pension system. (AP Photo/Silvia Izquierdo)
A penitent rests on his cross after flagellating himself, during a Holy Week procession in Taxco, Mexico, late Thursday, April 13, 2017. In Taxco, Roman Catholic brotherhoods preserve a Holy Week tradition that dates to the 1600's. In processions that last from Thursday evening into the early morning hours of Friday, hooded penitents drag chains and shoulder bundles of thorny branches through the streets, as some flog themselves with nail-studded whips meant to bring them closer to God. (AP Photo/Rebecca Blackwell)
A woman stretches out her arms in prayer as she balances a stone on her head as a form of penance during a Good Friday ritual, in Ganthier, Haiti, Friday, April 14, 2017. Thousands of Haitians flock to mount Calvaire Miracle, some with rocks balanced on their heads, to pray and seek renewal in one of the spiritually-steeped country's biggest annual pilgrimages. ( AP Photo/Dieu Nalio Chery)
La Escuela de Cristo Catholic Church penitents burn incense during an afternoon procession through the streets of Antigua, Guatemala, Friday, April 14, 2017. Hundreds of processions take place throughout Guatemala during the Holy Week. (AP Photo/Moises Castillo)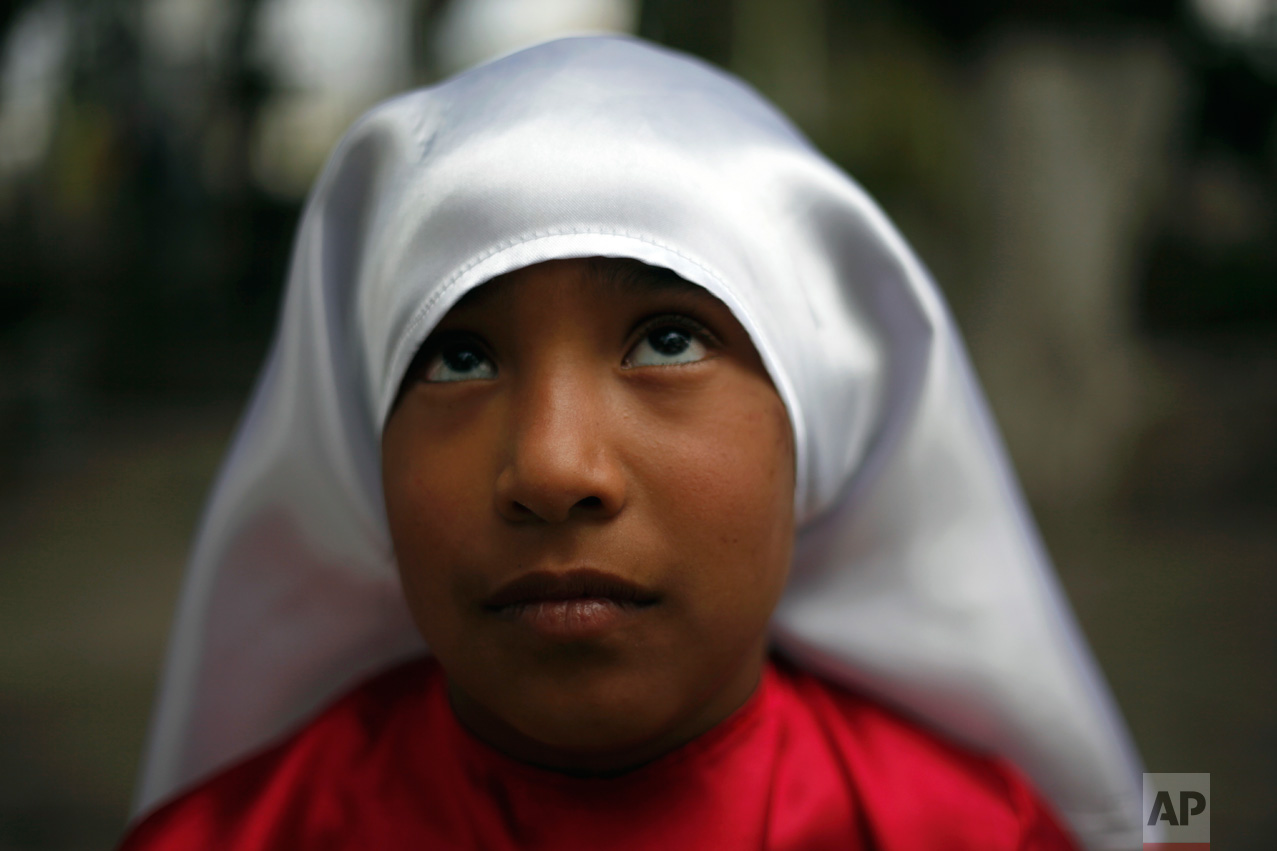 A girl dressed to participate in a reenactment of the Via Crucis, or Way of the Cross, waits for a practice in the village of San Mateo, some 50 km north of Mexico City, Mexico, Thursday April 13, 2017. Holy Week commemorates the last week of the earthly life of Jesus Christ culminating in his crucifixion on Good Friday and his resurrection on Easter Sunday. (AP Photo/Marco Ugarte)
Artists works on a sand sculpture depicting Jesus Christ, during Holy Week celebrations in Arenal de Cochiraya, on the outskirts of Oruro, Bolivia, Friday, April 14, 2017. Two hundred artists gathered for the annual Good Friday event in the highland region, building sand sculptures based on the parables of Jesus. (AP Photo/Juan Karita)
A local resident poses for a portrait dressed as a Roman soldier before participating in a reenactment of the Via Crucis, or Way of the Cross, in the village of San Mateo, some 50 km north of Mexico City, Mexico, Friday, April 14, 2017. Holy Week commemorates the last week of the earthly life of Jesus Christ culminating in his crucifixion on Good Friday and his resurrection on Easter Sunday. (AP Photo/Marco Ugarte)
Haitians gather at the 14th station of the cross around a man sitting on the horizontal bar of the cross, who they believe has been taken over by a voodoo spirit, during the annual Good Friday pilgrimage to the mount Calvaire Miracle, in Ganthier, Haiti, Friday, April 14, 2017. (AP Photo/Dieu Nalio Chery)
In this Saturday, April 15, 2017 photo, Emanuel Balbo is thrown from the stands by other fans during a match between Belgrano and Talleres, in Cordoba, Argentina. Balbo has been declared brain dead after he was chased down the terraces of a stadium and thrown from the bleachers. Balbo's father says his son was attacked by a mob after he faced off with a man that Balbo blamed for killing his brother. (AP Photo/Alvaro Martin Corral)
People grab free lettuce at the Plaza de Mayo in Buenos Aires, Argentina, Monday, April 24, 2017. Farmers gave away fruits and vegetables as a form of protest, demanding land rights and rural development. (AP Photo/Natacha Pisarenko)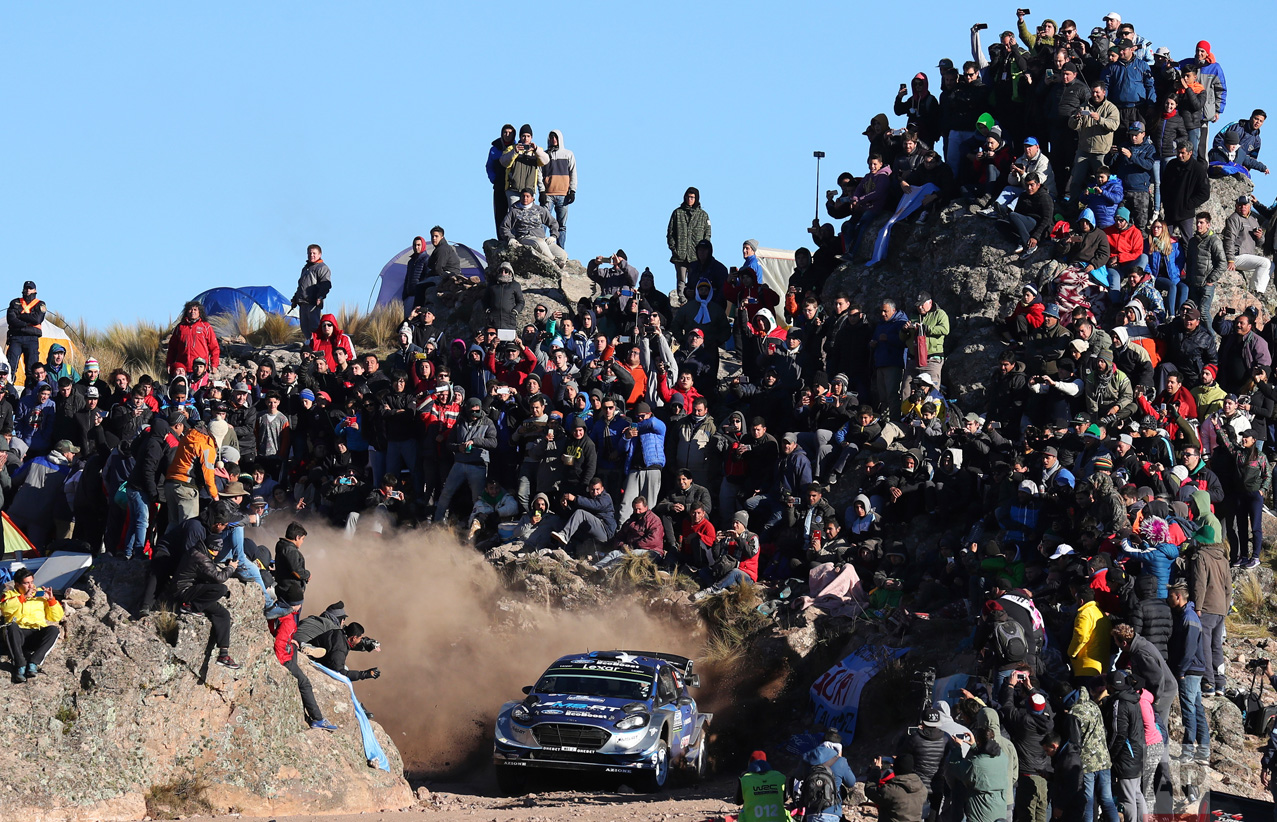 Driver Ott Tanak and his co-driver Jarveoja Martin, both from Estonia, compete with their Ford Fiesta WRC during the FIA World Rally Championship in El Condor, Cordoba, Argentina, Sunday, April 30, 2017. (AP Photo/Nicolas Aguilera)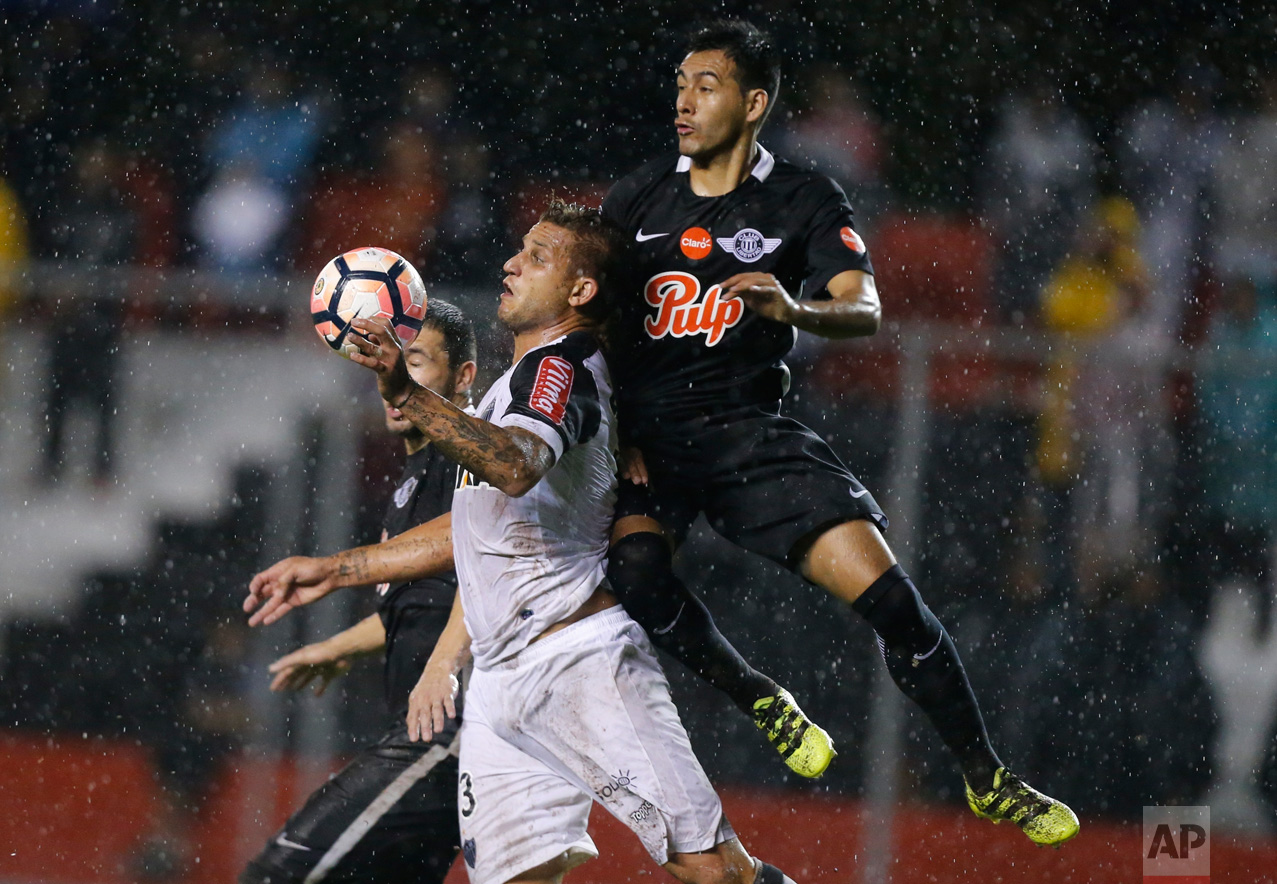 Rafael Moura, left, of Brazil's Atletico Mineiro fights for the ball with Luis Cardozo of Paraguay's Libertad during a Copa Libertadores soccer match in Asuncion, Paraguay, Wednesday, April 19, 2017.(AP Photo/Jorge Saenz)
Opposition lawmaker Juan Requesens, center, is escorted by his colleague Jose Manuel Olivares, right, after being injured by alleged pro government supporters as they protest outside of the Ombudsman's offices in Caracas, Venezuela, Monday, April 3, 2017. A group of opposition lawmakers was attacked by suspected followers of the Government during a demonstration in the center of the capital that left at least one injured Congressman. (AP Photo/Fernando Llano)
An anti-government protesters throws a molotov bomb at security forces in Caracas, Venezuela, Wednesday, April 19, 2017. Tens of thousands of opponents of President Nicolas Maduro flooded the streets of Caracas in what's been dubbed the "mother of all marches" against the embattled socialist president. (AP Photo/Fernando Llano)
In this Monday, April 24, 2017 photo, anti-government protesters block a highway in Caracas, Venezuela. President Nicolas Maduro has repeatedly called for renewed talks between the two sides, but opposition leaders have discarded that as an option after earlier talks collapsed in December. (AP Photo/Fernando Llano)
Demonstrators lie on the ground overwhelmed by tear gas fired by the Bolivarian the National Guard, during a protest in Caracas, Venezuela, Thursday, April 6, 2017. The South American country has seen near-daily protests since the Supreme Court issued a ruling nullifying congress last week. The court pulled that decision back after it came under heavy criticism, but opposition leaders said the attempt to invalidate a branch of power revealed the administration's true dictatorial nature. (AP Photo/Ariana Cubillos)
Anti-government demonstrators take cover from advancing Bolivarian Police officers during protests in Caracas, Venezuela, Wednesday, April 19, 2017. Opponents of President Nicolas Maduro called on Venezuelans to take to the streets and march against the embattled socialist leader. (AP Photo/Ariana Cubillos)
A demonstrator holds up a sign that reads in Spanish read "No more dictatorship" during a protest in Caracas, Venezuela, Thursday, April 6, 2017. The South American country has seen near-daily protests since the Supreme Court issued a ruling nullifying congress last week. The court pulled that decision back after it came under heavy criticism, but opposition leaders said the attempt to invalidate a branch of power revealed the administration's true dictatorial nature. (AP Photo/Ariana Cubillos)
Ant-Government protesters tear down an iron gate in Caracas, Venezuela, Wednesday, April 19, 2017. Tens of thousands of opponents of President Nicolas Maduro flooded the streets of Caracas in what's been dubbed the "mother of all marches" against the embattled president. (AP Photo/Fernando Llano)
Opponents of President Nicolas Maduro take cover behind homemade shields during clashes with security forces blocking them from marching to the Ombudsman's office in downtown Caracas, Venezuela, Wednesday, April 26, 2017. Hundreds of thousands of Venezuelans have flooded the streets over the last month to demand an end to Maduro's presidency. (AP Photo/Ariana Cubillos)
A Bolivarian National Guard officer fires teargas toward demonstrators during a protest in Caracas, Venezuela, Thursday, April 6, 2017. The South American country has seen near-daily protests since the Supreme Court issued a ruling nullifying congress last week. The court pulled that decision back after it came under heavy criticism, but opposition leaders said the attempt to invalidate a branch of power revealed the administration's true dictatorial nature.(AP Photo/Ariana Cubillos)
An anti-government protester holds a bible in the middle of a cloud of tear gas during a march in Caracas, Venezuela, Thursday, April 20, 2017. Tens of thousands of protesters flooded the streets again, one day after three people were killed and hundreds arrested in the biggest anti-government demonstrations in years. (AP Photo/Fernando Llano)
Anti-government protesters launch stones with a sling during clashes in Caracas, Venezuela, Wednesday, April 19, 2017. Tens of thousands of opponents of President Nicolas Maduro flooded the streets of Caracas in what's been dubbed the "mother of all marches" against the embattled socialist president. (AP Photo/Fernando Llano)
A protester holds an acrylic shield during clashes with security forces blocking opponents of President Nicolas Maduro in Caracas, Venezuela, Wednesday, April 26, 2017. Venezuela is threatening to pull out of the Organization of American States as the government's response to political unrest blamed for 27 deaths in recent weeks draws rebuke from the hemisphere's major powers. (AP Photo/Ariana Cubillos)
A couple hold hands at a road block set by anti-government protesters in Caracas, Venezuela, Monday, April 24, 2017. Thousands of protesters shut down the capital city's main highway to express their disgust with the socialist administration of President Nicolas Maduro. Protesters in at least a dozen other cities also staged sit-ins as the protest movement is entering its fourth week. (AP Photo/Ariana Cubillos)