Rwanda's presidential election
Rwanda's longtime President Paul Kagame has won a third term in office in what he had called "a formality."
Electoral authorities say Kagame has won more than 98 percent of the vote with 80 percent of the votes counted so far, with no major change expected when final results are announced later Saturday. He had faced two challengers.
Kagame has led the East African nation of 12 million people since the end of its genocide in 1994 in which more than 800,000 people died.
The 59-year-old president has been praised for the country's economic growth, but human rights groups accuse his government of using state powers to silence opponents. Rwandan authorities deny it.
A constitutional amendment in 2015 allows Kagame to stay in power until 2034 if he pursues it.
Africa chief photographer for the Associated Press Jerome Delay was on assignment to cover the election and below is a selection of his work.
Supporters of Rwanda's President Paul Kagame, portrait center, attend an election campaign rally on the hills overlooking Kigali, Rwanda, Wednesday Aug. 2, 2017. Kagame has been in power since the end of the country's genocide in 1994 and is widely expected to win another term in the Aug. 4 elections after the government earlier this month disqualified all but three candidates. (AP Photo/Jerome Delay)
Supporters of Rwanda's President Paul Kagame, center, attend an election campaign rally on the hills overlooking Kigali, Rwanda, Wednesday Aug. 2, 2017. Kagame has been in power since the end of the country's genocide in 1994 and is widely expected to win another term in the Aug. 4 elections after the government earlier this month disqualified all but three candidates. (AP Photo/Jerome Delay)
Supporters of Rwanda's President Paul Kagame, center, attend an election campaign rally on the hills overlooking Kigali, Rwanda, Wednesday Aug. 2, 2017. Rwanda's longtime president has already claimed victory in Friday's election. In this strictly run country, Paul Kagame is praised for bringing economic development but criticized for stifling opposition _ and now the constitution allows him to stay in power until 2034. (AP Photo/Jerome Delay)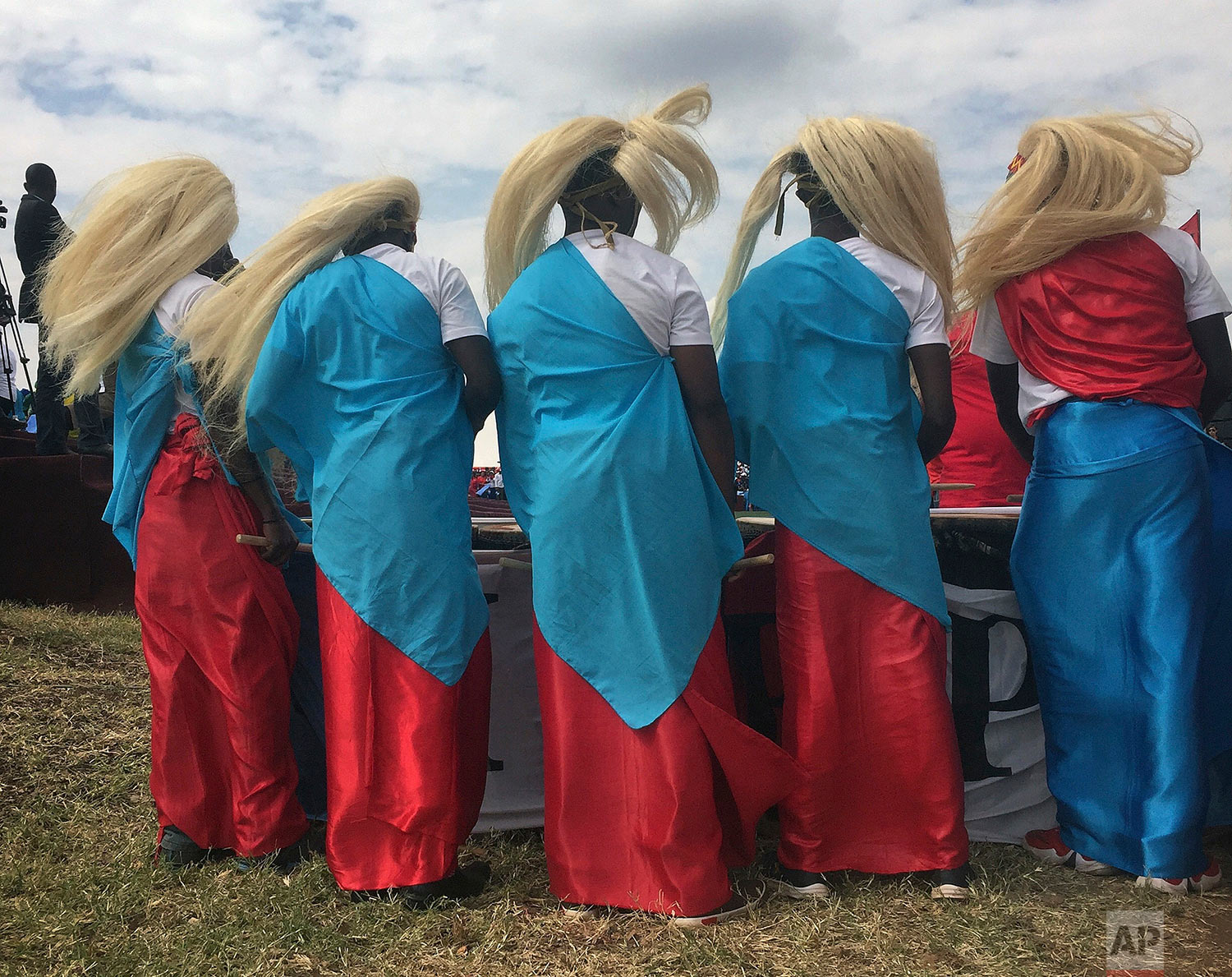 Traditional dancers wait for the arrival of Rwanda's President Paul Kagame at an election campaign rally on the hills overlooking Kigali, Rwanda, Wednesday Aug. 2, 2017. Kagame has been in power since the end of the country's genocide in 1994 and is widely expected to win another term in the Aug. 4 elections after the government earlier this month disqualified all but three candidates. (AP Photo/Jerome Delay)
Rwanda's President Paul Kagame waves his hat as he attends an election campaign rally on the hills overlooking Kigali, Rwanda, Wednesday Aug. 2, 2017. Kagame has been in power since the end of the country's genocide in 1994 and is widely expected to win another term in the Aug. 4 elections after the government earlier this month disqualified all but three candidates. (AP Photo/Jerome Delay)
Election volunteers prepare a polling station in Rwanda's capital Kigali, Thursday Aug. 3, 2017, in preparation for the presidential elections on Friday in which outgoing president Paul Kagame is widely expected to win another term after the government earlier this month disqualified all but three candidates. (AP Photo/Jerome Delay)
Vote count starts in a polling station in Rwanda's capital Kigali Friday Aug. 4, 2017, for the presidential elections. Rwandans voted in an election Friday that the country's longtime president is widely expected to win, after the government disqualified all but three candidates. (AP Photo/Jerome Delay)
Rwandans prepare to vote for the presidential elections at a polling station in Rwanda's capital Kigali Friday, Aug. 4, 2017. Outgoing President Paul Kagame is widely expected to win another term after the government disqualified all but three candidates. (AP Photo/Jerome Delay)
Election volunteers decorate a polling station in Rwanda's capital Kigali, Thursday Aug. 3, 2017, in preparation for the presidential election on Friday in which outgoing president Paul Kagame is widely expected to win another term after the government earlier disqualified all but three candidates. (AP Photo/Jerome Delay)
A Rwandan woman exits the booth before casting her election vote in Rwanda's capital Kigali Friday Aug. 4, 2017. Rwandans voted in an election Friday that the country's longtime president is widely expected to win, after the government disqualified all but three candidates. (AP Photo/Jerome Delay)
Voters line up to cast their vote at a polling station for the presidential election, Friday Aug. 4, 2017, in the capital Kigali, Rawanda. Incumbent President Paul Kagame is widely expected to win another term after the government disqualified three potential candidates for allegedly failing to fulfill certain requirements, including collecting enough signatures. (AP Photo/Jerome Delay)
Observers watch as vote count starts in a polling station in Rwanda's capital Kigali Friday Aug. 4, 2017, for the presidential elections. Rwandans voted in an election Friday that the country's longtime president is widely expected to win, after the government disqualified all but three candidates. (AP Photo/Jerome Delay)
Rwandans start to vote in a polling station in Rwanda's capital Kigali Friday Aug. 4, 2017, in presidential elections. Rwandans voted in an election Friday that the country's longtime president is widely expected to win, after the government disqualified all but three candidates. (AP Photo/Jerome Delay)
Rwandans line up to vote in a polling station in Rwanda's capital Kigali Friday Aug. 4, 2017 for the presidential elections in which outgoing president Paul Kagame is widely expected to win another term after the government disqualified all but three candidates. (AP Photo/Jerome Delay)
Women leave a polling station in Rwanda's capital Kigali Friday Aug. 4, 2017, after casting their votes in the presidential elections. Rwandans are voting in an election Friday that the country's longtime president is widely expected to win, after the government disqualified all but three candidates.(AP Photo/Jerome Delay)
Election volunteers pose for a photograph after finishing to decorate a polling station in Rwanda's capital Kigali, Thursday Aug. 3, 2017, in preparation for the presidential election on Friday in which outgoing president Paul Kagame is widely expected to win another term after the government earlier disqualified all but three candidates. (AP Photo/Jerome Delay)
Rwandans line up to cast their vote for the presidential elections at a polling station in Rwanda's capital Kigali Friday, Aug. 4, 2017. Outgoing President Paul Kagame is widely expected to win another term after the government disqualified all but three candidates. (AP Photo/Jerome Delay)
Rwandans President Paul Kagame casts his ballot in Rwanda's capital Kigali Friday Aug. 4, 2017 for the presidential elections in which he is widely expected to win another term after the government disqualified all but three candidates. (AP Photo/Jerome Delay)
Voters line up to cast their vote at a polling station for the presidential election, Friday Aug. 4, 2017, in the capital Kigali, Rawanda. Incumbent President Paul Kagame is widely expected to win another term after the government disqualified three potential candidates for allegedly failing to fulfill certain requirements, including collecting enough signatures. (AP Photo/Jerome Delay)
Nat Castañeda
Visual artist and Digital Storyteller at The Associated Press