Julia Weeks
Pictures of the week, AP Photo, Dar Yasin, Kin Cheung, Petros Karadjias, Amel Emric, Jae C. Hong, Ted S. Warren, Jerome Delay, Glenwood Springs Post Independent, South Korea Defense Ministry, Luca Bruno, Rodrigo Abd, Marco Ugarte, Bullit Marquez
Comment
Pictures of the week
Highlights from the weekly AP photo report, a gallery featuring a mix of front-page photography, the odd image you might have missed and lasting moments our editors think you should see.
This week's gallery includes Indian paramilitary soldiers using slingshots to shoot glass marbles at Kashmiri protesters in Srinagar, Indian-controlled Kashmir; "Vertical Forests" in Milan, Italy; and election volunteers preparing a polling station in Rwanda's capital Kigali for the presidential elections.
This gallery contains photos published July 29 - Aug. 4, 2017.
Indian paramilitary soldiers use slingshots to shoot glass marbles at Kashmiri protesters in Srinagar, Indian controlled Kashmir, Friday, Aug. 4, 2017. (AP Photo/Dar Yasin)
A boy plays with bubbles during an art display titled "Bubble Up" created by Japanese artist Shinji Ohmaki in Hong Kong, Wednesday, Aug. 2, 2017. (AP Photo/Kin Cheung)
Children play in the sea as smoke from a fire rises in the background during a sunset at Keramoti, northern Greece, on Sunday, July 30, 2017. (AP Photo/Petros Karadjias)
Spectators watch as a diver jumps from the Old Mostar Bridge during 451th traditional annual high diving competition, in Mostar, Bosnia, 140 kilometers (87 miles) south of the capital Sarajevo, Sunday, July 30, 2017. (AP Photo/Amel Emric)
Fans watch the Los Angeles Rams practice at NFL football training camp in Irvine, Calif., on Saturday, July 29, 2017. (AP Photo/Jae C. Hong)
A masked villager holds a wooden stick and stones during a protest following the funeral procession of Akeel Ahmed Bhat, a teenage boy in Haal village, about 47 kilometers (29 miles) south of Srinagar, Indian controlled Kashmir, Wednesday, Aug. 2, 2017. (AP Photo/Dar Yasin)
A fan attending a Seattle Seahawks NFL football training camp reaches toward a fan as he cools off at a misting station, Tuesday, Aug. 1, 2017, in Renton, Wash. (AP Photo/Ted S. Warren)
Election volunteers prepare a polling station in Rwanda's capital Kigali, Thursday Aug. 3, 2017, in preparation for Friday's presidential elections. (AP Photo/Jerome Delay)
A flag-draped riderless horse to honor the fallen is led through the arena at the Garfield County Fair and Rodeo in Rifle, Colo., as a rainbow arcs in the background. (Chelsea Self/Glenwood Springs Post Independent via AP)
In this photo provided by South Korea Defense Ministry, South Korea's Hyunmoo II Missile system, left, and a U.S. Army Tactical Missile System, right, fire missiles during a combined military exercise between the two countries against North Korea at an undisclosed location in South Korea, Saturday, July 29, 2017. (South Korea Defense Ministry via AP)
The twin towers of the Bosco Verticale (Vertical Forest) residential buildings at the Porta Nuova district, rise above Milan, Italy, on Thursday, Aug. 3, 2017. (AP Photo/Luca Bruno)
A soldier applies camouflage paint to a comrade's neck before the start of a military parade, part of the Independence Day celebrations in Lima, Peru, Saturday, July 29, 2017. (AP Photo/Rodrigo Abd)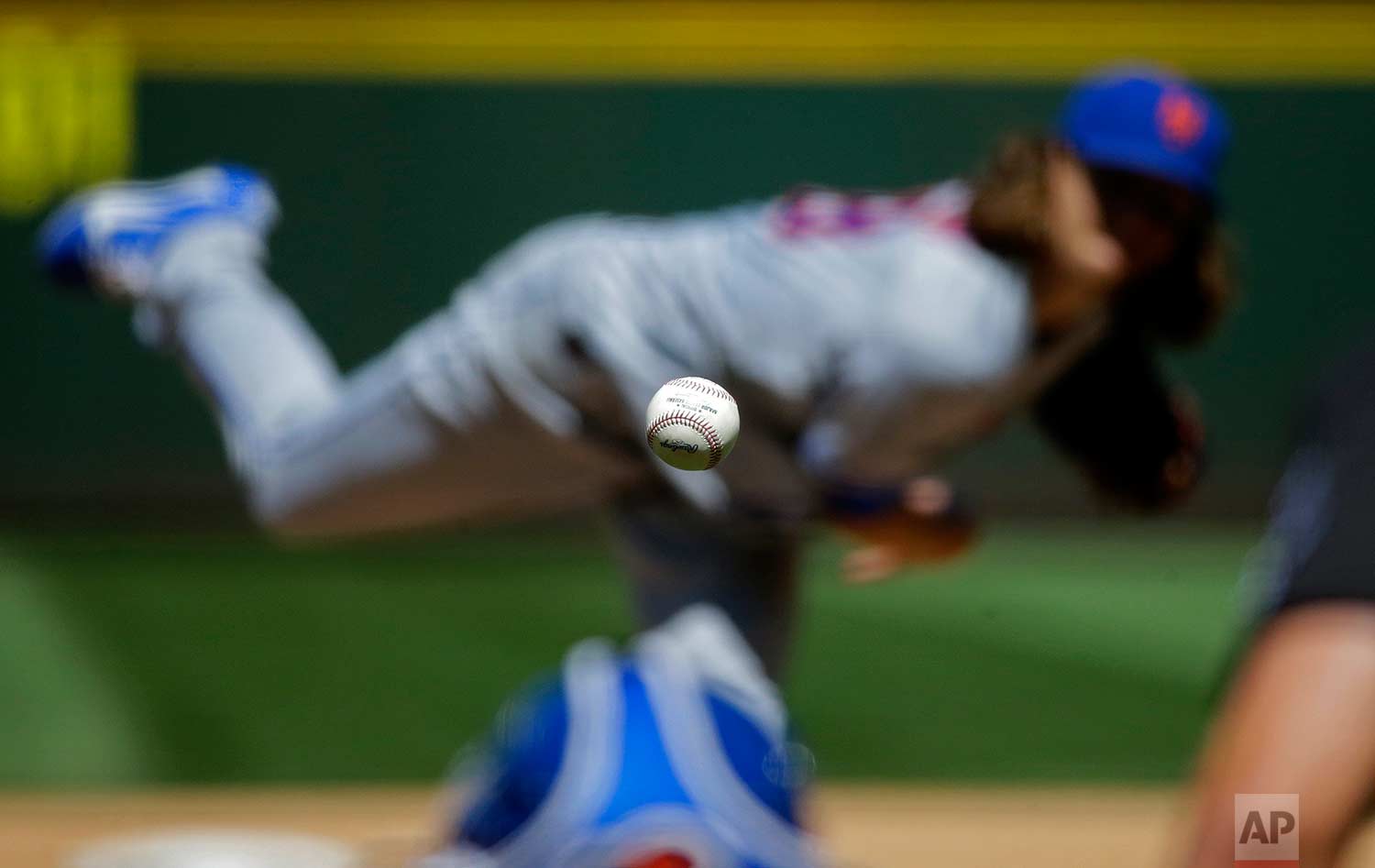 New York Mets starting pitcher Jacob deGrom pitches the ball during the fifth inning of the team's baseball game against the Seattle Mariners in Seattle on Saturday, July 29, 2017. (AP Photo/Ted S. Warren)
A Mexican Army soldier shows a set of hand guns sporting a gold plated grips, part of a lot of weapons slated for destruction in Mexico City, Tuesday, Aug. 1, 2017. (AP Photo/Marco Ugarte)
Mexican Navy crew members stand on the sails of the ARM Cuauhtemoc tall ship as it prepares to dock in the South Harbor in Manila, Philippines, for a five-day goodwill visit starting Friday, Aug. 4, 2017. (AP Photo/Bullit Marquez)
A man poses for photo as he stands over a medieval forest near the Bosnian town of Srebrenik, 80 kilometers (50 miles) north of Sarajevo, on Wednesday, Aug. 2 2017. (AP Photo/Amel Emric)