AP monthly staff photo contest
Each month The Associated Press management honors photographers for outstanding coverage while on assignment.
The winners for the November 2016 AP Staff Photo Contest are Felipe Dana in News Photography for "Battle in Mosul," David Goldman in Feature Photography for "Pipeline Protest," and Matt Slocum in Sports Photography for "Celebration."
Congratulations to all the photographers for their outstanding work. This month's winning images are featured below.
News Photography | Felipe Dana
Battle in Mosul
A car bomb explodes next to Iraqi special forces armored vehicles as they advance towards Islamic State held territory in Mosul, Iraq, Wednesday, Nov. 16, 2016. Troops have established a foothold in the city's east from where they are driving northward into the Tahrir neighborhood. The families in Tahrir are leaving their homes to flee the fighting. (AP Photo/Felipe Dana)
Feature Photography | David Goldman
Pipeline Protest
In this Tuesday, Nov. 29, 2016 photo, Beatrice Menase Kwe Jackson of the Ojibwe Native American tribe leads a song during a traditional water ceremony along the Cannonball river at the Oceti Sakowin camp where people have gathered to protest the Dakota Access oil pipeline in Cannon Ball, N.D. The pipeline is largely complete except for a short segment that is planned to pass beneath a Missouri River reservoir. The company doing the building says it is unwilling to reroute the project. (AP Photo/David Goldman)
Pipeline Protest
In this Tuesday, Nov. 29, 2016 photo, the Oceti Sakowin camp where people have gathered to protest the Dakota Access pipeline is seen near Cannon Ball, N.D. North Dakota leaders have approved an emergency request to borrow an additional $7 million to cover the cost of law enforcement related to the ongoing protest of the four-state Dakota Access oil pipeline. The state's Emergency Commission voted Wednesday, Nov. 30, to borrow the funds from the state-owned Bank of North Dakota. (AP Photo/David Goldman)
Pipeline Protest
In this Tuesday, Nov. 29, 2016 photo, corn covered in snow hangs outside a tent at the Oceti Sakowin camp where people have gathered to protest the Dakota Access oil pipeline in Cannon Ball, N.D. North Dakota has often conjured images of a wind-swept, treeless wasteland. The perception was so great that it led to a short-lived proposal to change the state's name by dropping "North" and leaving just "Dakota," to dispel the image of inhospitable winter weather. (AP Photo/David Goldman)
Pipeline Protest
ADDS NAME - In this Tuesday, Nov. 29, 2016 photo, Damin Radford of New Zealand stands overlooking the Oceti Sakowin camp where people have gathered to protest the Dakota Access pipeline near Cannon Ball, N.D. North Dakota leaders have approved an emergency request to borrow an additional $7 million to cover the cost of law enforcement related to the ongoing protest of the four-state Dakota Access oil pipeline. The state's Emergency Commission voted Wednesday, Nov. 30, to borrow the funds from the state-owned Bank of North Dakota. (AP Photo/David Goldman)
Pipeline Protest
In this Tuesday, Nov. 29, 2016 photo, Loretta Reddog, of Placerville, Calif., shovels a walkway to her tent while followed by her dog Gurdee Bean at the Oceti Sakowin camp where people have gathered to protest the Dakota Access oil pipeline in Cannon Ball, N.D. "I'm scared. I'm a California girl, you know?" said Reddog who arrived several months ago with her two dogs and has yet to adjust to the harsher climate. Reddog has confidence in the camp community. "Everybody's really stepping up and taking care of each other," she said. (AP Photo/David Goldman)
Pipeline Protest
In this Tuesday, Nov. 29, 2016 photo, Grandma Redfeather of the Sioux Native American tribe sits by the wood stove in her yurt at the Oceti Sakowin camp where people have gathered to protest the Dakota Access oil pipeline in Cannon Ball, N.D. "I'm sitting here in my prayer" said Redfeather of living at the camp since July. "I'll stand on my treaty and fight." (AP Photo/David Goldman)
Pipeline Protest
In this Tuesday, Nov. 29, 2016 photo, Grandma Redfeather of the Sioux Native American tribe walks in the snow to get water at the Oceti Sakowin camp where people have gathered to protest the Dakota Access oil pipeline in Cannon Ball, N.D. "It's for my people to live and so that the next seven generations can live also," said Redfeather of why she came to the camp. "I think about my grandchildren and what it will be like for them." (AP Photo/David Goldman)
Pipeline Protest
In this Tuesday, Nov. 29, 2016 photo, a person walks through a snow storm at the Oceti Sakowin camp where people have gathered to protest the Dakota Access oil pipeline in Cannon Ball, N.D. Those in the camp have shrugged off the heavy snow, icy winds and frigid temperatures. But if they defy next week's government deadline to abandon the camp, demonstrators know the real deep freeze lies ahead. (AP Photo/David Goldman)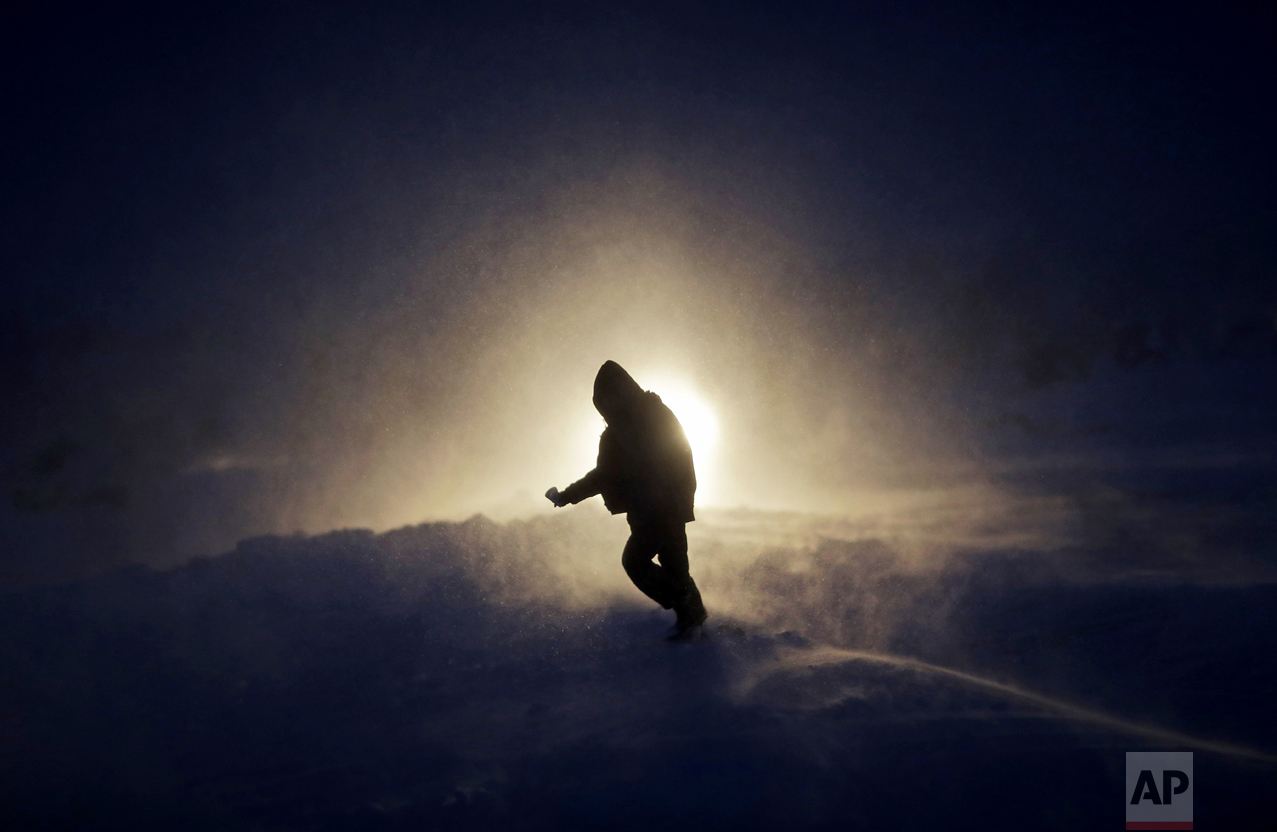 Pipeline Protest
In this Tuesday, Nov. 29, 2016, photo, a person walks through a snow storm at the Oceti Sakowin camp where people have gathered to protest the Dakota Access oil pipeline in Cannon Ball, N.D. Those in the camp have shrugged off the heavy snow, icy winds and frigid temperatures. But if they defy next week's government deadline to abandon the camp, demonstrators know the real deep freeze lies ahead. (AP Photo/David Goldman)
Pipeline Protest
In this Wednesday, Nov. 30, 2016 photo, people form a circle for the morning prayer at the Oceti Sakowin camp where many have gathered to protest the Dakota Access pipeline near Cannon Ball, N.D. President-elect Donald Trump supports completion of the disputed Dakota Access oil pipeline in the Midwest, a view based on policy and not the billionaire businessman's investments in a partnership building the $3.8 billion pipeline. (AP Photo/David Goldman)
Pipeline Protest
Demonstrators sit on a closed bridge across from police protecting the Dakota Access oil pipeline site next to the Oceti Sakowin camp where people have gathered to protest the pipeline near Cannon Ball, N.D., Wednesday, Nov. 30, 2016. (AP Photo/David Goldman)
Pipeline Protest
In this Wednesday, Nov. 30, 2016 photo, Roy Tom of Ontario, Canada, and a member of the Ojibwa Native American tribe clears away snow from his tent where he's lived for over two months at the Oceti Sakowin camp where people have gathered to protest the Dakota Access oil pipeline, in Cannon Ball, N.D. "You have to get used to it," Tom said of the snow and cold weather. (AP Photo/David Goldman)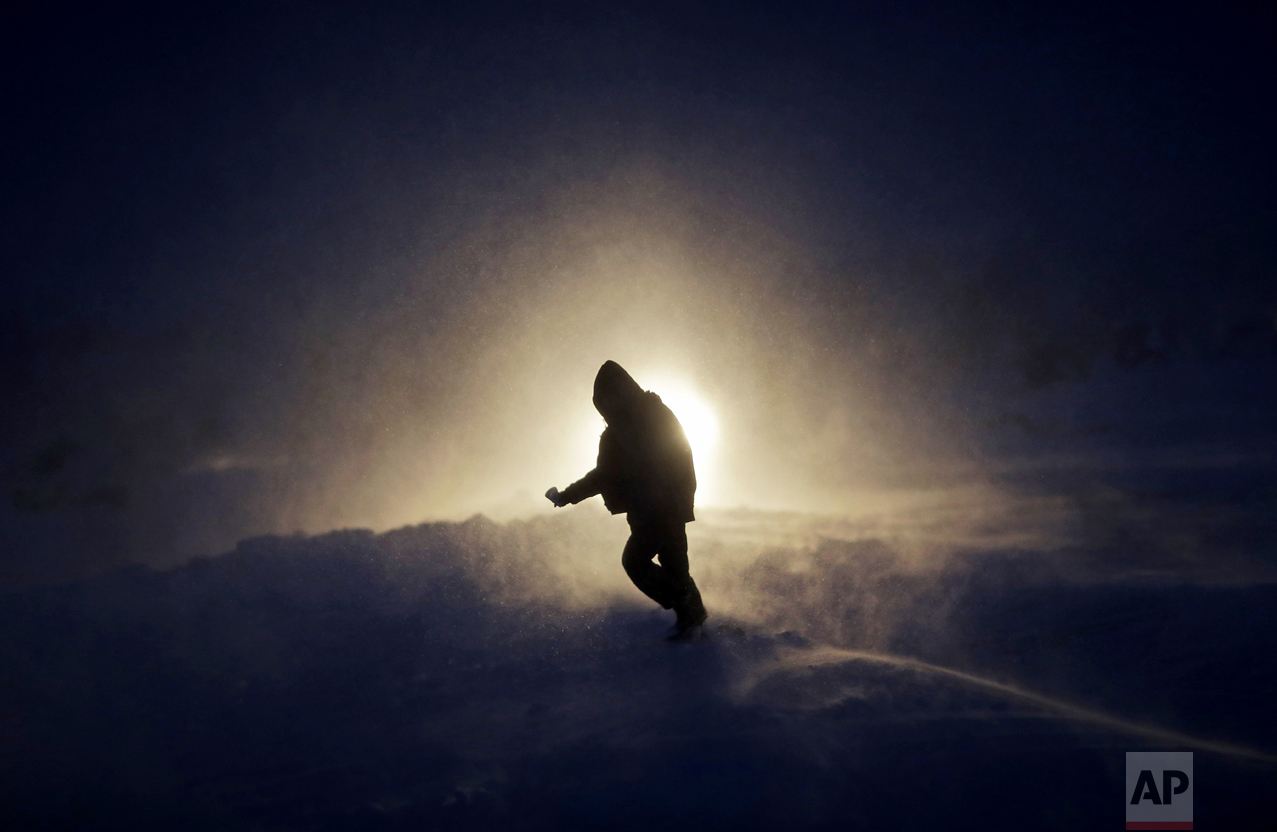 Sports Photography | Matt Slocum
Celebration
Chicago Cubs celebrate after Game 7 of the Major League Baseball World Series against the Cleveland Indians Thursday, Nov. 3, 2016, in Cleveland. The Cubs won 8-7 in 10 innings to win the series 4-3. (AP Photo/Matt Slocum)