AP monthly staff photo contest
Each month The Associated Press management honors photographers for outstanding coverage while on assignment.
The winners for the August 2017 AP Staff Photo Contest are David J. Phillip, LM Otero, Gregory Bull, Gerald Herbert, Charlie Riedel and Eric Gay in News Photography for "Harvey," David Goldman in Feature Photography for "Despair and Donald Trump," and Boris Grdanoski in Sports Photography for "Macedonia Super Cup Soccer."
Congratulations to all the photographers for their outstanding work. This month's winning images are featured below.
News Photography | David J. Phillip, LM Otero, Gregory Bull, Gerald Herbert, Charlie Riedel and Eric Gay
Harvey
Two people walk down a flooded section of Interstate 610 in floodwaters from Tropical Storm Harvey on Sunday, Aug. 27, 2017, in Houston, Texas. (AP Photo/David J. Phillip)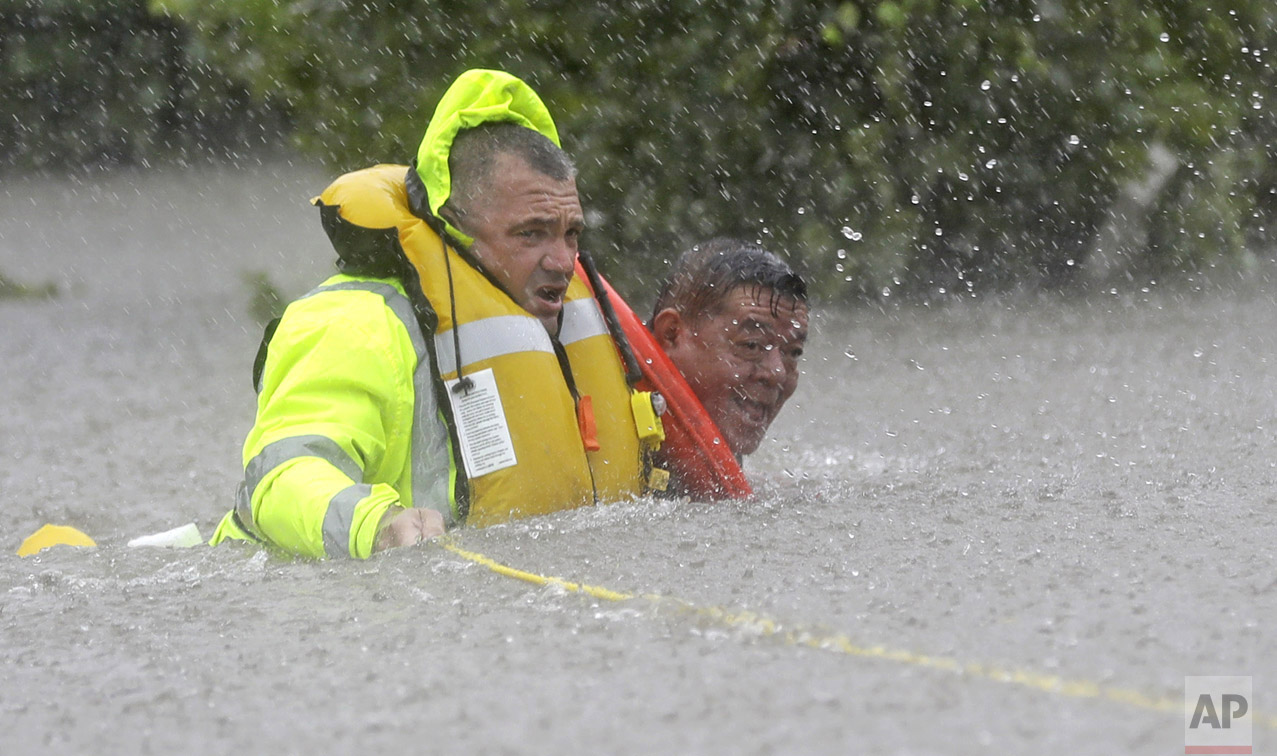 Harvey
Wilford Martinez, right, is rescued from his flooded car by Harris County Sheriff's Department Richard Wagner along Interstate 610 in floodwaters from Tropical Storm Harvey on Sunday, Aug. 27, 2017, in Houston, Texas. (AP Photo/David J. Phillip)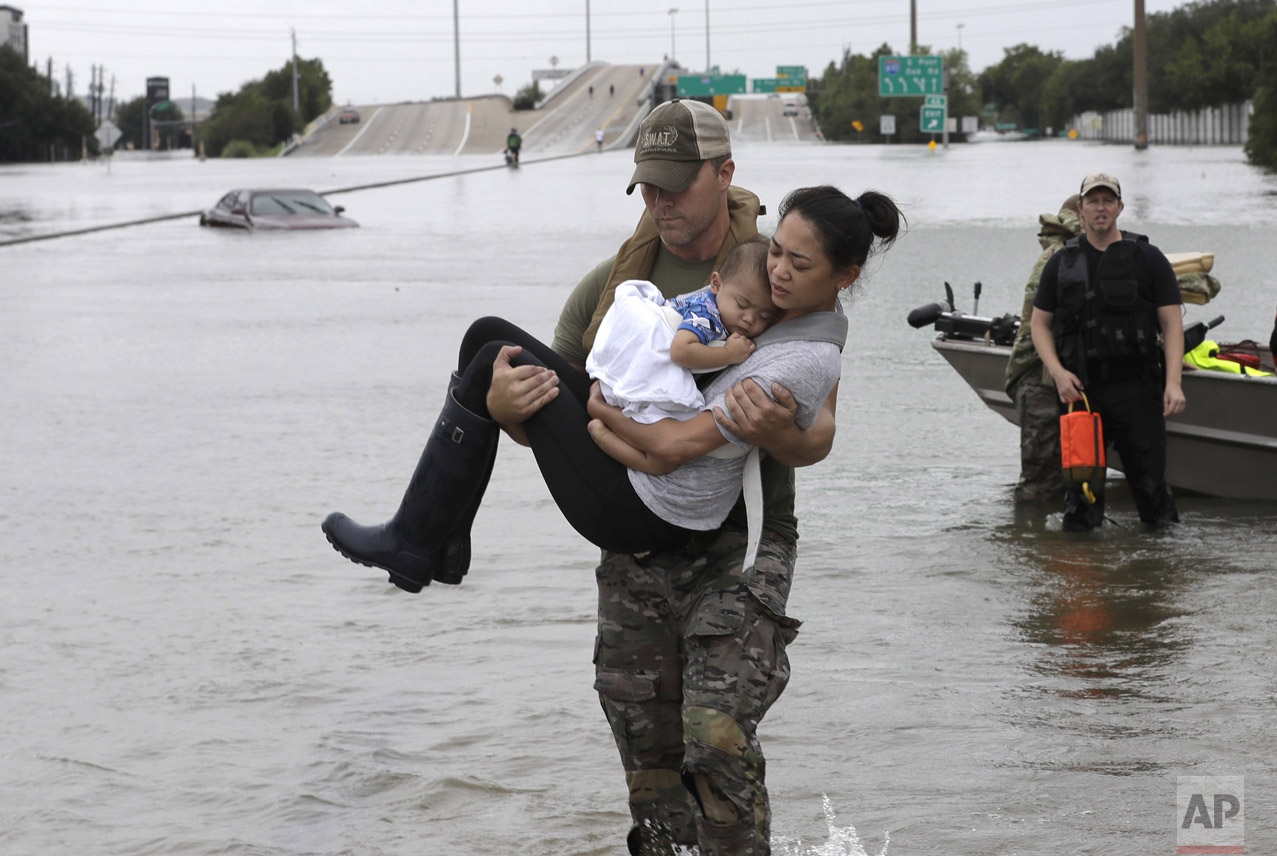 Harvey
CORRECTS FROM CONNIE TO CATHERINE - Houston Police SWAT officer Daryl Hudeck carries Catherine Pham and her 13-month-old son Aiden after rescuing them from their home surrounded by floodwaters from Tropical Storm Harvey Sunday, Aug. 27, 2017, in Houston. The remnants of Hurricane Harvey sent devastating floods pouring into Houston Sunday as rising water chased thousands of people to rooftops or higher ground. (AP Photo/David J. Phillip)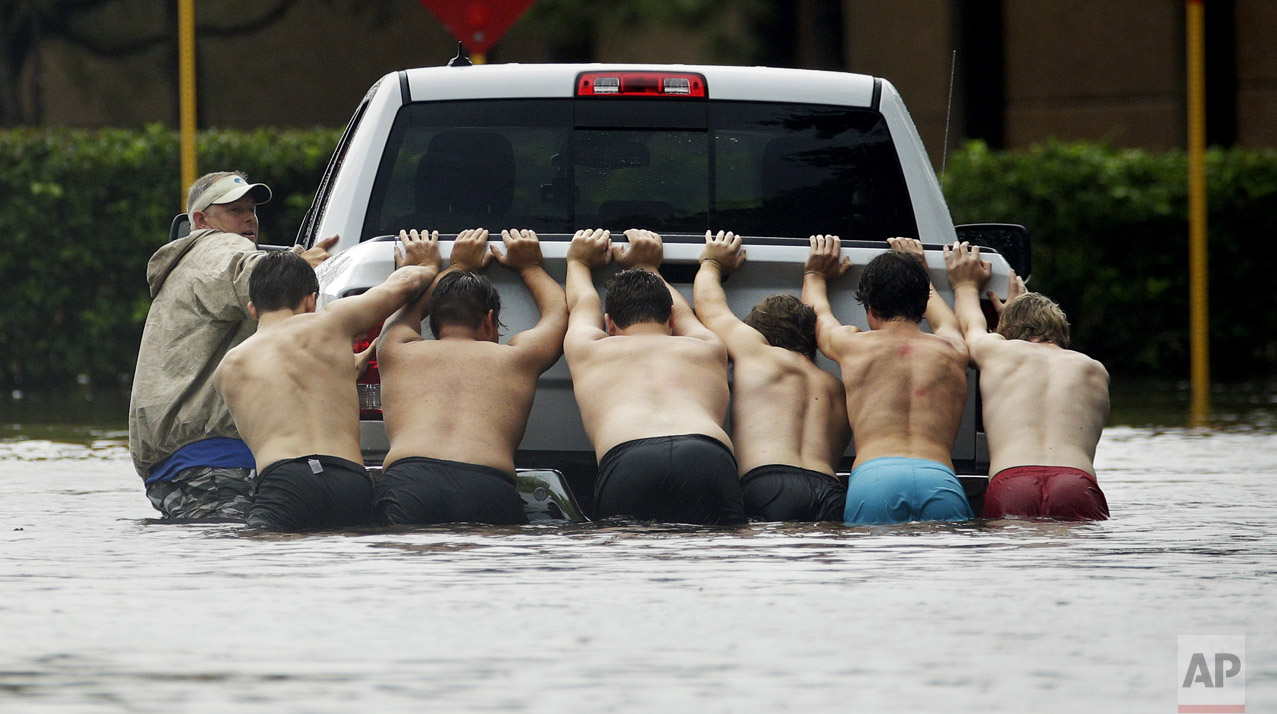 Harvey
People push a stalled pickup through a flooded street in Houston, after Tropical Storm Harvey dumped heavy rains, Sunday, Aug. 27, 2017. The remnants of Harvey sent devastating floods pouring into Houston on Sunday as rising water chased thousands of people to rooftops or higher ground. (AP Photo/Charlie Riedel)
Harvey
Rhonda Worthington talks on her cell phone with a 911 dispatcher after her car became stuck in rising floodwaters from Tropical Storm Harvey in Houston, Texas, Monday, Aug. 28, 2017. Worthington said she thought the water was low enough to drive through before the vehicle started to float away. (AP Photo/LM Otero)
Harvey
Rescue boats fill a flooded street as flood victims are evacuated as floodwaters from Tropical Storm Harvey rise Monday, Aug. 28, 2017, in Houston. (AP Photo/David J. Phillip)
Harvey
Demetres Fair holds a towel over his daughter Damouri Fair, 2, as they are rescued by boat by members of the Louisiana Department of Wildlife and Fisheries and the Houston Fire Department during flooding from Tropical Storm Harvey in Houston, Monday, Aug. 28, 2017. (AP Photo/Gerald Herbert)
Harvey
Water from Addicks Reservoir flows into neighborhoods as floodwaters from Tropical Storm Harvey rise Tuesday, Aug. 29, 2017, in Houston. (AP Photo/David J. Phillip)
Harvey
Members of the Louisiana Department of Wildlife and Fisheries, the Florida Fish and Wildlife Conservation Commission, and the Louisiana National Guard help rescue with elderly people from the Golden Years Assisted Living home, which was flooded from Tropical Storm Harvey in Orange, Texas, Wednesday, Aug. 30, 2017. The residents and staff were high and dry on the second floor. (AP Photo/Gerald Herbert)
Harvey
Frances Breaux cries as she talks about her fears for two close friends who live near the Arkema Inc. chemical plant Thursday, Aug. 31, 2017, in Crosby, Texas. Breaux said her close friends, an elderly couple that live close to the plant, have not been heard from Thursday. The Houston-area chemical plant that lost power after Harvey engulfed the area in extensive floods was rocked by multiple explosions early Thursday, the plant's operator said. (AP Photo/Gregory Bull)
Harvey
Cars drive through flooded streets from Tropical Storm Harvey in Orange, Texas, Thursday, Aug. 31, 2017. (AP Photo/Gerald Herbert)
Harvey
RETRANSMISSION TO CORRECT FIRST NAME TO ALEJANDRA - Alejandra Castillo takes a break from carrying water-soaked items out of her family's home after flood waters receded Thursday, Aug. 31, 2017, in Houston. The city continues to recover from record flooding caused by Harvey. (AP Photo/Charlie Riedel)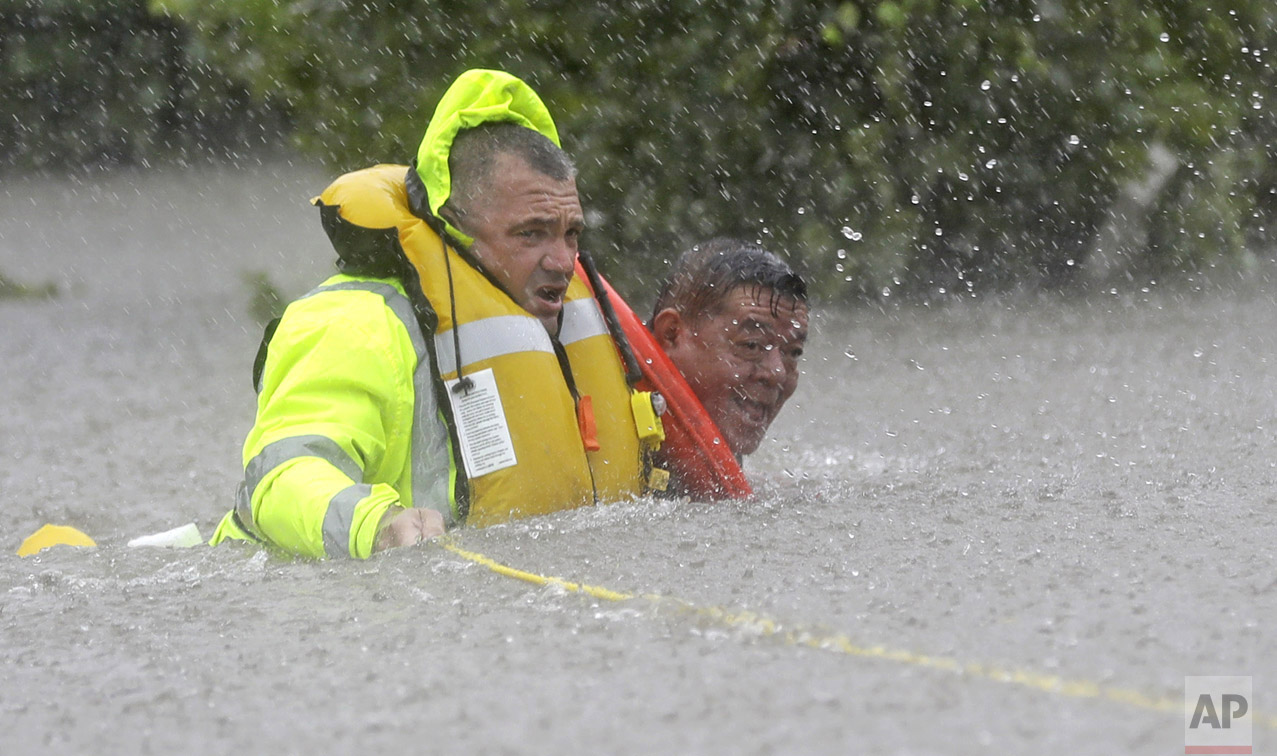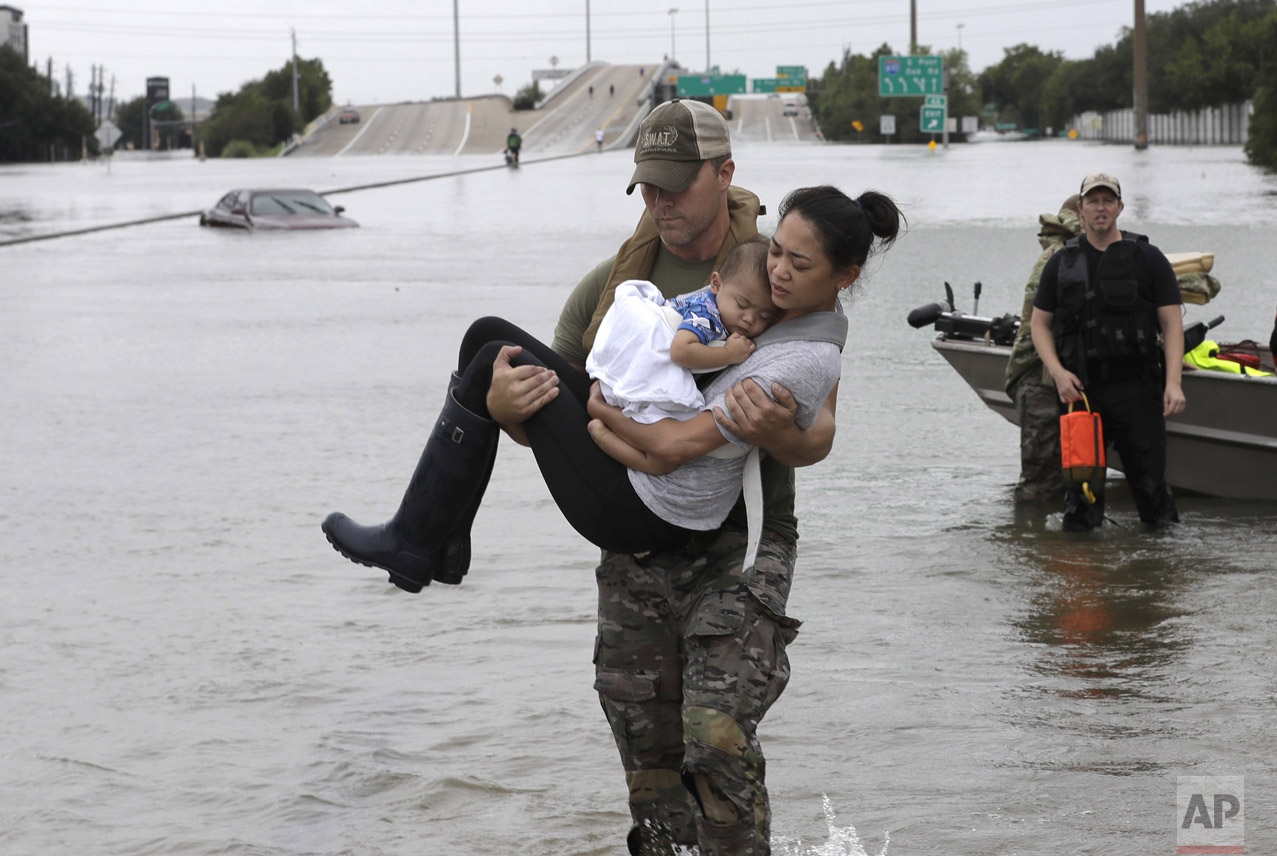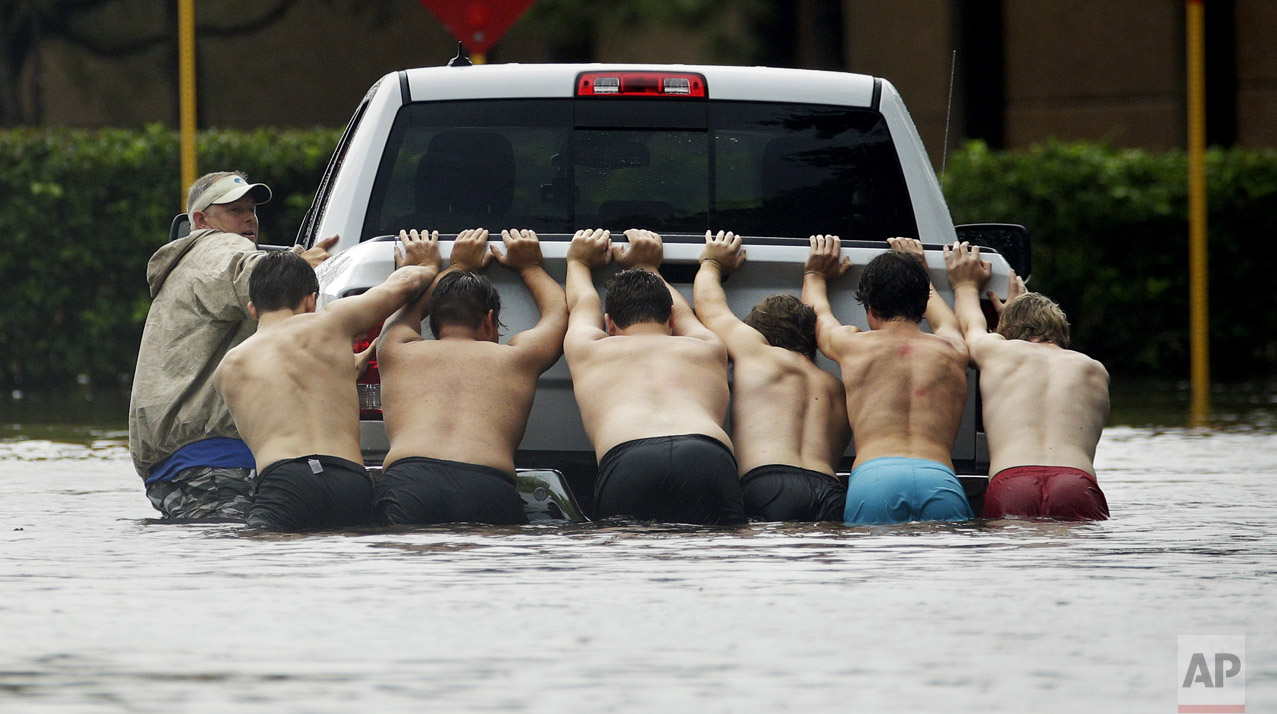 Feature Photography | David Goldman
Despair And Donald Trump
Robert LaCount, a recovering addict who voted for Donald Trump, sits for a photo in the old church he is fixing up as a community center in Holquim, Wash., Monday, June 12, 2017. He considers his old building an analogy for his county _ good bones, a good soul, a working organ that plays beautiful music. It just needs a lot of help. "It's been sitting empty and it's tired," he says. "It needs to get back to life." He's pinned his hopes on Trump. "We're banking on him." (AP Photo/David Goldman)
Despair And Donald Trump
Forrest Wood, 24, injects heroin into this arm under a bridge along the Wishkah River at Kurt Cobain Memorial Park in Aberdeen, Wash., Tuesday, June 13, 2017. Wood grew up here, watching drugs take hold of his relatives, and he swore to himself that he would get out of this place, maybe spend his days in the woods as a park ranger. But he started taking opioid painkillers as a teenager, and before he knew it he was shooting heroin, a familiar first chapter in the story of American addiction. (AP Photo/David Goldman)
Despair And Donald Trump
Forrest Wood, 24, pauses after injecting heroin into this arm under a bridge along the Wishkah River at Kurt Cobain Memorial Park in Aberdeen, Wash., Tuesday, June 13, 2017. He's tried to quit; the drug only delays the sickness and shame that set in when he doesn't shoot up. "I'm trying to get myself to feel like I have some sort of purpose," he said. "I just want to be happy, that's all." (AP Photo/David Goldman)
Despair And Donald Trump
A man shouts across the Wishkah River while incoherently talking to himself at Kurt Cobain Memorial Park in Aberdeen, Wash., Tuesday, June 13, 2017. Grays Harbor County lands near the top of all the lists no place wants to be on: drugs, alcohol, early death, child abuse, runaway rates of welfare that pull some out of poverty but trap others in a cycle of dependency. (AP Photo/David Goldman)
Despair And Donald Trump
Staci Hadley, right, and boyfriend Deric Hensler rearrange their personal items out of their car which they are living out of in Aberdeen, Wash., Wednesday June 14, 2017. The couple had gotten clean on a methadone program, moved into a nice apartment and started building a better life. Then Hensler lost his job, his insurance and couldn't get methadone anymore. Now they're back on drugs and living in their car and they're trying to figure out a safe place to park and sleep for the night. (AP Photo/David Goldman)
Despair And Donald Trump
Staci Hadley, left, and boyfriend Deric Hensler, embrace during a portrait while stopping by a needle exchange program in Aberdeen, Wash., Wednesday June 14, 2017. "It's crazy how things can spiral out of control. Not too long ago, a year ago, we had credit cards and bank accounts, jobs, a house," said Hadley. (AP Photo/David Goldman)
Despair And Donald Trump
Misty Micheau Bushnell looks over the memorial marking the spot where her boyfriend Shawn Vann Schreck died two days before in a homeless encampment where they live along the river in Aberdeen, Wash., Wednesday June 14, 2017. Bushnell, said his death shook her so much she thinks she's ready to move away, someplace inside, and she hopes her methamphetamine addiction won't follow her there. (AP Photo/David Goldman)
Despair And Donald Trump
A mourner lights a candle at the memorial marking the spot where Shawn Vann Schreck died two days before in a homeless encampment where he lived along the river in Aberdeen, Wash., Wednesday June 14, 2017. On Aberdeen's banks, residents of the homeless encampment pulled driftwood from the water to construct a cross, 8 feet tall, to honor their latest loss: Vann Schreck, 42, who died slowly from heart and lung ailments made worse by infrequent medical care and longtime addiction. A generation ago, people like him went to work in the mills and bought tidy houses in nice neighborhoods, says the Rev. Sarah Monroe, a street minister here. (AP Photo/David Goldman)
Despair And Donald Trump
Alan, who is getting treated at a nearby methadone clinic while trying to kick his heroin addiction, stands by the fire outside his tent at the homeless encampment where he lives along the river in Aberdeen, Wash., Wednesday June 14, 2017. "I'm just trying to make it," said Alan who asked not to have his last name published and dreams of having his own RV some day. (AP Photo/David Goldman)
Despair And Donald Trump
Staci Hadley, left, and boyfriend Deric Hensler, hidden, sleep in their car overnight in a parking lot outside the methadone clinic before it opens where they get treated for their drug addiction in Holquim, Wash., Thursday June 15, 2017. "Not too long ago we were thinking 'oh how the mighty have fallen'," said Hadley. The two used to have jobs, bank accounts, credit cards, a house before Hensler lost his job and insurance to cover methadone treatments. "I know we're kind of messed out right now," added Hadley. "But this is not my life." (AP Photo/David Goldman)
Despair And Donald Trump
Artist Douglas Orr paints a mural on a building in Aberdeen, Wash., Friday, June 16, 2017. Orr has been painting a block-long mural of a little girl blowing bubbles, each circle the scene of an imagined, hopeful future. Nearby hangs one of the baskets of pink petunias that decorate light posts all over town, watered regularly by residents trying to make their city feel alive again.(AP Photo/David Goldman)
Sports Photography | Boris Grdanoski
Macedonia Super Cup Soccer
Manchester United's Marouane Fellaini is shown during the UEFA Super Cup final soccer match between Real Madrid and Manchester United at Philip II Arena in Skopje, Tuesday, Aug. 8, 2017. (AP Photo/Boris Grdanoski)