AP monthly staff photo contest
Each month The Associated Press honors photographers for outstanding coverage while on assignment.
The winners for the February 2019 AP Photo Contest are Felipe Dana for News Photography Single Image, Ben Curtis for News Photography Story, Christophe Ena for Feature Photography Single Image, Rafiq Maqbool for Feature Photography Story, Leo Correa for Sports Photography Single Image and Ricardo Mazalan for Sports Photography Story. Honorable Mention in Feature Photography Single Image was also awarded to Brynn Anderson.
Congratulations to all the photographers for their outstanding work. This month's winning images are featured below.
News Photography Single Image | Felipe Dana
Syria: Evacuated
A woman who was evacuated out of the last territory held by Islamic State militants holds her baby after being screened by U.S.-backed Syrian Democratic Forces (SDF) in the desert outside Baghouz, Syria, Monday, Feb. 25, 2019. (AP Photo/Felipe Dana)
News Photography Story | Ben Curtis
Nigeria Elections
A supporter of incumbent President Muhammadu Buhari wears sunglasses with a photo of Buhari and the initials of his All Progressives Congress (APC) party, at a campaign rally in Abuja, Nigeria Wednesday, Feb. 13, 2019. (AP Photo/Ben Curtis)
Nigeria Elections
A child leads a blind man as they walk past a wall of campaign posters in Kano, in northern Nigeria Saturday, Feb. 16, 2019. (AP Photo/Ben Curtis)
Nigeria Elections
An altar boy swings the thurible of incense during a morning service at the Saint Charles Catholic Church, the site of a 2014 bomb attack blamed on Islamic extremist group Boko Haram, in the predominantly-Christian neighborhood of Sabon Gari in Kano, northern Nigeria Sunday, Feb. 17, 2019. Nigerians were preparing to go to the polls for a presidential election, one week after a surprise delay for Africa's largest democracy. (AP Photo/Ben Curtis)
Nigeria Elections
Nigerians engage in heated but friendly arguments about the postponement of the election, over beers at a street-side bar in the predominantly-Christian neighborhood of Sabon Gari in Kano, northern Nigeria Saturday, Feb. 16, 2019. (AP Photo/Ben Curtis)
Nigeria Elections
Muslims make traditional Friday prayers in front of a police riot truck, providing security due to the ongoing general threat of attacks by Islamic extremist group Boko Haram, at a mosque near to the Emir's palace in Kano, northern Nigeria Friday, Feb. 15, 2019. Nigerians were preparing to go to the polls for a presidential election, one week after a surprise delay for Africa's largest democracy. (AP Photo/Ben Curtis)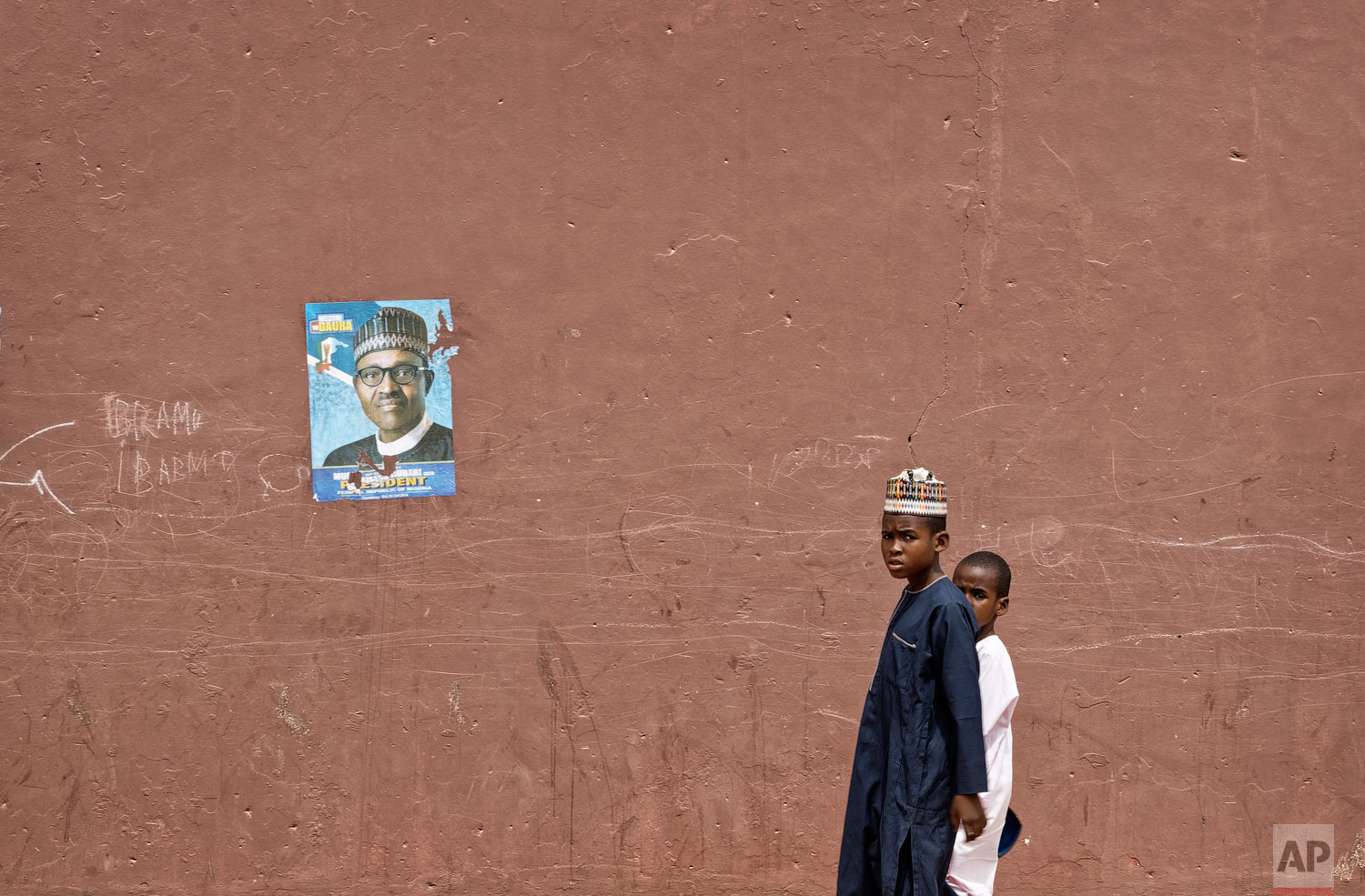 Nigeria Elections
Two young boys walk home after making traditional Muslim Friday prayers, past a campaign poster for President Muhammadu Buhari, outside the central mosque in his hometown of Daura, in northern Nigeria Friday, Feb. 22, 2019. Nigerians were preparing to go to the polls for a presidential election, one week after a surprise delay for Africa's largest democracy. (AP Photo/Ben Curtis)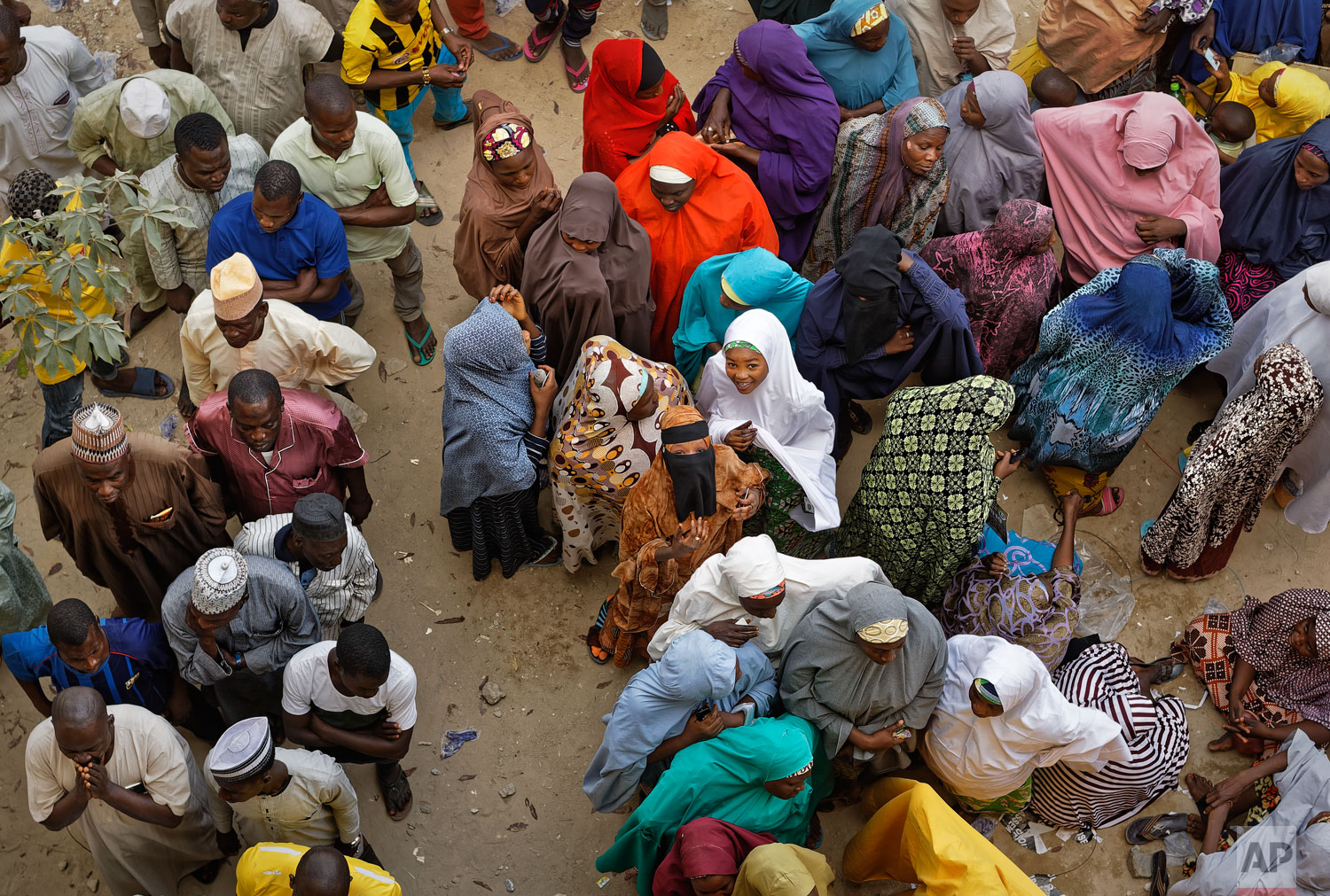 Nigeria Elections
Women and men queue separately as they wait to cast their votes at a polling station on the outskirts of Kano, in northern Nigeria Saturday, Feb. 23, 2019. (AP Photo/Ben Curtis)
Nigeria Elections
A baby sleeps on his mother's back as women queue in line to cast their votes in the village of Tumfafi, near Kano, in northern Nigeria Saturday, Feb. 23, 2019. (AP Photo/Ben Curtis)
Nigeria Elections
Supporters of the ruling party and main opposition party briefly pull knives and machetes on each other during an otherwise celebratory gathering of supporters of President Muhammadu Buhari anticipating victory, in Kano, northern Nigeria Monday, Feb. 25, 2019. (AP Photo/Ben Curtis)
Nigeria Elections
Nigeria's President Muhammadu Buhari gestures to supporters after casting his vote in his hometown of Daura, in northern Nigeria Saturday, Feb. 23, 2019. (AP Photo/Ben Curtis)
Nigeria Elections
Supporters of Nigeria's President Muhammadu Buhari, some carrying crude weapons, ride on the back of a truck as they follow a march of others to celebrate his electoral win, on a street in Kano, northern Nigeria Wednesday, Feb. 27, 2019. Buhari defended his sweeping win of a second term as free and fair and appealed to a "common love of country" as his top challenger vowed to go to court with allegations of fraud. (AP Photo/Ben Curtis)
Nigeria Elections
Young supporters of Nigeria's President Muhammadu Buhari celebrate his electoral win, holding up four fingers to indicate "four more years", in the streets of Kano, northern Nigeria Wednesday, Feb. 27, 2019. Buhari was declared the clear winner of a second term in Africa's largest democracy after a campaign in which he urged voters to give him another chance. (AP Photo/Ben Curtis)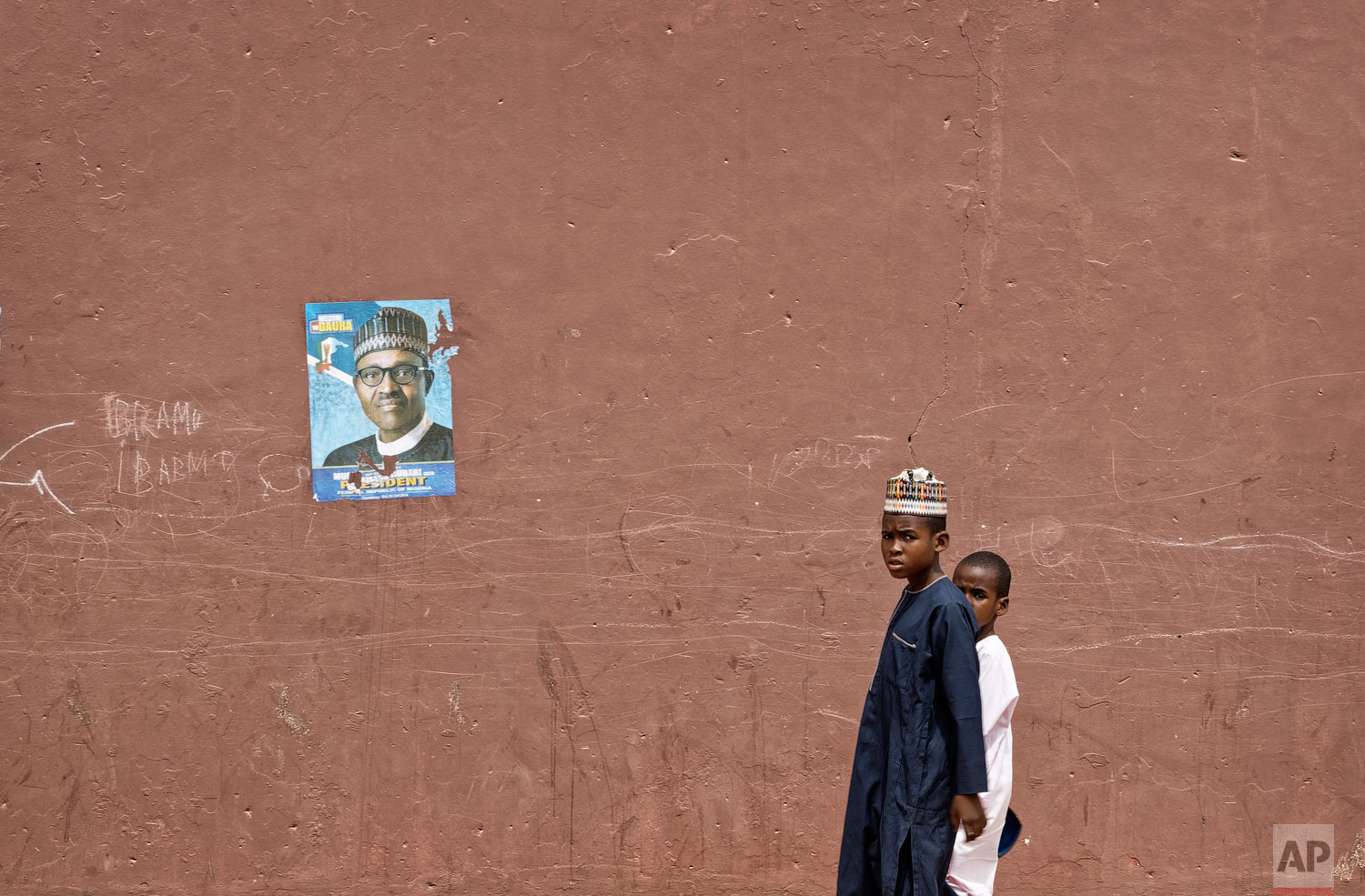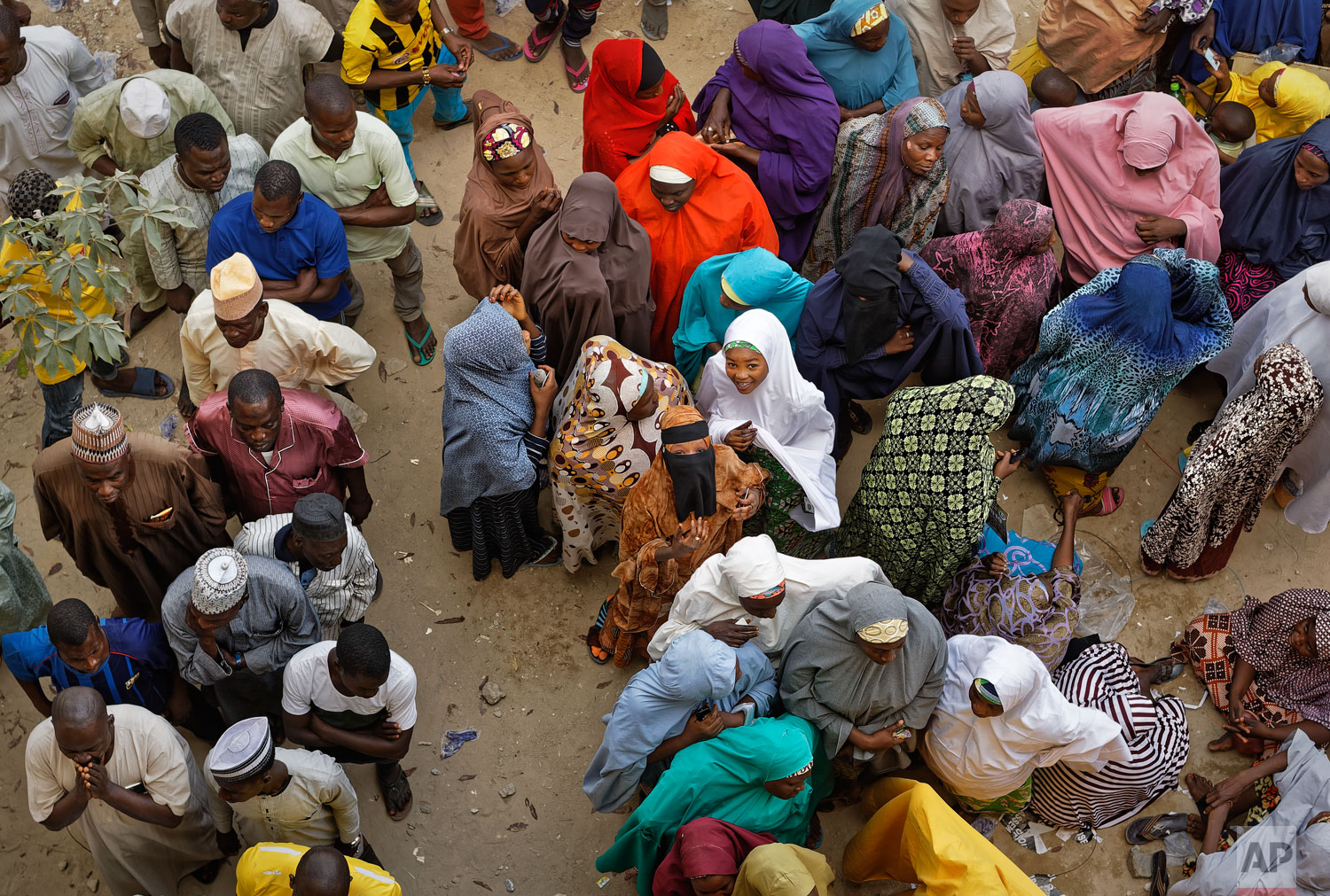 Feature Photography Single Image | Christophe Ena
Paris Fashion 2019 F/W Dior
Models wear creations as part of the Dior ready to wear Fall-Winter 2019-2020 collection, that was presented in Paris, Tuesday, Feb. 26, 2019. (AP Photo/Christophe Ena)
Feature Photography Story | Rafiq Maqbool
Mallakhamb
In this Feb. 7, 2019, photo, a player performs on a Mallakhamb pole during an early morning training session at Shivaji Park in Mumbai, India. The word mallakhamb comes from malla, meaning wrestler, and khamb, or pole, and is a traditional training exercise for wrestlers in India. After centuries of being practiced in isolation in the subcontinent, mallakhamb had its first international championship in Mumbai in February. (AP Photo/Rafiq Maqbool)
Mallakhamb
In this Feb. 4, 2019, photo, players perform on a mallakhamb pole and rope at the Shree Samartha Vyayam Mandir at Shivaji Park in Mumbai, India. (AP Photo/Rafiq Maqbool)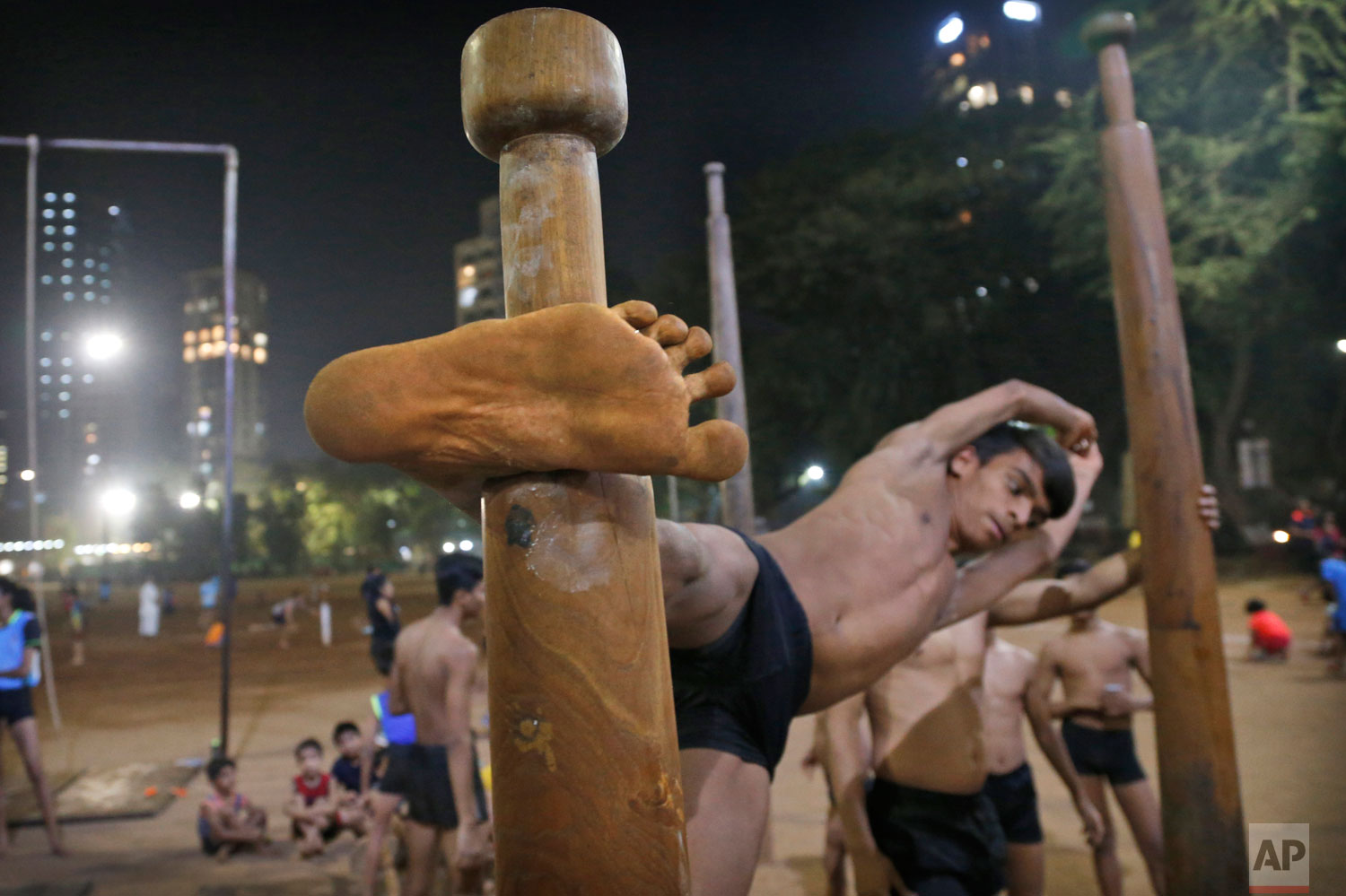 Mallakhamb
In this Feb 4, 2019, photo, a mallakhamb player trains early morning at the Shree Samartha Vyayam Mandir in Mumbai, India. (AP Photo/Rafiq Maqbool)
Mallakhamb
In this Feb. 6, 2019, photo, players perform on a mallakhamb pole at the Shree Samartha Vyayam Mandir at Shivaji Park in Mumbai, India. (AP Photo/Rafiq Maqbool)
Mallakhamb
In this Feb. 4, 2019, photo, a player tightens his grip on a mallakhamb pole as he trains at Shivaji Park in Mumbai, India. (AP Photo/Rafiq Maqbool)
Mallakhamb
In this Feb. 5, 2019, photo, a player performs on a mallakhamb pole at the Shree Samartha Vyayam Mandir in Mumbai, India. (AP Photo/Rafiq Maqbool)
Mallakhamb
In this Feb 6, 2019, photo, a young player climbs a mallakhamb pole during an early morning class at the Shree Samartha Vyayam Mandir at Shivaji Park in Mumbai, India. (AP Photo/Rafiq Maqbool)
Mallakhamb
In this Feb 5, 2019, photo, mallakhamb players perform on a pole and rope at the Shree Samartha Vyayam Mandir at Shivaji Park in Mumbai, India. (AP Photo/Rafiq Maqbool)
Mallakhamb
In this Feb. 5, 2019, photo, a player powders his hands before performing on a mallakhamb pole at Shivaji Park in Mumbai, India. (AP Photo/Rafiq Maqbool)
Mallakhamb
In this Feb. 5, 2019, photo, a trainer helps Alfie Meeson of Newcastle, England, on a mallakhamb pole at Shivaji Park in Mumbai, India. (AP Photo/Rafiq Maqbool)
Mallakhamb
In this Feb. 6, 2019, photo, Vikram Nadkarni, of Newcastle, England, performs a Mallakhamb pose on a pole at Shivaji Park in Mumbai, India. (AP Photo/Rafiq Maqbool)
Mallakhamb
In this Feb. 5, 2019, photo, a player performs a rope version of mallakhamb at the Shree Samartha Vyayam Mandir at Shivaji Park in Mumbai, India. (AP Photo/Rafiq Maqbool)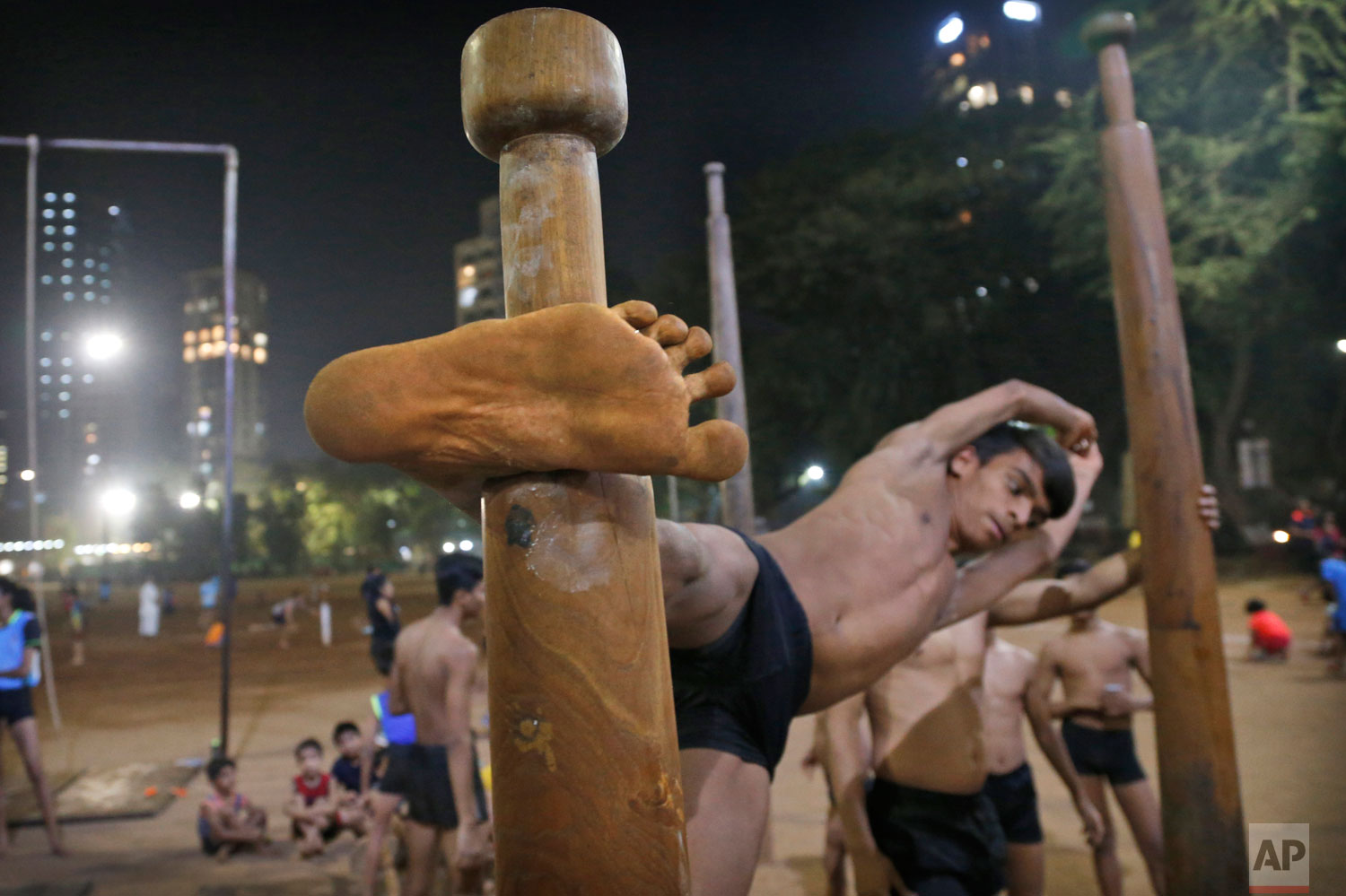 Sports Photography Single Image | Leo Correa
The Rio Open
Austria's Dominic Thiem serves to Serbia's Laslo Djere at the Rio Open tennis tournament in Rio de Janeiro, Brazil, Feb. 19, 2019. (AP Photo/Leo Correa)
Sports Photography Story | Ricardo Mazalan
West Indies Cricket
West Indies cricket team captain Jason Holder walks to the dressing room after a training session at the Sir Vivian Richards Stadium in North Sound, Antigua and Barbuda, Wednesday, Jan. 30, 2019. (AP Photo/Ricardo Mazalan)
West Indies Cricket
West Indies' captain Jason Holder bowls against England during day one of the second Test cricket match at the Sir Vivian Richards Stadium in North Sound, Antigua and Barbuda, Thursday, Jan. 31, 2019. (AP Photo/Ricardo Mazalan)
West Indies Cricket
England's captain Eoin Morgan plays a shot against West Indies during the second One Day International cricket match at the Kensington Oval in Bridgetown, Barbados, Friday, Feb. 22, 2019. (AP Photo/Ricardo Mazalan)
West Indies Cricket
England's Mark Wood celebrates taking the wicket of Roston Chase during day two of the third cricket Test match at the Daren Sammy Cricket Ground in Gros Islet, St. Lucia, Sunday, Feb. 10, 2019. (AP Photo/Ricardo Mazalan)
West Indies Cricket
Fans of England watch from a pool day one of the second Test cricket match against West Indies at the Sir Vivian Richards Stadium in North Sound, Antigua and Barbuda, Thursday, Jan. 31, 2019. (AP Photo/Ricardo Mazalan)
West Indies Cricket
England's James Anderson celebrates with teammates taking the wicket of West Indies' John Campbell during day four of the third cricket Test match at the Daren Sammy Cricket Ground in Gros Islet, St. Lucia, Tuesday, Feb. 12, 2019. (AP Photo/Ricardo Mazalan)
West Indies Cricket
A ground worker rolls the pitch at the nets prior to a training session of England cricket team at the Sir Vivian Richards stadium in North Sound, Antigua and Barbuda, Monday, Feb. 4, 2019. (AP Photo/Ricardo Mazalan)
West Indies Cricket
England's Ben Stokes reacts after his dismissal during day three of the second Test cricket match against West Indies at the Sir Vivian Richards Stadium in North Sound, Antigua and Barbuda, Saturday, Feb. 2, 2019. (AP Photo/Ricardo Mazalan)
West Indies Cricket
Spectators watch day two of the third cricket Test match between England and West Indies at the Daren Sammy Cricket Ground in Gros Islet, St. Lucia, Sunday, Feb. 10, 2019. (AP Photo/Ricardo Mazalan)
West Indies Cricket
England's wicket keeper Jonny Bairstow runs to stop a shot played by West Indies' Darren Bravo during day two of the second Test cricket match at the Sir Vivian Richards Stadium in North Sound, Antigua and Barbuda, Friday, Feb. 1, 2019. (AP Photo/Ricardo Mazalan)
West Indies Cricket
West Indies' Chris Gayle celebrates after he scored a century against West Indies during the fourth One Day International cricket match at the National Stadium in St. George's, Grenada, Wednesday, Feb. 27, 2019. (AP Photo/Ricardo Mazalan)
West Indies Cricket
Ground workers watch from the scoreboard the fourth One Day International cricket match between England and West Indies at the National Stadium in St. George's, Grenada, Wednesday, Feb. 27, 2019. (AP Photo/Ricardo Mazalan)