AP monthly staff photo contest
Each month The Associated Press honors photographers for outstanding coverage while on assignment.
The winners for the June 2019 AP Photo Contest are Vadim Ghirda for News Photography Single Image, Pope Francis arriving at a church in Romania; Marco Ugarte for News Photography Story, series on Central American migrants.
Ramon Espinosa for Feature Photography Single Image, for an image of fisherman in Havana, Cuba.
Rafiq Maqbool for Feature Photography Story, for his story on the Festival of Turmeric in India.
Frank Franklin II for Sports Photography Single Image, of Andy Ruiz and Anthony Joshua during a heavyweight championship boxing match.
Francisco Seco and Alessandra Tarantino for Sports Photography Story, for coverage during the Women's World Cup.
Congratulations to all the photographers for their outstanding work. This month's winning images, judged by Pablo Monsivais, are featured below.
News Photography Single Image | Vadim Ghirda
Passing Among Pilgrims
Pope Francis passes among pilgrims as he arrives to preside over the celebration of Divine Liturgy and the beatification of seven martyred bishops of the Eastern-rite Romanian Catholic Church, in Blaj, Romania, Sunday, June 2, 2019. Francis was traveling across Romania to visit its far-flung Catholic communities to make up for the fact that St. John Paul II was only allowed to visit the capital, Bucharest, in 1999 in the first papal visit to a majority Orthodox country. (AP Photo/Vadim Ghirda)
News Photography Story | Marco Ugarte
Mexico Migrants
Central American migrants stand on a raft to cross the Suchiate River from Guatemala to Mexico, as the Tacana volcano stands tall near Ciudad Hidalgo, Mexico, early Monday, June 10, 2019. (AP Photo/Marco Ugarte)
Migrants on rafts reach the Mexico shore after crossing the Suchiate river on the Guatemala – Mexico border, near Ciudad Hidalgo, Mexico, Wednesday, June 5, 2019. (AP Photo/Marco Ugarte)
A group of Central American migrants on a raft cross the Suchiate river on the Guatemala – Mexico border as hundreds more walk across the border bridge, near Ciudad Hidalgo, Mexico, Wednesday, June 5, 2019. (AP Photo/Marco Ugarte)
Hundreds of Central American migrants walk together on the highway, after crossing the Guatemala – Mexico border, near Ciudad Hidalgo, Mexico, Wednesday, June 5, 2019. State and local police provided a security escort to the migrants as they walked along a highway leading from the border to the first major city in Mexico, Tapachula. (AP Photo/Marco Ugarte)
A man begs and prays not to be taken away by Mexican immigration authorities as he holds his child, during a raid on a migrant caravan that had earlier crossed the Mexico - Guatemala border, near Metapa, Chiapas state, Mexico, Wednesday, June 5, 2019. (AP Photo/Marco Ugarte)
A migrant is tended by a Federal Police officer and a fellow migrant after he collapsed when an attempt was made to detain him by Mexican immigration authorities, during a raid on a migrant caravan that had earlier crossed the Mexico - Guatemala border, near Metapa, Chiapas state, Mexico, Wednesday, June 5, 2019. (AP Photo/Marco Ugarte)
A migrant mother and children ride a freight train on their way north, in Palenque, Chiapas state, Mexico, Monday, June 24, 2019. (AP Photo/Marco Ugarte)
Honduran migrants ride a freight train on their way north, in Salto del Agua, Chiapas state, Mexico, Tuesday, June 25, 2019. (AP Photo/Marco Ugarte)
A Honduran migrant ride a freight train on their way north, in Salto del Agua, Chiapas state, Mexico, Tuesday, June 25, 2019. (AP Photo/Marco Ugarte)
A Honduran migrant ride a freight train on their way north, in Salto del Agua, Chiapas state, Mexico, Tuesday, June 25, 2019. (AP Photo/Marco Ugarte)
In this June 25, 2019 photo, 19-year-old Honduran Saily Yasm�n Andino runs to climb aboard a freight train, near Salto de Agua, Mexico. Hours later the train stopped near the Tabasco state town of Tacotalpa and Andino hopped off to buy some cheese-stuffed rolls. When the train crowded with migrants began to move again, she hustled to clamber back aboard. But the train suddenly stopped and rolled back. She lost her grip and fell beneath its wheels. (AP Photo/Marco Ugarte)
This June 25, 2019 photo shows the site where witnesses say 19-year-old Honduran Saily Yasmín Andino lost her grip and fell beneath the wheels of the freight train she was riding, in Tacotalpa, Mexico. The little-noticed death of Andino added to a notorious toll claimed over the years by the train known as "The Beast," a perilous stage on the migrant journey from Central America to the U.S. border. (AP Photo/Marco Ugarte)
Feature Photography Single Image | Ramon Espinosa
Working Fisherman
A couple in a classic, American car drive along the Malecon seawall where fishermen work at sunset in Havana, Cuba, Wednesday, June 19, 2019. (AP Photo/Ramon Espinosa)
Feature Photography Story | Rafiq Maqbool
Festival of Turmeric
Devotees carry a palanquin during a procession at the temple of the shepherd god Khandoba on 'Somavati Amavasya' at the Jejuri temple in Pune district, Maharashtra state, India, Monday, June 3, 2019. 'Somavati Amavasya' is the day when a New Moon falls on a Monday. (AP Photo/Rafiq Maqbool)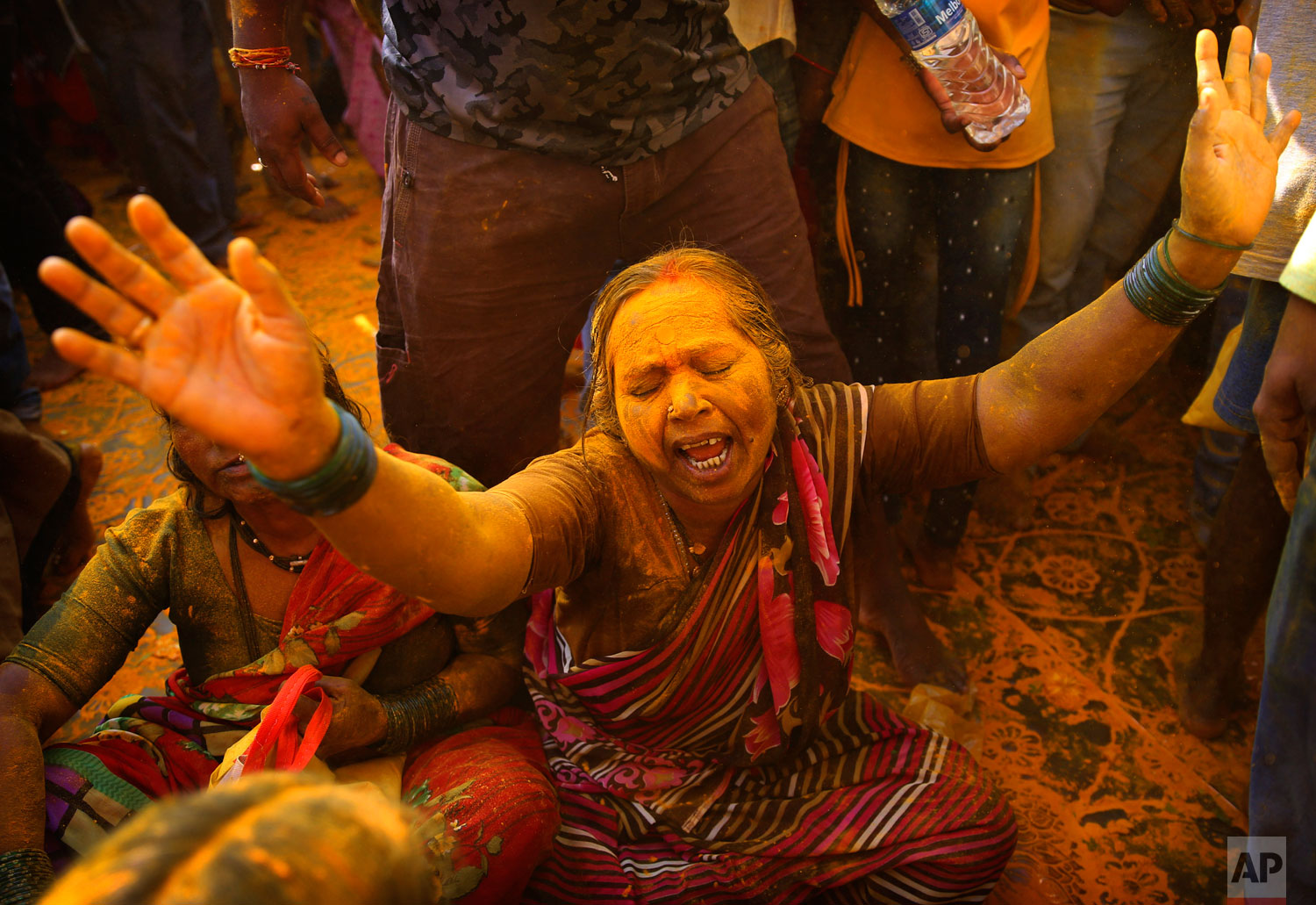 A devotee covered in turmeric goes into a trance during the celebration of the Bhandara Festival, or the Festival of Turmeric, at the Jejuri temple in Pune district, Maharashtra state, India, Monday, June 3, 2019.During the festival, devotees use the golden powder to worship the deity Lord Khandoba, widely known as a descendant of the sun, and to celebrate his victory over the demons Mani and Malla. (AP Photo/Rafiq Maqbool)
Devotees throw turmeric powder on a holy horse as an offering to the shepherd god Khandoba on 'Somavati during a procession at the temple of the shepherd god Khandoba on 'Somavati Amavasya' at the Jejuri temple in Pune district, Maharashtra state, India, Monday, June 3, 2019. 'Somavati Amavasya' is the day when a New Moon falls on a Monday.(AP Photo/Rafiq Maqbool)
Devotees hold a plate with turmeric as they offer prayers during the celebration of the Bhandara Festival, or the Festival of Turmeric, at the Jejuri temple in Pune district, Maharashtra state, India. During the festival, devotees use the golden powder to worship the deity Lord Khandoba, widely known as a descendant of the sun, and to celebrate his victory over the demons Mani and Malla. (AP Photo/Rafiq Maqbool)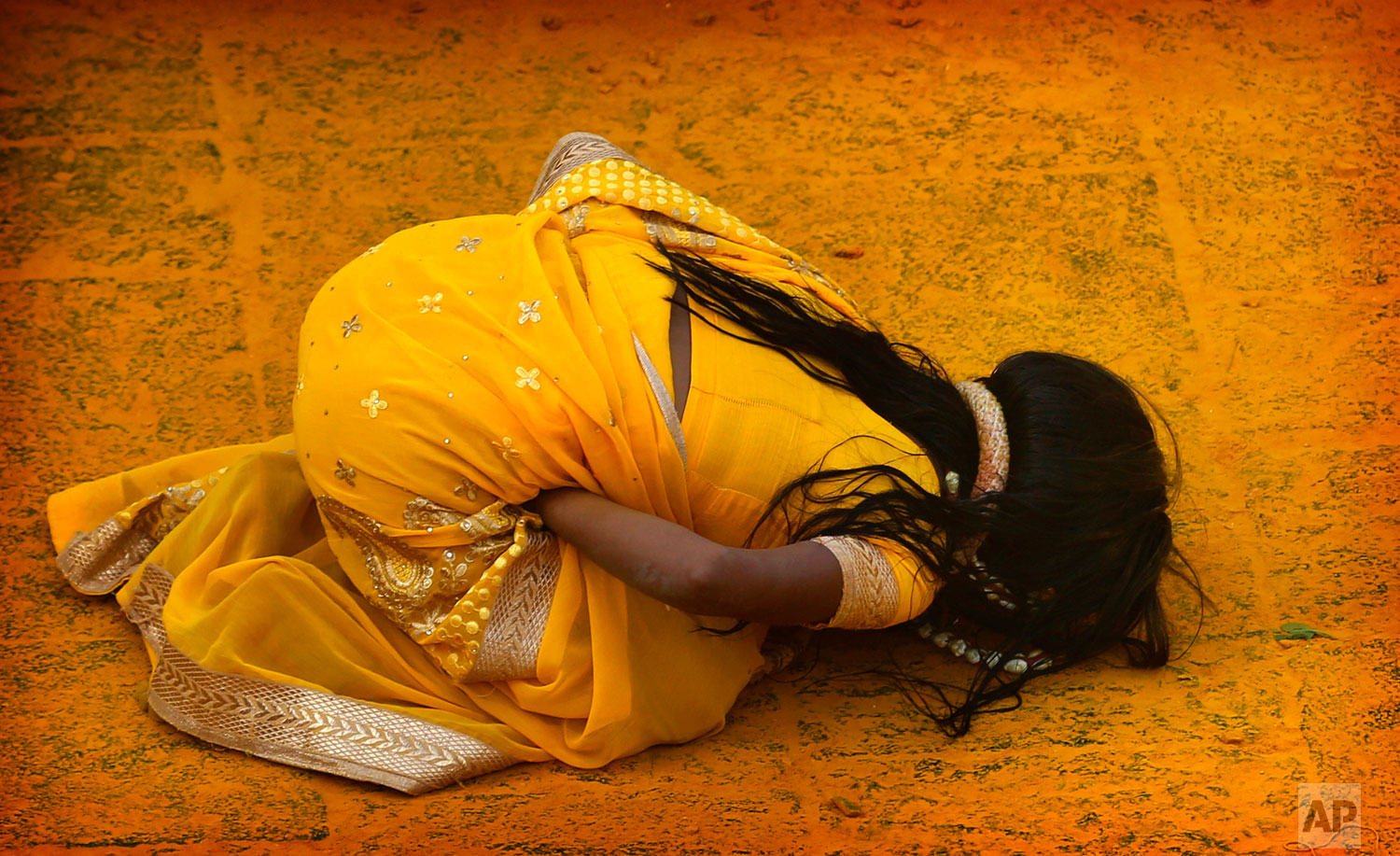 A devotee covered in the spice turmeric goes into a trance during the celebration of the Bhandara Festival, or the Festival of Turmeric, at the Jejuri temple in Pune district, Maharashtra state, India. During the festival, devotees use the golden powder to worship the deity Lord Khandoba, widely known as a descendant of the sun, and to celebrate his victory over the demons Mani and Malla. (AP Photo/Rafiq Maqbool)
Devotee plays a horn in a crowd covered in the spice turmeric during the celebration of the Bhandara Festival, or the Festival of Turmeric, at the Jejuri temple in Pune district, Maharashtra state, India. During the festival, devotees use the golden powder to worship the deity Lord Khandoba, widely known as a descendant of the sun, and to celebrate his victory over the demons Mani and Malla. (AP Photo/Rafiq Maqbool)
A devotee's shirt has handprints of the spice turmeric during the celebration of the Bhandara Festival, or the Festival of Turmeric, at the Jejuri temple in Pune district, Maharashtra state, India. During the festival, devotees use the golden powder to worship the deity Lord Khandoba, widely known as a descendant of the sun, and to celebrate his victory over the demons Mani and Malla. (AP Photo/Rafiq Maqbool)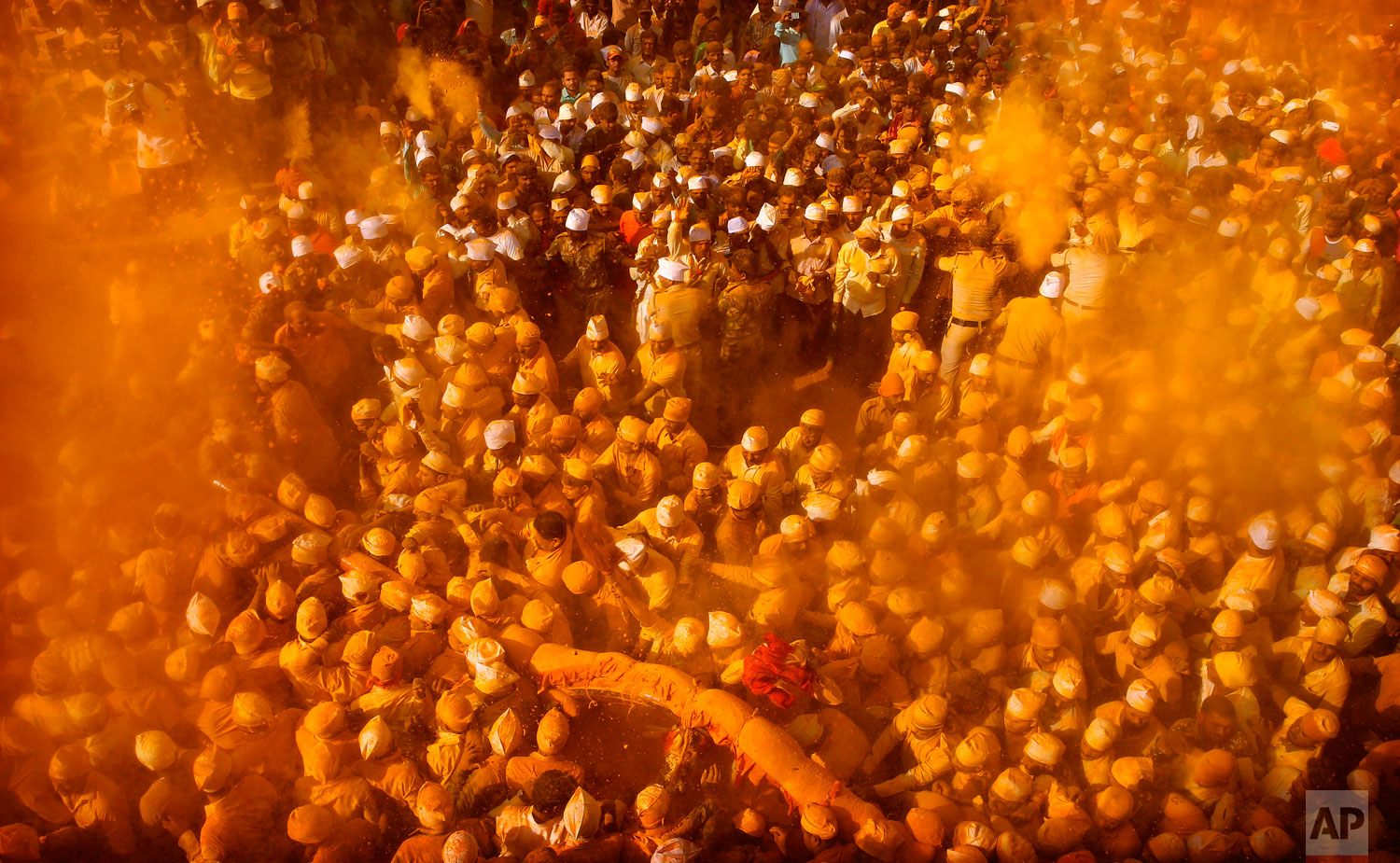 Devotees smeared in turmeric join a procession during the celebration of the Bhandara Festival, or the Festival of Turmeric, at the Jejuri temple in Pune district, Maharashtra state, India. During the festival, devotees use the golden powder to worship the deity Lord Khandoba, widely known as a descendant of the sun, and to celebrate his victory over the demons Mani and Malla. (AP Photo/Rafiq Maqbool)
photo combo, devotees are covered in the spice turmeric during the celebration of the Bhandara Festival, or the Festival of Turmeric, at the Jejuri temple in Pune district, Maharashtra state, India. During the festival, devotees use the golden powder to worship the deity Lord Khandoba, widely known as a descendant of the sun, and to celebrate his victory over the demons Mani and Malla. (AP Photo/Rafiq Maqbool)
A devotees sweeps before the celebration of the Bhandara Festival, or the Festival of Turmeric, at the Jejuri temple in Pune district, Maharashtra state, India. During the festival, devotees use the golden powder to worship the deity Lord Khandoba, widely known as a descendant of the sun, and to celebrate his victory over the demons Mani and Malla. (AP Photo/Rafiq Maqbool)
In this Monday, June 3, 2019, photo, devotees perform rituals during the celebration of the Bhandara Festival, or the Festival of Turmeric, at the Jejuri temple in Pune district, Maharashtra state, India. During the festival, devotees use the golden powder to worship the deity Lord Khandoba, widely known as a descendant of the sun, and to celebrate his victory over the demons Mani and Malla. (AP Photo/Rafiq Maqbool)
A bigger begs outside a temple during the celebration of the Bhandara Festival, or the Festival of Turmeric, at the Jejuri temple in Pune district, Maharashtra state, India. During the festival, devotees use the golden powder to worship the deity Lord Khandoba, widely known as a descendant of the sun, and to celebrate his victory over the demons Mani and Malla. (AP Photo/Rafiq Maqbool)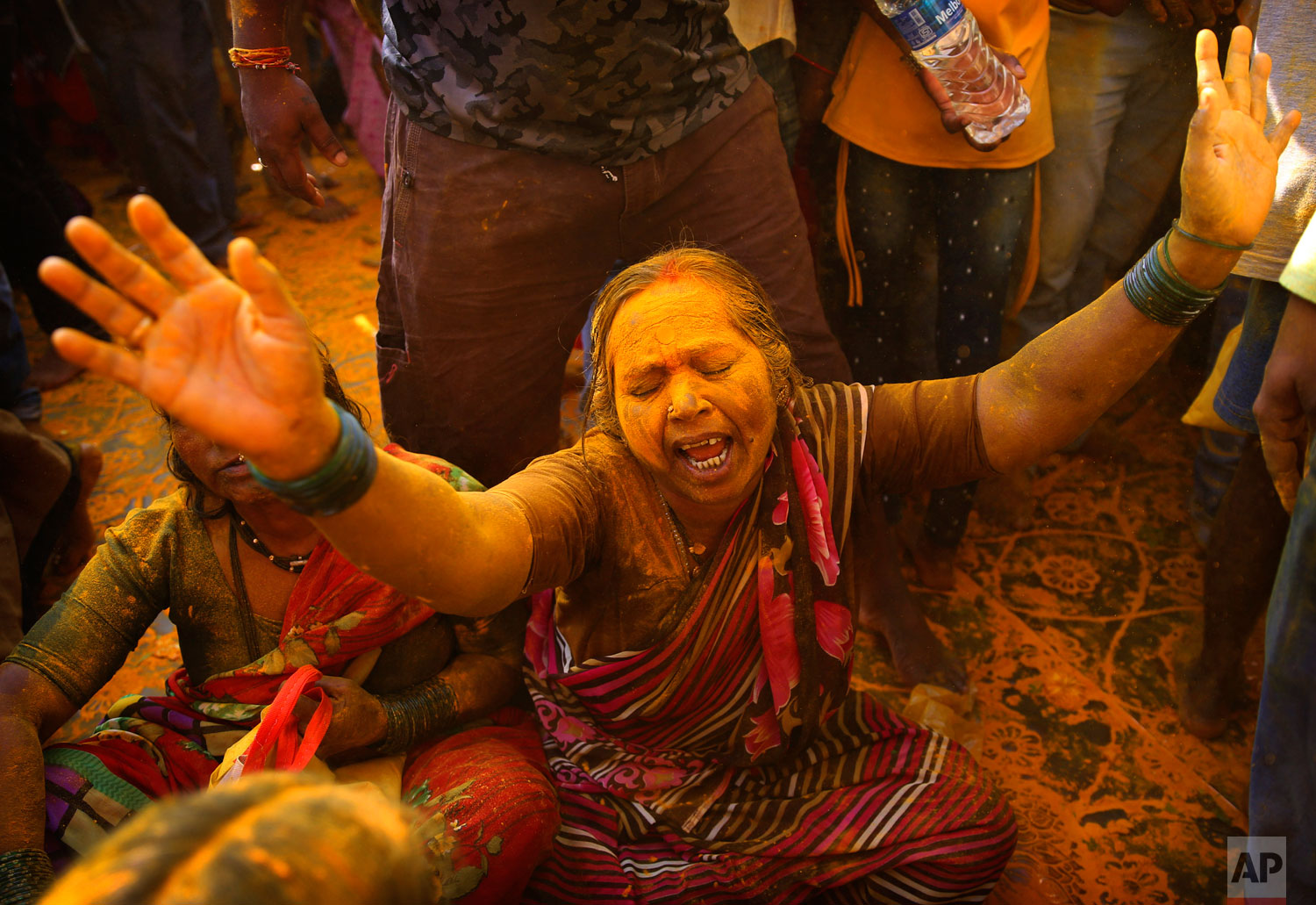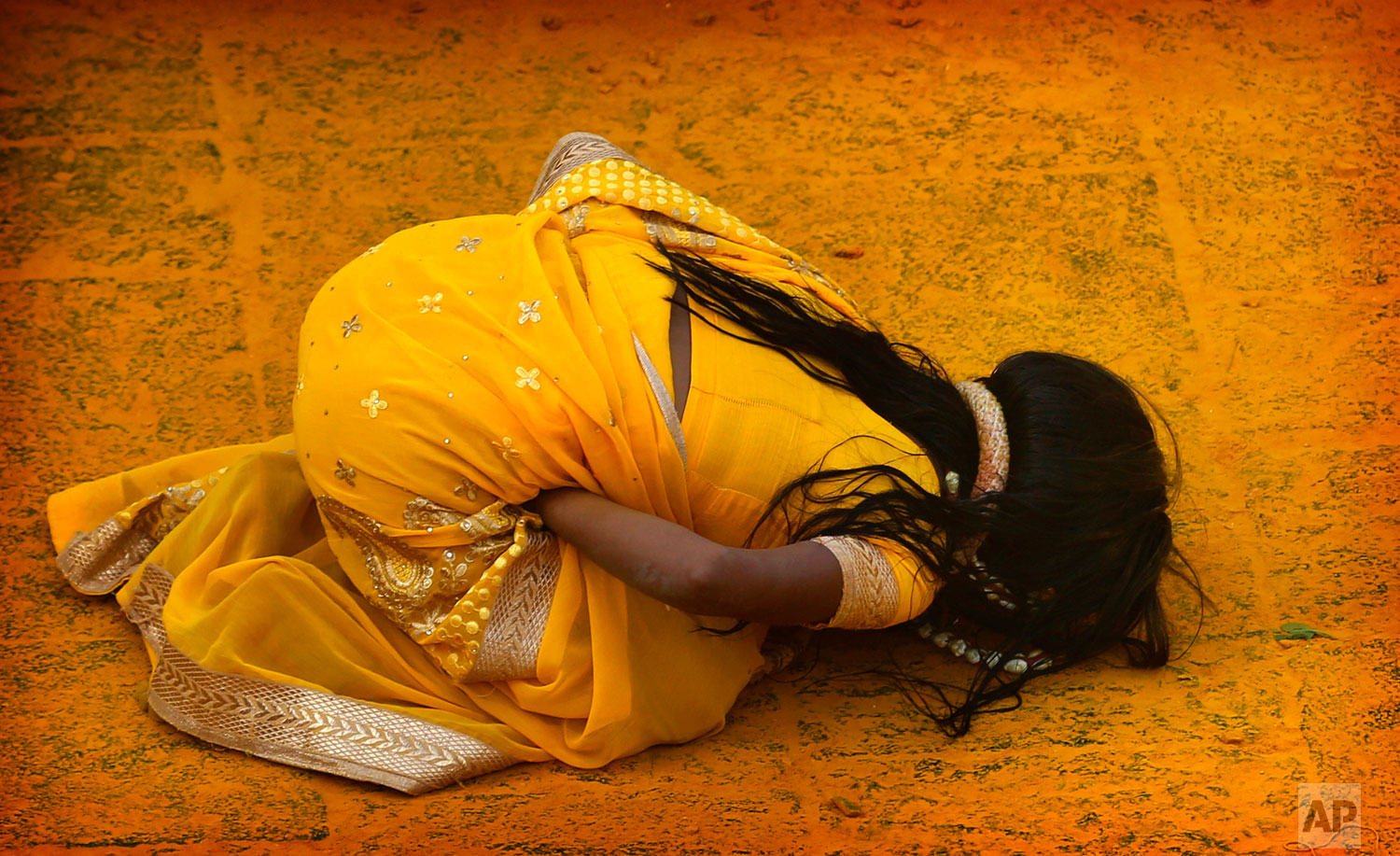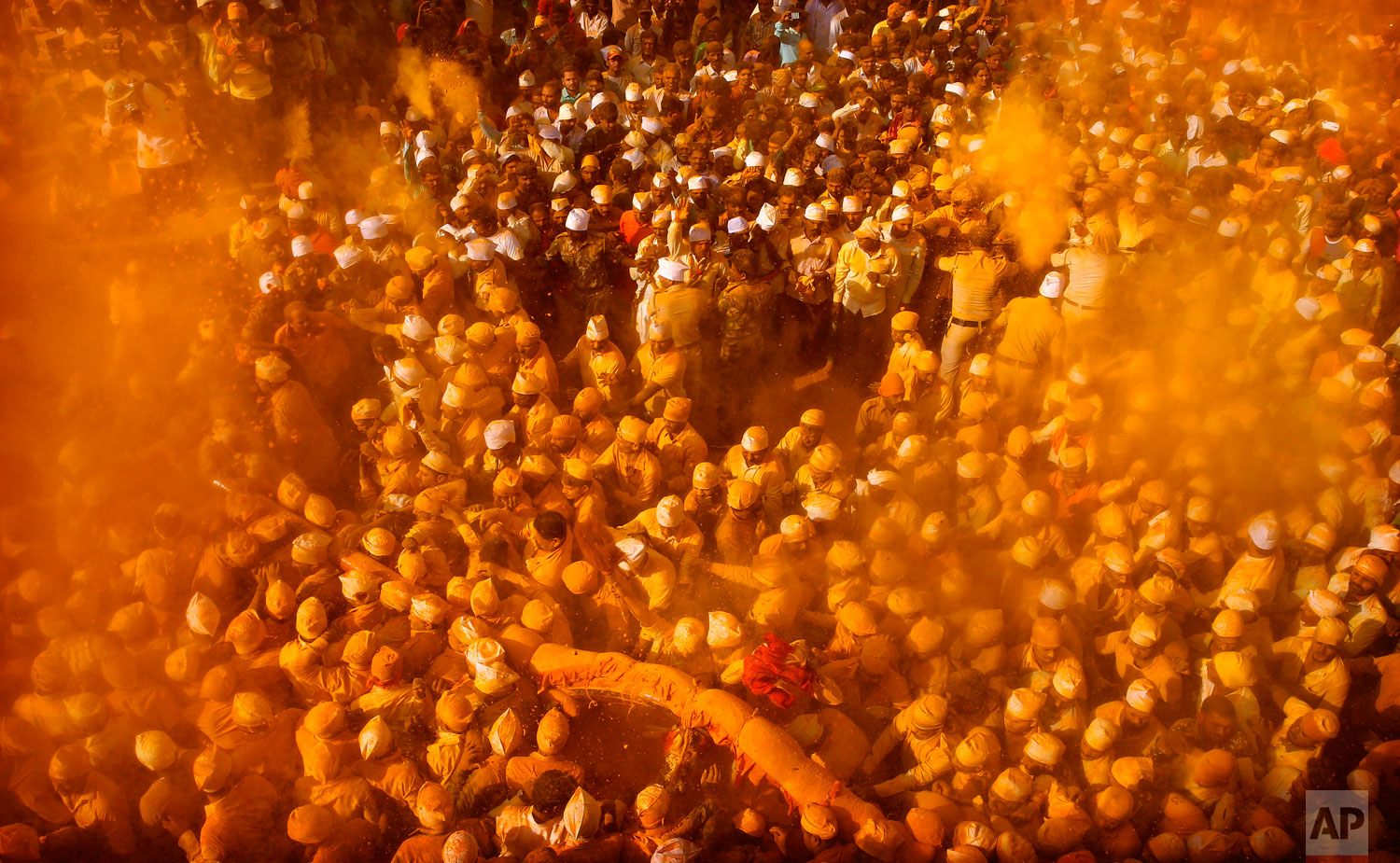 Sports Photography Single Image | Frank Franklin II
Exchanging Punches
Andy Ruiz, right, and Anthony Joshua exchange punches during the seventh round of a heavyweight championship boxing match Saturday, June 1, 2019, in New York. Ruiz won in the seventh round. (AP Photo/Frank Franklin II)
Sports Photography Story | Francisco Seco and Alessandra Tarantino
Women's World Cup
A French soccer fan waits for the start of the Group A soccer match between France and South Korea on the occasion of the Women's World Cup at the Parc des Princes in Paris, Friday, June 7, 2019. (AP Photo/Francisco Seco)
France's Griedge Mbock Bathy, left, and Brazil's Cristiane go for a header during the Women's World Cup round of 16 soccer match between France and Brazil at the Oceane stadium in Le Havre, France, Sunday, June 23, 2019. (AP Photo/Francisco Seco)
In this image taken with a slow shutter speed Canadian players warm up before the start of the Women's World Cup Group E soccer match between Canada and New Zealand in Grenoble, France, Saturday, June 15, 2019. (AP Photo/Francisco Seco)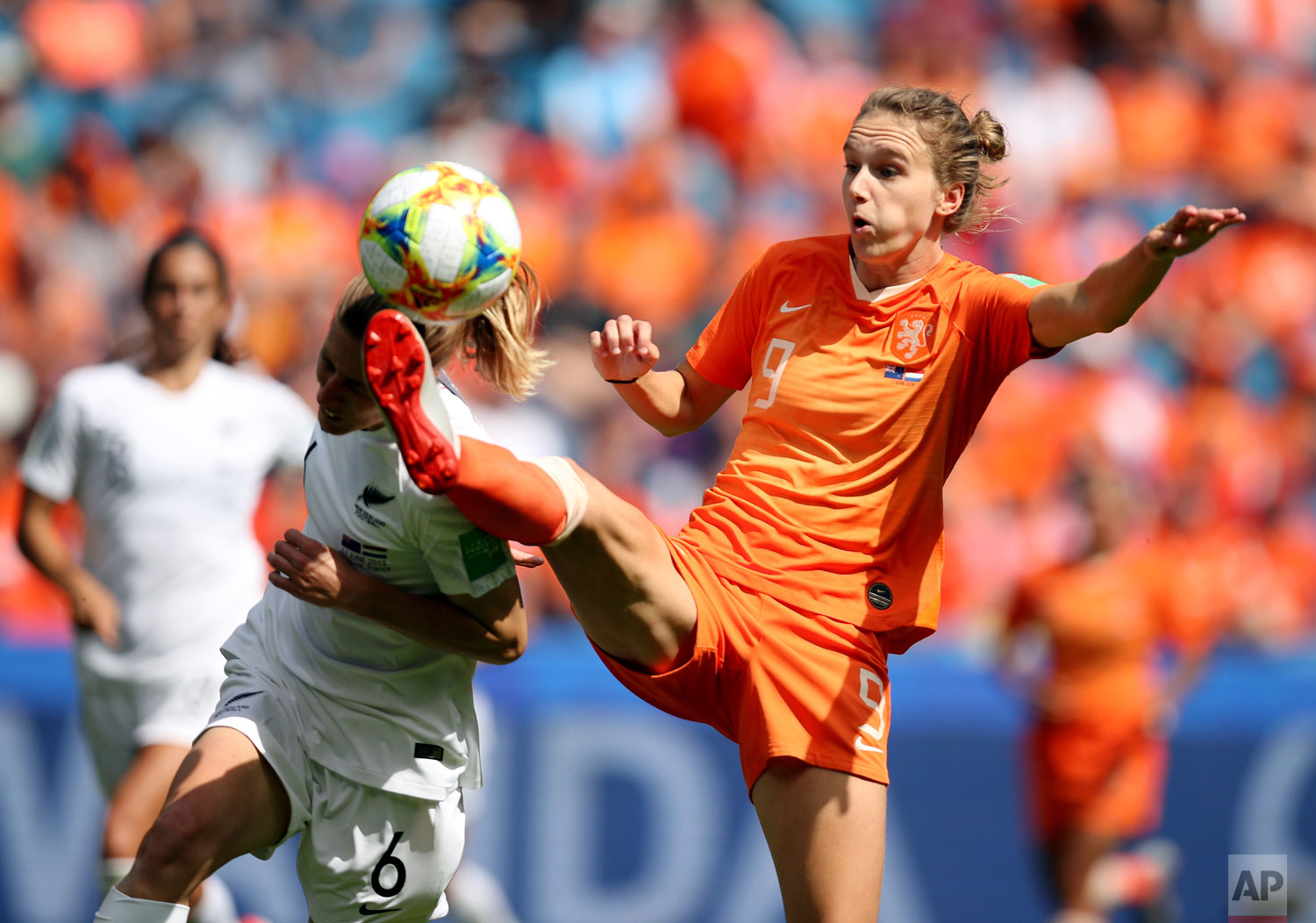 Netherlands' Vivianne Miedemam, right, kicks the ball challenged by New Zealand's Rebekah Stott during the Women's World Cup Group E soccer match between New Zealand and the Netherlands in Le Havre, France, Tuesday, June 11, 2019. (AP Photo/Francisco Seco)
French fans hold a banner that shows Marianne, personification of the French Republic, prior the Women's World Cup quarterfinal soccer match between France and the United States at the Parc des Princes, in Paris, Friday, June 28, 2019.(AP Photo/Alessandra Tarantino)
Brazil's Marta runs during the Women's World Cup round of 16 soccer match between France and Brazil at the Oceane stadium in Le Havre, France, Sunday, June 23, 2019. (AP Photo/Francisco Seco)
Argentina's Sole Jaimes, left, fights for a high ball with Japan's Moeka Minami during the Women's World Cup Group D soccer match between Argentina and Japan at the Parc des Princes in Paris, Monday, June 10, 2019. (AP Photo/Alessandra Tarantino)
Sweden's Sofia Jakobsson celebrates after scoring her side's opening goal during the Women's World Cup quarterfinal soccer match between Germany and Sweden at Roazhon Park in Rennes, France, Saturday, June 29, 2019. (AP Photo/Alessandra Tarantino)
A Netherlands fan cheers before the Women's World Cup Group E soccer match between the Netherlands and Canada at Stade Auguste-Delaune in Reims, France, Thursday, June 20, 2019. (AP Photo/Francisco Seco)
China's Li Ying, second left, celebrates after scoring the opening goal past South Africa goalkeeper Kaylin Swart, right, during the Women's World Cup Group B soccer match between China and South Africa at Parc des Princes in Paris, France, Thursday, June 13, 2019. (AP Photo/Alessandra Tarantino)
United States' scorer Samantha Mewis lifts her teammate Megan Rapinoe as she celebrates her side's 4rth goal during the Women's World Cup Group F soccer match between United States and Thailand at the Stade Auguste-Delaune in Reims, France, Tuesday, June 11, 2019. (AP Photo/Alessandra Tarantino)