AP monthly staff photo contest
Each month The Associated Press management honors photographers for outstanding coverage while on assignment.
The winners for the October 2016 AP Staff Photo Contest are Ramon Espinosa, Rebecca Blackwell and Dieu Nalio Chery in News Photography for "Hurricane Matthew," Gregory Bull in Feature Photography for "Migrants at the Border," and Chris Carlson in Sports Photography for "Seventh Hole Shot."
Congratulations to all the photographers for their outstanding work. This month's winning images are featured below.
News Photography | Ramon Espinosa, Rebecca Blackwell and Dieu Nalio Chery
Hurrican Matthew
A girl watches as authorities arrive to evacuate people from her house in Tabarre, Haiti, Monday, Oct. 3, 2016. (AP Photo/Dieu Nalio Chery)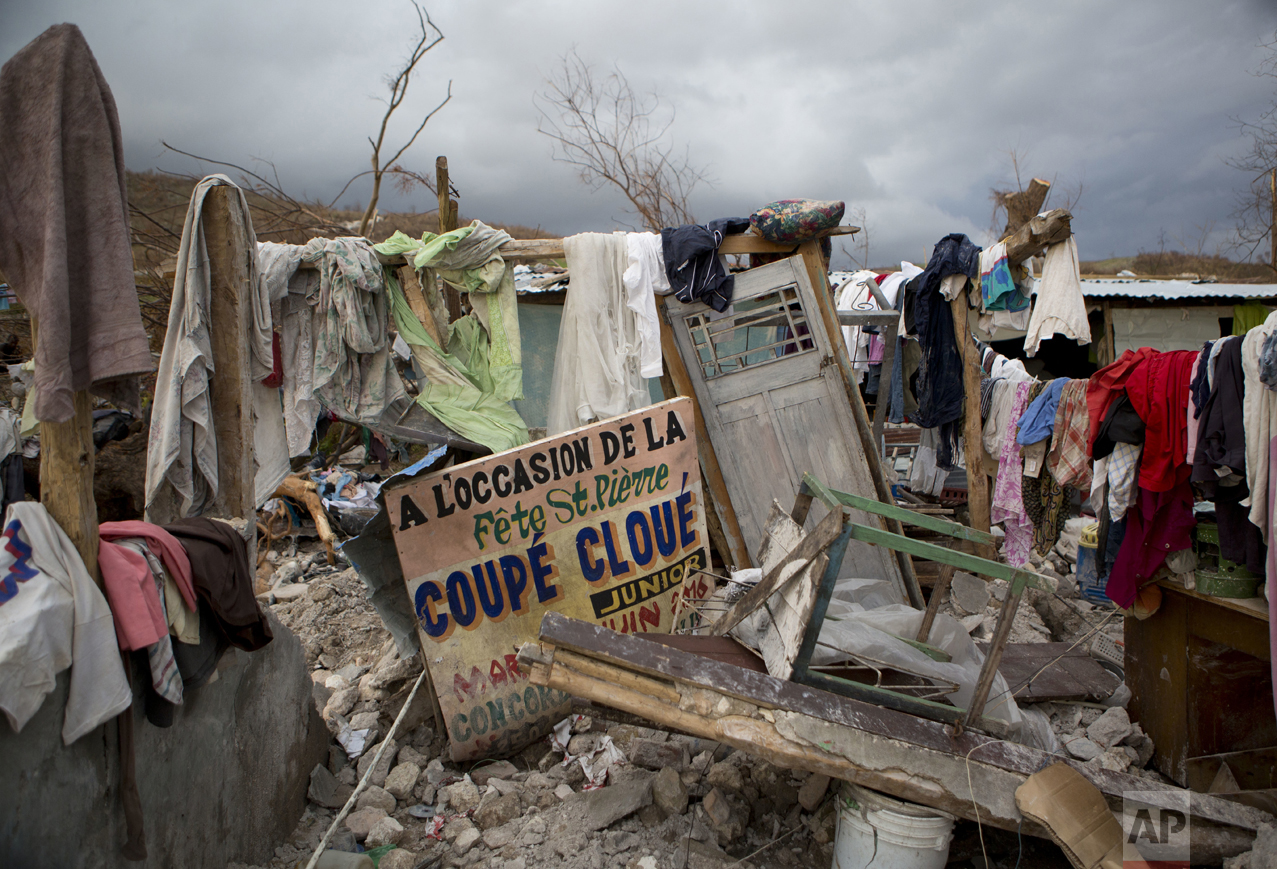 Hurrican Matthew
A sign in French announcing a music concert sits among salvaged clothes drying on the remains of a home destroyed by Hurricane Matthew in Port-a-Piment, Haiti, Monday, Oct. 10, 2016. (AP Photo/Rebecca Blackwell)
Hurrican Matthew
A couple embrace each other over the remains of his house destroyed by Hurricane Matthew in Baracoa, Cuba, Wednesday, Oct. 5, 2016. (AP Photo/Ramon Espinosa)
Hurrican Matthew
Coconut palms toppled by Hurricane Matthew lay in the countryside near Jeremie, southwestern Haiti, Friday, Oct. 14, 2016. (AP Photo/Rebecca Blackwell)
Hurrican Matthew
In this Thursday, Oct. 6, 2016 photo, an elderly man, who was in the hospital before Hurricane Matthew hit, is carried back to his home in a hammock, in Baracoa, Cuba. (AP Photo/Ramon Espinosa)
Hurrican Matthew
A girl helps her mother to remove mud from her house after Hurricane Matthew flooded their home in Les Cayes, Haiti, Thursday, Oct. 6, 2016. (AP Photo/Dieu Nalio Chery)
Hurrican Matthew
In this Wednesday, Oct. 19, 2016 photo, a Minnie Mouse doll lays inside the frame of a warped iron bed among the debris of a home destroyed by Hurricane Matthew, in Port-a-Piment, a district of Les Cayes, Haiti. (AP Photo/Dieu Nalio Chery)
Hurrican Matthew
Town residents gather to watch as U.S. military personnel unload USAID relief supplies from a helicopter in Anse d'Hainault, southwestern Haiti, Friday, Oct. 14, 2016. (AP Photo/Rebecca Blackwell)
Hurrican Matthew
Residents carry a coffin containing the remains of a pregnant woman, a victim of Hurricane Matthew, in Jeremie, Haiti. Friday, Oct. 7, 2016. (AP Photo/Dieu Nalio Chery)
Hurrican Matthew
In this Saturday, Oct. 8, 2016 photo, women from the Laguerre family cry as the coffin carrying Roberto Laguerre is taken out of the morgue, to bury him at the cemetery in Jeremie, Haiti. (AP Photo/Dieu Nalio Chery)
Hurrican Matthew
A kitchen cabinet is partially covered by the debris of a destroyed home in Port-a-Piment, a district of Les Cayes, Haiti, Tuesday, Oct. 18, 2016. (AP Photo/Dieu Nalio Chery)
Hurrican Matthew
In this Oct. 25, 2016 photo, Jimmy Jeudy bathes with water from a well that was contaminated by sea water and trash during Hurricane Matthew, in Aux Coteaux, a district of Les Cayes, Haiti. (AP Photo/Dieu Nalio Chery)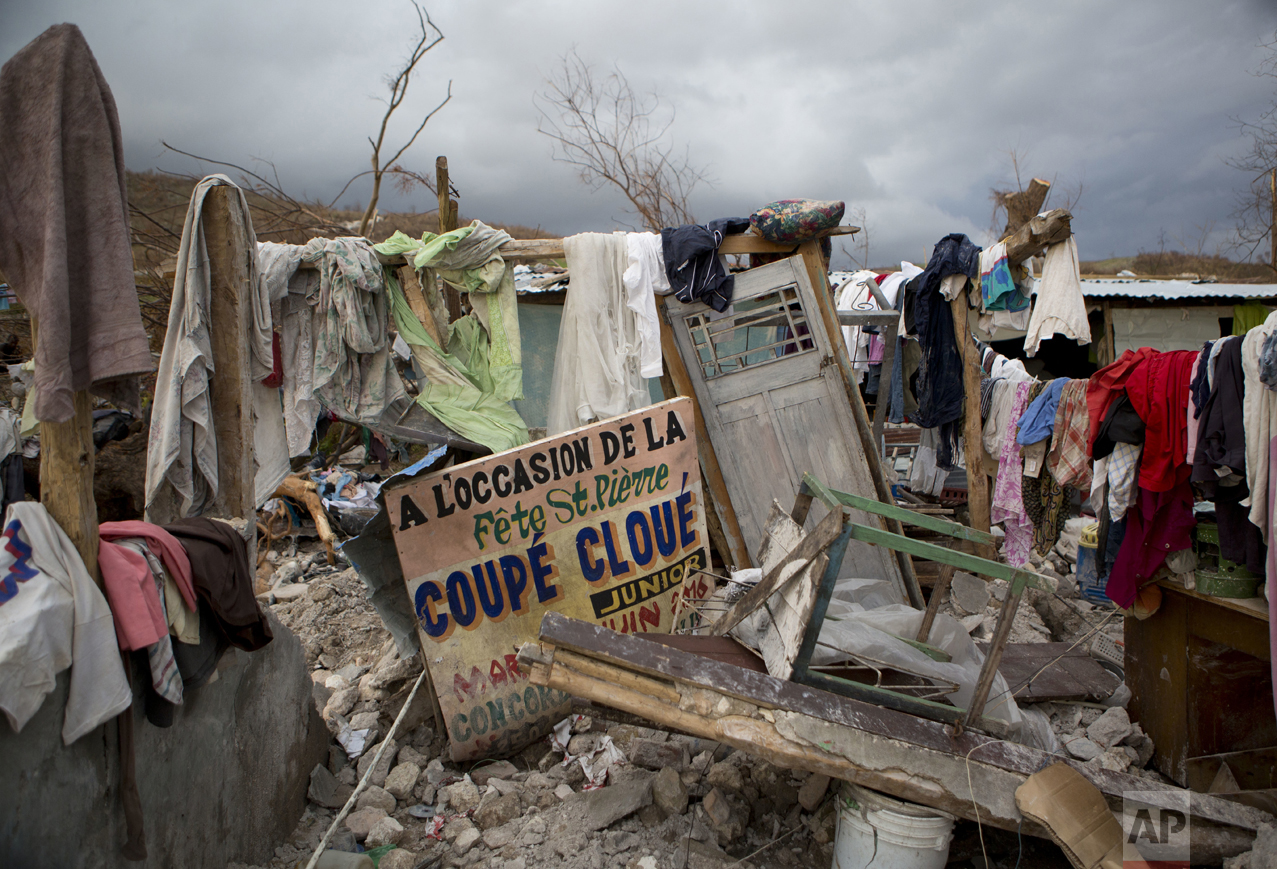 Feature Photography | Gregory Bull
Migrants At The Border
In this Sept. 26, 2016 photo, a Haitian man listening to music on his phone and leaning against a wall decorated with a Mexican national flag and a framed image of the Virgin of Guadalupe, waits for a bed at the Padre Chava migrant shelter in Tijuana, Mexico. Many Haitians arriving at the U.S. border with Mexico are unaware of a new U.S. policy of putting them in deportation proceedings and detaining them while making efforts to fly them home. (AP Photo/Gregory Bull)
Migrants At The Border
In this Oct. 3, 2016 photo, Haitians line up at an immigration agency in Tijuana, Mexico with the hope of gaining an appointment to cross to the U.S. side of the border. U.S. Customs and Border Protection can only handle up to about 75 people a day at San Ysidro, and Tijuana authorities were unhappy about large crowds assembled on the Mexican side of the border crossing. (AP Photo/Gregory Bull)
Migrants At The Border
In this Oct. 3, 2016 photo, Haitian migrants receive food and drinks from volunteers as they wait in line at a Mexican immigration agency in Tijuana with the hope of gaining an appointment to cross to the U.S. side of the border. Many Haitians arriving at the Mexico-U.S. border are unaware of a new U.S. policy of putting them in deportation proceedings and detaining them while making efforts to fly them home. (AP Photo/Gregory Bull)
Migrants At The Border
In this Sept. 27, 2016 photo, Haitians make their way towards the border crossing in Tijuana, Mexico. U.S. officials say about 5,000 Haitians showed up at San Ysidro from October 2015 through late last month, and Immigration and Customs Enforcement Director Sarah Saldana said at a recent congressional hearing that officials told her on a trip to Central America that 40,000 more were on their way. (AP Photo/Gregory Bull)
Migrants At The Border
In this Sept. 27, 2016 photo, Haitian migrants hold up their Mexican migration documents as they hope to gain a spot on the daily list to cross to the U.S. side of the border, in Tijuana, Mexico. With hundreds, perhaps thousands, of Haitian men, women and young children regularly spending the night just outside the busiest United States border crossing, Mexican officials have moved to bring some order to the unruly scene by granting 20-day permits to stay in Mexico while also helping schedule their slots with the Americans on the other side. (AP Photo/Gregory Bull)
Migrants At The Border
In this Sept. 26, 2016 photo, a Haitian migrant waits along a wall at the Padre Chava migrant shelter as diner is served inside, in Tijuana, Mexico. U.S. officials say about 5,000 Haitians showed up at San Ysidro from October 2015 through late last month. (AP Photo/Gregory Bull)
Migrants At The Border
In this Sept. 26, 2016 photo, Haitian migrants prepare for their stay at the Padre Chava migrant shelter, in Tijuana, Mexico. Padre Chava, one of 10 Tijuana shelters that house Haitians, turned away hundreds over the weekend, leading many to sleep outside on cardboard sheets. (AP Photo/Gregory Bull)
Migrants At The Border
In this Oct. 3, 2016 photo, a Haitian woman talks to a fellow migrant, from behind the fence of the Padre Chava migrant shelter in Tijuana, Mexico. The man was not able to enter the overcrowded shelter. (AP Photo/Gregory Bull)
Migrants At The Border
In this Sept. 26, 2016 photo, Haitian migrants play dominoes at the Padre Chava migrant shelter, in Tijuana, Mexico. "We are exhausted, completely exhausted," said shelter administrator Margarita Andonaegui. "When we have more than 200 people, we lose control." (AP Photo/Gregory Bull)
Migrants At The Border
In this Oct. 3, 2016 photo, Haitian women and children get ready to sleep on the floor of the Padre Chava migrant shelter in Tijuana, Mexico. Hundreds, perhaps thousands, of Haitian men, women and children regularly spend the night just outside the busiest U.S. border crossing. (AP Photo/Gregory Bull)
Migrants At The Border
In this Sept. 26, 2016 photo, a Haitian migrant reads a Bible at the Padre Chava migrant shelter, in Tijuana, Mexico. Padre Chava, one of 10 Tijuana shelters that house Haitians, turned away hundreds over the weekend, leading many to sleep outside on cardboard sheets. (AP Photo/Gregory Bull)
Migrants At The Border
In this Oct. 3, 2016 photo, Haitian migrants look out from the sleeping quarters of the Padre Chava migrant shelter in Tijuana, Mexico. When full, the shelter can accommodate about 300 people with many sleeping on floors without mattresses. (AP Photo/Gregory Bull)
Sports Photography | Chris Carlson
Seventh Hole Shot
United States' Phil Mickelson hits a shot on the seventh hole during a foresomes match at the Ryder Cup golf tournament Saturday, Oct. 1, 2016, at Hazeltine National Golf Club in Chaska, Minn. (AP Photo/Chris Carlson)