AP monthly staff photo contest
Each month The Associated Press management honors photographers for outstanding coverage while on assignment.
The winners for the January 2017 AP Staff Photo Contest are Esteban Felix in News Photography for "Chile Wildfires," Dieu Nalio Chery in Feature Photography for "Horse Therapy," and Aaron Favila, Andy Brownbill, Dita Alangkara and Kin Cheung in Sports Photography for "Australian Open."
Congratulations to all the photographers for their outstanding work. This month's winning images are featured below.
News Photography | Esteban Felix
Chile Wildfires
In this Jan. 26, 2017 photo, a couple walks through a neighborhood destroyed by wildfires in Chile's Santa Olga community. Officials say the town was consumed by the country's worst wildfires, engulfing the post office, a kindergarten and hundreds of homes. (AP Photo/Esteban Felix)
Chile Wildfires
This Jan. 30, 2017 photo shows a road sign scorched by wildfires in Portezuelo, Chile. More than 20,000 people, including firefighters and experts from more than a dozen countries, continue to battle wildfires that President Michelle Bachelet has called the worst forest disaster in Chile's history. (AP Photo/Esteban Felix)
Chile Wildfires
In this Jan. 24, 2017 photo, a woman closes a gate on her land as wildfires rage on a nearby mountain in Cajon del Maipo, on the outskirts of Santiago, Chile. Chile is suffering one of its worst fire diasters in history. The fires have outpaced local ability to put them out, forcing Chile to request international aid. (AP Photo/Esteban Felix)
Chile Wildfires
In this Jan. 27, 2017 photo, resident Javier Pazos takes a break from digging trenches, as wildfires threaten the Florida community of Concepcion, Chile. Residents of some communities have been battling the fires themselves, without any protective gear and often using just branches or bottles of water in a frantic effort to save their homes, pasture and livestock. (AP Photo/Esteban Felix)
Chile Wildfires
In this Jan. 28, 2017 photo, a man battles approaching wildfires in Hualqui, Chile. Firefighters and residents continue to fight the fast-spreading blazes, while a Russian supertanker plane and a Brazilian Hercules have dumped thousands of gallons of water on the area, southwest of the Chilean capital.(AP Photo/Esteban Felix)
Chile Wildfires
In this Jan. 29, 2017 photo, residents watch the forest burn in Portezuelo, Chile. The fires have consumed forests, livestock and entire towns, prompting President Michelle Bachelet to declare a state of emergency, deploy troops and ask for international help. In all, more than 20,000 people, including firefighters and experts from more than a dozen countries, have battled the wildfires that Bachelet has called the worst forest disaster in Chile's history. (AP Photo/Esteban Felix)
Chile Wildfires
In this Jan. 29, 2017 photo, debris is kicked up by a helicopter dumping water on wildfires in Portezuelo, Chile. Firefighters and residents are fighting the fast-spreading blazes on the ground, while a Russian supertanker plane and a Brazilian Hercules have dumped thousands of gallons of water, southwest of the Chilean capital. (AP Photo/Esteban Felix)
Chile Wildfires
In this Jan. 27, 2017 photo, firefighters takes a break from digging trenches, as wildfires threaten Florida, a community of Concepcion, Chile. More than 20,000 people, including firefighters and experts from more than a dozen countries, have battled wildfires that President Michelle Bachelet has called the worst forest disaster in Chile's history. (AP Photo/Esteban Felix)
Chile Wildfires
In this Jan. 21, 2017 photo, wildfires burn in Pumanque, Chile. The ferocity of the flames prompted President Michelle Bachelet's to declare a state of emergency, deploy troops and ask for international help, calling it "the greatest forest disaster" in Chile's history. (AP Photo/Esteban Felix)
Chile Wildfires
In this Jan. 31, 2017 photo, Jenny Tapia dresses her doll with clothes donated to victims of Chile's raging wildfires, in the community of Santa Olga, Chile. Flames from one of the country's worst wildfires completely consumed the town of Santa Olga. (AP Photo/Esteban Felix)
Chile Wildfires
In this Jan. 29, 2017 photo, a mare and her foal are led to safety as wildfires burn in Portezuelo, Chile. The fires have consumed forests, livestock and entire towns, leading President Michelle Bachelet to declare a state of emergency, deploy troops and ask for international help. (AP Photo/Esteban Felix)
Chile Wildfires
In this Jan. 28, 2017 photo, a scarecrow doll stands in a scorched potato field destroyed by wildfires in Florida, Chile. Fires have been raging in central and southern Chile, fanned by strong winds, hot temperatures and a prolonged drought. (AP Photo/Esteban Felix)
Feature Photography | Dieu Nalio Chery
Horse Therapy
In this Jan. 10, 2017 photo, Judeley Hans Debel pulls a shoe on his prosthetic leg as he gets ready for school at home in Petion-Ville, Haiti. Seven years after his mother dug his 2 ½ year body out of the earthquake rubble, Judeley refuses to let his disability hold him back. (AP Photo/Dieu Nalio Chery)
Horse Therapy
In this Jan. 7, 2017 photo, Judeley Hans Debel squats down to remove a boot from Tic Tac, holding out his prosthetic leg after his therapeutic riding lesson at the Chateaublond Equestrian Center in Petion-Ville, Haiti. Anne-Rose Schoen, who founded the equestrian center, said perhaps the most important thing about therapeutic riding is it makes youngsters happy in a country where disabled people face enormous challenges. (AP Photo/Dieu Nalio Chery)
Horse Therapy
In this Jan. 10, 2017 photo, Nerlande Jean Philippe escorts her son Judeley Hans Debel, who walks on a prosthetic right leg, to his transportation to school in Petion-Ville, Haiti. Judeley's unemployed mother says free weekly sessions of therapeutic horse riding offer her son a welcome respite from a life of urban poverty. (AP Photo/Dieu Nalio Chery)
Horse Therapy
In this Jan. 8, 2017 photo, Judeley Hans Debel stands on his one leg, holding a portrait of himself when he was 1-year-old, at his home in Petion-Ville, Haiti. When Judeley was 2 ½, he was one of thousands of people to undergo amputations after the powerful earthquake that devastated Haiti's capital seven years ago. (AP Photo/Dieu Nalio Chery)
Horse Therapy
In this Jan. 11, 2017 photo, Judeley Hans Debel, who walks on a prosthetic right leg, feeds a horse at the Chateaublond Equestrian Center in Petion-Ville, Haiti. Judeley is one of a few dozen disabled people receiving therapeutic riding lessons at the center, according to his riding instructor, Louis Guerdes. (AP Photo/Dieu Nalio Chery)
Horse Therapy
In this Jan. 9, 2017 photo, Judeley Hans Debel, center, and his classmates joke around at school in Petion-Ville, Haiti. Judeley, who hopes to study medicine when he's older, had his right leg amputated at the age of 2 ½ after his mother freed him from the rubble of the 2010 earthquake. (AP Photo/Dieu Nalio Chery)
Horse Therapy
In this Jan. 10, 2017 photo, Judeley Hans Debel takes a bucket bath, balancing himself on his left leg, before school in Petion-Ville, Haiti. When Judeley's was 2 ½ years old, his body was pinned under earthquake rubble at his home and he was scarred by burning oil from the crushed stove. His mother spent hours frantically digging him out and then rushed him to a hospital where doctors amputated his right leg. (AP Photo/Dieu Nalio Chery)
Horse Therapy
In this Jan. 7, 2017 photo, Judeley Hans Debel dismounts Tic Tac with some help from his teacher at the Chateaublond Equestrian Center in Petion-Ville, Haiti. Advocates of therapeutic riding say it improves balance, coordination and confidence with the movements of the horse mimicking pelvic motions involved in human walking. (AP Photo/Dieu Nalio Chery)
Horse Therapy
In this Jan. 8, 2017 photo, Judeley Hans Debel, whose right leg is a prosthesis, plays an electric piano at his home in Petion-Ville, Haiti. Judeley was one of an estimated 4,000 to 6,000 people to undergo amputations after the powerful earthquake that devastated Haiti's capital seven years ago. (AP Photo/Dieu Nalio Chery)
Horse Therapy
In this Jan. 10, 2017 photo, Judeley Hans Debel chats after school with his mother Nerlande Jean Philippe who holds his prosthetic leg, at their home in Petion-Ville, Haiti. The single, unemployed mother struggles to support him and has to do her best maintaining his battered prosthetic leg as he grows because she can't afford a new one. (AP Photo/Dieu Nalio Chery)
Horse Therapy
In this Jan. 8, 2017 photo, Judeley Hans Debel, right, who's right leg is a prosthesis, plays bottle cap soccer with a neighbor at his home in Petion-Ville, Haiti. Just 2 ½ years old at the time, Judeley's tiny body was pinned under earthquake rubble at his shattered concrete home in 2010. His mother dug him out and rushed him to a hospital where his leg was amputated. (AP Photo/Dieu Nalio Chery)
Horse Therapy
In this Jan. 11, 2017 photo, Judeley Hans Debel, whose right leg is a prosthesis, caresses Tic Tac after riding her at the Chateaublond Equestrian Center in Petion-Ville, Haiti. "You're the best horse, you're the best horse," the 9-year-old said soothingly to the tan polo pony when he arrived at her stable. (AP Photo/Dieu Nalio Chery)
Sports Photography | Aaron Favila, Andy Brownbill, Dita Alangkara and Kin Cheung
Australian Open
Australia's Nick Kyrgios returns a shot to Portugal's Gasto Elias during their first round match at the Australian Open tennis championships in Melbourne, Australia, Monday, Jan. 16, 2017. (AP Photo/Andy Brownbill)
Australian Open
A spectator cools herself at a water spraying fan at the Australian Open tennis championships in Melbourne, Australia, Tuesday, Jan. 17, 2017. (AP Photo/Kin Cheung)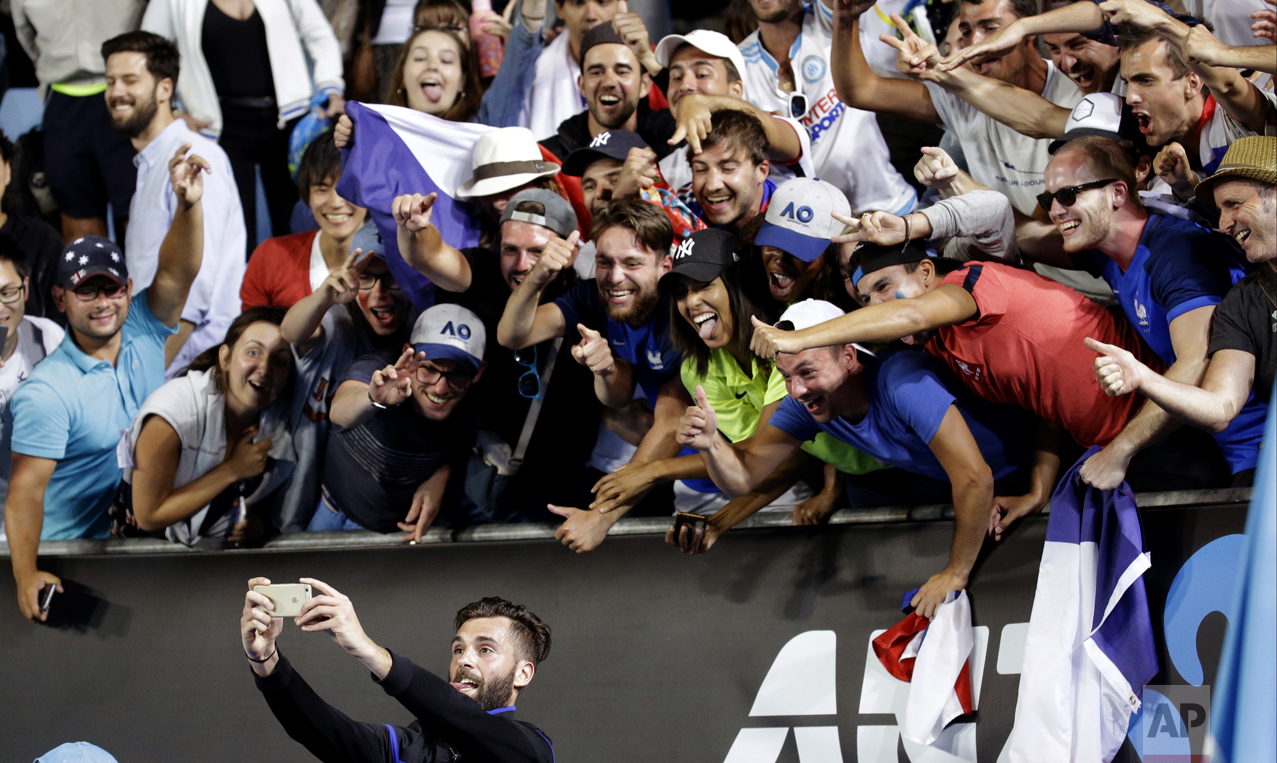 Australian Open
France's Benoit Paire takes selfie with his supporters as he celebrates after defeating Italy's Fabio Fognini in their second round match at the Australian Open tennis championships in Melbourne, Australia, Thursday, Jan. 19, 2017. (AP Photo/Aaron Favila)
Australian Open
Spain's Rafael Nadal prepares to tie a headband during break in his second round match against Marcos Baghdatis of Cyprus dat the Australian Open tennis championships in Melbourne, Australia, Thursday, Jan. 19, 2017. (AP Photo/Kin Cheung)
Australian Open
In this Saturday, Jan. 21, 2017 photo, Spain's Rafael Nadal throws a towel to a ball girl while playing Germany's Alexander Zverev during their third round match at the Australian Open tennis championships in Melbourne, Australia. (AP Photo/Aaron Favila, File)
Australian Open
United States' Venus Williams celebrates after defeating compatriot Coco Vandeweghe during their semifinal at the Australian Open tennis championships in Melbourne, Australia, Thursday, Jan. 26, 2017. (AP Photo/Dita Alangkara)
Australian Open
United States' Serena Williams makes a backhand return Croatia's Mirjana Lucic-Baroni during their semifinal at the Australian Open tennis championships in Melbourne, Australia, Thursday, Jan. 26, 2017. (AP Photo/Aaron Favila)
Australian Open
United States' Serena Williams serves to Croatia's Mirjana Lucic-Baroni during their semifinal at the Australian Open tennis championships in Melbourne, Australia, Thursday, Jan. 26, 2017. (AP Photo/Kin Cheung)
Australian Open
Bethanie Mattek-Sands, bottom, of the U.S. and Lucie Safarova of the Czech Republic celebrate after defeating Andrea Hlavackova of the Czech Republic and Peng Shuai of China in the women's doubles final at the Australian Open tennis championships in Melbourne, Australia, Friday, Jan. 27, 2017. (AP Photo/Andy Brownbill)
Australian Open
United States' Serena Williams holds the trophy after winning over her sister Venus in the women's singles final at the Australian Open tennis championships in Melbourne, Australia, Saturday, Jan. 28, 2017. (AP Photo/Dita Alangkara)
Australian Open
United States' Serena Williams, right, celebrates after defeating her sister, Venus, left, in the women's singles final at the Australian Open tennis championships in Melbourne, Australia, Saturday, Jan. 28, 2017. (AP Photo/Andy Brownbill)
Australian Open
Switzerland's Roger Federer celebrates after defeating Spain's Rafael Nadal during the men's singles final at the Australian Open tennis championships in Melbourne, Australia, Sunday, Jan. 29, 2017. (AP Photo/Aaron Favila)