AP monthly staff photo contest
Each month The Associated Press honors photographers for outstanding coverage while on assignment.
The winners for the August 2019 AP Photo Contest are Kin Cheung for News Photography Single Image, demonstrations in Hong Kong; Felipe Dana for News Photography Story, series on Greenland glaciers.
Elaine Thompson for Feature Photography Single Image, for her image of Robert Fuller after ending his own life after using the Death with Dignity Act.
Mosa'ab Elshamy for Feature Photography Story, for his story on children affected by a rare disorder called xeroderma pigmentosum, or XP.
Mark J. Terrill for Sports Photography Single Image, of Los Angeles Angels' Kole Calhoun sliding before being tagged out by Pittsburgh Pirates catcher Jacob Stallings.
Mosa'ab Elshamy for Sports Photography Story, for coverage during Tabourida, a traditional horse riding show also known as Fantasia, in the coastal town of El Jadida, Morocco.
Congratulations to all the photographers for their outstanding work. This month's winning images, judged by Bernat Armangue, are featured below.
News Photography Single Image | Kin Cheung
Confrontation With Demonstrators
In this Sunday, Aug. 25, 2019, file photo, policemen pull out their guns after a confrontation with demonstrators during a protest in Hong Kong. Hong Kong police have rolled out water cannon trucks for the first time in this summer's pro-democracy protests. The two trucks moved forward with riot officers Sunday evening as they pushed protesters back along a street in the outlying Tsuen Wan district. (AP Photo/Kin Cheung)
News Photography Story | Felipe Dana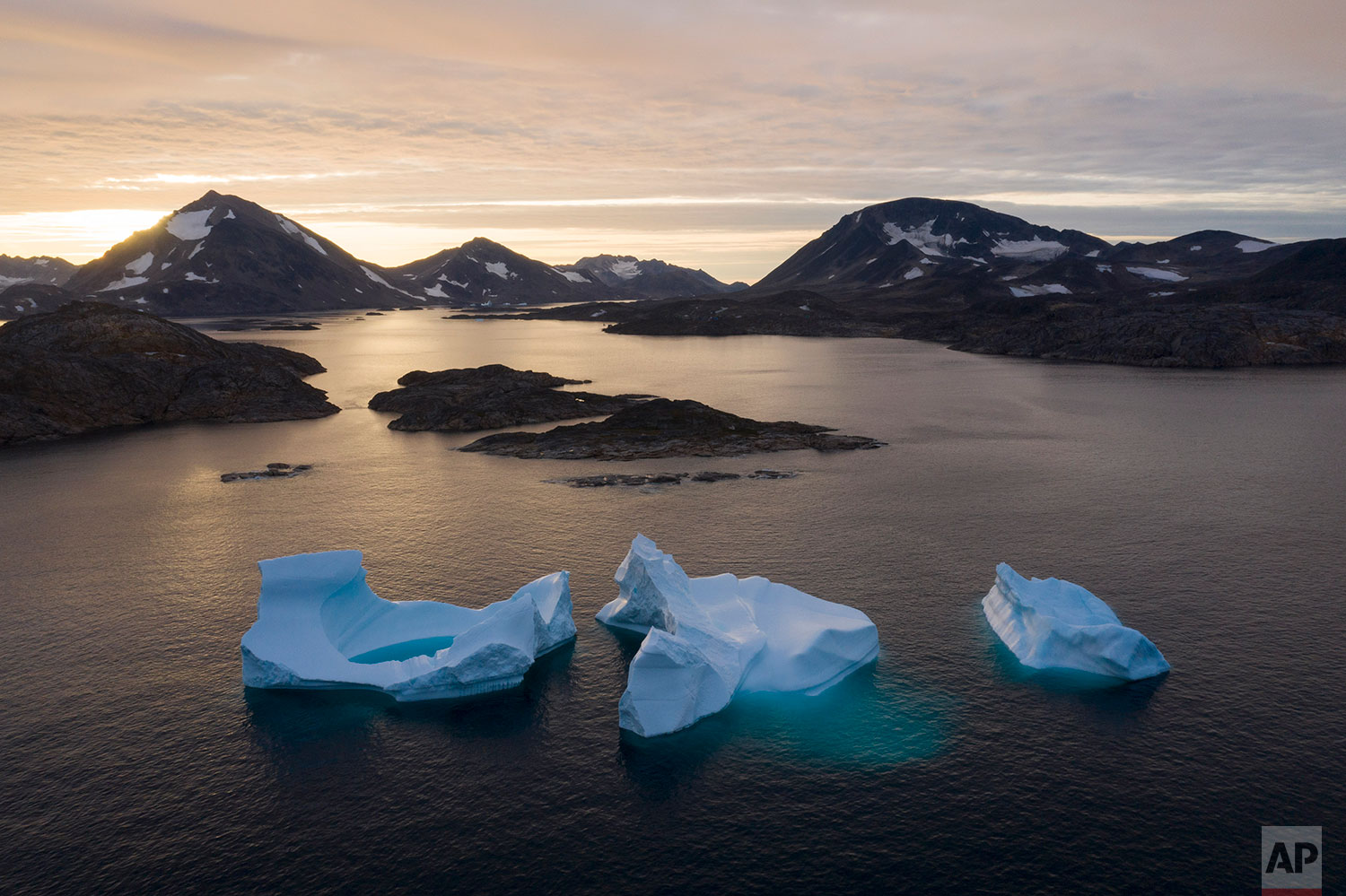 Greenland: Glaciers On the Edge
In this Aug. 16, 2019 photo, large Icebergs float away as the sun rises near Kulusuk, Greenland. (AP Photo/Felipe Dana)
In this Aug. 16, 2019 photo, a helicopter carrying New York University air and ocean scientist David Holland and his team sits on the ice as they install a radar and GPS at the Helheim glacier, in Greenland. (AP Photo/Felipe Dana)
In this Aug. 16, 2019 photo, New York University air and ocean scientist David Holland, left, and field safety officer Brian Rougeux, right, are helped by pilot Martin Norregaard as they carry antennas out of a helicopter to be installed at the Helheim glacier, in Greenland. (AP Photo/Felipe Dana)
In this Aug. 16, 2019 photo, NYU student researchers sit on top of a rock overlooking the Helheim glacier in Greenland. (AP Photo/Felipe Dana)
In this Aug. 15, 2019 photo, a boat navigates at night next to a large iceberg in eastern Greenland. (AP Photo/Felipe Dana)
In this Aug. 16, 2019 photo, a helicopter flies over hundreds of icebergs floating near the Helheim glacier, in Greenland. (AP Photo/Felipe Dana)
In this Aug. 15, 2019 photo, a boat navigates at night next to large icebergs in eastern Greenland. (AP Photo/Felipe Dana)
In this Aug. 15, 2019 photo, a boat navigates at night next to a large iceberg in eastern Greenland. (AP Photo/Felipe Dana)
In this Aug. 15, 2019 photo, homes are partly covered by early morning fog in Kulusuk, Greenland. (AP Photo/Felipe Dana)
Dogs sit outside a home in Kulusuk, Greenland, Thursday, early Aug. 15, 2019. Greenland has been melting faster in the last decade and this summer, it has seen two of the biggest melts on record since 2012. (AP Photo/Felipe Dana)
In this Aug. 16, 2019 photo, a woman stands next to an antenna at a NYU base camp at the Helheim glacier in Greenland. (AP Photo/Felipe Dana)
In this Aug. 15, 2019 photo, a large Iceberg floats away as the sun sets near Kulusuk, Greenland. (AP Photo/Felipe Dana)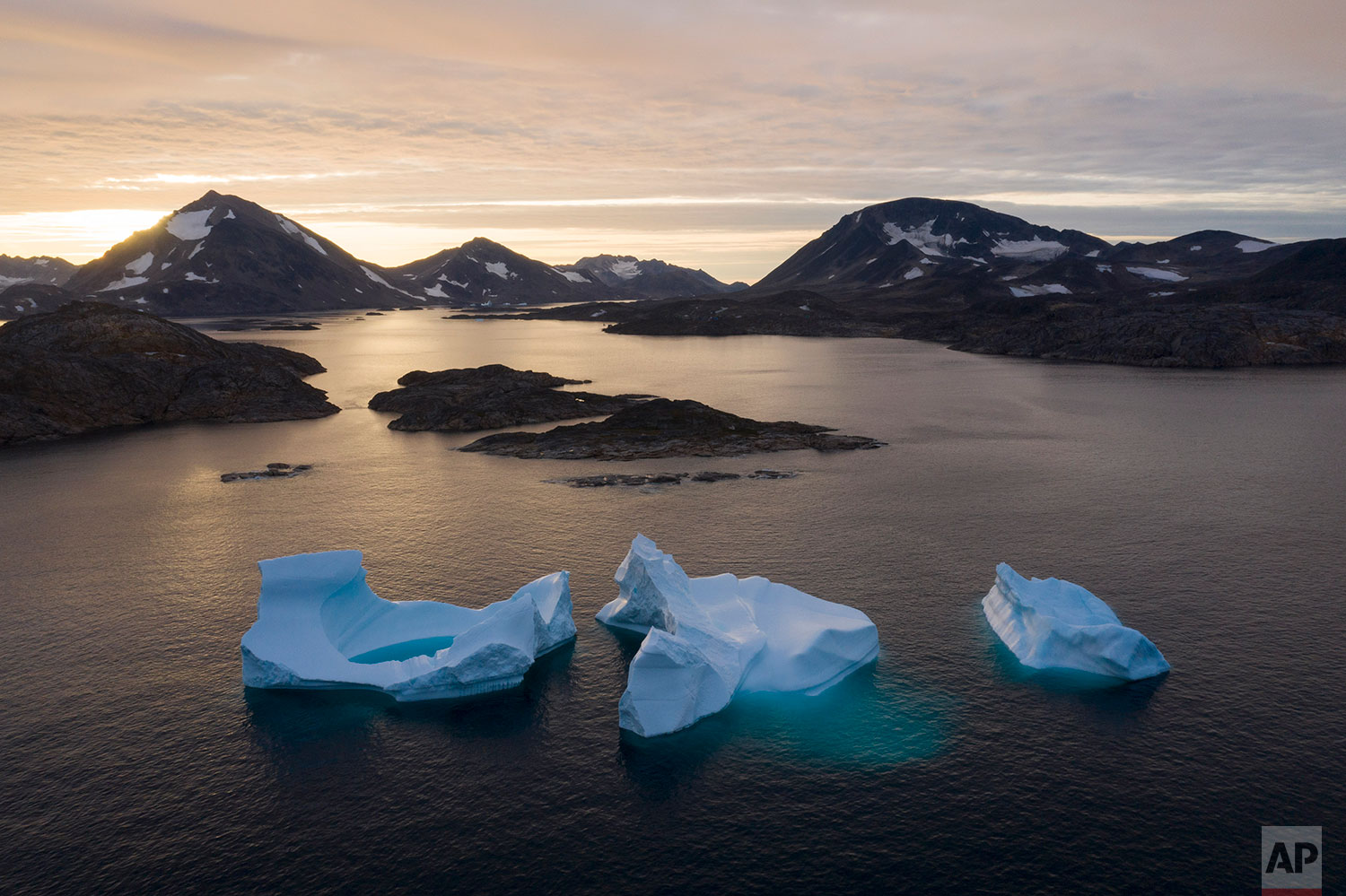 Feature Photography Single Image | Elaine Thompson
Death With Dignity
In this photo taken May 10, 2019, Robert Fuller lies unconscious after plunging drugs that will end his life into his feeding tube as his husband, Reese Baxter, upper left, and friends hold him, in Seattle. The day he picked to die, Fuller had the party of a lifetime. Later that day, Fuller plunged the two syringes filled with a fatal drug cocktail into a feeding tube in his abdomen. He was one of about 1,200 people who have used Washington's Death with Dignity Act to end their lives in the decade since it became law. (AP Photo/Elaine Thompson)
Feature Photography Story | Mosa'ab Elshamy
Children of the Moon
In this Tuesday, July 16, 2019 photo, Fatimazehra El Ghazaoui, 27, a woman affected by a rare disorder called xeroderma pigmentosum, or XP, puts on a protective mask she wears outside on sunny days, in her home in Mohammedia, near Casablanca, Morocco. (AP Photo/Mosa'ab Elshamy)
In this Wednesday, July 24, 2019 photo, Rabiaa Waraqa (L) and Salaheddine Elkalshi (C) apply a cream to their 6 year old daughter Yasmin, who is affected by a rare disorder called xeroderma pigmentosum, or XP, in Casablanca, Morocco. (AP Photo/Mosa'ab Elshamy)
In this Wednesday, July 24, 2019 photo, families wait alongside their children affected by a rare disorder called xeroderma pigmentosum, or XP, inside a hospital in Casablanca, Morocco. (AP Photo/Mosa'ab Elshamy)
In this Wednesday, July 24, 2019 photo, dermatologists gather information on children affected by a rare disorder called xeroderma pigmentosum, or XP, inside a hospital in Casablanca, Morocco. (AP Photo/Mosa'ab Elshamy)
In this Tuesday, July 23, 2019 photo, Romaisae, 6, who is affected by a rare disorder called xeroderma pigmentosum, or XP, poses for a portrait in her home in the town of Sale, near Rabat, Morocco. (AP Photo/Mosa'ab Elshamy)
In this Wednesday, July 24, 2019 photo, a father applies a cream on the arms and neck of his child who is affected by a rare disorder called xeroderma pigmentosum, or XP, as they wait for a medical consultation in a hospital in Casablanca, Morocco. (AP Photo/Mosa'ab Elshamy)
In this Wednesday, July 24, 2019 photo, Fatimazehra El Ghazaoui, 27, a woman affected by a rare disorder called xeroderma pigmentosum, or XP, poses for a portrait inside her home in Mohammedia, near Casablanca, Morocco. (AP Photo/Mosa'ab Elshamy)
In this Tuesday, July 23, 2019 photo, Said El Mohamadi shares a moment with his 6 year old daughter Romaisae who is affected by a rare disorder called xeroderma pigmentosum, or XP, in their home in the town of Sale, near Rabat, Morocco. (AP Photo/Mosa'ab Elshamy)
In this Wednesday, July 24, 2019 photo, a nurse takes off a protective mask as she performs skin checkups for 6 year old Yasmin, who is affected by a rare disorder called xeroderma pigmentosum, or XP, inside a hospital in Casablanca, Morocco. (AP Photo/Mosa'ab Elshamy)
In this Wednesday, July 24, 2019 photo, Habib El Ghazaoui, a father who runs the Association for Solidarity with Children of the Moon, plays with 8 year old Mustapha who is affected by a rare genetic disorder called xeroderma pigmentosum, or XP, inside a hospital in Casablanca, Morocco. (AP Photo/Mosa'ab Elshamy)
In this Tuesday, July 23, 2019 photo, Maria El Maroufi, shares a moment with her 6 year old daughter Romaisae who is affected by a rare disorder called xeroderma pigmentosum, or XP, in their home in the town of Sale, near Rabat, Morocco. (AP Photo/Mosa'ab Elshamy)
In this Wednesday, July 24, 2019 photo, Fatimazehra Belloucy, 25, a woman affected by a rare disorder called xeroderma pigmentosum, or XP, poses for a portrait in Casablanca, Morocco. . (AP Photo/Mosa'ab Elshamy)
Sports Photography Single Image | Mark J. Terrill
Fifth Inning Slide
Los Angeles Angels' Kole Calhoun, right, slides before being tagged out by Pittsburgh Pirates catcher Jacob Stallings while trying to score on a ball hit by Matt Thaiss during the fifth inning of a baseball game Tuesday, Aug. 13, 2019, in Anaheim, Calif. (AP Photo/Mark J. Terrill)
Sports Photography Story | Mosa'ab Elshamy
Fantasia Show
In this Thursday, July 25, 2019 photo, a troupe charges and fire their rifles during Tabourida, a traditional horse riding show also known as Fantasia, in the coastal town of El Jadida, Morocco. (AP Photo/Mosa'ab Elshamy)
In this Thursday, July 25, 2019 photo, people watch atop an ancient wall as riders wait during Tabourida, a traditional horse riding show also known as Fantasia, in the coastal town of El Jadida, Morocco. (AP Photo/Mosa'ab Elshamy)
In this Thursday, July 25, 2019 photo, a boy hands a file to horseriders waiting for their turn to take part in an equestrian show known as Fantasia or Tabourida, in the coastal town of El Jadida, Morocco. (AP Photo/Mosa'ab Elshamy)
In this Thursday, July 25, 2019 photo, a troupe charges and fire their rifles during Tabourida, a traditional horse riding show also known as Fantasia, in the coastal town of El Jadida, Morocco. (AP Photo/Mosa'ab Elshamy)
In this Thursday, July 25, 2019 photo, people watch as horse riders wait for their turn to take part in an equestrian show known as Fantasia or Tabourida, in the coastal town of El Jadida, Morocco. (AP Photo/Mosa'ab Elshamy)
In this Thursday, July 25, 2019 photo, a troupe charges and fire their rifles during Tabourida, a traditional horse riding show also known as Fantasia, in the coastal town of El Jadida, Morocco. (AP Photo/Mosa'ab Elshamy)
In this Thursday, July 25, 2019 photo, a troupe charges and hold their rifles before firing, during Tabourida, a traditional horse riding show also known as Fantasia, in the coastal town of El Jadida, Morocco. (AP Photo/Mosa'ab Elshamy)
In this Thursday, July 25, 2019 photo, a female troupe prepares to take part in Tabourida, a traditional horse riding show also known as Fantasia, in the coastal town of El Jadida, Morocco. (AP Photo/Mosa'ab Elshamy)
In this Thursday, July 25, 2019 photo, a troupe charges and fire their rifles during Tabourida, a traditional horse riding show also known as Fantasia, in the coastal town of El Jadida, Morocco. (AP Photo/Mosa'ab Elshamy)
In this Thursday, July 25, 2019 photo, a vendor sells orange juice as people sit on a fence to watch a horsemanship show known as Fantasia or Tabourida, in the coastal town of El Jadida, Morocco. (AP Photo/Mosa'ab Elshamy)
In this Thursday, July 25, 2019 photo, a troupe is engulfed by smoke after firing their rifles during Tabourida, a traditional horse riding show also known as Fantasia, in the coastal town of El Jadida, Morocco. (AP Photo/Mosa'ab Elshamy)