AP monthly staff photo contest
Each month The Associated Press management honors photographers for outstanding coverage while on assignment.
The winners for the November 2017 AP Staff Photo Contest are Ben Curtis and Tsvangirayi Mikwazhi in News Photography for "Zimbabwe Political Turmoil," Jae C. Hong, Marcio Jose Sanchez, Ted S. Warren and Gregory Bull in Feature Photography for "Homeless," and Dar Yasin in Sports Photography for "India Traditional Wrestling."
Congratulations to all the photographers for their outstanding work. This month's winning images are featured below.
News Photography | Ben Curtis and Tsvangirayi Mikwazhi
Zimbabwe Political Turmoil
An armed soldier patrols a street in Harare, Zimbabwe, Wednesday, Nov. 15, 2017. Zimbabwe's army said Wednesday it has President Robert Mugabe and his wife in custody and is securing government offices and patrolling the capital's streets following a night of unrest that included a military takeover of the state broadcaster. (AP Photo)
Zimbabwe Political Turmoil
Zimbabwe's President Robert Mugabe, center, arrives to preside over a student graduation ceremony at Zimbabwe Open University on the outskirts of Harare, Zimbabwe Friday, Nov. 17, 2017. Mugabe is making his first public appearance since the military put him under house arrest earlier this week. (AP Photo/Ben Curtis)
Zimbabwe Political Turmoil
Zimbabwe's President Robert Mugabe sits for formal photographs with university officials, after presiding over a student graduation ceremony at Zimbabwe Open University on the outskirts of Harare, Zimbabwe Friday, Nov. 17, 2017. Mugabe made his first public appearance since the military put him under house arrest earlier this week. (AP Photo/Ben Curtis)
Zimbabwe Political Turmoil
A crowd of thousands of protesters demanding President Robert Mugabe stand down gather in front of an army cordon on the road leading to State House in Harare, Zimbabwe Saturday, Nov. 18, 2017. In a euphoric gathering that just days ago would have drawn a police crackdown, crowds marched through Zimbabwe's capital on Saturday to demand the departure of President Robert Mugabe, one of Africa's last remaining liberation leaders, after nearly four decades in power. (AP Photo/Ben Curtis)
Zimbabwe Political Turmoil
Zimbabweans watch a televised address to the nation by President Robert Mugabe at a bar in downtown Harare, Zimbabwe Sunday, Nov. 19, 2017. Zimbabwe's President Robert Mugabe has baffled the country by ending his address on national television without announcing his resignation. (AP Photo/Ben Curtis)
Zimbabwe Political Turmoil
Children play near a painting of Zimbabwean President Robert Mugabe in Harare, Monday, Nov, 20, 2017. Lawmakers with the ruling Zanu pf party gathered to meet on the fate of long time President Robert Mugabe, who has refused efforts to step down. (AP Photo/Tsvangirayi Mukwazhi)
Zimbabwe Political Turmoil
Zimbabweans celebrate outside the parliament building immediately after hearing the news that President Robert Mugabe had resigned, in downtown Harare, Zimbabwe Tuesday, Nov. 21, 2017. Mugabe resigned as president with immediate effect Tuesday after 37 years in power, shortly after parliament began impeachment proceedings against him. (AP Photo/Ben Curtis)
Zimbabwe Political Turmoil
A Zimbabwean dances on the roof of a vehicle as he and others celebrate outside the parliament building immediately after hearing the news that President Robert Mugabe had resigned, in downtown Harare, Zimbabwe Tuesday, Nov. 21, 2017. Mugabe resigned as president with immediate effect Tuesday after 37 years in power, shortly after parliament began impeachment proceedings against him. (AP Photo/Ben Curtis)
Zimbabwe Political Turmoil
Zimbabweans celebrate outside the parliament building immediately after hearing the news that President Robert Mugabe had resigned, in downtown Harare, Zimbabwe Tuesday, Nov. 21, 2017. Mugabe resigned as president with immediate effect Tuesday after 37 years in power, shortly after parliament began impeachment proceedings against him. (AP Photo/Ben Curtis)
Zimbabwe Political Turmoil
Zimbabweans reach out to touch and thank army soldiers, as they celebrate outside the parliament building immediately after hearing the news that President Robert Mugabe had resigned, in downtown Harare, Zimbabwe Tuesday, Nov. 21, 2017. Mugabe resigned as president with immediate effect Tuesday after 37 years in power, shortly after parliament began impeachment proceedings against him. (AP Photo/Ben Curtis)
Zimbabwe Political Turmoil
Zimbabwe's President in waiting Emmerson Mnangagwa, greets supporters gathered outside the Zanu-PF party headquarters in Harare, Zimbabwe Wednesday, Nov. 22, 2017. (AP Photo/Ben Curtis)
Zimbabwe Political Turmoil
Zimbabwe's President Emmerson Mnangagwa, center, gestures to the cheering crowd as he leaves after the presidential inauguration ceremony in the capital Harare, Zimbabwe Friday, Nov. 24, 2017. Mnangagwa was sworn in as Zimbabwe's president after Robert Mugabe resigned on Tuesday, ending his 37-year rule. (AP Photo/Ben Curtis)
Zimbabwe Political Turmoil
Supporters dance and run on the field after Zimbabwe's President Emmerson Mnangagwa was sworn in at the presidential inauguration ceremony in the capital Harare, Zimbabwe Friday, Nov. 24, 2017. Mnangagwa was sworn in as Zimbabwe's president after Robert Mugabe resigned on Tuesday, ending his 37-year rule. (AP Photo/Ben Curtis)
Feature Photography | Jae C. Hong, Marcio Jose Sanchez, Ted S. Warren and Gregory Bull
Homeless
Tucked in a sleeping bag, Danny, a 60-year-old homeless man who only gave his first name, lies on an overpass above the 101 Freeway, one of the nation's busiest freeways, Thursday, Sept. 21, 2017, in Los Angeles. Although he never feels safe sleeping on the street, Danny said the noise from the freeway doesn't bother him much. "You get used to it after a while." (AP Photo/Jae C. Hong)
Homeless
A group of homeless people sleep in the courtyard of the Midnight Mission Thursday, Sept. 14, 2017, in Los Angeles. The mission's courtyard is open to any homeless people looking for a safe place to spend the night. A homeless crisis of unprecedented proportions is rocking the West Coast, and its victims are being left behind by the very things that mark the region's success: soaring housing costs, rock-bottom vacancy rates and a roaring economy that waits for no one. (AP Photo/Jae C. Hong)
Homeless
Delmi Ruiz, 41, who is five months pregnant, works in the kitchen area of her RV parked in front of an apartment building, where the monthly rent for a one-bedroom unit is more than $3000, Monday, Oct. 23, 2017, in Mountain View, Calif. Ruiz and her husband, who works as a landscaper earning minimum wage, have been living in the RV for more than two years with their four children after they could no longer afford the rent. (AP Photo/Jae C. Hong)
Homeless
A homeless man grabs food from a trash can in the Skid Row area, home to the nation's largest concentration of homeless people, Saturday, Oct. 28, 2017, in Los Angeles. At least 10 cities have declared official states of emergency, and California declared a statewide emergency due to a hepatitis A outbreak linked to homeless encampments. Comparisons are being made to conditions more commonly seen in Third World countries. (AP Photo/Jae C. Hong)
Homeless
Homeless people wait in line for a meal served by a community organization outside Our Lady Queen of Angels Catholic Church Thursday, Sept. 21, 2017, in Los Angeles. A homeless crisis of unprecedented proportions is rocking the West Coast, and its victims are being left behind by the very things that mark the region's success: soaring housing costs, rock-bottom vacancy rates and a roaring economy that waits for no one. (AP Photo/Jae C. Hong)
Homeless
A paramedic examines a drug addict lying on a side walk unconscious from an apparent drug overdose in the Skid Row area, home to the nation's largest concentration of homeless people, Tuesday, Sept. 19, 2017, in Los Angeles. The latest nationwide homeless count shows that 4 of every 10 people living on the street are severely mentally ill or have a serious drug addiction. (AP Photo/Jae C. Hong)
Homeless
In this Sept. 19, 2017 photo, a man sleeps in a doorway in downtown Portland, Ore. On any given night, and often during the day, dozens of people sleep or camp on the sidewalks and parks of downtown Portland, as the rising crisis of homelessness becomes more visible. (AP Photo/Ted S. Warren)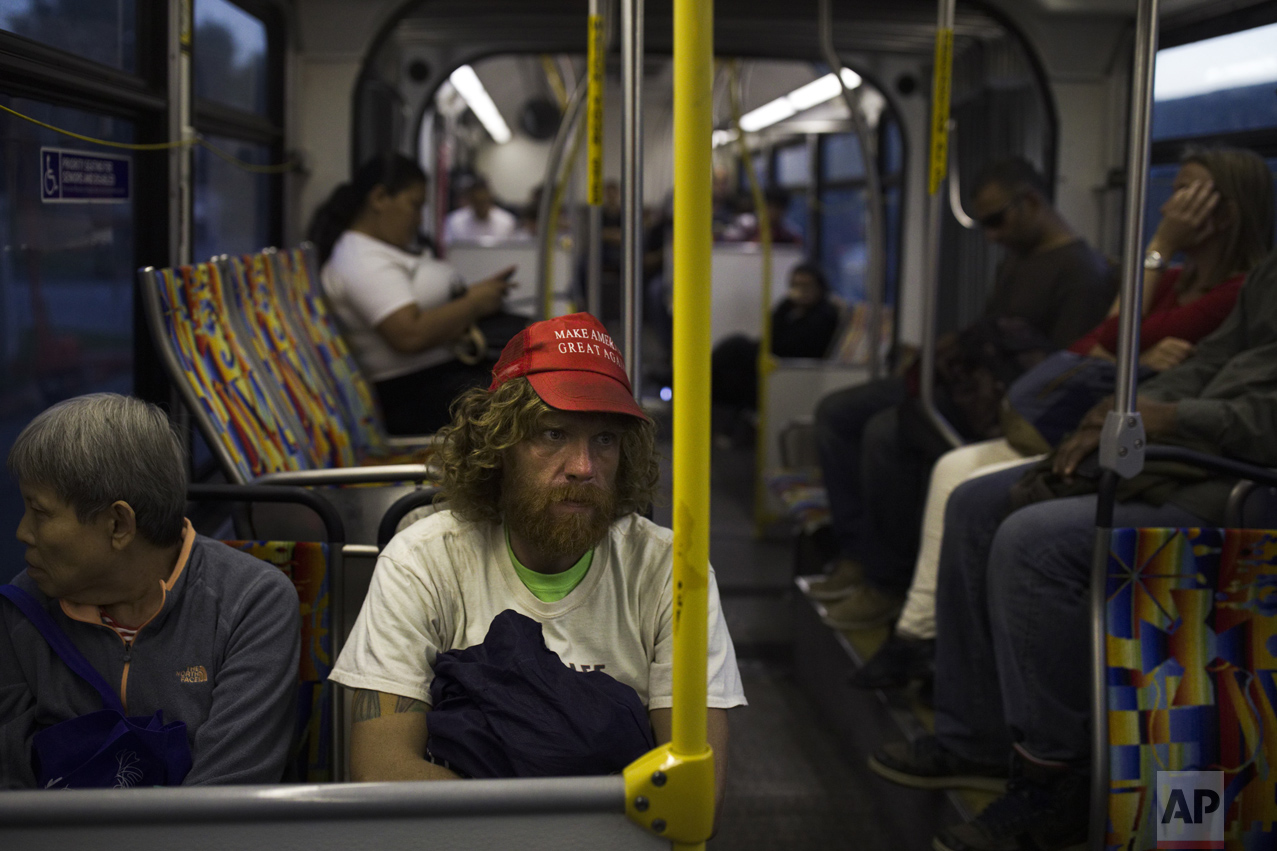 Homeless
Wearing a "Make America Great Again" hat, Nathanael Baisley, 38, sits in a bus en route to Santa Monica Beach, where he spends the night, Saturday, Oct. 28, 2017, in Los Angeles. Baisley said he has been homeless on and off for three years and is going through a divorce with his wife who lives in England with their 5-year-old son. (AP Photo/Jae C. Hong)
Homeless
Sitting in front of a tent pitched on a sidewalk, Daniel Shawn, a 48-year-old homeless man, is silhouetted against the street lights Wednesday, Sept. 6, 2017, in downtown Los Angeles. Since last fall, Los Angeles city and county voters approved spending $4.7 billion in an attempt to tackle the problem, largely through adding low-cost housing. (AP Photo/Jae C. Hong)
Homeless
In this Sept. 28, 2017, image, a man sleeps along Ocean Beach in San Diego. With more than 3,000 people living on the streets or in their cars, Hepatitis A, the liver-damaging virus that lives in feces, spread rapidly in the city of San Diego. Over a span of months, it has become the worst epidemic of its kind since the vaccine was introduced 20 years ago in the United States. (AP Photo/Gregory Bull)
Homeless
Delmi Ruiz, bottom, sits inside and RV where here family lives and sleeps under her daughter Delmi, 4, top, on Thursday, Oct. 5, 2017, in Mountain View, Calif. The Ruiz Hernandez was family was left homeless after the landlord in the apartment they rented hiked their rent beyond what they could afford. A homeless crisis of unprecedented proportions is rocking the West Coast, and its victims are being left behind by the very things that mark the region's success: soaring housing costs, rock-bottom vacancy rates and a roaring economy that waits for no one. (AP Photo/Marcio Jose Sanchez)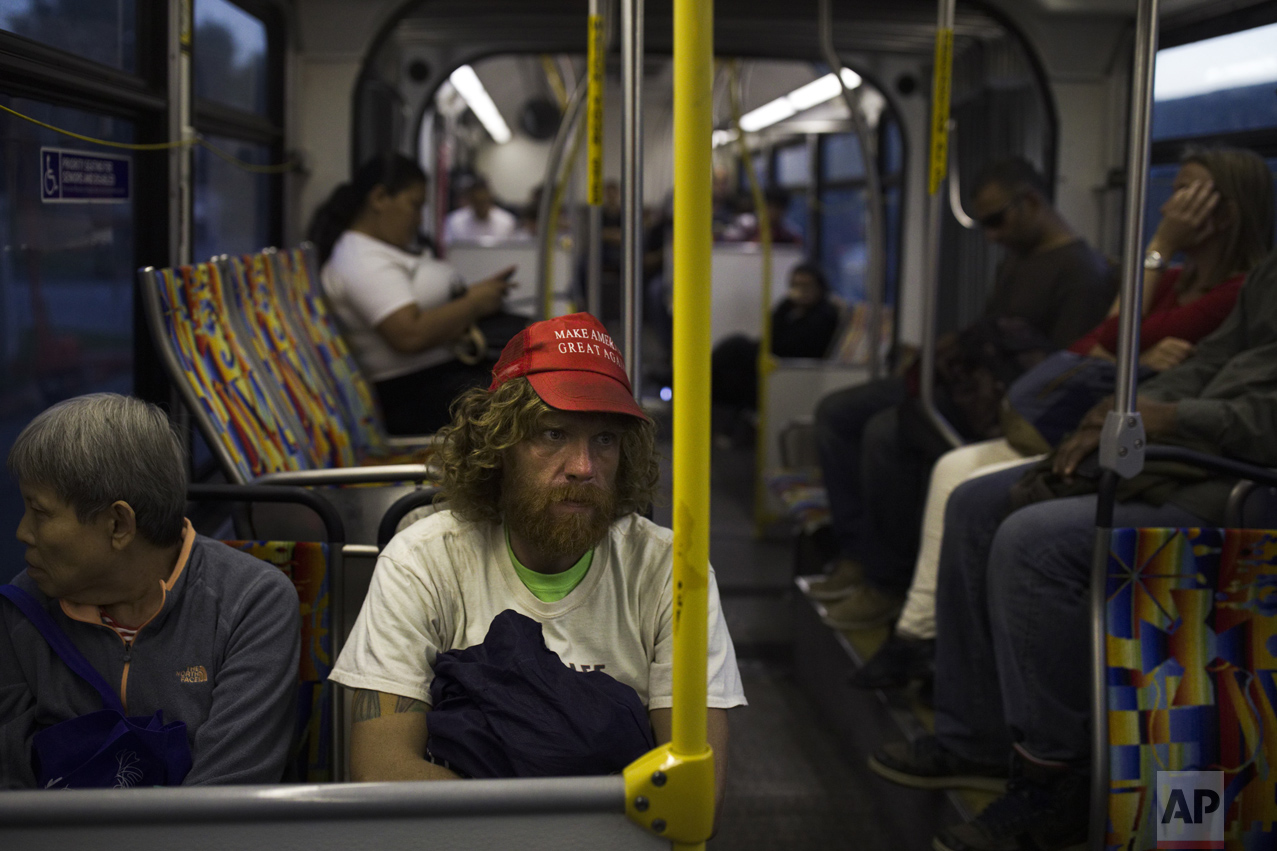 Sports Photography | Dar Yasin
India Traditional Wrestling
In this Nov. 20, 2017 photo, langots or traditional undergarments worn by Indian kushti wrestlers are seen hanging on a rope at an akhada, a kind of wrestling hostel at Sabzi Mandi, in New Delhi, India. Like many traditions in rapidly modernizing India, kushti wrestling faces the threat of being left behind. But for many poor families, the ancient sport provides a glimmer of hope. (AP Photo/Dar Yasin)
India Traditional Wrestling
In this Nov. 20, 2017 photo, Indian kushti wrestlers fight in the ring, during their daily training at an akhada, a kind of wrestling hostel at Sabzi Mandi, in New Delhi, India. Like many traditions in rapidly modernizing India, kushti wrestling faces the threat of being left behind. But for many poor families, the ancient sport provides a glimmer of hope. (AP Photo/Dar Yasin)
India Traditional Wrestling
In this Nov. 27, 2017 photo, Indian kushti wrestlers fight in the ring, during their daily training at an akhada, a kind of wrestling hostel at Sabzi Mandi, in New Delhi, India. Like many traditions in rapidly modernizing India, kushti wrestling faces the threat of being left behind. But for many poor families, the ancient sport provides a glimmer of hope. (AP Photo/Dar Yasin)
India Traditional Wrestling
In this Nov. 22, 2017 photo, Indian Kushti wrestlers wait for their turn to practice rope climbing, during their daily training, at an akhada, a kind of wrestling hostel at Bahadurgarh, in Haryana, India.Like many traditions in rapidly modernizing India, kushti wrestling faces the threat of being left behind. But for many poor families, the ancient sport provides a glimmer of hope. (AP Photo/Dar Yasin)
India Traditional Wrestling
In this Nov. 20, 2017 photo, Indian Kushti wrestlers practice rope climbing, during their daily training at an akhada, a kind of wrestling hostel at Sabzi Mandi, in New Delhi, India. Like many traditions in rapidly modernizing India, kushti wrestling faces the threat of being left behind. But for many poor families, the ancient sport provides a glimmer of hope. (AP Photo/Dar Yasin)
India Traditional Wrestling
In this Nov. 27, 2017 photo, Indian kushti wrestler, Uday Shiv, poses for photographs inside the ring, during his daily training at an akhada, a kind of wrestling hostel at Sabzi Mandi, in New Delhi, India. Like many traditions in rapidly modernizing India, kushti wrestling faces the threat of being left behind. But for many poor families, the ancient sport provides a glimmer of hope. (AP Photo/Dar Yasin)
India Traditional Wrestling
In this Nov. 20, 2017 photo, Indian Kushti wrestlers apply oil as they give massage to a fellow wrestler, during their daily training at an akhada, a kind of wrestling hostel at Sabzi Mandi, in New Delhi, India. Like many traditions in rapidly modernizing India, kushti wrestling faces the threat of being left behind. But for many poor families, the ancient sport provides a glimmer of hope. (AP Photo/Dar Yasin)
India Traditional Wrestling
In this Nov. 20, 2017 photo, photographs and certificates belonging to Indian Kushti wrestlers are displayed on the wall of Guru Hunuman Akhada, one of India's oldest akhada at Sabzi Mandi, in New Delhi, India. Like many traditions in rapidly modernizing India, kushti wrestling faces the threat of being left behind. But for many poor families, the ancient sport provides a glimmer of hope. (AP Photo/Dar Yasin)
India Traditional Wrestling
In this Nov. 22, 2017 photo, Indian Kushti wrestlers practice during a training session, at an akhada, a kind of wrestling hostel at Bahadurgarh, in Haryana, India.Like many traditions in rapidly modernizing India, kushti wrestling faces the threat of being left behind. But for many poor families, the ancient sport provides a glimmer of hope. (AP Photo/Dar Yasin)
India Traditional Wrestling
In this Nov. 22, 2017 photo, Indian Kushti wrestlers warm up during their daily training, at an akhada, a kind of wrestling hostel at Bahadurgarh, in Haryana, India.Like many traditions in rapidly modernizing India, kushti wrestling faces the threat of being left behind. But for many poor families, the ancient sport provides a glimmer of hope. (AP Photo/Dar Yasin)
India Traditional Wrestling
In this Nov. 22, 2017 photo, an Indian Kushti wrestler bathes near a well as others wait their turn after their daily training at an akhada, a kind of wrestling hostel at Bahadurgarh, in Haryana, India. Like many traditions in rapidly modernizing India, kushti wrestling faces the threat of being left behind. But for many poor families, the ancient sport provides a glimmer of hope. (AP Photo/Dar Yasin)
India Traditional Wrestling
In this Nov. 20, 2017 photo, Indian kushti wrestlers prepare the ground in the ring for a training session, at Hanuman Akhada, one of India's oldest akhada at Sabzi Mandi, in New Delhi, India. Like many traditions in rapidly modernizing India, kushti wrestling faces the threat of being left behind. But for many poor families, the ancient sport provides a glimmer of hope. (AP Photo/Dar Yasin)