AP monthly staff photo contest
Each month The Associated Press management honors photographers for outstanding coverage while on assignment.
The winners for the September 2017 AP Staff Photo Contest are Bernat Armangue and Dar Yasin in News Photography for "Rohingya Fleeing Violence," Vadim Ghirda in Feature Photography for "Gypsy Festival," and Darren Cummings in Sports Photography for "Locking Arms."
Congratulations to all the photographers for their outstanding work. This month's winning images are featured below.
News Photography | Bernat Armangue and Dar Yasin
Rohingya Fleeing Violence
A Rohingya ethnic minority from Myanmar carries a child in a sack and walks through rice fields after crossing over to the Bangladesh side of the border near Cox's Bazar's Teknaf area, Friday, Sept. 1, 2017. (AP Photo/Bernat Armangue)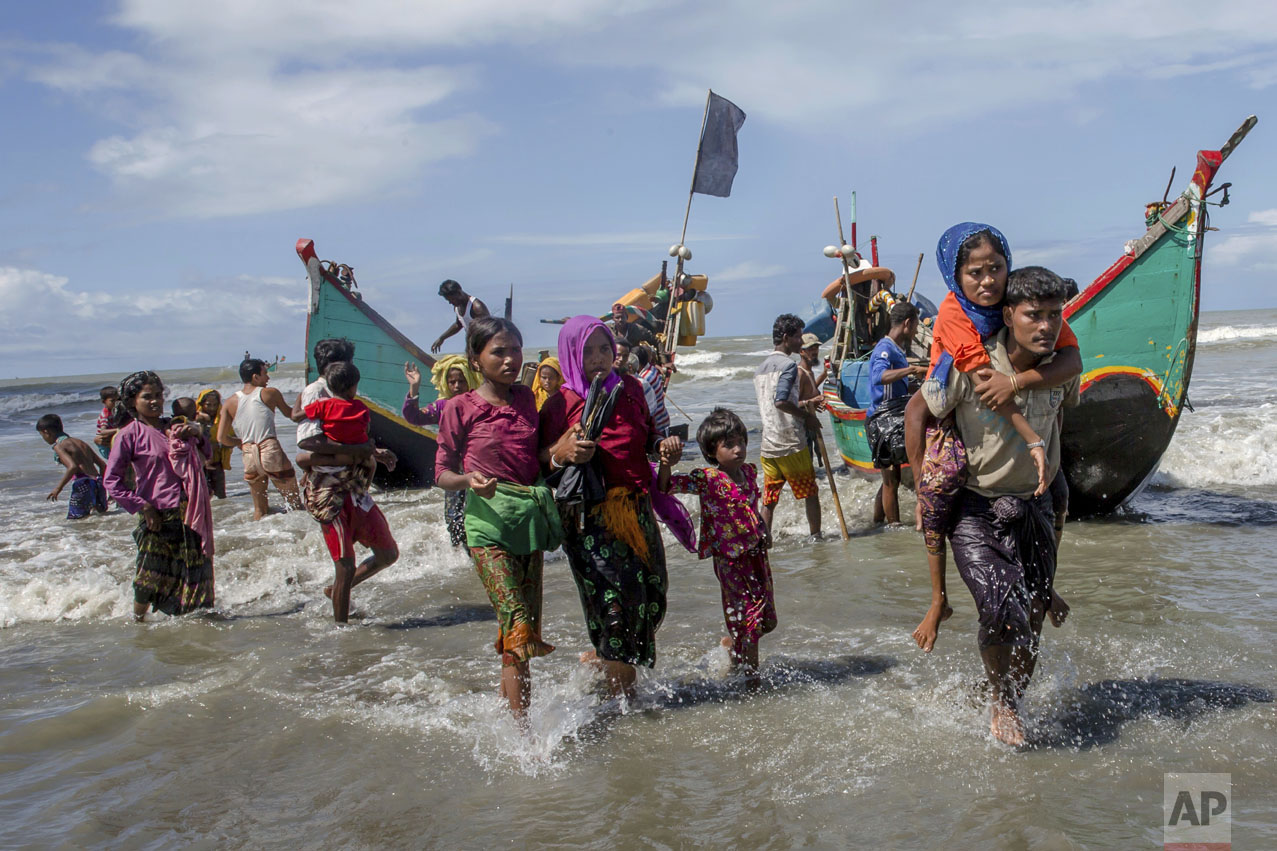 Rohingya Fleeing Violence
Rohingya Muslims walk to the shore after arriving on a boat from Myanmar to Bangladesh in Shah Porir Dwip, Bangladesh, Thursday, Sept. 14, 2017. Nearly three weeks into a mass exodus of Rohingya fleeing violence in Myanmar, thousands were still flooding across the border Thursday in search of help and safety in teeming refugee settlements in Bangladesh. (AP Photo/Dar Yasin)
Rohingya Fleeing Violence
In this Thursday, Sept. 14, 2017 photo, a Rohingya Muslim woman Hanida Begum, who crossed over from Myanmar into Bangladesh, kisses her infant son Abdul Masood who died when the boat they were traveling in capsized just before reaching the shore of the Bay of Bengal, in Shah Porir Dwip, Bangladesh. Nearly three weeks into a mass exodus of Rohingya fleeing violence in Myanmar, thousands were still flooding across the border Thursday in search of help and safety in teeming refugee settlements in Bangladesh. (AP Photo/Dar Yasin)
Rohingya Fleeing Violence
In this Sept. 4, 2017 file photo, an injured elderly woman and her relatives rush to a hospital on an autorickshaw, near the border town of Kutupalong, Bangladesh. The Rohingya woman encountered an explosive device that blew off the right leg while trying to cross into Bangladesh. The rickshaw was stuck in the mud, and they had to pull it out. (AP Photo/Bernat Armangue, File)
Rohingya Fleeing Violence
In this Sept. 10, 2017, file photo, Shoabib, 7, lies with a bullet injury on the chest which he received when Myanmar soldiers attacked his village, as his father sits beside him at Sadar Hospital in Cox's Bazar, Bangladesh. Shoabib and his father lost track of their family members when fleeing to Bangladesh. (AP Photo/Bernat Armangue)
Rohingya Fleeing Violence
A Rohingya Muslim woman Zahida Banoo holds her son Mohammad Noor, left, and daughter Shah Heer as she poses for a photograph on the way to her shelter in Kutupalong refugee camp, Bangladesh, Friday, Sept. 15, 2017. With Rohingya refugees still flooding across the border from Myanmar, those packed into camps and makeshift settlements in Bangladesh were becoming desperate for scant basic resources as hunger and illness soared. (AP Photo/Dar Yasin)
Rohingya Fleeing Violence
A Rohingya family reaches the Bangladesh border after crossing a creek of the Naf river on the border with Myanmmar, in Cox's Bazar's Teknaf area, Tuesday, Sept. 5, 2017. (AP Photo/Bernat Armangue)
Rohingya Fleeing Violence
In this Sept. 3, 2017 photo, smoke and flames in Myanmar are seen from the Bangladeshi side of the border near Cox's Bazar's Teknaf area. (AP Photo/Bernat Armangue)
Rohingya Fleeing Violence
In this Sept. 9, 2017 file photo, a Rohingya man stretches his arms out for food distributed by local volunteers, with bags of puffed rice stuffed into his vest at Kutupalong, Bangladesh, Saturday, Sept. 9, 2017. With Rohingya refugees still flooding across the border from Myanmar, those packed into camps and makeshift settlements in Bangladesh are becoming desperate for scant basic resources and dwindling supplies. (AP Photo/Bernat Armangue, File)
Rohingya Fleeing Violence
Rohingya Muslims, who recently crossed over from Myanmar into Bangladesh, interrogate a suspected child trafficker near Balukhali refugee camp, Bangladesh, Friday, Sept. 15, 2017. Thousands of Rohingya are continuing to stream across the border, with U.N. officials and others demanding that Myanmar halt what they describe as a campaign of ethnic cleansing that has driven nearly 400,000 Rohingya to flee in the past three weeks. (AP Photo/Dar Yasin)
Rohingya Fleeing Violence
Bodies of Rohingya Muslim children, who died after their boat capsized in the Bay of Bengal as they were crossing over from Myanmar into Bangladesh, lies on a roadside near Inani beach, in Cox's Bazar district, Bangladesh, Thursday, Sept. 28, 2017. (AP Photo/Dar Yasin)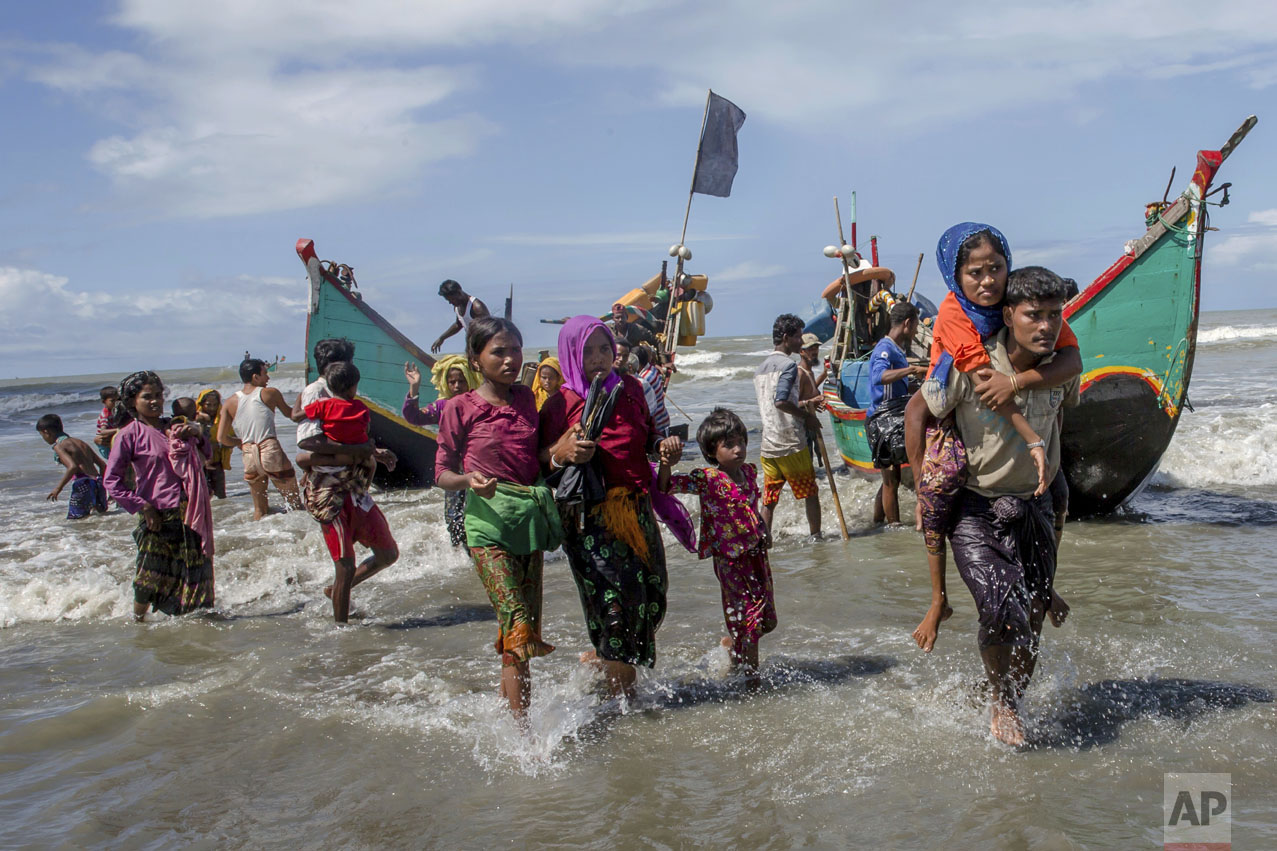 Feature Photography | Vadim Ghirda
Gypsy Festival
In this Friday, Sept. 8, 2017 photograph, Roma girls enjoy a merry go round ride in Costesti, Romania. Hundreds of Gypsies or Roma got on their knees and kissed the relics of Orthodox St. Gregory, at the hillside 15th-century monastery in southern Romania, for their annual celebration of the birthday of St. Mary, the mother of Jesus.(AP Photo/Vadim Ghirda)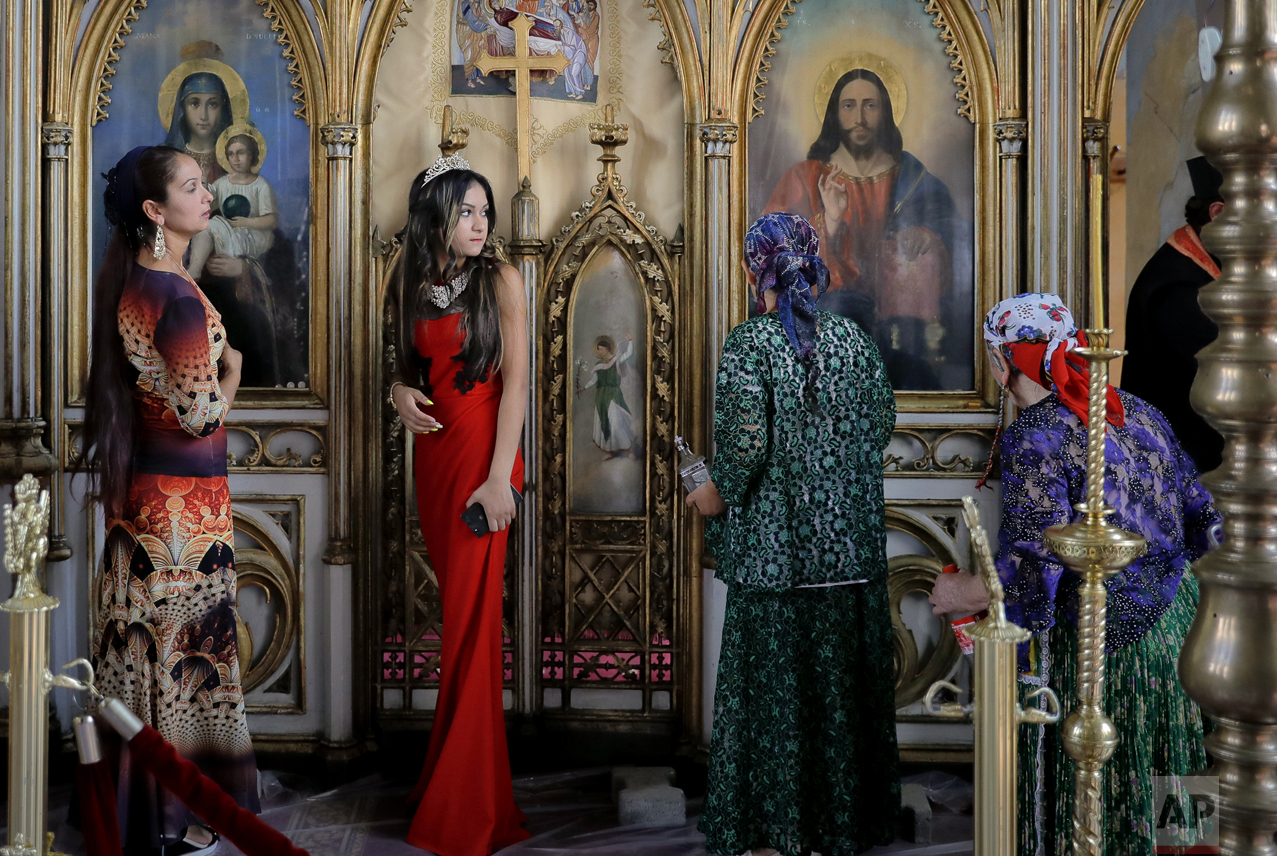 Gypsy Festival
In this Friday, Sept. 8, 2017 photograph Roma women walk by the altar of the church in the Bistrita monastery compound touching the icons in Costesti, Romania. Hundreds of Gypsies or Roma got on their knees and kissed the relics of Orthodox St. Gregory, at the hillside 15th-century monastery in southern Romania, for their annual celebration of the birthday of St. Mary, the mother of Jesus. (AP Photo/Vadim Ghirda)
Gypsy Festival
In this Friday, Sept. 8, 2017 photograph, Monica the Roma witch crosses a river pouring water from a container during what she described as a ritual to help unmarried women find good husbands in Costesti, Romania. Hundreds of Gypsies or Roma got on their knees and kissed the relics of Orthodox St. Gregory, at the hillside 15th-century monastery in southern Romania, for their annual celebration of the birthday of St. Mary, the mother of Jesus.(AP Photo/Vadim Ghirda)
Gypsy Festival
In this Friday, Sept. 8, 2017 photograph, a Roma woman vendor walks between piles of second hand clothing in Costesti, Romania. Hundreds of Gypsies or Roma got on their knees and kissed the relics of Orthodox St. Gregory, at the hillside 15th-century monastery in southern Romania, for their annual celebration of the birthday of St. Mary, the mother of Jesus.(AP Photo/Vadim Ghirda)
Gypsy Festival
In this Friday, Sept. 8, 2017 photograph, a Roma girl waits for her mother after walking by the altar of the church in the Bistrita monastery compound in Costesti, Romania. Hundreds of Gypsies or Roma got on their knees and kissed the relics of Orthodox St. Gregory, at the hillside 15th-century monastery in southern Romania, for their annual celebration of the birthday of St. Mary, the mother of Jesus. (AP Photo/Vadim Ghirda)
Gypsy Festival
In this Friday, Sept. 8, 2017 photograph, a man looks at second hand electric appliances on sale in Costesti, Romania. Hundreds of Gypsies or Roma got on their knees and kissed the relics of Orthodox St. Gregory, at the hillside 15th-century monastery in southern Romania, for their annual celebration of the birthday of St. Mary, the mother of Jesus.(AP Photo/Vadim Ghirda)
Gypsy Festival
In this Friday, Sept. 8, 2017 photograph, a Roma girl kisses an icon with money placed around it at the church in the Bistrita monastery compound in Costesti, Romania during their annual celebration of the birthday of St. Mary, the mother of Jesus.(AP Photo/Vadim Ghirda)
Gypsy Festival
In this Friday, Sept. 8, 2017, photograph, a Roma woman using crutches walks after touching the remains of a saint, held in the gold plated coffin seen in the background, at the Bistrita monastery compound in Costesti, Romania. Hundreds of Gypsies or Roma got on their knees and kissed the relics of Orthodox St. Gregory, at the hillside 15th-century monastery in southern Romania, for their annual celebration of the birthday of St. Mary, the mother of Jesus.(AP Photo/Vadim Ghirda)
Gypsy Festival
In this Friday, Sept. 8, 2017 photograph, members of the Roma community kneel before a priest reading prayers at the church in the Bistrita monastery compound in Costesti, Romania. (AP Photo/Vadim Ghirda)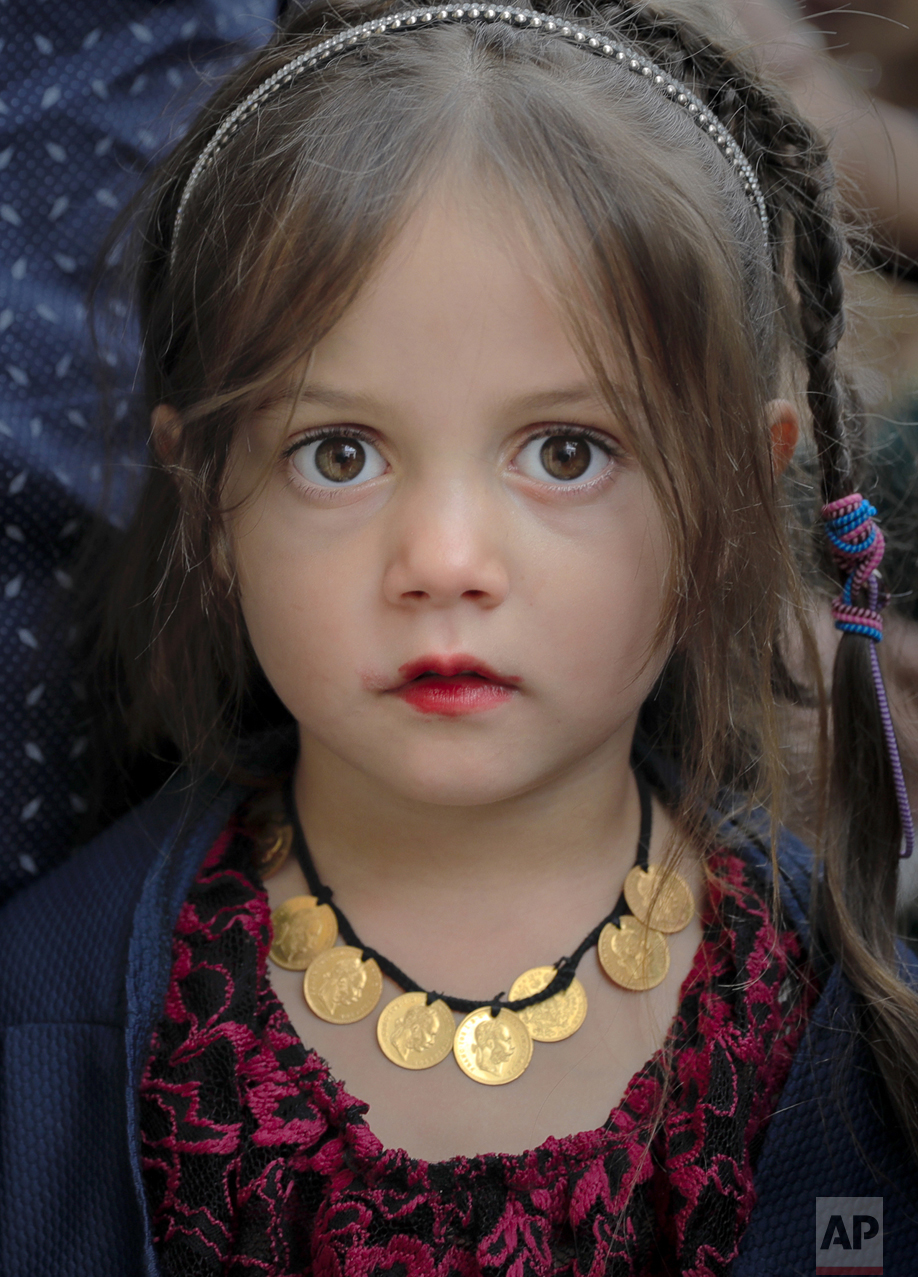 Gypsy Festival
In this Friday, Sept. 8, 2017 photograph, a Roma girl waits in line to touch the holy remains of a saint at the Bistrita monastery compound in Costesti, Romania. Hundreds of Gypsies or Roma got on their knees and kissed the relics of Orthodox St. Gregory, at the hillside 15th-century monastery in southern Romania, for their annual celebration of the birthday of St. Mary, the mother of Jesus.(AP Photo/Vadim Ghirda)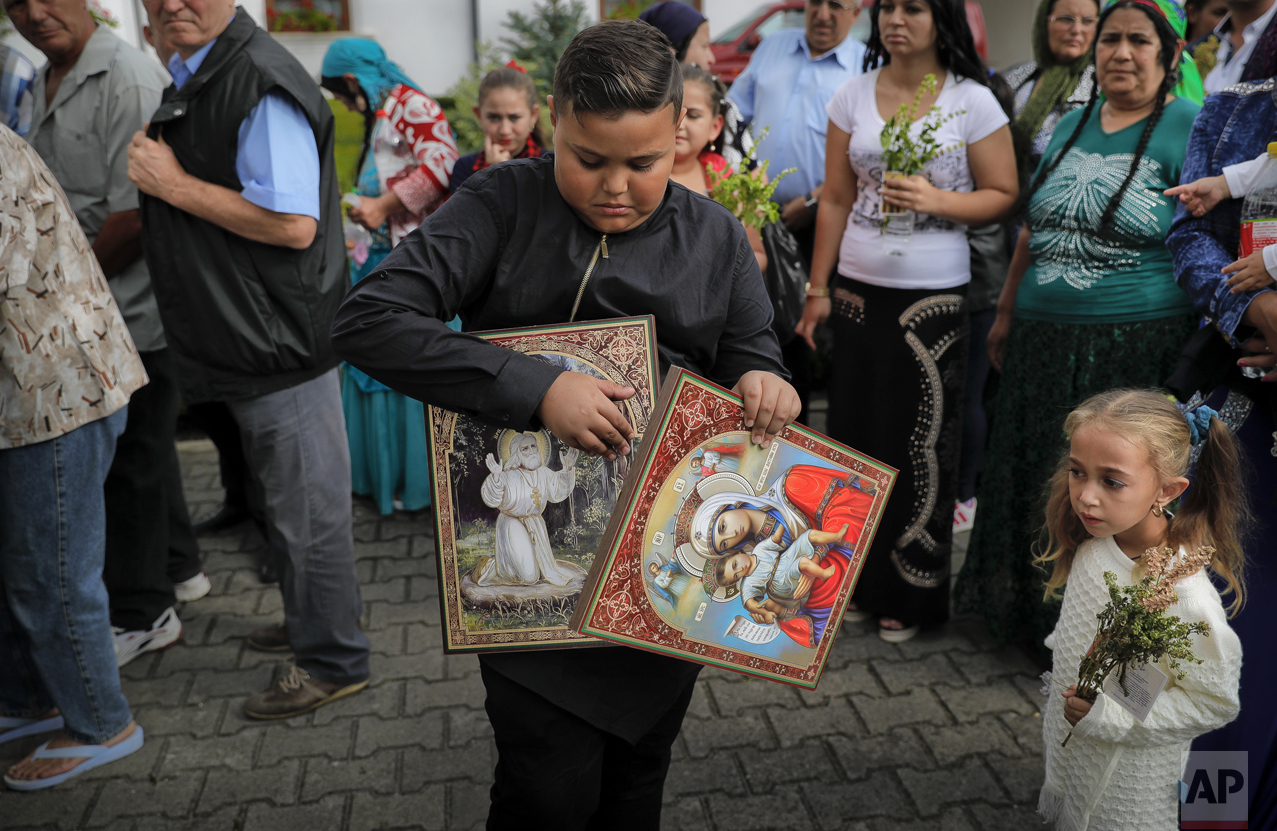 Gypsy Festival
In this Friday, Sept. 8, 2017 photograph, a Roma handles icons as others wait in line to touch the holy remains of a saint at the Bistrita monastery compound in Costesti, Romania. Hundreds of Gypsies or Roma got on their knees and kissed the relics of Orthodox St. Gregory, at the hillside 15th-century monastery in southern Romania, for their annual celebration of the birthday of St. Mary, the mother of Jesus.(AP Photo/Vadim Ghirda)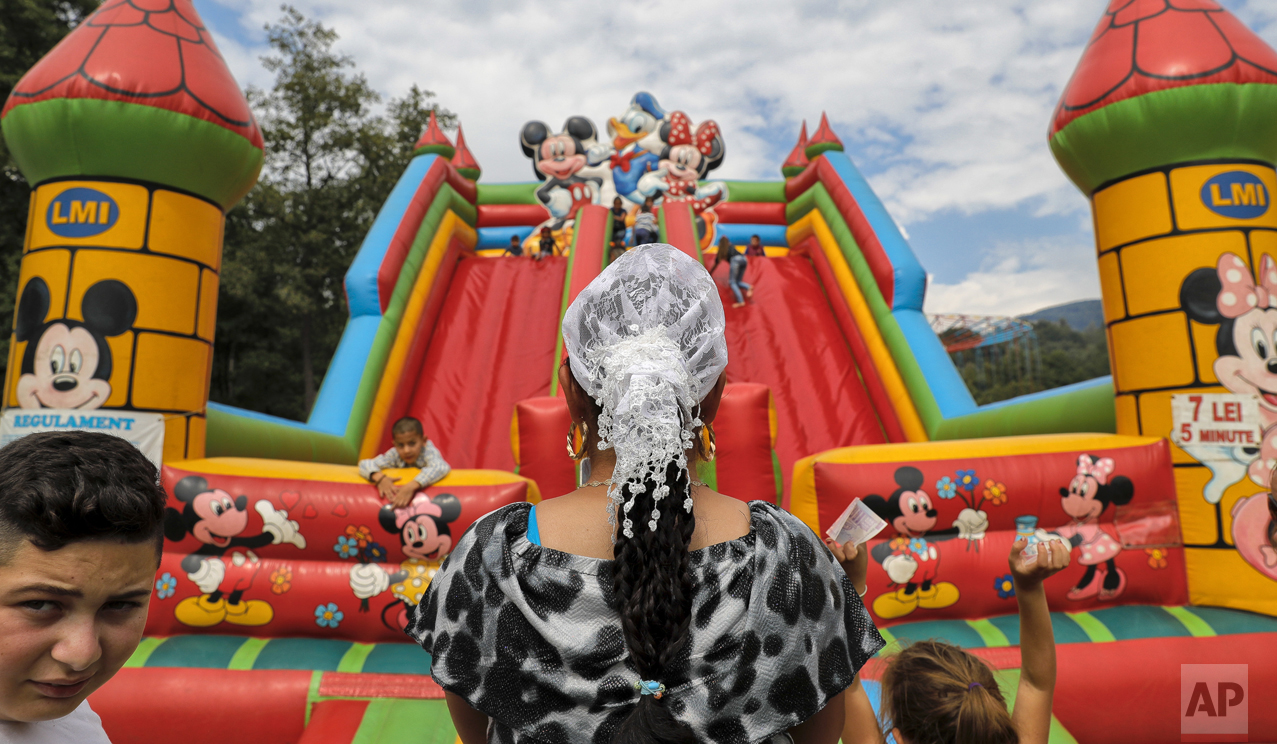 Gypsy Festival
In this Friday, Sept. 8, 2017 photograph, a Roma woman watches children play in Costesti, Romania. Hundreds of Gypsies or Roma got on their knees and kissed the relics of Orthodox St. Gregory, at the hillside 15th-century monastery in southern Romania, for their annual celebration of the birthday of St. Mary, the mother of Jesus.(AP Photo/Vadim Ghirda)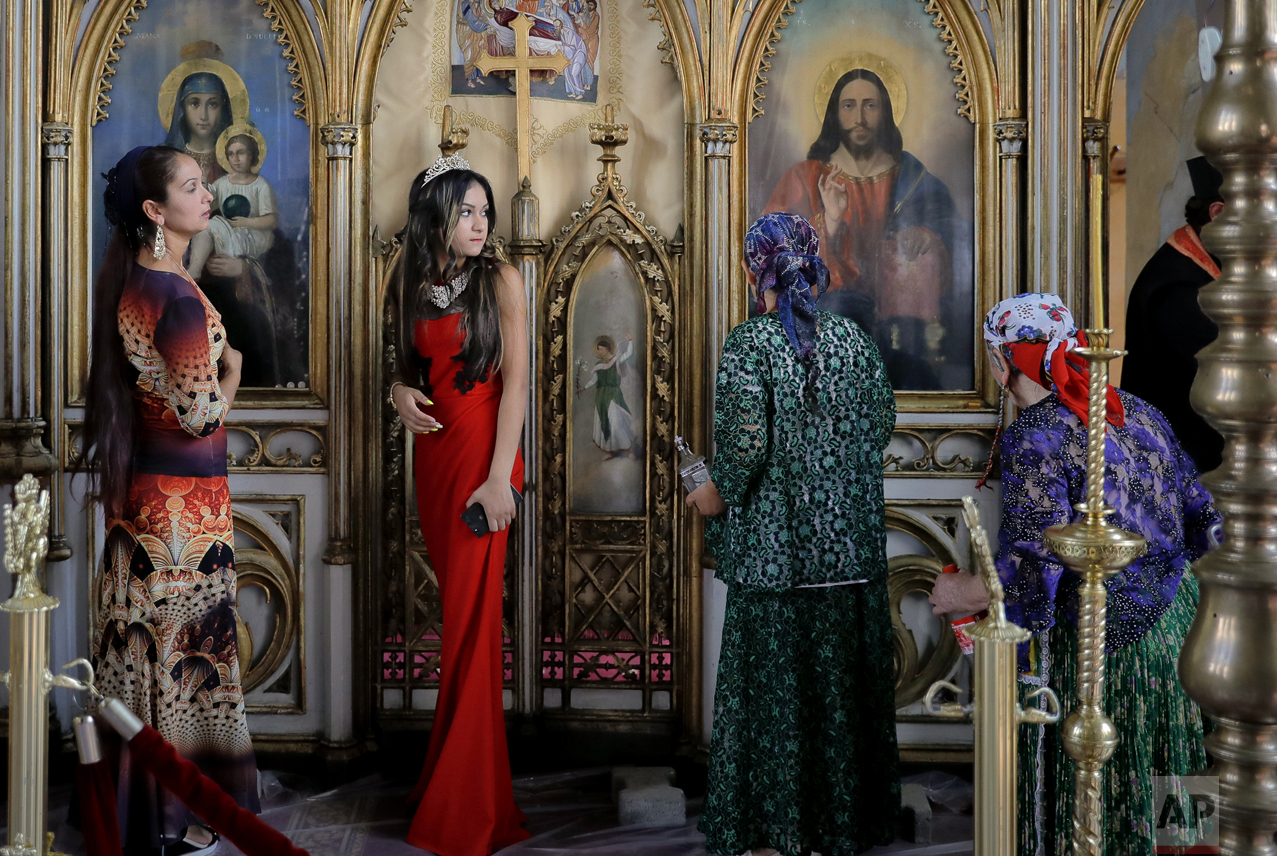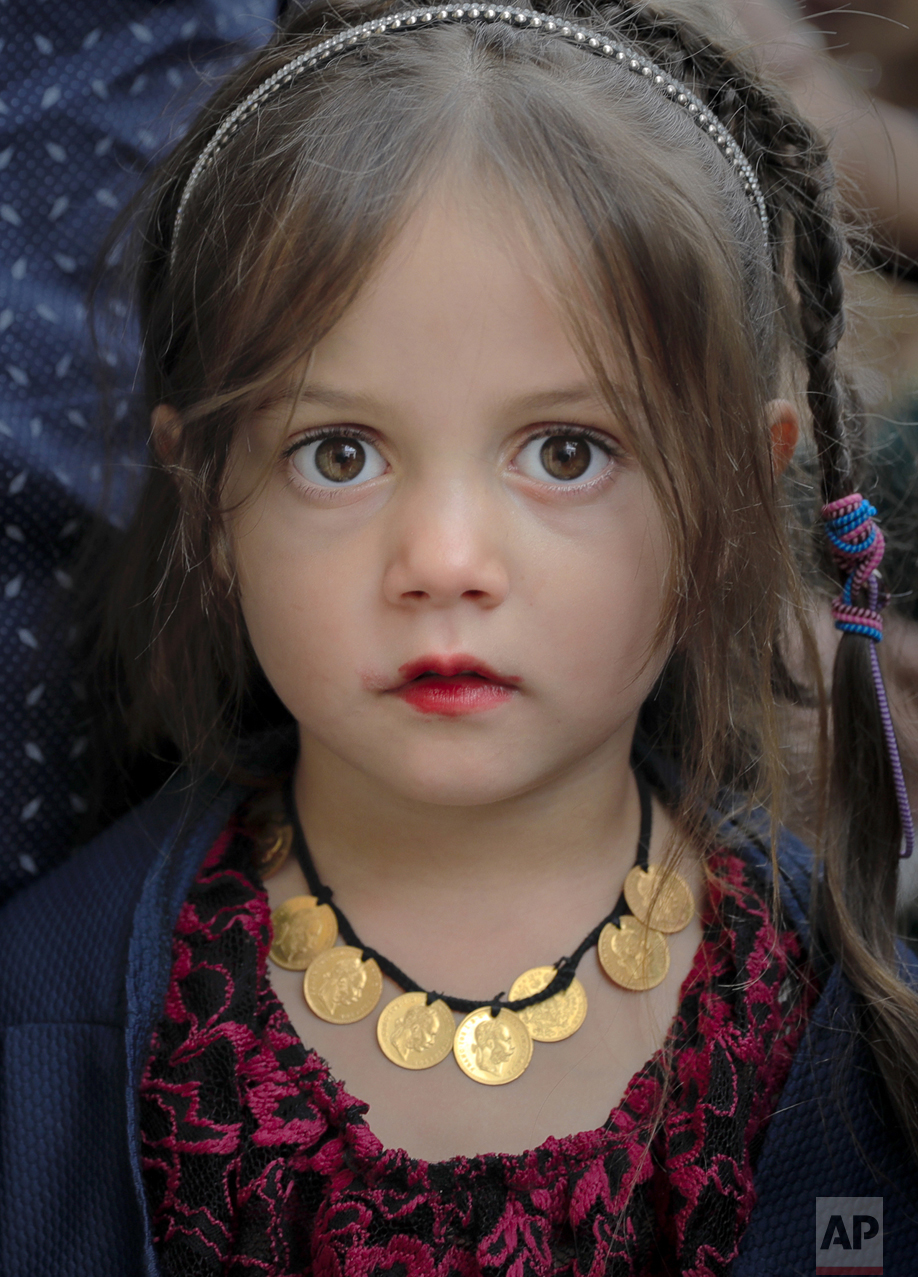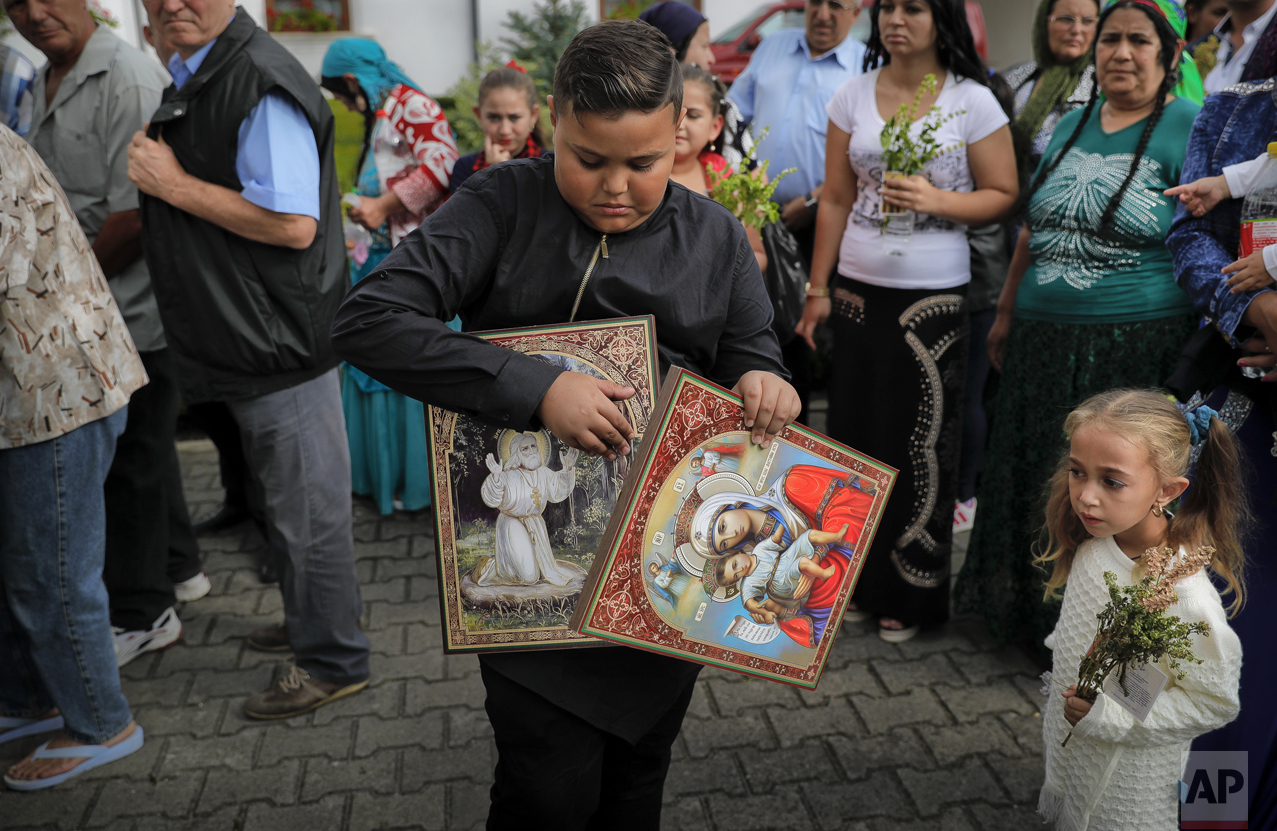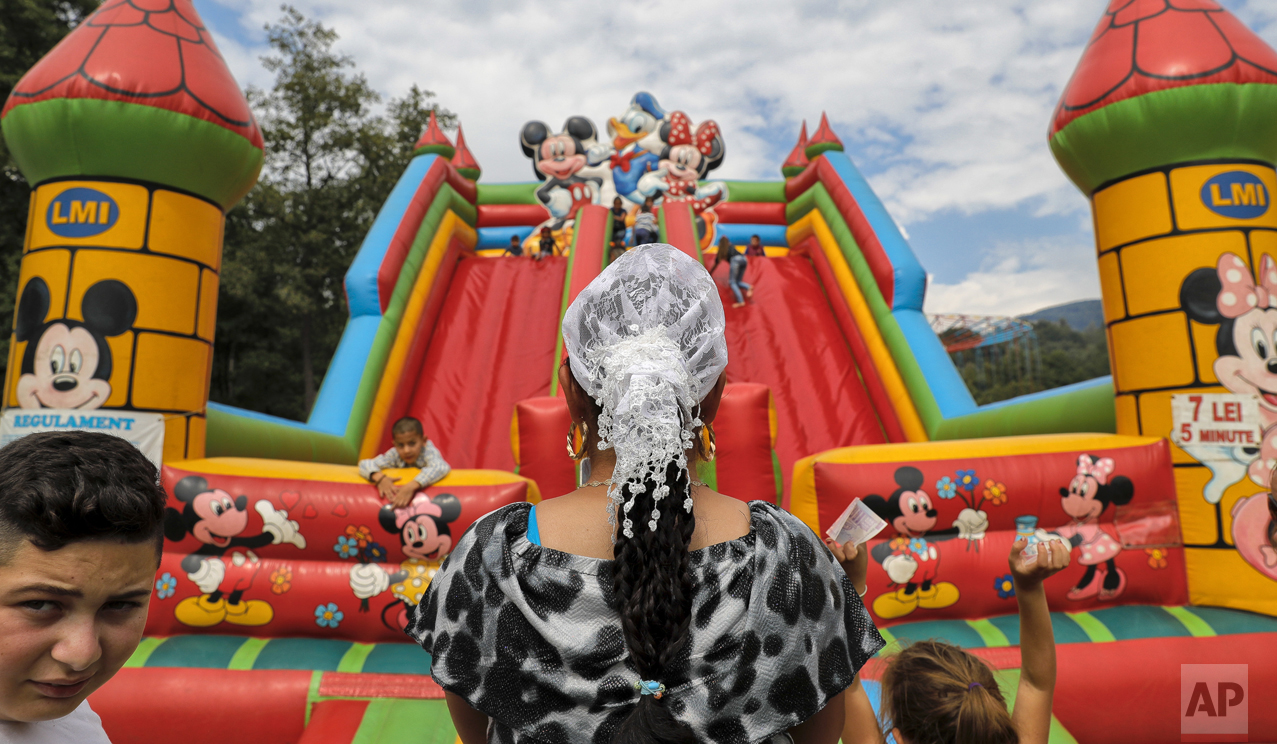 Sports Photography | Darren Cummings
Locking Arms
Members of the Indianapolis Colts lock arms as they take a knee during the Nation Anthem before an NFL football game against the Cleveland Browns in Indianapolis, Sunday, Sept. 24, 2017. (AP Photo/Darron Cummings)