World Cup Match Moments: Day 11
Things went so right for the English on Day 11 at the World Cup that by the end of their 6-1 drubbing of Panama, they were scoring on accident.
Harry Kane's hat trick came courtesy of two penalty kicks and a teammate's shot that went off Kane's heel as he was trotting away from the goal. And with that, England and Belgium moved to the knockout stage with a game to spare.

Japan and Senegal dueled to a 2-2 draw in the day's second match and left themselves in strong position to advance, but Colombia found its scoring touch in the late game to stay right behind them with a 3-0 win over eighth-ranked Poland, which got eliminated after just two matches.
England players run to teammate John Stones after he scored his team's first goal during the group G match between England and Panama at the 2018 soccer World Cup at the Nizhny Novgorod Stadium in Nizhny Novgorod , Russia, Sunday, June 24, 2018. (AP Photo/Matthias Schrader)
England's Harry Kane kicks a penalty to score his team's second goal during the group G match between England and Panama at the 2018 soccer World Cup at the Nizhny Novgorod Stadium in Nizhny Novgorod , Russia, Sunday, June 24, 2018. (AP Photo/Matthias Schrader)
England's Jesse Lingard reacts as he celebrates after scoring his team's third goal during the group G match between England and Panama at the 2018 soccer World Cup at the Nizhny Novgorod Stadium in Nizhny Novgorod , Russia, Sunday, June 24, 2018. (AP Photo/Matthias Schrader)
England's Jesse Lingard reacts as he celebrates with teammate England's Raheem Sterling, left, after scoring his team's third goal during the group G match between England and Panama at the 2018 soccer World Cup at the Nizhny Novgorod Stadium in Nizhny Novgorod , Russia, Sunday, June 24, 2018. (AP Photo/Matthias Schrader)
England's John Stones is congratulated by teammates after scoring his team's fourth goal during the group G match between England and Panama at the 2018 soccer World Cup at the Nizhny Novgorod Stadium in Nizhny Novgorod , Russia, Sunday, June 24, 2018. (AP Photo/Matthias Schrader)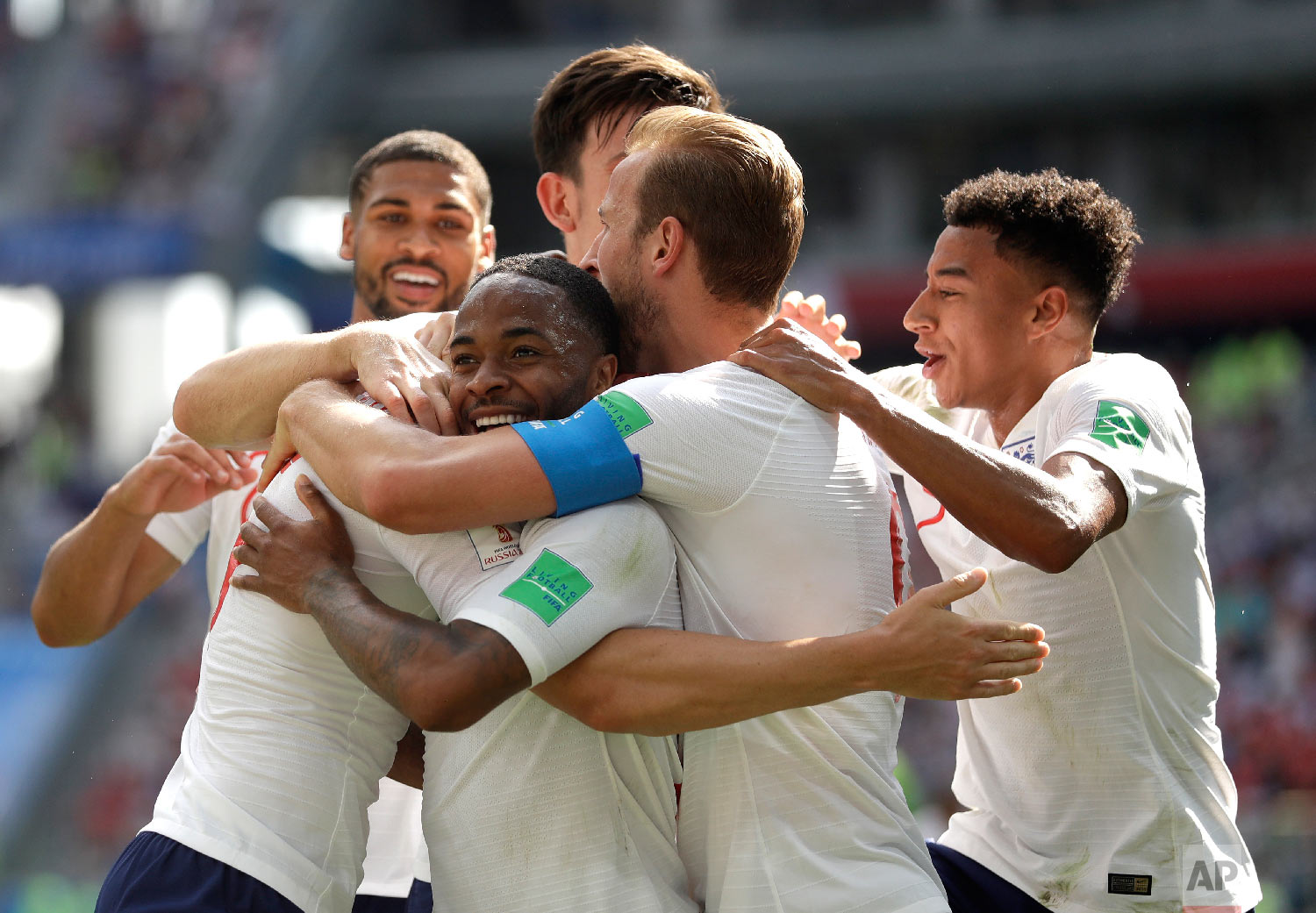 England's John Stones is congratulated by teammates after scoring his team's fourth goal during the group G match between England and Panama at the 2018 soccer World Cup at the Nizhny Novgorod Stadium in Nizhny Novgorod, Russia, Sunday, June 24, 2018. (AP Photo/Matthias Schrader)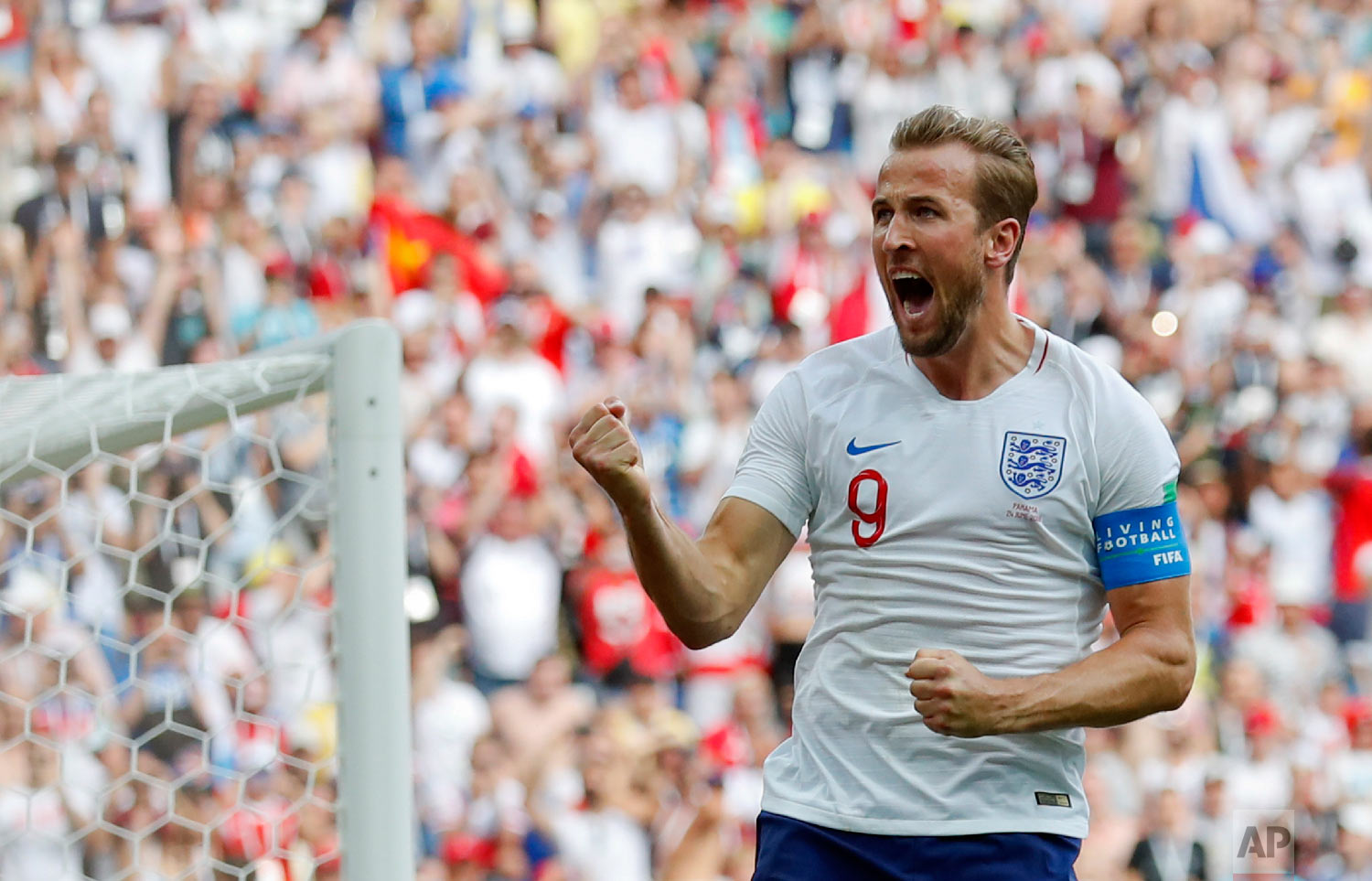 England's Harry Kane celebrates after he scored his side's second goal during the group G match between England and Panama at the 2018 soccer World Cup at the Nizhny Novgorod Stadium in Nizhny Novgorod , Russia, Sunday, June 24, 2018. (AP Photo/Antonio Calanni)
England's Jesse Lingard makes his way between Panama's Armando Cooper, left, and Panama's Blas Perez during the group G match between England and Panama at the 2018 soccer World Cup at the Nizhny Novgorod Stadium in Nizhny Novgorod , Russia, Sunday, June 24, 2018. (AP Photo/Antonio Calanni)
England head coach Gareth Southgate celebrates his team's 6-1 victory at the end of the group G match between England and Panama at the 2018 soccer World Cup at the Nizhny Novgorod Stadium in Nizhny Novgorod , Russia, Sunday, June 24, 2018. (AP Photo/Antonio Calanni)
Japan fans support their team prior to the start of the group H match between Japan and Senegal at the 2018 soccer World Cup at the Yekaterinburg Arena in Yekaterinburg, Russia, Sunday, June 24, 2018. (AP Photo/Natacha Pisarenko)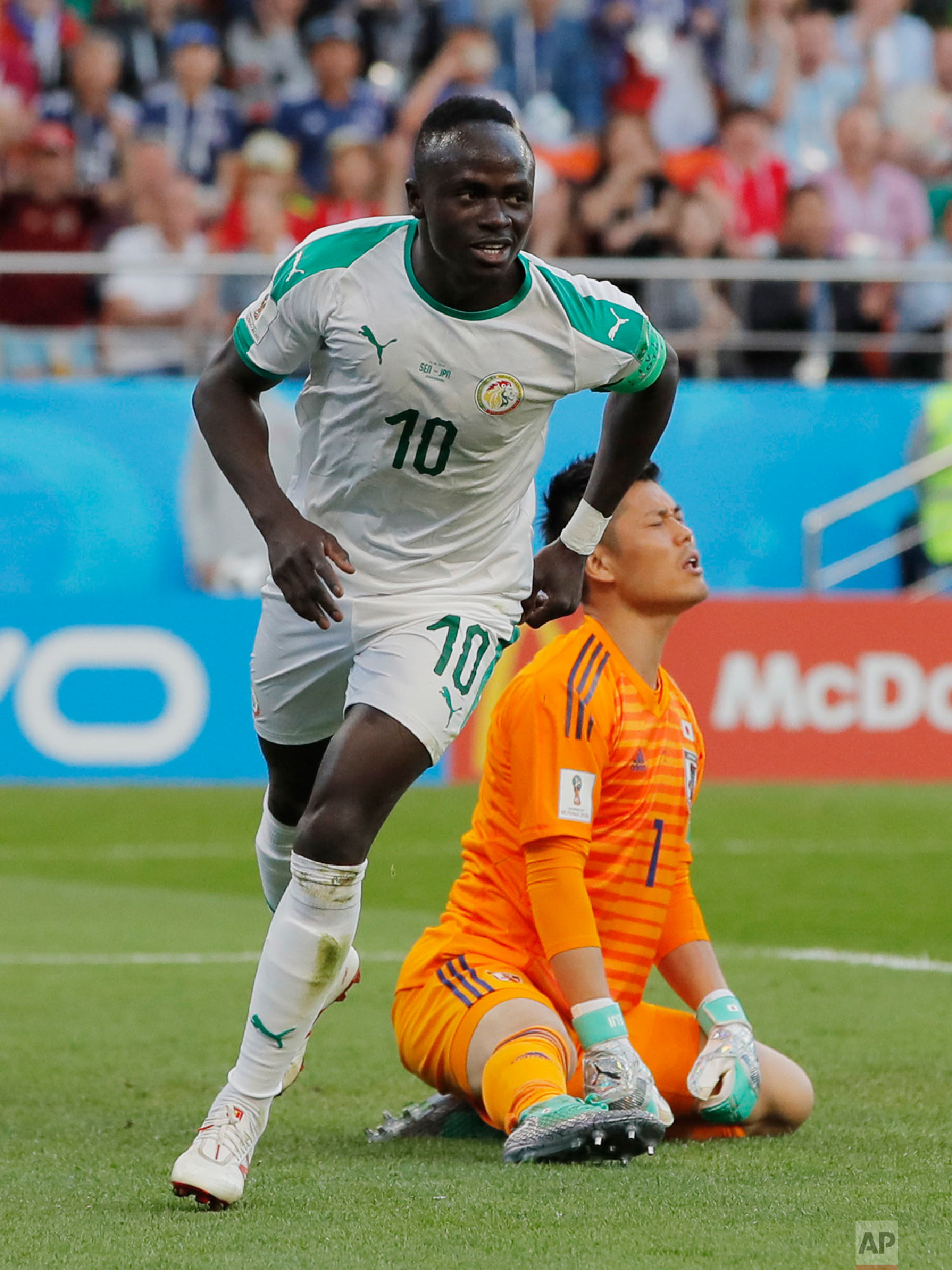 Senegal's Senegal's Sadio Mane, left, celebrates his side's opening goal during the group H match between Japan and Senegal at the 2018 soccer World Cup at the Yekaterinburg Arena in Yekaterinburg , Russia, Sunday, June 24, 2018. (AP Photo/Vadim Ghirda)
Senegal's players celebrate their side's opening goal during the group H match between Japan and Senegal at the 2018 soccer World Cup at the Yekaterinburg Arena in Yekaterinburg , Russia, Sunday, June 24, 2018. (AP Photo/Vadim Ghirda)
Senegal's Sadio Mane celebrates hs side's opening goal during the group H match between Japan and Senegal at the 2018 soccer World Cup at the Yekaterinburg Arena in Yekaterinburg , Russia, Sunday, June 24, 2018. (AP Photo/Vadim Ghirda)
Senegal's Mbaye Niang, left, and Japan's Gen Shoji challenge for the ball during the group H match between Japan and Senegal at the 2018 soccer World Cup at the Yekaterinburg Arena in Yekaterinburg , Russia, Sunday, June 24, 2018. (AP Photo/Eugene Hoshiko)
Japan's Takashi Inui celebrates after he scored his side's first goal during the group H match between Japan and Senegal at the 2018 soccer World Cup at the Yekaterinburg Arena in Yekaterinburg , Russia, Sunday, June 24, 2018. (AP Photo/Natacha Pisarenko)
Senegal's Ismaila Sarr, left, and Japan's Hiroki Sakai fight for the ball during the group H match between Japan and Senegal at the 2018 soccer World Cup at the Yekaterinburg Arena in Yekaterinburg , Russia, Sunday, June 24, 2018. (AP Photo/Natacha Pisarenko)
Poland's Robert Lewandowski, left, and Colombia's Radamel Falcao, right, challenge for the ball during the group H match between Poland and Colombia at the 2018 soccer World Cup at the Kazan Arena in Kazan, Russia, Sunday, June 24, 2018. (AP Photo/Thanassis Stavrakis)
Colombia's Santiago Arias, left, and Poland's Dawid Kownacki battle for the ball during the group H match between Poland and Colombia at the 2018 soccer World Cup at the Kazan Arena in Kazan, Russia, Sunday, June 24, 2018. (AP Photo/Sergei Grits)
Colombia's scorer Yerry Mina, right and his teammate Davinson Sanchez, left, celebrate the opening goal during the group H match between Poland and Colombia at the 2018 soccer World Cup at the Kazan Arena in Kazan, Russia, Sunday, June 24, 2018. (AP Photo/Thanassis Stavrakis)
Colombia's Radamel Falcao, left, and Poland's Michal Pazdan battle for the ball during the group H match between Poland and Colombia at the 2018 soccer World Cup at the Kazan Arena in Kazan, Russia, Sunday, June 24, 2018. (AP Photo/Sergei Grits)
Colombia's Radamel Falcao celebrates after scoring the second side goal past Poland goalkeeper Wojciech Szczesny during the group H match between Poland and Colombia at the 2018 soccer World Cup at the Kazan Arena in Kazan, Russia, Sunday, June 24, 2018. (AP Photo/Frank Augstein)
Colombia's Radamel Falcao celebrates after scoring the second side goal during the group H match between Poland and Colombia at the 2018 soccer World Cup at the Kazan Arena in Kazan, Russia, Sunday, June 24, 2018. (AP Photo/Frank Augstein)
Colombia's Yerry Mina kneels on the pitch after the group H match between Poland and Colombia at the 2018 soccer World Cup at the Kazan Arena in Kazan, Russia, Sunday, June 24, 2018. (AP Photo/Thanassis Stavrakis)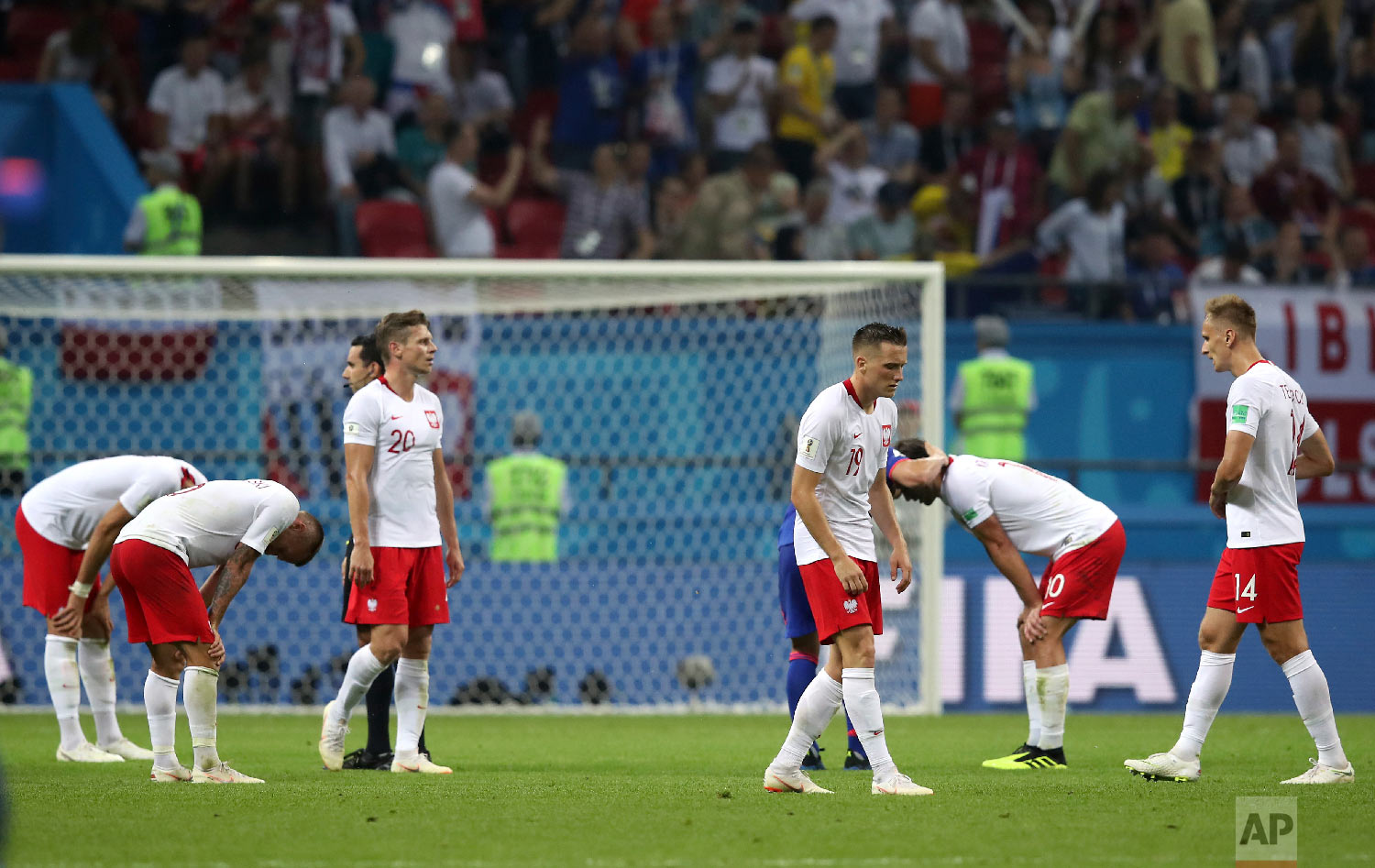 Poland's players react after the group H match between Poland and Colombia at the 2018 soccer World Cup at the Kazan Arena in Kazan, Russia, Sunday, June 24, 2018. Colombia won 3-0. (AP Photo/Thanassis Stavrakis)