World Cup Match Moments: Day 10
Germany midfielder Toni Kroos scored a dramatic late winner to beat Sweden 2-1 on Day 10 of the World Cup after the defending champions were reduced to 10 men.
That result sets up an exciting Group F finale, with Mexico leading the pack with six points after a 2-1 win over South Korea, and Germany and Sweden both with three points. The Koreans have zero.
Belgium cruised to a 5-2 victory over Tunisia in Saturday's early match with a pair of doubles from Eden Hazard and Romelu Lukaku to put the Red Devils at the top of Group G.
Belgium's Romelu Lukaku scores his side's second goal during the group G match between Belgium and Tunisia at the 2018 soccer World Cup in the Spartak Stadium in Moscow, Russia, Saturday, June 23, 2018. (AP Photo/Hassan Ammar)
Belgium's Jan Vertonghen, left, and Tunisia's Wahbi Khazri challenge for the ball during the group G match between Belgium and Tunisia at the 2018 soccer World Cup in the Spartak Stadium in Moscow, Russia, Saturday, June 23, 2018. (AP Photo/Matthias Schrader)
Belgium's Jan Vertonghen, top, and Tunisia's Wahbi Khazri challenge for the ball during the group G match between Belgium and Tunisia at the 2018 soccer World Cup in the Spartak Stadium in Moscow, Russia, Saturday, June 23, 2018. (AP Photo/Matthias Schrader)
Belgium's Kevin De Bruyne, right, and Tunisia's Saifeddine Khaoui challenge for the ball during the group G match between Belgium and Tunisia at the 2018 soccer World Cup in the Spartak Stadium in Moscow, Russia, Saturday, June 23, 2018. (AP Photo/Matthias Schrader)
Tunisia's Ferjani Sassi, left, and Belgium's Axel Witsel challenge for the ball during the group G match between Belgium and Tunisia at the 2018 soccer World Cup in the Spartak Stadium in Moscow, Russia, Saturday, June 23, 2018. (AP Photo/Victor Caivano)
Belgium's Eden Hazard celebrates after scoring his side's fourth goal during the group G match between Belgium and Tunisia at the 2018 soccer World Cup in the Spartak Stadium in Moscow, Russia, Saturday, June 23, 2018. (AP Photo/Matthias Schrader)
Belgium's Eden Hazard celebrates after scoring his side's fourth goal during the group G match between Belgium and Tunisia at the 2018 soccer World Cup in the Spartak Stadium in Moscow, Russia, Saturday, June 23, 2018. (AP Photo/Matthias Schrader)
Belgium's Michy Batshuayi celebrates after scoring his side's fifth goal during the group G match between Belgium and Tunisia at the 2018 soccer World Cup in the Spartak Stadium in Moscow, Russia, Saturday, June 23, 2018. (AP Photo/Matthias Schrader)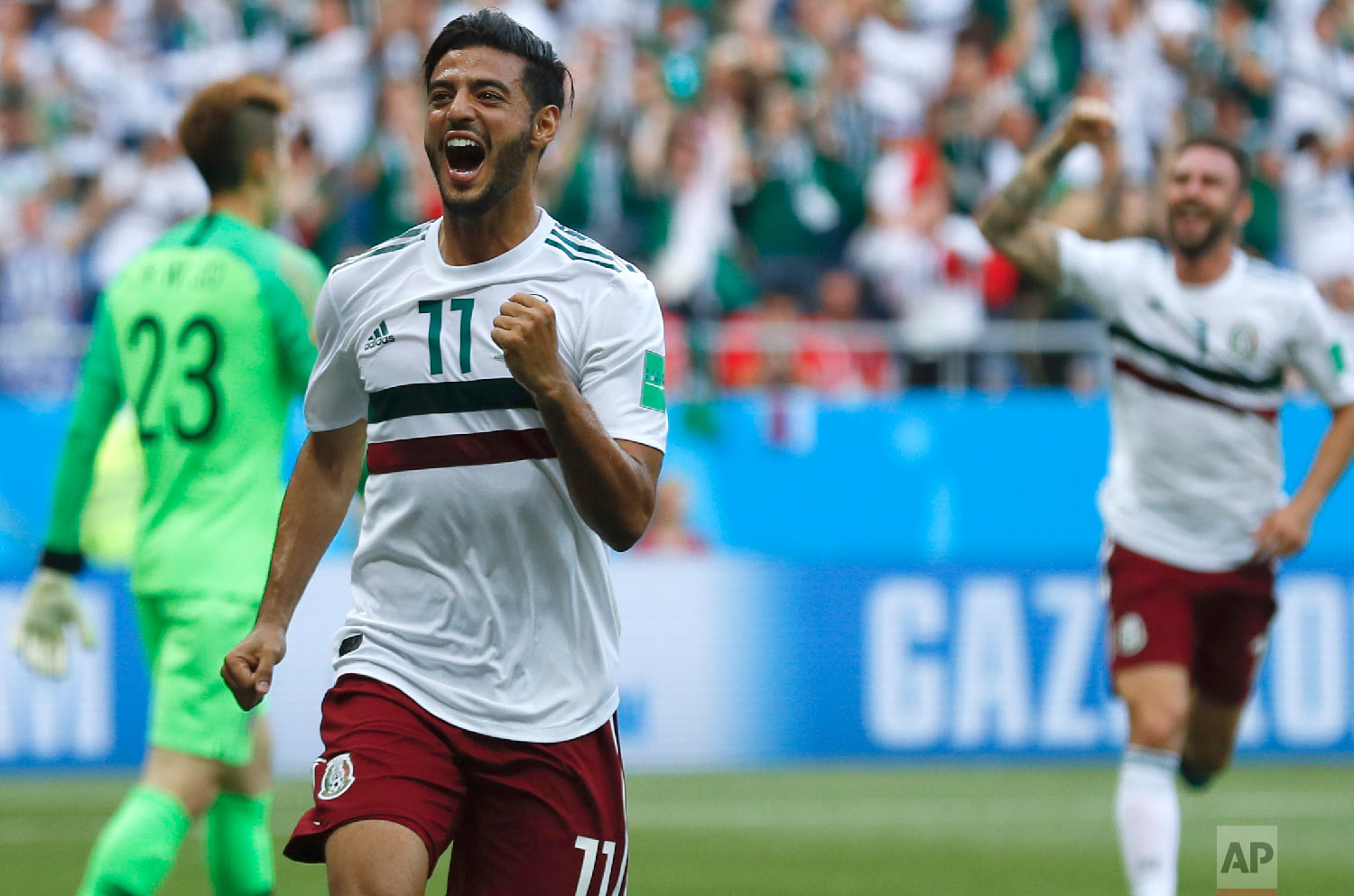 Mexico's Carlos Vela celebrates after scoring the opening goal during the group F match between Mexico and South Korea at the 2018 soccer World Cup in the Rostov Arena in Rostov-on-Don, Russia, Saturday, June 23, 2018. (AP Photo/Eduardo Verdugo)
Mexico's Javier Hernandez celebrates after scoring his side's second goal during the group F match between Mexico and South Korea at the 2018 soccer World Cup in the Rostov Arena in Rostov-on-Don, Russia, Saturday, June 23, 2018. (AP Photo/Lee Jin-man)
Mexico's Andres Guardado, right, challenges for the ball with South Korea's Kim Young-gwon during the group F match between Mexico and South Korea at the 2018 soccer World Cup in the Rostov Arena in Rostov-on-Don, Russia, Saturday, June 23, 2018. (AP Photo/Eduardo Verdugo)
Mexico's Javier Hernandez celebrates after scoring his side's second goal during the group F match between Mexico and South Korea at the 2018 soccer World Cup in the Rostov Arena in Rostov-on-Don, Russia, Saturday, June 23, 2018. (AP Photo/Eduardo Verdugo)
South Korea players console each others at the end of the group F match between Mexico and South Korea at the 2018 soccer World Cup in the Rostov Arena in Rostov-on-Don, Russia, Saturday, June 23, 2018. Mexico won 2-1. (AP Photo/Martin Meissner)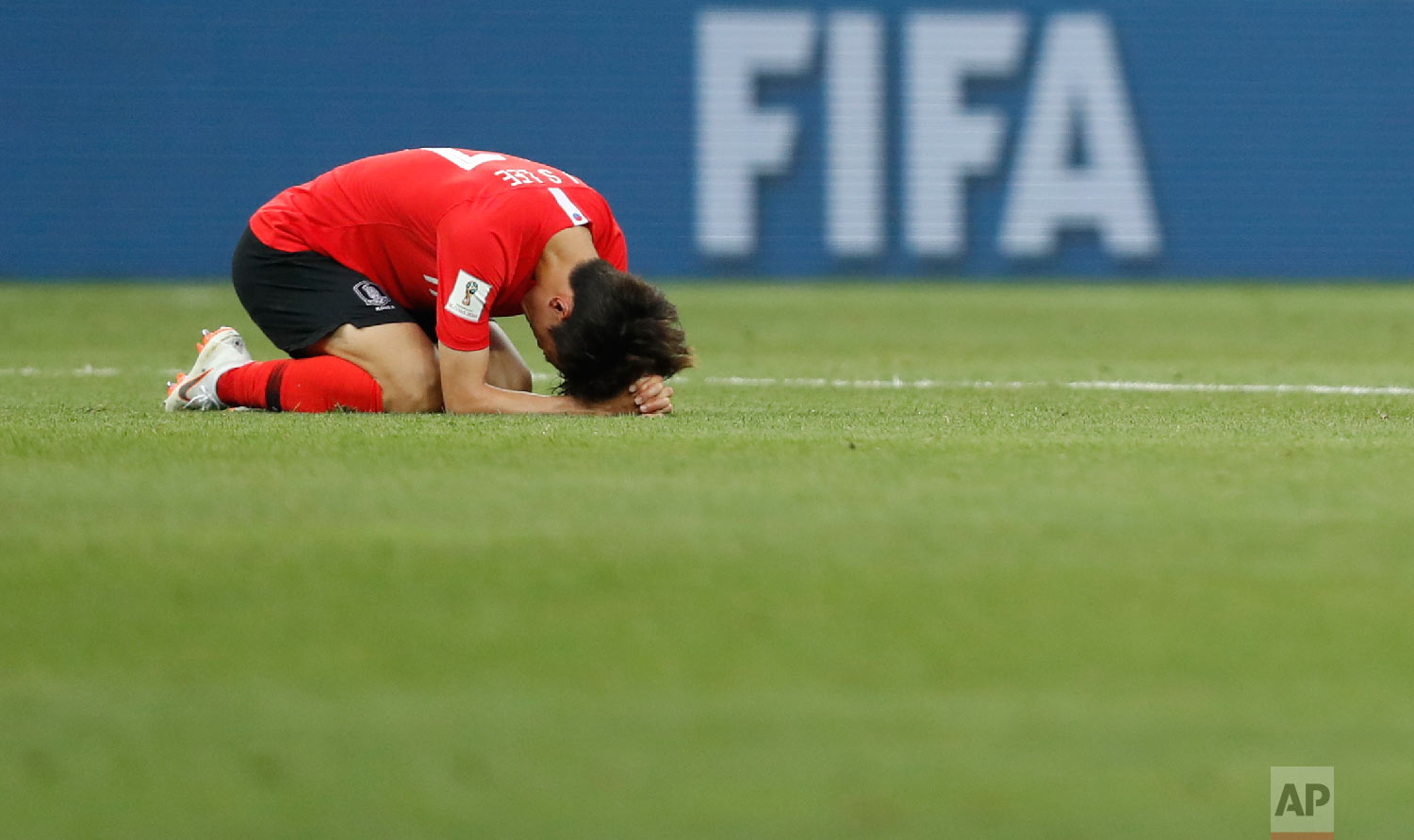 South Korea's Lee Jae-sung lies on the pitch at the end of the group F match between Mexico and South Korea at the 2018 soccer World Cup in the Rostov Arena in Rostov-on-Don, Russia, Saturday, June 23, 2018. (AP Photo/Eduardo Verdugo)
Sweden's Ola Toivonen falls in front of Germany's Sebastian Rudy during the group F match between Germany and Sweden at the 2018 soccer World Cup in the Fisht Stadium in Sochi, Russia, Saturday, June 23, 2018. (AP Photo/Rebecca Blackwell)
Blood drips from the nose of Germany's Sebastian Rudy during the group F match between Germany and Sweden at the 2018 soccer World Cup in the Fisht Stadium in Sochi, Russia, Saturday, June 23, 2018. (AP Photo/Michael Probst)
Sweden's Ola Toivonen celebrates after scoring his side's opening goal during the group F match between Germany and Sweden at the 2018 soccer World Cup in the Fisht Stadium in Sochi, Russia, Saturday, June 23, 2018. (AP Photo/Thanassis Stavrakis)
Sweden players reacts after Germany's Toni Kroos, right, scores his side's second goal during the group F match between Germany and Sweden at the 2018 soccer World Cup in the Fisht Stadium in Sochi, Russia, Saturday, June 23, 2018. (AP Photo/Thanassis Stavrakis)
Germany's Toni Kroos celebrates after he scored his side's second goal during the group F match between Germany and Sweden at the 2018 soccer World Cup in the Fisht Stadium in Sochi, Russia, Saturday, June 23, 2018. (AP Photo/Frank Augstein)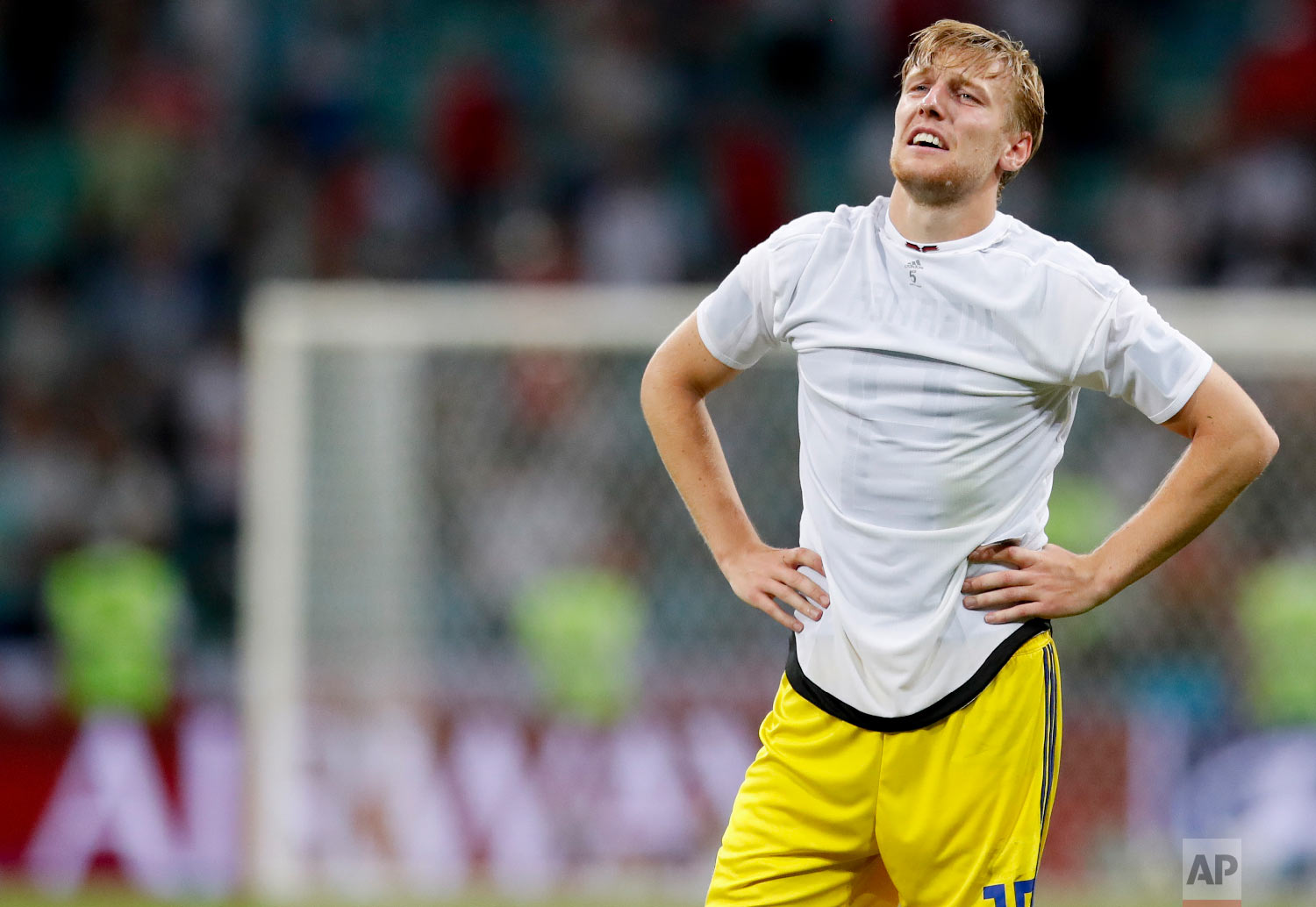 Sweden's Emil Forsberg looks up after the group F match between Germany and Sweden at the 2018 soccer World Cup in the Fisht Stadium in Sochi, Russia, Saturday, June 23, 2018. Germany won 2-1. (AP Photo/Rebecca Blackwell)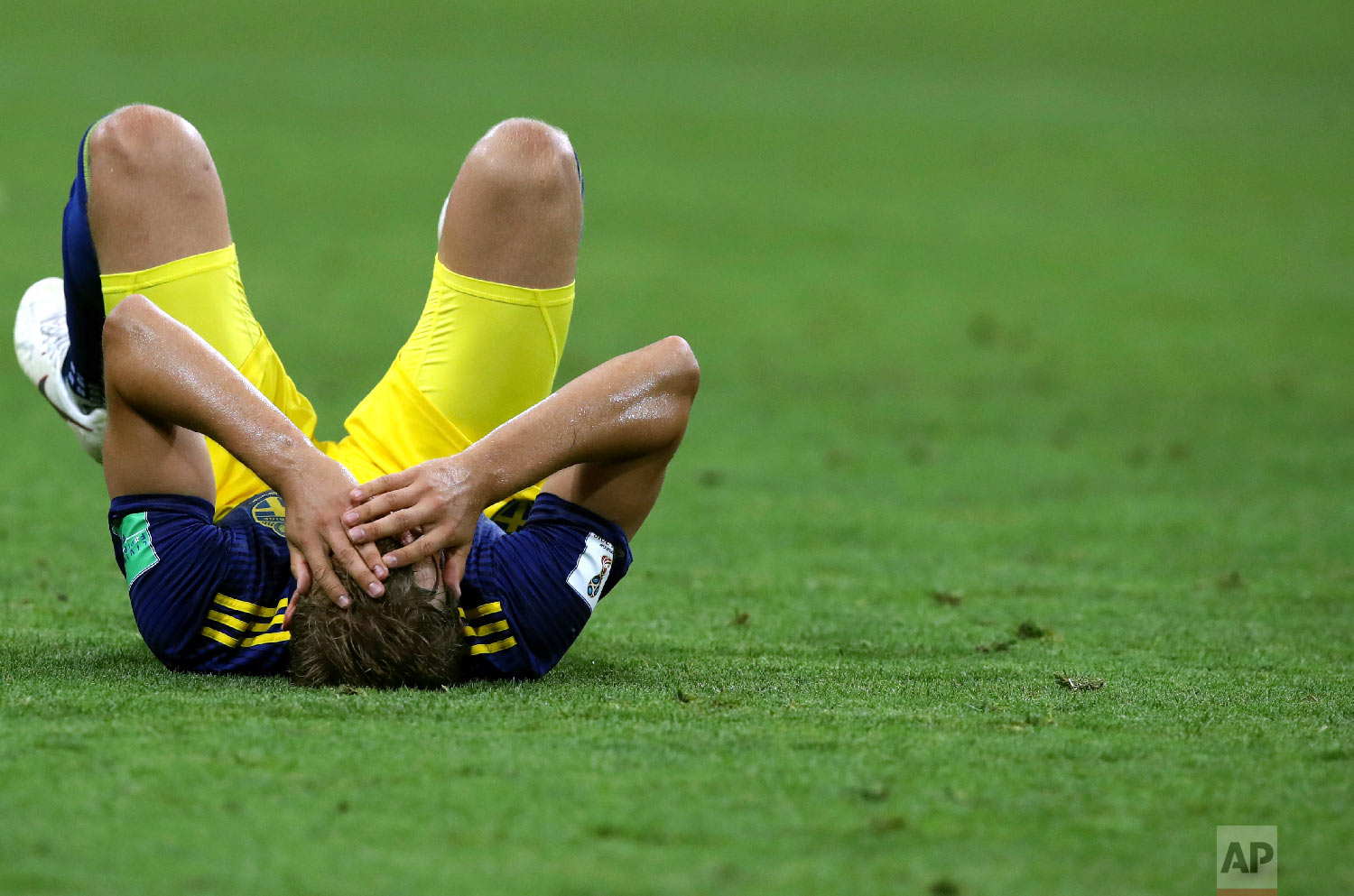 Sweden's Ludwig Augustinsson holds his head as he lies on the pitch at the end of the group F match between Germany and Sweden at the 2018 soccer World Cup in the Fisht Stadium in Sochi, Russia, Saturday, June 23, 2018. Germany won 2-1. (AP Photo/Thanassis Stavrakis)
Germany's Toni Kroos celebrates after he scored his side's second goal during the group F match between Germany and Sweden at the 2018 soccer World Cup in the Fisht Stadium in Sochi, Russia, Saturday, June 23, 2018. (AP Photo/Frank Augstein)