Russia's World Cup: Daily Life
The World Cup has brought hundreds of thousands of international tourists to Russia, but in Moscow and the 10 other host cities, there's been minimal disruption to daily life away from the stadiums.
AP photographers captured images of Russians dancing, fishing and attending elaborate graduation ceremonies during the mild and sun-splashed summer. Even in the sprawling, bustling capital city, there were moments of peace and solitude.
A couple kiss on the Insar riverside at the 2018 soccer World Cup in Saransk, Russia on Sunday, June 24, 2018. (AP Photo/Francisco Seco)
Children ride their scooters on the banks of Kazanka river during the 2018 soccer World Cup in Kazan, Russia on June 21, 2018. (AP Photo/Thanassis Stavrakis)
People perform Argentinian dances at the Moskva riverside in Moscow, Russia on June 20, 2018. (AP Photo/Francisco Seco)
People walk next to the Mordovia Arena stadium as the sun sets at the 2018 soccer World Cup in Saransk, Russia on June 24, 2018. (AP Photo/Francisco Seco)
Visitors and banners for the 2018 soccer World Cup are silhouetted in St. Petersburg, Russia on June 24, 2018. (AP Photo/Lee Jin-man)
People play with a soccer ball during the 2018 soccer World Cup at the Manezhnaya Square in central Moscow, Russia on Tuesday, June 19, 2018. (AP Photo/Francisco Seco)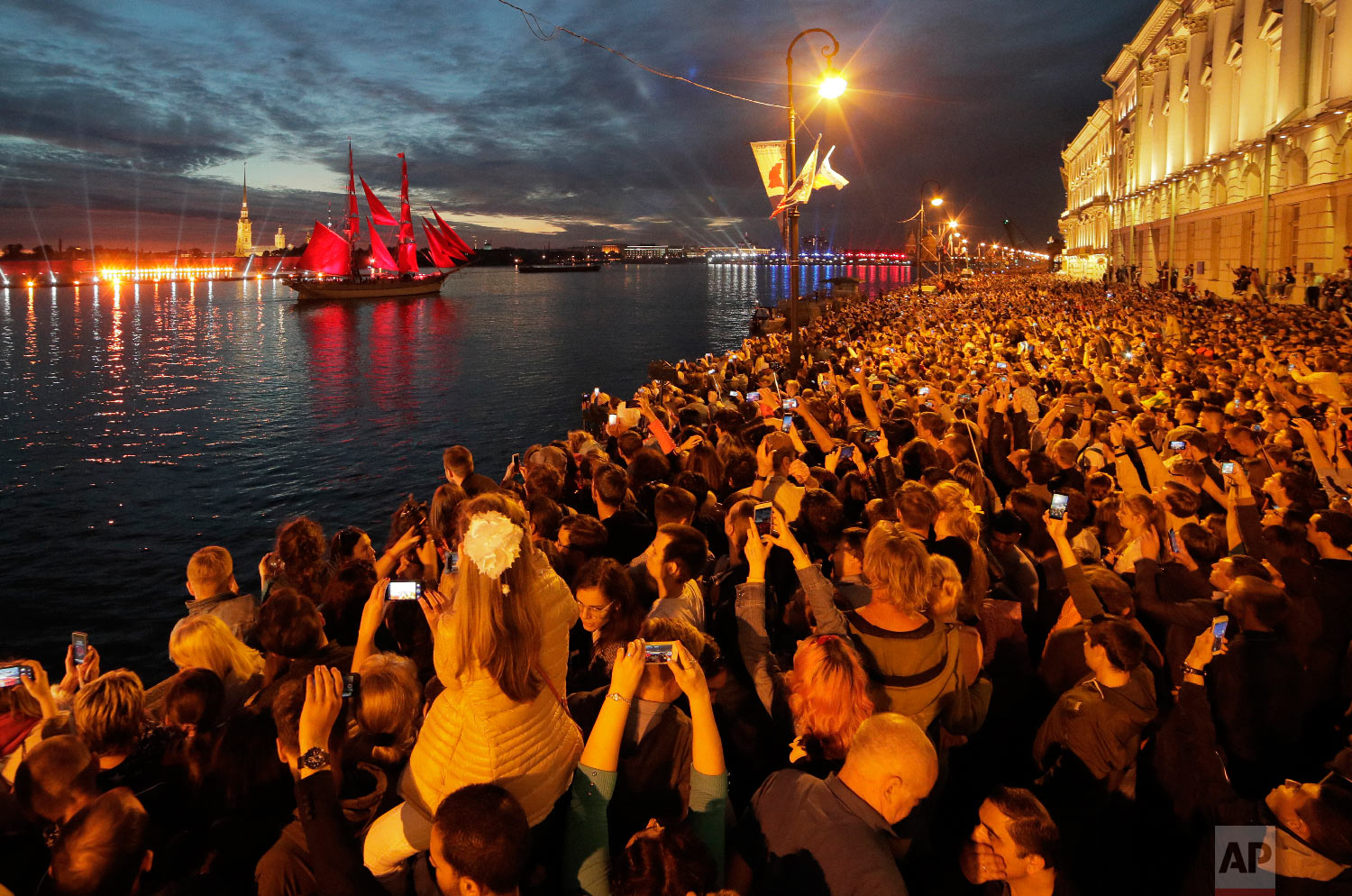 People watch a brig with scarlet sails on the Neva River during the Scarlet Sails festivities marking school graduation in St.Petersburg, Russia on June 24, 2018. (AP Photo/Dmitri Lovetsky)
A street musician plays the accordion during the 2018 soccer World Cup in Kazan the capital of the Republic of Tatarstan, Russia on June 21, 2018. (AP Photo/Frank Augstein)
Children cool off in a public fountain during the 2018 soccer World Cup in Krasnodar, Russia on June 22, 2018. (AP Photo/Manu Fernandez)
Clouds are illuminated by the sun setting sun over a church during the 2018 soccer World Cup in Podolsk near Moscow, Russia on June 19, 2018. (AP Photo/Michael Probst)
A couple dances tango on a bridge in central Moscow, during the 2018 soccer World Cup in Russia on June 22, 2018. (AP Photo/Felipe Dana)
Tourists walk near the Saint Basil's Cathedral at dusk during the 2018 soccer World Cup in Moscow, Russia on June 19, 2018. (AP Photo/Felipe Dana)
A taxi rides through New Arbat Avenue, decorated World Cup light displays, in Moscow, Russia on June 20, 2018. (AP Photo/Victor R. Caivano)
People play soccer at the Red Square during the 2018 soccer World Cup in Moscow, Russia on June 19, 2018. (AP Photo/Felipe Dana)
A Lenin statue stands on a column as the sun sets during the 2018 soccer World Cup in Podolsk near Moscow, Russia on June 21, 2018. (AP Photo/Michael Probst)
A woman carries a baby through a pedestrian bridge over a highway during the 2018 soccer World Cup in Podolsk near Moscow, Russia on June 19, 2018. (AP Photo/Michael Probst)
Young men fish along the banks of the Volga River during the 2018 soccer World Cup in Volgograd, Russia on June 18, 2018. (AP Photo/Rebecca Blackwell)
People watch fireworks and a brig with scarlet sails on the Neva River during the Scarlet Sails festivities marking school graduation in St.Petersburg, Russia on June 24, 2018. (AP Photo/Dmitri Lovetsky)