AP monthly staff photo contest
Each month The Associated Press honors photographers for outstanding coverage while on assignment.
The winners for the May 2019 AP Photo Contest are Alessandra Tarantino for News Photography Single Image, Pope Francis caught in a gust of wind; Ben Curtis for News Photography Story, series on South African elections.
Vadim Ghirda for Feature Photography Single Image, a young girl peering out from a raindrop-covered window.
Rodrigo Abd for Feature Photography Story, for his story on Amazon gold in Peru.
Andrew Medichini for Sports Photography Single Image, fans reflection during a Venus Williams match at the Italian Open.
Congratulations to all the photographers for their outstanding work. This month's winning images, judged by Mark Baker, are featured below.
News Photography Single Image | Alessandra Tarantino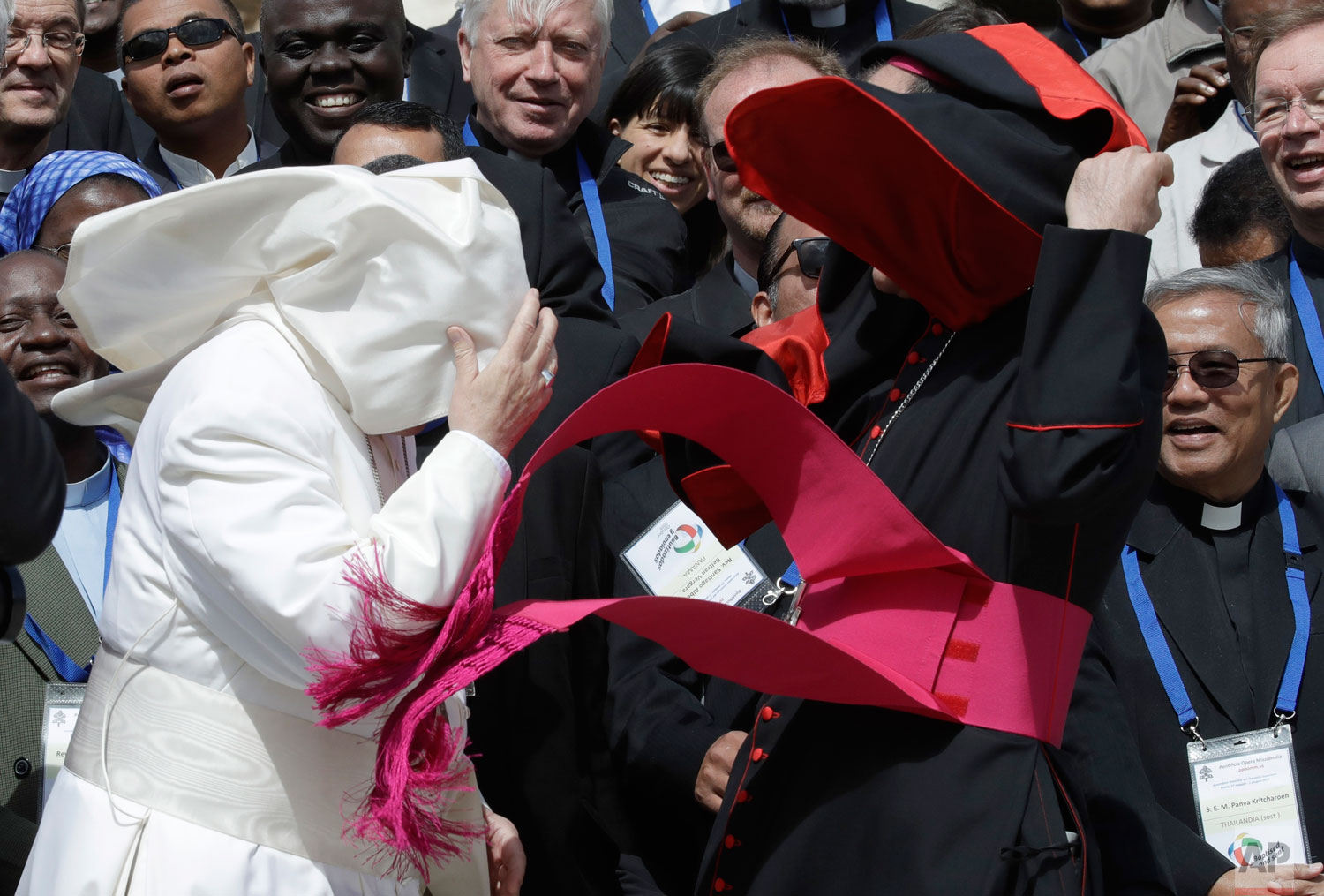 Papal Wind
A gust of wind lifts the mantle of Pope Francis and an unidentified prelate at the end of his weekly general audience, in St. Peter's Square at the Vatican, Wednesday, May 29, 2019. (AP Photo/Alessandra Tarantino)
News Photography Story | Ben Curtis
South Africa Election
A supporter of the African National Congress (ANC) party wears beads in the party colors, and another wears a t-shirt of President Cyril Ramaphosa, right, during a victory rally in downtown Johannesburg, South Africa Sunday, May 12, 2019. (AP Photo/Ben Curtis)
Two women walk past a placard carrying a headline from the Saturday Star newspaper, in Soweto township, Johannesburg, South Africa Saturday, May 4, 2019. (AP Photo/Ben Curtis)
A supporter of the ruling African National Congress (ANC) wears a hat referring to former President Nelson Mandela by his nickname "Madiba", at the party's final election rally at Ellis Park stadium in Johannesburg, South Africa Sunday, May 5, 2019. (AP Photo/Ben Curtis)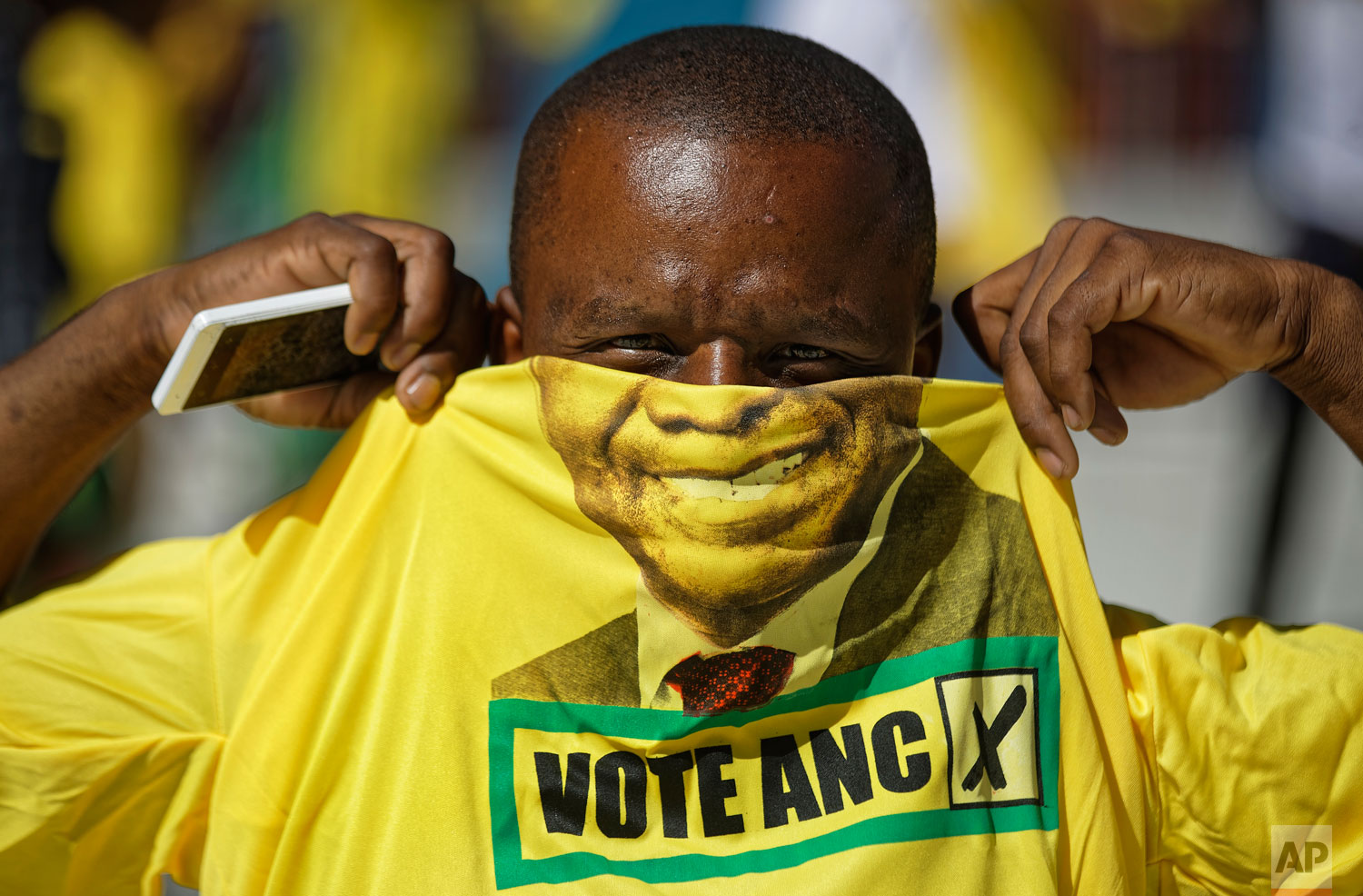 A supporter of the ruling African National Congress (ANC) holds up a t-shirt of President Cyril Ramaphosa as he attends their final election rally at Ellis Park stadium in Johannesburg, South Africa Sunday, May 5, 2019. (AP Photo/Ben Curtis)
Supporters of the ruling African National Congress (ANC) attend their final election rally at Ellis Park stadium in Johannesburg, South Africa Sunday, May 5, 2019. (AP Photo/Ben Curtis)
South Africans queue in the early morning cold to cast their votes in the mining settlement of Bekkersdal, west of Johannesburg, in South Africa Wednesday, May 8, 2019. (AP Photo/Ben Curtis)
South Africans queue in the early morning cold to cast their votes in the mining settlement of Bekkersdal, west of Johannesburg, in South Africa Wednesday, May 8, 2019. (AP Photo/Ben Curtis)
A young girl accompanies a relative as she casts her vote at the end of the day at a polling station in Dobsonville, Johannesburg, South Africa Wednesday, May 8, 2019. (AP Photo/Ben Curtis)
South Africans queue in the early morning sun to cast their votes in the mining settlement of Bekkersdal, west of Johannesburg, in South Africa Wednesday, May 8, 2019. (AP Photo/Ben Curtis)
Supporters of the African National Congress (ANC) party cheer during a victory rally in downtown Johannesburg, South Africa Sunday, May 12, 2019. (AP Photo/Ben Curtis)
President Cyril Ramaphosa applauds as confetti is launched at the end of the results ceremony at the Independent Electoral Commission Results Center in Pretoria, South Africa Saturday, May 11, 2019. (AP Photo/Ben Curtis)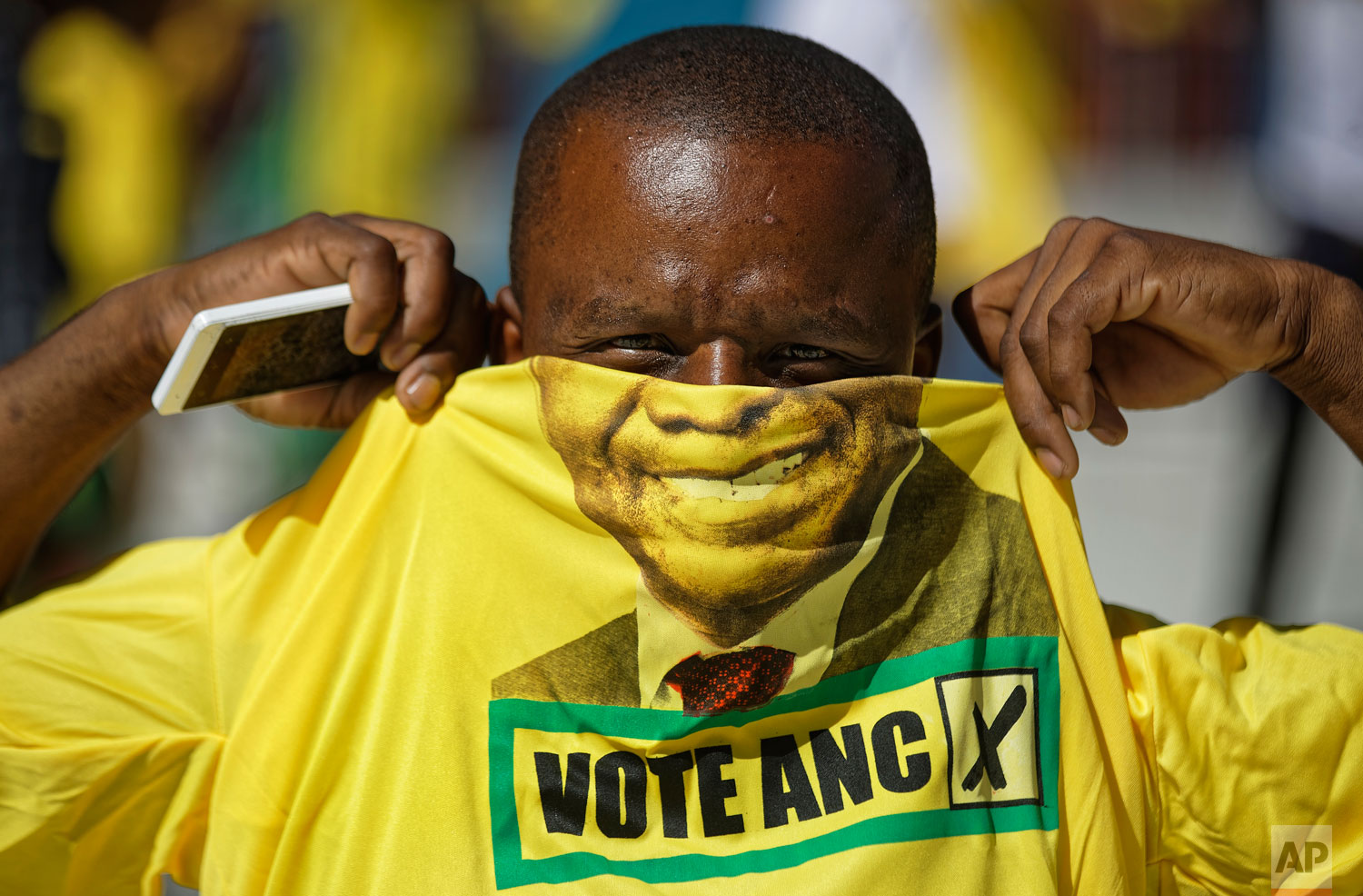 Feature Photography Single Image | Vadim Ghirda
Peering From the Window
One year-old Heidi peers from a rain drop-covered window in the Transylvanian town of Sibiu, Romania, Tuesday, May 7, 2019. (AP Photo/Vadim Ghirda)
Feature Photography Story | Rodrigo Abd
Amazon's Gold
This April 3, 2019 photo published May 15, shows an aerial view of the Mega 12 police and military base surrounded by two lakes contaminated with mercury as well as debris left by miners. in Peru's Tambopata province. For a decade, a gold rush accelerated in the Tambopata province, a center for an illicit activity that is among the most lucrative, and destructive, in the Amazonian wilderness. (AP Photo/Rodrigo Abd)
In this April 1, 2019 photo published May 15, soldiers wait for the arrival of a helicopter bringing supplies and replacements, on a makeshift airstrip of the Balata police and military base in Peru's Tambopata province. Peru has installed military bases in the province in hopes of curbing not just illegal mining but also human trafficking and other associated crimes. (AP Photo/Rodrigo Abd)
This April 1, 2019 photo published May 15 shows "Operation Mercury" soldiers arriving for their new assignment standing in a dust cloud on a makeshift airstrip at the Balata police and military base in Peru's Tambopata province, as the helicopter that brought them returns to home base. The operation began in February when authorities evicted thousands of illegal gold miners from the area and deployed hundreds of police and soldiers for the long term, lodging them in some cases in the same makeshift quarters once used by gold dealers. (AP Photo/Rodrigo Abd)
In this April 3, 2019 photo published May 15, "Operation Mercury" police question a wildcat miner near the Mega 12 police base in Peru's Tambopata province. The men in uniform regularly patrol in vehicles and on motorcycles, though some miners emerge at night and there are concerns that others will wait for the military presence to subside, or simply relocate to more remote areas. (AP Photo/Rodrigo Abd)
In this April 1, 2019 photo published May 15, police special forces stand next to illegal mining machinery in Peru's Tambopata province. As part of "Operation Mercury", Peruvian police and soldiers search for and destroy equipment used by illegal gold miners in a part of the Amazon rainforest where the mining transformed dense foliage into a desert pocked with dead trees and toxic pools. (AP Photo/Rodrigo Abd)
In this March 27, 2019 photo published May 15, a soldier hacks with a machete tubing used by illegal miners to mine gold, as part of "Operation Mercury", in Peru's Tambopata province. The police and soldiers occasionally find machinery used by the illegal miners, and blow it up with dynamite. They also destroy metal tubing used to mine gold. (AP Photo/Rodrigo Abd)
In this March 31, 2019 photo published May 15, soldiers watch a nature show in their tent at the Balata military and police base in Peru's Tambopata province. The military bases will remain at least through mid-2021, when the term of the current government ends.(AP Photo/Rodrigo Abd)
In this March 31, 2019 photo published May 15, Maj. Gustavo Cerdeña does pull-ups using the wood frame of a structure at the Balata police and military base, once an illegal gold mining camp, in Peru's Tambopata province. Cerdeña said he had come to the booming area before the start of "Operation Mercury", in February. "It was full of people, it was like Gomorrah before it rained fire," he said, referring to the notorious city's destruction in the Bible. "Now everything is quieter." (AP Photo/Rodrigo Abd)
In this March 31, 2019 photo published May 15, "Operation Mercury" police officer Julio Garcia polishes his boots inside a dwelling once used by illegal miners, now known as part of the Balata military and police base in Peru's Tambopata province. (AP Photo/Rodrigo Abd)
In this April 1, 2019 photo published May 15, completing their "Operation Mercury" tour, soldiers load their television in to a military helicopter, on a makeshift airstrip at the Balata military and police base in Peru's Tambopata province. (AP Photo/Rodrigo Abd)
This March 28, 2019 photo published May 15 shows a memorial adorned with artificial flowers and bottles of alcohol inside a former illegal gold mining camp that has been occupied by "Operation Mercury" special forces and converted into the Balata police and military base, in Peru's Tambopata province. Ernesto Ráez, a biology professor in the Peruvian capital of Lima, said it will take generations to restore and reforest areas affected by mining. (AP Photo/Rodrigo Abd)
In this March 31, 2019 photo published May 15, police officers call home from their remote outpost outside the Balata military and police base in Peru's Tambopata province. The base, once an illegal gold mining camp, is occupied by "Operation Mercury" security forces and is surrounded by two lakes contaminated with mercury, as well as debris left over by miners. (AP Photo/Rodrigo Abd)
Sports Photography Single Image | Andrew Medichini
Tennis Reflection
Spectators are reflected onto a glass as Venus Williams of the United States serves the ball to Johanna Konta of Britain at the Italian Open tennis tournament, in Rome, Thursday, May 16, 2019. (AP Photo/Andrew Medichini)