Latin America & Caribbean in Review
This monthly gallery features some of the top photojournalism made by Associated Press photographers documenting Latin America and the Caribbean during the month of September.
Ruling party Senator Ralph Fethiere fires his gun outside Parliament as he arrives for a vote on the ratification of Fritz William Michel's nomination as prime minister in Port-au-Prince, Haiti, Monday, Sept. 23, 2019. Opposition members confronted ruling-party senators, and Fethiere pulled a pistol when protesters rushed at him and members of his entourage. The vote was cancelled. (AP Photo/Dieu Nalio Chery)
A abandoned high heel shoe lays in the mud in the aftermath of Hurricane Dorian in an area called The Mudd, in Marsh Harbor, Abaco Island, Bahamas, Sunday, Sept. 8, 2019. Dorian was the most powerful hurricane in the northwestern Bahamas' recorded history. (AP Photo/Fernando Llano)
A Brazilian soldier puts out fires at the Nova Fronteira region in Novo Progresso, Brazil, Tuesday, Sept. 3, 2019. Brazilian President Jair Bolsonaro sent the military to help extinguish some fires. Last week, he passed a decree banning most fires for land-clearing for a period of 60 days, although he later limited the ban to the Amazon. (AP Photo/Leo Correa)
Soldiers enter a pool hall during their routine patrol in Tegucigalpa, Honduras, Wednesday, Aug. 21, 2019. Ironically, the extradition of drug capos to the U.S. under Honduran President Juan Orlando Hernández could have helped build the case against his own brother, in which he is now implicated. (AP Photo/Eduardo Verdugo)
A supporter of President Nicolas Maduro has his beard done with the words "No more Trump" during an anti-imperialist rally in Caracas, Venezuela, Saturday, August 31, 2019. (AP Photo/Ariana Cubillos)
A basketball board is seen next to a car among the debris left by Hurricane Dorian, in a neighborhood destroyed by Hurricane Dorian, in Abaco, Bahamas, Friday, Sept. 27, 2019. Dorian hit the northern Bahamas on Sept. 1, with sustained winds of 185 mph (295 kph), unleashing flooding that reached up to 25 feet (8 meters) in some areas. (AP Photo/Ramon Espinosa)
Supporters of President Nicolas Maduro holds a banner of Venezuela's independence hero Simon Bolivar during a rally celebrating 11 years of the Socialist Party of Venezuela' youth in Caracas, Venezuela, Thursday, Sept. 12, 2019. (AP Photo/Ariana Cubillos)
Seagulls fly toward a woman feeding them french fries from her car on Taino beach before the arrival of Hurricane Dorian in Freeport, Grand Bahama, Bahamas, Sunday, Sept. 1, 2019. Hurricane Dorian intensified yet again Sunday as it closed in on the northern Bahamas, threatening to batter islands with Category 5-strength winds, pounding waves and torrential rain. (AP Photo/Ramon Espinosa)
Masked protestors ride a motorcycle in Port-au-Prince, Haiti, Monday, Sept. 30, 2019. Demonstrators set fires Monday and chanted calls for Haiti's President Jovenel Moise to resign, the latest in a series of protests aimed at pushing Moise from office. (AP Photo/Rebecca Blackwell)
Revelers celebrate as fireworks explode over the Metropolitan Cathedral after President Andres Manuel Lopez Obrador gave the annual independence shout from the balcony of the National Palace to kick off Independence Day celebrations in Mexico City, late Sunday, Sept. 15, 2019. Every year the Mexican president marks the "Grito de Dolores," commemorating the 1810 call to arms by priest Miguel Hidalgo that began the struggle for independence from Spain, achieved in 1821. (AP Photo/Rebecca Blackwell)
Brazilian singer Elza Soares performs at the Rock in Rio music festival in Rio de Janeiro, Brazil, Sunday, Sept. 29, 2019. (AP Photo/Leo Correa)
Stephanie Salgado poses with her cape during the lighting of a Bat-signal commemorating Batman's 80th anniversary in Mexico City, on Saturday, Sept. 21, 2019. (AP Photo/Ginnette Riquelme)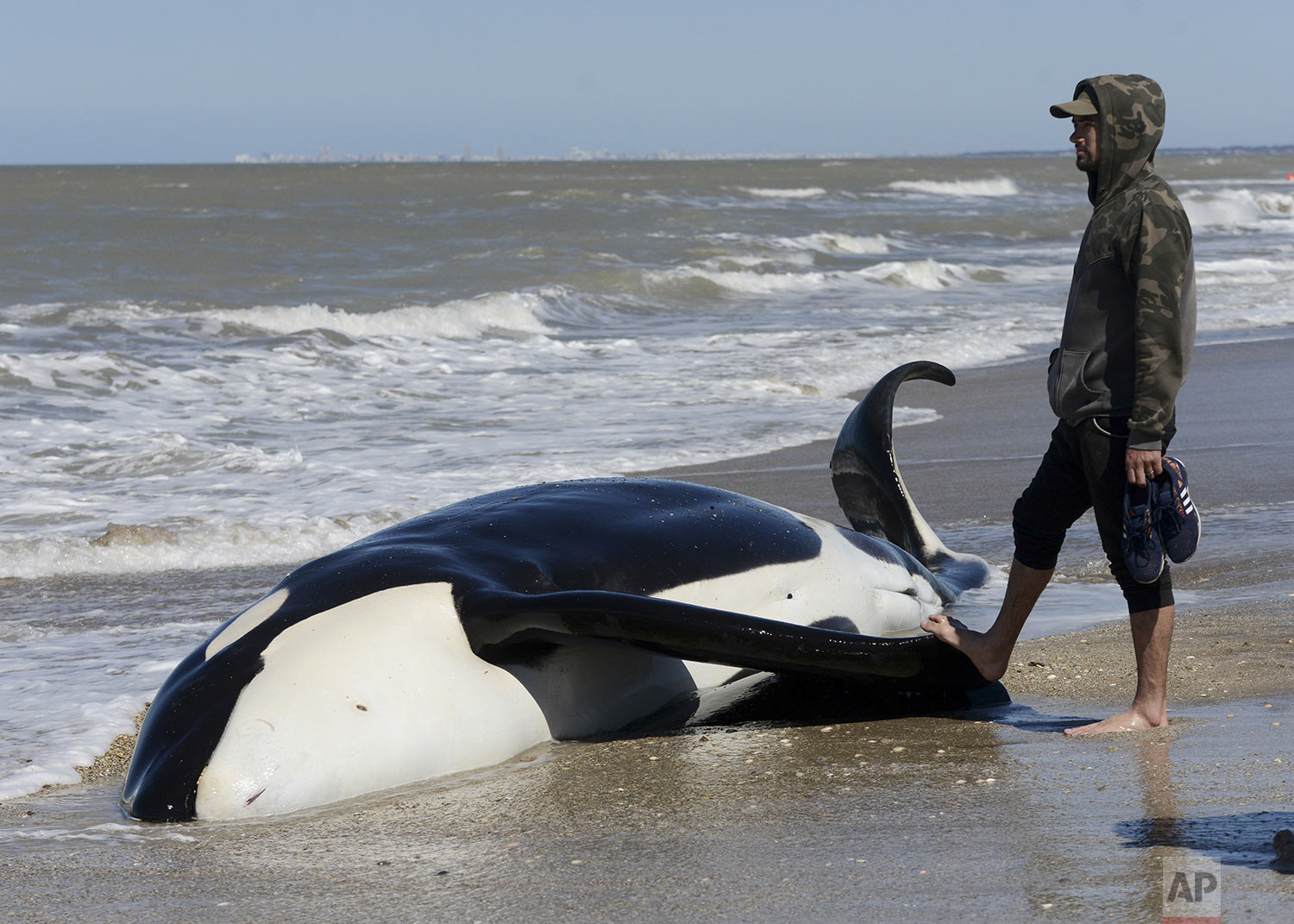 A man stands next to a dead killer whale near Mar Chiquita, Argentina, Monday, Sept. 16, 2019. Seven killer whales were stranded on the coast before rescuers and volunteers returned six of them to sea, but one died in the process. (AP Photo/Marina Devo)
A chair is caught in a grove blown there by Hurricane Dorian's powerful winds, in Pine Bay, near Freeport, Bahamas, Wednesday, Sept. 4, 2019. Rescuers trying to reach drenched and stunned victims in the Bahamas fanned out across a blasted landscape of smashed and flooded homes Wednesday, while disaster relief organizations rushed to bring in food and medicine. (AP Photo/Ramon Espinosa)
Vanessa Francisco Sales holds the doll of her 8-year-old daughter Ágatha Sales Felix during her daughter's burial at the cemetery in Rio de Janeiro, Brazil, Sunday, Sept. 22, 2019. Félix was hit by a stray bullet Friday amid what police said was a shootout with suspected criminals. However, residents say there was no shootout, and blame police. (AP Photo/Silvia Izquierdo)
A trans woman takes a call on the sidelines of the LGTBI march in Asuncion, Paraguay, Saturday, Sept. 28, 2019. The marchers are requesting the government approve the legal name changes from male to female of trans members in their community. Paraguay is one of the most sexually conservative countries in Latin America. (AP Photo/Jorge Saenz)
The carcass of a goat on the ranch of Benito Moreno in Putaendo, Chile, Monday, Sept. 23, 2019. Scenes of deaths of animals are repeated in rural Chile communes due to the worst drought the country is facing in half a century, and which has forced the government to decree water and agricultural emergency zones in more than a third of its 16 regions. (AP Photo/Esteban Felix)
Demonstrators taking part in a global protest on climate change are reflected on a clothing store window, in Santiago, Chile, on Friday, Sept. 20, 2019. Throughout the world Friday, young people banded together to demand that world leaders headed to a United Nations summit in New York step up their efforts to combat climate change. (AP Photo/Esteban Felix)
The orangutan Sandra stands in her enclosure at the former city zoo now known as Eco Parque, in Buenos Aires, Argentina, Monday, Sept. 16, 2019. The solitary life of the 33-year-old orangutan with will take a turn towards the end of September when she leaves Buenos Aires for the United States, where after a quarantine period in Kansas she is expected to become the new resident of the Center for Great Apes in Florida. (AP Photo/Natacha Pisarenko)
Krimej indigenous Chief Kadjyre Kayapo, of the Kayapo indigenous community, looks out at a path created by loggers on the border between the Biological Reserve Serra do Cachimbo, front, and Menkragnotire indigenous lands, in Altamira, Para state, Brazil, Saturday, Aug. 31, 2019. Much of the deforestation in the Brazilian Amazon is done illegally -- land grabbers burn areas to clear land for agriculture and loggers encroach on national forests and indigenous reserves, and Kayapo says he does not want loggers and prospectors on his land. (AP Photo/Leo Correa)
People kiss during the annual gay pride parade along Copacabana beach in Rio de Janeiro, Brazil, Sunday, Sept. 22, 2019. (AP Photo/Leo Correa)
Synobia Reckley holds up the dress her niece wore as a flower girl at her wedding, as she goes through valuables in the rubble of her home destroyed one week ago by Hurricane Dorian in Rocky Creek East End, Grand Bahama, Bahamas, Sunday, Sept. 8, 2019. Synobia, 25, married two days after Hurricane Mathew in 2016, which passed over her home without doing serious damage. (AP Photo/Ramon Espinosa)
A woman is detained by police during a feminist protest marking the 46th anniversary of the military coup that ousted the late President Salvador Allende, in Santiago, Chile, Wednesday, Sept. 11, 2019. (AP Photo/Esteban Felix)
Blindfolded tourists walk through El Tejar cemetery in Quito, Ecuador, Wednesday, Sept. 11, 2019. They're there to get a taste of death while still alive, spending part of the night in a dark crypt at the El Tejar cemetery, the latest example of the so-called "necro tourism" trend luring those with a keenness for the macabre. (AP Photo/Dolores Ochoa)
A shattered and water-filled coffin lays exposed to the elements in the aftermath of Hurricane Dorian, at the cemetery in Mclean's Town, Grand Bahama, Bahamas, Wednesday Sept. 11, 2019. Bahamians are tackling a massive clean-up a week after Hurricane Dorian devastated the archipelago's northern islands. (AP Photo/Ramon Espinosa)
Edited by AP photojournalist Natacha Pisarenko based in Buenos Aires, Argentina.