Hurricane Dorian Decimates the Bahamas
Hurricane Dorian, a Category 5 storm, blasted through the northern Bahamas, killing at least 50 people as one of the strongest Atlantic hurricanes on record.
The storm decimated neighborhoods Sept. 1 with winds of 185 mph and flooding that reached 25 feet high in some areas.
Thousands of people remain in limbo as local officials debate how they will help Bahamians rebuild their lives.
More than 1,300 people have been reported as missing, but the government has said it expects that number to drop because many may be in shelters or staying with family or friends.
Volunteers walk under the wind and rain of Hurricane Dorian, on a flooded road after rescuing several families that arrived on small boats, near the Causarina bridge in Freeport, Grand Bahama, Bahamas, Tuesday, Sept. 3, 2019. (AP Photo/Ramon Espinosa)
Those most affected by the storm were the couple thousands of people living in the Abaco communities known as Da Mudd and Pigeon Peas, shantytowns that were home to many of those who provided cheap labor in the construction, agricultural, domestic service and marine sectors.
The government has not given any specifics on what it will do to find more permanent shelters for hurricane survivors, but it did issue an announcement Sunday prohibiting anyone from building any kind of new home or shelter in those communities for at least six months.
Tourist Loren Fantasia from Baltimore, swings on the beach before the arrival of Hurricane Dorian, in Freeport, Bahamas, Friday, Aug. 30, 2019. Forecasters said the hurricane is expected to keep on strengthening and become a Category 3 later in the day. (AP Photo / Ramon Espinosa)
Seagulls fly toward a woman feeding them french fries from her car on Taino beach before the arrival of Hurricane Dorian in Freeport, Grand Bahama, Bahamas, Sunday, Sept. 1, 2019. (AP Photo/Ramon Espinosa)
A car returns to the capital under the previous rain before the arrival of Hurricane Dorian in Freeport, Grand Bahama, Bahamas, Sunday Sept. 1, 2019. (AP Photo/Ramon Espinosa)
Volunteers rescue several families that arrived on small boats, from the rising waters of Hurricane Dorian, near the Causarina bridge in Freeport, Grand Bahama, Bahamas, Tuesday, Sept. 3, 2019. (AP Photo/Ramon Espinosa)
A couple embraces on a road destroyed by Hurricane Dorian, as they walk to the town of High Rock to try and find their relatives in the aftermath of Hurricane Dorian, in Grand Bahama, Bahamas, Thursday, Sept. 5, 2019. (AP Photo/Ramon Espinosa)
Synobia Reckley pauses on a wet mattress as her husband Dexter Edwards consoles her amid the remains of their home destroyed by Hurricane Dorian in Rocky Creek East End, Grand Bahama, Bahamas, Sunday, Sept. 8, 2019. The couple married two days after Hurricane Mathew hit in 2016 but did not do serious damage. (AP Photo/Ramon Espinosa)
Sitting in her home's lounger, Virginia Mosvold, 84, is lowered from a truck by volunteers after being rescued from her flooded home on Ol' Freetown Farm farm in the aftermath of Hurricane Dorian before being taken to the hospital on the outskirts of Freeport, Bahamas, Wednesday, Sept. 4, 2019. (AP Photo/Ramon Espinosa)
A chair is caught in a grove blown there by Hurricane Dorian's powerful winds, in Pine Bay, near Freeport, Bahamas, Wednesday, Sept. 4, 2019. (AP Photo/Ramon Espinosa)
Pastor Jeremiah Saunders poses for a photo among the ruins of his church that was destroyed by Hurricane Dorian, in High Rock, Grand Bahama, Bahamas, Wednesday Sept. 11, 2019. Jeremiah says "I spoke to the water: 'Peace, be still.' It never listened," Saunders said with a wide smile and then grew serious as he focused on the task that tens of thousands of Bahamians now face on two islands devastated by the Category 5 storm: the clean-up. (AP Photo / Ramon Espinosa)
A woman comforts a man who cries after discovering his shattered house and not knowing anything about his 8 relatives who lived in the house, missing in the aftermath of Hurricane Dorian, in High Rock, Grand Bahama, Bahamas, Thursday, Sept. 5, 2019. (AP Photo/Ramon Espinosa)
A family photo lies on a muddied road in the aftermath of Hurricane Dorian in Pine Bay, near Freeport, Bahamas, Wednesday, Sept. 4, 2019. (AP Photo/Ramon Espinosa)
Clothes hang to dry from a tree next to the home of the mother of Valentino Ingraham that was destroyed one week ago by Hurricane Dorian in Rocky Creek East End, Grand Bahama, Bahamas, Sunday, Sept. 8, 2019. The family rode out the storm in nearby government shelters, and returned to find their homes destroyed. (AP Photo/Ramon Espinosa)
The rubble of a destroyed neighborhood stands in the aftermath of Hurricane Dorian in Abaco, Bahamas, Tuesday, Sept. 17, 2019. (AP Photo/Ramon Espinosa)
A man stands next to a destroyed house as a dog named Francoise rests on a mattress in the rubble left by Hurricane Dorian in Abaco, Bahamas, Monday, Sept. 16, 2019. (AP Photo/Ramon Espinosa)
A Bahamas flag flies tied to a sapling, amidst the rubble left by Hurricane Dorian in Abaco, Bahamas, Monday, Sept. 16, 2019. (AP Photo/Ramon Espinosa)
Sissel Mosvold embraces a volunteer who helped rescue her mother from her home, flooded by the waters of Hurricane Dorian, in the outskirts of Freeport, Bahamas, Wednesday, Sept. 4, 2019. (AP Photo/Ramon Espinosa)
The lounger in which Virginia Mosvold was rescued from her home in Ol' Freetown Farm, flooded by rains brought on by Hurricane Dorian, lays abandoned on the side of a road on the outskirts of Freeport, Bahamas, Wednesday, Sept. 4, 2019. (AP Photo/Ramon Espinosa)
Synobia Reckley holds up the dress her niece wore as a flower girl at her wedding, as she goes through valuables in the rubble of her home destroyed one week ago by Hurricane Dorian in Rocky Creek East End, Grand Bahama, Bahamas, Sunday, Sept. 8, 2019. Synobia, 25, married two days after Hurricane Mathew in 2016, which passed over her home without doing serious damage. (AP Photo/Ramon Espinosa)
Dexter Edwards, front, his brother Nathanael Edwards right, and his cousin Valentino Ingraham walk amid one of their family's homes destroyed by Hurricane Dorian in Rocky Creek East End, Grand Bahama, Bahamas, Sunday, Sept. 8, 2019. "Right now, ain't much joy. You just gotta try to keep your head up," Edwards said. "There's always a future. Only thing we can do right now is rebuild, rebuild and try to move forward." (AP Photo/Ramon Espinosa)
A child walks past clothes laid out to dry on a field in the aftermath of Hurricane Dorian, in the Arden Forest neighborhood of Freeport, Bahamas, Wednesday, Sept. 4, 2019. (AP Photo/Ramon Espinosa)
The portico of a house destroyed by Hurricane Dorian is the only thing that stands of the structure, destroyed by Hurricane Dorian, in High Rock, Grand Bahama, Bahamas, Thursday Sept. 5, 2019. (AP Photo/Ramon Espinosa)
Ayfon Minus, 8, collects donated food that was brought by helicopter from Freeport to the Hurricane Dorian destroyed village of High Rock, Grand Bahama, Bahamas, Tuesday, September 10, 2019. (AP Photo/Ramon Espinosa)
Immigrants from Haiti recover their belongings from the rubble in their destroyed homes, in the aftermath of Hurricane Dorian in Abaco, Bahamas, Monday, Sept. 16, 2019. (AP Photo/Ramon Espinosa)
Jeffrey Roberts, 49, eats a plate of food while searching through the rubble of his relatives' home which was destroyed by Hurricane Dorian in Pelican Point, Grand Bahama, Bahamas, Saturday, Sept. 14, 2019. (AP Photo/Ramon Espinosa)
A shattered and water-filled coffin lays exposed to the elements in the aftermath of Hurricane Dorian, at the cemetery in Mclean's Town, Grand Bahama, Bahamas, Wednesday Sept. 11, 2019. (AP Photo/Ramon Espinosa)
Tereha Davis, 45, eats a meal of rice as she sits among the remains of her shattered home, in the aftermath of Hurricane Dorian in McLean's Town, Grand Bahama, Bahamas, Wednesday Sept. 11, 2019. She and others said they had not seen any government officials and have only received food and water from some nonprofit organizations. (AP Photo/Ramon Espinosa)
Trevon Laing walks the roof of his house to repair the damage made by Hurricane Dorian, in Gold Rock Creek, Grand Bahama, Bahamas, Thursday Sept. 12, 2019. Trevor says "After the hurricane they had me for dead, My momma was crying." When he returned, he said he found his brother crying on the front porch."I'm like, 'Hey, I'm not dead! You guys have no faith in me. I'm a survivor,'" he said, adding with a laugh, "He was shocked and mad at the same time." (AP Photo / Ramon Espinosa)
Trees destroyed by Hurricane Dorian line a road as a man walks by, in Abaco, Bahamas, Monday, Sept. 16, 2019. (AP Photo/Ramon Espinosa)
Vladimir Safford an immigrant from Haiti walks through the rubble next to his home in the aftermath of Hurricane Dorian in Abaco, Bahamas, Monday, Sept. 16, 2019. (AP Photo/Ramon Espinosa)
Cars stand stranded on a road damaged by Hurricane Dorian in High Rock, Grand Bahama, Bahamas, Friday Sept. 6, 2019. (AP Photo/Ramon Espinosa)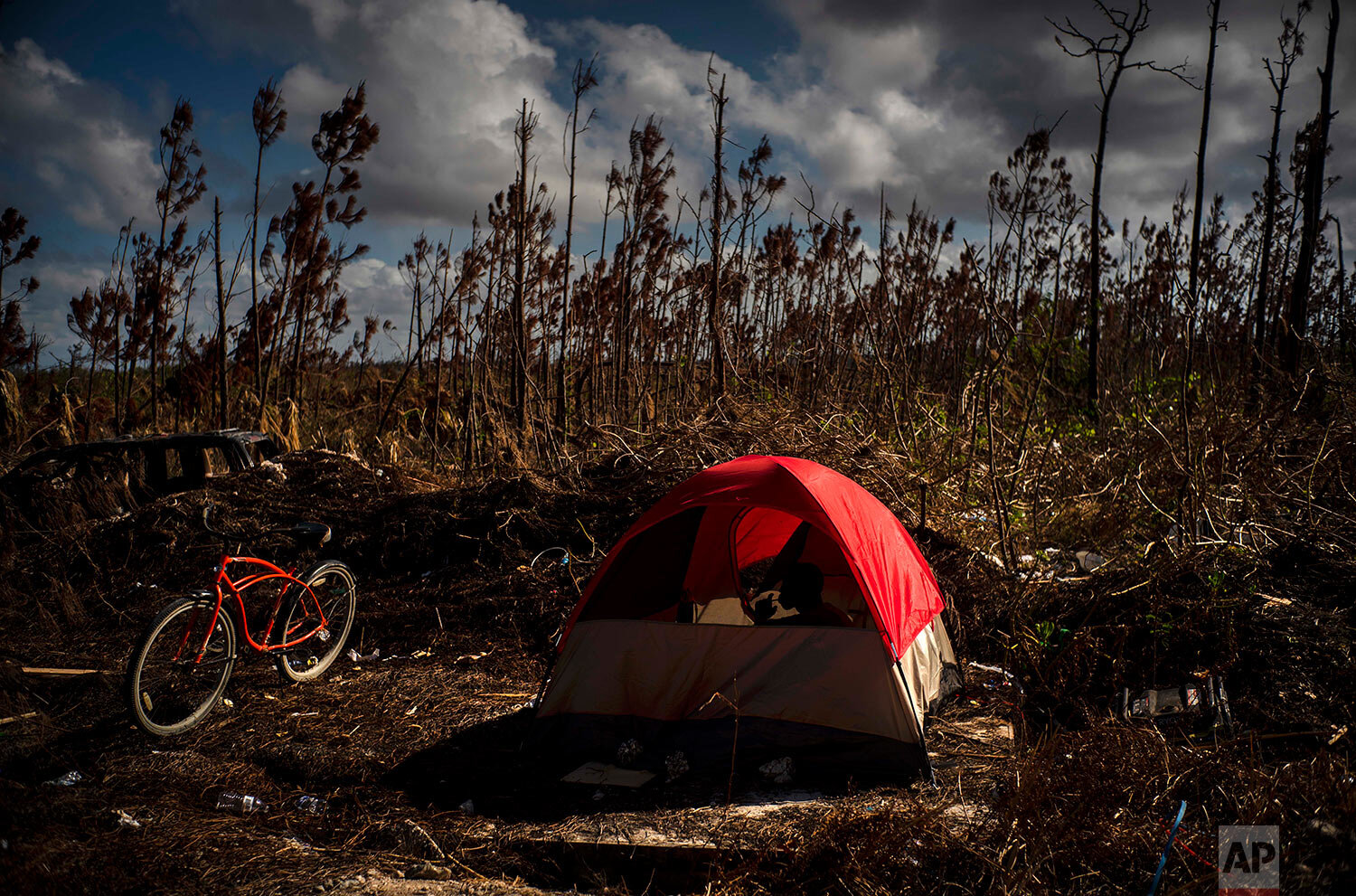 Haitian immigrant Francois Dickens, 22, displaced from his home destroyed by Hurricane Dorian rests in a tent in a forest in Abaco, Bahamas, Saturday, Sept. 28, 2019. (AP Photo / Ramon Espinosa)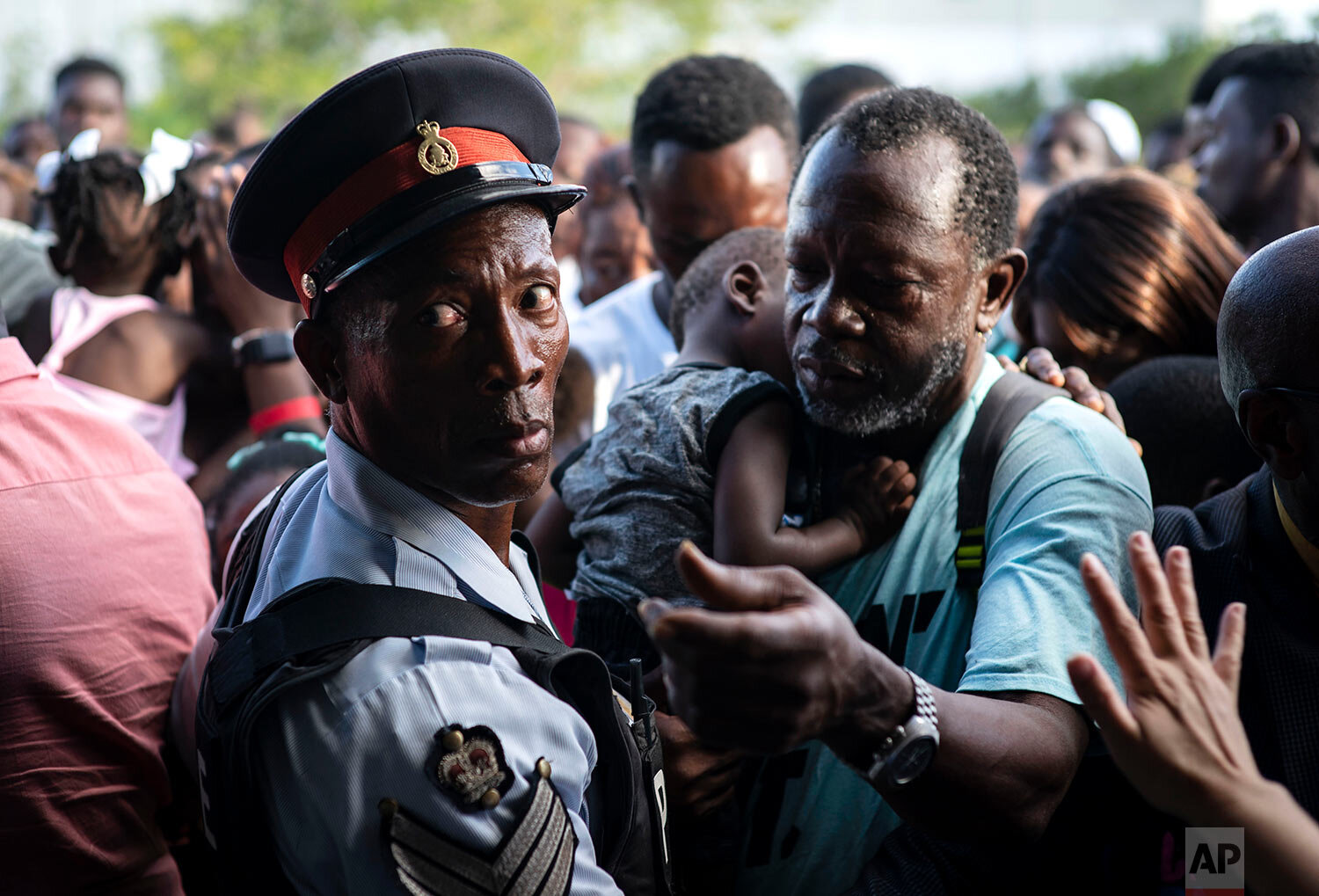 Haitian immigrants displaced from the island of Abaco because of Hurricane Dorian wait to get food from humanitarian organizations in Nassau, Bahamas, Sunday, Sept. 29, 2019. (AP Photo / Ramon Espinosa)
Photos of two women missing during Hurricane Dorian hang from the door of the shelter for displaced people from Abaco because of the destruction by Hurricane Dorian in Nassau, Bahamas, Saturday, Sept. 28, 2019. (AP Photo / Ramon Espinosa)