Latin America & Caribbean in Review
This monthly gallery features some of the top photojournalism made by Associated Press photographers documenting Latin America and the Caribbean during the month of June.
A reveler poses for a photo during the gay pride parade in Mexico City, Mexico, Saturday, June 29, 2019. (AP Photo/Fernando Llano)
Protesters carry the body of man toward police, who they blame for his death, during an anti-government demonstration in Port-au-Prince, Haiti, Sunday, June 9, 2019. Protesters denouncing corruption paralyzed much of the capital as they demanded the removal of President Jovenel Moise. (AP Photo/Dieu Nalio Chery)
A roller coaster stands tall in the abandoned amusement park coined "Diversions Grano de Oro" in Maracaibo, Venezuela, May 23, 2019. Much of Venezuela is in a state of decay and abandonment, brought on by shortages of things that people need the most: cash, food, water, medicine, power, gasoline. (AP Photo/Rodrigo Abd)
Caua Fraga kicks the ball during a practice session with the Bigtboys transgender men's soccer team in Rio de Janeiro, Brazil, May 13, 2019. The rise of Brazilian President Jair Bolsonaro and a socially conservative wave has alarmed the LGBT community, including the Bigtboys. (AP Photo/Silvia Izquierdo)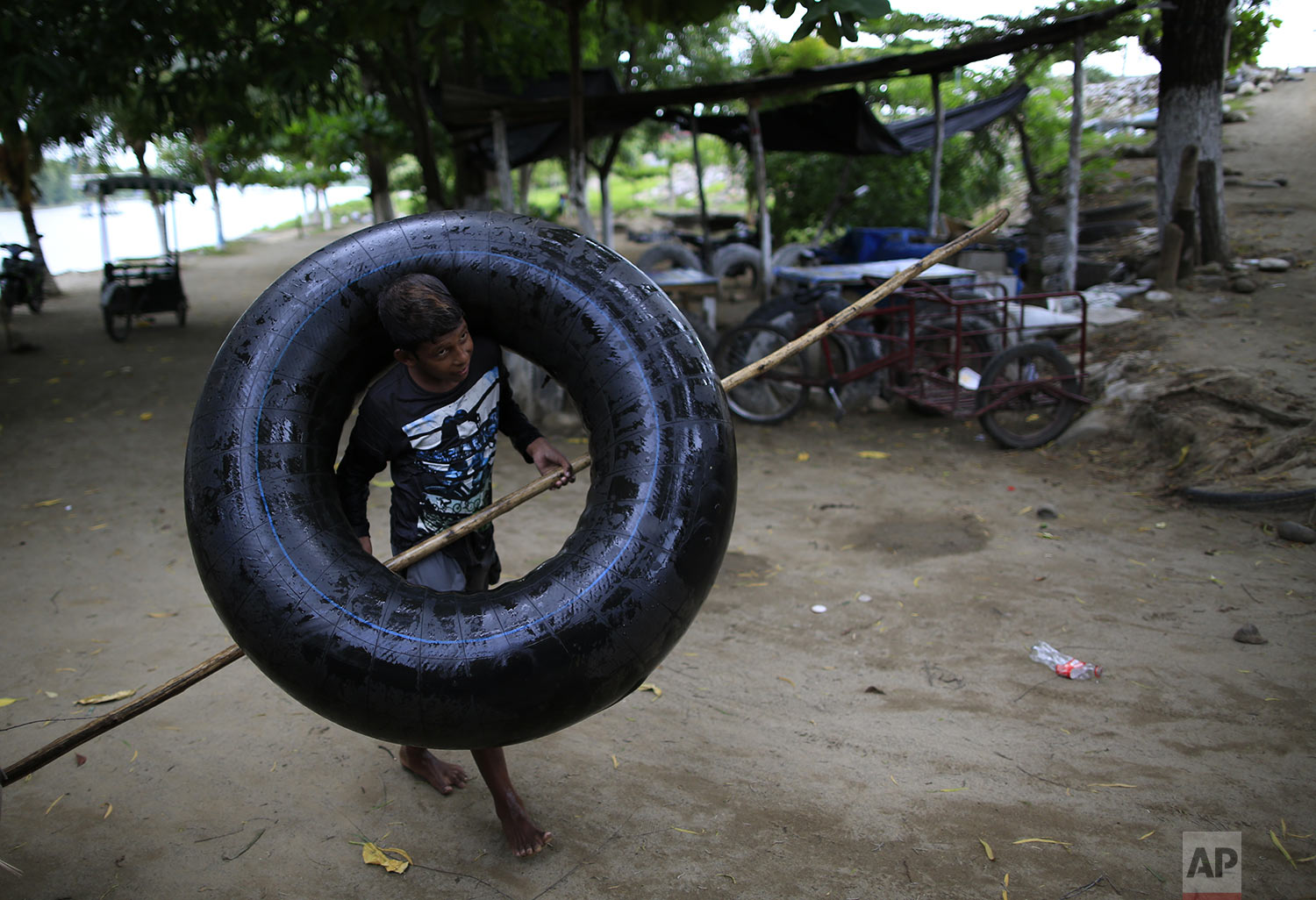 A Mexican boy returns his inner tube and pole to a small business after crossing back across the Suchiate River from Guatemala, in Ciudad Hidalgo, Mexico, June 12, 2019. Mexican officials said Tuesday they were beginning deployment of the country's new National Guard for immigration enforcement, but on Wednesday, commuters, merchandise, and occasional groups of migrants continued to flow freely across the Suchiate on Mexico's porous southern border. (AP Photo/Rebecca Blackwell)
A fan holds an illustration of Argentina's Lionel Messi as a saint during a Copa America Group B soccer match between Argentina and Colombia at the Arena Fonte Nova in Salvador, Brazil, Saturday, June 15, 2019. (AP Photo/Ricardo Mazalan)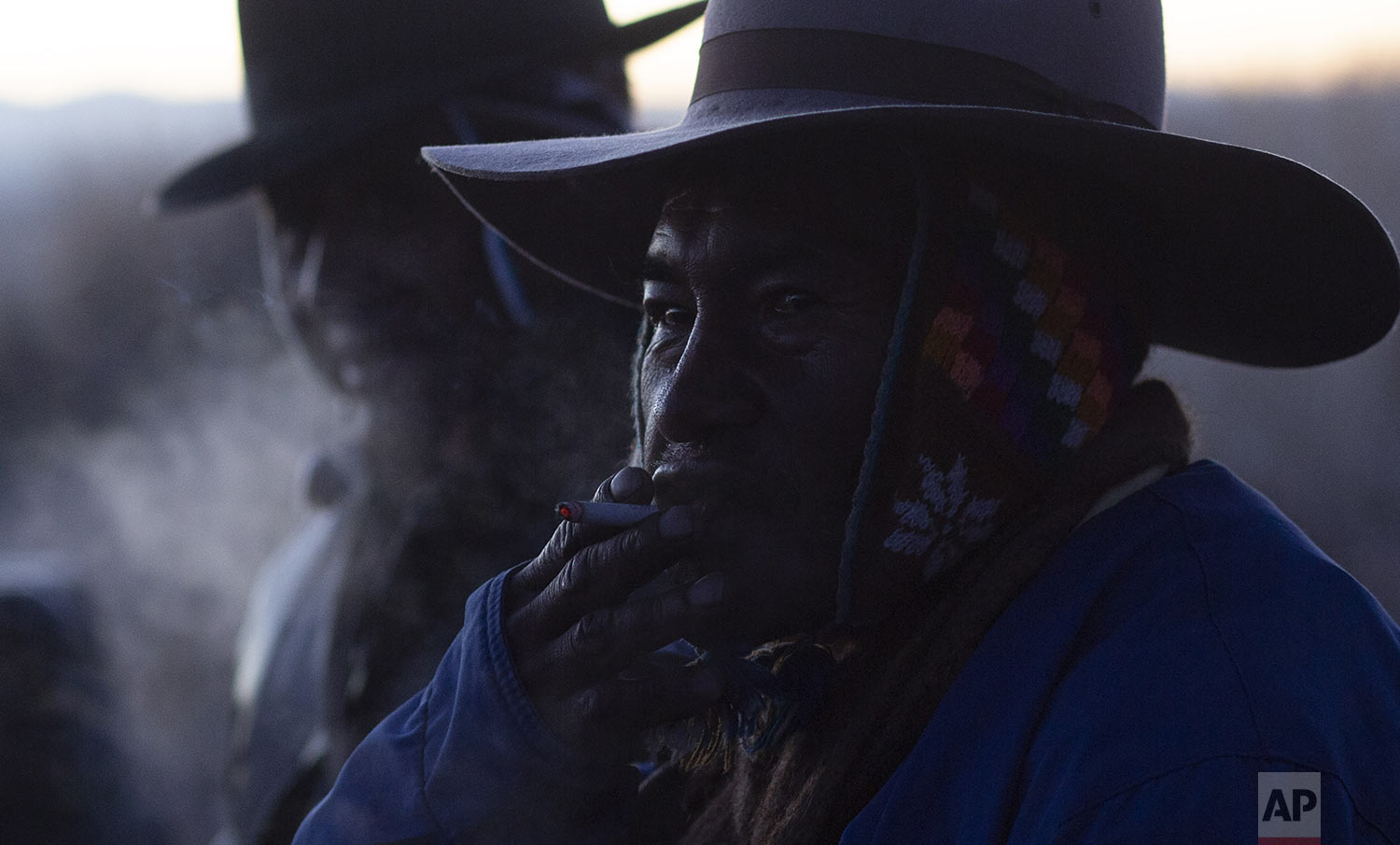 An Aymara Indian smoke a cigarette during the New Year's ritual at the ruins of Lukurmata, Bolivia, early Friday, June 21, 2019. Aymara indigenous communities are celebrating the Andean new year 5,527 or "Willka Kuti" (return of the sun in Aymara). (AP Photo/Juan Karita)
A protester yells anti-government slogans in Port-au-Prince, Haiti, June 9, 2019. Protesters denouncing corruption paralyzed much of the capital as they demanded the removal of President Jovenel Moise. (AP Photo/Dieu Nalio Chery)
Paraguay's Rodrigo Rojas falls inside his goal after Qatar's Boualem Khoukhi scored his side's second goal during their Copa America Group B soccer match at the Maracana stadium in Rio de Janeiro, Brazil, Sunday, June 16, 2019. (AP Photo/Silvia Izquierdo)
Karla Esperanza, a transgender sex worker, poses for a photo with her iguana named "Rectilio" on International Sex Workers Day in Mexico City, Mexico, Sunday, June 2, 2019. On Friday, Mexico City's government voted in favor of a bill that no longer allows sex workers or their clients to be arrested or fined after a complaint. (AP Photo/Ginnette Riquelme)
A child yawns during his kindergarten graduation ceremony in Havana, Cuba, Friday, June 21, 2019. (AP Photo/Ramon Espinosa)
Venezuela's opposition leader and self-proclaimed interim president Juan Guaido, center, speaks with members of the opposition in Carabobo State, Manuel Barreto, left, and Lucio Herrera, prior a speech during a meeting with supporters, at a hotel in Valencia, Venezuela, June 7, 2019. The colors on their faces are the colors of Venezuelan flag projected by a data projector. (AP Photo/Juan Carlos Hernandez)
Detained migrants stand together in a storage room at the back of the Azteca Hotel where they tried to hide from Mexican immigration agents conducting a raid in Veracruz, Mexico, Thursday, June 27, 2019. Under increasing U.S. pressure to reduce the flow of hundreds of thousands of Central Americans through Mexican territory, Mexico's government has stepped up enforcement. (AP Photo/Felix Marquez)
Women play drums during a protest against gender violence in Buenos Aires, Argentina, Monday, June 3, 2019. The grassroots movement "Ni una menos," or Not One Less, is marking its fourth anniversary by remembering the hundreds of women who have been murdered since its founding, and demanding laws to curb sexist violence that continues to permeate Argentine society. (AP Photo/Natacha Pisarenko)
A migrant listens to music while standing in the doorway of an home in downtown Santiago, Chile, Saturday, June 22, 2019. (AP Photo/Esteban Felix)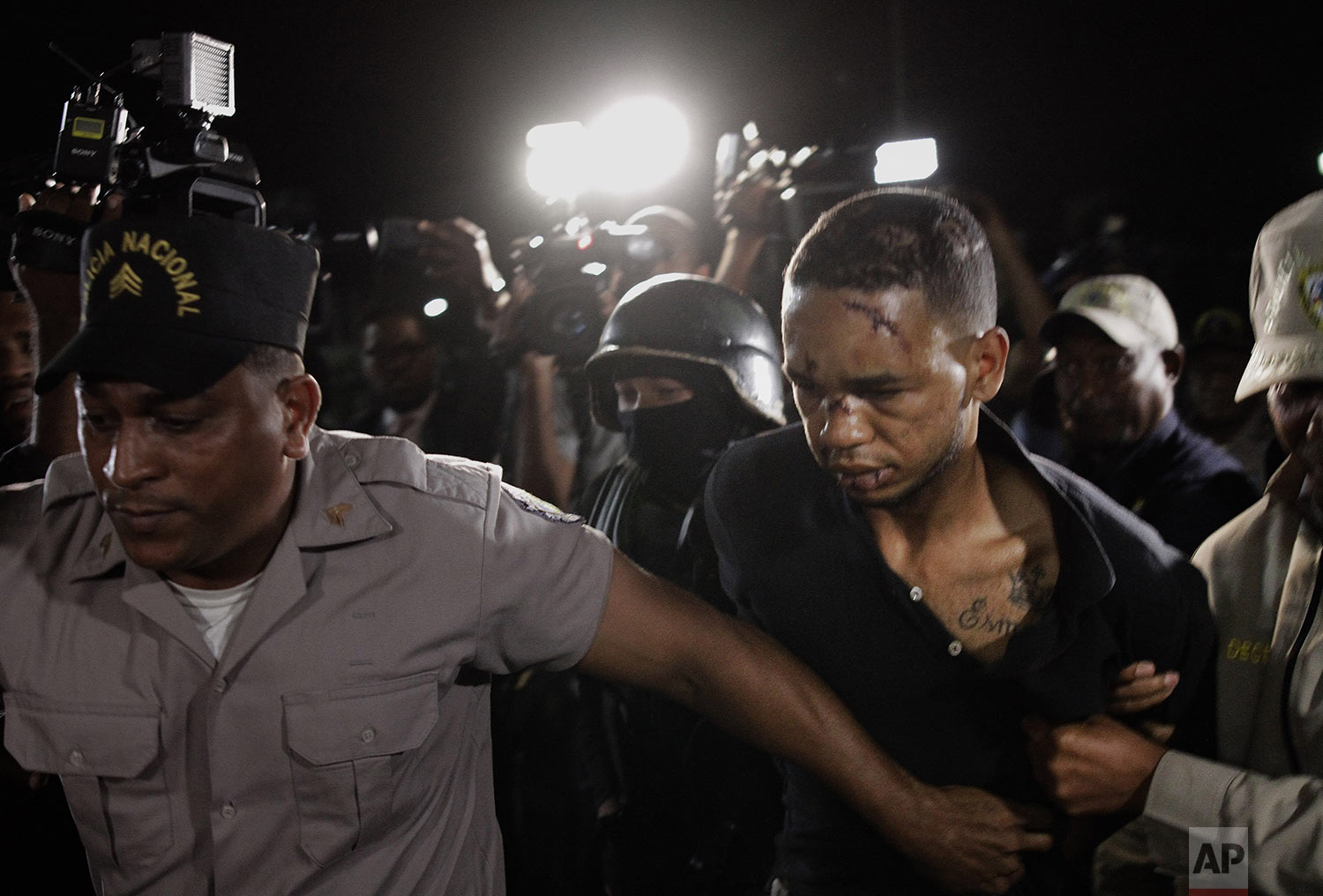 Eddy Vladimir Feliz Garcia, in custody in connection with the shooting of former Boston Red Sox slugger David Ortiz, is transferred by police to court in Santo Domingo, Dominican Republic, Tuesday, June 11, 2019. His lawyer Deivi Solano said Feliz Garcia had no idea who he'd picked up and what was about to happen, and that he expected Feliz Garcia would be charged as an accomplice to an attempted murder. (AP Photo/Roberto Guzman)
The Star of David decorates a tomb eroded by moss at the Jewish cemetery in Guanabacoa in eastern Havana, Cuba, June 7, 2019. Slowly, the first Jewish cemetery in Cuba is beginning to be rehabilitated, along with the memory of many of the island's early Jewish forebears. (AP Photo/Ramon Espinosa)
Electoral workers wait for people to cast their votes during general elections in Chinautla on the outskirts of Guatemala City, Sunday, June 16, 2019. Guatemalans are voting for their next president in elections plagued by widespread disillusion and distrust, and as thousands of their compatriots flee poverty and gang violence to seek a new life in the United States. (AP Photo/Oliver de Ros)
Towels are displayed for sale at a clothing store run by an inmate at the Punta de Rieles prison, in Montevideo, Uruguay, May 15, 2019. The inmate who runs this business also studies economics at the university. (AP Photo/Matilde Campodonico)
Brazilian soccer player Neymar gives a thumbs up after speaking to journalists as he leaves a police station where he spoke to police in Rio de Janeiro, Brazil, Thursday, June 6, 2019. Rio de Janeiro police said Thursday that soccer star Neymar was expected to testify in the investigation linked to a woman's rape allegation against him. (AP Photo/Leo Correa)
Central American migrants stand on a raft to cross the Suchiate River from Guatemala to Mexico, as the Tacana volcano stands tall near Ciudad Hidalgo, Mexico, early Monday, June 10, 2019. Mexican and U.S. officials reached an accord late Friday that calls on Mexico to crackdown on migrants in exchange for Trump backing off his threat to impose a 5% tariff on Mexico's exports. (AP Photo/Marco Ugarte)
Edited by Esteban Felix, AP photojournalist based in Santiago, Chile.