As U.S. embassy opens in Jerusalem, dozens killed in Gaza
In a striking juxtaposition, dozens of Gazans are killed by Israeli fire in mass riots near the border, while in Jerusalem American, Israeli and other dignitaries commemorate the establishment of the US embassy in the holy city -- a move that is a triumph for Israeli nationalists.
It was by far the deadliest day of cross-border violence since a devastating 2014 war between Israel and Gaza's Hamas rulers, and further dimmed the already bleak prospects for President Donald Trump's hoped-for peace plan.
Throughout the day, Gaza protesters set tires ablaze, sending thick plumes of black smoke into the air, and hurled firebombs and stones toward Israeli troops across the border.
A Palestinian woman walks through black smoke from burning tires during a protest on the Gaza Strip's border with Israel, Monday, May 14, 2018. (AP Photo/Khalil Hamra)
Israeli Prime Minister Benjamin Netanyahu speaks as U.S. Ambassador to Israel David Friedman listens during the opening ceremony of the new US embassy in in Jerusalem, Monday, May 14, 2018. (AP Photo/Sebastian Scheiner)
U.S. President Donald Trump's daughter Ivanka, left, and White House senior adviser Jared Kushner attends the opening ceremony of the new U.S. Embassy in Jerusalem, Monday, May 14, 2018. (AP Photo/Sebastian Scheiner)
An elderly Palestinian man falls on the ground after being shot by Israeli troops during a deadly protest at the Gaza Strip's border with Israel, east of Khan Younis, Gaza Strip, Monday, May 14, 2018. (AP Photo/Khalil Hamra)
Palestinian children suffering from teargas inhalation recover in a medical tent during a protest near Beit Lahiya, Gaza Strip, Monday, May 14, 2018.(AP Photo/Dusan Vranic)
Palestinians clash with Israeli troops following a protest against the U.S. decision to relocate it's Israeli embassy to Jerusalem, in the West Bank city of Bethlehem, Monday, May 14, 2018. (AP Photo/Majdi Mohammed)
Palestinian protesters carry an injured man who was shot by Israeli troops during a deadly protest at the Gaza Strip's border with Israel, east of Khan Younis, Gaza Strip, Monday, May 14, 2018. (AP Photo/Khalil Hamra)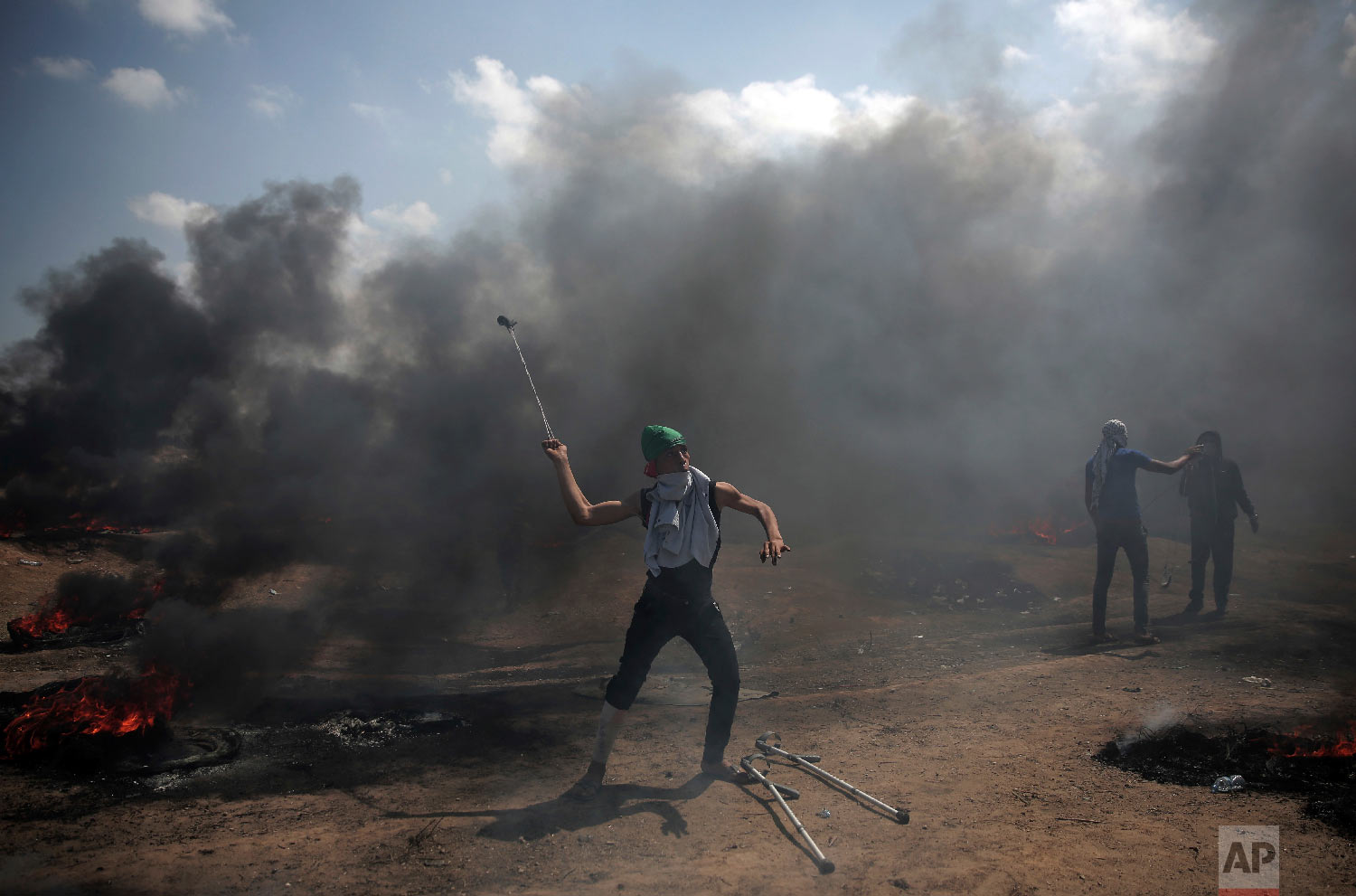 Palestinian protesters hurl stones at Israeli troops during a protest on the Gaza Strip's border with Israel, Monday, May 14, 2018. (AP Photo/Khalil Hamra)
Palestinians carry the body of Mousab Abu Leila, 29, during his funeral after he was killed during a protest on the border with Israel, in Gaza City, Monday, May 14, 2018. (AP Photo/Dusan Vranic)
U.S. President Donald Trump's daughter Ivanka Trump, right, and U.S. Treasury Secretary Steve Mnuchin unveil an inauguration plaque during the opening ceremony of the new US embassy in Jerusalem, Monday, May 14, 2018. (AP Photo/Sebastian Scheiner)
Israelis hold American and Israeli flags with the new U.S. embassy in the background in Jerusalem, Monday, May 14, 2018. (AP Photo/Sebastian Scheiner)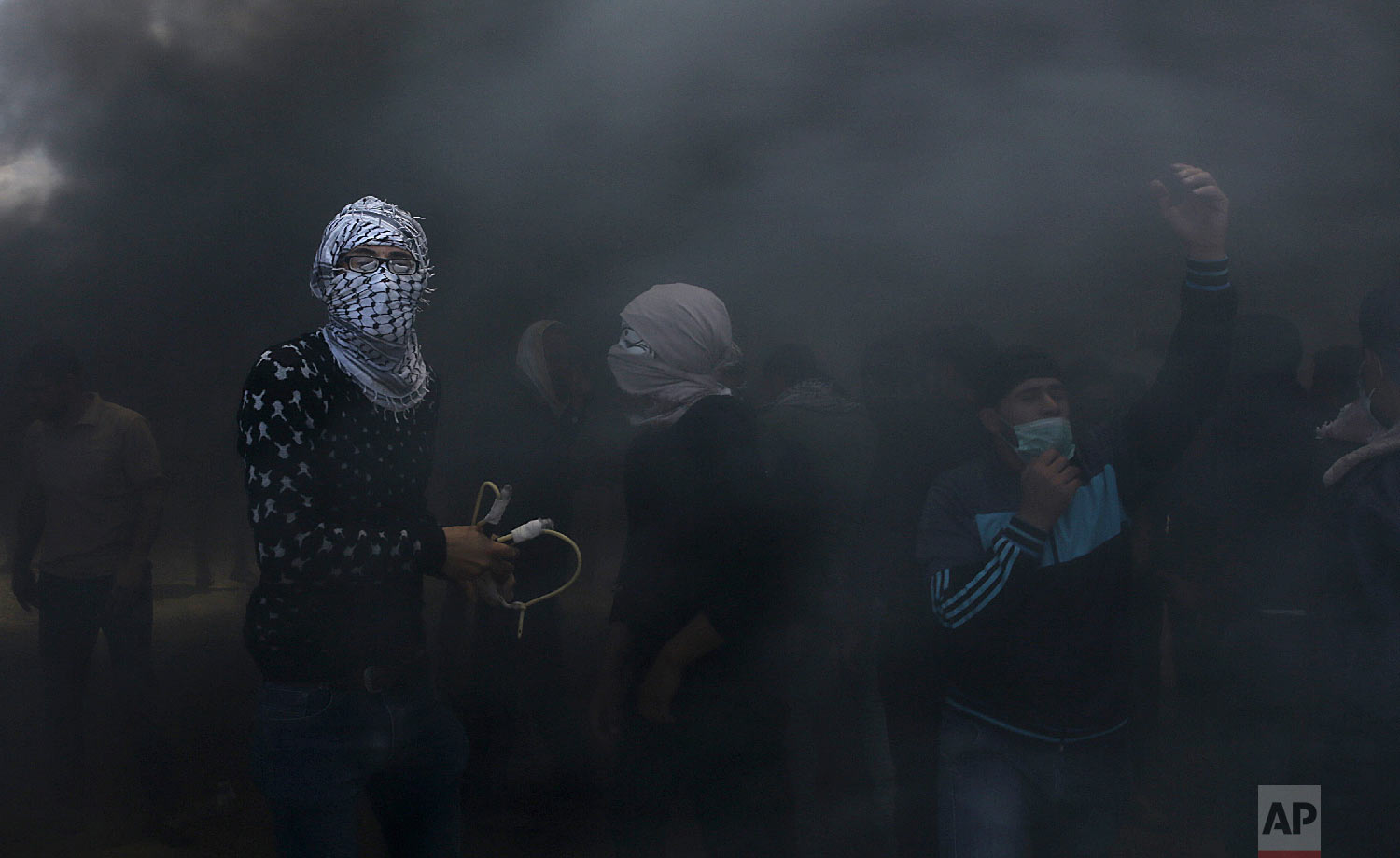 Palestinian protesters hurl stones at Israeli troops while engulfed in smoke from burning tires near the Gaza Strip's border with Israel, east of Khan Younis, in the Gaza Strip, Monday, May 14, 2018. (AP Photo/Adel Hana)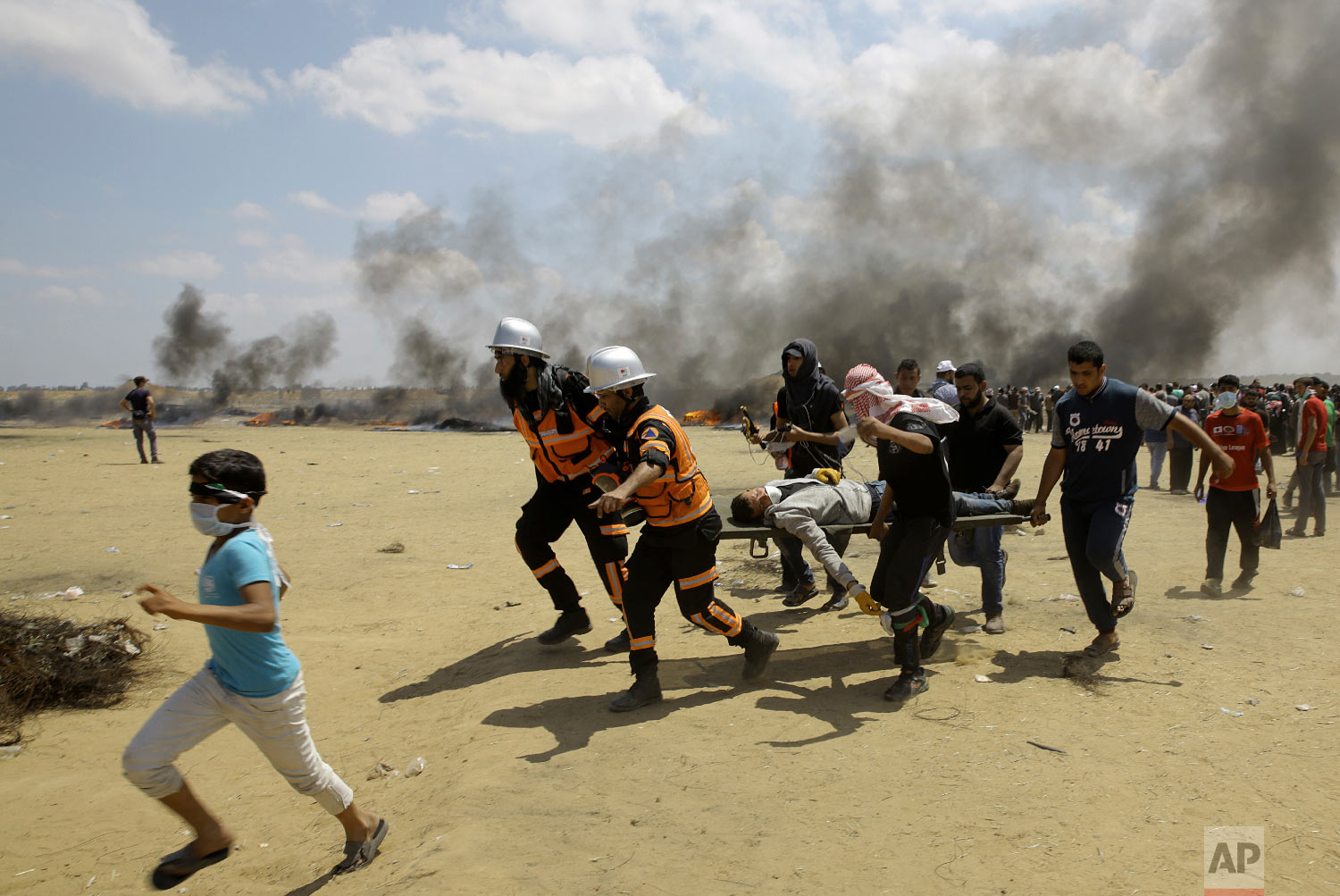 Palestinian medics and protesters evacuate a wounded youth during a protest at the Gaza Strip's border with Israel, east of Khan Younis, Gaza Strip, Monday, May 14, 2018. (AP Photo/Adel Hana)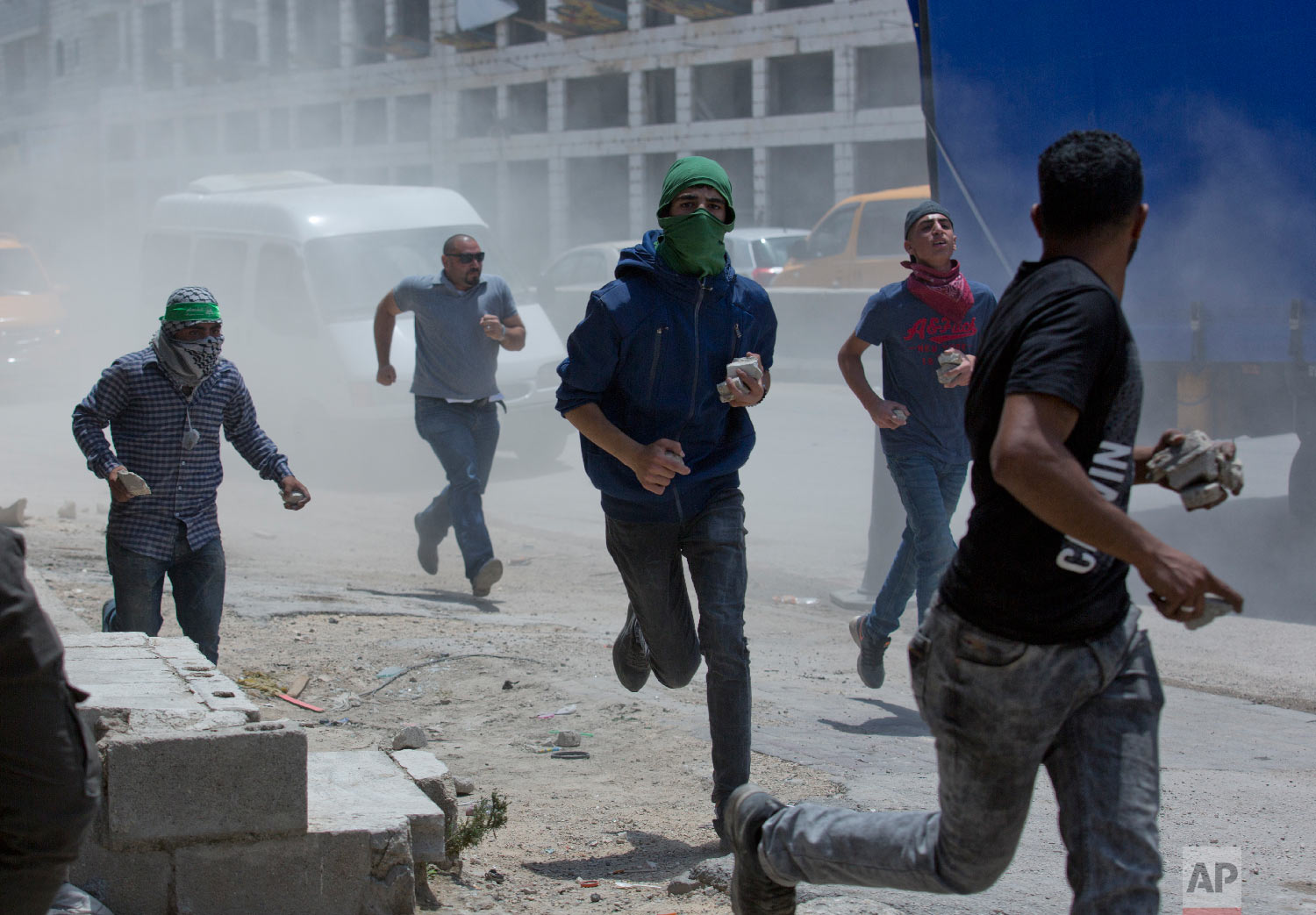 Palestinians clash with Israeli troops after several thousand gathered in the West Bank city of Ramallah to protest the inauguration of the new U.S. embassy in Jerusalem, in the West Bank city of Ramallah, Monday, May 14, 2018. (AP Photo/Nasser Nasser)
A relative of a Palestinian killed during a protest on the border with Israel mourns over his body in a morgue in Beit Lahiya, Gaza Strip, Monday, May 14, 2018. (AP Photo/Dusan Vranic)
Palestinian protesters chant slogans as they burn tires during a protest on the Gaza Strip's border with Israel, Monday, May 14, 2018. (AP Photo/Khalil Hamra)
Curated by Alyssa Goodman in New York