Middle East in review
Middle East in Review is a monthly gallery that features some of the top photojournalism made by AP staff photographers and freelancers based in AP's Middle East East, Afghanistan & Pakistan region.
In this month's selection, Middle East Regional Photo Editor Maya Alleruzzo shares some of March's highlights.
Egyptians cast their votes in the country's Presidential election, with incumbent Abdel-Fattal el-Sissi running against one opponent.
In the Holy Land, Israeli troops fired on Palestinian protesters on the Gaza border, igniting tensions here anew.
Spring holidays across the region gave worshippers of all faiths a moment to take part in ancient rituals.
In Syria, two British militants believed to have been part of an Islamic State group cell notorious for beheading hostages in Syria were unapologetic in their first interview since their capture, denouncing the U.S. and Britain as "hypocrites" who will not give them a fair trial.
The men, along with two other British jihadis, allegedly made up the IS cell nicknamed "The Beatles" by surviving captives because of their English accents.
The nickname belied the cell's brutality. In 2014 and 2015, it held more than 20 Western hostages in Syria and tortured many of them. It beheaded seven American, British and Japanese journalists and aid workers and a group of Syrian soldiers, boasting of the butchery in videos released to the world.
Speaking to The Associated Press at a Kurdish security center, the two men, El Shafee Elsheikh and Alexanda Amon Kotey, repeatedly refused to address allegations they were part of the cell — clearly having a future trial in mind. They complained that they could "disappear" after Britain reportedly revoked their citizenship.
Palestinian protesters clash with Israeli troops following a protest to mark the Land Day in the West Bank city of Ramallah, Friday, March 30, 2018. (AP Photo/Nasser Nasser)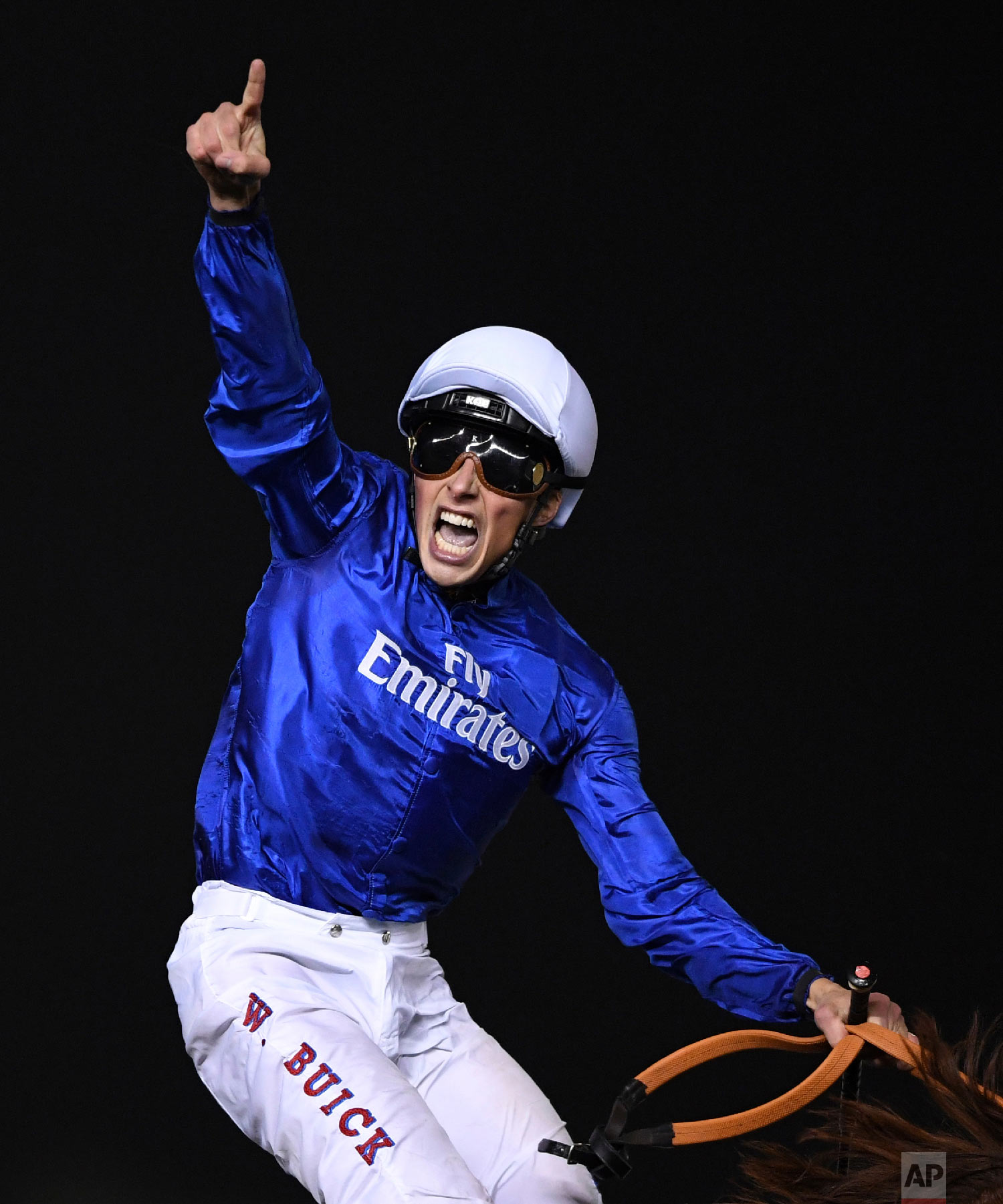 Jockey William Buick celebrates on Godolphin's Hawkbill victory in the $6 million Group 1 Dubai Sheema Classic over 2410m in Dubai, the United Arab Emirates, Saturday, March 31, 2018. (AP Photo/Martin Dokoupil)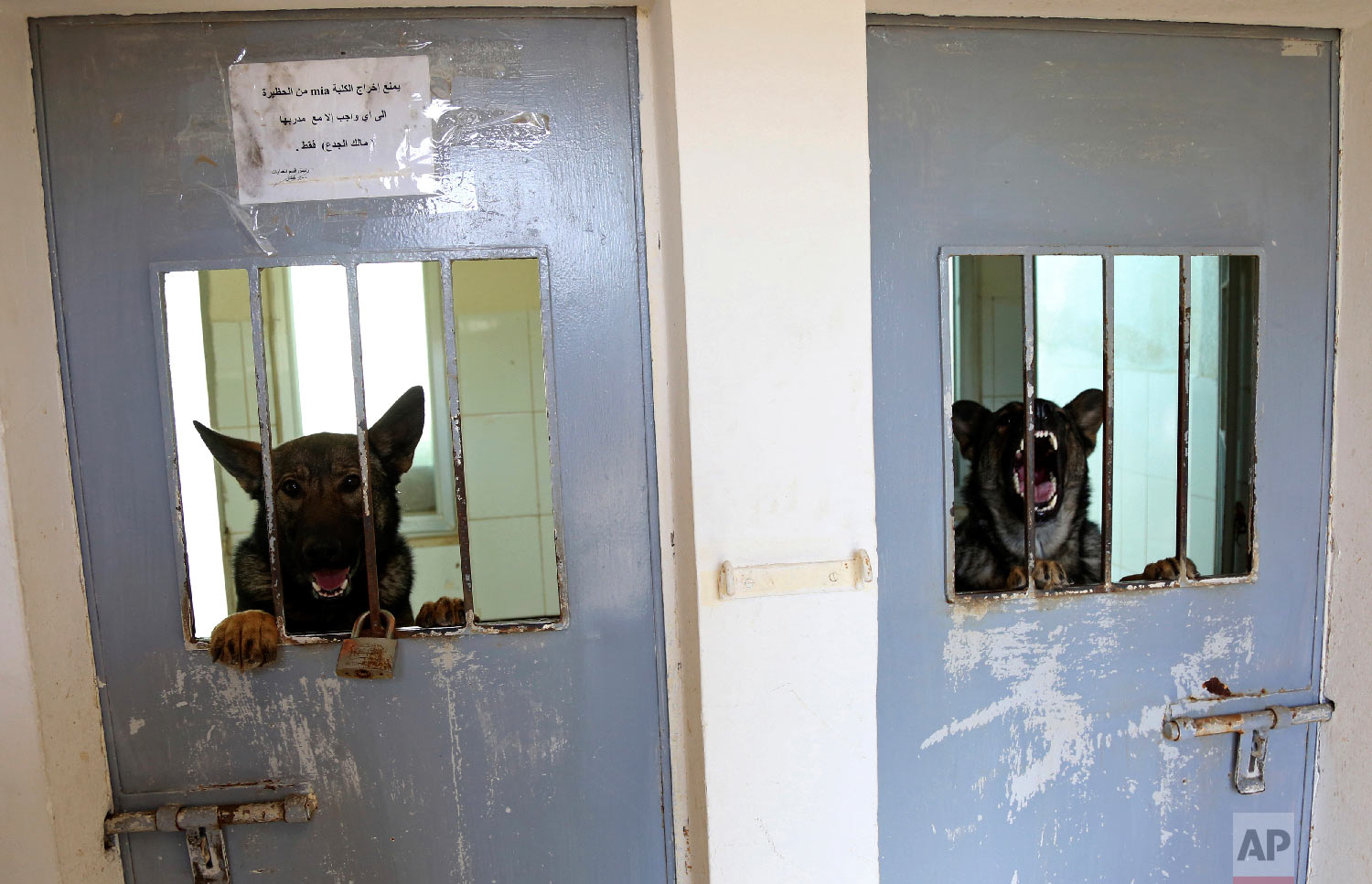 In this Monday, March 19, 2018 photo, two dogs from the K-9 unit of Jordan's police look through the bars of their kennels. The State Department's Anti-Terrorism Assistance program has trained 39 dog-handler teams and embedded two mentors with the program in Jordan, as part of efforts to upgrade Jordan's law enforcement efforts. (AP Photo/Raad Adayleh)
A woman weeps during the funeral of Palestinian Yasin Saradeeh, 33, who was killed by Israeli soldiers during an army raid in Jericho on February 22, 2018, in the West Bank city of Jericho, Thursday, March 29, 2018. (AP Photo/Nasser Nasser)
An actor dressed as Jesus Christ carries a cross as he reenacts the crucifixion walk along the Via Dolorosa towards the Church of the Holy Sepulchre, traditionally believed by many to be the site of the crucifixion of Jesus Christ, during the Good Friday procession in Jerusalem's Old City in Jerusalem, Friday, March 30, 2018. (AP Photo/Ariel Schalit)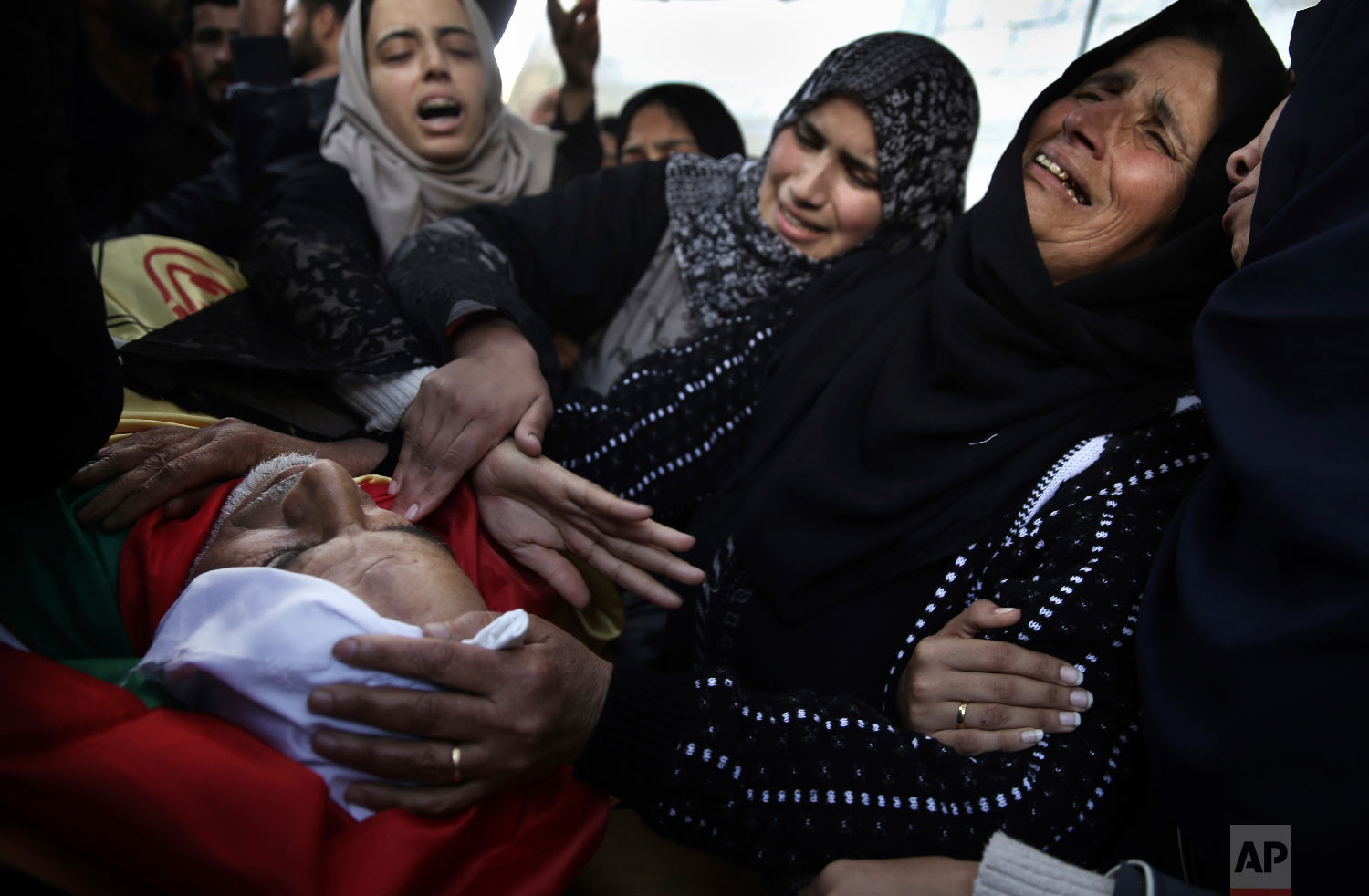 Relatives of Palestinian 59-year-old farmer, Muhammed Abu Jamaa, mourn over his body in the family house during his funeral in town of Khan Younis, southern Gaza Strip, Sunday, March 4, 2018. (AP Photo/ Khalil Hamra)
Teargas canisters fired by Israeli troops falls down at Palestinians during a demonstration near the Gaza Strip border with Israel, in eastern Gaza City, Friday, March 30, 2018.(AP Photo/Hatem Moussa)
A Palestinian protester crawls during clashes with Israeli troops along the Gaza Strip border with Israel, east of Khan Younis, Gaza Strip, Friday, March 30, 2018. (AP Photo/Adel Hana)
A Palestinian protester hurls stones toward Israeli soldiers during a protest near the Gaza Strip border with Israel, in eastern Gaza City, Saturday, March 31, 2018. (AP Photo/ Khalil Hamra)
A drone used by Israeli troops fires teargas at Palestinians during a demonstration near the Gaza Strip border with Israel, in eastern Gaza City, Friday, March 30, 2018. (AP Photo/ Khalil Hamra)
Israeli soldiers shoot tear gas toward Palestinian protesters as they gather on the Israel Gaza border, Friday, March 30, 2018. (AP Photo/Tsafrir Abayov)
Relatives of Palestinian Ziyad Al-hawajri, react as mourners carry his body into the family house during his funeral in Nuseirat, central Gaza Strip, Thursday, March 22, 2018. Al-hawajri, is one of the two members of Hamas security forces who were killed Thursday during an operation to arrest suspects wanted for a bombing that targeted the visiting Palestinian premier's convoy in Gaza last week. (AP Photo/ Khalil Hamra)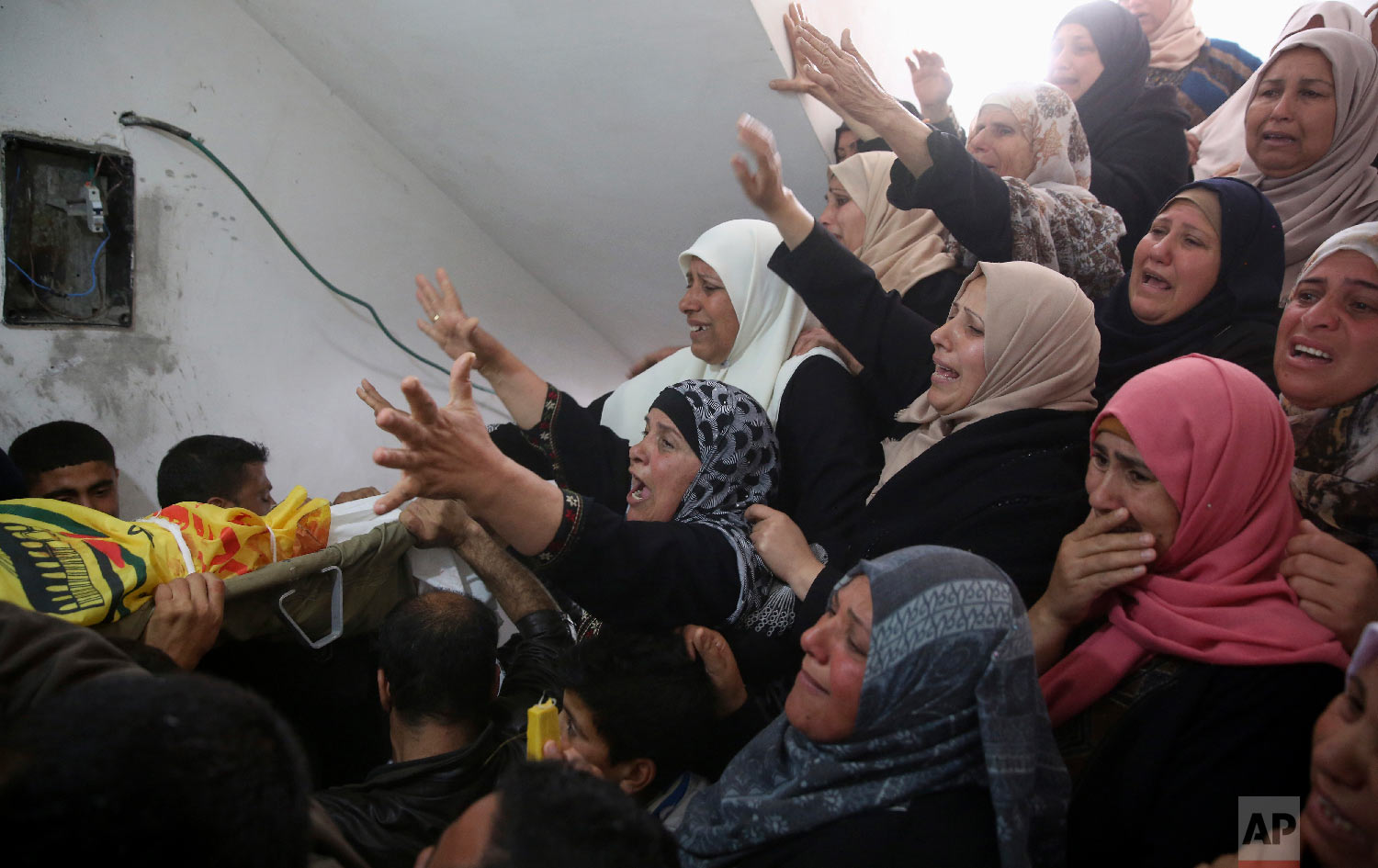 Relatives mourn over the body of Hamdan Abu Amsha, 23, during his funeral at the family house in Beit Hanoun, Gaza Strip, Saturday, March 31, 2018. Israel will target "terror organizations" in Gaza if violence along the territory's border with Israel drags on, the chief military spokesman warned Saturday, a day after thousands of Palestinians staged protests near the border fence. (AP Photo/Adel Hana)
Palestinian protesters carry a wounded man was shot by Israeli troops during a demonstration near the Gaza Strip border with Israel, in eastern Gaza City, Friday, March 30, 2018. (AP Photo/ Khalil Hamra)
Palestinian protesters react while evacuate a wounded youth during clashes with Israeli troops along the Gaza Strip border with Israel, east of Khan Younis, Gaza Strip, Friday, March 30, 2018. (AP Photo/Adel Hana)
Palestinians check bullet holes in a wall following an exchange of gunfire between Palestinian Hamas security forces and suspects wanted for a bombing that targeted the visiting Palestinian premier's convoy last week in Gaza, in the town of Nuseirat, central Gaza Strip, Thursday, March 22, 2018. (AP Photo/ Khalil Hamra)
A Palestinian protester flashes the V sign during a protest near the Gaza Strip border with Israel, in eastern Gaza City, Saturday, March 31, 2018. (AP Photo/ Khalil Hamra)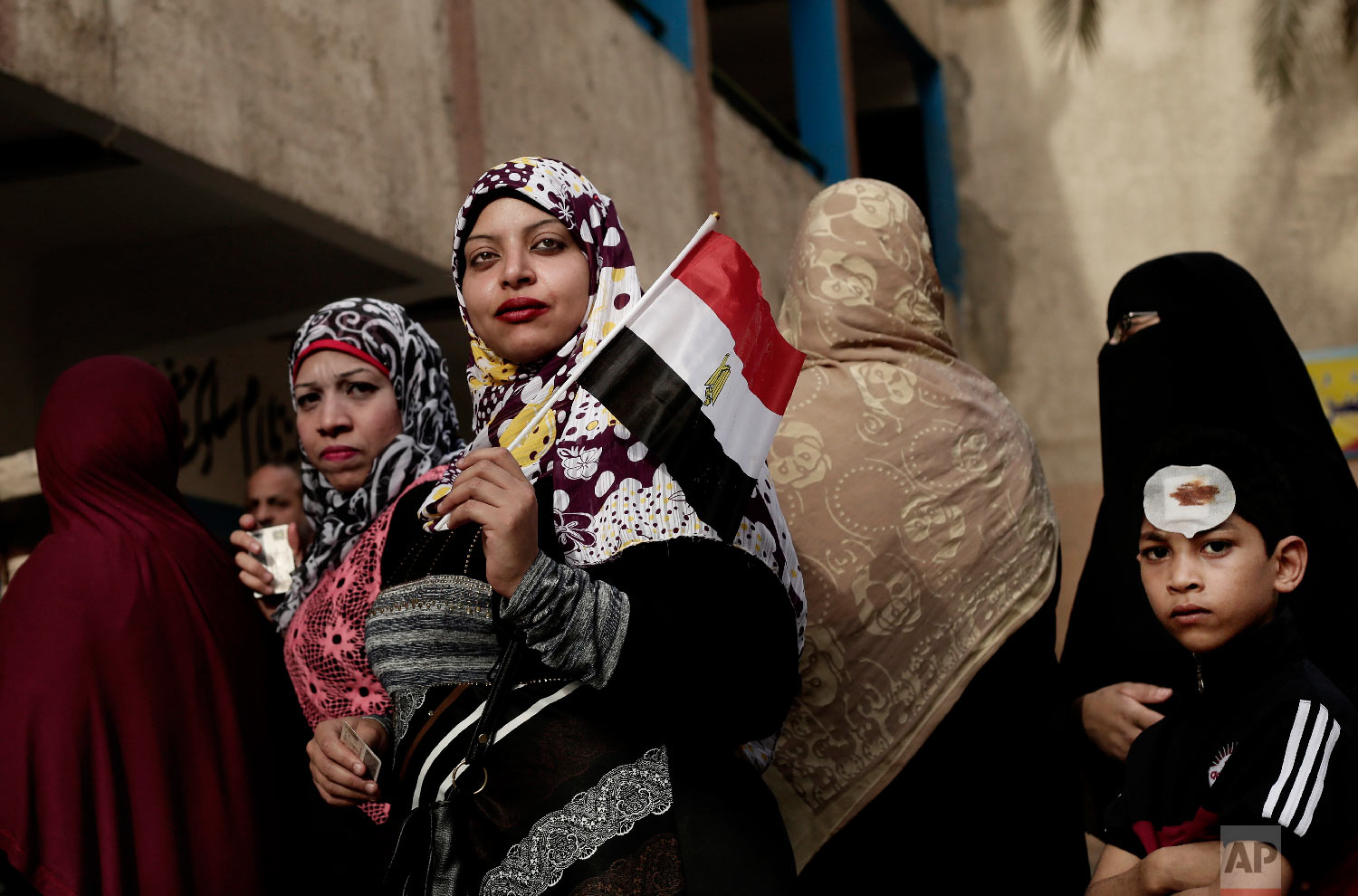 Women wait in line to vote outside a polling station at a school in the Omraniyah district of Giza, Egypt Tuesday, March 27, 2018. (AP Photo/Nariman El-Mofty)
Supporters of Egyptian presidential candidate President Abdel-Fattah el-Sissi hold campaign posters during a campaign rally, near the Gamaleya district of Cairo, where el-Sissi was born, in front of al-Hussein Mosque, Egypt, Monday, March 19, 2018. (AP Photo/Nariman El-Mofty)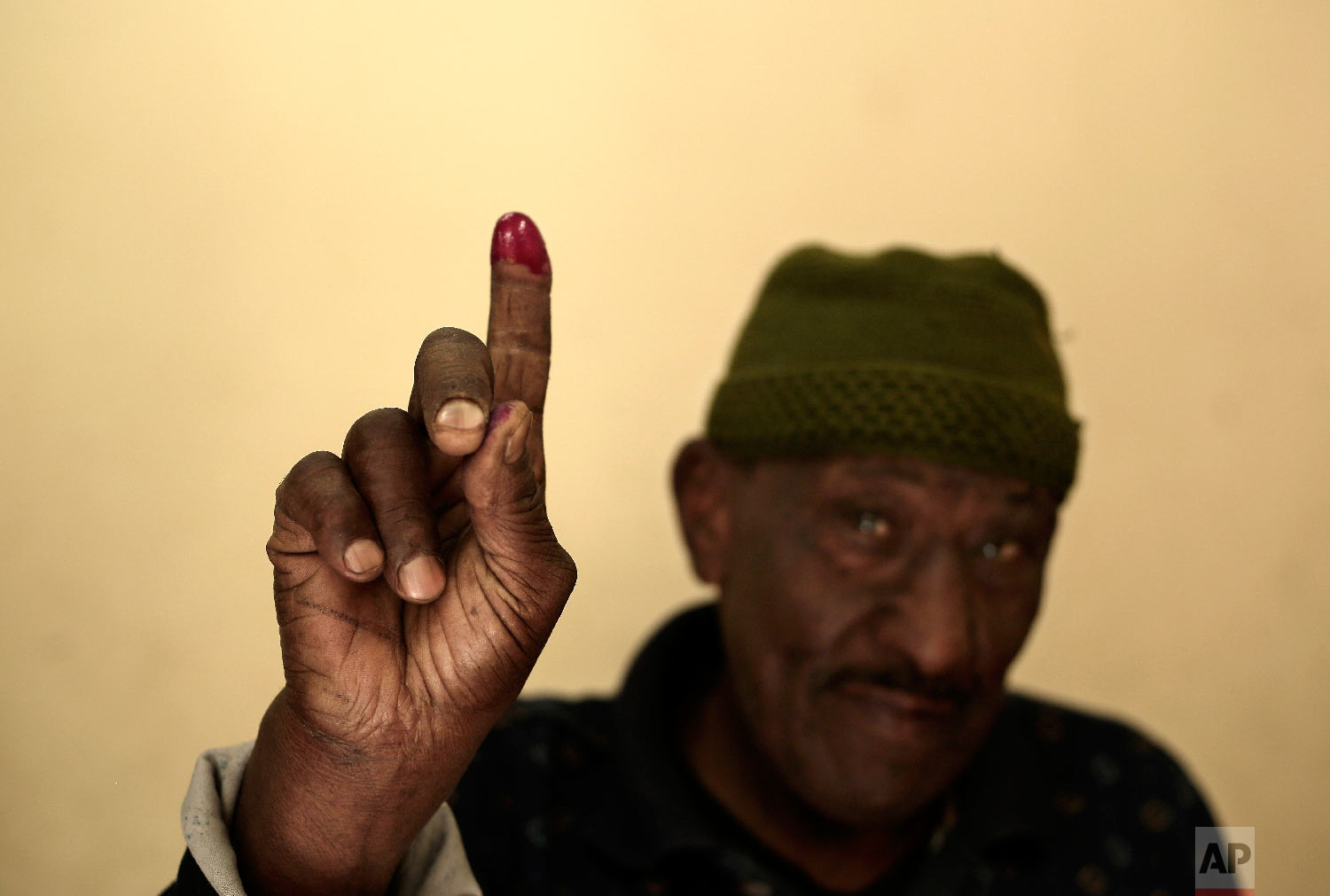 A man shows his inked finger after voting during the first day of the presidential election inside a polling station in Cairo, Egypt, Monday, March 26, 2018. (AP Photo/Nariman El-Mofty)
A woman poses for a photo after voting during the first day of the presidential election outside a polling site in Cairo, Egypt, Monday, March 26, 2018. (AP Photo/Nariman El-Mofty)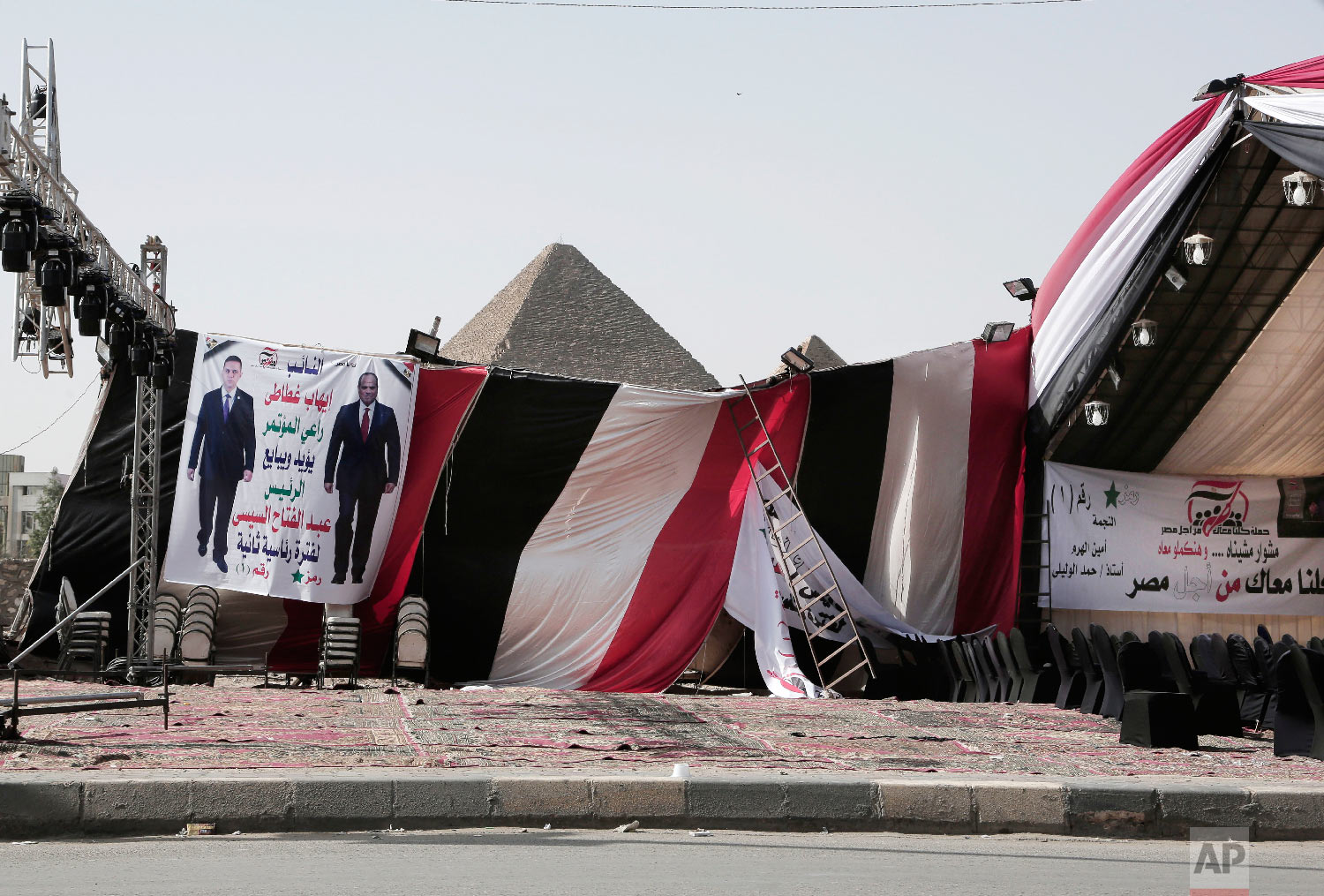 Egypt Election
An election campaign banner for Egyptian presidential candidate President Abdel-Fattah el-Sissi hangs in front of the Giza Pyramids in Egypt, Monday, March 19, 2018. The election will be held March 26-28. Partial translation of Arabic reads, "Ihab Ghataty supports President Abdel-Fattah el-Sissi for a second term." (AP Photo/Nariman El-Mofty)
Egypt Election
An empty polling station on the third day of the presidential election inside a polling station in the popular district of Shubra, Cairo, Egypt Wednesday, March 28, 2018. (AP Photo/Nariman El-Mofty)
Egypt Election
Egyptian military soldiers stand guard during the first day of the presidential election in front of a polling station in Cairo, Egypt, Monday, March 26, 2018. (AP Photo/Nariman El-Mofty)
Sunglasses covered in blood are left at the site of a suicide attack in Kabul, Friday, March 9, 2018.(AP Photo/Massoud Hossaini)
Security personnel carry a body at the site of a suicide attack in Kabul, Friday, March 9, 2018. (AP Photo/Massoud Hossaini)
A man stands at site of a suicide attack in Kabul, Friday, March 9, 2018. (AP Photo/Massoud Hossaini)
In this photo taken on Wednesday, March 28, 2018, a member of the Kurdish internal security forces patrols a commercial street in Manbij, north Syria. (AP Photo/Hussein Malla)
Alexanda Amon Kotey, left, and El Shafee Elsheikh, who were allegedly among four British jihadis who made up a brutal Islamic State cell dubbed "The Beatles," sit on a sofa during an interview with The Associated Press at a security center in Kobani, Syria, Friday, March 30, 2018. (AP Photo/Hussein Malla)
In this Monday, March 19, 2018 photo, fish, an item used in celebrating Iranian New Year, are for sale ahead of the holiday of Nowruz, meaning "New Day," at the Tajrish traditional bazaar, in northern Tehran, Iran. (AP Photo/Vahid Salemi)
In this Monday, Jan. 22, 2018 photo, Beduin camels herder Muhammed Zarlul runs after a newborn camel as they back to the night camp after grazing all day in the open field at the territory of Israeli Kibbutz Kalya, near the Dead Sea in the West Bank. For three months a year, in the winter time Bedouin Arab herders take their 130 camels to graze on the shores of the Dead Sea, at the lowest place on Earth. (AP Photo/Oded Balilty)
Pakistan railway employees cool themselves off during a hot afternoon in Karachi, Pakistan, Wednesday, March 28, 2018. People experience warm weather, with the temperatures reaching 39 degree Celsius (102 Fahrenheit). (AP Photo/Fareed Khan)
In this Monday, March 19, 2018 photo, Iranians shop for hyacinths, garlic, sprouts and other items used to celebrate the Iranian New Year, ahead of the holiday, at the Tajrish traditional bazaar in northern Tehran, Iran. (AP Photo/Vahid Salemi)
A Pakistani Christian woman prays during a Good Friday service at a church in Islamabad, Pakistan, Friday, March 30 2018. Christians all over the world attend mock crucifixions and passion plays that mark the day Jesus was crucified, known to Christians as Good Friday. (AP Photo/B.K. Bangash)
In this Monday, Jan. 22, 2018 photo, camels are back to the night camp after grazing all day in the open field at the territory of Israeli Kibbutz Kalya, near the Dead Sea in the West Bank. For three months a year, in the winter time Bedouin Arab herders take their 130 camels to graze on the shores of the Dead Sea, at the lowest place on Earth. (AP Photo/Oded Balilty)
In this Monday, Jan. 22, 2018 photo, a newborn camel and his mother at the territory of Israeli Kibbutz Kalya, near the Dead Sea in the West Bank. For three months a year, in the winter time Bedouin Arab herders take their 130 camels to graze on the shores of the Dead Sea, at the lowest place on Earth. (AP Photo/Oded Balilty)
Curated by Maya Alleruzzo in Cairo