Middle East in Review
Middle East in Review is a monthly gallery that features some of the top photojournalism made by AP staff photographers and freelancers based in AP's Middle East, Afghanistan & Pakistan region.
September was steeped in ritual, both for Jews and for Shiite Muslims. The faithful marked Muharram, a mourning period commemorating the 7th century death of Imam Hussein, a key Shiite saint and the grandson of the Prophet Muhammed. In Israel, faithful took part in Yom Kippur, the holiest day in the Jewish calendar.
In Iraq's Kurdish region, voters went to the polls in a referendum on Kurdish secession from the country. Iraq's military took control of the international borders of the northern Kurdish region. The move is part of the central government's stepped-up efforts to isolate the Kurds following their vote on independence earlier this week.
This gallery was curated by Maya Alleruzzo, Chief Associated Press photo editor for the Mideast, Afghanistan & Pakistan.
An ultra-Orthodox Jewish man swings a chicken over his head as part of the Kaparot ritual in Jerusalem, Wednesday, Sept. 27, 2017. (AP Photo/Oded Balilty)
Hezbollah supporters listen to the story of Imam Hussein during activities to mark the ninth of Ashoura, a 10-day ritual commemorating the death of Imam Hussein, in a southern suburb of Beirut, Lebanon, Saturday, Sept. 30, 2017. (AP Photo/Hassan Ammar)
Pakistani Shiite Muslims participate in a Muharram procession in Peshawar, Pakistan, Thursday, Sept. 28, 2017. Muharram is a month of mourning in remembrance of the martyrdom of Imam Hussein, the grandson of Prophet Mohammed. (AP Photo/Muhammad Sajjad)
An ultra-Orthodox Jewish youth stands next to his chicken during the Kaparot ritual in Bnei Brak, Israel, Thursday, Sept. 28, 2017. (AP Photo/Oded Balilty)
Mourners take part in a procession during the Muslim month of Muharram, an important period of mourning for Muslim Shiites which marks the anniversary of martyrdom of Imam Hussein, a grandson of Prophet Muhammad and the third Shiite saint, who was killed during a battle in Karbala in present-day Iraq in 7th century, in Tehran, Iran, Friday, Sept. 29, 2017. (AP Photo/Vahid Salemi)
Ultra-Orthodox Jewish men of the Vizhnitz Hassidic sect listen to their rabbi on a hill overlooking the Mediterranean Sea as they participate in a Tashlich ceremony in Herzeliya, Israel, Thursday, Sept. 28, 2017. (AP Photo/Ariel Schalit)
Iranian Shiite Muslim women mourn during a ceremony at Sadat Akhavi mosque in Tehran, Iran, Saturday, Sept. 30, 2017, a day prior to Ashoura, the death anniversary of 7th century Shiite Imam Hussein, the grandson of Prophet Muhammad, who was killed in a battle in Karbala in present-day Iraq. (AP Photo/Ebrahim Noroozi)
An elderly woman takes part in a procession during the Muslim month of Muharram, an important period of mourning for Muslim Shiites which marks the anniversary of martyrdom of Imam Hussein, a grandson of Prophet Muhammad and the third Shiite saint, who was killed during a battle in Karbala in present-day Iraq in 7th century, in Tehran, Iran, Friday, Sept. 29, 2017. (AP Photo/Vahid Salemi)
A veiled Lebanese woman supporter of a hardline Sunni cleric Ahmad al-Assir and 33 other militants who are standing trial, reacts during a protest outside the military tribunal, in Beirut, Lebanon,Thursday, Sept. 28, 2017. A military judge is scheduled to issue a verdict later in the day against Sheikh Ahmad al-Assir and 33 others on charges of fighting the Lebanese army in the southern city of Sidon in 2013. (AP Photo/Hussein Malla)
An ultra-Orthodox Jewish man swings a chicken over his children's head as part of the Kaparot ritual in Bnei Brak, Israel, Thursday, Sept. 28, 2017. (AP Photo/Oded Balilty)
An ultra-Orthodox Jewish man holds a chicken to be used during the Kaparot ritual, as a child holds a toy gun, in Jerusalem, Wednesday, Sept. 27, 2017. (AP Photo/Oded Balilty)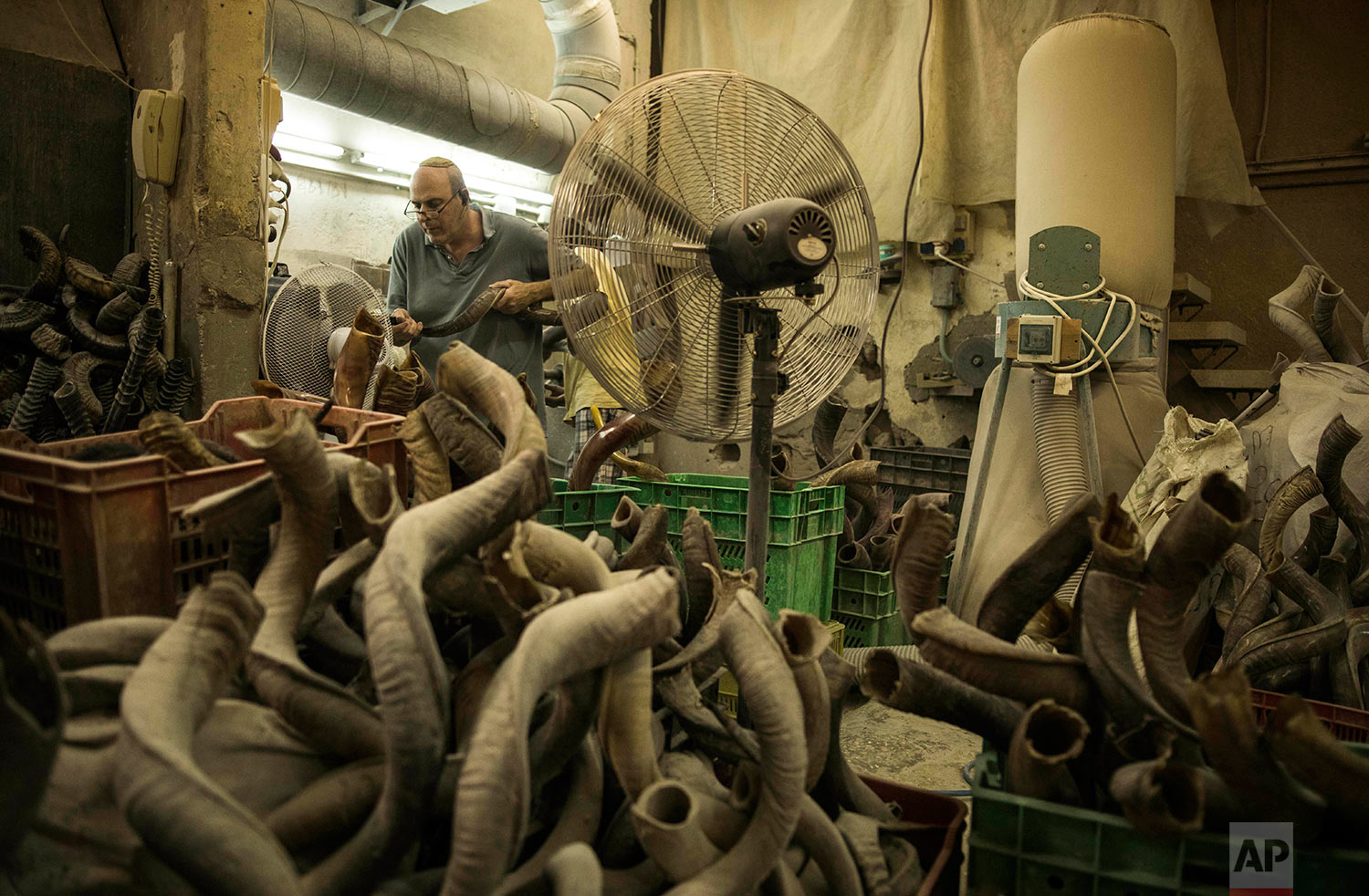 A man works on a shofar in Bar-Sheshet Ribak Shofarot Israel company in Tel Aviv, Israel, Tuesday, Sept. 19, 2017. Shofar, an instrument made of animals horns, is blown for religious purposes during Rosh Hoshana and Yom Kipur Jewish holidays. (AP Photo/Dan Balilty)
A portrait of U.S. President Donald Trump is set on fire by Iranian mourners during the state funeral of Mohsen Hojaji, a young Revolutionary Guard soldier beheaded by the Islamic State group in Syria, Wednesday, Sept. 27, 2017, in Tehran, Iran. (AP Photo/Ebrahim Noroozi)
An Afghan health worker gives a vaccination to a child during a polio campaign in the old part of Kabul, Afghanistan, Tuesday, Sept.. 26, 2017. (AP Photo/Rahmat Gul)
A man takes a selfie in front of a fireworks display at a pro independence rally in Irbil, Friday, Sept. 22, 2017. (AP Photo/Bram Janssen)
A woman waits in a queue at a polling station in a primary school to vote for Kurdish independence in the disputed city of Kirkuk, Monday, Sept. 25, 2017. Iraq's Kurdish region vote in a referendum on whether to secede from Iraq. (AP Photo/Bram Janssen)
An Iraqi Kurdish woman shows her inked finger after casting a vote during the referendum on independence from Iraq in Irbil, Iraq, Monday, Sept. 25, 2017. (AP Photo/Khalid Mohammed)
A woman leaves a security checkpoint for women before entering a polling station in the disputed city of Kirkuk, Monday, Sept. 25, 2017. (AP Photo/Bram Janssen)
Iraqi Kurdish people sit in a cafe in central Irbil, 217 miles (350 kilometers) north of Baghdad, Iraq, Sunday, Sept. 24, 2017. (AP Photo/Khalid Mohammed)
A Pakistani child injured by mortars fired from Indian forces is treated at a hospital in Sialkot, Pakistan, Friday, Sept. 22, 2017. (AP Photo/K.M. Chaudary)
A Pakistani student takes part in a rally to condemn ongoing violence against the Rohingya Muslim minority in Myanmar, in Karachi, Pakistan, Friday, Sept. 22, 2017. (AP Photo/Shakil Adil)
A Ghadr-H missle, center, a solid-fuel surface-to-surface Sejjil missile and a portrait of the Supreme Leader Ayatollah Ali Khamenei are on display for the annual Defense Week, marking the 37th anniversary of the 1980s Iran-Iraq war, at Baharestan Sq. in Tehran, Iran, Sunday, Sept. 24, 2017. (AP Photo/Vahid Salemi)
Masked militants from the al-Nasser Brigades, an armed wing of the Popular Resistance Committees (PRC), attend a military drill simulating an attack on an Israeli Jewish settlement around the Dome of the rock, at their training camp in Khan Younis, Gaza Strip, Tuesday, Sept. 19, 2017. (AP Photo/Adel Hana)
Stuart Davis, a director at one of FireEye's subsidiaries, stands in front of a map of Iran as he speaks to journalists about the techniques of Iranian hacking, Wednesday, Sept. 20, 2017, in Dubai, United Arab Emirates. (AP Photo/Kamran Jebreili)
Afghan children look outside through the window of their home as they poses for photograph in the old part of Kabul, Afghanistan, Tuesday, Sept. 26, 2017. (AP Photo/Rahmat Gul)
Two Israeli youth covered with mud during the annual Sea of Galilee swim, the oldest and largest popular swimming event, near Tiberias, northern Israel, Saturday, Sept. 16, 2017.(AP Photo/Oded Balilty)
A boy is covered in sand as ultra-Orthodox Jewish men of the Vizhnitz Hassidic sect pray on a hill overlooking the Mediterranean Sea as they participate in a Tashlich ceremony, in Herzeliya, Israel, Thursday, Sept. 28, 2017. (AP Photo/Ariel Schalit)
Swimmers participate in the annual Sea of Galilee swim, the oldest and largest popular swimming event, near Tiberias, northern Israel, Saturday, Sept. 16, 2017. (AP Photo/Oded Balilty)
A dog sits on a sofa that has been placed on a car-free street during the Jewish holiday of Yom Kippur in Ramat Gan, Israel, Saturday, Sept. 30, 2017.(AP Photo/Oded Balilty)
A dog joins swimmers participate in the annual Sea of Galilee swim, the oldest and largest popular swimming event, near Tiberias, northern Israel, Saturday, Sept. 16, 2017. (AP Photo/Oded Balilty)
Nat Castañeda
Visual artist and Digital Storyteller at The Associated Press