AP Images top trending social media photos of 2018
Over the last year, thousands of Associated Press photos have been shared from our multiple social media platforms by our followers.
Below is a look back of some of the top trending photos from our social media posts of 2018.
A church and remains of an ancient village which are usually covered by water are seen inside the reservoir of Sau, in Vilanova de Sau, Catalonia, Spain, Thursday, Jan 11, 2018. (AP Photo/Emilio Morenatti)
Seventeen student survivors from Marjory Stoneman Douglas High School lie down on the floor in silence and pray at the approximate time of the attack one week ago, inside the state capitol, in Tallahassee, Fla., Wednesday, Feb. 21, 2018. The students, members of the Congregation Kol Tikvah Temple, lost three students, and were at the capitol to pressure lawmakers on gun control reform. (AP Photo/Gerald Herbert)
A standing woman closes her eyes as she holds an unloaded weapon during services at the World Peace and Unification Sanctuary, Wednesday Feb. 28, 2018, in Newfoundland, Pa. Worshippers clutching AR-15 rifles participated in a commitment ceremony at the Pennsylvania-based church. (AP Photo/Jacqueline Larma)
President Donald Trump speaks to reporters before boarding Marine One on the South Lawn of the White House in Washington, Tuesday, March 13, 2018, to travel to Andrews Air Force Base, Md. (AP Photo/Andrew Harnik)
Tree-climbing goats feed on an Argania Spinosa, known as an Argan tree, in Essaouira, southwestern Morocco, Wednesday, April 4, 2018. By eating the fruit and spitting out the seeds, the goats help in the process of manufacturing Argan oil. (AP Photo/Mosa'ab Elshamy)
Sen. Tammy Duckworth, D-Ill., arrives at the Capitol for a close vote with her new daughter, Maile, bundled against the wind, in Washington, Thursday, April 19, 2018. In an historic change in Senate rules, the lawmakers decided to allow babies of members on the floor during votes. (AP Photo/J. Scott Applewhite)
An Honor guard soldier walks along the Kremlin Wall, covered by snow, as his fellow soldier stands at the Tomb of Unknown Soldier in Moscow, Russia, Wednesday, Jan. 31, 2018. (AP Photo/Pavel Golovkin)
Volcanic activity from the Malama Ki and Leilani Estates neighborhoods glows in the distance from Hwy 137, Thursday, May 17, 2018, near Pahoa, Hawaii. (AP Photo/Marco Garcia)
Tibetan spiritual leader the Dalai Lama playfully pinches the nose of a senior monk as he arrives to give a talk to Tibetan youth in Dharmsala, India, Thursday, June 7, 2018. (AP Photo/Ashwini Bhatia)
The carcass of a duck blanketed with heavy ash spewed by the Volcan de Fuego, or "Volcano of Fire," lies on the ground in Escuintla, Guatemala, Monday, June 4, 2018. (AP Photo/Luis Soto)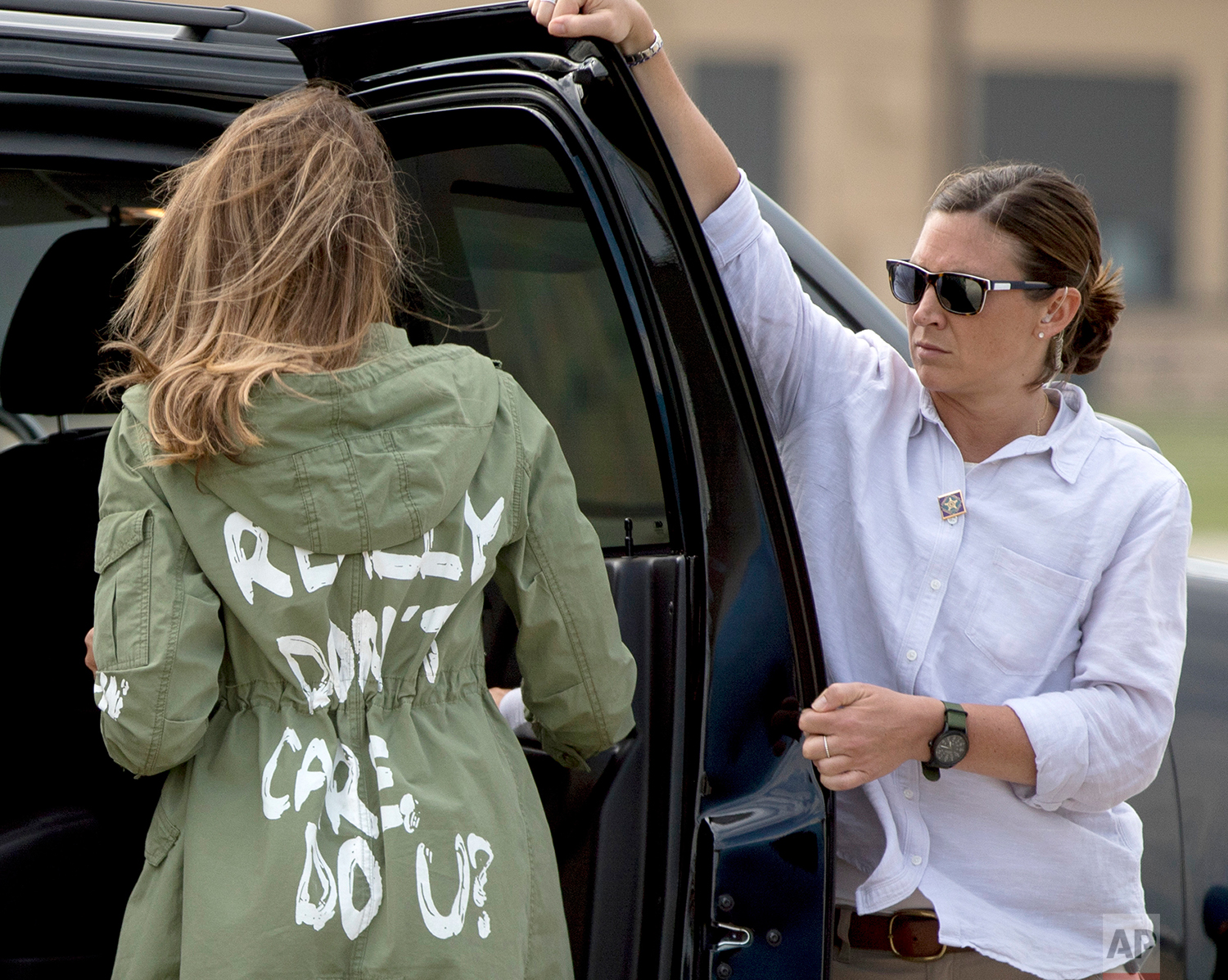 First lady Melania Trump walks to her vehicle as she arrives at Andrews Air Force Base, Md., Thursday, June 21, 2018, after visiting the Upbring New Hope Children Center run by the Lutheran Social Services of the South in McAllen, Texas. (AP Photo/Andrew Harnik)
A guest checks her cell phone prior to the Dior Haute Couture Fall-Winter 2018/2019 fashion collection presented Monday, July 2, 2018 at the Rodin museum in Paris. (AP Photo/Francois Mori)
Molly Kofahl, 4, left, and Charles Daviskiba, 3, pose after being crowned Mud Day Queen and King during Mud Day at the Nankin Mills Park, Tuesday, July 10, 2018, in Westland, Mich. (AP Photo/Carlos Osorio)
Consuello Jessop, of Providence, R.I., photographs the sunrise at Ocean Park, Thursday, July 12, 2018, in Old Orchard Beach, Maine. (AP Photo/Robert F. Bukaty)
An Israeli activist from the Anonymous for Animal Rights group lies in an outline of a fish to mimic a crime scene as they stage a performance protesting meat consumption and cruelty against animals to mark the "day against meat" in Tel Aviv, Israel, Monday, Feb. 12, 2018. (AP Photo/Oded Balilty)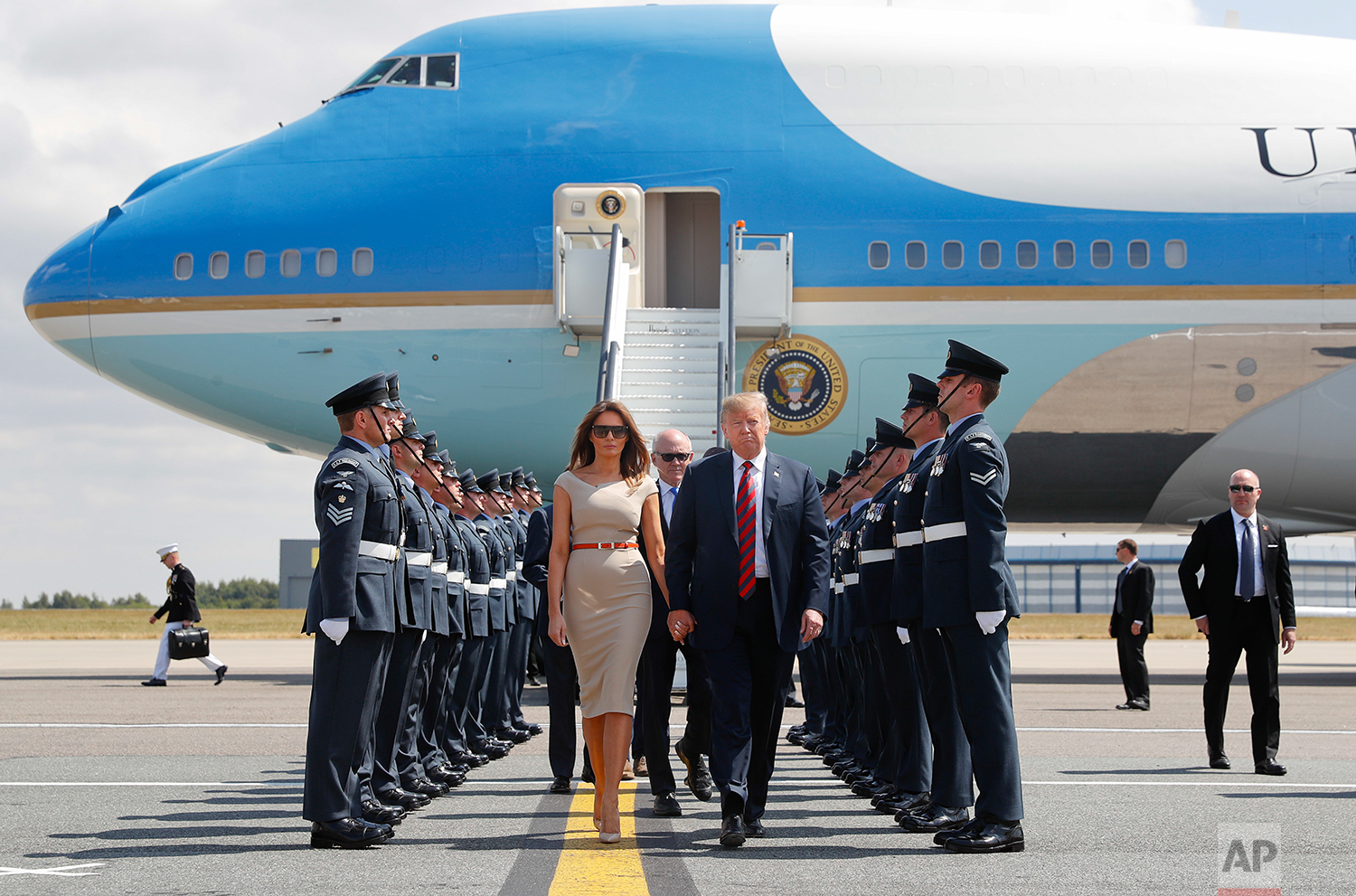 U.S. President Donald Trump and first lady Melania Trump walk across the tarmac after stepping off Air Force One as they arrive at London's Stansted Airport, Thursday, July 12, 2018. Walking directly behind them is Woody Johnson, center, United States Ambassador to the United Kingdom. (AP Photo/Pablo Martinez Monsivais)
In this Friday, July 20, 2018, photo, Evangeline Garcia paddles a boat-load of piglets to safety at a flooded village in Quezon city, metropolitan Manila, Philippines. (AP Photo/Aaron Favila)
Cindy McCain, wife of, Sen. John McCain, R-Ariz. lays her head on casket during a memorial service at the Arizona Capitol on Wednesday, Aug. 29, 2018, in Phoenix. (AP Photo/Ross D. Franklin, Pool)
A volunteer member of the advance team for President Donald Trump blocks a camera as a photojournalist attempts to take a photo of a protester during a campaign rally at the Ford Center, Thursday, Aug. 30, 2018, in Evansville, Ind. (AP Photo/Evan Vucci)
Embers fly above a firefighter as he works to control a backfire as the Delta Fire burns in the Shasta-Trinity National Forest, Calif., on Thursday, Sept. 6, 2018. The blaze had tripled in size overnight. (AP Photo/Noah Berger)
Palestinian boy scouts march during a protest on the beach near the border with Israel in Beit Lahiya, northern Gaza Strip, Monday, Sept. 10, 2018. (AP Photo/Felipe Dana)
A couple gets married at Taft Point in California's Yosemite National Park on Thursday, Sept. 27, 2018. The viewpoint overlooks Yosemite Valley, including El Capitan, a popular vertical ascent for rock climbers across the globe. (AP Photo/Amanda Lee Myers)
In this Nov. 14, 2018 picture, a man from Honduras walks along the top of the border structure separating Mexico and the United States, in Tijuana, Mexico. (AP Photo/Gregory Bull)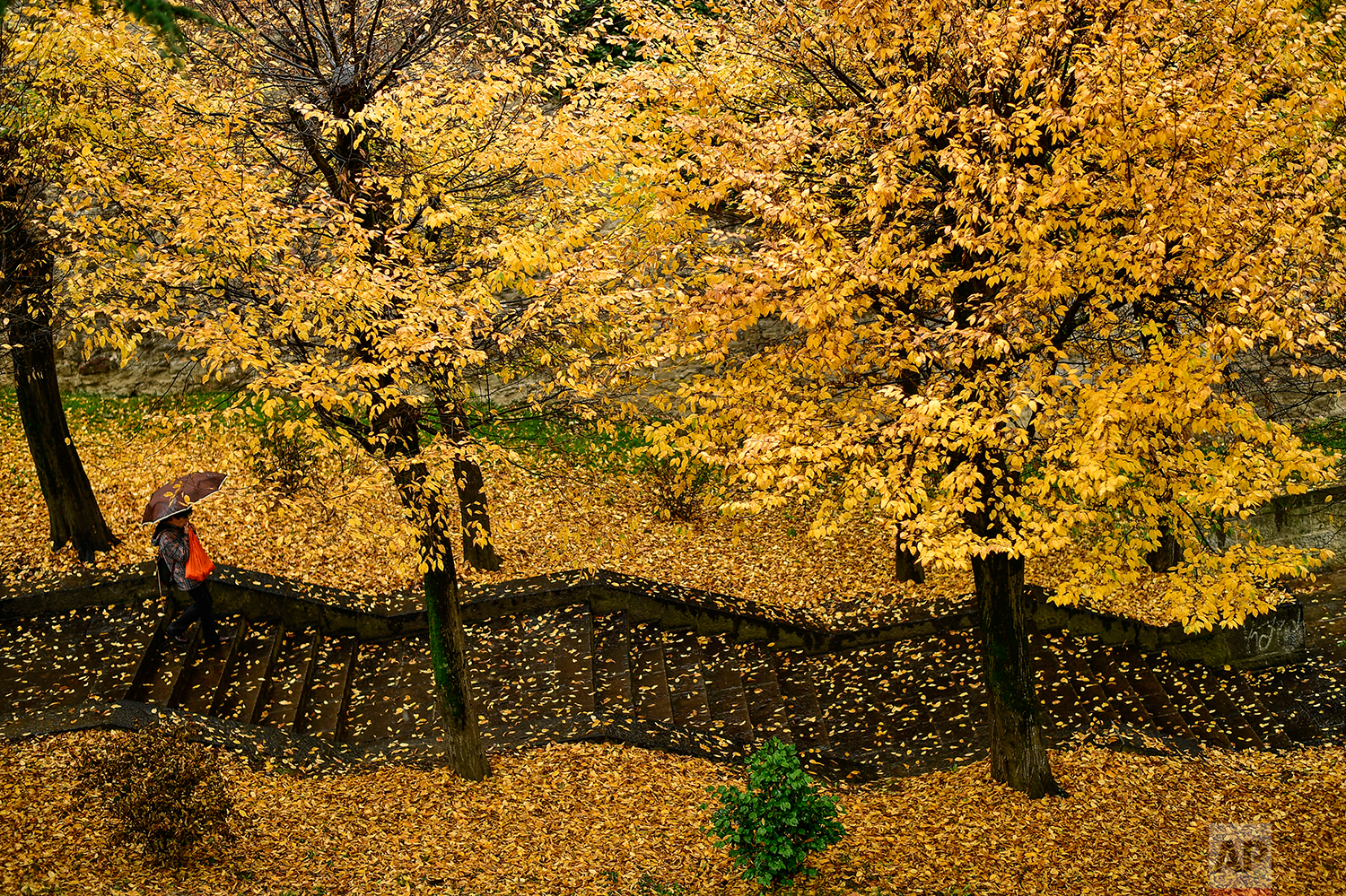 A pedestrian walks down a stairway through a row of trees during a rainy autumn day, in Pamplona, northern Spain, Tuesday, Nov. 20, 2018. (AP Photo/Alvaro Barrientos)
In this Nov. 21, 2018, photo, a woman lies on the glass bottom deck of the King Power Mahanakhon building high above Bangkok, Thailand. The King Power Mahanakhon building, currently Thailand's tallest at 314 meters (1,030 feet) with 78 floors, has a 360-degree view of Bangkok. (AP Photo/Sakchai Lalit, File)
Russia's President Vladimir Putin, left, and Saudi Arabia's Crown Prince Mohammed bin Salman wait for other leaders to arrive for the G20 family photo at the Costa Salguero Center in Buenos Aires, Argentina, Friday, Nov. 30, 2018. (AP Photo/Ricardo Mazalan)
Migrants run from tear gas launched by U.S. agents, amid photojournalists covering the Mexico-U.S. border, after a group of migrants got past Mexican police at the Chaparral crossing in Tijuana, Mexico, Sunday, Nov. 25, 2018. (AP Photo/Rodrigo Abd)
Walking figures depicting late US rock and roll legend Elvis Presley appear on a traffic light switching from green to red in Friedberg near Frankfurt, Germany, Thursday, Dec. 6, 2018. Presley served in Friedberg from October 1958 to March 1960 as a soldier in the US Armed Forces.( AP Photo/Michael Probst)
The flag-draped casket of former President George H.W. Bush is carried by a military honor guard into a State Funeral at the National Cathedral, Wednesday, Dec. 5, 2018, in Washington. (AP Photo/Andrew Harnik, Pool)
Curated by photo editors Julia Weeks and Kathleen Elliott in New York.