The Shot
We picked some of the most noteworthy photos taken over the past few months and asked our photographers to tell us the story behind the shot.
Hong Kong Protests
"On the day I took the photo, I was covering a mass rally of the anti-government protesters who confronted riot police in the Tsuen Wan district of Hong Kong. The police had rolled out water cannon trucks on pro-democracy protesters for the first time. I had already been covering the protest all day and was tired, wet from rain and having dodged tear gas and rubber bullets. After filing my photos to the desk, I thought I had already provided good coverage and planned to go home. However, once I got in my friend's car about to depart, we heard a group of around 30 angry protesters, carrying sticks, metal pipes, and other weapons shouting for revenge.
This last group of protesters smashed up some shops, including a mahjong shop and a few restaurants which they believed were owned by people responsible for a serious attack on one of their members in an earlier incident.
After 15 minutes of causing damage, a group of 10 police officers arrived and started to fight with the protesters. Soon the police officers moved back though, as they were outnumbered by the volume of protesters. During the confrontation, one of the police officers accidentally dropped a gun on the floor. Immediately, other officers drew their guns, shouted and aimed at the protesters. I heard a warning gun shot fired into the air and everyone on the street froze. That was when I took the photo.
I had set my camera in Shutter-priority mode for the uneven and contrasting light sources I was dealing with. The environment had street light, mixing with neon light, LED light and lamp post light which made for a complicated exposure with regards to white balance. I had no choice but to trust the camera's calculation." - Kin Cheung
Model: Canon EOS-1DX Mark II | Lens: 35mm | F-Stop: 2.8
Shutter Speed: 1000 | ISO: 25600 | Time: 8:03 PM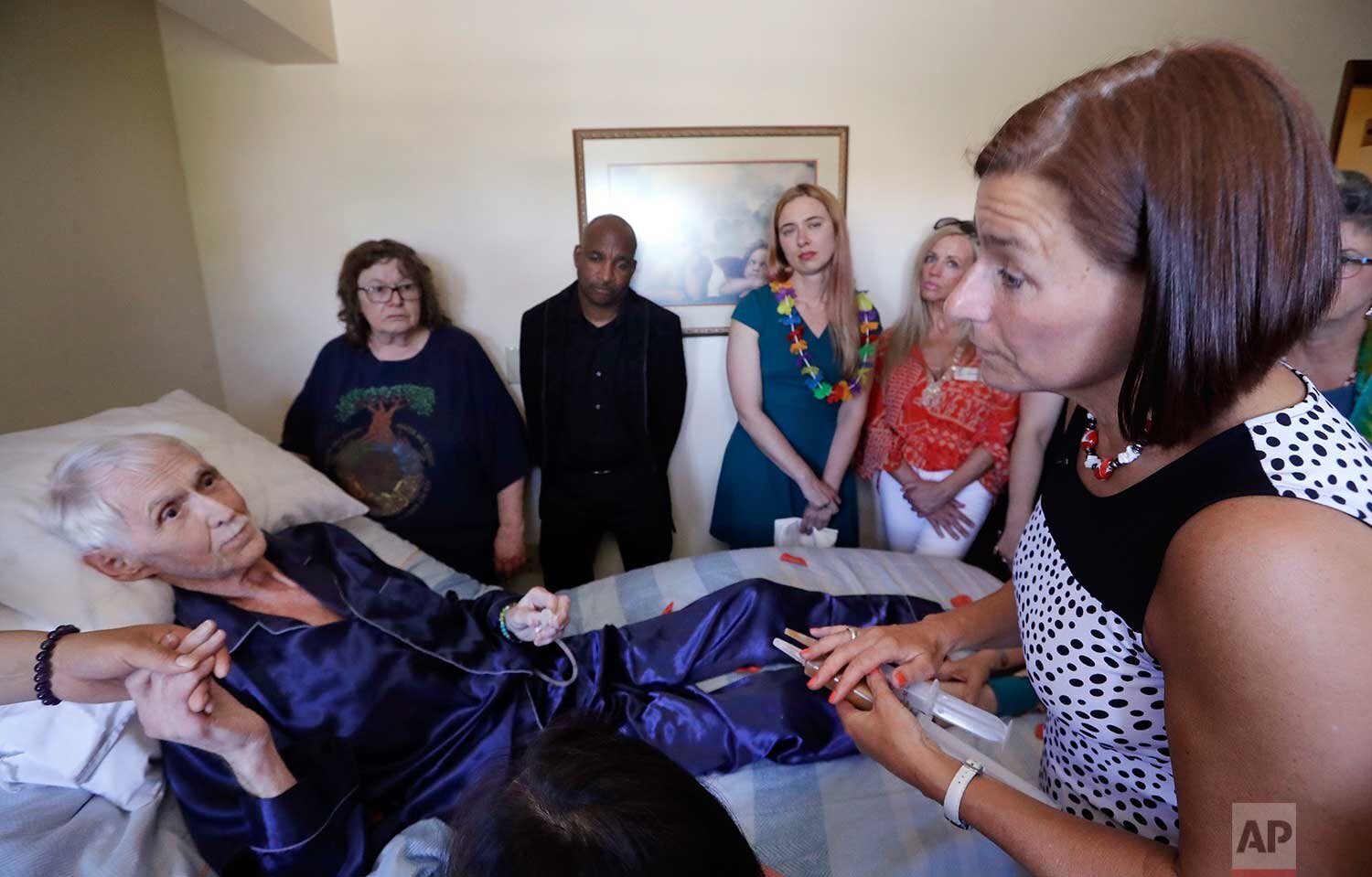 Washington Death with Dignity Act
"Inspired by the death of both my father and father-in-law, I was moved to learn more about Washington state's Death with Dignity act. Through the non-profit organization End of Life Washington, I was put in contact with Bob Fuller several months before the date he had set to end his life. The organization assists people through our state's now 10-year-old Death with Dignity law. Bob made it clear to everyone that he wanted the choice to be able to end his life rather than suffer through his illness. He wanted it in the open and with the support of loved ones. Through visits over those months I photographed Bob as he continued daily life and what would intentionally be his last days. He struggled with his health, visited with friends, attended his final church mass, and picked up the drugs that would end his life.
The day he died, I photographed him in the morning as he married his partner in a small gathering in their living room. That noon, writer Gene Johnson and I covered Bob as he partied with his wide circle of dear friends over food, music and poetry in the common room of his building. At 3 p.m. he announced to the group that any were welcome to come witness his death upstairs. On what was so far the warmest day of the year, Bob changed into silk pj's, dozens of friends packed into his bedroom and spilled out into the hall. I wiggled my way bedside to witness Bob, with his own brand of humor still fully intact, as he took the drugs that would end his life.
This photo follows Bob making a few final comments that left his friends in laughter and tears; he has fallen deeply unconscious, his breathing terribly shallow as he nears the end. Bob was surrounded in death exactly as he wanted: angels on the walls, friends holding him, his husband grieving at his side. The witnessing of an intentional death made possible through our state's Death with Dignity law was as profound a moment as I've covered in my career. Death is a weighty and mysterious subject, I was privileged to bear witness." - Elaine M. Thompson
EDS NOTE: The Washington Death with Dignity Act, Initiative 1000, codified as RCW 70.245, passed on November 4, 2008 and went into effect on March 5, 2009. This act allows terminally ill adults seeking to end their life to request lethal doses of medication from medical and osteopathic physicians.
Model: Canon EOS-1DX Mark II | Lens: 16mm | F-Stop: 5.6
Shutter Speed: 80 | ISO: 5000 | Time: 3:22 PM
Hajj Pilgrimage
"I was covering the Hajj pilgrimage in the Muslim holy city of Mecca, Saudi Arabia for ten days. I was hoping to take this picture from the first day but when I tried it was very difficult for several reasons. Cameras are not allowed inside the Grand Mosque and most of the surrounding hotels refuse to allow visitors with cameras for security reasons.
I got a chance to speak with the Saudi information minister and asked him for access to see the Grand Mosque from a high elevation, explaining that it is very important to show a wider angle to illustrate how many pilgrims attend while covering the annual pilgrimage. He was very helpful and asked his assistant to help me. On the last day of my coverage I got approval to get into one of the hotels with a view of the Grand Mosque. The hotel official accompanied me to the 40th floor. I was so happy and optimistic, but then he started walking into a 'staff only' alley where a dirty glass window was facing the mosque, and then he said, "here we are…" I was disappointed but I knew there was no other chance. I started cleaning the glass window on the side facing me, and then decided to use the smallest aperture while adjusting the focus on the golden Kaaba cover for the sharpest possible image.
To illustrate Muslim pilgrims as they circumambulate the Kaaba, you need to use a very slow shutter speed to have the moving pilgrims in blur while freezing the standing or praying pilgrims during the 10 second exposure. It was hard to move with a tripod within the crowd surrounding the Grand Mosque, and also security would stop us. I was aware of that… and my small monopod balanced on a part of the window acted well as a tripod. I had only 5 minutes approved to make the photograph and it was enough to capture 10 good shots and to edit to choose the best one shot through the glass window.
My dream shot became true during the last day of the assignment." - Amr Nabil
Model: Canon EOS 5D Mark III | Lens: 330mm | F-Stop: 20
Shutter Speed: 10 | ISO: 50 | Time: 9:25 PM
World Swimming Championships
"This was the final day of high diving competition at the World Aquatics Championships in South Korea. I was originally scheduled to cover swimming events at the main pool, but my editor asked me to go check out high diving instead and see if I could find something a little different.
There were several "official" photo positions marked out at the venue, but they were all not very interesting and didn't really have great views. I found that it was possible to access a rooftop balcony/garden on a university building about 100 yards away from the competition, which offered a better view of the competitors as they dived off a 27-meter platform into the pool.
Part of the garden was screened off with metalwork that had a grid of circular holes cut into it. The holes were pretty small – the biggest ones were maybe 3-4 inches in diameter. But I realized that with a little luck it would be possible to line up the divers with the holes as they leaped off the platform.
I tried different lenses, apertures, and moving closer and farther from the screen until I felt like I had the right combination of elements. Since the divers were several hundred feet away and the screen was only a few feet away from me, I had to use a small aperture to give some definition to the holes – even at f/11 they're still very out of focus. As I was shooting, I focused on the diver, and so the holes were so completely out of focus that I had only a general idea of where they were.
In total I shot around 400 frames trying different combinations of things. Many many times the divers would leap higher than I expected (or not high enough), or they would twist facing away from me, or the holes didn't line up right, or any number of other things would go wrong. But in this frame, at least, everything came together." - Mark Schiefelbein
Model: Canon EOS-1D X Mark II | Lens: 200mm | F-Stop: 11
Shutter Speed: 1/2000 | ISO: 2000 | Time: 12:08 PM
Olafur Eliasson Exhibit
"This image was taken in the "fog room," part of the exhibition "In Real Life," by Danish-Icelandic artist Olafur Eliasson at the Tate Modern Gallery in London.
We usually don't know what to expect at these exhibitions, so I prepared by doing research on the artist before I went. I had no idea that fog would be the main element of the installation, and my first instinct was that it would not be possible to make a nice picture. Whilst i was acclimating to the conditions, the vague outline of a person wafted into view - i immediately felt that rush of excitement and went into photographer mode.
I was very disoriented and feeling vulnerable because the fog was very thick and I did not know what to expect with each step I took. It was hard to see much of anything. Fog isn't often a condition that photographers have to make a photo in, and it's not preferable. It is extremely hard for the camera to focus and the picture loses depth as a result. After being in the room for a few moments, a visitor's shadow appeared against the light. The whole scene suddenly became quite mystical. While the usual attributes of a good photo, sharpness and clarity, are not present in this image, I think in this instance it could be ignored to show an interesting part of Eliasson's exhibition. It took me about 20-30 frames to get the composition I was looking for with the visitor as they looked upwards towards the light." - Frank Augstein
Model: Canon EOS-1D X Mark II | Lens: 16mm | F-Stop: 4.0
Shutter Speed: 1/200 | ISO: 160 | Time: 9:40 AM
Kenya Climate Growing Waste
"As part of AP's global coverage of the issues surrounding the "COP24" climate change summit in Katowice, Poland in December 2018, we had decided to do some feature photos illustrating the challenges of managing solid waste in Nairobi, Kenya where I am based. Many developing countries lack the resources needed to process the amount of solid waste from their growing economies, with much of it being openly dumped or burned and this can be a contributing factor to climate change.
Nairobi's Dandora landfill is one of the largest in Africa and while some waste there gets burned, a large amount gets informally recycled by the hundreds of men, women and children who scavenge at the dump every day, sifting through mountains of garbage to retrieve recyclable materials that can be resold such as bottles and plastic bags.
I'd photographed at Dandora before so I knew to bring rubber boots as we would be traipsing through the sludge that pools around the mountains of garbage. Myself, a reporter, and a cameraman spent a few hours at the dump talking to the people there and taking photographs of them working. The stench in the air from the garbage slowly rotting under the hot sun is extremely overwhelming but it is hard to capture that aspect in photographs.
At one point the wind changed direction and the smoke from a burning pile of garbage in the distance blew back over the people I was photographing at that time, along with the large and rather ugly Marabou storks that feed on the trash. Watching the people scavenge through the toxic garbage is grim enough, especially when you see small children living and playing in it, but to me the smoke helped show the toxic environmental conditions in a way that could be better captured in a photograph. I used my 70-200mm zoom lens to shoot around 25 frames of the particular woman in this picture as she walked left and right amongst the garbage and the storks. I chose this frame because it also had the bird in flight which I felt balanced the composition better." - Ben Curtis
Model: Canon EOS-1D X Mark II | Lens: 200mm | F-Stop: 4.0
Shutter Speed: 1/250 | ISO: 100 | Time: 11:35 AM
Border Wall
"This picture was taken in the period after the big October 2018 caravan of Central Americans had arrived in Tijuana and realized that, although they had made it to the border, they weren't just going to be allowed through. Some migrants had settled into basic camps and applied for Mexican papers and work while they figured out what to do next. Others were determined to make their asylum claims, and were finding ways over and under the border, rather than wait in the weeks-or months-long line at the official port of entry.
On the day I met this family, I had been shooting pictures in the morning at a temporary migrant camp which authorities wanted to clear. I needed to edit and file those pictures, so I decided to do that while parked in my taxi alongside a section of border wall where many migrants had been turning up to cross in the previous days.
In this part of the border in Tijuana, it would be virtually impossible for people to disappear into U.S. territory once they got over or under the wall. The scores of Central Americans I witnessed crossing in this area weren't trying to get into the U.S. illegally. They knew they would be picked up by border patrol as soon as they crossed, and saw it as a way to get their asylum cases heard faster.
Journalists staking out this section of the border had been coming and going, but at this moment, I happened to be there by myself. I was editing in the backseat when my driver alerted me that some people had arrived. I looked up to see a young woman with an infant disappearing down the slope into the little wooded ravine, and grabbed my cameras to follow her. Ahead, there was a young man in a hoodie leading the way.
I greeted them quickly as I shot, presenting myself as a journalist, but they were too focused to talk much. I just got their names and a few basic details. They were clearly nervous about approaching the border wall and weren't sure what would happen when they did. A U.S. helicopter flew overhead, and I photographed them from a short distance as they squatted under trees, waiting for the helicopter to move away.
While Yesenia cradled their son Daniel underneath a bush, Joel scouted along the border wall for a way to cross. Most people I'd seen cross here had climbed over, with adults helping each other and the children. But occasionally, people would find a freshly dug hole in the hours before it was refilled. To my surprise, Joel found a hole covered in brush, and called over Yesenia. She lay on her back and scooted under first, and then he passed under their son. The crossing took less than a minute, and I just got off a handful of frames.
I thought the scene was over and was lowering my camera, only to see a flash of movement in the hole. The infant boy's bottle had fallen back in. I scrambled to get my camera to my eye and shot a hurried frame of Yesenia's hand reaching in to retrieve it.
Three days after this picture was taken, contractors with heavy machinery arrived to raise the height of the wall here and to drive metal plates down into the soft earth below. Asylum-seekers continued looking for places to cross and surrender to border patrol, but had to seek out more remote areas of the border that are often controlled by smugglers and organized crime." - Rebecca Blackwell
Model: Canon EOS 5D Mark IV | Lens: 16mm | F-Stop: 3.5
Shutter Speed: 1/100 | ISO: 4000 | Time: 4:54 PM
U.S. Air Force Academy Graduation
"I made this photograph at the conclusion of a long Air Force Academy graduation ceremony in Colorado Springs. I traveled with President Donald Trump on Air Force One from Washington to document the president participating in the event.
Even when the president is traveling inside the country, a day trip still takes some very serious coordination headed up by our photography desk editors in Washington: Wayne Partlow and Jon Elswick. The Associated Press covers the president 7 days a week. There is a team of AP writers and photographers stationed at the White House from early in the morning until late at night.
When the president travels, he is always accompanied by a group of writers, photographers, a videographer, a sound technician and a TV producer. This group of 13 members of the media is known as the travel pool. This is a rotating group of people who travel with the president wherever he is to cover what he is doing or in case there is a national emergency or some other type of event where the president needs to speak to the country. We all have assigned seats in a section towards the rear of Air Force One reserved for members of the media.
We arrived ahead of the president to Andrews Air Force Base just outside DC in Maryland to get cleared onto the base and through security by the Secret Service. The procedure has changed slightly over the years. For awhile we were allowed to drive our own cars onto the base by ourselves. Then it changed to meeting outside the gate and being escorted in our cars as a group. Recently we have been allowed to drive our cars ourselves. We then drive to the terminal and go through security much like what you'd go through if you were at the airport. Then we get wanded a second time by secret service and a dog walks through and sniffs all our bags and gear. Then we as a group walk across the tarmac and get on Air Force One. When the president is ready to leave the White House, the presidential helicopter known as Marine One lands on the South Lawn where our photographers there make images of him boarding the helicopter and flying to Andrews Air Force Base. Then we photograph him as he arrives and boards Air Force One and then we all take off together.
We touched down in Colorado after an uneventful flight and the president, his staff, the secret service, and the members of the media loaded into the motorcade and departed the airport headed to the US Air Force Academy in Colorado Springs. We were driven right onto the football field where we got into position to photograph the President's arrival as well as the graduating class who arrived marching in unison while in uniform.
I was allowed to stay close to the stage in front of the seated cadets as speeches were given by President Trump and other officials before each row of cadets stood and lined up to take the stage one by one to be recognized and shake hands with the President. This took about an hour and a half to get through all the cadets but there were good images to make as many of those graduating would run off the stage and jump into the arms of their classmates. The wireless internet connection was poor in the stadium, so I would shoot images for a while and then walk back to an area they had set up for us to plug into ethernet lines and send images back to Washington for distribution to AP's members and customers.
Finally, after all the cadets had returned to their seats a buzz grew in the air. I watched these well-tailored friends and compatriots try as best they could to suppress their desire to rejoice with each other, maybe for the last time before being sent out with their orders across the globe. Bodies pushed to the edges of their seats, hands in white gloves locked together and smiles grew across faces. They knew what was about to come. I took a position, kneeling in the artificial grass before the first row of young men and women whose professional lives were about to begin. They stood in unison for (what I believe to be) the Air Force song as it played. As the song ended the cadets exploded with joy. Cheers erupted from the crowd of family and friends watching and hats were thrown high into the sky just as a group of Thunderbirds in formation screamed overhead. The image I made happened so fast I was worried I may have actually missed it. Cadets turned to hug and cheer each other as hats rained down upon us all. The president smiled and watched from the stage and our press group quickly made our way past children as they descended upon the field to pick up hats.
We were loaded into vans in the motorcade with the president and just like that we left the celebration behind us and were on our way to Air Force One to fly back to Washington. As I sat in our van and sent photographs back to the office, I would look up from my laptop from time to time and gaze out the window to watch the thunderbirds continue to perform aerial stunts across the sky over Colorado." - Andrew Harnik
Model: Canon EOS-1D X Mark II | Lens: 24mm | F-Stop: 8.0
Shutter Speed: 1/2500 | ISO: 2500 | Time: 2:07 PM
Cuba Daily Life
"A cold front was entering that day by the "The Malecon of Havana," a 5-mile long seafront promenade with beautiful buildings that reflects the soul of the city, and is a place that tourists and locals often go. When the waves begin to break at the wall of the pier it happens quite suddenly, and it usually lasts a day before the tide rises and falls again. It is an impressive and surreal landscape for anyone who is not local to the area to see the cars (some more than half a century old) battling against the waves to reach their destination. Drivers often try to avoid the waves, as it is difficult to control the car if a wave hits the car and sometimes the waves will come with rocks or debris that can also damage the cars. The waves have their own rhythm and drivers know that it is impossible to try to time when the waves crash so they can drive by and not get hit.
The old American classic cars are often carrying tourists and taxis do not take a lot of risks because they are cars that easily break down if a significant amount of water hits them. Since the cars are old and somewhat fragile, getting hit with a large wave and having sea water get inside the car could be very troublesome since it is very difficult to get parts to repair them. When that happens, it is possible the driver could spend weeks without being able to work.
I decided to wait for a photo opportunity that would show the big waves and a classic car. For a while, only modern cars passed by where the drivers did not care if the waves touched them and few American classic cars dared to venture past the crashing waves. I knew the only way to capture a genuine moment was if I had a classic car to represent "Cuba", but for some time the waves were breaking in front of, or behind the car - not in the perfect spot I was hoping for. While the photos I made were interesting they did not convey what the driver could feel from inside the car.
After waiting for a while, I started to have a bit of luck but it was not the ideal image I was hoping for. I decided to change my lens to a manual focus 50mm Carl Zeiss lens. I was afraid the autofocus would play a trick on me by focusing on the water splashed instead of the car. Since I wanted to use a shallow depth of field, I set my focus on the likely place where the scene would happen and waited until the green Chevy with the white roof approached, carrying passengers by at full speed, lifting water from the asphalt while trying to flee the wave that came exactly as they drove by. Finally, I had gotten the shot." - Ramon Espinosa
Model: Sony A9 | Lens: Carl Zeiss 50mm f1.5 focus manual lens | F-Stop: 2.8
Shutter Speed: 1/600 | ISO: 64 | Time: 3:10 PM
Venezuela Anti-Government Protester
"Unrest in Caracas had been escalating as pro-government security forces fought back growing crowds of protesters for several hours and continued to intensify when I noticed a red c­­­ity bus that demonstrators had turned into a roadblock. At first, no flames were visible around the bus, so I moved along to the perimeter of a nearby military base, while keeping an eye behind me because I suspected the situation with the bus could quickly turn. Sure enough, within a few minutes, the mob had lit it on fire. After seeing this, I changed course, moving in closer to capture the growing flames. I knew this certainly put me at more risk, but it also afforded an opportunity to make a powerful image.
Demonstrators were running from side to side through my frame, but I was after their faces backset by the flaming bus. While the crowd moved away, one man looked toward me -- his face partially covered with a T-shirt and toothpaste smeared on his forehead to cut the effects of tear gas that police were firing non-stop in an attempt to disperse the protesters. (In situations like this, I'm wearing a teargas mask myself as well as a bullet-proof vest.)
Concerned the bus would explode, I moved back and started scanning through the images, ignoring the noise, flying rocks and drifting tear gas. I hit "send" moving the images directly from the camera via WFT (Wireless File Transmitter) to my editor, Ricardo Mazalan, in Bogota. In Caracas in special during protest or breaking news we equip with our cameras with WFT transmitters connected to MIFIs (a type of mobile Wi-Fi hotspot) that work in the entire country.
Contained in that submission was the exact moment I had waited for. This photo was shot number 14 of 34 of a sequence I took when encountering the situation. Ricardo selected the file, captioned it, and within minutes transmitted it to AP subscribers around the world." - Fernando Llano
Model: Canon EOS-1D X | Lens: 271mm | F-Stop: 5.0
Shutter Speed: 1/600 | ISO: 200 | Time: 12:32 PM
Notre Dame Cathedral Burns
"I was walking on the street and on my way home when I noticed police cars running at full speed with sirens on and thick, black smoke filling the sky. Bertrand, the AP photo editor at the Paris office called me shortly after to alert me that Notre Dame de Paris is on fire. I was amazed.
My first thought was to climb on the roof of my building from which I can see the cathedral. Upon getting to the roof I notice it's not just a fire, but a real inferno although I only see the roof burning. At that moment I think the fire has maybe taken over from the nave and it is the whole cathedral that is burning. I quickly take some pictures that I send immediately to Bertrand so he can file to the AP subscribers and then determine I have to get closer as soon as possible before they begin to close streets and restrict my access.
I get on my scooter and go for it. On the outskirts of Notre Dame the streets have come to a standstill. Cars, scooters, bicycles, pedestrians are stopped. Everyone stands with their faces facing the burning cathedral. In the heart of Paris...no horns, no noise. Everything was silent. The scene was unreal.
These are the first pictures I take on the spot - these people who stood still to look at the fire. I found it is still rather easy to move around the cathedral even with the police cords that prevent you from getting too close. For an hour I walked around, taking pictures looking for all the possible angles of the burning cathedral. Then I decided to move away from the crowd hoping to find a more original angle.
Shortly after, in the alignment of a small street, I see the silhouette of a rose window lit by the fire. I could clearly see the drawing, the statues...and strangely the shapes are clear and highlighted. I took eight pictures, alternating wide and tight shots. It is not the most important photo I took that evening, but it is emblematic of the event and its meaning is clear and instantaneous." - Thibault Camus
Model: Canon EOS-1D X Mark II | Lens: 230mm | F-Stop: 4.0
Shutter Speed: 1/100 | ISO: 4000 | Time: 8:08 PM
Donald Trump Hugs American Flag
"I have been part of the Washington, D.C. photo team that covers the White House for over 10 years. An Associated Press still photographer is always in the White House Press Pool that travels everywhere with the president. The press pool is comprised of reporters from the three primary wire services, print reporters, a radio reporter, a television crew, and several still photographers. We are ready to gather news people need.
On this day the pool traveled with President Donald Trump about 10 miles from the White House by motorcade where he would speak at the Conservative Political Action Conference, CPAC 2019, in Oxon Hill, Md.
After arriving with President Trump, the five still photographers and the television crew were taken to the buffer, the area directly in front of the stage to photograph his arrival.
I positioned myself stage right, the side I was told the President would enter. There was an American flag on a stand at the entrance point. I recalled seeing images of then-Republican presidential candidate Donald Trump hugging the American flag at campaign rallies, but you never really know what could happen, so I just tried to be ready for anything. I was working with 2 cameras, one with a long lens 70-200mm and another with short lens 24-70mm. When I position myself for a stage arrival, I try to get an unobstructed view that gives a sense of place, hoping the subject will move in a way that lines up elements and light. I try to tell the story of the event. I was working around other members of the pool and the president's Secret Service security detail that takes their positions at the base of the stage at the last moments before the president arrives.
The CPAC audience was very supportive of President Trump, and we expected a campaign rally like atmosphere. The whole hall erupted in cheers as he arrived on stage. I started taking photos as soon as I saw him. He took a few steps, paused then hugged the American flag. I started with the short lens and had just enough time to switch to the long as he continued to embrace the flag for a few moments, looking toward the pool, as seen in this image.
The pool was escorted from the buffer to a side position after a few minutes. I knew the hug was the image. I edited and transmitted it to the New York photo desk right away. It captured the essence of what would be a marathon speech by President Trump that lasted over two hours." - Carolyn Kaster
Model: Canon EOS-1D X Mark II | Lens: 123mm | F-Stop: 4.0
Shutter Speed: 1/500 | ISO: 2500 | Time: 12:14 PM
Tiger Woods Wins Masters
"At tournaments such as the US Open, British Open and all PGA events, photographers and reporters are allowed to walk inside the ropes with groups. We must stay within an arm-length of the rope but can kneel in front of the fans. Augusta National does not allow photographers to walk inside the ropes. About half of the holes have photo pens designated for photographers. For the other holes, we work with patrons to get a good vantage point. The 18th green has three pens which are extremely helpful in our coverage. The pens provide an unobstructed view of the green and are organized by different color armbands. You must have the correct color to enter each pen.
On Saturday, due to expected bad weather in the afternoon Sunday, the tournament organizers moved up the start times and had the players out in groups of 3, hoping to have the tournament over before the bad weather arrived. The early start and playing in threesomes instead of twosomes actually helped in our coverage plans. Having the leaders together in one group at the start of the day was very helpful. We finished in the early afternoon, normally the time when the leaders would just be teeing off on a normal Sunday round.
I was positioned at the 12th hole for the leaders. After Francisco Molinari and Tony Finau put their tee shots in the water, I had a feeling it was Tiger's tournament to lose at that point after he hit his tee shot onto the green and parred the hole. I went straight to the 18th green after the group completed play on the 12th. Going up to the 18th green early was a good call since the crowds continued to grow around 18 as Tiger made his way through the back nine.
There are three pens on the 18th green. We sent our first photographer, Chris Carlson, to the pen at the top of the green, as it is the most popular and smallest of the three. I was the second photographer to get to the 18th. I went into the left pen, as most golfers finish facing this pen due to the pin placement. Marcio Sanchez was the third photographer up, and he went to the pen on the right. Matt Slocum and Charlie Riedel came up as they were walking with the groups, one on each side of the green. Their spots were in chairs placed and marked AP Photos among the patrons when the gates opened Sunday morning. We had a total of five photographers covering the tournament.
After leaving his approach shot short I knew Tiger could finish with a bogey at worst. His first putt was lined up for Charlie Riedel, and I was partially blocked by Tony Finau and his caddie. Had his par putt gone in Charlie would have had the best angle. After he tapped in for bogey my initial reaction was that's it, he's just going to pull the ball out of the cup and wave and then he let out a Tiger yell. I never took the camera away from my eye as he putted and reacted. I chose to use the 70-200mm because of the versatility of zoom. We always talk about shooting a little loose because it's better to crop in vs being too tight and cropping out a foot, hand or club. That lens seemed to be perfect and helped me include much of the crowd at the end.
Once the card finished recording all the images, I made the call to editor, Morry Gash, to let him know I had the best angle for Tiger's reaction. Every photographer made a nice a frame on Sunday as Tiger turned in different directions during his celebration.
By the time I was headed off the green, Woods was being escorted back to the locker room and then to Butler Cabin to receive his fifth green jacket." - David J. Phillip
Model: Sony Alpha 9 | Lens: 121mm | F-Stop: 3.5
Shutter Speed: 1/1250 | ISO: 400 | Time: 2:26 PM
Ethiopian Airlines Crash
"I took this picture of a bereaved family member of a ET 302 accident victim at the plane crash site on March 14, 2019, four days after the plane went down. There were three international media as well as a few other local media at the crash site (which was an open field with no facilities as such). I went out at 4:00AM every morning to arrive at the site by 7 before relatives arrive. The very early arrival also allowed me to informally chat with local security forces/site guards (who I got to know over the days) and community members around the site to get an update on planned 'activities' and arrivals for the day (foreign investigators, high-level visitors).
This was a very emotional assignment, being very close to so much pain by grieving family members. The picture was taken just before noon on my fourth day working at the crash site. The woman was part of a group of relatives who were brought to the crash site by an Ethiopian Airlines bus. Despite having been around so many grieving relatives for four days in a row, the woman immediately got my attention when she left the bus. Her emotions and expressions of pain were particularly 'raw' which is why I started to position myself at a respectful distance (using a telephoto lens) for taking her picture. As she began to kneel, I also kneeled and took six shots of her (the below shot was the first of the six). The entire scene with her on the ground took about 30 seconds after which she rejoined other family members.
Like many other relatives of victims of the flight crash who came to the site in the aftermath of the accident, the woman broke down in despair when she realized that there was nothing left and that there were no remains. In Ethiopian culture, grieving is often more 'communal' than in many other cultures. If a family member dies, the bereaved families will open their homes to other relatives, friends, neighbors, work colleagues who will be staying and grieving with the family over a period of days.
I was very cognizant that my documentation of the grief over the crash should not in any way intrude into the space of grieving families. While I could have been physically much closer to the relatives, I chose to use the telephoto lens to respect their space and to avoid relatives feeling violated in their sense of privacy. I made a very conscious effort to avoid voyeuristic aesthetics and to represent grieving families and their pain in a way that evokes sympathy rather than horror or pity.
I am also hoping that for some family members these pictures will become part of their memories of saying goodbye to their loved ones at the site in the absence of any remains." - Mulugeta Ayene
Model: Canon EOS 5D Mark III | Lens: 200mm | F-Stop: 4.0
Shutter Speed: 1/200 | ISO: 160 | Time: 11:30 AM
Goat Tree
"I was driving from the southern port city of Essaouira in Morocco after just visiting the city when I came across this scene. It was an extraordinary view because of how many goats there were on the tree. Other trees had fewer goats feeding - something you see sometimes, but not this many. Other cars drove by, but I stopped and turned around. The city (Essaouira) is well known for its Argan trees, whose seeds are pressed and used for extraction of the popular Argan oil, which is used in cosmetics and cooking in Morocco and are much sought after by visiting tourists. It was a bit cloudy so I got out my fixed 35mm f1.4 lens and walked towards the tree, observing the goats and taking different angles while trying not to startle them. I took multiple shots from the side of the road first, to make sure I had the shot in case they moved or ran after I crossed the road and then continued to shoot. The goats live in a very dry land, and when it is not wintertime due to the lack of rainfall, they struggle for moisture. Often goats will climb the Argan trees whose leaves and seeds contain the moisture the goats feed on. (After taking the photo, I would later learn that the goats excrete the seeds after half digesting them. These 'half-digested' seeds are still harvested by the villagers, and actually make them easier for the villagers to press in the production of Argan oil.)
My best view for the trees was shooting the tree straight on so I moved towards that position. I tried not to startle the goats, but they were all aware of my presence, some looking towards the camera while others continued to feed. I took multiple frames but the photo still wasn't perfect due to the tranquility of it. Then, thankfully a few baby goats started running towards the tree and climbed up with the others and that was the winning shot." - Mosa'ab Elshamy
Model: Canon EOS 5D Mark Ill | Lens: 35mm | F-Stop: 1.6
Shutter Speed: 1/4000 | ISO: 50 | Time: 10:44 AM
Roger Stone walks out of Federal Court
"I was working early that day, on my way to cover horses training at Gulfstream Park for the upcoming Pegasus Horse Race. My phone rang around 7 am, after we got word that Roger Stone, an associate of President Donald Trump, had been arrested early that morning at his home in Fort Lauderdale. I went immediately to the federal courthouse in Fort Lauderdale where Stone was scheduled for a hearing after being indicted by the special counsel Robert Mueller in the Russia probe. As cameras aren't permitted in federal court, we set up on the front sidewalk. By the time Stone eventually came out at around 12:30, it had become a serious media circus. There were dozens of media outlets, TV cameras, still cameras, cell phones, protestors, supporters, and someone loudly playing a continuous loop of the Beatles song "Back in the USSR. "
A podium was set up with microphones, where we hoped Stone would stop to speak. I was directly in front of that podium, with three cameras, one with a long lens to get him just as he came down from the top of the stairs. And two wider lenses as he came to the podium. I was using my 300 when Stone struck the infamous "V for Victory" pose, the same made by President Richard Nixon when he resigned. I had only a few frames of this, but knew instantly this would be the photo, as it perfectly summed up Stone's defiant reaction to the indictment. I took countless other photos in the time he stopped to speak and walk to his attorney's office. As soon as he left the scene, I filed that photo first from my laptop on the sidewalk in front of the courthouse." - Lynne Sladky
Model: Canon EOS 5D Mark Ill | Lens: 300mm | F-Stop: 5.0
Shutter Speed: 1/500 | ISO: 1000 | Time: 12:26 PM
27th Human Tower Competition
"The biannual competition of human towers in Tarragona, Catalonia, takes place in a former bullring, and that photo was taken from a walkway where I was anchored at the top cell, (not recommended for people suffering of vertigo).
To go up there you need to be provided with a safety harness and go up there with the awareness that if a lens drops from that height, almost 100 meters high, you can kill someone on the ground, which is packed with participants. So it is better to have a zoom lens on only one camera to avoid any unnecessary risks.
Maintaining my balance while standing at the narrow walkway, I waited patiently for the favorite group that day, "Colla Joves" to appear. When they came out and started making their base and the first people started climbing, I chose the most symmetrical position that I could, and I tried to slowly find the best composition, playing with the colorful background of people looking up at the last casteller, and then the enxaneta, crowning the top of the human castell. At that moment more than 2,000 people inside the bullring were totally silent. The only thing you could hear was the team manager giving instructions to the members of the castell. That was the moment. That was the shot. I took a about 15 frames until they started to dismantle themselves again. One of them is what you see above." - Emilio Morenatti
Model: Canon EOS 5D Mark IV | Lens: 24mm | F-Stop: 2.8
Shutter Speed: 1/800 | ISO: 640 | Time: 10:16 AM
Ukraine Nationalist Training Camp
"I first heard about the summer camps in Ukraine when I was working on a story about nationalist groups there. I then asked to go to one of these camps to photograph and understand their activities better.
I met a group of instructors, children and teenagers in a small village in western Ukraine, then we walked for around an hour into the forest before arriving to the place where we would camp for the next days. There, veterans and politicians lectured children about nationalism and trained them to defend their country.
On the very first day, just a few hours after we arrived, a light rain began to fall so one of the instructors asked the youth to enter the tent, they all sat on the ground with their unloaded AK-47s and listened to instructions on how to use weapons. It was one of their first lessons on military tactics.
I quietly walked into the tent as the instructor was talking to them and sat near some of the kids. I waited for them to stop noticing my presence, and then took some photos as they sat with their weapons, most of them on their laps. I like how the light hits their faces and you can see their expressions as they listened to their instructor.
This photo was taken with a 35mm lens on a Sony A9, it was quite dim inside, ISO 2500 at 2.5 at 1/160." - Felipe Dana
Model: Sony A9 | Lens: 35mm | F-Stop: 2.5
Shutter Speed: 1/160 | ISO: 2500 | Time: 11:50 AM
Trump and Air Force One
"This photograph was made during President Trump's arrival ceremony in London, and this stop was the second stop of a three-country European visit that also included Belgium and Finland. I was part of the White House travel pool - 13 members of the media, representing wire services, news sites, broadcast television and radio, and photographers that accompanied the president aboard Air Force One (AF1). To make this image, I used a 24-70mm f2.8 lens shot at 70mm at f5.6. I knew from experience covering similar events that I wanted to show a little more depth to add some context to the image.

On this day, before stepping off the plane a White House press staffer gave members of the pool a quick 'tick-tock' as to what will happen on arrival, as is customary. These details included what we will see for this ceremony and what officials would be greeting the president. After our 'tick-tock' we prepared to leave the plane. We disembarked from the rear stairs of Air Force One. There is a specific order – first, members of the Secret Service, then Air Force One Security, White House support staff and lastly, the travel pool. Once on the tarmac the four photographers traveling (who represent AP, Reuters, AFP and the New York Times) all agreed after looking at the location that a better photo opportunity would be to start at the very front of the Honor Guard for the arrival. We asked the White House press staffer to allow us to move from under the wing of the plane to the front and thankfully it was quickly approved. All the photographers moved as a pack because once the president stepped out of the plane, security measures in place would have made it nearly impossible to move and get the shot we wanted.

The photo of the president and first lady walking towards me happened near the end of the ceremony after taking images made with three different cameras and lenses ranging from 24mm to 400mm. The moment the president first stepped out to wave, I took some frames, stopped, picked an image and hit transmit off my camera. Then I did the same after the president and first lady were seen together. Stop, edit, hit transmit and so on. At the end I shot over 200+ images and transmitted off my camera roughly 20 images. (Note: I'm not a heavy-handed shooter, I've learned over the years to be targeted on what I'm looking out for. I don't need 2000 images of the president doing the same thing, and in the end, it is much easier and quicker to edit 200 images than say, 2000.

I was transmitting from my cameras the whole time and was able to send 20 images to our Washington photo desk before the motorcade ever left the airport. I then quickly asked my editors if I missed anything or anyone that may have helped illustrate an AP-specific story as I sat in a moving vehicle with other members of the pool traveling as part of the presidential motorcade as we were heading to the next official event. In this case we had 30-mins until the next photo opportunity. In general, any time I have a moment to do a second edit, I do it. These images are again sent to AP photo desk in Washington. If there are a few hours before we see the president, it is spent preparing for the next series of events with the president, things like meeting with British Prime Minister May, meeting with a local politician or addressing members of the media in an official statement. For this trip most of my planning and preparation went into Trump's meeting with Russian President Putin, which was happening a few days later in Helsinki.

While on the plane before the event and just before landing, I started the process of activating my international mobile MiFi hotspots which allow me to transmit photos without a Wi-Fi signal. For this assignment I was traveling with three options to transmit with. I use three different transmitters on three different network systems because I don't know which international network will work the best in different regions of world and having a back-ups communication is critical, especially when working a deadline. After activating them, I paired the MiFi with my cameras, which had been pre-loaded with a caption and specific FTP folder that the images will drop into. Sending images direct from cameras saves me the trouble of opening up my laptop to edit and transmit. This has become the normal procedure for presidential international travel. The three other traveling photographers are doing something similar, as these days, you're not only trying to get the best photos, but it's also a race to get them transmitted first. Once I believe I have a successful connection I send a test image from each of my cameras, which I follow-up with a text message to the photo desk in Washington for confirmation that the desk is seeing these test images. These test images are primarily to confirm connectivity to have the desk proofread my caption template. It is always best to flag any mistakes and correct before the event actually happens as this saves so much time and headaches for everyone.

As for this image - I like the way the photograph came together. It was pretty much full-frame and I liked the fact that on the far left in the background was a military aide who can be seen carrying the 'Nuclear Football', the president's emergency satchel which is used to authorize the use of nuclear force should such a circumstance arise when the president is traveling." - Pablo Martinez Monsivais
Model: Canon EOS-1D X Mark II | Lens: 70mm | F-Stop: 5.6
Shutter Speed: 1/1000 | ISO: 250 | Time: 9:06 AM
India Gay Marriage
"This photograph was taken on the evening of Sept. 6th - the day when the Supreme Court of India struck down a 157-year-old colonial-era law which criminalizes certain sexual acts as "unnatural offences" that were punishable up to 10 years in prison. Supporters and gay rights activists were supposed to celebrate the verdict by gathering at Jantar Mantar, an area near the Indian parliament where citizens from across the country assemble for protests. That evening though, heavy monsoon rains played spoilsport as soon as an ecstatic crowd started to arrive. It was becoming really difficult to shoot as light was getting poor with daylight ending and shooting in heavy rains would damage my camera equipment. I took refuge under an umbrella of a fellow photographer waiting for some action. Soon after, a car stopped a few meters from us and a gentleman got out waving a rainbow flag, an emblem for the LGBTQ community. I quickly shot a few frames while he was ecstatically waving the flag. After the shot, I quickly got back under the umbrella." - Altaf Qadri
Model: Canon EOS 5D Mark III | Lens: 24mm | F-Stop: 2.8
Shutter Speed: 1/1000 | ISO: 160 | Time: 5:31 PM
Ashoura
"I took this photo during a mourning ceremony for Imam Hussein, a Shiite saint, on the day of Ashoura, a very important mourning ritual for Shiite muslims at one of Tehran's oldest and historical mosques. A Shiite Muslim belongs to one of the two main branches of Islam.

The day before I went there I did some research and found out the mourning ceremony was for women only, and that meant I would have a better chance at making some really interesting photos because of the way they dress when they mourn - which for women means they are clothed in black and wear black veils on their face. Because of my knowledge of the ceremony I also knew some of the women would get very emotional.

At this ceremony, there was only a very small place for men. I had very limited room and therefore few angles and positions to choose from, but I was able to choose an angle that could provide the form and composition that I wanted. I needed to convey the feeling of grief and mourning in a way that the viewer could perfectly grasp and feel that sorrow and grief. When taking photos, I try to communicate my feelings to people at the scenes and let them know honestly and through my behavior that I fully understand them. I try to be very gentle and not to affect or change the scene with my presence.

On many occasions they welcome me and see me as an insider who they can trust. That was the case in this ceremony too as I tried not to disturb the mourners and be respectful. When I went there in the morning I had to wait for a long time until the photo I felt possible was realized. The final photo was as I had imagined." - Ebrahim Noroozi
Model: Canon EOS-1D X | Lens: 121mm | F-Stop: 4.0
Shutter Speed: 1/50 | ISO: 2500 | Time: 8:31 AM
John McCain Memorial Service
"Being in the right place at the right time is always one of a photographer's biggest challenges but when it happens it can lead to a great photo. On this day, I was the pool photographer for the funeral service of a legendary political figure on a huge news story and it only added to the pressure. The AP was given the responsibility of taking and providing ALL the inside photographic images for all media outlets for the entire private family service at the capitol. I was the only still photographer on the rotunda balcony. An AP colleague was the only still photographer on the ground floor. I had to choose my pre-set position before the service started. It was a guess as to what would be the best spot to cover the intimate, family service. Once I chose the spot, I would not be able to move. It was a 360-degree set of possibilities from an elevated position, and thankfully, I chose correctly, because as I later learned, had I chose incorrectly, nearly every other spot would not have led to a good image.

Days in the making, this was the first big public service of Sen. John McCain, R-Ariz., in a week-long series of services in Arizona, Washington, D.C. and Maryland, and this particular one in Arizona, was a difficult one to cover. It was a hot August day and I was wearing a suit, standing on a ladder, hanging over the balcony on the second floor of the Arizona Capitol rotunda to get my bird's eye view of the service and flag-draped casket. It is a small space and I was within 25- feet of the casket, looking almost straight down. The AP was asked to make sure all cameras were silent---nearly impossible with a camera with a moving shutter. To try to accomplish this, I had a large padded noise-dampening bulky "blimp" covering my entire camera making it very difficult to shoot images, compose images, or even see what was going on. For this reason, I used a wide-angle lens because I was so close to the casket shooting a tighter lens would have given my no time to react to any situation and changing lenses with the blimp was noisy and time-consuming, and I liked the framing of the state seal as a graphic element.

The moment itself was a very quick one. At the end of the service, Cindy McCain approached the casket, paused quickly and then gently rested her head on the casket. From where I was standing, I really could not see where she was coming from for that short walk to the casket. The moment lasted only a couple of seconds. Using the fast motor drive setting was out-of-the-question because it would have only added to the noise, even with the "blimp" on. I shot two frames and then it was over. I really didn't know what I had at that moment. I couldn't see the LCD screen to preview my images due to the "blimp" over the camera. I thought that one of the two frames captured the moment, but I was uncertain. I just pushed what I thought was the best of the two frames to our remote editor via ethernet cable to the editor on the first floor of the capitol so they could quickly edit and caption the photos, then distribute it on the AP wire. Then I kept shooting and pushing more images from later in the ceremony. It wasn't until a couple hours later and I had time to scroll through all my images and could see the photo of this moment, and that the picture might be something special." - Ross D. Franklin
Model: Canon EOS-1D X | Lens: 35mm | F-Stop: 4.5
Shutter Speed: 1/500 | ISO: 4000 | Time: 10:25 AM
California Wildfires
"This is my favorite frame of this year's fire season. It had been a long and fruitless day of driving hours on small roads to try to find flames. The main fire front was in a remote area that wasn't easily reachable. I'd thought about heading home earlier, but the winds were predicted to increase so I stayed. This frame came together as firefighters lit a backfire to protect a home. They burn off the vegetation so the main fire runs out of fuel before reaching the structure.

An intense wind whipped up just as they were lighting the backfire. It sent embers flying and had the firefighters scrambling to control the flames. It was a very hectic 20 minutes or so - one of the firefighters even suffered minor burns on this hands from the embers. I shot about 40 frames to get this." - Noah Berger
Model: Nikon D5 | Lens: 17mm | F-Stop: 4.0
Shutter Speed: 1/15 | ISO: 1600 | Time: 8:14 PM
Hurricane Florence
"I used a 16-35mm f2.8 lens shot open wide at 16mm. I made that picture at dawn while out looking for people who had ventured onto the beach for the first signs of what Hurricane Florence was doing as it made landfall that morning just north near Wrightsville Beach.

As I woke up, it was eerily quiet and looking out my room I could see the ocean was calm as a lake. I had never seen the ocean that calm and found it strange that a hurricane was about to hit in an hour only 80 miles north. I went down to the beach and found Russ Lewis walking along the shore with a flashlight looking for shells. He told me the same thing that he found it "spooky" when he woke up and "couldn't hear the ocean." It was literally the calm before the storm.

As we stood along the shore, thick heavy clouds were swirling above that reminded of a scene out of the film Ghostbusters. Then strong gusts of wind would blast sand across the beach with such force it felt like sharp pellets against your skin. One had no choice but to shield their face and so did Russ.

I shot quickly during that gust and fired off about 30 frames of him covering his eyes. That was the moment to capture to help illustrate a hurricane's approach, the calm before the storm." - David Goldman
Model: Canon EOS-1D X Mark II | Lens: 16mm | F-Stop: 2.8
Shutter Speed: 1/60 | ISO: 250 | Time: 6:54 AM