AP monthly staff photo contest
Each month The Associated Press management honors photographers for outstanding coverage while on assignment.
The winners for the June 2017 AP Staff Photo Contest are Emilio Morenatti in News Photography for "Migrants at Sea," and Matt Rourke and Julie Jacobson in Feature Photography for "Alibino Children Prosthetics."
Congratulations to all the photographers for their outstanding work. This month's winning images are featured below.
News Photography | Emilio Morenatti
Migrants At Sea
Migrants and refugees stand on the deck of the rescue vessel Golfo Azzurro after being rescued by Spanish NGO Proactiva Open Arms workers in the Mediterranean Sea Friday, June 16, 2017. A Spanish aid organization rescued more than 600 migrants who were attempting the perilous crossing of the Mediterranean Sea to Europe in packed boats from Libya. (AP Photo/Emilio Morenatti)
Migrants At Sea
Giet, 26, from Nigeria, react inside the Golfo Azzurro rescue vessel as they arrive at the port of Pozzallo, south of Sicily, Italy, with hundreds of migrants aboard, rescued by members of Proactive Open Arms NGO, on Saturday, June.17, 2017. (AP Photo/Emilio Morenatti)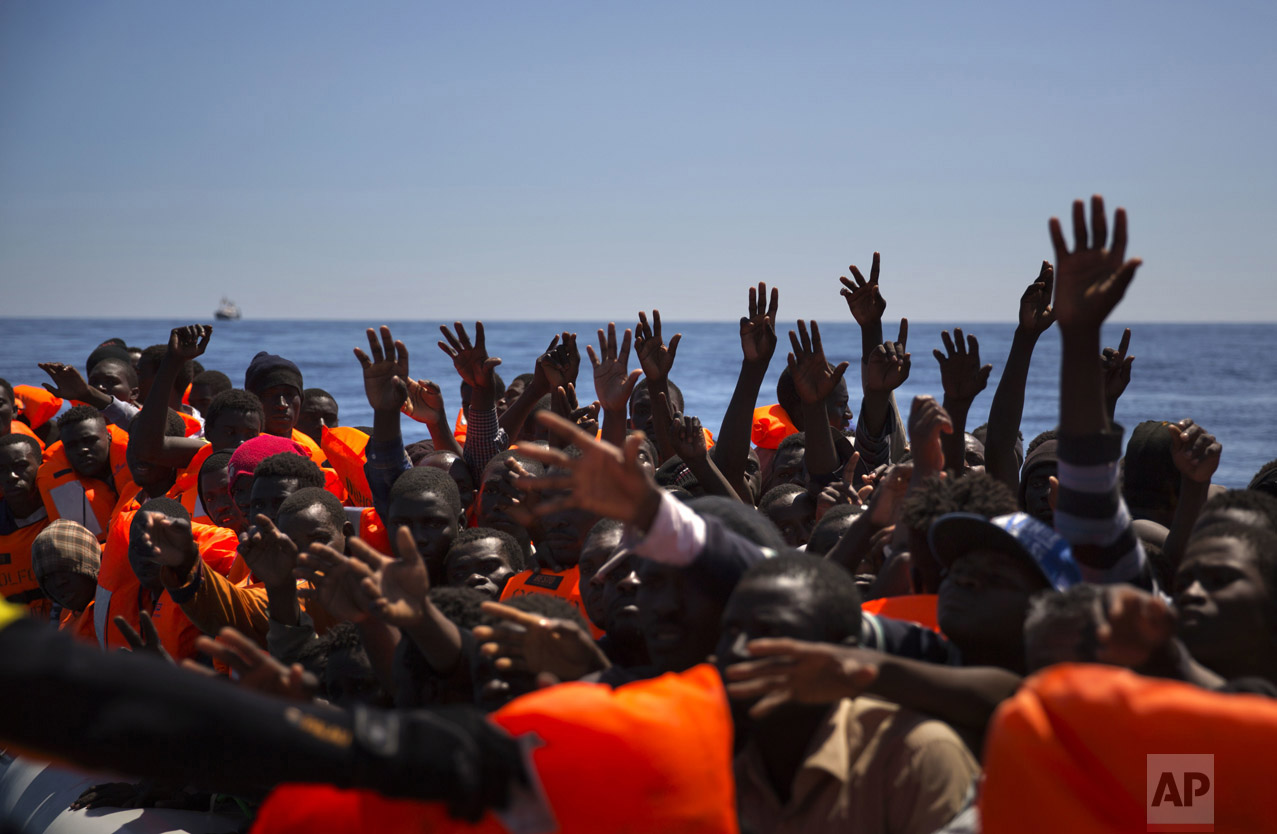 Migrants At Sea
Migrants and refugees raise their hands as they try to reach life vests distributed by Spanish NGO Proactiva Open Arms workers, after being located out of control sailing on a rubber boat in the Mediterranean Sea, about 18 miles north of Sabratha, Libya on Thursday, June 15, 2017. (AP Photo/Emilio Morenatti)
Migrants At Sea
Aid workers, right, from Proactiva Open Arms ONG help an immigrant from Sudan to get into the Golfo Azzurro rescue vessel after being rescued from a rubber boat out of control at 32 miles north of Tripoli, Libya, on Thursday, June 22, 2017. (AP Photo/Emilio Morenatti)
Migrants At Sea
Men stand on the deck of the rescue vessel Golfo Azzurro after being rescued by Spanish NGO Proactiva Open Arms workers in the Mediterranean Sea Friday, June 16, 2017. (AP Photo/Emilio Morenatti)
Migrants At Sea
A man from Nigeria holds a 5 months old baby, on their way to Italy at the rescue vessel Golfo Azzurro, after being rescued by Spanish NGO Proactiva Open Arms workers in the Mediterranean Sea on Friday, June. 16, 2017. (AP Photo/Emilio Morenatti)
Migrants At Sea
A woman from Nigeria dances on the deck of the Golfo Azzurro rescue vessel as it arrives at the port of Pozzallo, south of Sicily, Italy, with hundreds of migrants aboard, rescued by members of Proactive Open Arms NGO, on Saturday, June.17, 2017. (AP Photo/Emilio Morenatti)
Migrants At Sea
A dead body of a woman is seen floating on the mediterranean sea, at 20 miles north of Zuwarah, Libya, on Wednesday, June 21, 2017. At least three bodies with sign of decompositions were found by aid organisations on Wednesday, apparently from a recent sinking boat in the area from people who were attempting the perilous crossing of the Mediterranean Sea to Europe in packed boats from Libya. (AP Photo/Emilio Morenatti)
Migrants At Sea
Emma Butterfleld, doctor at Proactiva Open Arms NGO, comforts Ahmat Arbab Hamat, 22, from Sudan, as he arrives sick at the Golfo Azzurro rescue vessel, after being rescued at 13 miles north of Sabratha, Libya, on Tuesday, June 20, 2017. (AP Photo/Emilio Morenatti)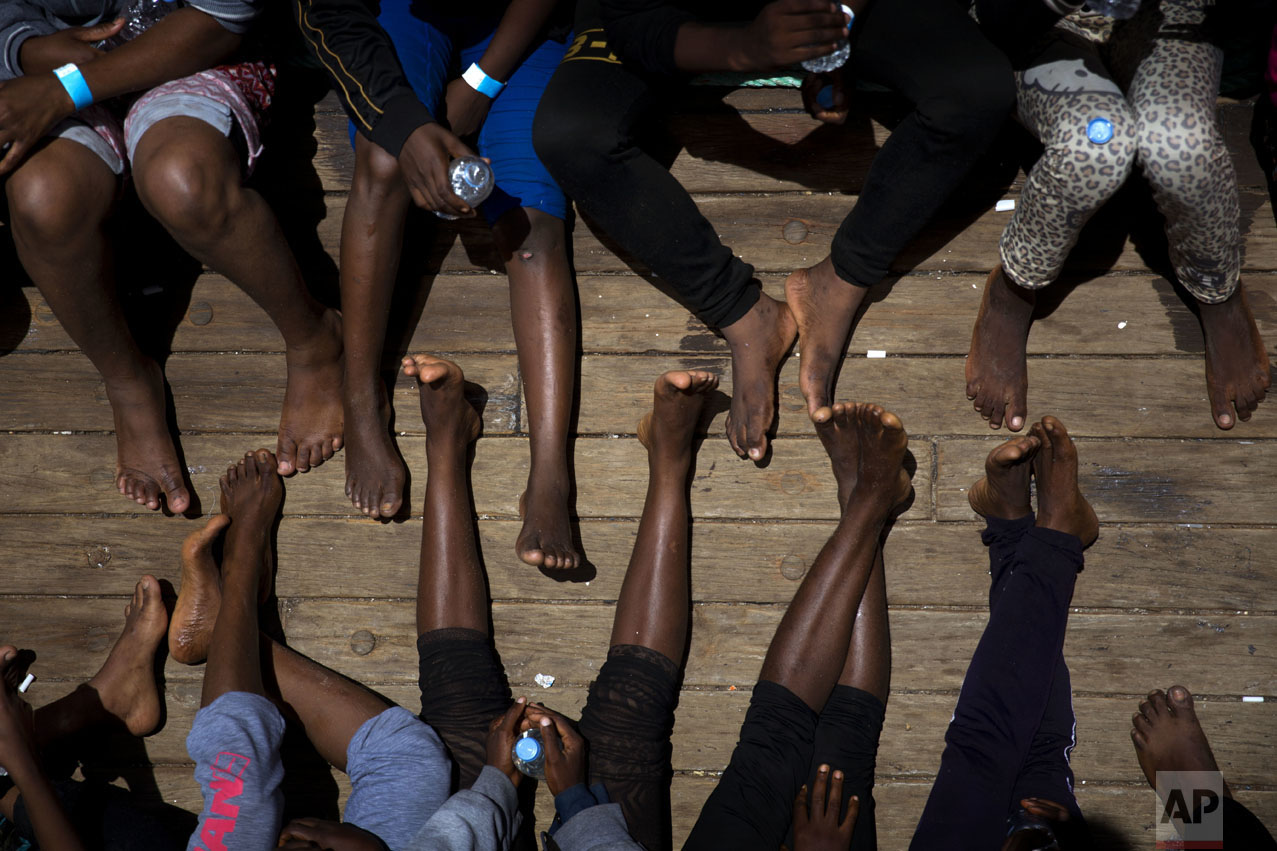 Migrants At Sea
Women on their way to Italy sit on the deck of the rescue vessel Golfo Azzurro, after being rescued by Spanish NGO Proactiva Open Arms workers from the Mediterranean Sea on Friday, June. 16, 2017. (AP Photo/Emilio Morenatti)
Migrants At Sea
Two men from Sudan talk on the deck of the Golfo Azzurro rescue vessel after being rescued from a rubber boat out of control near the Libyan coast, on Thursday, June 22, 2017, at about 110 miles south of Italy coast, (AP Photo/Emilio Morenatti)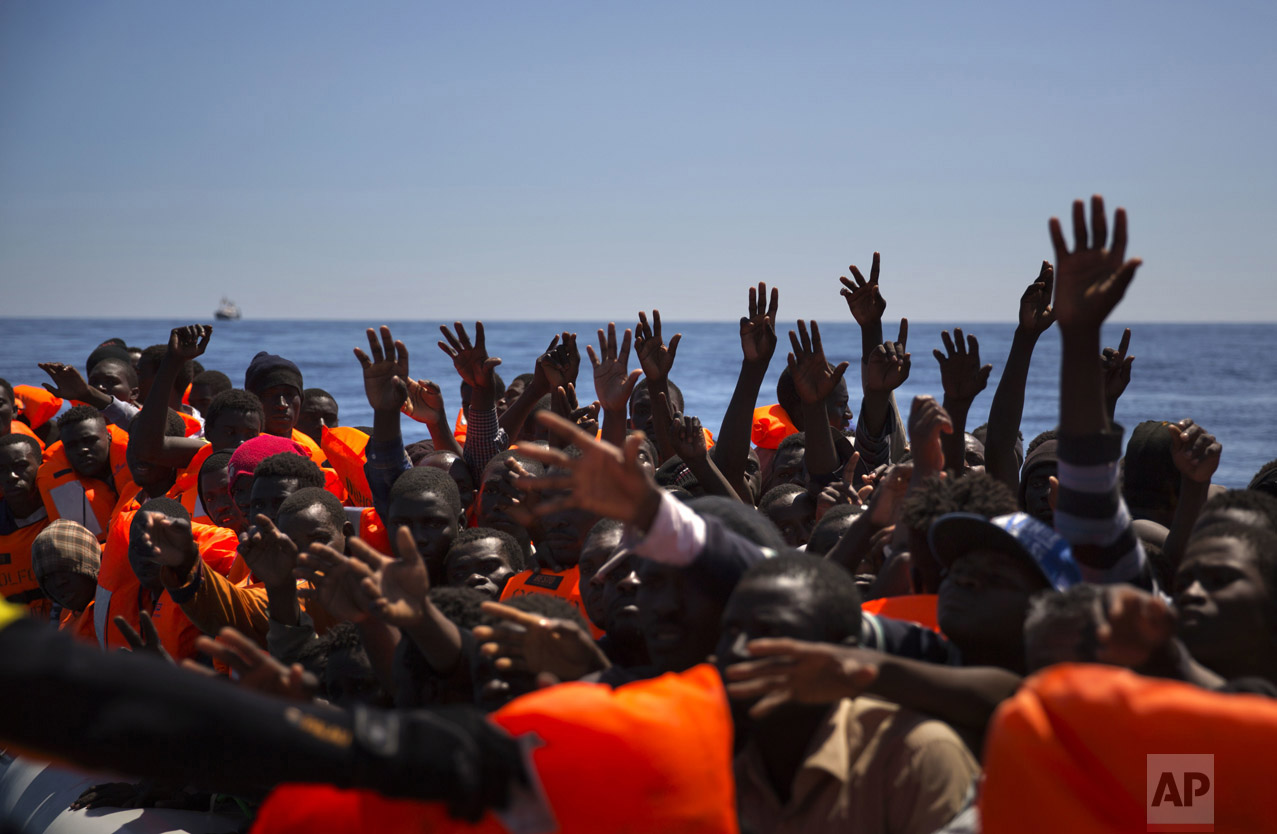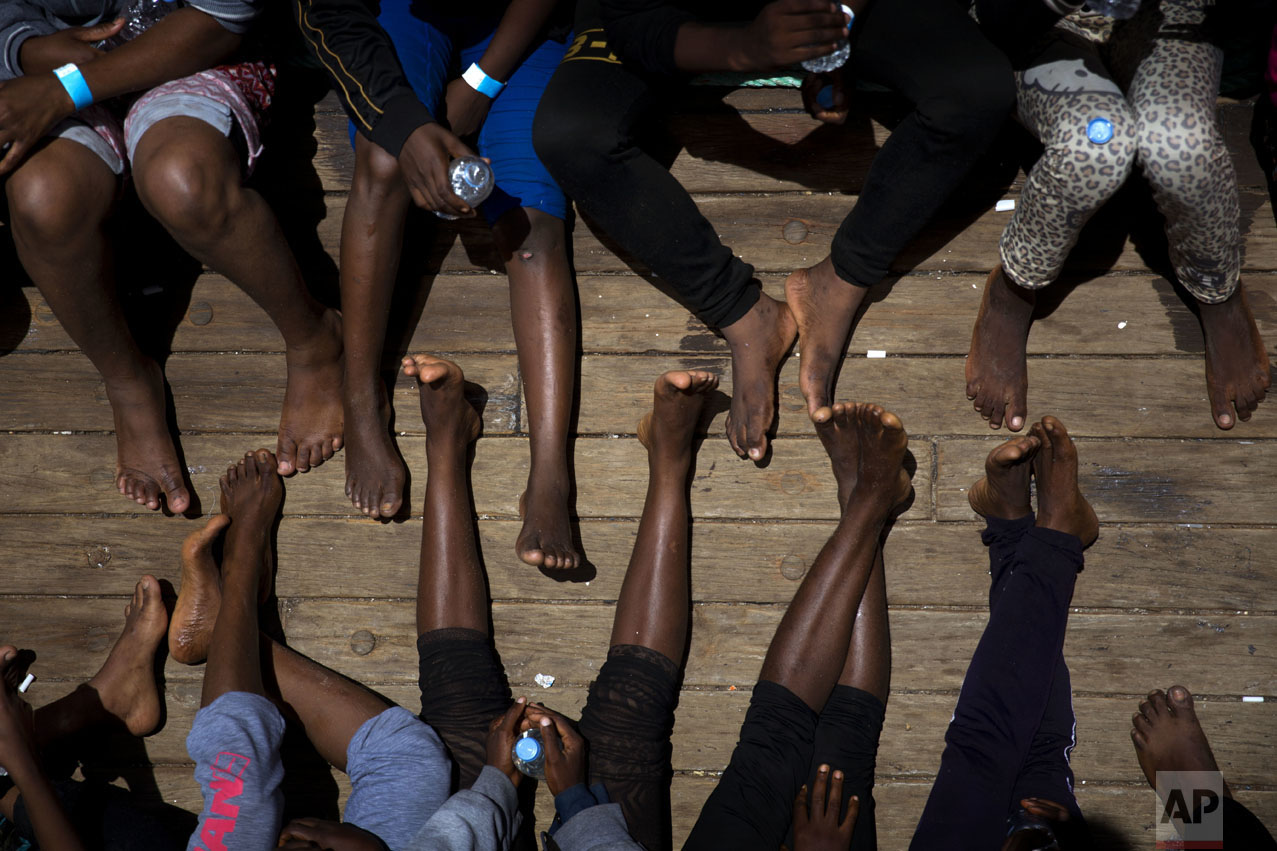 Feature Photography | Matt Rourke and Julie Jacobson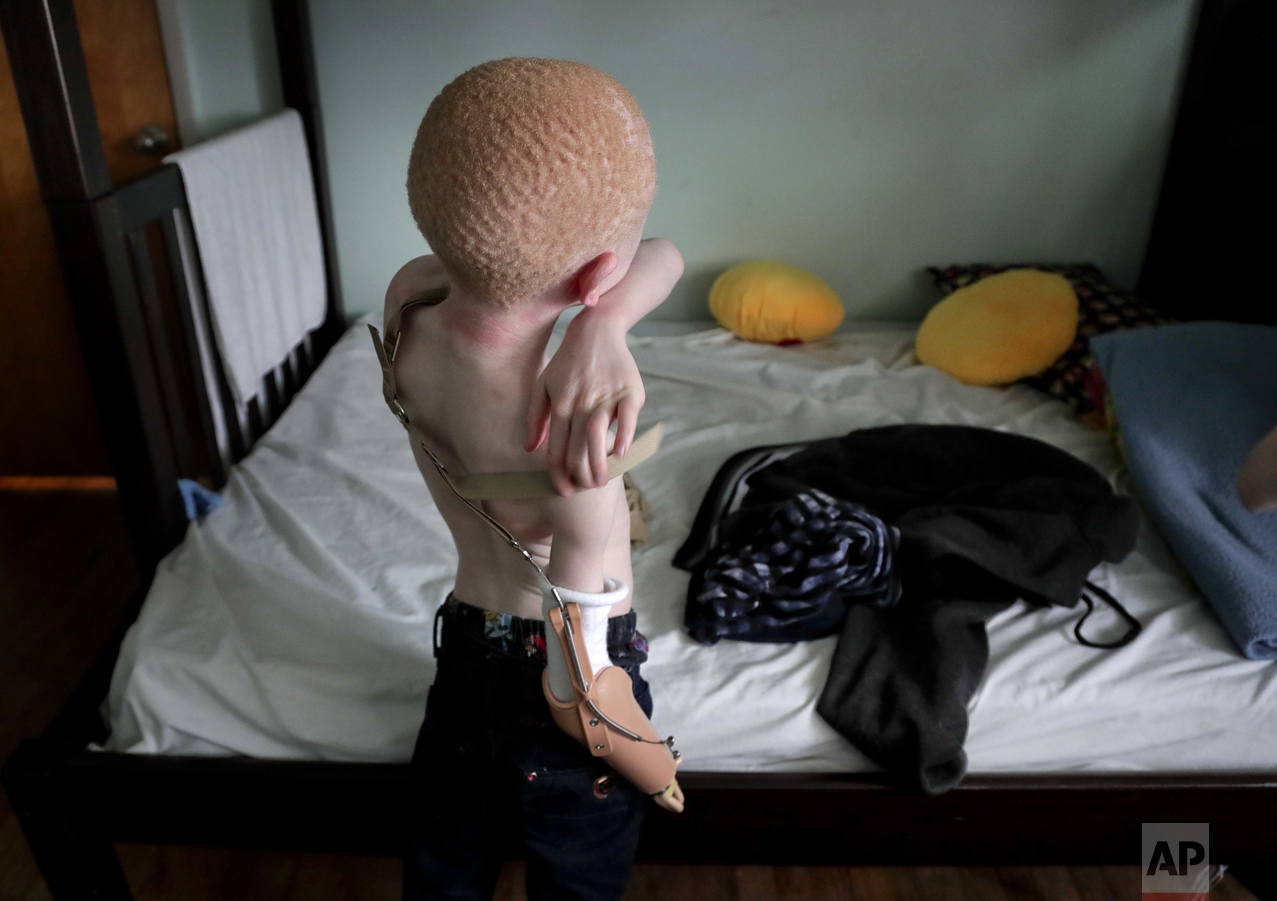 Albino Children Prosthetics
Emmanuel Festo, 7, adjusts the strap to his prosthetic are while preparing for a dinner invite, Sunday, June 4, 2017, in Staten Island, N.Y. Festo was one of four children from Tanzania who were on a return trip to New York to be refitted for new prosthesis for their growing bodies. The four, all albinos, lost limbs to attackers who believe body parts from albinos hold magical powers. (AP Photo/Julie Jacobson)
Albino Children Prosthetics
Baraka Cosmas, from left, Pendo Sengerema, Emmanuel Festo, and Mwigulu Matonange all jet-lagged from their travel to the United States rest as they wait to register at Shriners Hospital for Children in Philadelphia, Monday, March 27, 2017. The children from Tanzania with the hereditary condition of albinism are in the U.S. to receive free surgery and prostheses at the hospital. The children were attacked and dismembered in the belief that their body parts will bring wealth. (AP Photo/Matt Rourke)
Albino Children Prosthetics
Baraka Cosmas height is measured at Shriners Hospital for Children in Philadelphia, Monday, March 27, 2017. The children from Tanzania with the hereditary condition of albinism are in the U.S. to receive free surgery and prostheses at the hospital. The children were attacked and dismembered in the belief that their body parts will bring wealth. (AP Photo/Matt Rourke)
Albino Children Prosthetics
Jennifer Stieber, right, fits Emmanuel Festo with a prosthetic limb at Shriners Hospital for Children in Philadelphia, Tuesday, May 30, 2017. Festo is an albino teen from Tanzania who lost limbs to attackers that believe limbs from albinos hold magical powers. Festo was one of four children on a return trip to New York to be refitted for new prosthesis for their growing bodies. (AP Photo/Matt Rourke)
Albino Children Prosthetics
Global Medical Relief Fund founder Elissa Montanti, right, listens as Baraka Cosmas, left, follows instructions from Ahmed Shareef, as they play on a piano at a friend's home, Sunday, June 4, 2017, in Staten Island, N.Y. Both Cosmas and Shareef are amputees from the elbow down. Cosmas, who is afflicted with albinism has severely limited eyesight and Shareef is blind. (AP Photo/Julie Jacobson)
Albino Children Prosthetics
Baraka Cosmas, 7, is helped by a Customs Border and Patrol agent upon arriving at JFK airport from Tanzania, Saturday, March 25, 2017, in New York. Cosmas was returning to the United States along with three other albinos to be refitted for new prosthetic limbs for their growing bodies. The four, all albinos, lost limbs to attackers who believe body parts from albinos hold magical powers. (AP Photo/Julie Jacobson)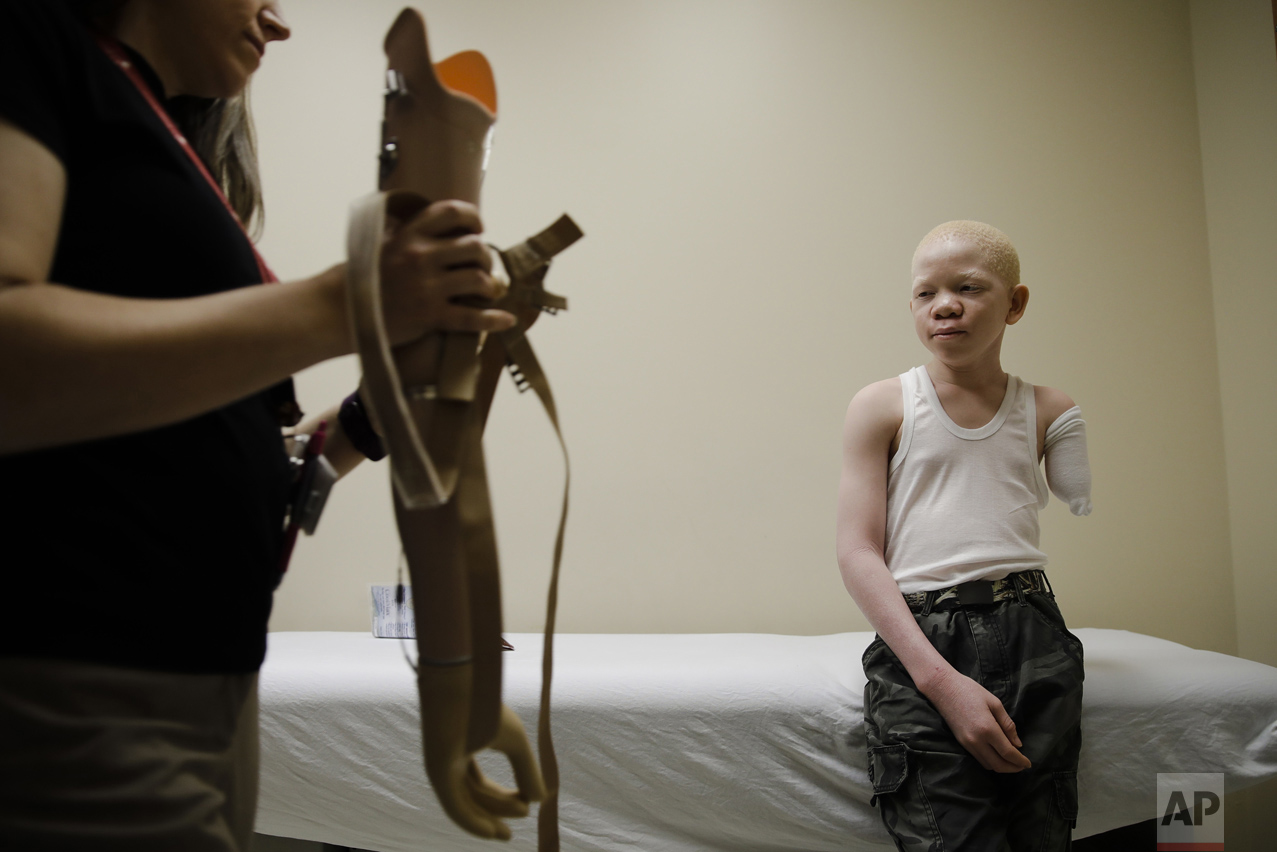 Albino Children Prosthetics
Jennifer Stieber brings in Mwigulu Matonange's prosthetic limb during a fitting at Shriners Hospital for Children in Philadelphia, Tuesday, May 30, 2017. Cosmas, an albino from Tanzania was on a return trip to the United States to be refitted for a new prosthetic. Albinos in traditional communities in Tanzania are hunted for their limbs which attackers believe hold magical power. (AP Photo/Matt Rourke)
Albino Children Prosthetics
Baraka Cosmas holds his new prosthetic limb after a fitting at Shriners Hospital for Children in Philadelphia, Tuesday, May 30, 2017. Cosmas, an albino from Tanzania was on a return trip to the United States to be refitted for a new prosthetic. Albinos in traditional communities in Tanzania are hunted for their limbs which attackers believe hold magical power. (AP Photo/Matt Rourke)
Albino Children Prosthetics
Mwigulu Matonange waits with Elissa Montanti, founder and director of the Global Medical Relief Fund during a prosthetic limb fitting at Shriners Hospital for Children in Philadelphia, Tuesday, May 30, 2017. (AP Photo/Matt Rourke)
Albino Children Prosthetics
Global Medical Relief Fund founder Elissa Montanti, center, greets 7-year-old Baraka Cosmas shortly after he arrived from Tanzania at JFK airport with Mwigulu Matonange, right and Emmanuel Festo, second from right, and Pends Serengema, not pictured, Saturday, March 25, 2017, in New York. The four, all albinos who lost limbs to attackers believing their limbs hold magical powers, were returning to New York to be refitted with new prosthetics. (AP Photo/Julie Jacobson)
Albino Children Prosthetics
From left, Baraka Cosmas, Mwigulu Matonange, and Emmanuel Festo, pull on their new prosthetic limbs as they prepare to visit a friend's home for dinner, Sunday, June 4, 2017, in Staten Island, N.Y. The three, along with Pendo Sengerema, not pictured, are albinos from Tanzania who lost limbs to attackers who believe limbs from albinos hold magical powers. The four children were on a return trip to New York to be refitted for new prosthesis for their growing bodies. (AP Photo/Julie Jacobson)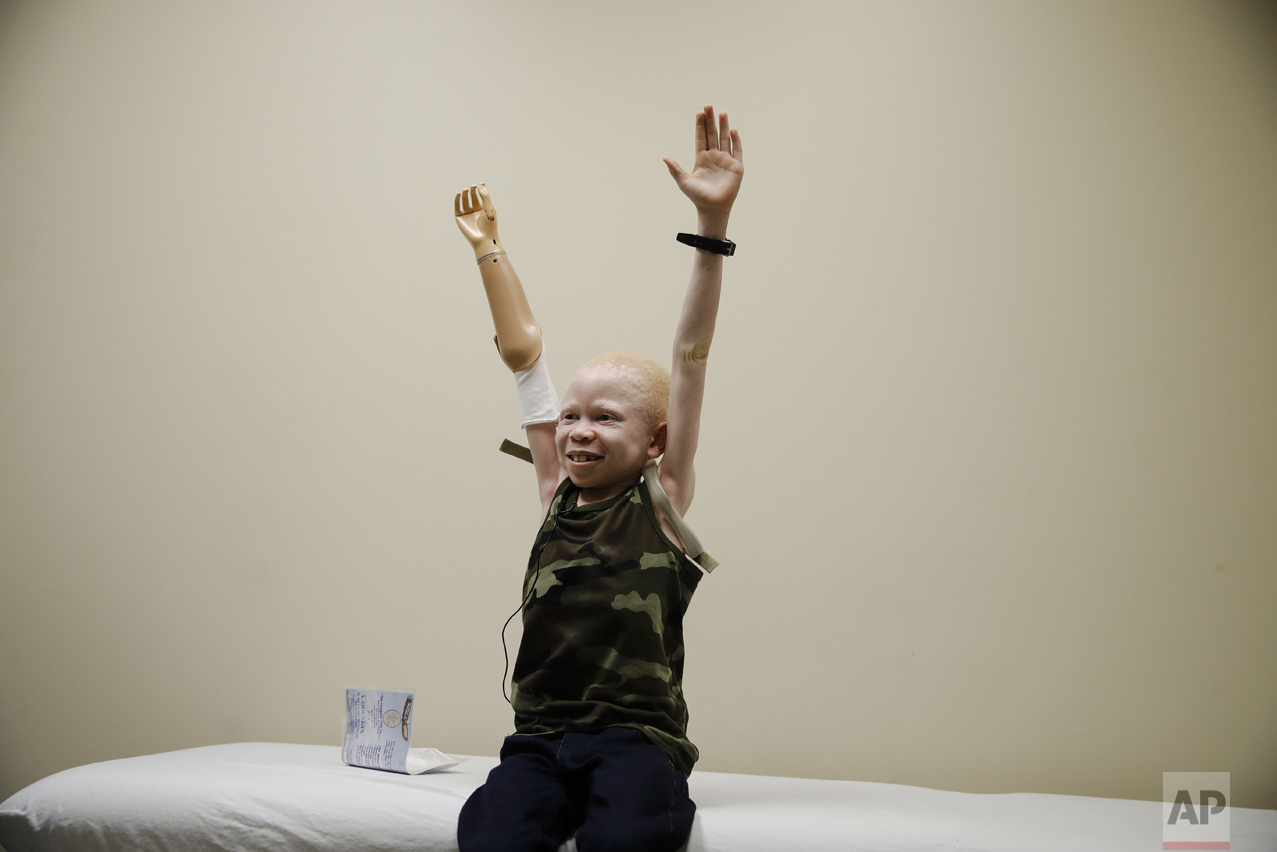 Albino Children Prosthetics
Baraka Cosmas raises his arms during a prosthetic limb fitting at Shriners Hospital for Children in Philadelphia, Tuesday, May 30, 2017. Cosmas, an albino from Tanzania was on a return trip to the United States to be refitted for a new prosthetic. Albinos in traditional communities in Tanzania are hunted for their limbs which attackers believe hold magical power. (AP Photo/Matt Rourke)