AP monthly staff photo contest
Each month The Associated Press management honors photographers for outstanding coverage while on assignment.
The winners for the August 2016 AP Staff Photo Contest are Emilio Morenatti in News Photography for "Libya: Migrants," Fernando Vergara in Feature Photography for "Rebels at Ease," and Markus Schreiber, Leo Correa and Felipe Dana in Sports Photography for "Olympic Hero."
Congratulations to all the photographers for their outstanding work. This month's winning images are featured below.
News Photography | Emilio Morenatti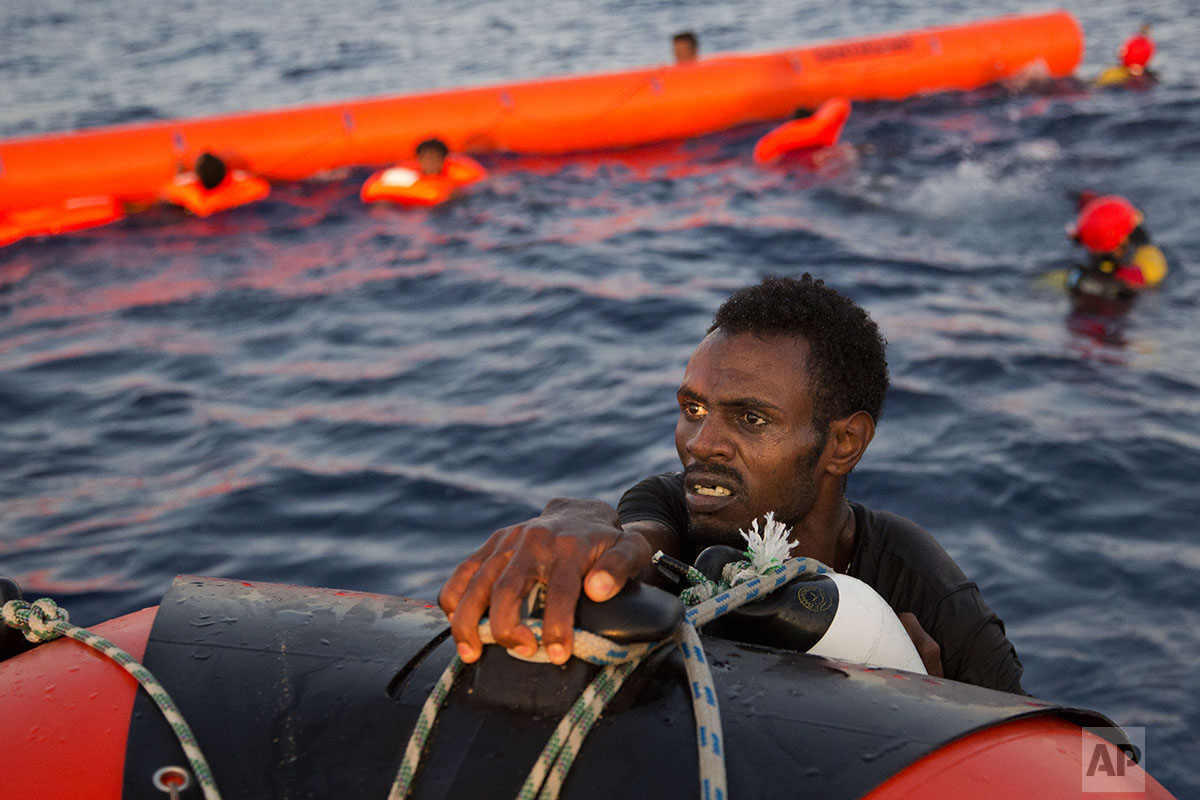 Libya: Migrants
In this Monday, Aug. 29, 2016 photo, a migrant from Eritrea grabs a RIB after jumping onto the water from a crowded wooden boat during a rescue operation at the Mediterranean sea, about 13 miles north of Sabratha, Libya. (AP Photo/Emilio Morenatti)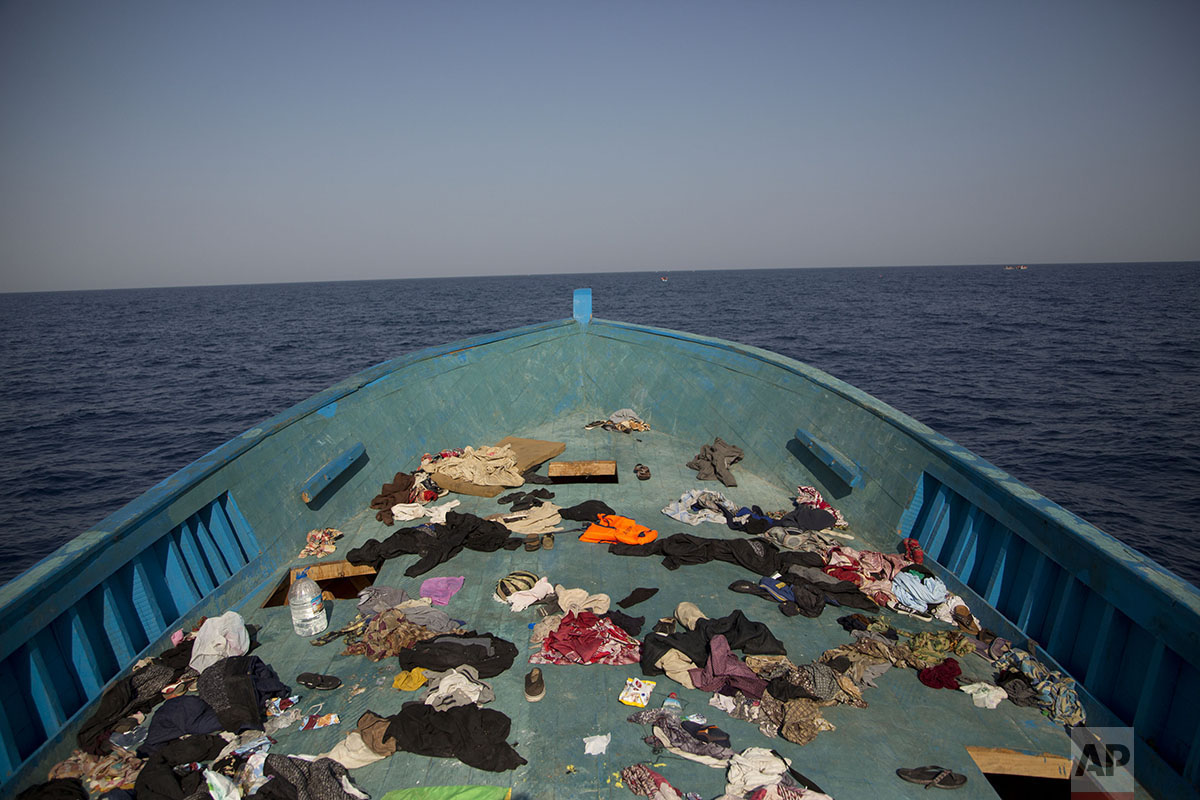 Libya: Migrants
In this Monday, Aug. 29, 2016 photo, belongings let behind by migrants are seen in the floor of a wooden boat where more than seven hundred migrants were fleeing Lybia, during a rescue operation at the Mediterranean sea, about 13 miles north of Sabratha, Libya. (AP Photo/Emilio Morenatti)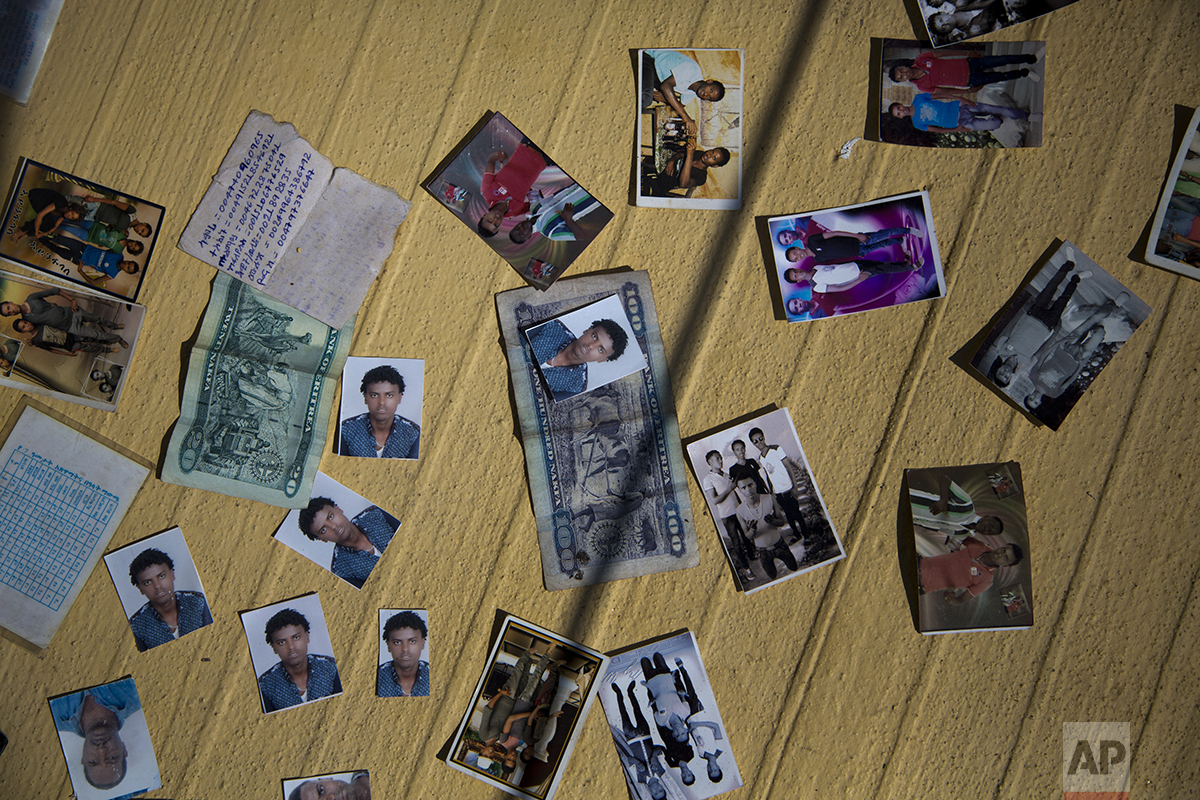 Libya: Migrants
In this Monday, Aug. 29, 2016 photo, wet belonging of a migrant man are drying in the sun after been rescued at the Mediterranean sea, about 13 miles north of Sabratha, Libya. (AP Photo/Emilio Morenatti)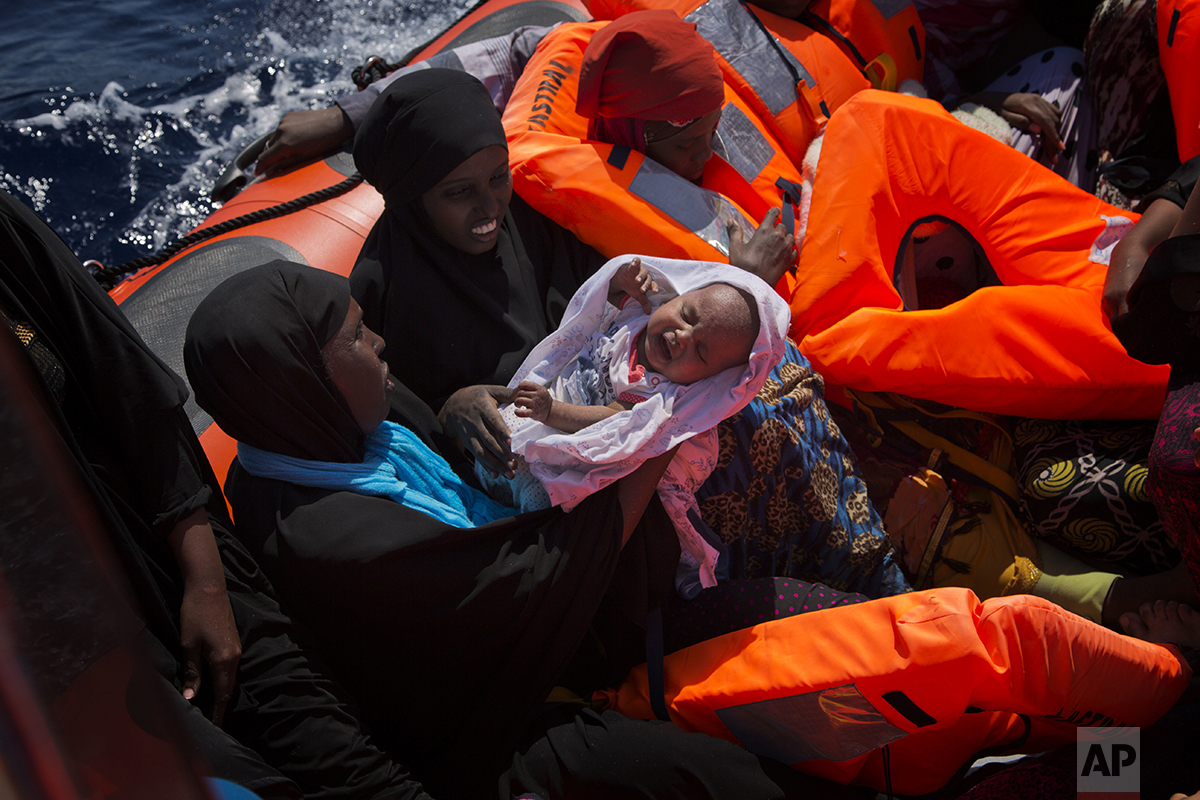 Libya: Migrants
Migrant women from Nigeria, one of them holding a baby, are rescued by emergency teams from a dinghy as they were sailing at the Mediterranean sea toward the Italian coasts, about 17 miles north of Sabratha, Libya, Sunday, Aug. 28, 2016. (AP Photo/Emilio Morenatti)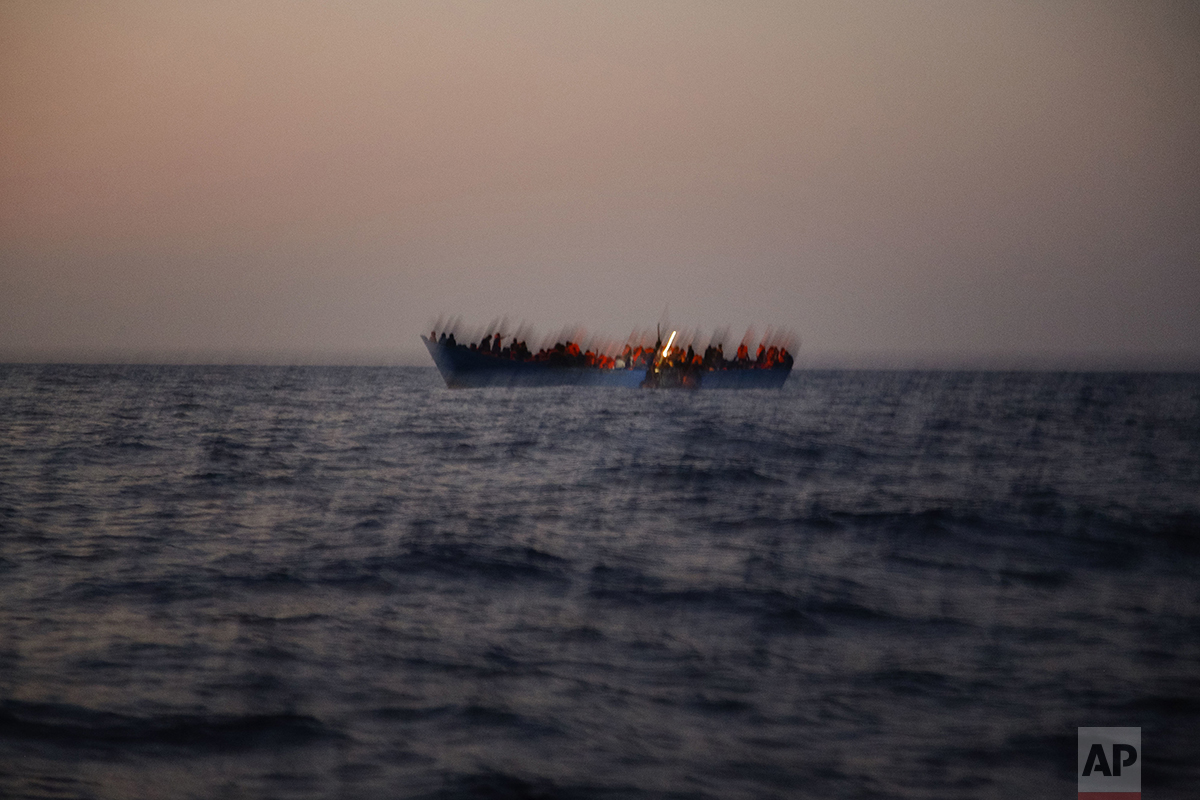 Libya: Migrants
More than seven hundred migrants crowd onto a wooden boat as they were fleeing Lybia, during a rescue operation in the Mediterranean sea, about 13 miles north of Sabratha, Libya, Monday, Aug. 29, 2016. Thousands of migrants and refugees were rescued Monday morning from more than 20 boats by members of Proactiva Open Arms NGO before transferring them to the Italian cost guards and others NGO vessels operating at the zone.(AP Photo/Emilio Morenatti)
Libya: Migrants
In this Monday, Aug. 29, 2016 photo, migrants, most of them from Eritrea, jumps onto the water from a crowded wooden boat as they are helped by members of an NGO during a rescue operation at the Mediterranean sea, about 13 miles north of Sabratha, Libya.(AP Photo/Emilio Morenatti)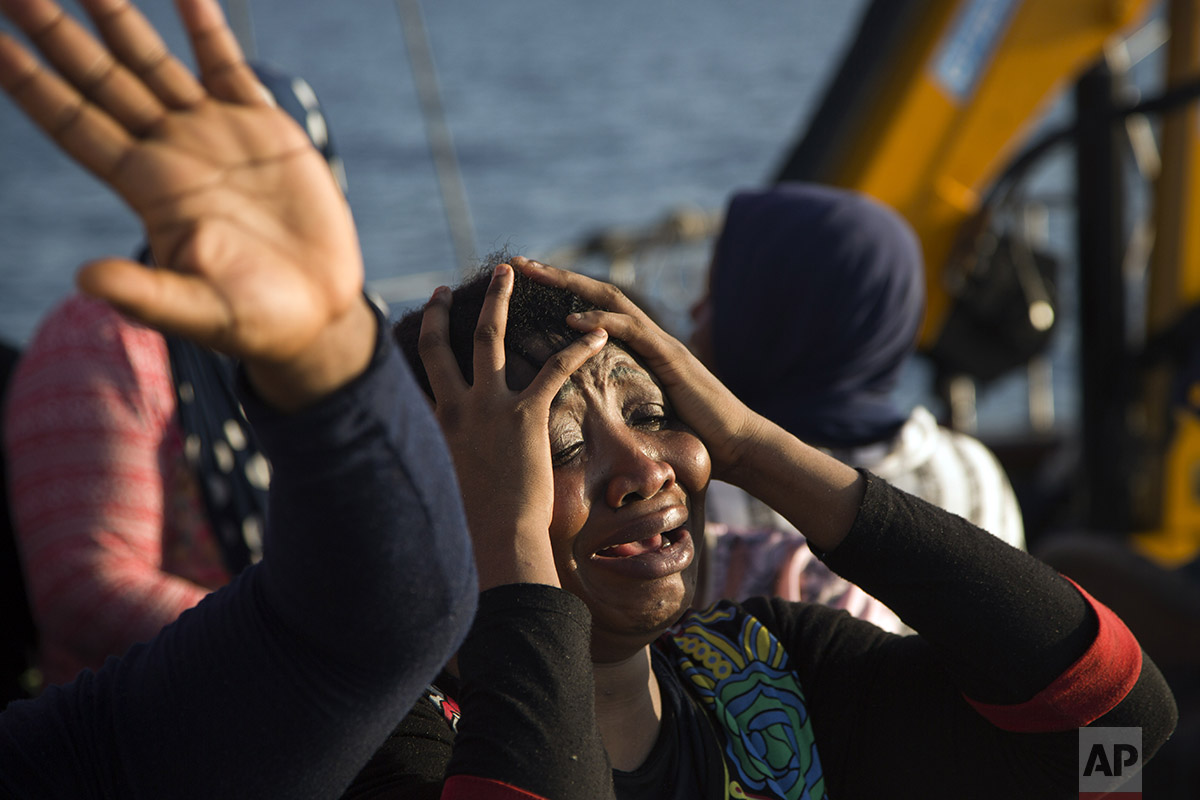 Libya: Migrants
In this Saturday, Aug. 20, 2016 photo, a woman from Niger reacts on the Astral vessel after being rescued by members of Proactiva Open Arms NGO, during a rescue operation at the Mediterranean sea, about 17 miles north of Sabratah, Libya (AP Photo/Emilio Morenatti)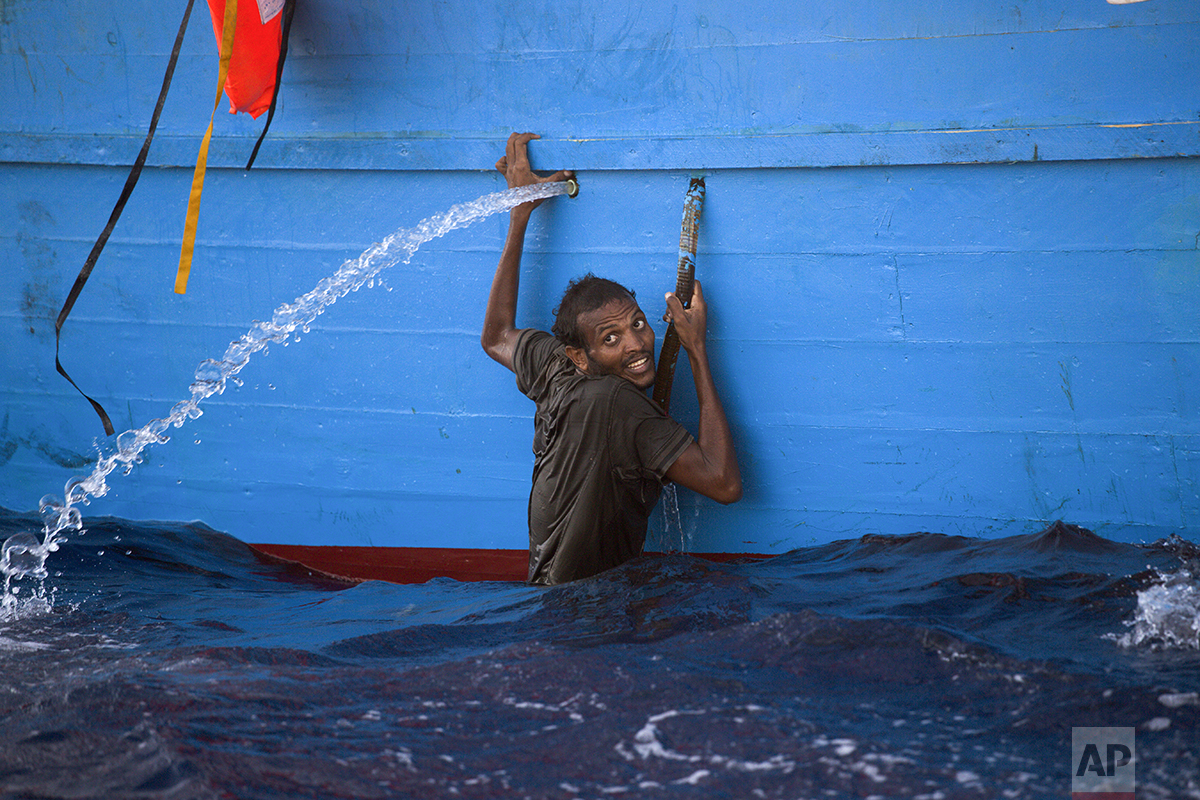 Libya: Migrants
In this Monday, Aug. 29, 2016 photo, a man holds himself on a boat after jumping on the sea from a crowded wooden boat during a rescue operation at the Mediterranean sea, about 13 miles north of Sabratha, Libya.(AP Photo/Emilio Morenatti)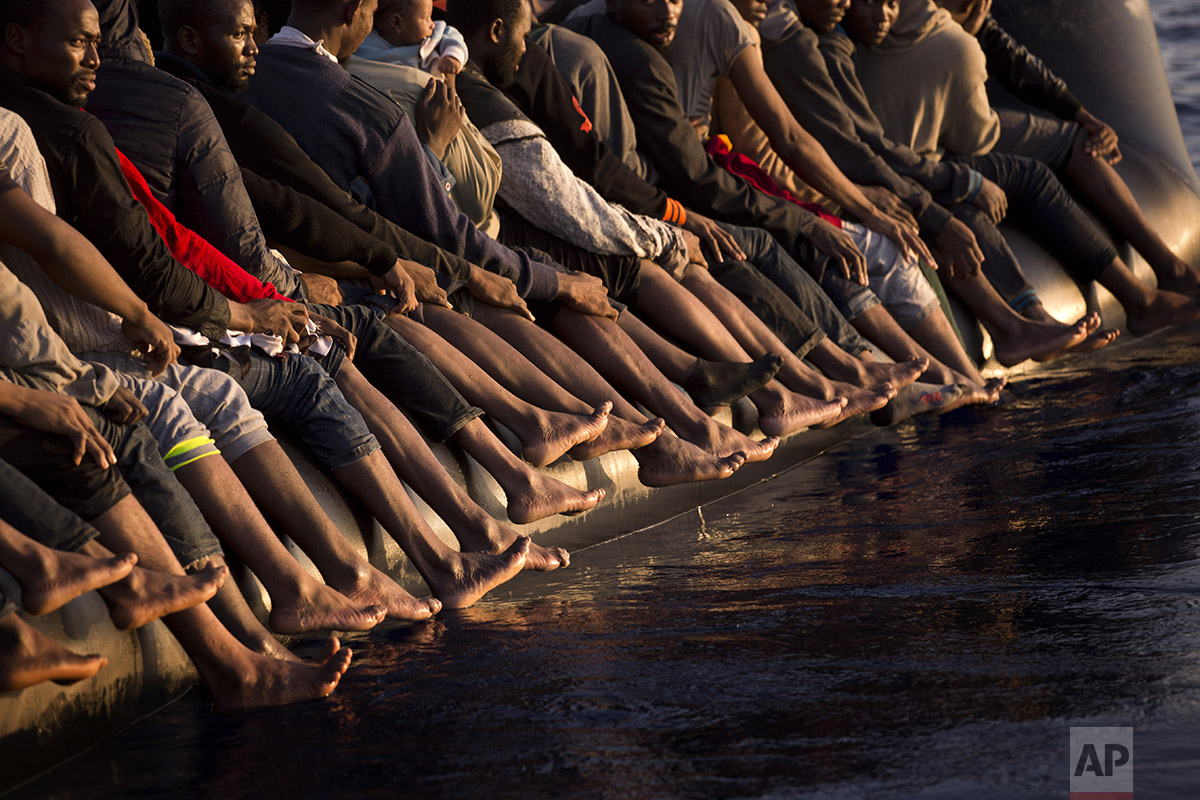 Libya: Migrants
In this Saturday, Aug. 20, 2016 photo, migrants from Niger crowd onto a dinghy as the sail fleeing Libya, before bein helped by members of a Spanish NGO, during a rescue operation at the Mediterranean sea, about 17 miles north of Sabratah, Libya. (AP Photo/Emilio Morenatti)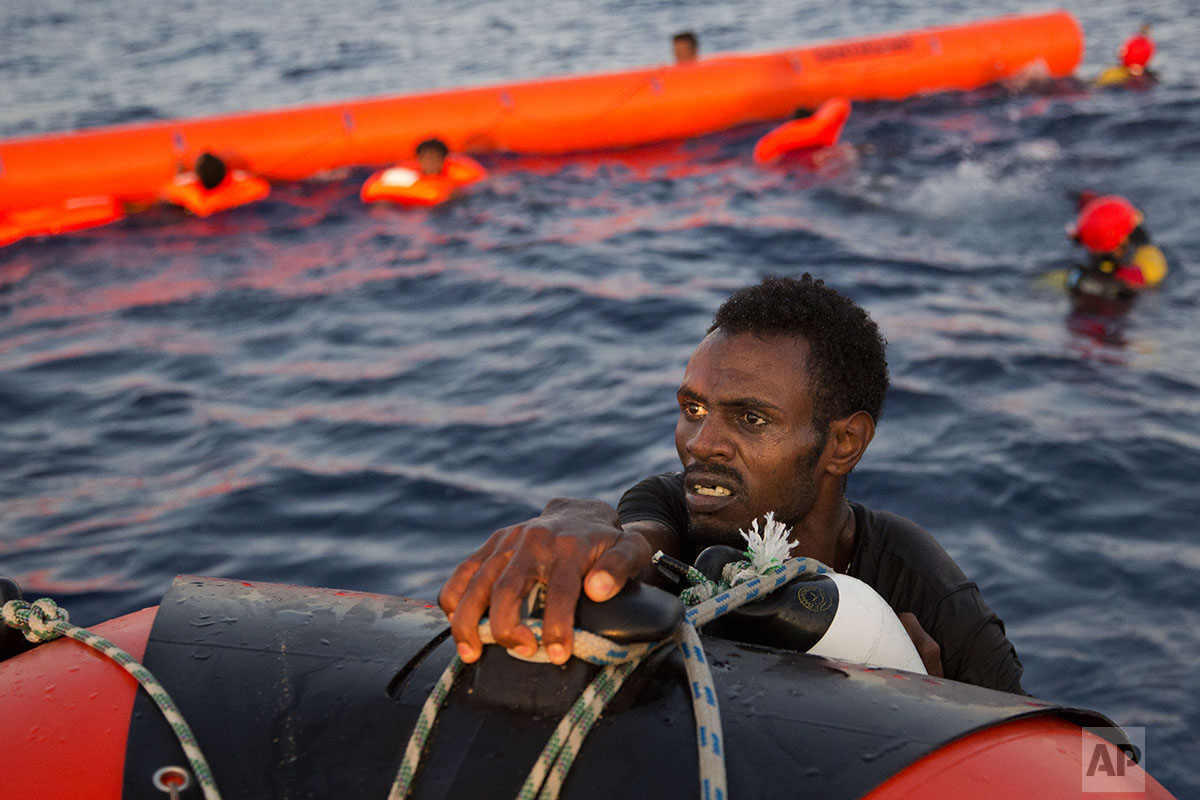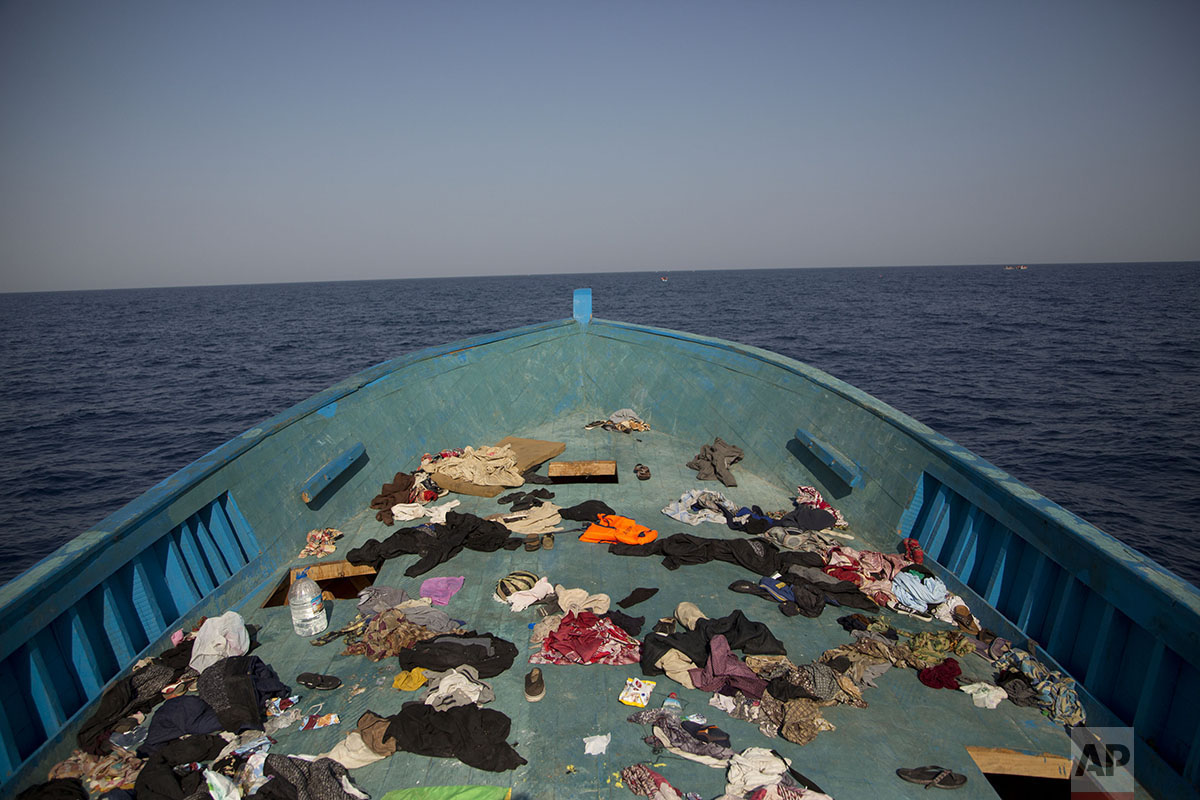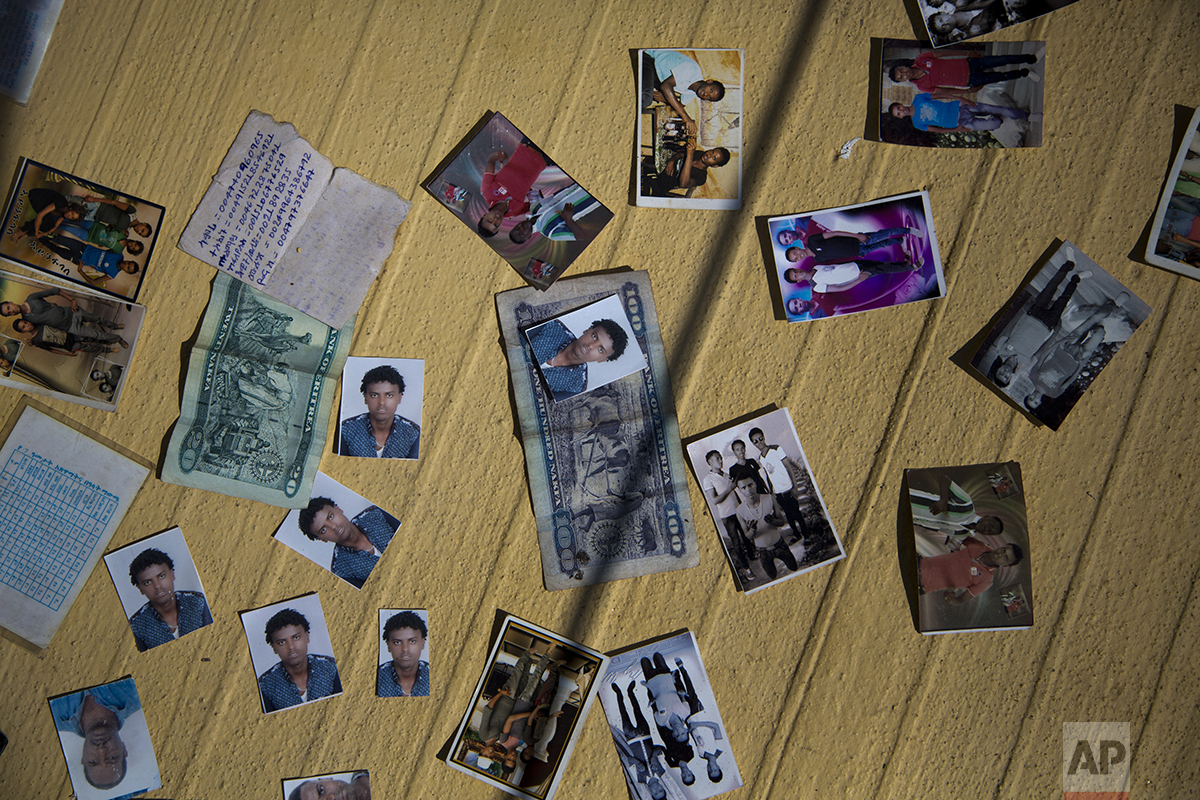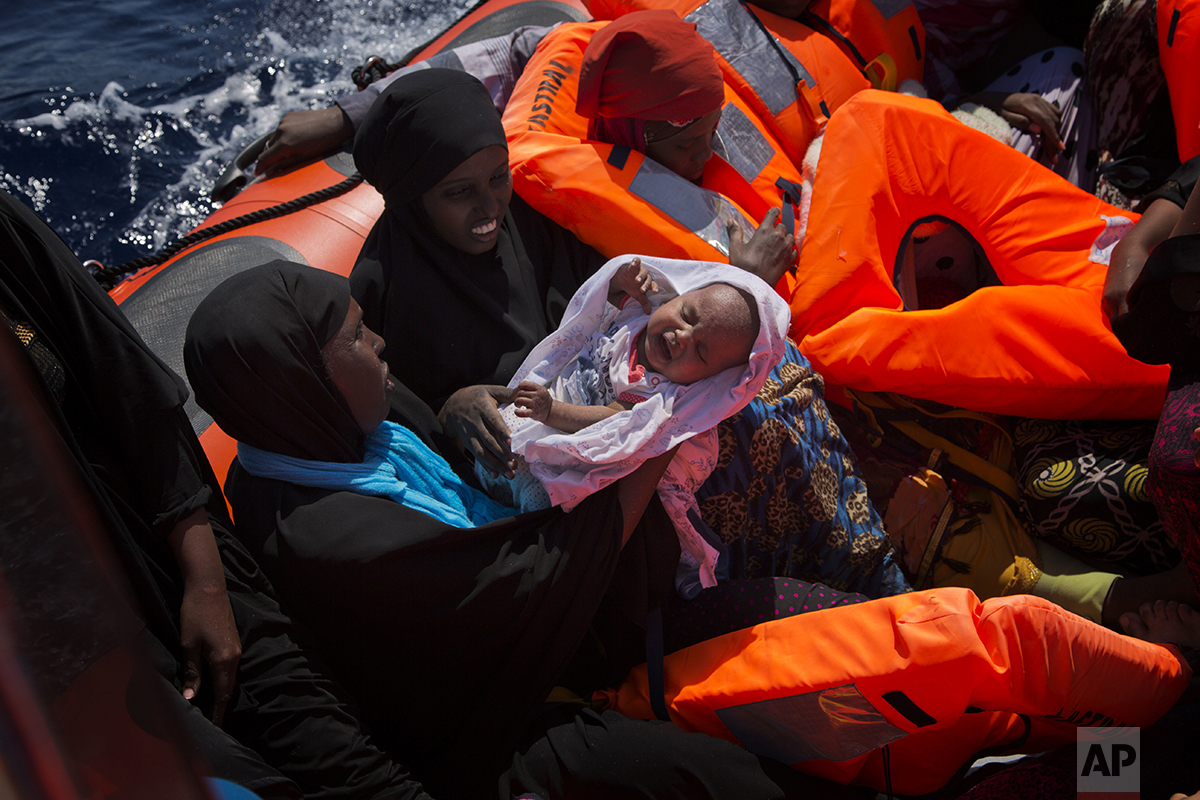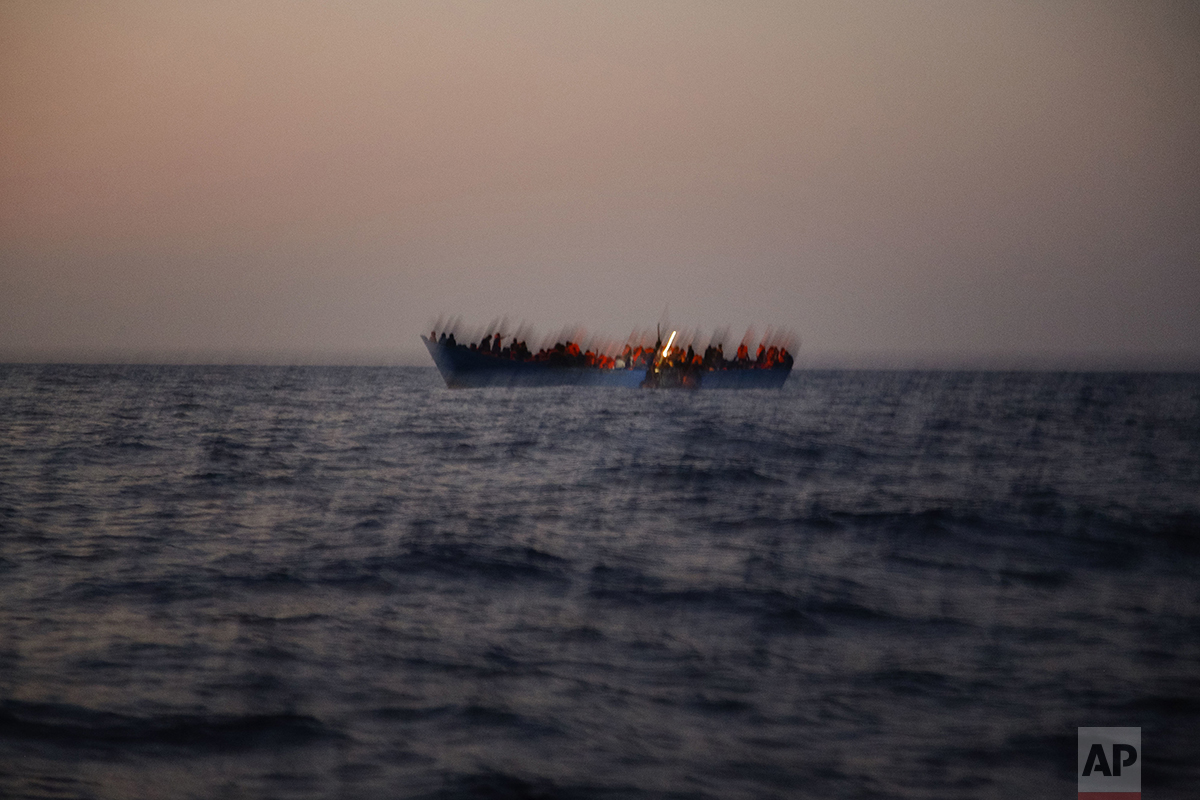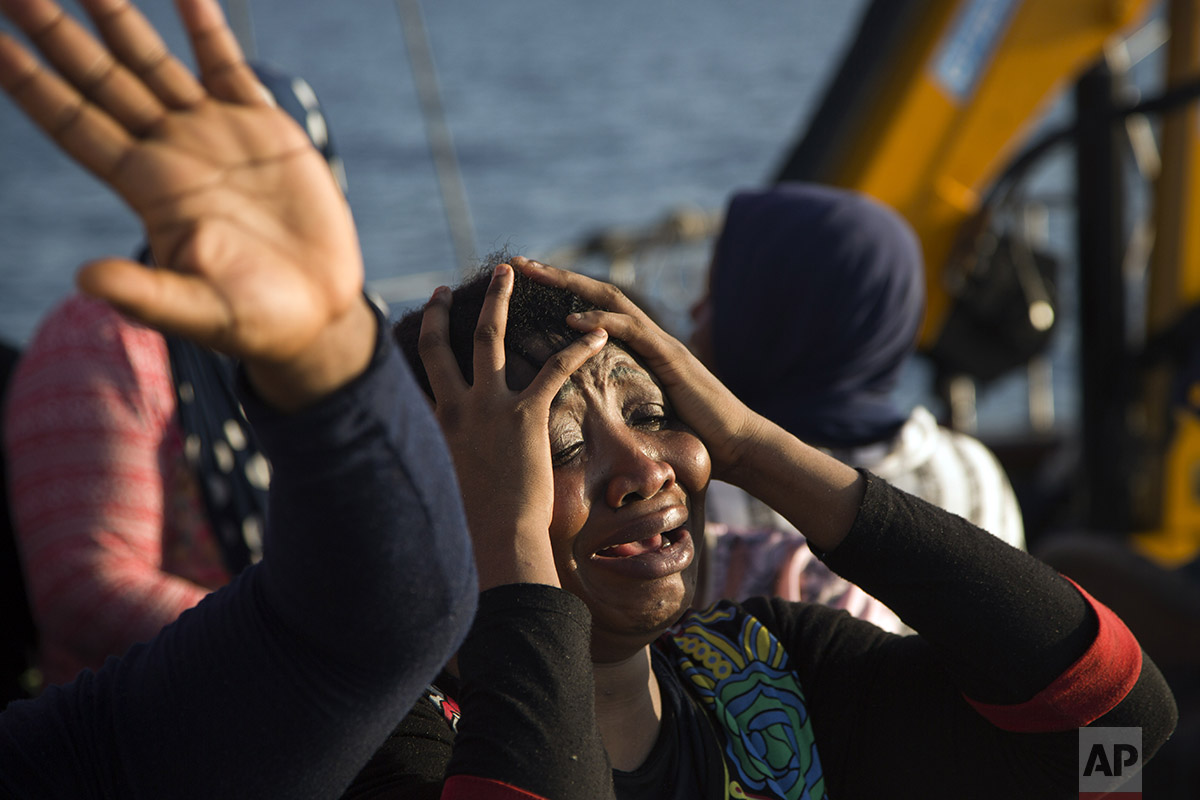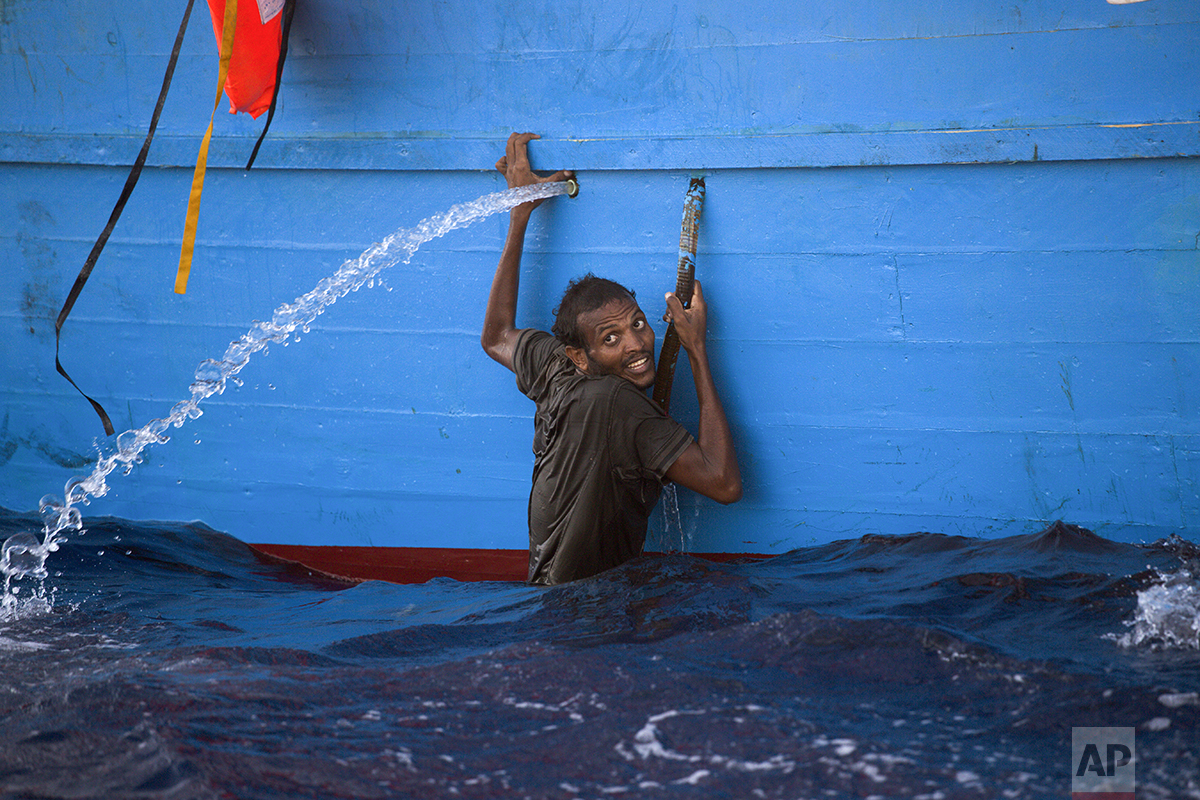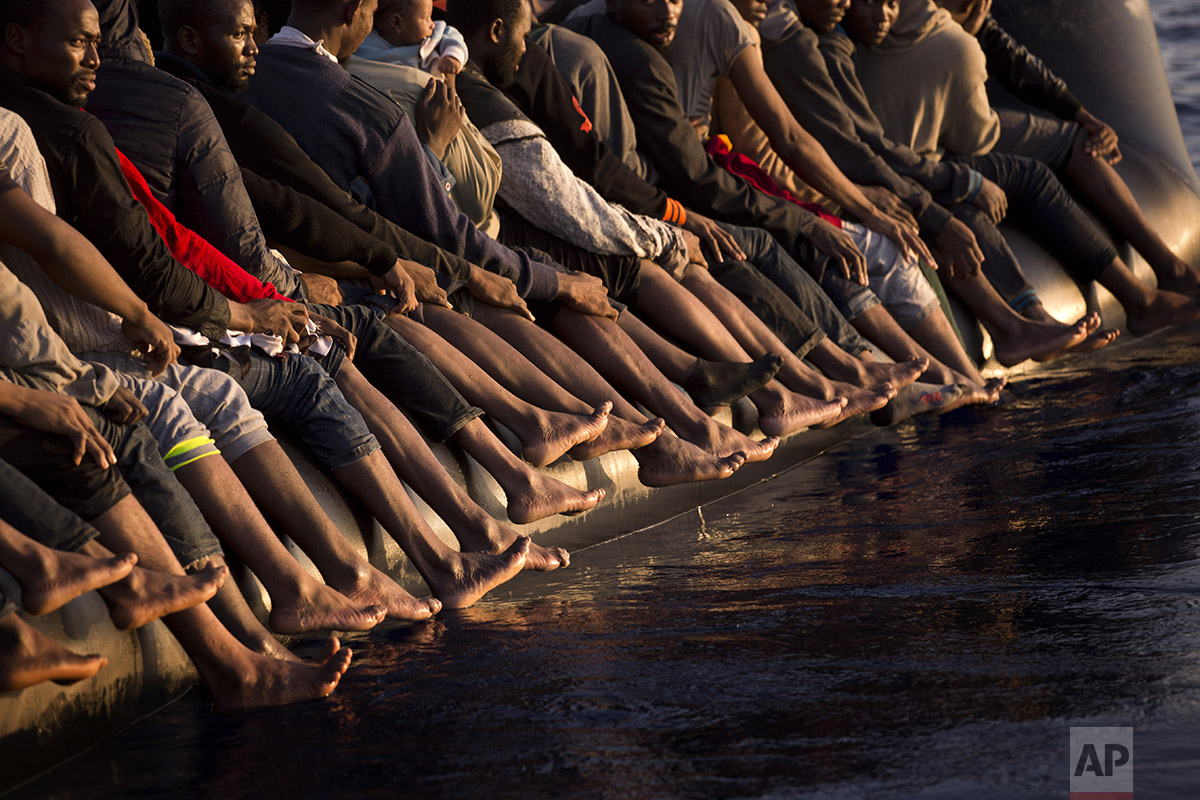 Feature Photography | Fernando Vergara
Rebels at Ease
In this Aug. 13, 2016 photo, a rebel soldier of the 48th Front of the Revolutionary Armed Forces of Colombia, or FARC, poses for a photo with his dog in the southern jungles of Putumayo, Colombia. As the country's half-century conflict winds down, with the signing of a peace deal with the Government perhaps just days away, thousands of FARC rebels are emerging from their hideouts and preparing for a life without arms. (AP Photo/Fernando Vergara)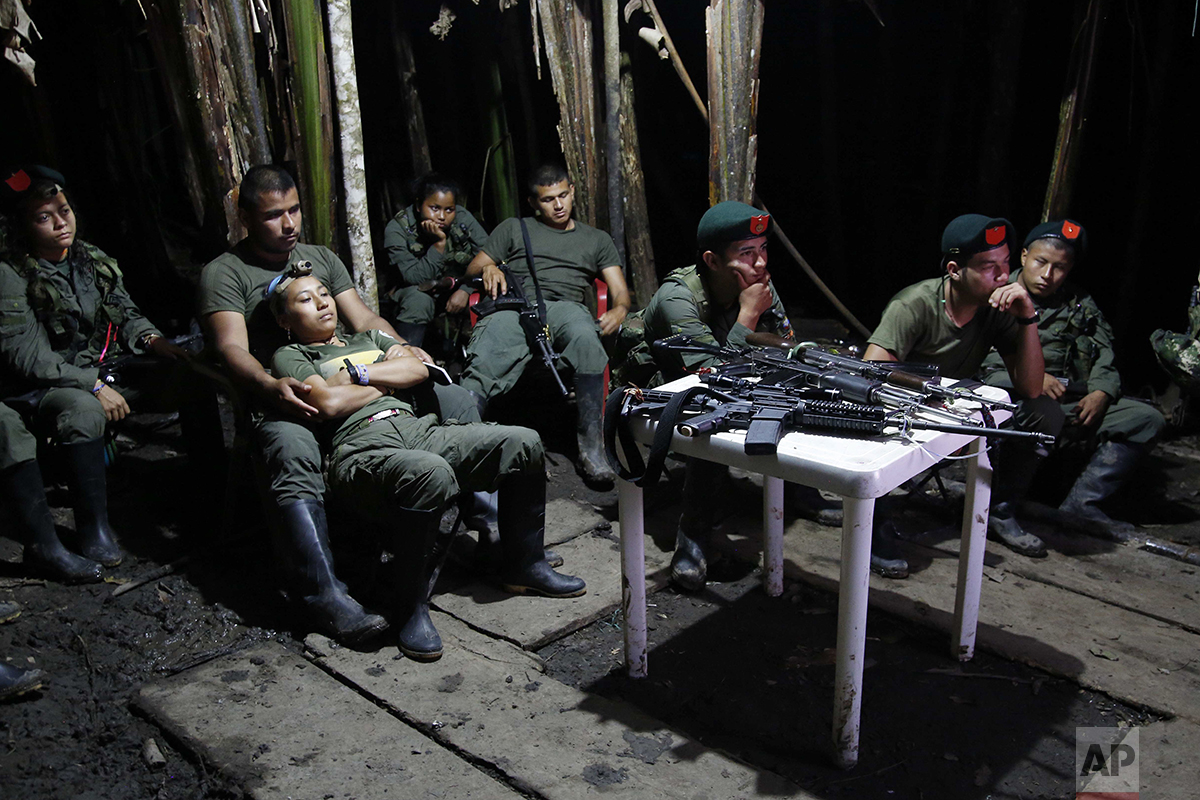 Rebels at Ease
In this Aug. 12, 2016 photo, rebels of the 48th Front of the Revolutionary Armed Forces of Colombia watch a nightly newscast on a television at their encampment in the southern jungles of Putumayo, Colombia. The semi-permanent camp is equipped with with refrigerators, satellite TV and even regular access to the internet for commanders. (AP Photo/Fernando Vergara)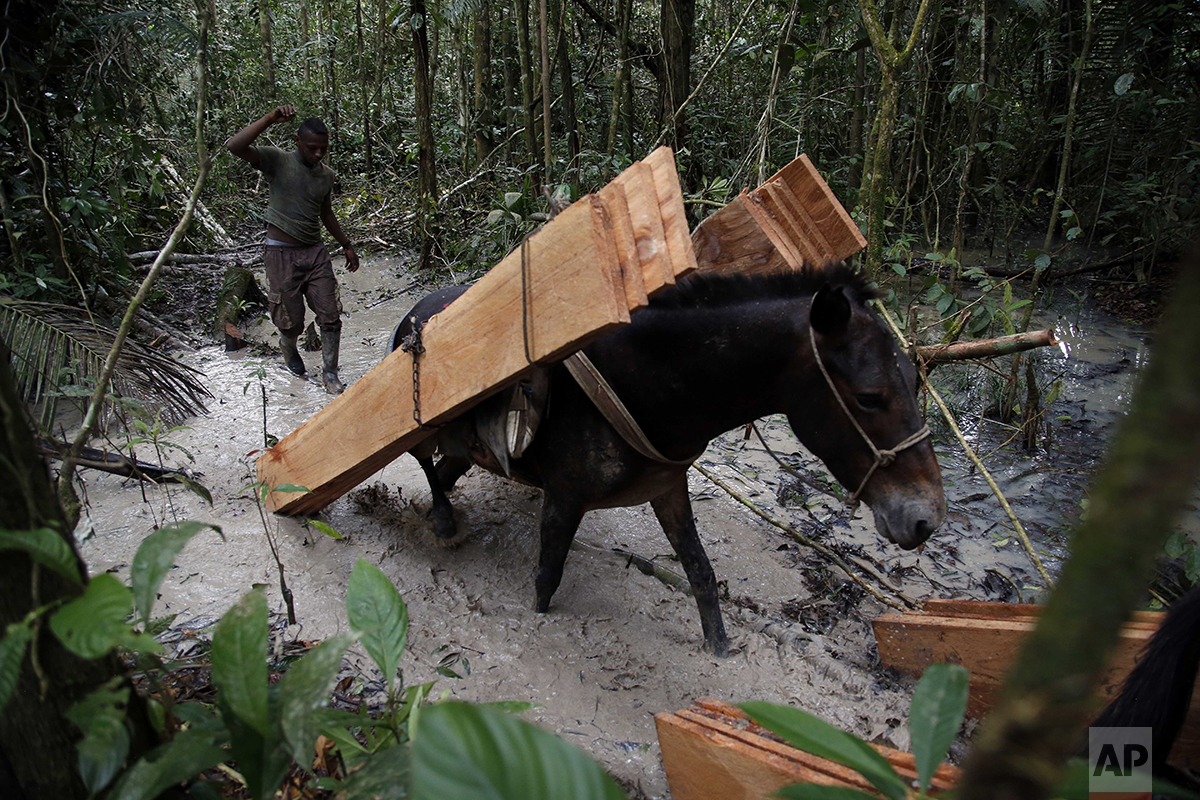 Rebels at Ease
In this Aug. 11, 2016 photo, a rebel of the 48th Front of the Revolutionary Armed Forces of Colombia follows a mule hauling wood planks to a nearby encampment in the southern jungles of Putumayo, Colombia. The planks will be used to construct a classroom in the camp. (AP Photo/Fernando Vergara)
Rebels at Ease
In this Aug. 11, 2016 photo, an assault rifle hangs in the tent of the 48th Front of the Revolutionary Armed Forces of Colombia, or FARC, in the southern jungles of Putumayo, Colombia. The FARC's southern bloc is one of the rebel army's oldest and most belligerent fighting units. (AP Photo/Fernando Vergara)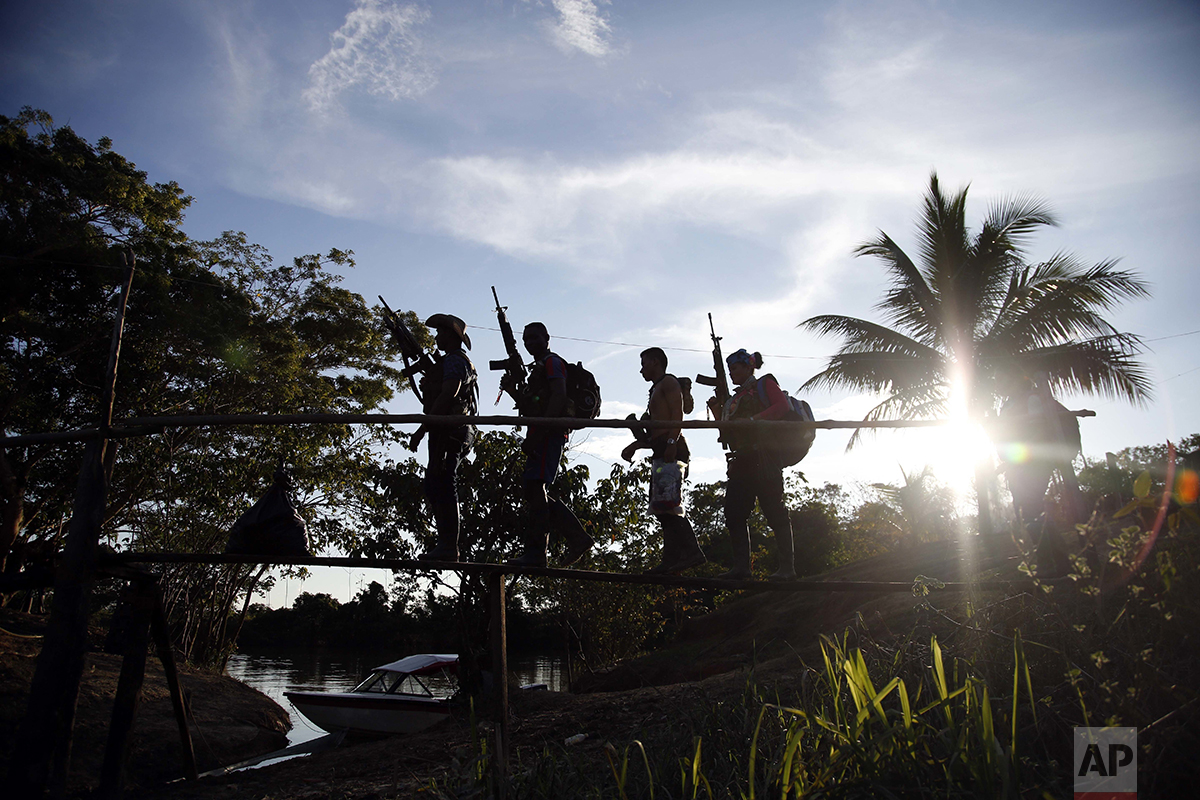 Rebels at Ease
In this Aug. 12, 2016 photo, rebels of the 48th Front of the Revolutionary Armed Forces of Colombia walk on a makeshift footbridge in the southern jungles of Putumayo, Colombia. With the peace accords about to signed between the FARC and the governemt, gone are the days when they had to change camp every few days for fear of being stunned in their sleep by bombs falling from the skies. (AP Photo/Fernando Vergara)
Rebels at Ease
In this Aug. 16, 2016 photo, rebels of the 32nd Front of the Revolutionary Armed Forces of Colombia, or FARC, laugh during a break, at their camp in the southern jungles of Putumayo, Colombia. As Colombia's half-century conflict winds down, with the signing of a peace deal perhaps just days away, thousands of FARC rebels are emerging from their hideouts and preparing for a life without arms. (AP Photo/Fernando Vergara)
Rebels at Ease
In this Aug. 13, 2016 photo, rebels of the 48th Front of the Revolutionary Armed Forces of Colombia play soccer at their camp in the southern jungles of Putumayo, Colombia. The guerrillas, behaving like laid-back, sport-loving youths, are taking security risks that would've been unthinkable just months ago. (AP Photo/Fernando Vergara)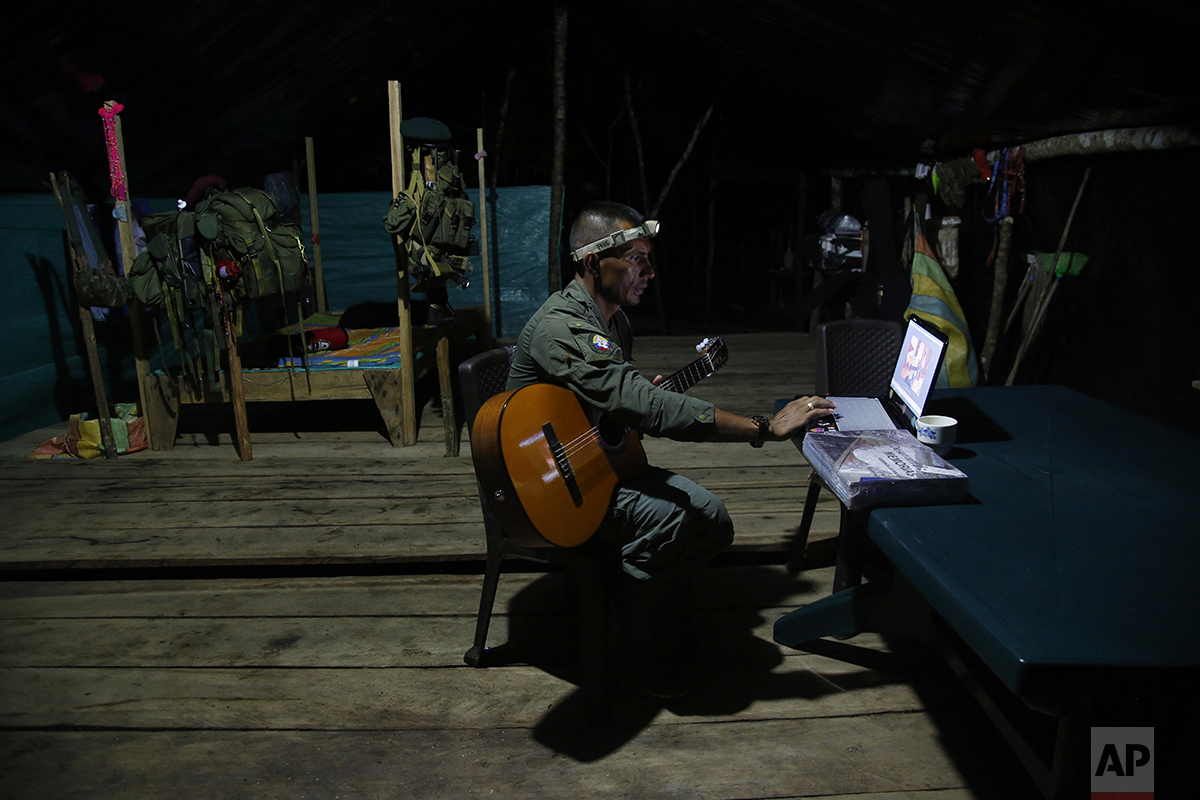 Rebels at Ease
In this Aug. 12, 2016 photo, Manuel, a mid-level commander for the 48th Front of the Revolutionary Armed Forces of Colombia, or FARC, learns to play his guitar via the internet at a FARC encampment in the southern jungles of Putumayo, Colombia. The camp provides regular access to the internet for commanders. (AP Photo/Fernando Vergara)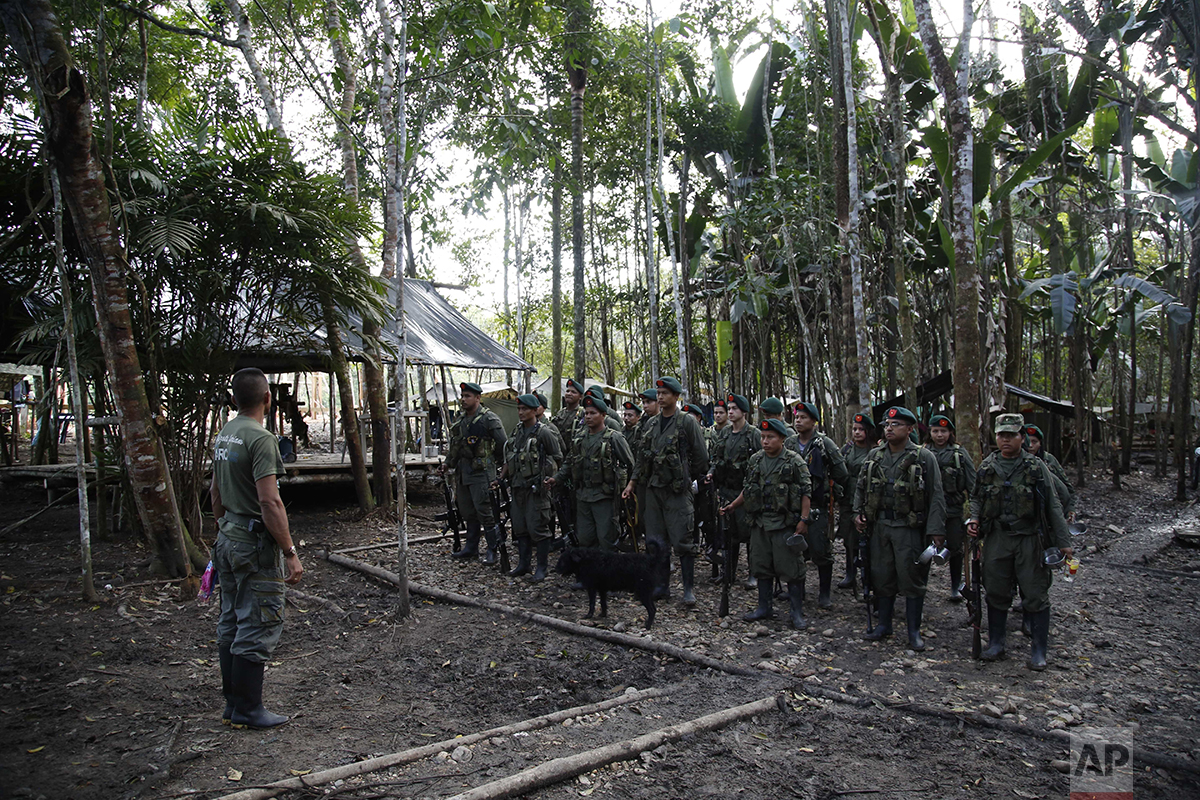 Rebels at Ease
In this Aug. 11, 2016 photo, rebels of the 48th Front of the Revolutionary Armed Forces of Colombia stand in formation in the southern jungles of Putumayo, Colombia. With a cease-fire with the Colombian government in place, gone are the days when they had to change camp every few days for fear of being stunned in their sleep by bombs falling from the skies. (AP Photo/Fernando Vergara)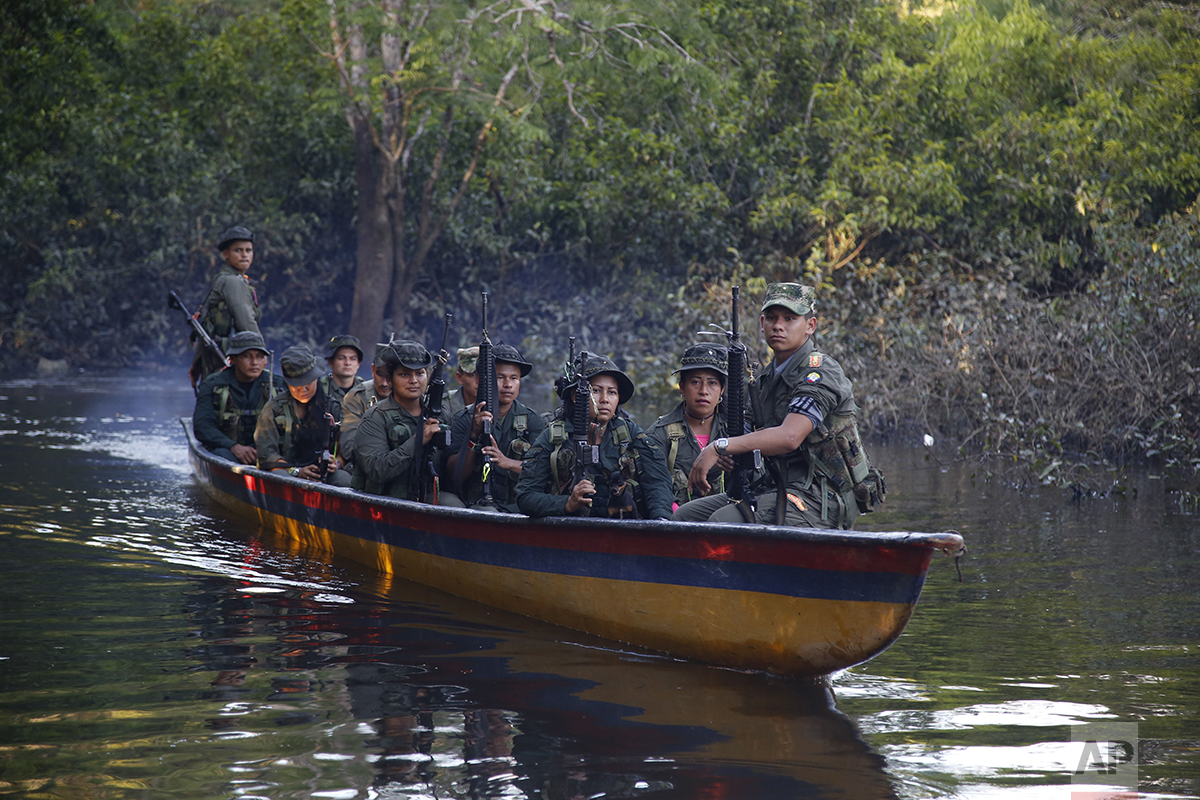 Rebels at Ease
In this Aug. 15, 2016 photo, rebels of the 32nd Front of the Revolutionary Armed Forces of Colombia, or FARC, sit in a boat as they patrol the Mecaya river in the southern jungles of Putumayo, Colombia. As the country's half-century conflict winds down, with the signing of a peace deal perhaps just days away, thousands of FARC rebels are emerging from their hideouts and preparing for a life without arms. (AP Photo/Fernando Vergara)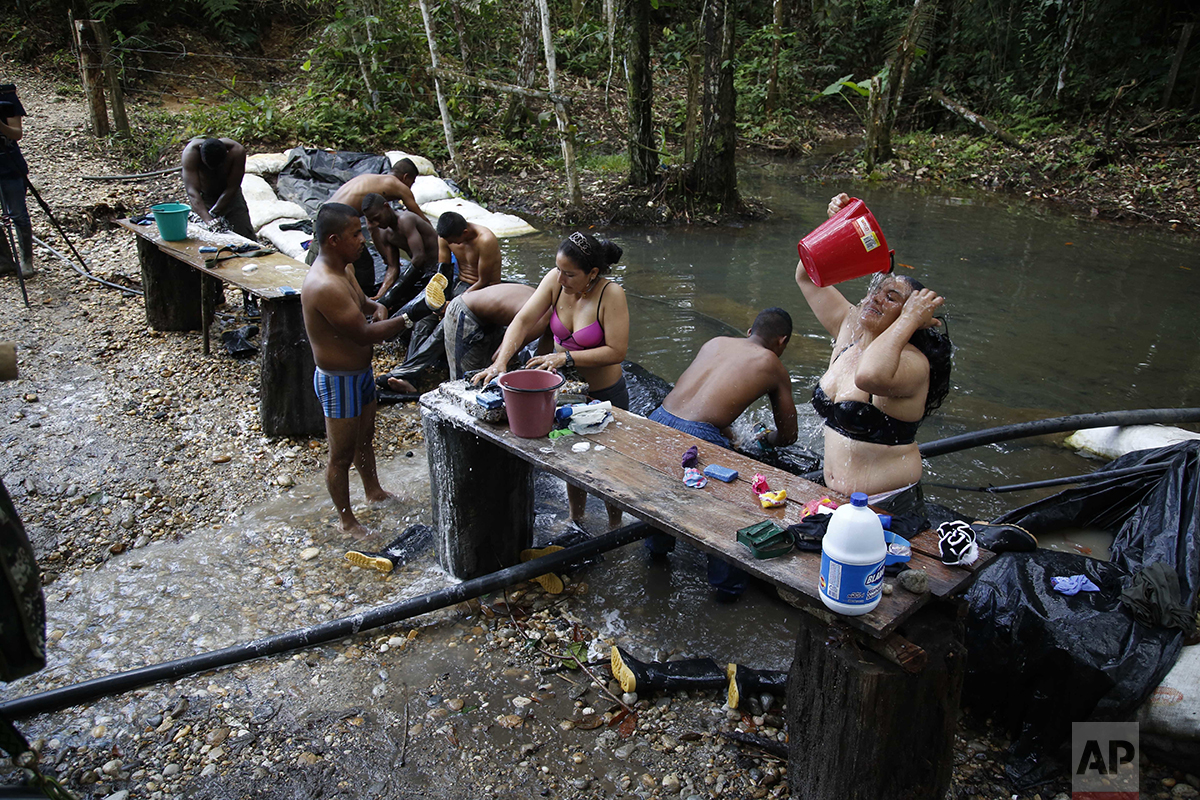 Rebels at Ease
In this Aug. 11, 2016 photo, rebels of the 48th Front of the Revolutionary Armed Forces of Colombia, or FARC, wash their clothes and bathe in a creek near their hidden camp in the southern jungles of Putumayo, Colombia. The rebels were getting ready for a set of intramural soccer games named "FARC Olympics," which were held at the same time as the Rio Games. (AP Photo/Fernando Vergara)
Rebels at Ease
In this Aug. 11, 2016 photo, a rebel soldier of the 48th Front of the Revolutionary Armed Forces of Colombia, or FARC, uses a head lamp to for some late-night reading at a FARC encampment in the southern jungles of Putumayo, Colombia. The soldier is reading a compilation of the late guerrilla leader Manuel Marulanda Velez's diary and correspondence. (AP Photo/Fernando Vergara)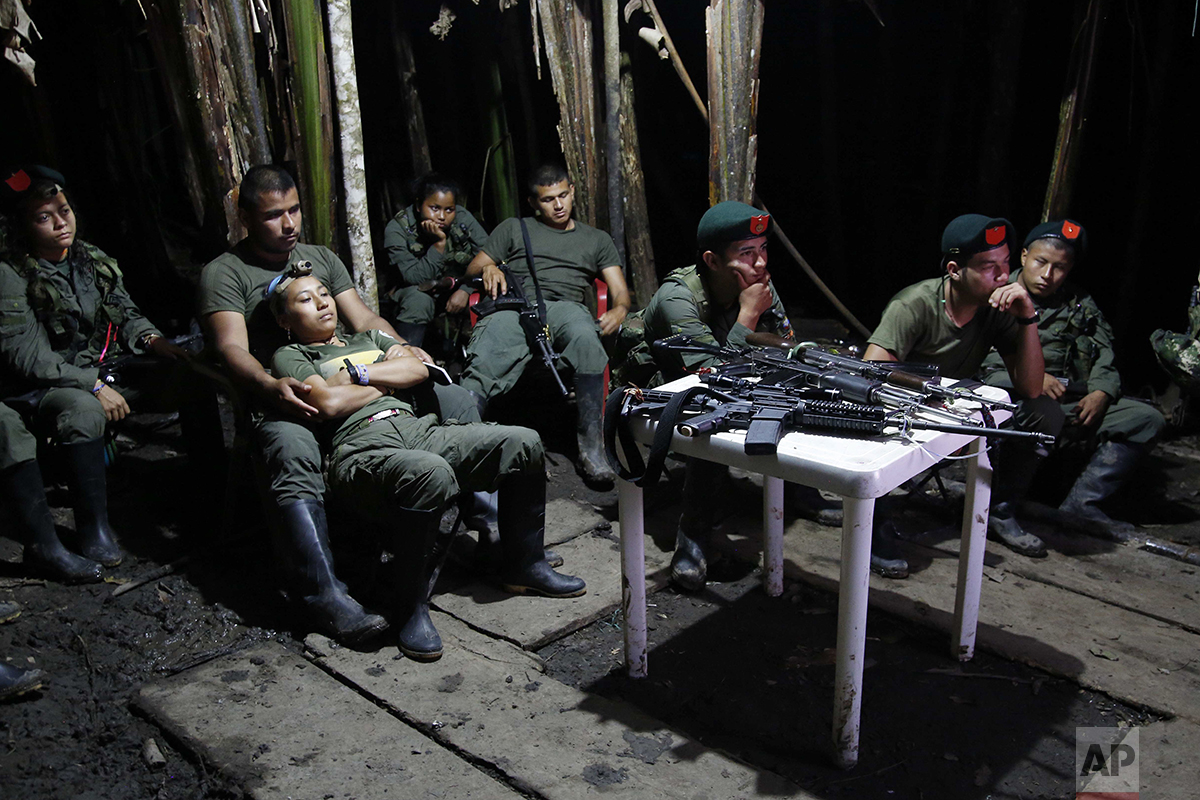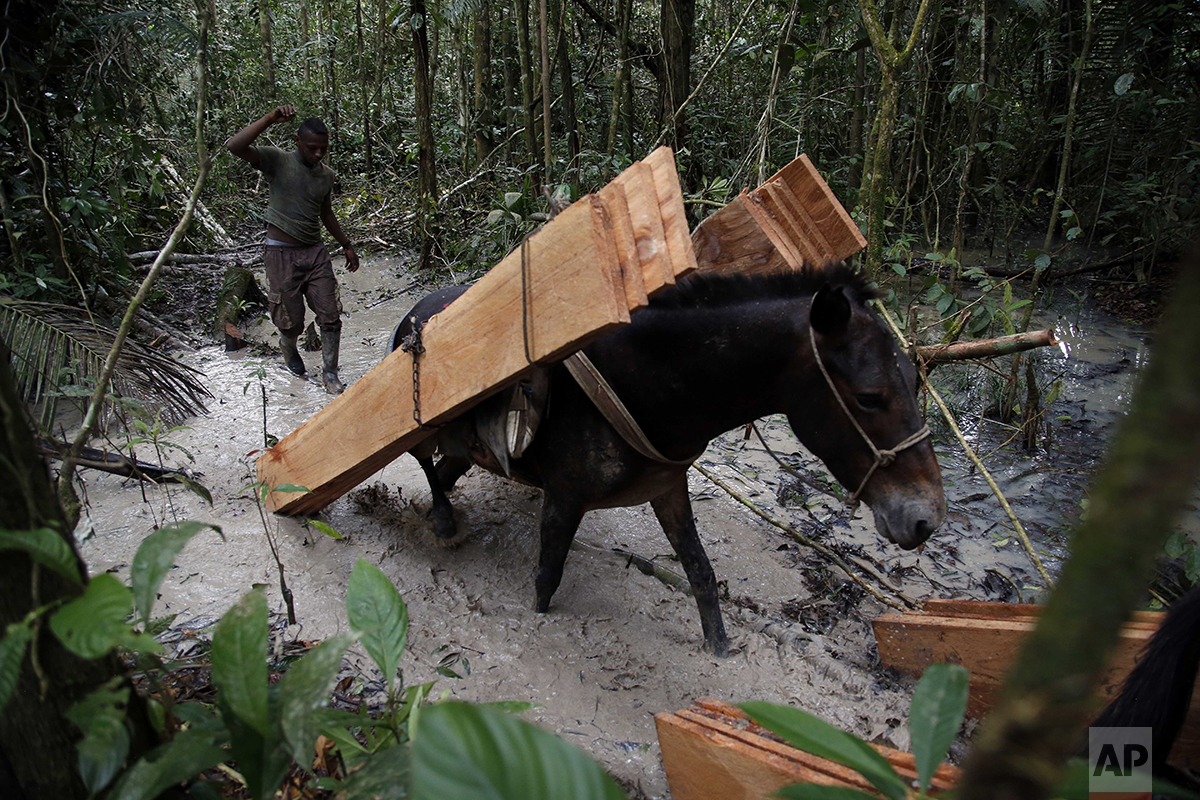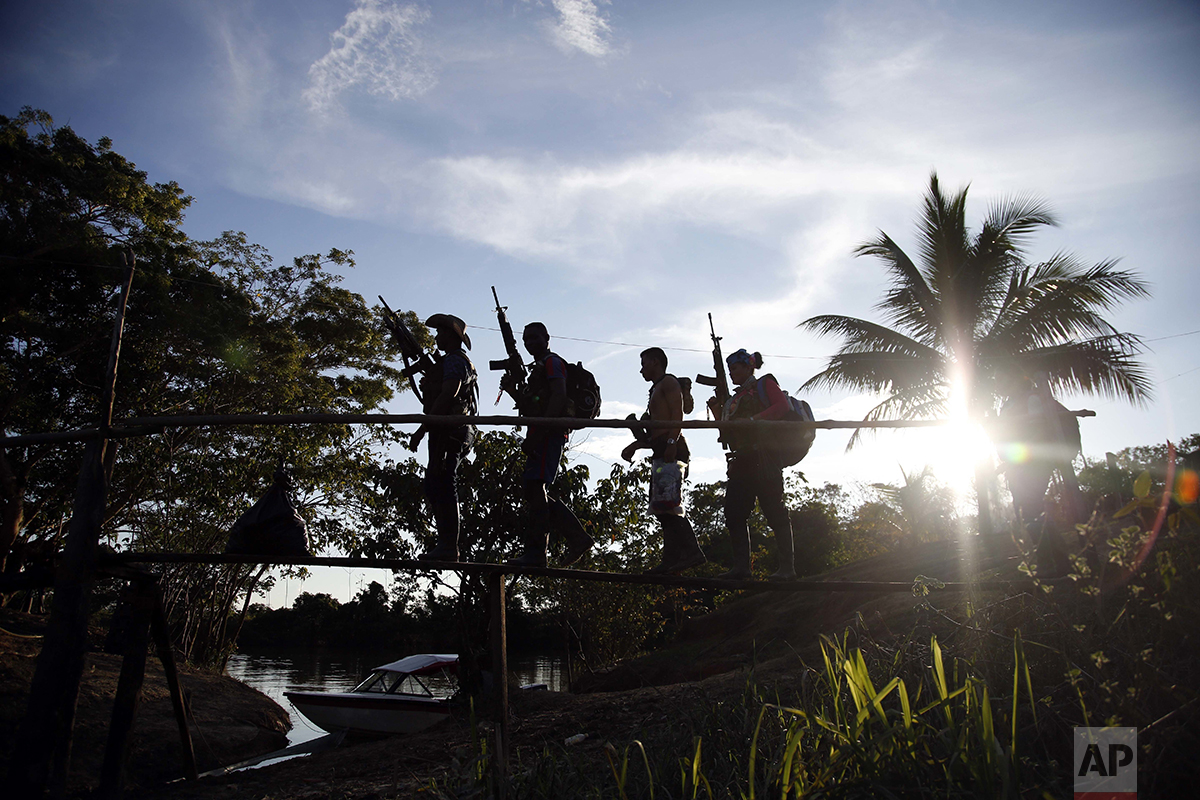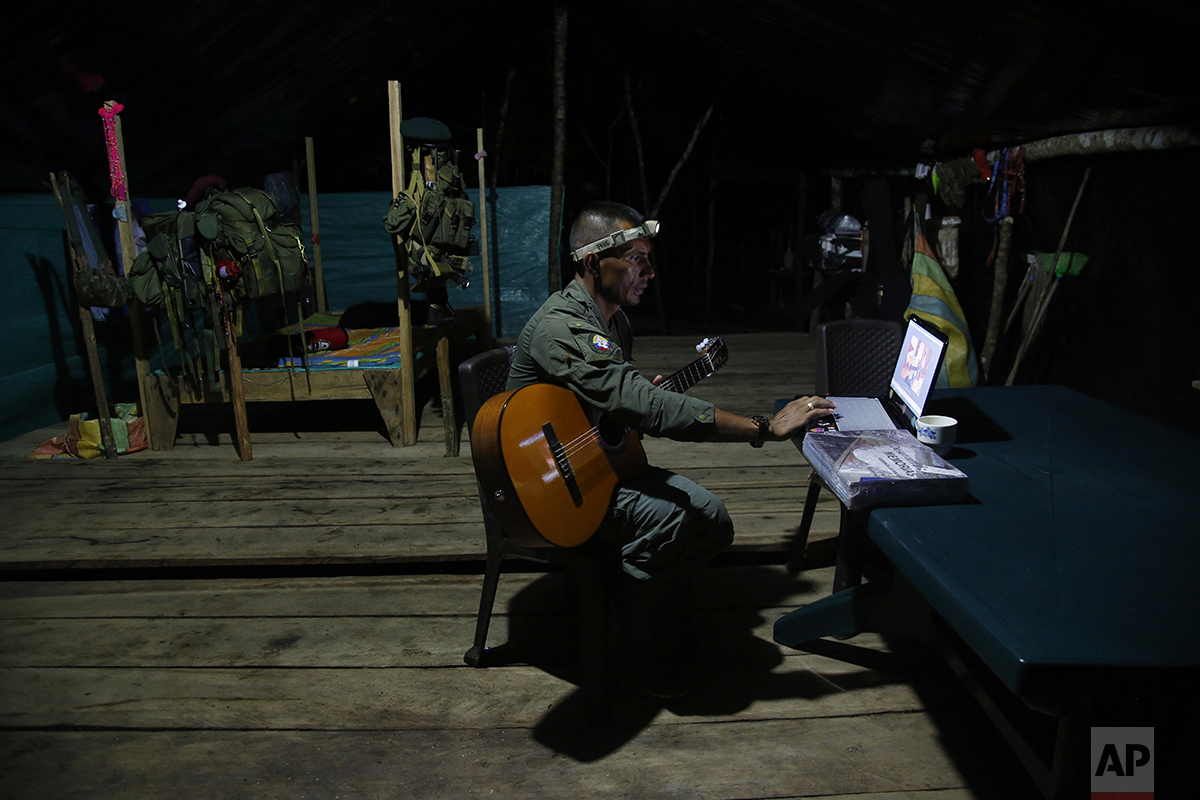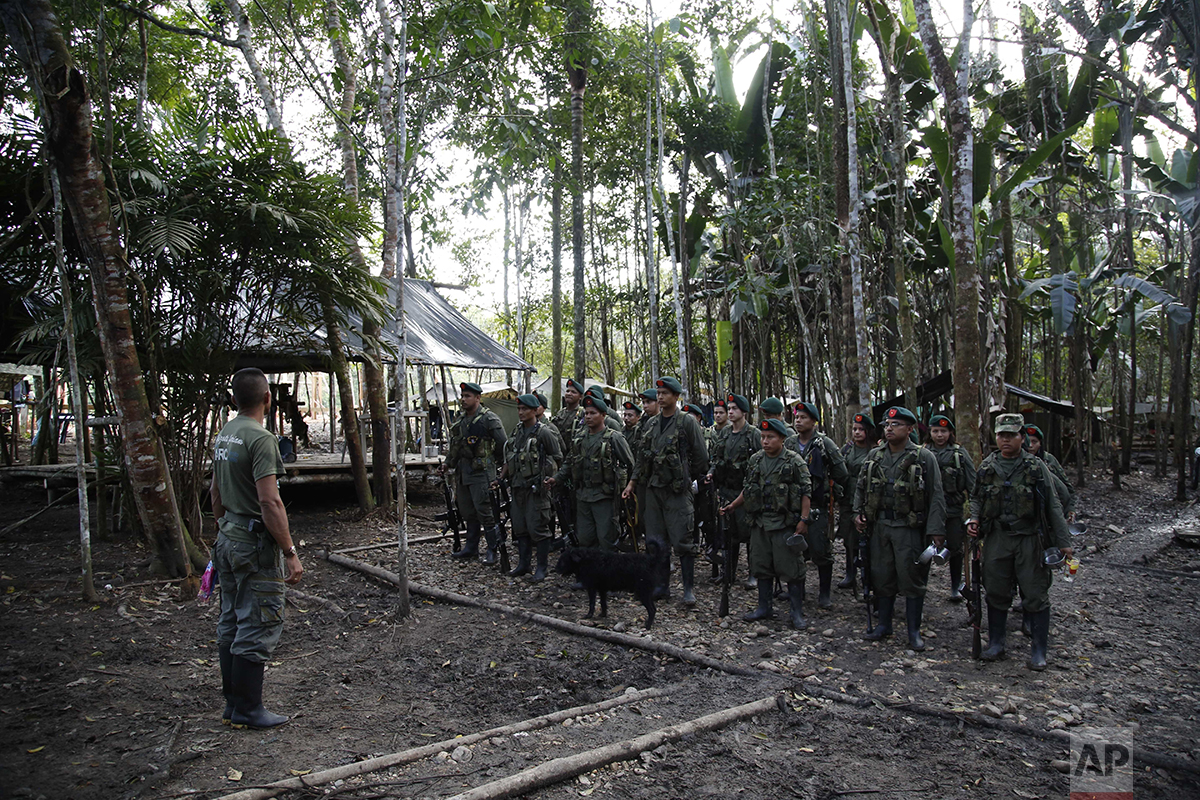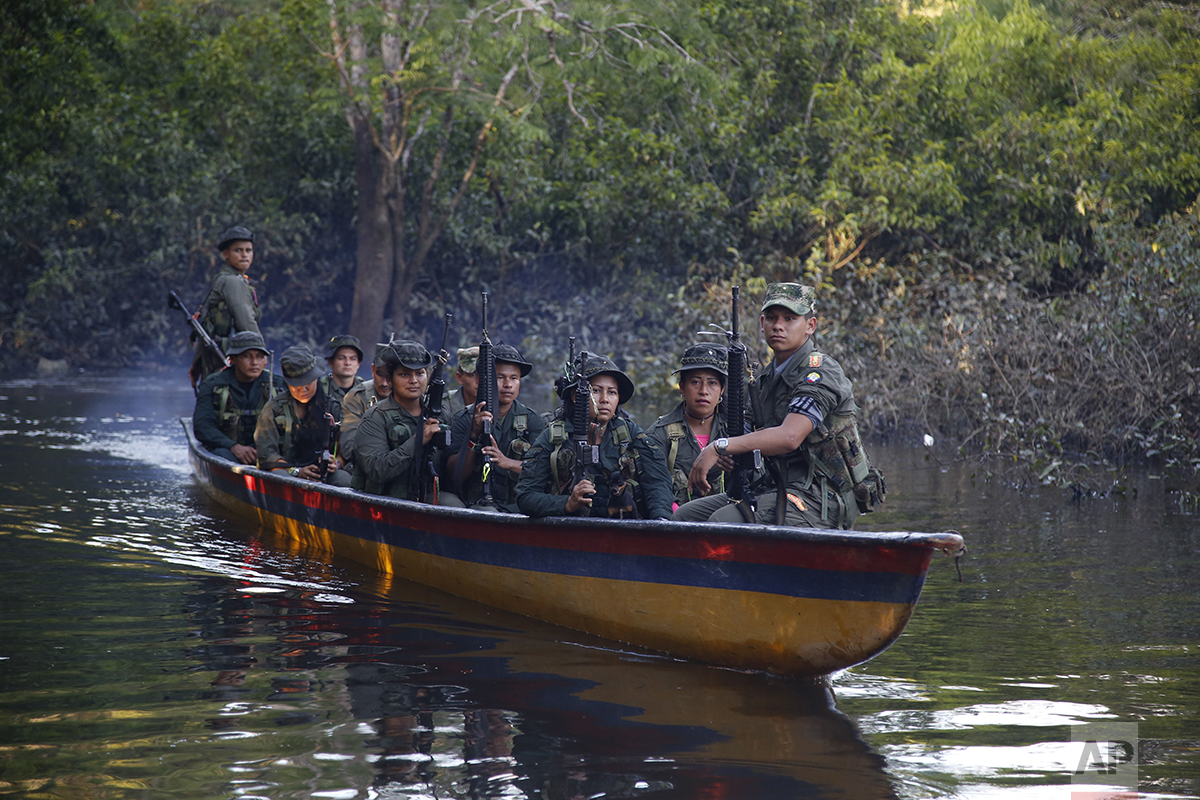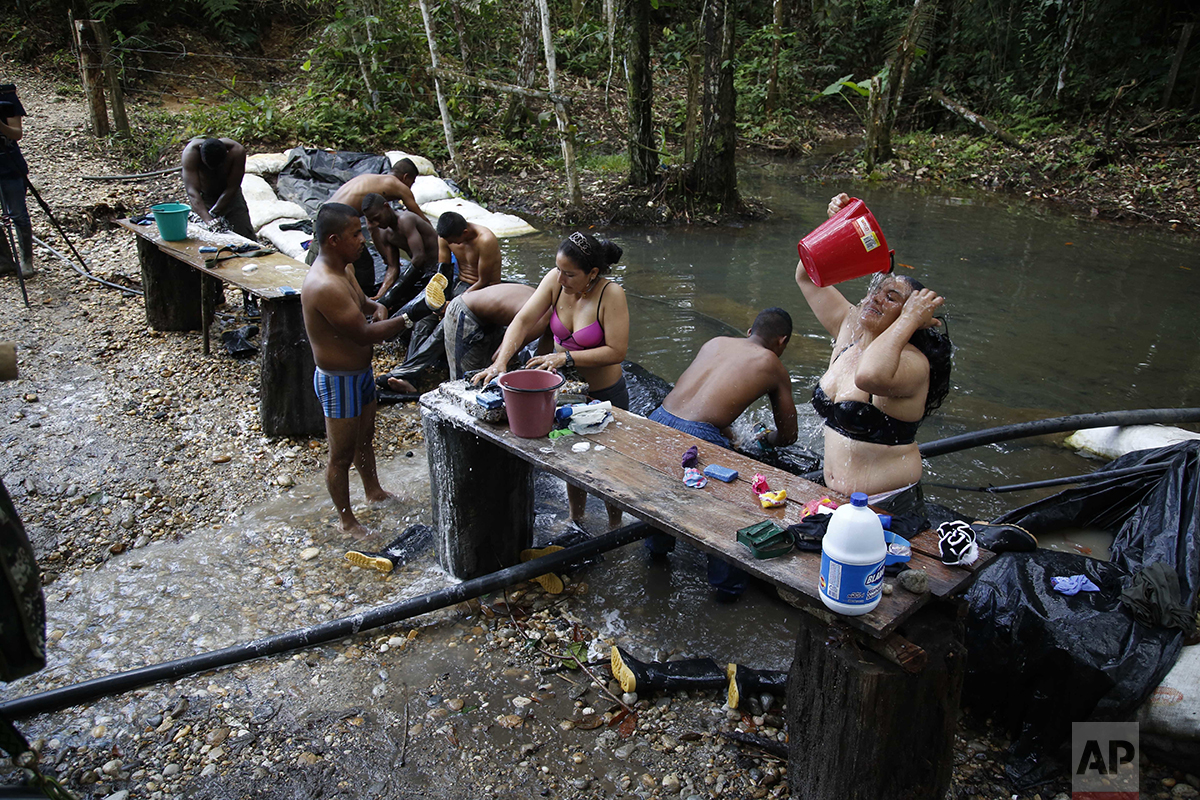 Sports Photography | Leo Correa, Felipe Dana & Markus Schreiber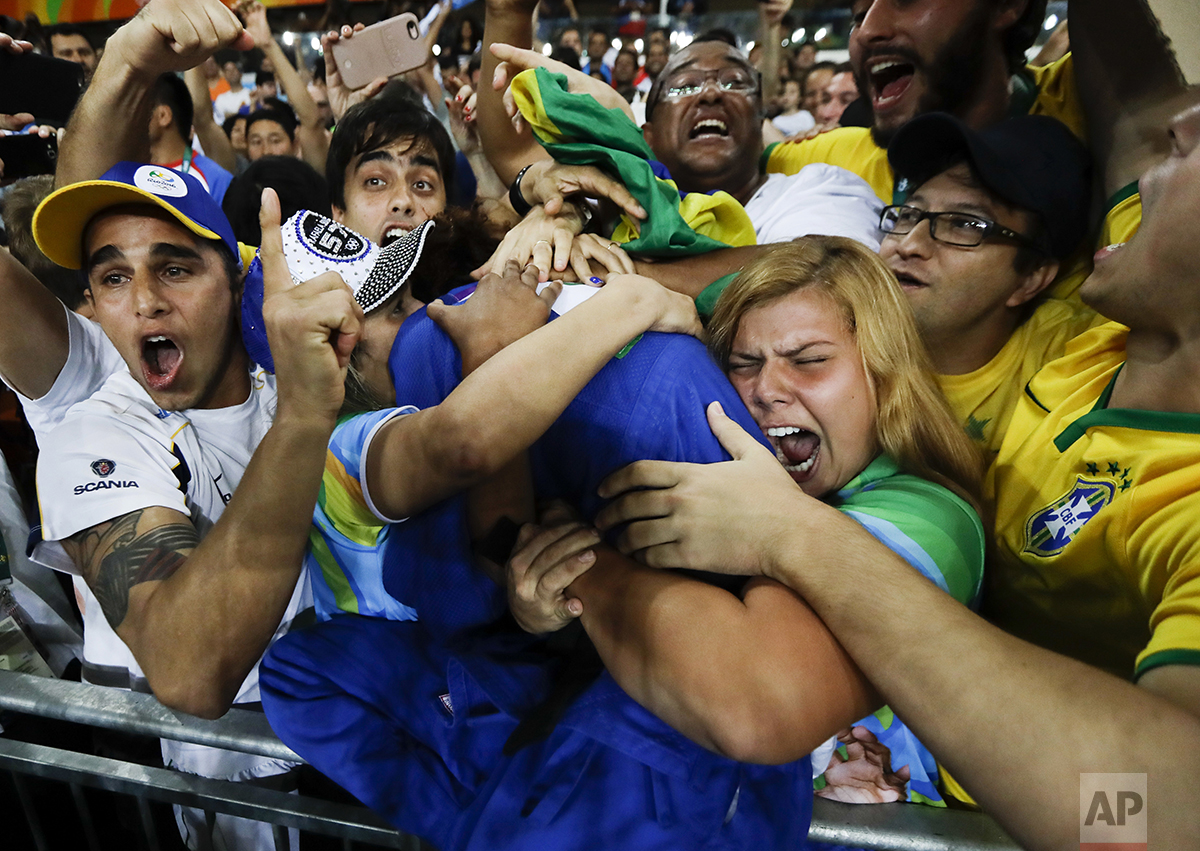 Olympic Hero
Brazil's Rafaela Silva, center, celebrates with supporters after winning the gold medal of the women's 57-kg judo competition at the 2016 Summer Olympics in Rio de Janeiro, Brazil, Monday, Aug. 8, 2016. (AP Photo/Markus Schreiber)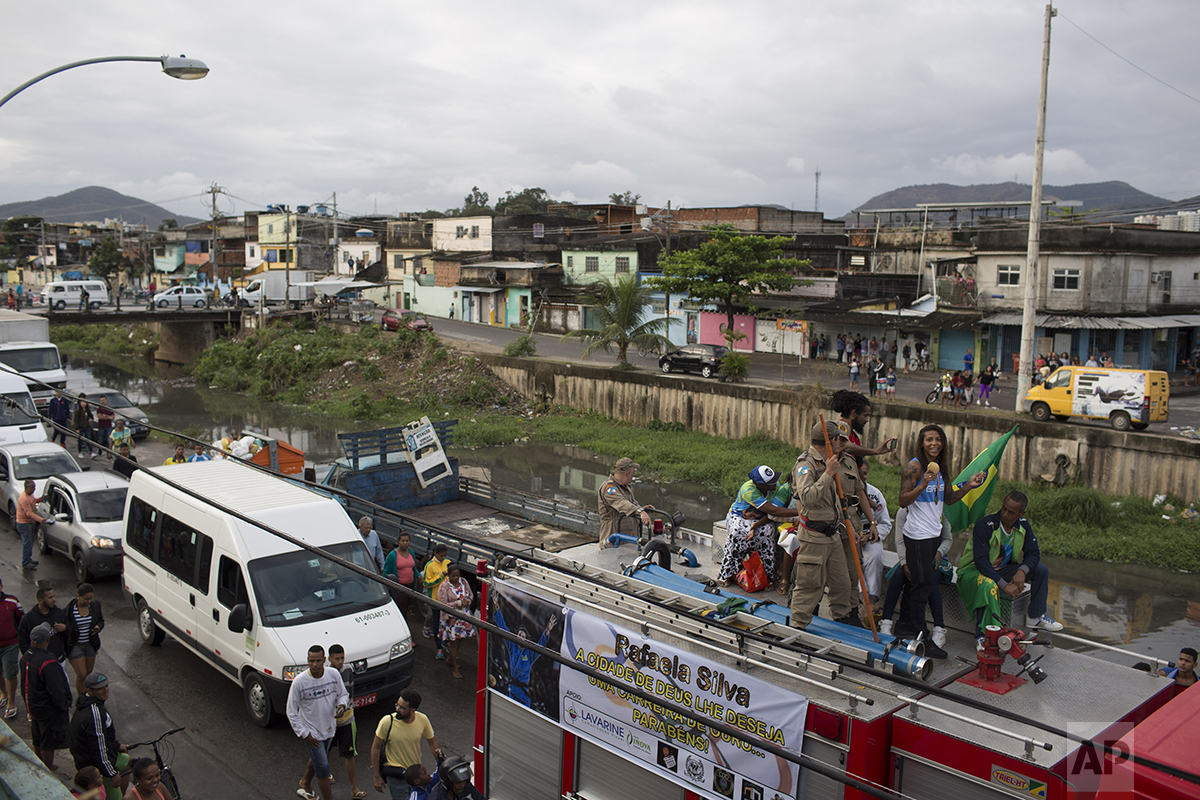 Olympic Hero
The Brazilian Judo gold medalist Rafaela Silva is given a hero's welcome as she rides a fire truck into the Cidade de Deus "City of God" slum in Rio de Janeiro, Brazil, Monday, Aug. 22, 2016. Silva who grew up in the violent, poverty stricken slum, won special mention from IOC president Thomas Bach, saying she's an inspiration across the world." (AP Photo/Leo Correa)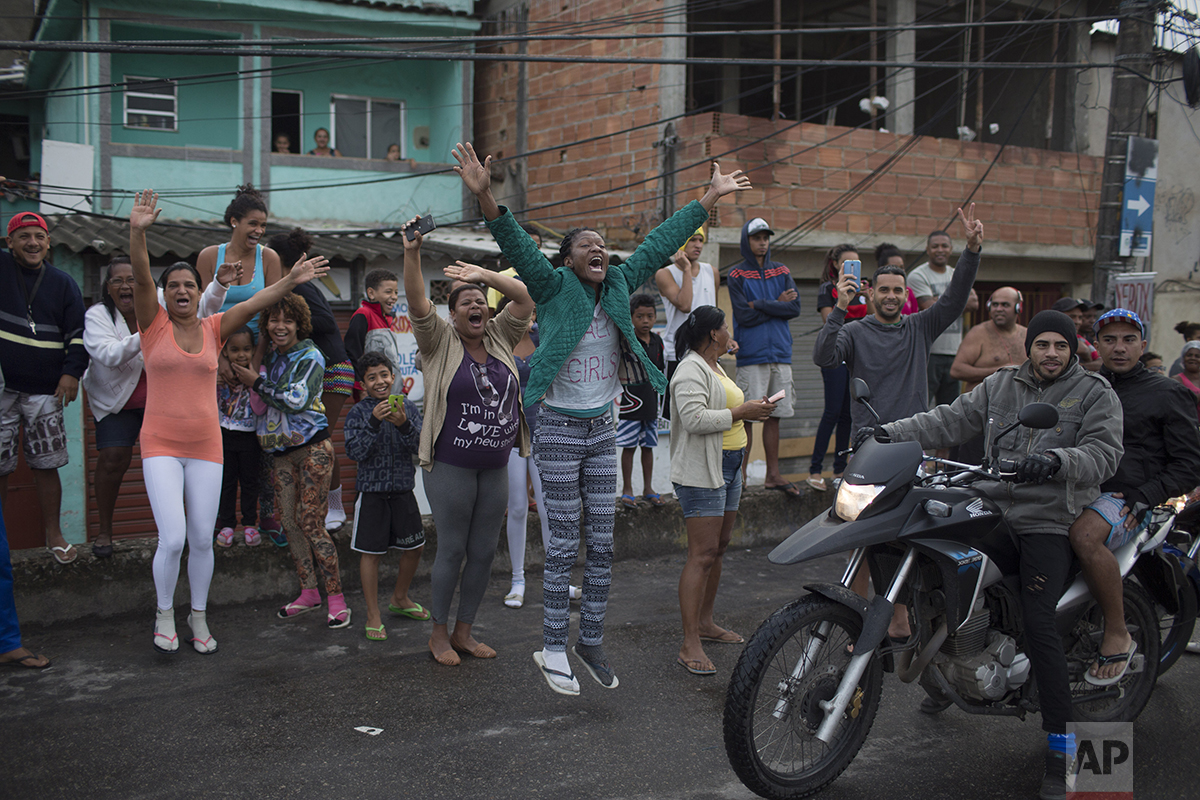 Olympic Hero
Neighbors cheer as Brazilian judo gold medalist Rafaela Silva is given a hero's welcome as she rides a fire truck into the Cidade de Deus "City of God" slum in Rio de Janeiro, Brazil, Monday, Aug. 22, 2016. Silva who grew up in the violent, poverty stricken slum, won special mention from IOC president Thomas Bach, saying she's an inspiration across the world." (AP Photo/Leo Correa)
Olympic Hero
Brazilian judo gold medalist Rafaela Silva is given a hero's welcome as she rides a fire truck into the Cidade de Deus "City of God" slum in Rio de Janeiro, Brazil, Monday, Aug. 22, 2016. Silva who grew up in the violent, poverty stricken slum, won special mention from IOC president Thomas Bach, saying she's an inspiration across the world." (AP Photo/Leo Correa)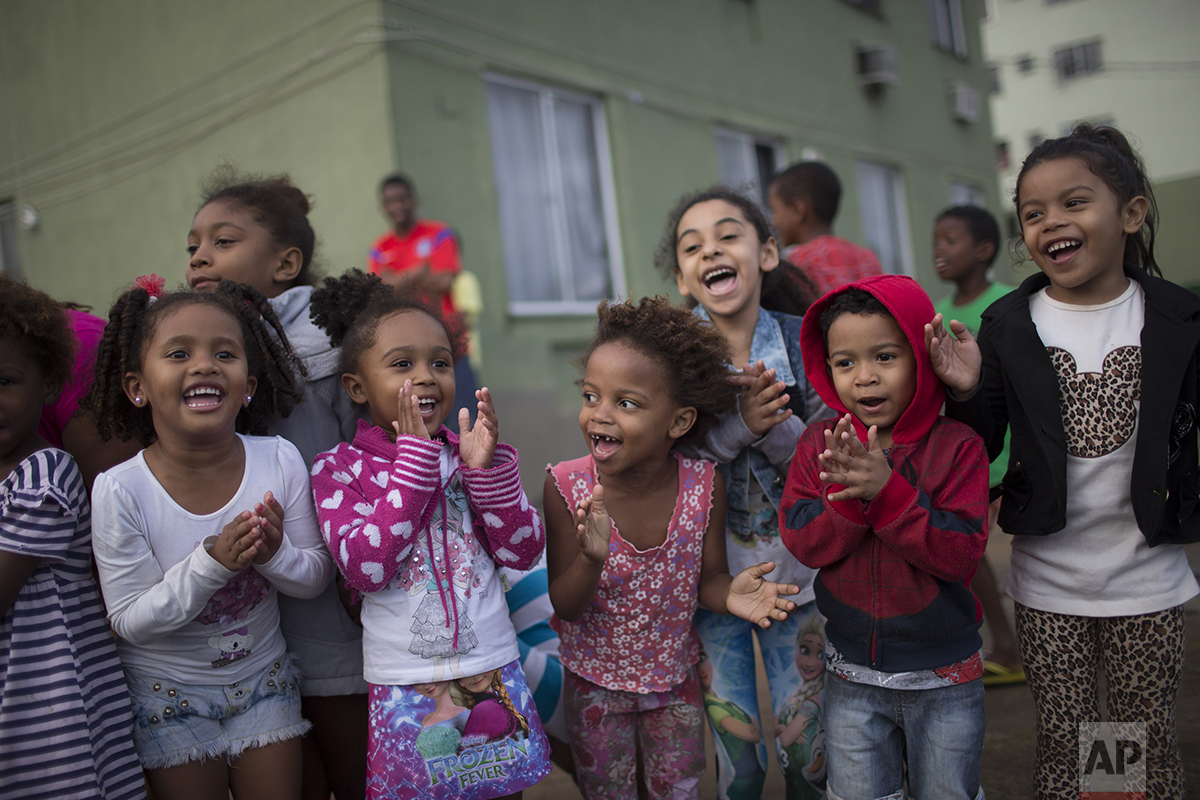 Olympic Hero
Children cheer as Brazilian judo gold medalist Rafaela Silva is given a hero's welcome as she rides a fire truck into the Cidade de Deus "City of God" slum in Rio de Janeiro, Brazil, Monday, Aug. 22, 2016. Silva who grew up in the violent, poverty stricken slum, won special mention from IOC president Thomas Bach, saying she's an inspiration across the world." (AP Photo/Leo Correa)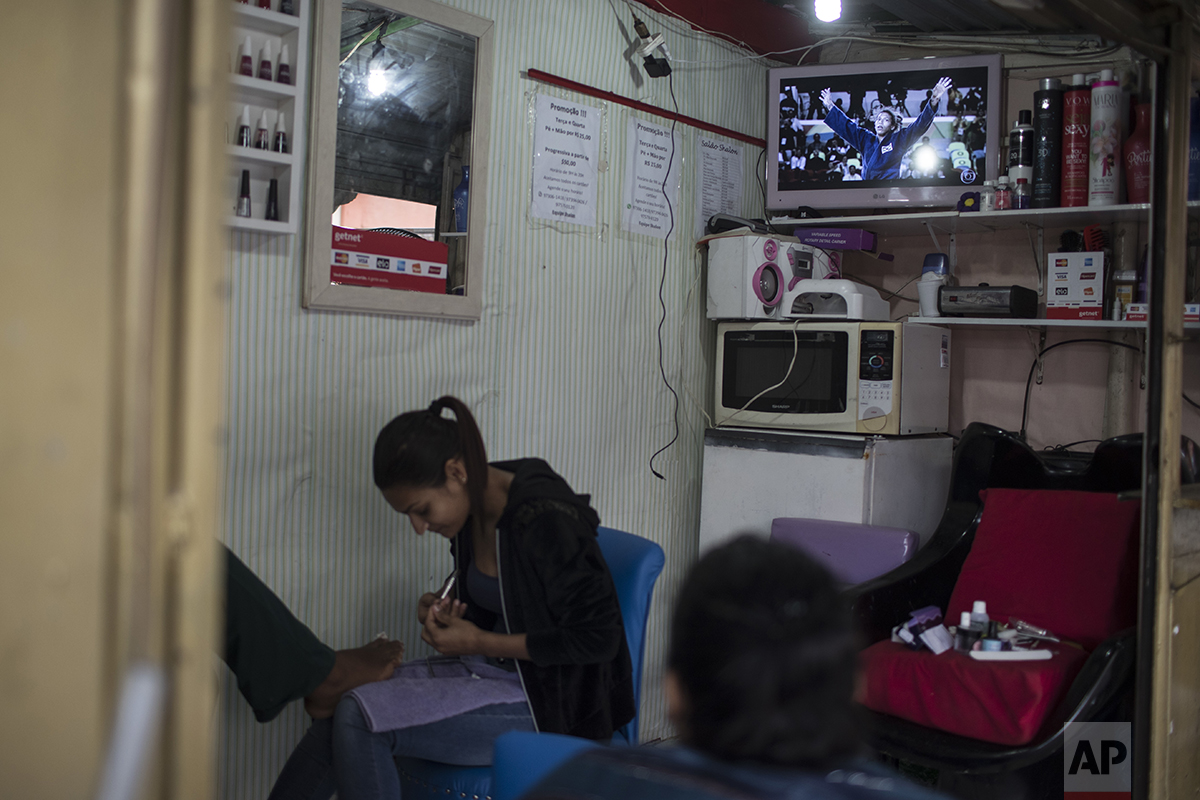 Olympic Hero
A woman gets her nails done as she watches news about Brazilian judo gold medallist Rafaela Silva during the 2016 Summer Olympics in Rio de Janeiro, Brazil, Wednesday, Aug. 10, 2016. (AP Photo/Felipe Dana)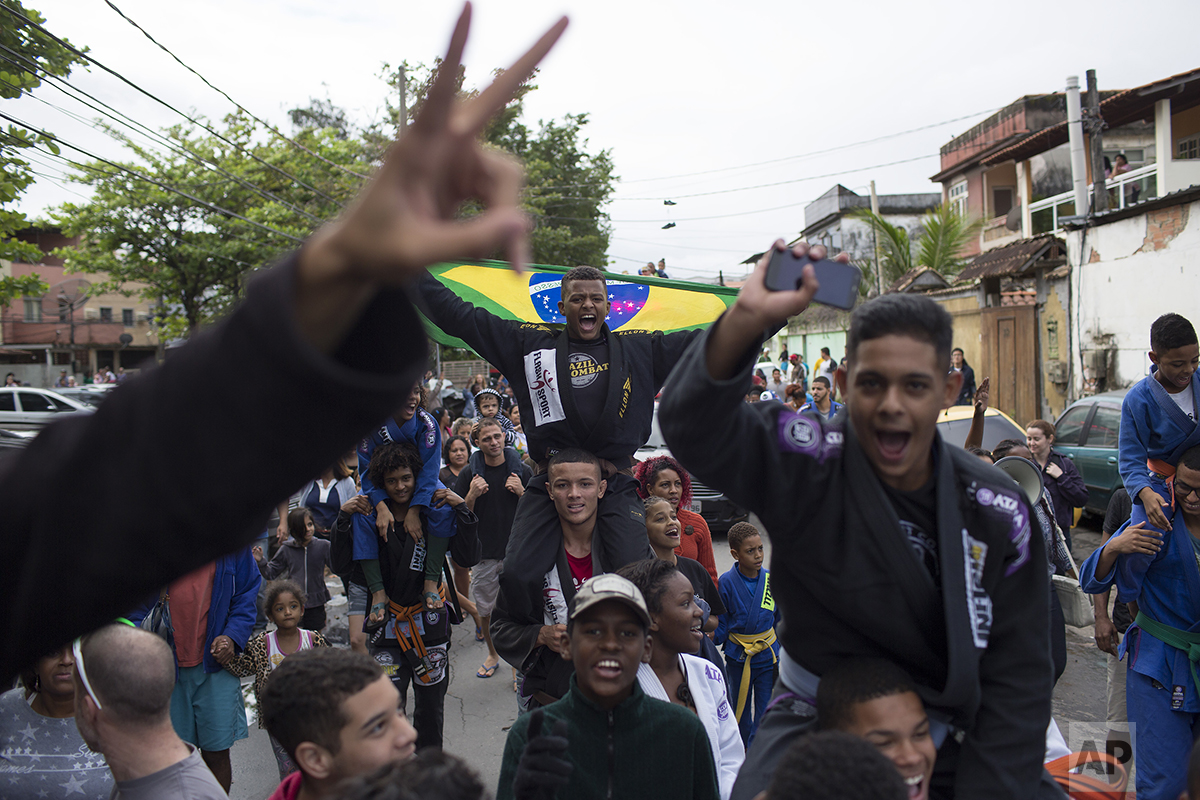 Olympic Hero
Youths wearing kimonos cheer as Brazilian judo gold medalist Rafaela Silva is given a hero's welcome into the Cidade de Deus "City of God" slum in Rio de Janeiro, Brazil, Monday, Aug. 22, 2016. Silva who grew up in the violent, poverty stricken slum, won special mention from IOC president Thomas Bach, saying she's an inspiration across the world." (AP Photo/Leo Correa)
Olympic Hero
A woman holds her dog as they look as Brazilian judo gold medalist Rafaela Silva is given a hero's welcome into the Cidade de Deus "City of God" slum in Rio de Janeiro, Brazil, Monday, Aug. 22, 2016. Silva who grew up in the violent, poverty stricken slum, won special mention from IOC president Thomas Bach, saying she's an inspiration across the world." (AP Photo/Leo Correa)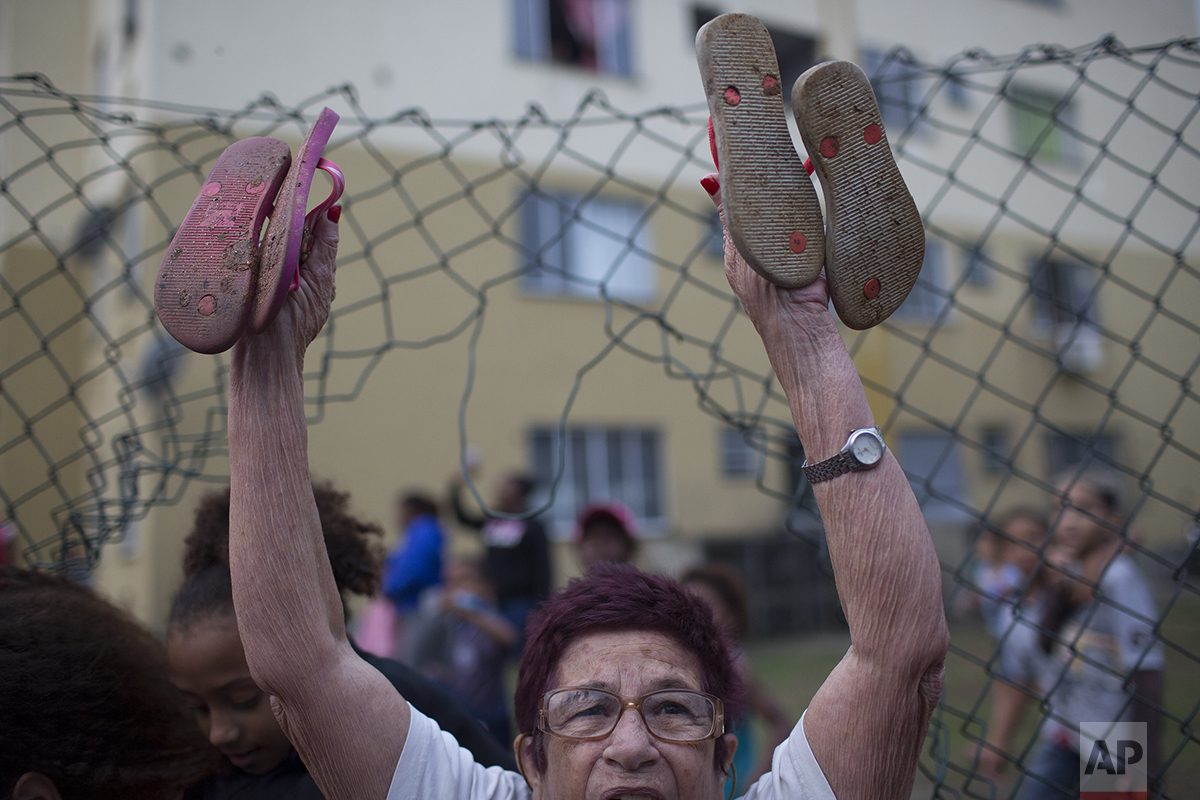 Olympic Hero
A cheering woman holds up a pair of sandals as Brazilian judo gold medalist Rafaela Silva is given a hero's welcome into the Cidade de Deus "City of God" slum in Rio de Janeiro, Brazil, Monday, Aug. 22, 2016. Silva who grew up in the violent, poverty stricken slum, won special mention from IOC president Thomas Bach, saying she's an inspiration across the world." (AP Photo/Leo Correa)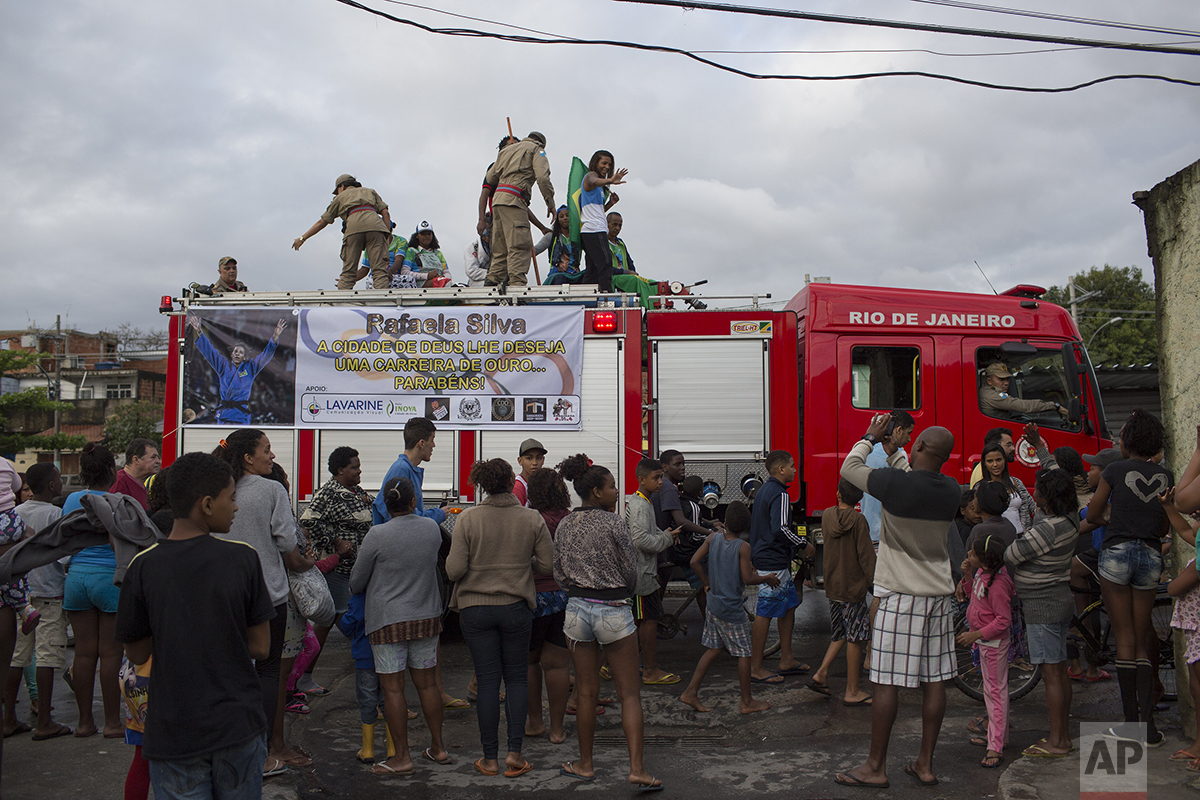 Olympic Hero
Brazilian judo gold medalist Rafaela Silva is given a hero's welcome as she rides a fire truck into the Cidade de Deus "City of God" slum in Rio de Janeiro, Brazil, Monday, Aug. 22, 2016. Silva who grew up in the violent, poverty stricken slum, won special mention from IOC president Thomas Bach, saying she's an inspiration across the world." (AP Photo/Leo Correa)
Olympic Hero
Brazilian Judo gold medalist Rafaela Silva, center, arrives to the street where she used to live in the Cidade de Deus "City of God" slum in Rio de Janeiro, Brazil, Monday, Aug. 22, 2016. Silva who grew up in the violent, poverty stricken slum, won special mention from IOC president Thomas Bach, saying she's an inspiration across the world." (AP Photo/Leo Correa)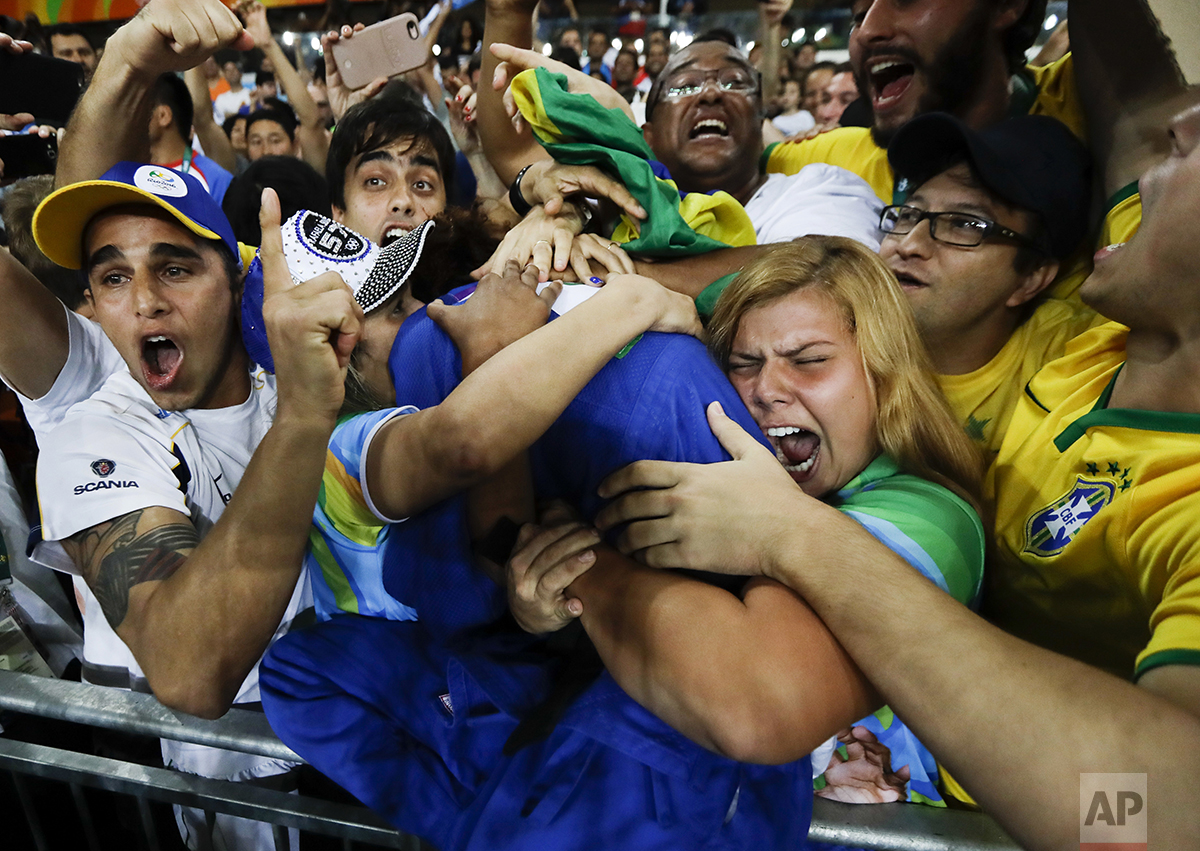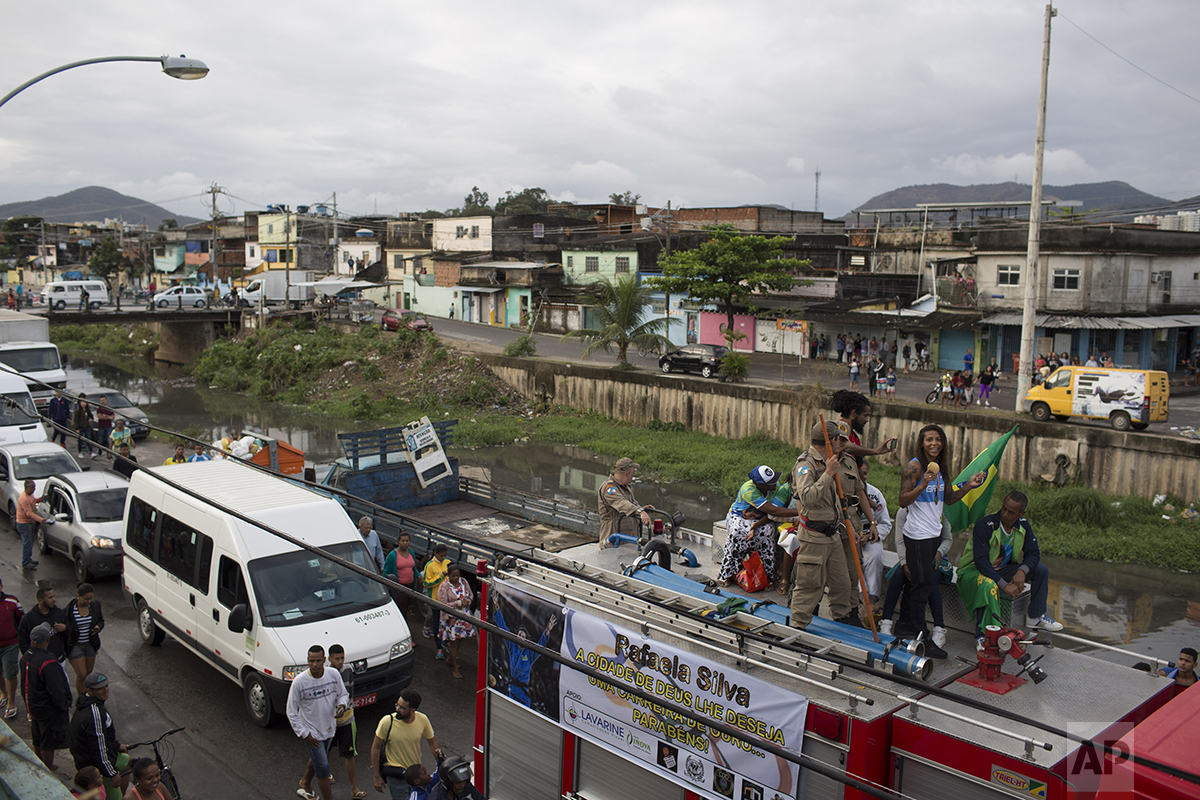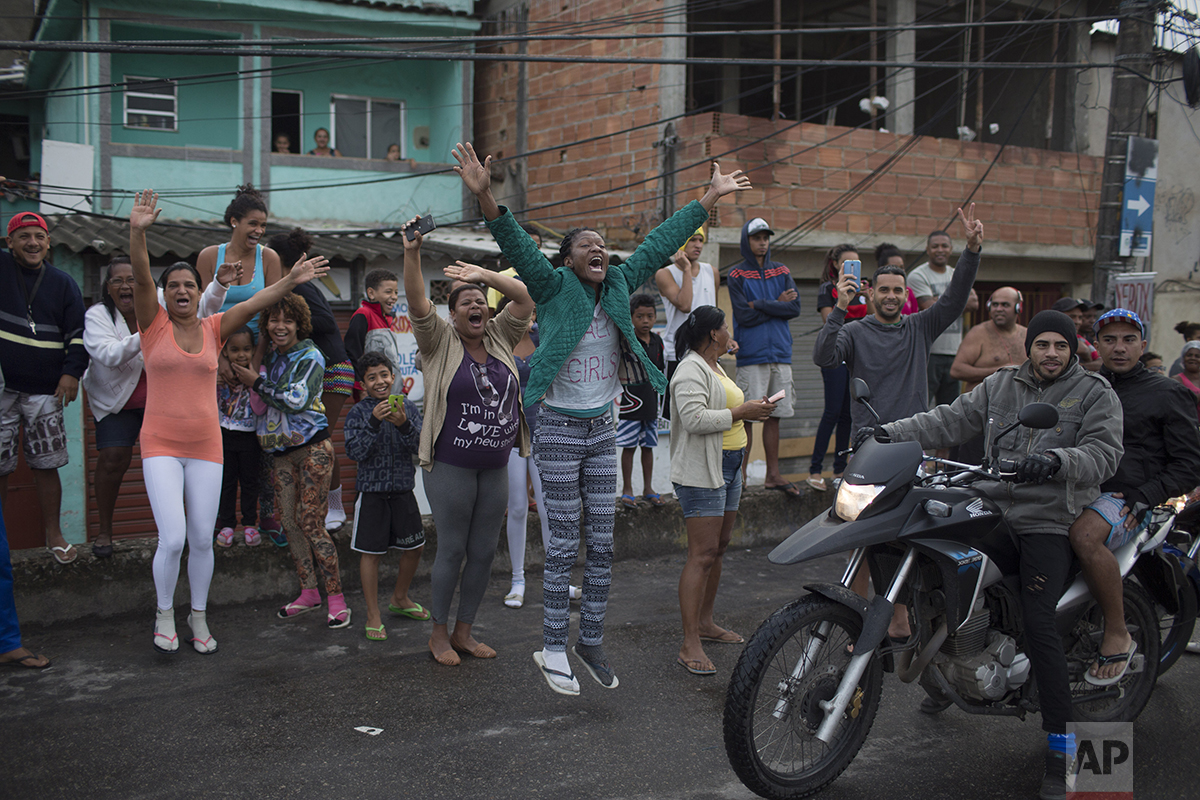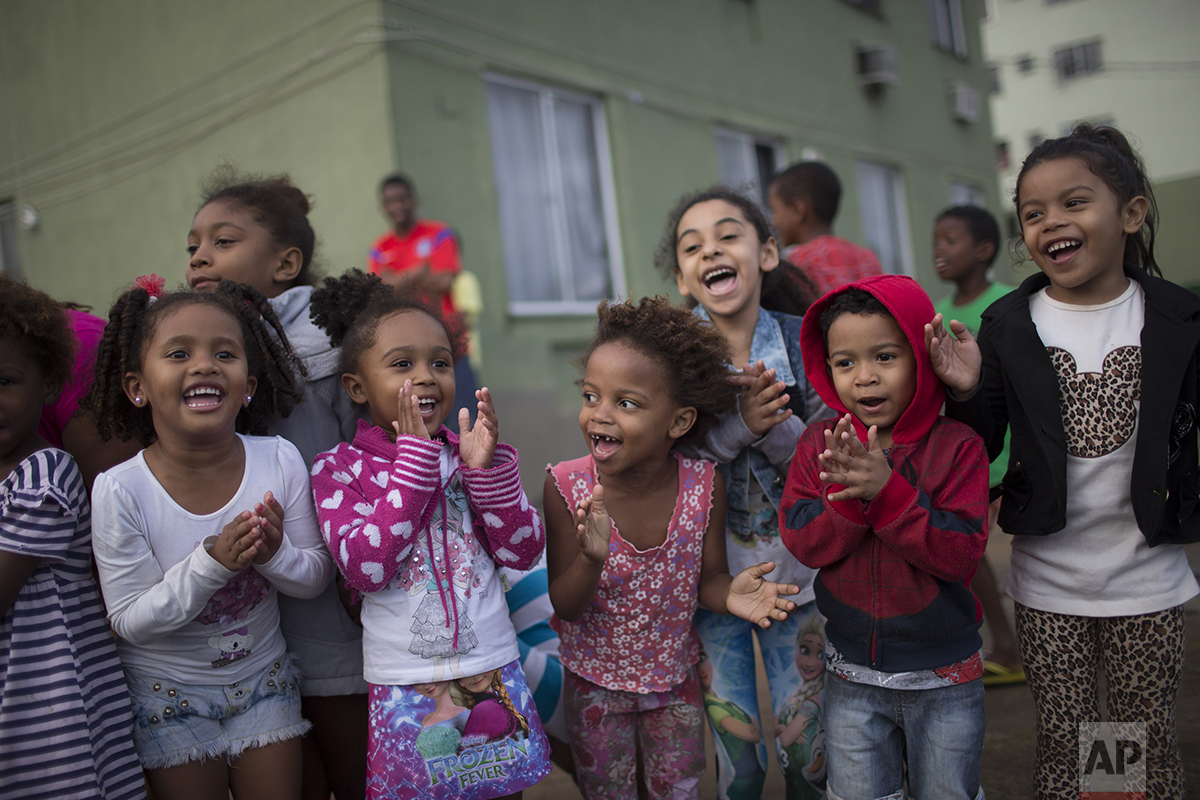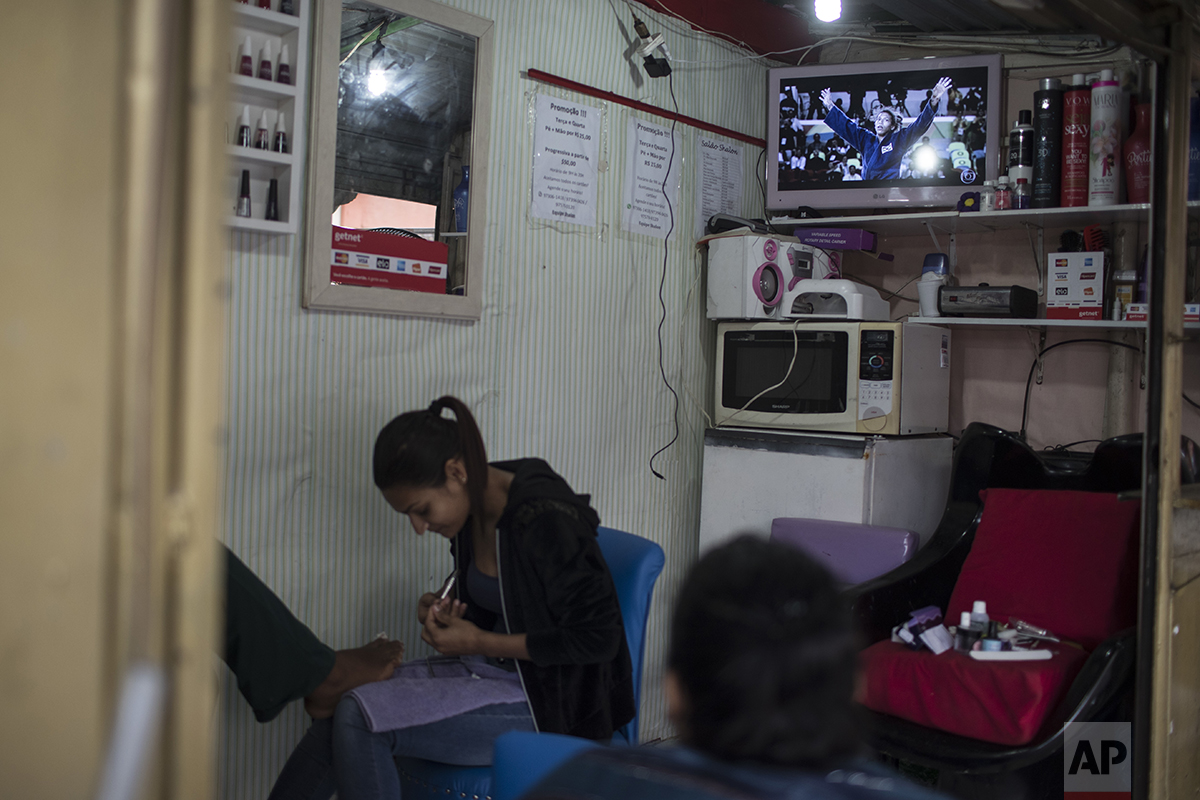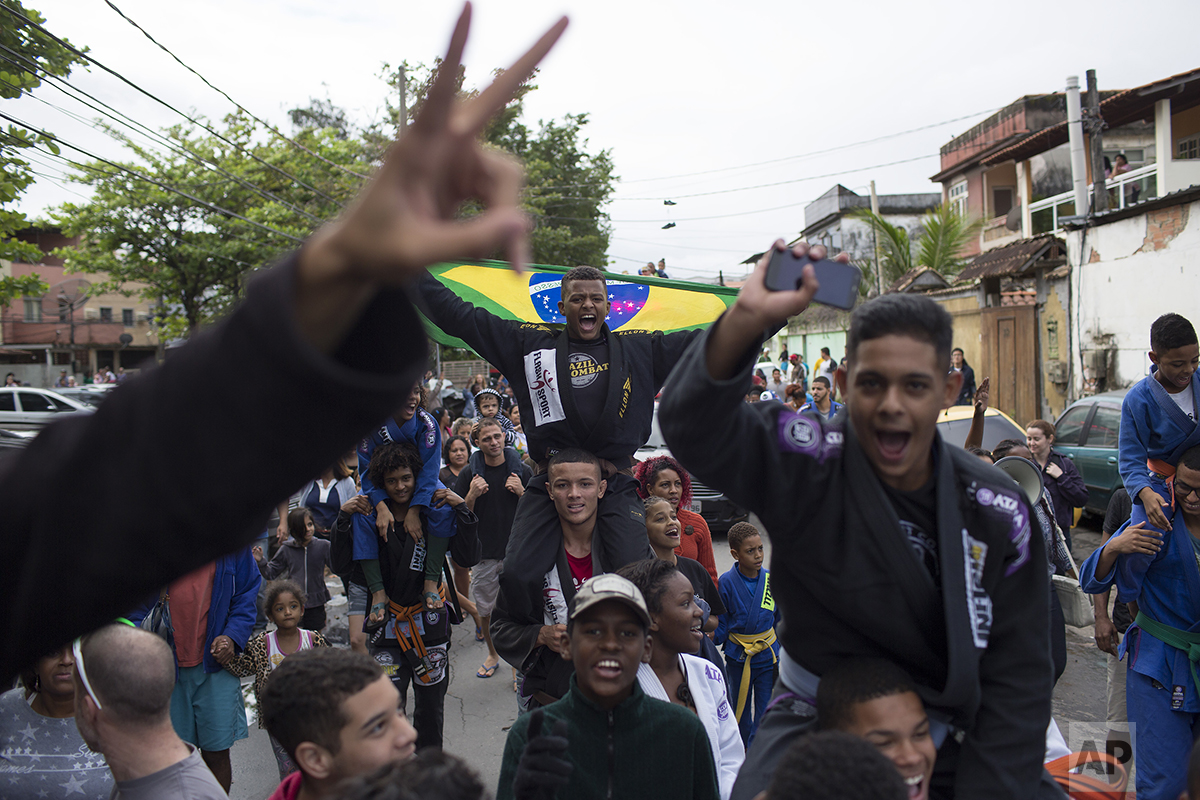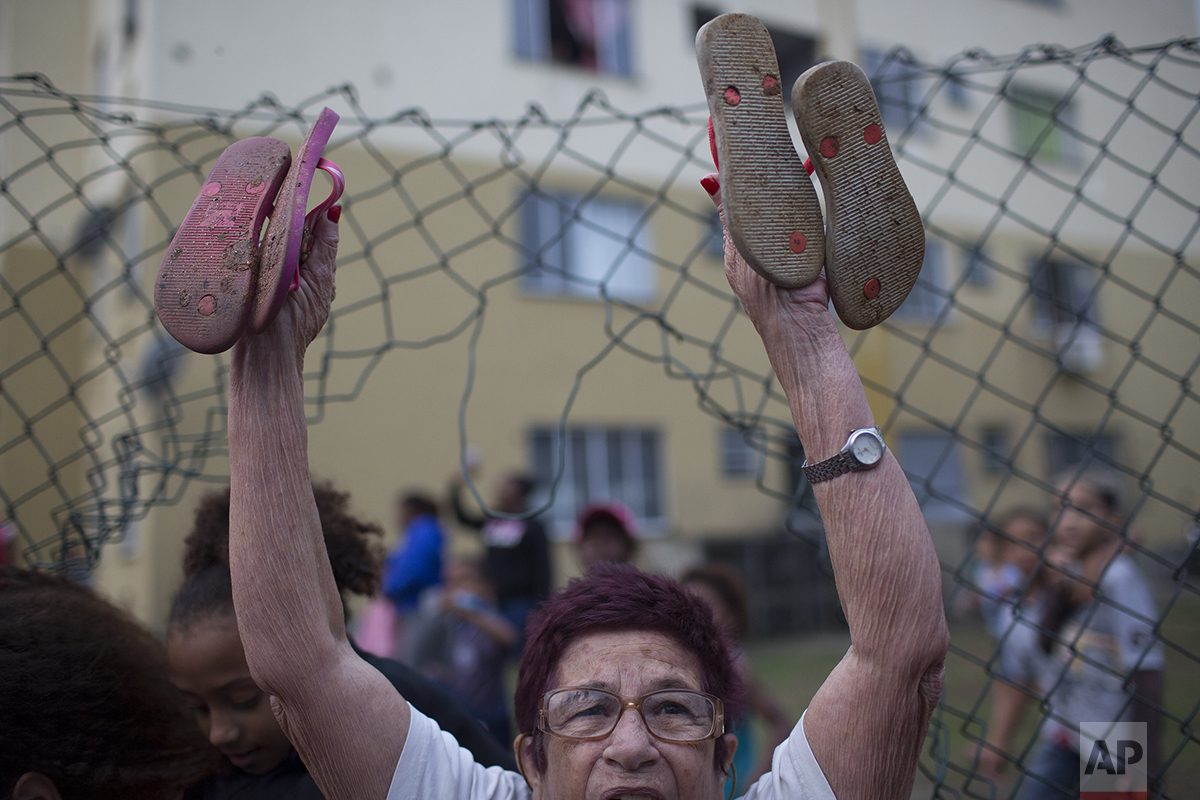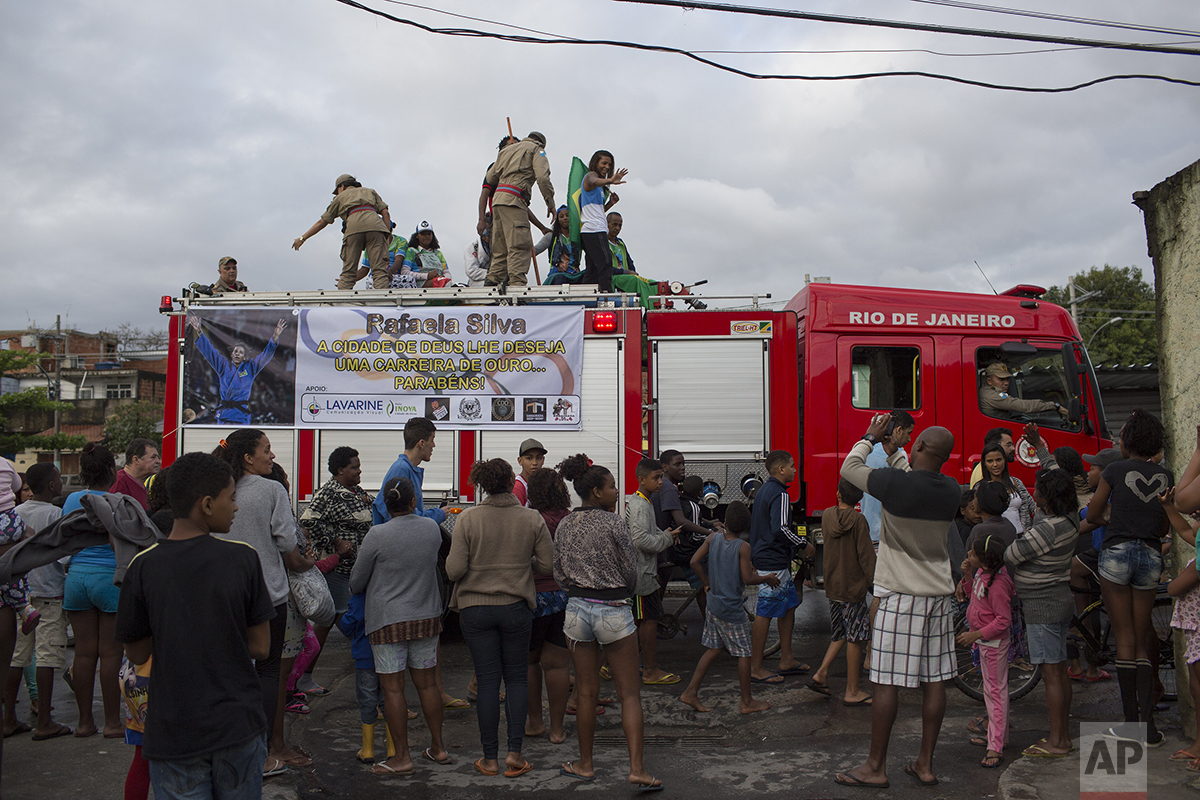 Nat Castañeda
Visual artist and Digital Storyteller at The Associated Press