Julia Weeks
AP Photo, Pictures of the week, Dmitri Lovetsky, Luis Hidalgo, Felipe Dana, Eugene Hoshiko, Ramon Espinosa, Khalil Hamra, Juan Karita, Altaf Qadri, Ben Curtis, Gregorio Borgia
Comment
Pictures of the week
Highlights from the weekly AP photo report, a gallery featuring a mix of front-page photography, the odd image you might have missed and lasting moments our editors think you should see.
This week's gallery features images of the supermoon rising behind a castle in Spain; a Bolivian woman with two buckets waiting for water to arrive amid the country's worst drought in 25 years; long lines of people waiting to exchange or deposit discontinued currency notes in New Delhi.
This gallery contains photos published Nov. 13-Nov. 18, 2016.
The moon rises behind the castle of Almodovar in Cordoba, southern Spain, on Sunday, Nov. 13, 2016. The Supermoon on Nov. 14, 2016, will be the closest a full moon has been to Earth since Jan. 26, 1948. (AP Photo/Miguel Morenatti)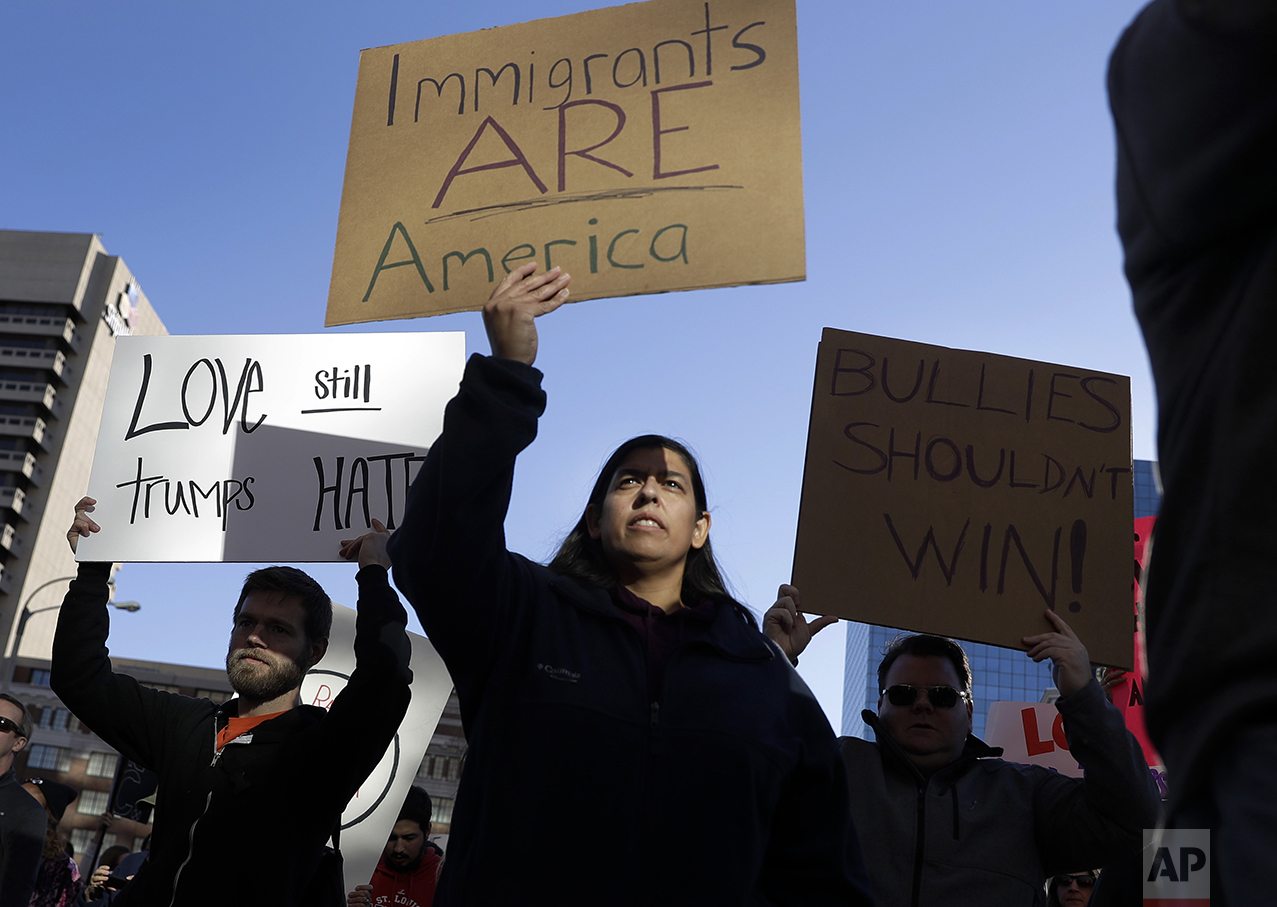 Protesters hold signs as they march in opposition to the election of President-elect Donald Trump on Sunday, Nov. 13, 2016, in St. Louis. (AP Photo/Jeff Roberson)
Service arms rise towards Russia's Soyuz-FG booster rocket with the Soyuz MS-03 spaceship that will carry new crew members to the International Space Station (ISS) from the Russian leased Baikonur cosmodrome, in Kazakhstan, Monday, Nov. 14, 2016. (AP Photo/Dmitri Lovetsky)
A Cuban honor guard marches through the rain after taking part in a ceremony for Canada's Prime Minister Justin Trudeau, at Revolution Square in Havana, Cuba, Tuesday, Nov. 15, 2016. (AP Photo/Ramon Espinosa)
A Chinook helicopter pulls water out of Lake Oolenoy near Table Rock State Park in S.C., as firefighters continue to battle wildfires on Tuesday, Nov. 15, 2016. Dozens of wildfires have burned hundreds of square miles across the Southeast of the U.S. and thrown a shroud of smoke over the region. (Heidi Heilbrunn/The Greenville News via AP)
People stand in lines outside a bank to exchange or deposit discontinued currency notes in New Delhi, India, Tuesday, Nov. 15, 2016. India's government said Tuesday that it will mark the fingers of people swapping scrapped currency notes at banks with indelible ink as authorities struggle to deal with the corruption and bedlam spawned by the demonetizing of the country's highest denomination currency. (AP Photo/Altaf Qadri)
A pile of over 5,000 illegal weapons are burned by Kenyan police in Ngong, near Nairobi, in Kenya Tuesday, Nov. 15, 2016. The weapons consisted of both confiscated and surrendered firearms that had been stockpiled over almost a decade and were destroyed by police as a message to the public to surrender others. (AP Photo/Ben Curtis)
A worker spray paints rubber masks depicting President-elect Donald Trump on a production line at the Ogawa Studio in Saitama, north of Tokyo, Tuesday, Nov. 15, 2016. Ogawa Studio, the only manufacturer of rubber masks in Japan, is working non-stop to catch up with a flood of orders for Trump masks since his election victory a week earlier. Twenty three workers are trying to produce 350 likenesses of Trump a day, up from 45 before the U.S. election, factory executive manager Takahiro Yagihara said Tuesday. (AP Photo/Eugene Hoshiko)
A woman walks with two buckets to wait for a water tank to arrive near her neighborhood in La Paz, Bolivia, Wednesday, Nov. 16, 2016. Bolivia's President Evo Morales asked for forgiveness from residents of the city for water shortages caused by the worst drought in 25 years and acknowledged that there are no immediate solutions. (AP Photo/Juan Karita)
Pope Francis arrives in St. Peter's Square to attend his weekly general audience at the Vatican, Wednesday, Nov. 16, 2016. (AP Photo/Gregorio Borgia)
A car bomb explodes next to Iraqi special forces armored vehicles as they advance towards Islamic State held territory in Mosul, Iraq, Wednesday, Nov. 16, 2016. (AP Photo/Felipe Dana)
A Palestinian man rides a horse on the beach as the sun sets over Gaza City, Thursday, Nov. 17, 2016. (AP Photo/ Khalil Hamra)
Public workers try to break past a police barrier to reach La Moneda presidential palace in Santiago, Chile, Thursday, Nov. 17, 2016. Workers upset with their salary increase, 3.2 percent approved Wednesday by Congress, want a 4 percent increase, after lowering their demand from 7 percent. (AP Photo/Luis Hidalgo)
A girl hides behind a blanket as Iraqi special forces enter her house while advancing towards Islamic State militant-held territory in Mosul, Iraq, Friday, Nov. 18, 2016. (AP Photo/Felipe Dana)