Julia Weeks
AP Photo, Pictures of the week, Altaf Qadri, Wong Maye-E, Khalid Mohammed, Anupam Nath, Vadim Ghirda, Mukhtar Khan, Andy Wong, Gregorio Borgia, Mel Evans, Muhammed Muheisen
Comment
Pictures of the week
Highlights from the weekly AP photo report, a gallery featuring a mix of front-page photography, the odd image you might have missed and lasting moments our editors think you should see.
This week's gallery features images of a child in a bear costume taking part in an annual ritual in Comanesti, Romania; haze from a weather inversion shrouding the skyline of Salt Lake City, Utah; and Syrian refugees in a camp in a Greece.
This gallery was produced by Patrick Sisson in New York and contains photos published Dec. 26 - Dec. 31, 2016.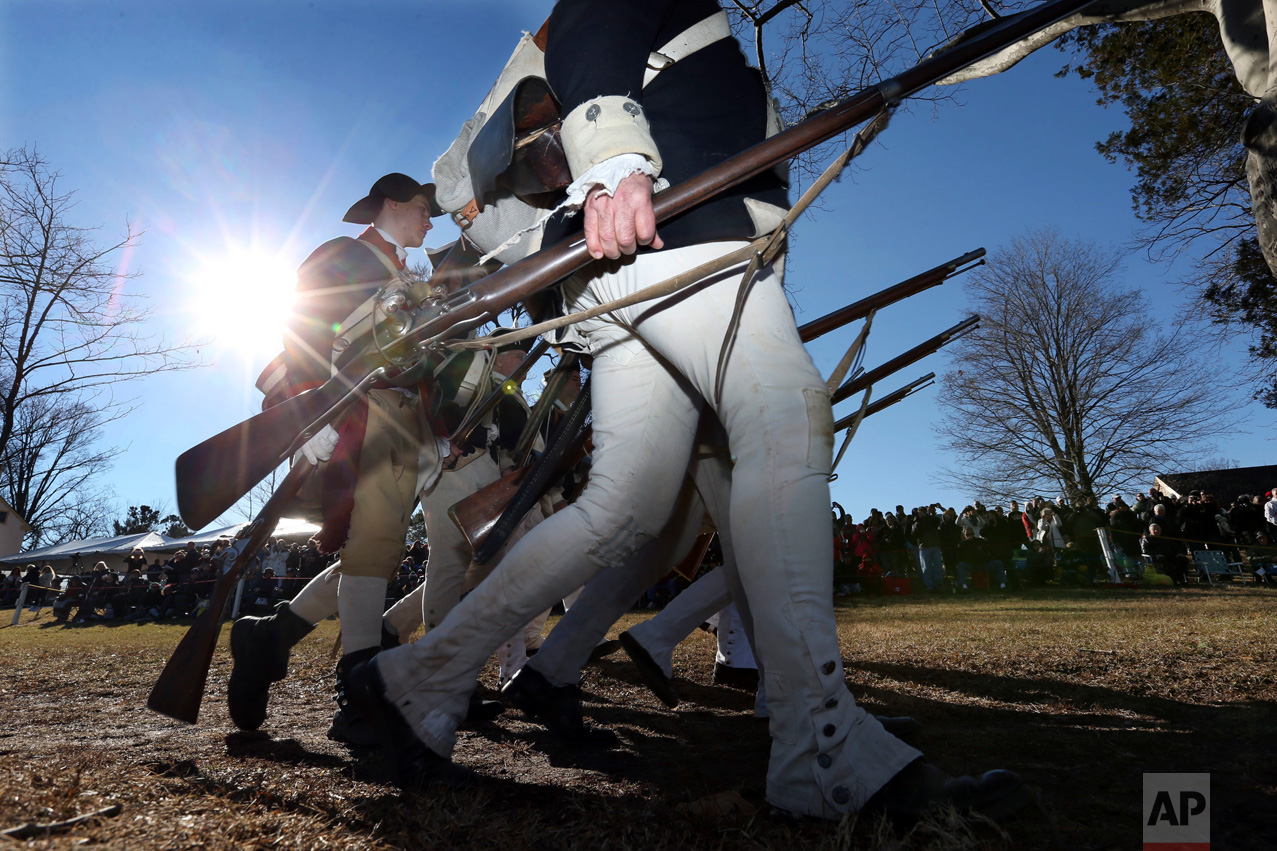 Participants march as they prepare to re-enact Gen. George Washington's Christmas 1776 crossing of the Delaware River, the trek that turned the tide of the Revolutionary War, in Washington Crossing, Pa., on Sunday, Dec. 25, 2016. (AP Photo/Mel Evans)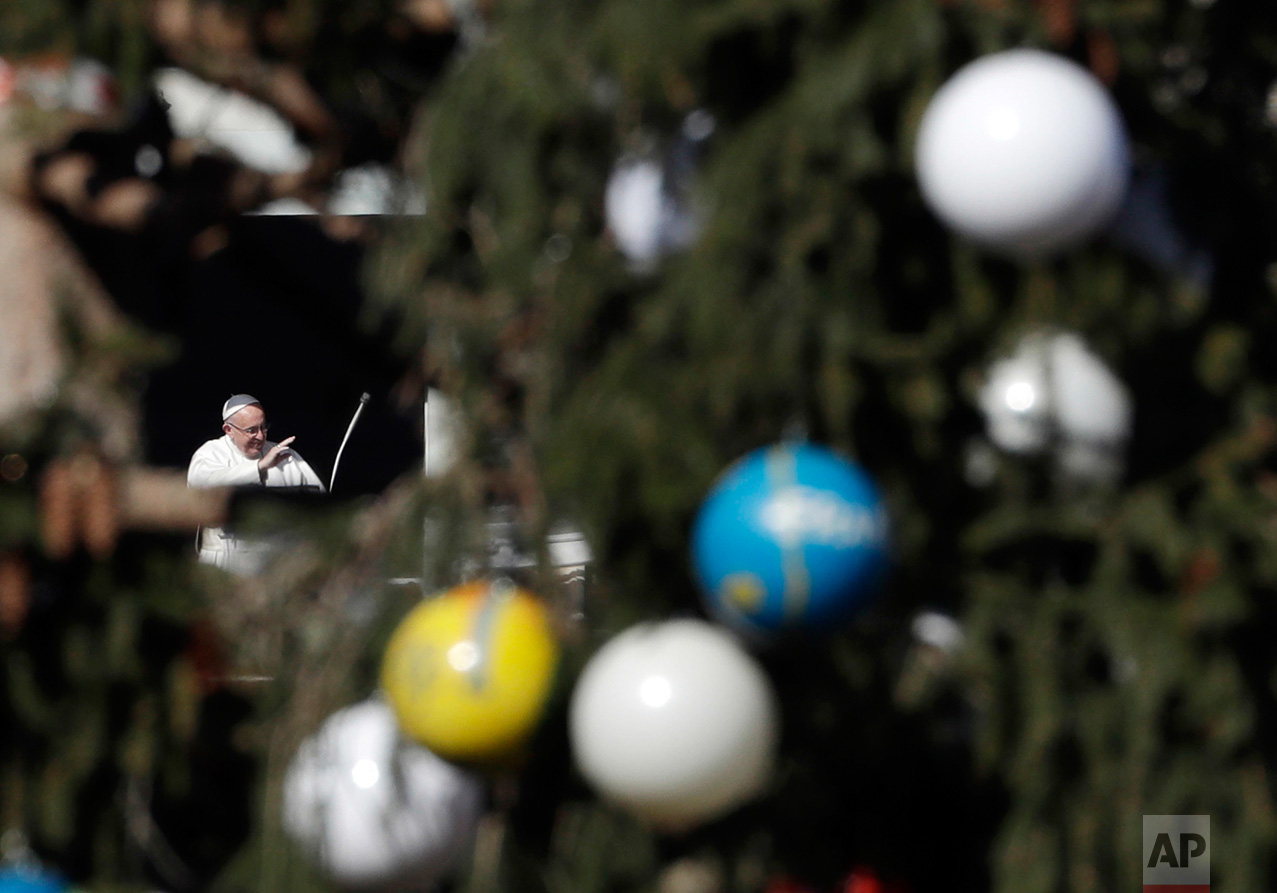 Framed by a Christmas tree, Pope Francis waves to worshippers during the Angelus noon prayer which he delivered from his studio window overlooking St. Peter's Square at the Vatican, on Monday, Dec. 26, 2016. Speaking to thousands gathered to celebrate the feast day of St. Stephen, the first Christian martyr, Francis expressed his ''strong condolences'' to the Russian people and to those who lost loved ones in a military plane which crashed shortly after take off from the city of Sochi on Sunday. (AP Photo/Gregorio Borgia)
The downtown skyline of Salt Lake City, Utah is shrouded in haze during an inversion on Wednesday, Dec. 28, 2016. In the phenomenon, cold, stagnant air settles in the bowl-shaped mountain basins, trapping tailpipe and other emissions, creating a murky haze that engulfs the metro area. (Jeffrey D. Allred/The Deseret News via AP)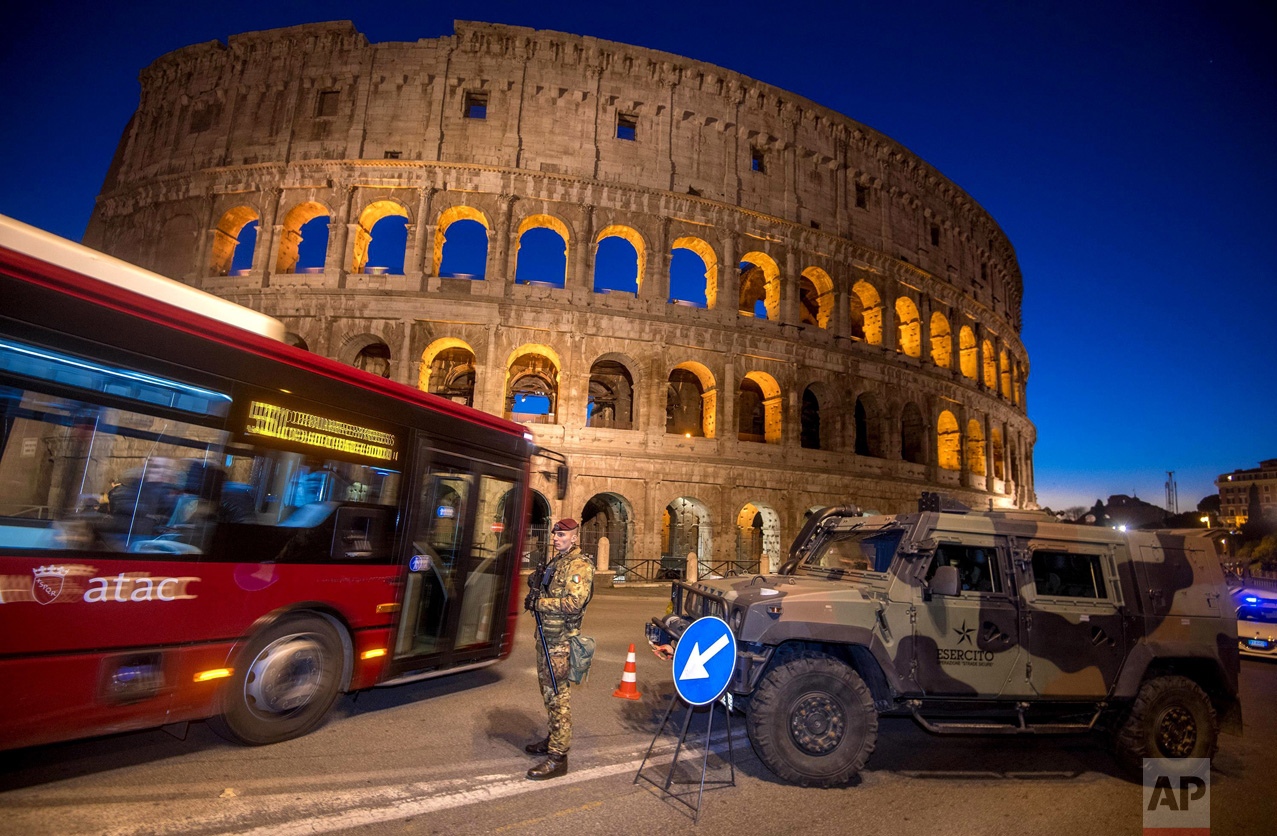 A bus drives past a soldier patrolling the ancient Colosseum area in Rome on Wednesday, Dec. 28, 2016. Italy has been strengthening security measures for areas where crowds are expected. (Claudio Peri/ANSA via AP)
A farmer walks in a field on the outskirts of Gauhati, India, on Thursday, Dec. 29, 2016. Over 70 percent of India's 1.25 billion citizens rely on agriculture for survival. (AP Photo/Anupam Nath)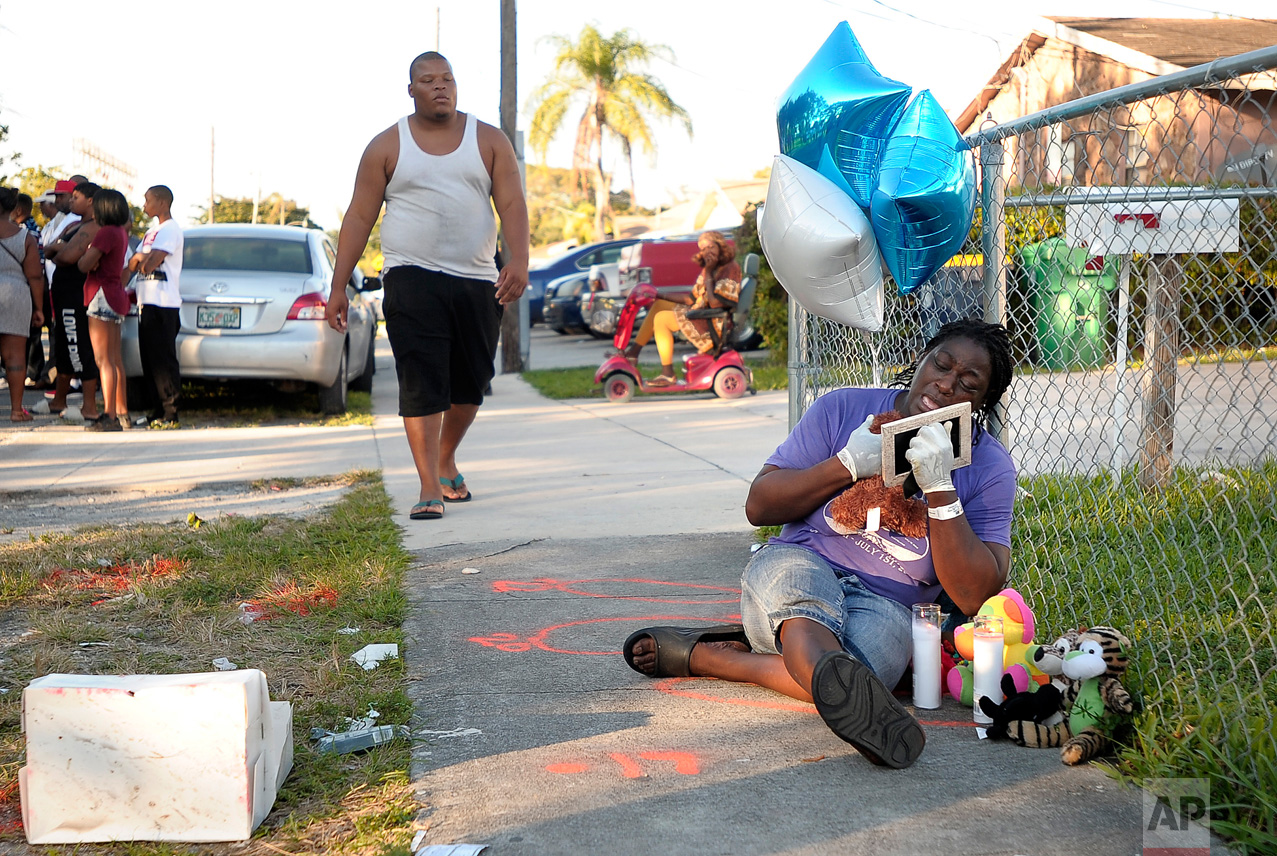 Caprice Cunningham cries on Thursday, Dec. 29, 2016 at the place where her grandson, Rasheed Cunningham, Jr., 8, was fatally shot in Dania Beach, Fla. On Friday, Broward Sheriff's Office announced an arrest in connection with the gun violence in Dania Beach that killed the 8-year-old boy on Wednesday, and Christopher Jordan, 25, on Christmas Day. (Michael Laughlin/South Florida Sun-Sentinel via AP)
A child wearing a bear costume dances with adults during an annual ritual in Comanesti, Romania, on Friday, Dec. 30, 2016. In pre-Christian rural traditions, dancers wearing colored costumes or animal furs, went from house to house in villages singing and dancing to ward off evil. Today, the tradition also has moved to Romania's cities, where dancers travel to perform the ritual for money. (AP Photo/Vadim Ghirda)
A plume of smoke rises as Iraqi elite counterterrorism forces fight Islamic State militants to regain control of the Quds neighborhood of Mosul, Iraq, on Friday, Dec. 30, 2016. Iraqi government forces launched a large-scale offensive in mid-October to retake Mosul, the last major urban center held by the extremist group in Iraq. The offensive, however, had stalled about two months later because of the presence inside Mosul of some one million civilians, stiff IS resistance and the lack of urban warfare experience among some Iraqi units. (AP Photo/ Khalid Mohammed)
Kashmiri protesters run for cover from tear gas during a protest after Friday prayers in Srinagar, Indian-controlled Kashmir, on Friday, Dec. 30, 2016. Police fired tear gas and shotgun pellets to disperse demonstrators who gathered to protest Indian rule in the disputed region. (AP Photo/Mukhtar Khan)
Passengers wearing masks stand inside a bus in Beijing as the Chinese capital is blanketed by smog on Friday, Dec. 30, 2016. China has long had some of the worst air in the world, blamed on its reliance on coal and a surplus of older, less efficient cars. It has set pollution reduction goals, but also has plans to increase coal mining capacity and eased caps on production when faced with rising energy prices. (AP Photo/Andy Wong)
Syrian refugee Fatima Slu, 5, and her brother, Banken, 6, whose family fled from Aleppo, look out from their family's shelter during a snowfall at the Ritsona, Greece refugee camp about 86 kilometers (53 miles) north of Athens, on Friday, Dec. 30, 2016. Over 62,000 refugees and migrants are stranded in Greece after a series of Balkan border closures and a European Union deal with Turkey to stop migrant flows. (AP Photo/Muhammed Muheisen)