Pictures of the week
Highlights from the weekly AP photo report, a gallery featuring a mix of front-page photography, the odd image you might have missed and lasting moments our editors think you should see.
This week's gallery features images of a spaceship launching from the Russian-leased Baikonur cosmodrome in Kazakhstan; army soldiers raising their weapons in celebration in Iraq; and a student demonstrating in South Africa.
This gallery contains photos published Oct. 15-22, 2016.
A girl holds a baby as she jumps rope at a school where people have taken refuge after losing their homes to Hurricane Matthew in the village of Mersan in the Camp-Perrin district of Les Cayes, Haiti, Sunday, Oct. 16, 2016. Aid workers who specialize in working with children in crisis say they fear kids will struggle with emotional aftershocks of the violent storm. (AP Photo/Dieu Nalio Chery)
An ultra-Orthodox Jewish man walks next to sukkahs, temporary structures built for the Jewish holiday of Sukkot, in Jerusalem, Sunday, Oct. 16, 2016. The huts commemorate the temporary, portable dwellings in which Jewish people lived during their 40-year sojourn in the wilderness that followed their liberation from slavery in Egypt. (AP Photo/Sebastian Scheiner)
Residential buildings along Changjong Street which form part of the Pyongyang skyline are reflected in the Taedong River on a misty morning on Sunday, Oct. 16, 2016, in Pyongyang, North Korea. (AP Photo/Wong Maye-E)
A pedestrian walks between a row of linden trees in the early morning mist at the Georgengarten in Hannover, northern Germany, Tuesday, Oct. 18, 2016. (Holger Hollemann/dpa via AP)
A fish splashes as it is caught by fish farm workers at a drained pond outside the village of Shkolny, 60 km (38 miles) west of Minsk, Belarus on Tuesday, Oct. 18, 2016. The farm supplies their produce, mainly carp, to local stores. (AP Photo/Sergei Grits)
Police guard the Grand Palace where the body of the late Thai King Bhumibol Adulyadej is enshrined in Bangkok, Thailand, Tuesday, Oct. 18, 2016. For Thailand's royalists - millions of them - Bhumibol will probably long remain embedded as a potent, father-like figure who guided them through turbulent decades and espoused ideals of national harmony, labor on behalf of the poor and the virtues of an agrarian society vanishing in the wake of headlong modernization. (AP Photo/Sakchai Lalit)
Republican presidential nominee Donald Trump waits behind his podium as Democratic presidential nominee Hillary Clinton makes her way off the stage following the third presidential debate at UNLV in Las Vegas, Wednesday, Oct. 19, 2016. (AP Photo/David Goldman)
A Soyuz rocket booster with a MS-02 spaceship carrying a new crew to the International Space Station launches from the Russian-leased Baikonur cosmodrome in Kazakhstan, on Wednesday, Oct. 19, 2016. The Russian rocket carries U.S. astronaut Shane Kimbrough, and Russian cosmonauts Sergey Ryzhikov and Andrey Borisenko. (AP Photo/Ivan Sekretarev)
A resident carries a sack of rice after Super Typhoon Haima destroyed his home and caused flooding at Vigan township, Ilocos Sur province in northern Philippines, on Thursday, Oct. 20, 2016. Haima slammed into the northeastern coast late Wednesday with ferocious winds and rain that rekindled fears and memories from the catastrophe wrought by Typhoon Haiyan in 2013. (AP Photo/Bullit Marquez)
A student wears a mask as she and others demonstrate in downtown Pretoria, South Africa, Thursday, Oct. 20, 2016. The students were granted last minute permission to walk to the Union Building. Protests calling for free education have sometimes turned violent, and have affected many South African universities since last month. (AP Photo/Jerome Delay)
Army soldiers raise their weapons in celebration on the outskirts of Mosul, Iraq, Thursday, Oct. 20, 2016. Iraqi special forces charged into the Mosul battle Thursday with a pre-dawn advance on the nearby town held by the Islamic State group, a key part of a multi-pronged assault on eastern approaches to the besieged city. (AP Photo)
A farmer rests while harvesting a paddy in Chunnikhel, on the outskirts of Kathmandu, Nepal, Thursday, Oct. 20, 2016. Agriculture is the main source of food, income, and employment for the majority of people in Nepal. (AP Photo/Niranjan Shrestha)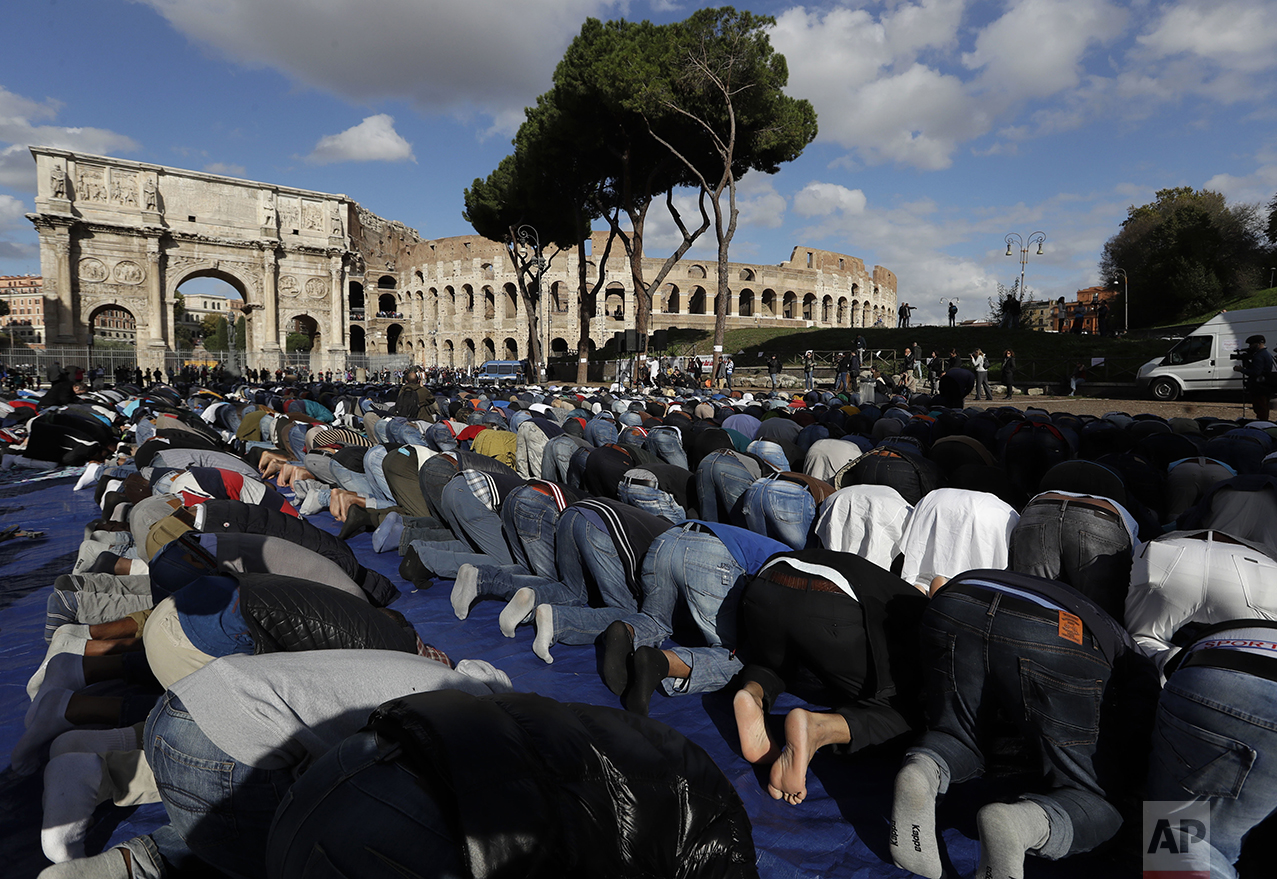 Men attend Friday prayers during a demonstration near Rome's ancient Colosseum on Friday, Oct. 21, 2016. The Muslim community of Rome gathered by the historic landmark to pray and protest the closures of mosques and other places of worship. (AP Photo/Alessandra Tarantino)
Fog blankets the south tower of the Golden Gate Bridge in San Francisco on Friday, Oct. 21, 2016. (AP Photo/Eric Risberg)