News, Photos of the Day
Nat Castañeda
Miami, Spain, Nevada, Burning Man, Tomato Festival, Japan, Panda, Brazil, Tennis, Obama, Trump, baseball, Argentina
1 Comment
Photos of the day
A selection of AP photos taken over the past 24 hours.
Tropical Storm Hermine
Lisa Bolton holds her three-year-old daughter Lois Bolton, both of Manchester, England, during a visit on Wednesday, Aug. 31, 2016, to Clearwater Beach, Fla. The National Hurricane Center in Miami says Tropical Storm Hermine is gaining strength as it rumbles toward Florida's Gulf Coast. (Douglas R. Clifford/Tampa Bay Times via AP)
Spain's Tomato Fight
A men lies in a puddle of squashed tomatoes, during the annual "Tomatina", tomato fight fiesta, in the village of Bunol, 50 kilometers outside Valencia, Spain, Wednesday, Aug. 31, 2016. The streets of an eastern Spanish town are awash with red pulp as thousands of people pelt each other with tomatoes in the annual "Tomatina" battle that has become a major tourist attraction. At the annual fiesta in Bunol on Wednesday, trucks dumped 160 tons of tomatoes for some 20,000 participants, many from abroad, to throw during the hour-long morning festivities. (AP Photo/Alberto Saiz)
Burning Man
The Black Rock Lighthouse Service installation is shown in the distance during Burning Man at the Black Rock Desert near Gerlach, Nev., on Wednesday, Aug. 31, 2016. (Chase Stevens/Las Vegas Review-Journal via AP)
Malaysia's National Day
Students wave the Malaysian flag during the 59th National Day celebrations at the Independence Square in Kuala Lumpur, Malaysia, on Wednesday, Aug. 31, 2016. Malaysia gained its independence on Aug. 31, 1957. (AP Photo/Joshua Paul)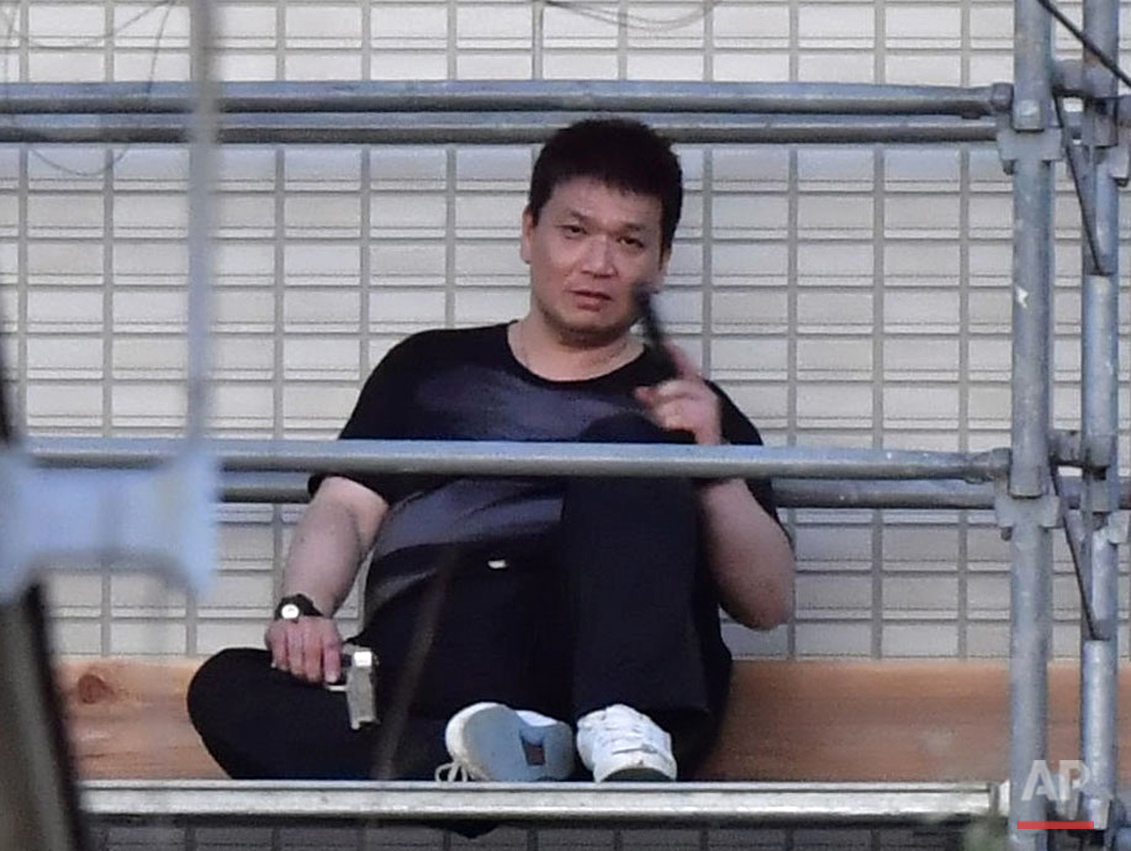 Japan Shooting
Yasuhide Mizobata, a murder suspect, holding guns sits on scaffoldings as he holes up at an apartment in a standoff after he fired at a police car and escaped, in Wakayama, central Japan, Wednesday, Aug. 31, 2016. Wakayama police said Wednesday that Mizobata, 45, is wanted as prime suspect in a shooting Monday at a small construction company, where he allegedly shot one employee dead and left three others injured. (Ren Onuma/Kyodo News via AP)
Spain's Giant Panda
In this image released by the Zoo Aquarium de Madrid, a newly born giant panda cub lies in a cot where vets examined her, at the Madrid zoo, Wednesday Aug. 31, 2016. There's a new giant panda in Madrid, and it's the first female in the history of the Spanish capital's zoo. The zoo said Hua Zui Ba gave birth just before dawn Wednesday to a cub weighing 180 grams. The zoo says the cub is "well formed, very active and has excellent vital signs.". (Zoo Aquarium de Madrid, via AP)
Brazil's Political Crisis
Brazil's ousted President Dilma Rousseff is embraced by the senator Jorge Viana, after she addressed supporters from the official residence of the president, Alvorada Palace in Brasilia, Brazil, Wednesday, Aug. 31, 2016. In her first remarks after being ousted as Brazil's president, Rousseff is vowing to form a strong opposition front against the new government, saying, "They think that they beat us, but they are wrong." (AP Photo/Leo Correa)
US Open Tennis
Court attendants wait to be called to their court of play during the second round of the U.S. Open tennis tournament, Wednesday, Aug. 31, 2016, in New York. (AP Photo/Andres Kudacki)
Obama
President Barack Obama waves after speaking at the 20th annual Lake Tahoe Summit, Wednesday, Aug. 31, 2016, in Stateline, Nev. Obama spoke about the environment and climate change. (AP Photo/John Locher)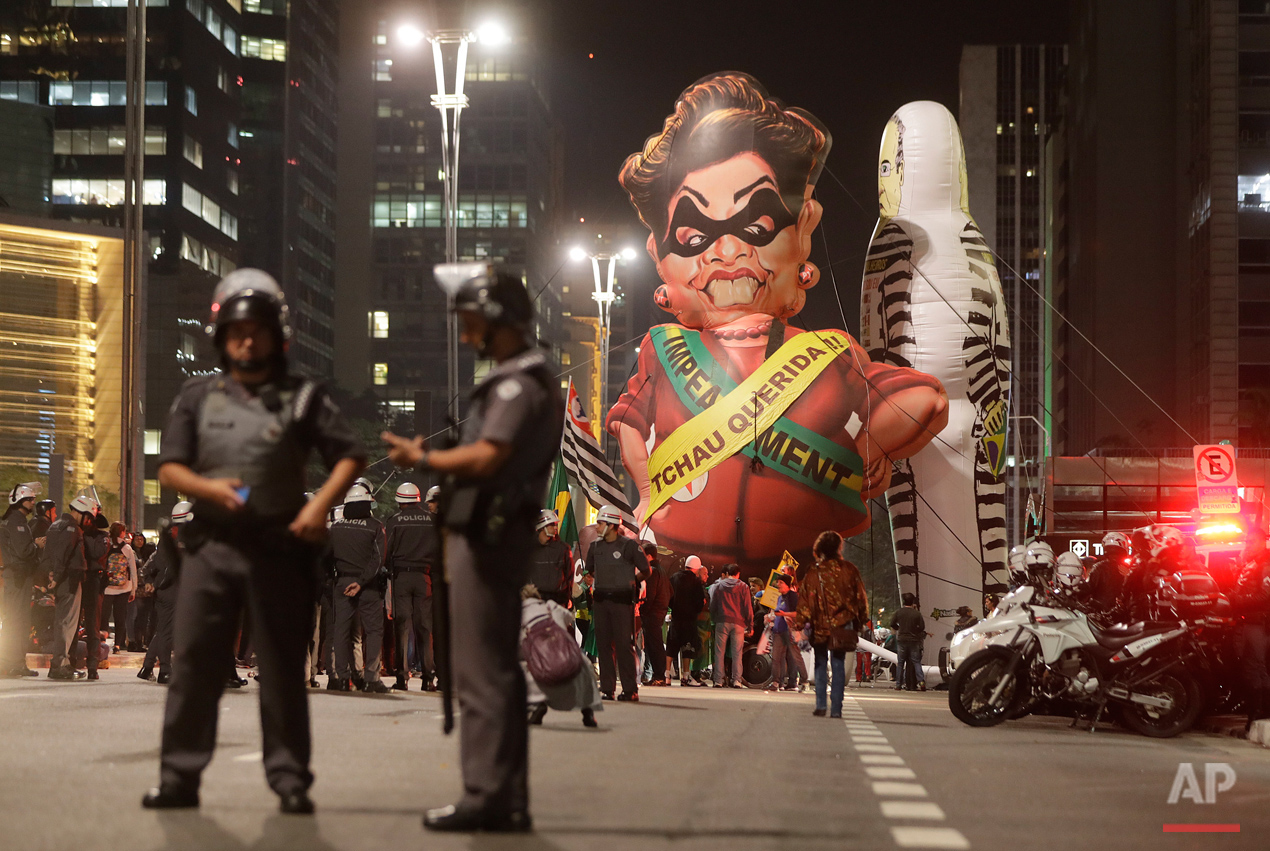 Brazil's Political Crisis
Police officers stand next to a large inflatable doll in the likeness of Brazil's President Dilma Rousseff wearing a presidential sash with the words in Portuguese "Goodbye dear" during a rally to celebrate her impeachment in Sao Paulo, Brazil, Wednesday, Aug. 31, 2016. Brazil's Senate on Wednesday voted to remove President Rousseff from office, the culmination of a yearlong fight that paralyzed Latin America's largest nation and exposed deep rifts among its people on everything from race relations to social spending. (AP Photo/Andre Penner)
Donald Trump Campaign
Supporters of Republican presidential candidate Donald Trump arrive to listen to an immigration policy speech at the Phoenix Convention Center, Wednesday, Aug. 31, 2016, in Phoenix. (AP Photo/Evan Vucci)
Reds vs. Angels Baseball
Los Angeles Angels starting pitcher Ricky Nolasco throws during the fifth inning of a baseball game against the Cincinnati Reds, Wednesday, Aug. 31, 2016, in Anaheim, Calif. (AP Photo/Mark J. Terrill)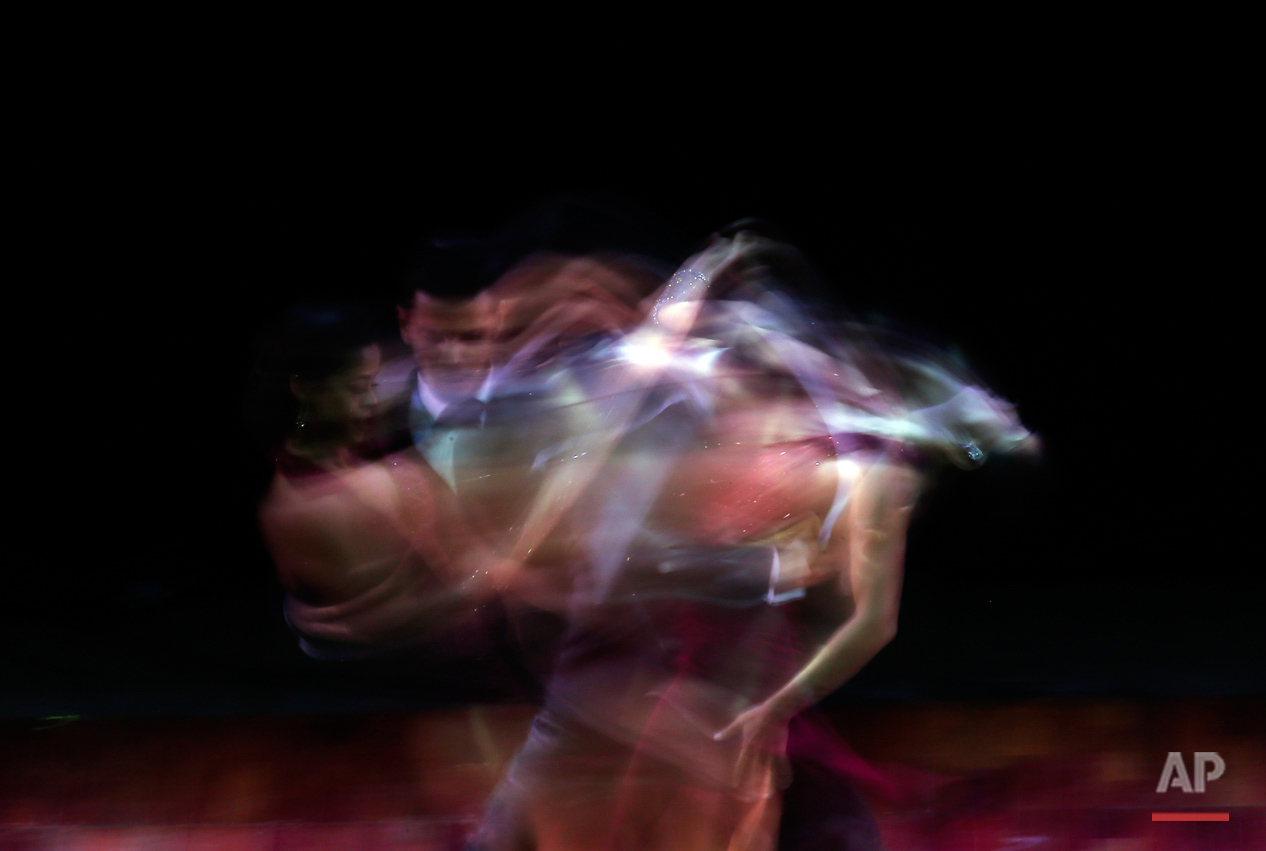 Tango World Championship
Camila Delphim and Alam Blascovich, from Brazil, compete in the stage category at the Tango World Championship, in Buenos Aires, Argentina, Wednesday, Aug. 31, 2016. (AP Photo/Agustin Marcarian)
Follow AP photographers on Twitter: http://twitter.com/AP/lists/ap-photographers
Spotlight is the blog of AP Images, the world's largest collection of historical and contemporary photos. AP Images provides instant access to AP's iconic photos and adds new content every minute of every day from every corner of the world, making it an essential source of photos and graphics for professional image buyers and commercial customers. Whether your needs are for editorial, commercial, or personal use, AP Images has the content and the expert sales team to fulfill your image requirements. Visit apimages.com to learn more.
Written content on this site is not created by the editorial department of AP, unless otherwise noted.
AP Images on Twitter | AP Images on Facebook | AP Images on Instagram
Nat Castañeda
Visual artist and Digital Storyteller at The Associated Press