Photos of the day
A selection of AP photos taken over the past 24 hours.
Britain London Zoo
Humboldt Penguins swim in their pool during the annual stocktake press preview at London Zoo in Regents Park in London Monday, Jan. 4, 2016. A requirement of ZSL London Zooís license, the annual audit takes keepers a week to complete and all of the information is shared with zoos around the world via the International Species Information System, where itís used to manage the worldwide breeding programs for endangered animals. (AP Photo/Alastair Grant)
Mideast Saudi Arabia
A Bahraini protester holds up a picture of Saudi Shiite cleric Sheikh Nimr al-Nimr toward riot police officers in Daih, Bahrain, a largely Shiite suburb of the capital, Monday, Jan. 4, 2016. Saudi Arabia's execution of al-Nimr has sparked three days of demonstrations among Shiite Muslims. Allies of Saudi Arabia, including the monarchy in neighboring Bahrain, began scaling down their diplomatic ties to Iran in the wake of the ransacking of Saudi diplomatic missions in Iran that followed al-Nimr's execution. (AP Photo/Hasan Jamali)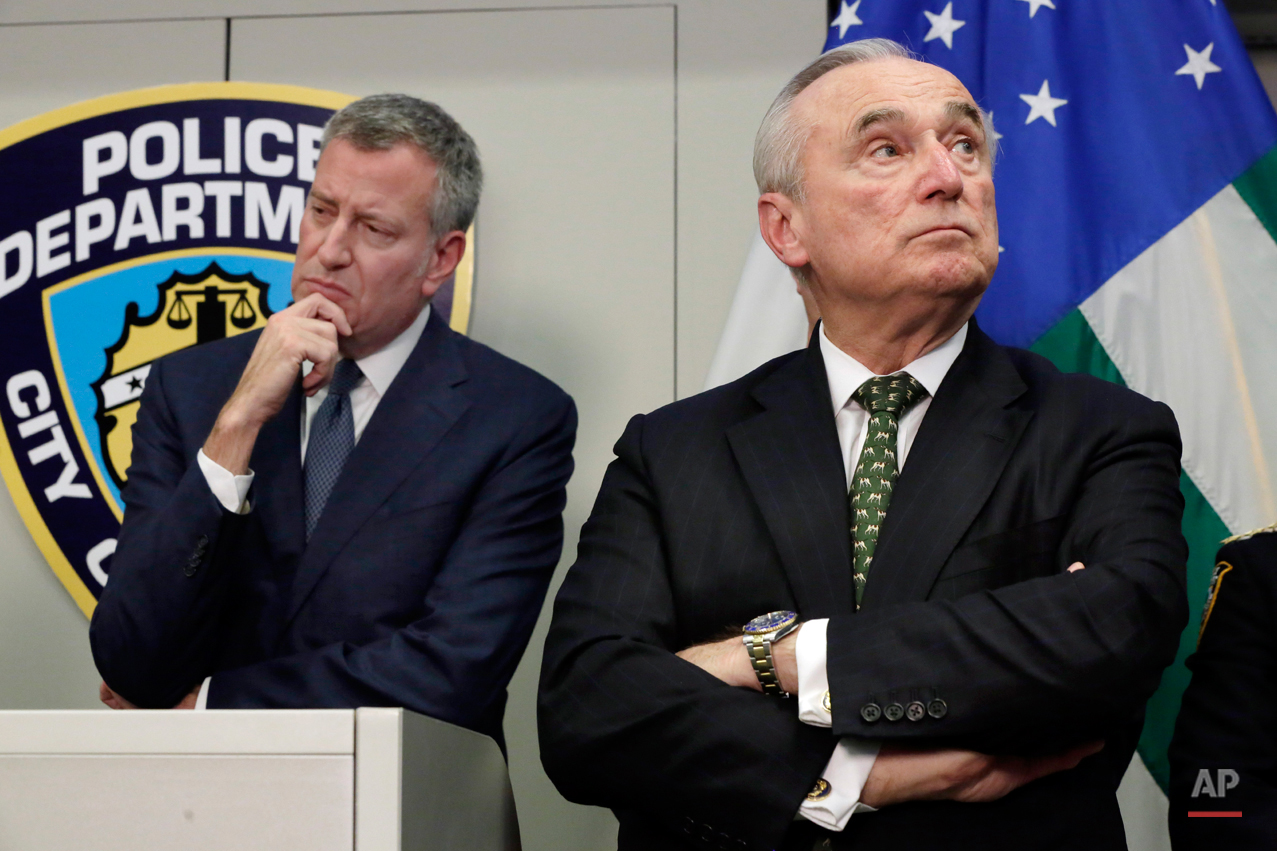 NYC Crime Statistics
New York Mayor Bill deBlasio, left, and New York City Police Commissioner William Bratton, listen as crime statistics are presented during a news conference at police headquarters, in New York, Monday, Jan. 4, 2016. Arrests were down more than 56,000 in the past two years, according to preliminary annual statistics released Monday. (AP Photo/Richard Drew)
India Braille Anniversary
Indian students with visual disabilities read a book in braille at a government-run hostel in Hyderabad, India, Monday, Jan. 4, 2016. Jan. 4 marks the birth anniversary of Louis Braille, French inventor who devised a system used by the blind for reading and writing which has since been adapted to almost every known language. (AP Photo/Mahesh Kumar A.)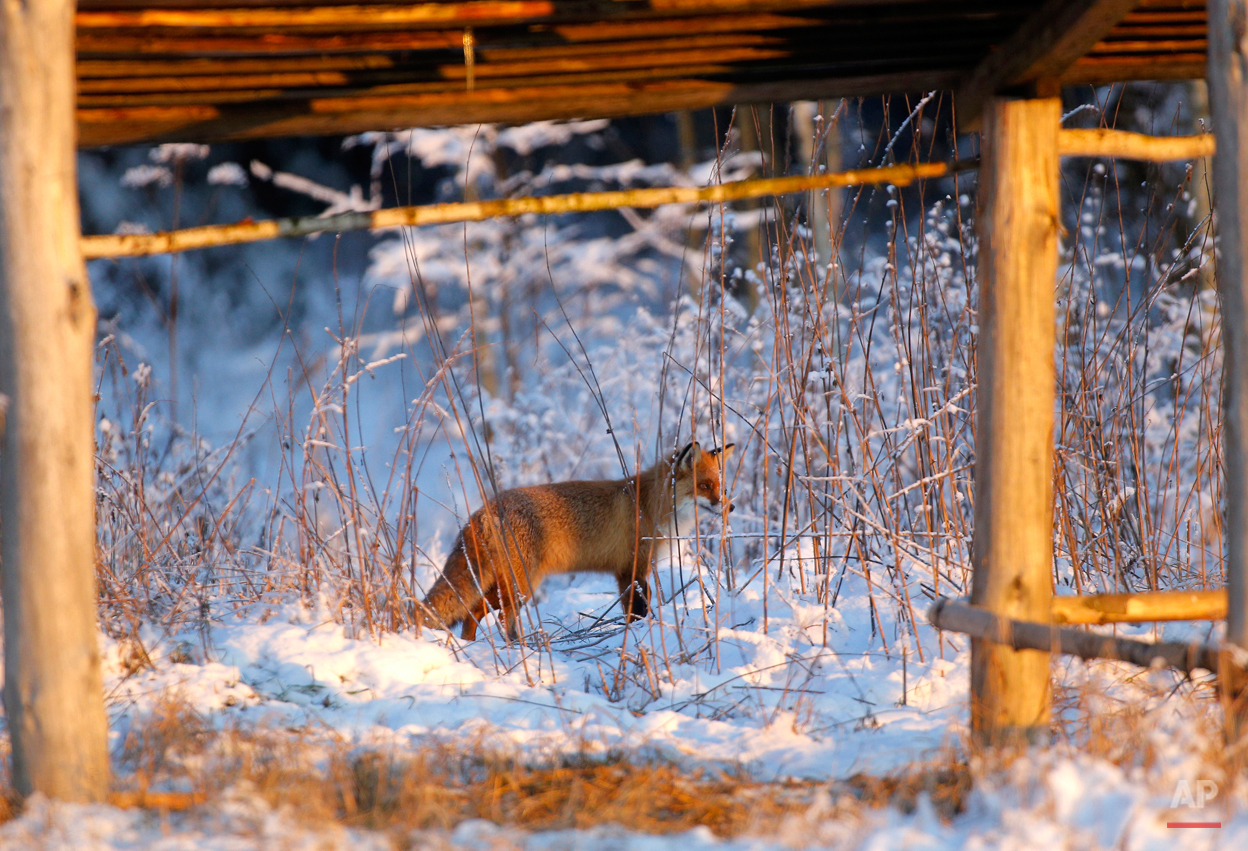 Belarus Weather
A fox walks in the forest near the village of Lovtsevichi, 50 km ( 31,2 miles) north-west of Minsk, Belarus, Monday, Jan. 4, 2016. The temperatures in Belarus reached around -15 Celsius ( 5 degrees Fahrenheit). (AP Photo/Sergei Grits)
McDonalds Dismantled
A sign company worker dismantles the "Golden Arches" of a McDonald's restaurant, Monday, Jan. 4, 2016, in New York. The fast food chain restaurant at the corner of 34th Street and Tenth Avenue in New York is being torn down to make way for a skyscraper, part of the Hudson Yards development on Manhattan's west side. (AP Photo/Mark Lennihan)
Russia Weather
A tourist boat with restaurant aboard, especially designed for winter rivers, cruises the frozen Moskva River in Moscow, Russia, Monday, Jan. 4, 2016. Temperatures dipped to -18 C (-0,4 F) in Moscow and -20 C (-4 F) in surrounding regions. (AP Photo/Alexander Zemlianichenko)
Russia Daily Life
Fire show actors perform during a fire and smoke festival as they celebrate incoming Orthodox Christmas in St. Petersburg, Russia, Monday, Jan. 4, 2016. Russians continue to celebrate the New Year and Orthodox Christmas from Jan. 1 to Jan. 10. (AP Photo/Dmitry Lovetsky)
Afghanistan
Afghan men carry a wounded man at the site of a suicide attack near a compound belonging to foreigners in Kabul, Afghanistan, Monday, Jan. 4, 2016. Afghan troops rappelled from helicopters onto the roof of a four-story building near the Indian Consulate in a northern city on Monday to drive out gunmen who had attacked the diplomatic mission the night before, officials said. (AP Photos/Massoud Hossaini)
Ranching Standoff
A members of the group occupying the Malheur National Wildlife Refuge headquarters, stands guard Monday, Jan. 4, 2016, near Burns, Ore. The group calls itself Citizens for Constitutional Freedom and has sent a "demand for redress" to local, state and federal officials. Armed protesters took over the Malheur National Wildlife Refuge on Saturday after participating in a peaceful rally over the prison sentences of local ranchers Dwight and Steven Hammond. (AP Photo/Rick Bowmer)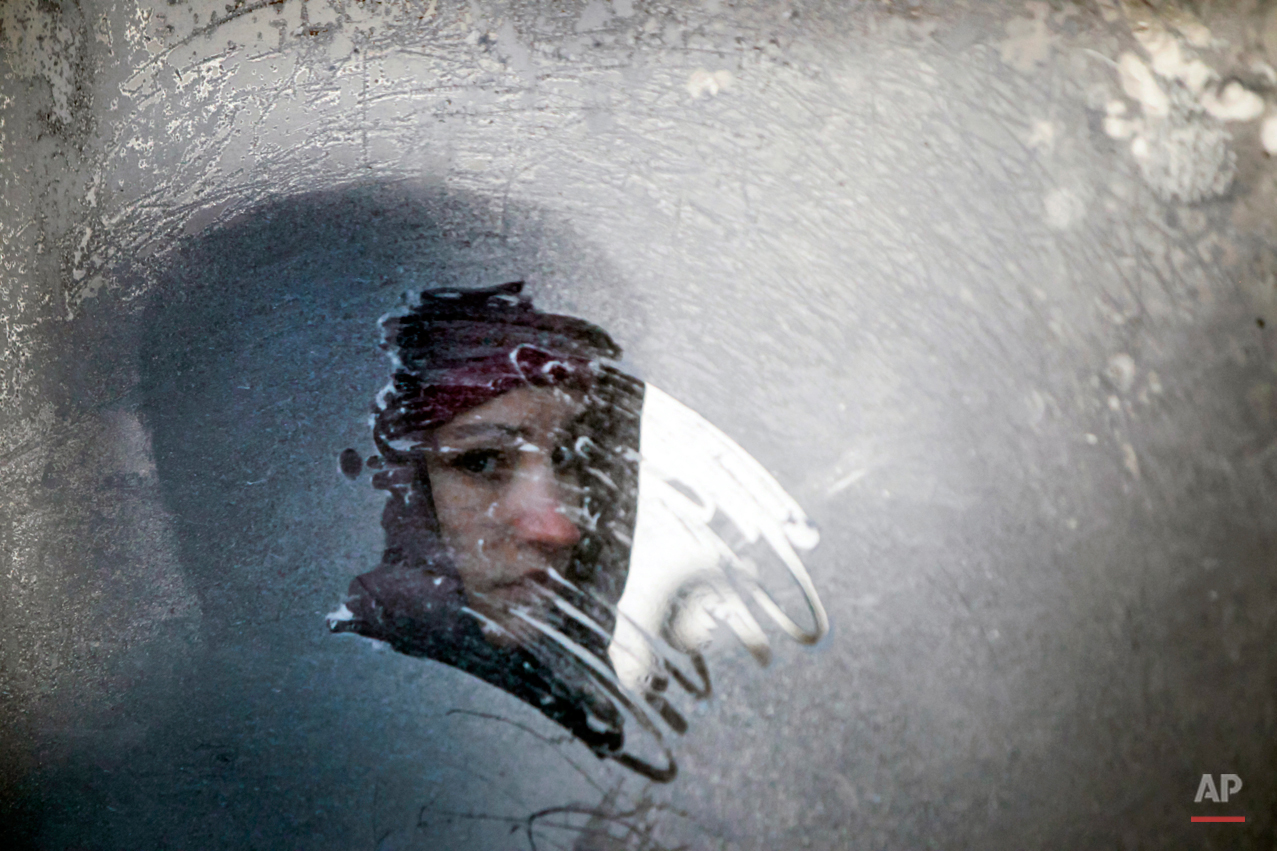 Ukraine Weather
A woman looks through an icy window in a bus in Ukraine's capital in Kiev, Monday, Jan. 4 2016. The temperature in the Ukrainian capital fell to -14 degrees Celsius (7 degrees Fahrenheit) on Monday. (AP Photo/Sergei Chuzavkov)
Guatemala Volcano Erupts
The Volcano of Fire releases lava, seen from Escuintla, Guatemala, Monday, Jan. 4, 2016. Guatemalan authorities are on alert after the country's Volcano of Fire erupted in dramatic fashion on Sunday. Officials are asking nearby communities to remain vigilant amid a state of yellow alert. In Spanish it's known as "El Volcan del Fuego." (AP Photo/Moises Castillo)
Gadget Show
Jonathon Graff demonstrates the Apira Science iDerma light therapy device at CES Unveiled, a media preview event for CES International, Monday, Jan. 4, 2016, in Las Vegas. The device uses low-level light to treat skin conditions. (AP Photo/John Locher)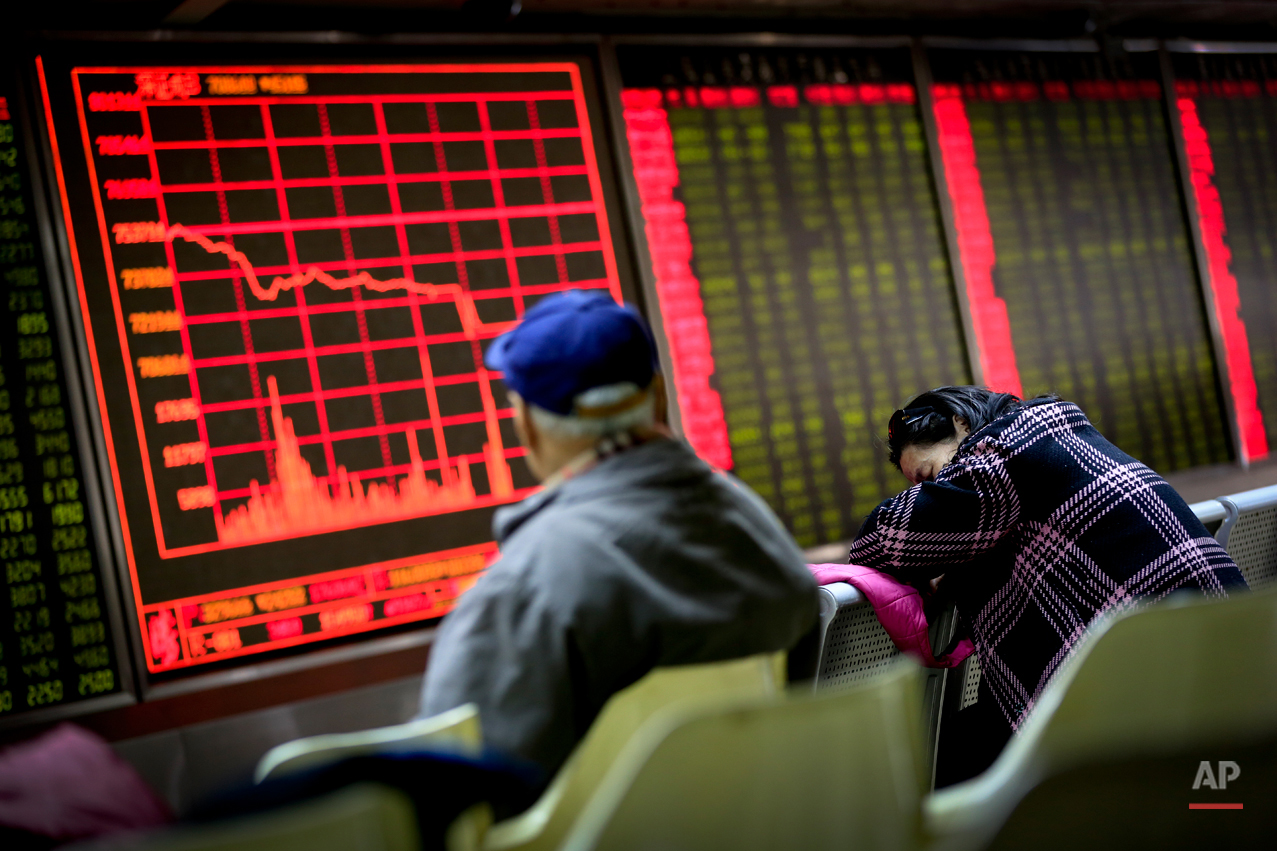 China Financial Markets
A woman takes a nap as a man looks at an electronic board displaying stock prices at a brokerage house in Beijing, Monday, Jan. 4, 2016. Shanghai's stock index plunged nearly 7 percent on Monday, sparking a halt in trading of Chinese shares, after weak manufacturing data and Middle East tensions weighed on Asian markets. (AP Photo/Andy Wong)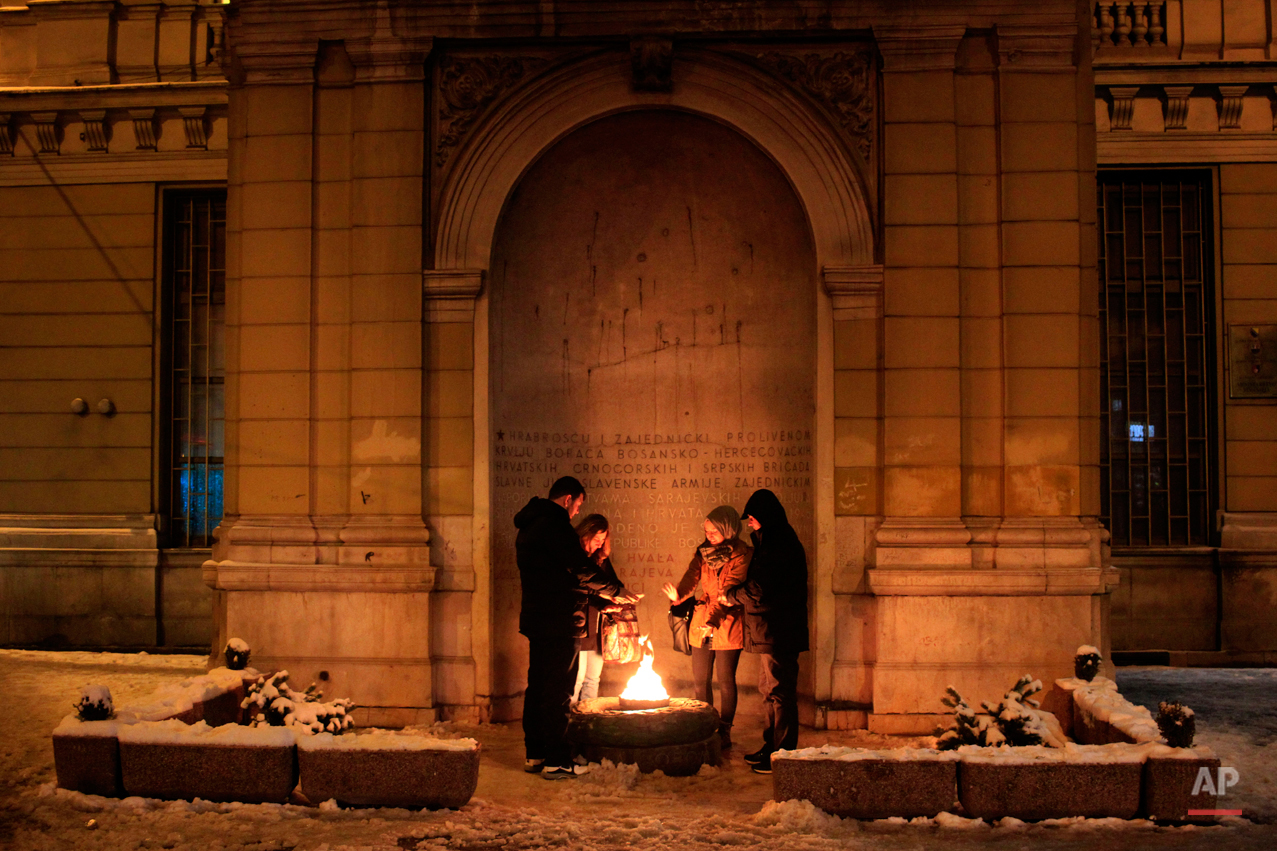 Bosnia Weather
A group of tourists warm themselves up near the flame in front of monument to the fallen in World War II, in Sarajevo, Bosnia, on Monday, Jan. 4, 2016. Over the past two days, the snow has reached about 30 cm in height and has caused delays for traffic, and daytime temperatures dropped to -8 Celsius (17.6 Fahrenheit). (AP Photo/Amel Emric)
Egypt Daily Life
The sun rises at a camp in Newiba, South Sinai, Egypt, Monday, Jan. 4, 2016. The mountains at background show Saudi Arabia. (AP Photo/Nariman El-Mofty)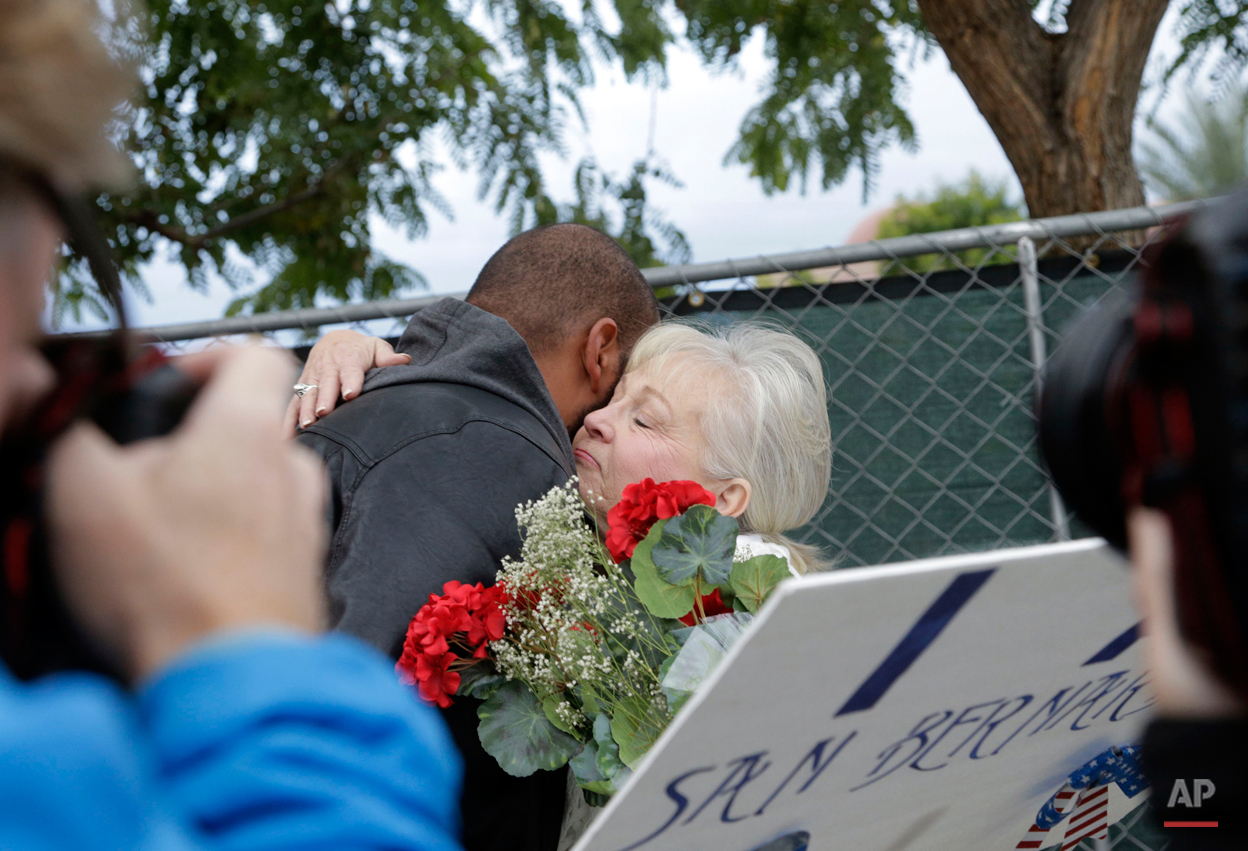 California Shootings
Members of the media surround unidentified staff members as they hug before returning to work at the Inland Regional Center in San Bernardino, Calif., on Monday, Jan. 4, 2016, where an attack killed 14 people on the centerís campus on Dec. 2. (AP Photo/Nick Ut)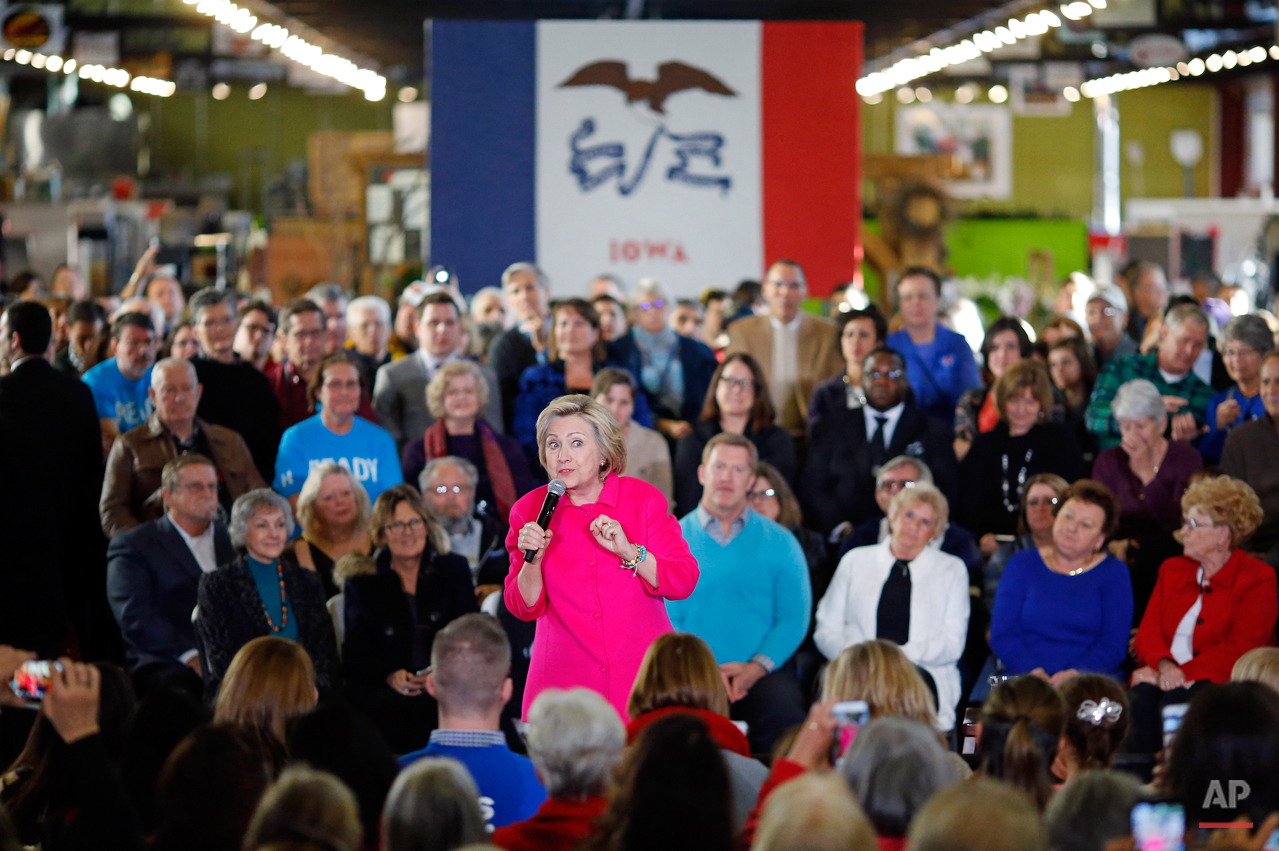 Hillary Clinton Campaign
Democratic presidential candidate Hillary Clinton speaks at a town hall at NewBo City Market in Cedar Rapids, Iowa, Monday, Jan. 4, 2016. (AP Photo/Patrick Semansky)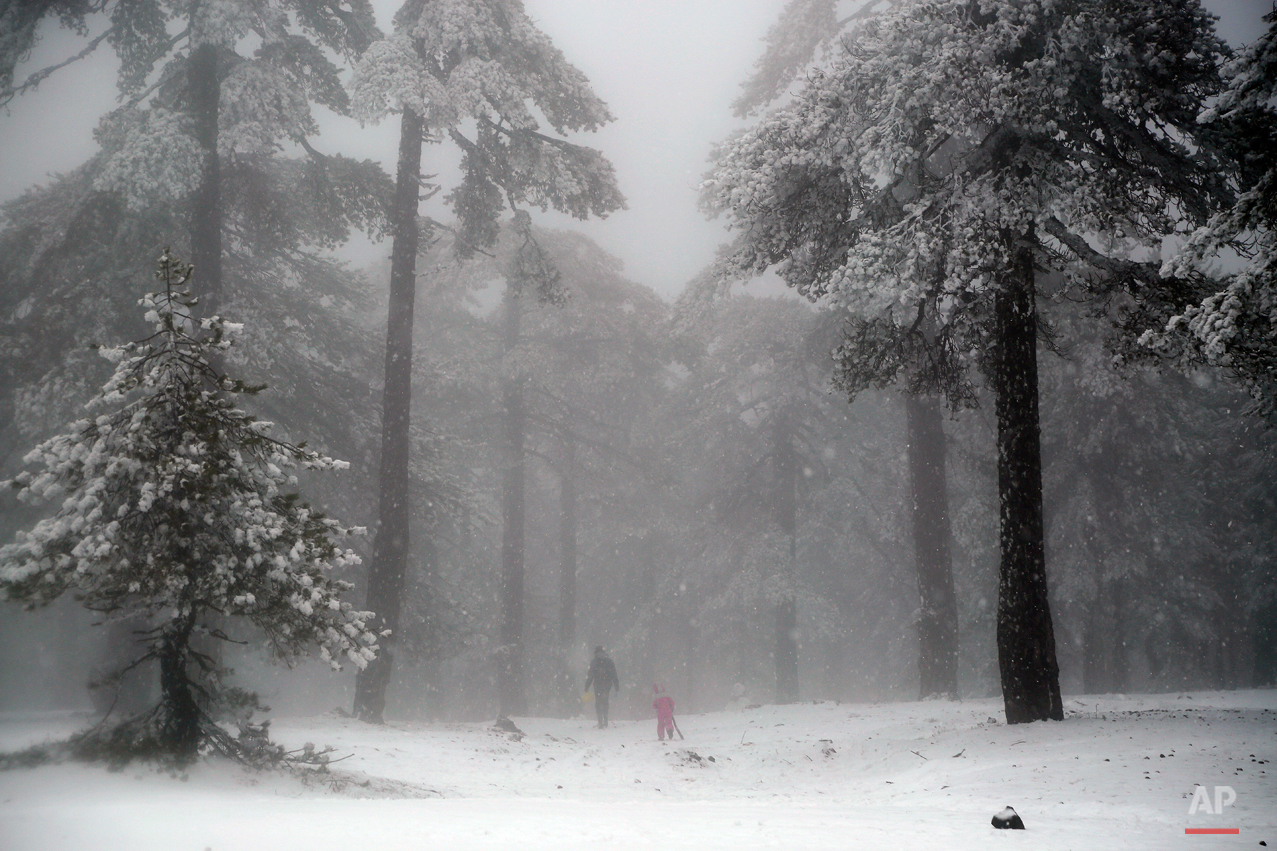 Cyprus Weather
A father and his daughter walk during snowfall on Troodos mountains in central part of the Mediterranean island of Cyprus, Monday, Jan. 4, 2016. A low pressure system affecting the region has brought low temperatures, rain and snow in Cyprusí mountainous regions. More rain is forecast for the rest of the week. (AP Photo/Petros Karadjias)
See these photos on APImages.com
Follow AP photographers on Twitter: http://twitter.com/AP/lists/ap-photographers
Spotlight is the blog of AP Images, the world's largest collection of historical and contemporary photos. AP Images provides instant access to AP's iconic photos and adds new content every minute of every day from every corner of the world, making it an essential source of photos and graphics for professional image buyers and commercial customers. Whether your needs are for editorial, commercial, or personal use, AP Images has the content and the expert sales team to fulfill your image requirements. Visit apimages.com to learn more.
Written content on this site is not created by the editorial department of AP, unless otherwise noted.
AP Images on Twitter | AP Images on Facebook | AP Images on Instagram
Nat Castañeda
Visual artist and Digital Storyteller at The Associated Press