Photos of the day
A selection of AP photos taken over the past 24 hours.
Brazil Carnival
A patient from the Nise de Silveira mental health institute dances in costume during the institute's carnival parade, called in Portuguese: "Loucura Suburbana," or Suburban Madness, in the streets of Rio de Janeiro, Brazil, Thursday, Feb. 4, 2016. Patients, their relatives and workers from the institute held their parade one day before the official start of Carnival. (AP Photo/Silvia Izquierdo)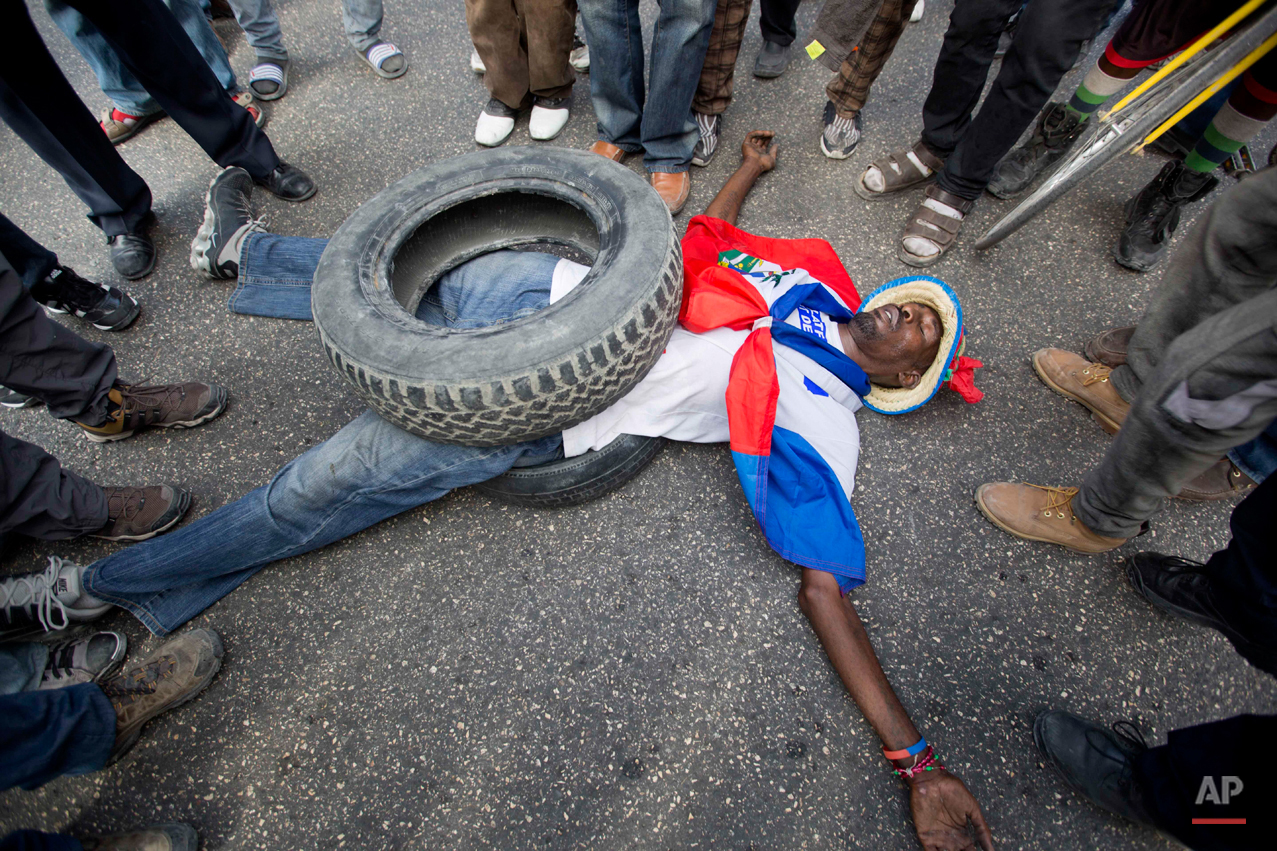 Haiti Protest
A man demonstrates what should be done with outgoing President Michel Martelly, during a protest demanding the Haitian leader's resignation, in Port-au-Prince, Thursday, Feb. 4, 2016. Haiti had been scheduled to hold a presidential runoff Jan. 24, but the election was canceled due to ongoing protests. Now Haitian officials are struggling to resolve their political and constitutional crisis before the scheduled end of Martelly's term that ends this weekend. Rumors have spread that Martelly will not leave office until a new president has been elected, spurring more protests. (AP Photo/Dieu Nalio Chery)
France Migrants
A migrant sits next to a painting by English graffiti artist Banksy, at the entrance of the migrant camp of Calais, north of France, Thursdday, Feb. 4, 2016. About 4,000 people from Syria, Sudan and other countries are estimated to be camped out in Calais as they try to reach Britain, some recently moving into new facilities but most still sleeping in what's been called Europe's biggest slum. (AP Photo/Thibault Camus)
Martin Shkreli
Pharmaceutical chief Martin Shkreli listens on Capitol Hill in Washington, Thursday, Feb. 4, 2016, during the House Committee on Oversight and Reform Committee hearing on his former company's decision to raise the price of a lifesaving medicine. Shkreli refused to testify before U.S. lawmakers who excoriated him over severe hikes for a drug sold by a company that he acquired. (AP Photo/Susan Walsh)
Greece Strike
A riot policeman falls down as protesters throw a petrol bomb during a 24-hour nationwide general strike in Athens, Thursday, Feb. 4, 2016. Clashes have broken out between Greek police and youths throwing fire bombs and stones, as tens of thousands of people march through central Athens to protest planned pension reforms. (AP Photo/Kostas Tsironis)
South Korea DMZ Graduation
A South Korean army soldier stands guard during a graduation ceremony at the Tae Sung Dong Elementary School in Paju, South Korea, near Panmunjom inside the Demilitarized Zone separating South and North Korea, Thursday, Feb. 4, 2016. The school is located just a few hundred meters from the fenced and mined border with North Korea. Six students graduated from the school Thursday. (AP Photo/Ahn Young-joon)
Obama Prayer Breakfast
President Barack Obama closes his eyes while a prayer is made at the National Prayer Breakfast in Washington, Thursday, Feb. 4, 2016. The annual event brings together U.S. and international leaders from different parties and religions for an hour devoted to faith. (AP Photo/Pablo Martinez Monsivais)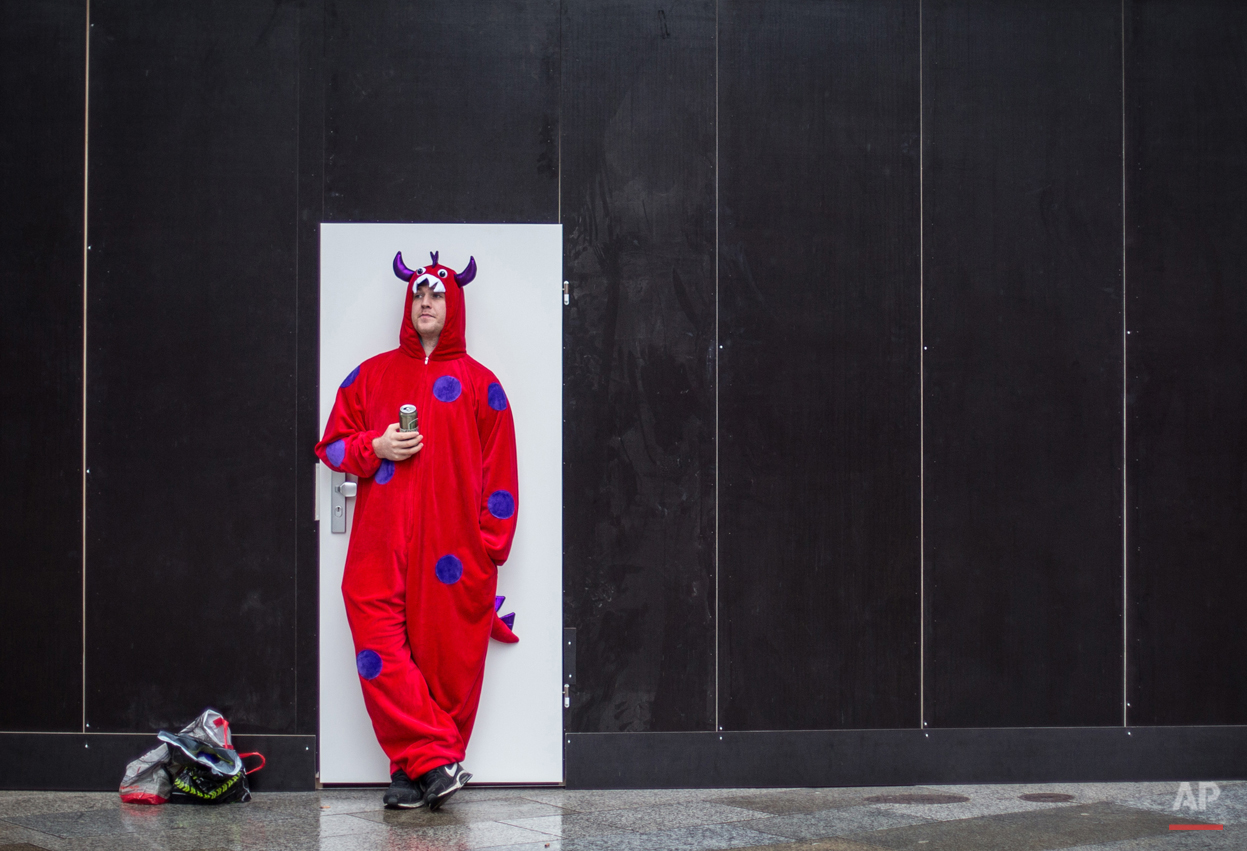 Germany Cologne Carnival
A carnival enthusiast leans against a wall and takes a break during the street Carnival celebrations in Cologne, Germany, Thursday Feb. 4, 2016. The street carnival has started in†Cologne under increased security measures. After a string of robberies and sexual assaults on New Year's Eve in the city that police say were committed largely by foreigners, German authorities are keen to avoid a repeat of those events during the five-day street party. (Maja Hitij/dpa via AP)
Hong Kong Lunar New Year
People walk down a escalator with Chinese New Year decorations in Hong Kong, Thursday, Feb. 4, 2016. Chinese will celebrate the Lunar New Year on Feb. 8 this year, marking the start of the Year of Monkey on the Chinese zodiac. (AP Photo/Vincent Yu)
Ecuador Protest
Soldiers control a group of protesters as one sits on a sidewalk with a sign that reads in Spanish,"100 years of Armenian genocide and Erdogan continues with the Kurds," during a protest against the visit of Turkey's President Recep Tayyip Erdogan, in Quito, Ecuador, Thursday, Feb. 4, 2016. His South American three-country tour included Chile and Peru. His visits to Peru and Ecuador were the first-ever by a Turkish president. (AP Photo/Dolores Ochoa)
Ted Cruz Campaign
Balloons hang from the ceiling as Republican presidential candidate, Sen. Ted Cruz, R-Texas, right, speaks during a campaign event at a Toyota auto dealership Thursday, Feb. 4, 2016, in Portsmouth, N.H. (AP Photo/David Goldman)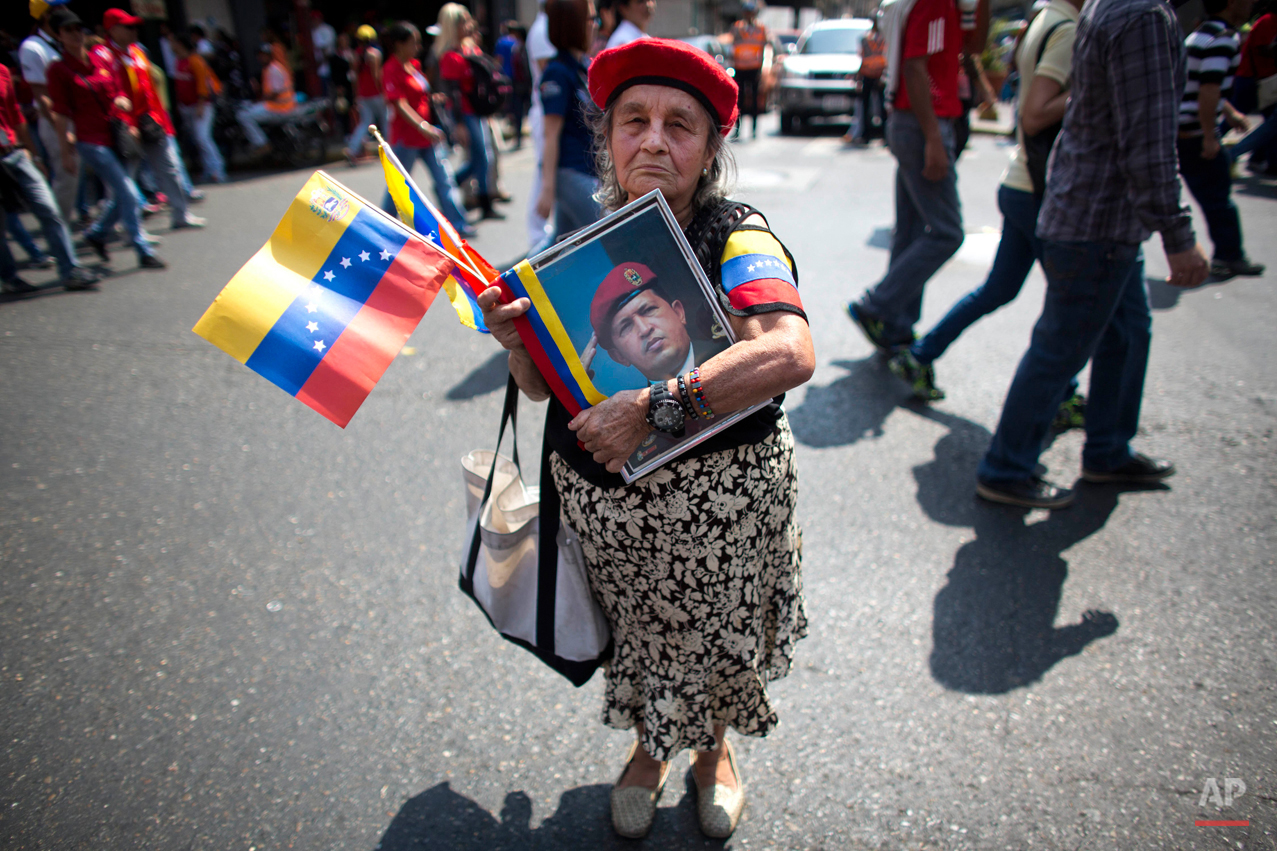 Venezuela Coup Anniversary
Marina Parra, 74, holds a picture of Venezuela's late President Hugo Chavez and wears his signature red beret during a parade marking the anniversary of his failed coup in Caracas, Venezuela, Thursday, Feb. 4, 2016. Chavez, a former paratrooper, led a failed coup in 1992 before being democratically elected president six years later. Chavez died of cancer in March 2013 at the age of 58. (AP Photo/Ariana Cubillos)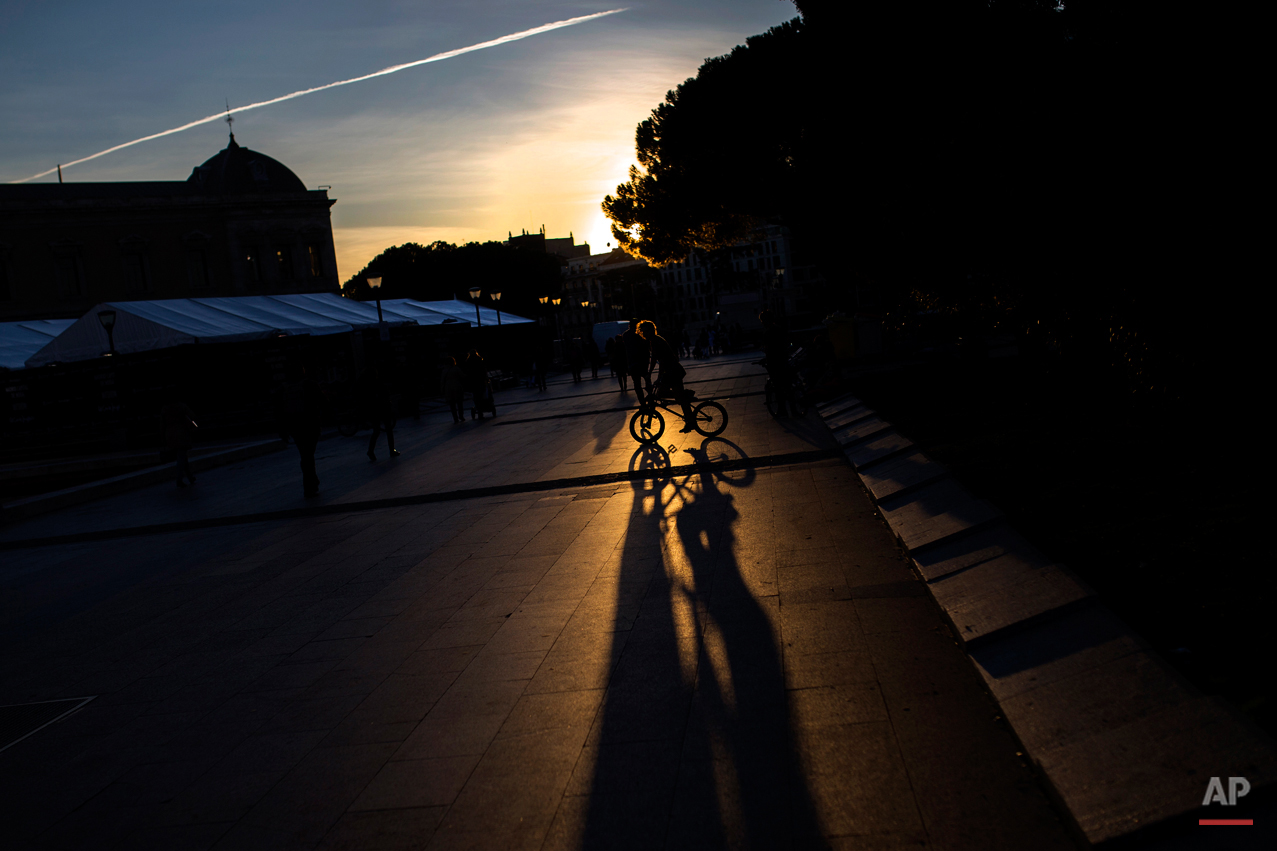 Spain Daily Life
A youngster casts his shadow against the ground as he rides a bike at the Colon square in Madrid, Thursday, Feb. 4, 2016. The square, in honour of the explorer Christopher Columbus and located in a wealthy area of the Spanish capital, is frequented by commuters, tourists and skaters. (AP Photo/Francisco Seco)
See these photos on APImages.com
Follow AP photographers on Twitter: http://twitter.com/AP/lists/ap-photographers
Spotlight is the blog of AP Images, the world's largest collection of historical and contemporary photos. AP Images provides instant access to AP's iconic photos and adds new content every minute of every day from every corner of the world, making it an essential source of photos and graphics for professional image buyers and commercial customers. Whether your needs are for editorial, commercial, or personal use, AP Images has the content and the expert sales team to fulfill your image requirements. Visit apimages.com to learn more.
Written content on this site is not created by the editorial department of AP, unless otherwise noted.
AP Images on Twitter | AP Images on Facebook | AP Images on Instagram
Nat Castañeda
Visual artist and Digital Storyteller at The Associated Press