Photos of the day
A selection of AP photos taken over the past 24 hours.
Baltimore Police Death
A boy sits on a wall as a member of the Baltimore Police Department walks by in the Penn North neighborhood of Baltimore, Thursday, June 23, 2016, near the site of unrest following the funeral of Freddie Gray. Officer Caesar Goodson, one of six Baltimore city police officers charged in connection to the death of Gray, was acquitted of all charges in his trial Thursday. (AP Photo/Patrick Semansky)
Colombia Peace Talks
A woman cries as she watches a live broadcast from Havana of the ceremony of the agreement between Colombian president and the head of FARC rebels on a cease-fire and rebel disarmament deal, in Bogota, Colombia, Thursday, June 23, 2016. The deal moves the country closer to the end of a 52-year war that has left more than 220,000 people dead. (AP Photo/Fernando Vergara)
Mediterranean Migrants
Migrants wait aboard a dinghy in the Mediterranean Sea to be rescued by members of the aid group Medecins Sans Frontieres (MSF) and the rescue group SOS Mediterranee Rescuers of SOS Mediterranee, Thursday June 23, 2016. The humanitarian groups distribute life jackets to the migrants in distress on the Mediterranean Sea before taking them aboard the 'Aquarius' vessel. (AP Photo/Bram Janssen)
India Monsoon
A roadside vendor selling cheap footwear takes cover under a plastic sheet as it rains in Allahabad, India, Thursday, June 23, 2016. After a couple of years of deficient monsoons, the Indian meteorological department has predicted a wetter than normal monsoon season in 2016. (AP Photo/ Rajesh Kumar Singh)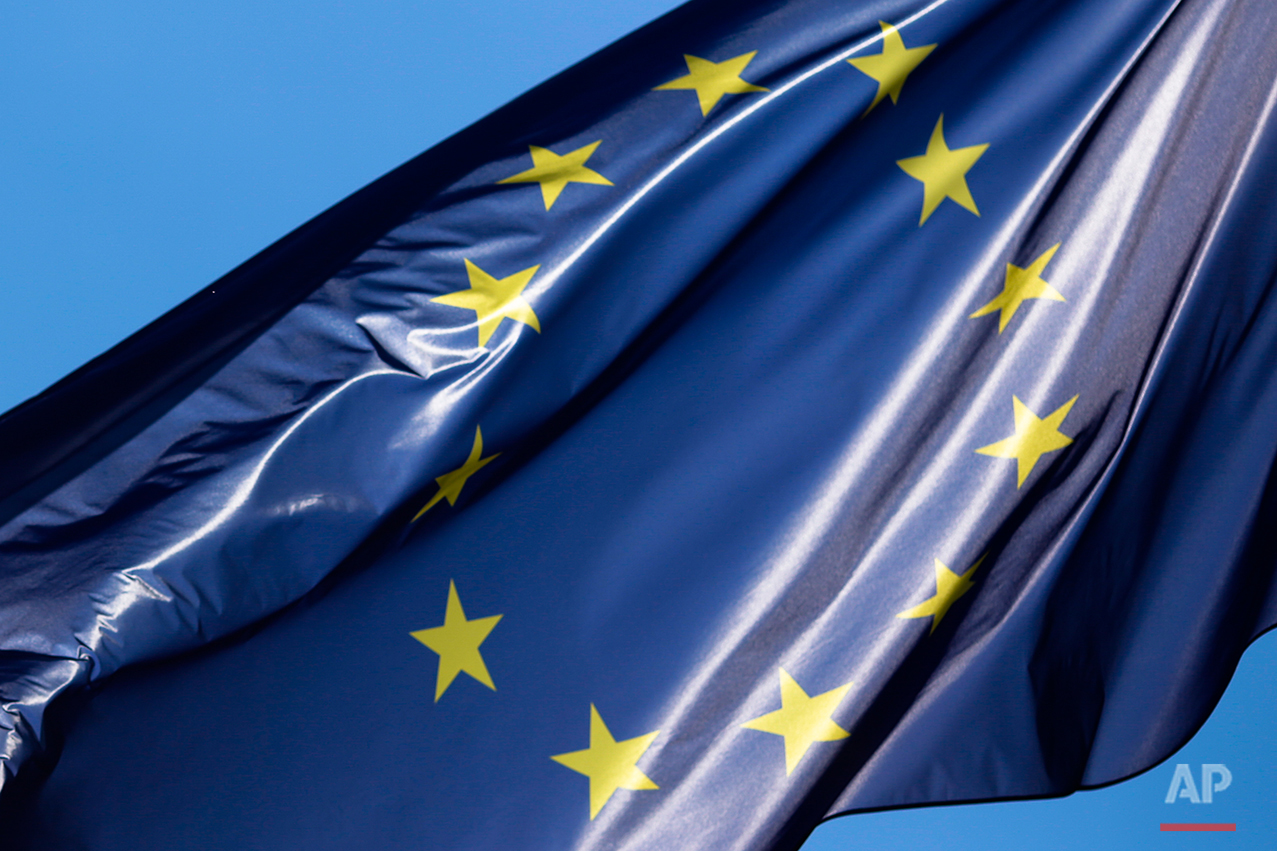 Germany Britain EU
The European flag flies in front of Germany's parliament building the Reichstag in Berlin, Thursday, June 23, 2016. Voters in Britain are deciding Thursday whether the country should remain in the European Union. (AP Photo/Markus Schreiber)
Pakistan
Afghan refugees wait for their documents to go back to Afghanistan at the UNHCR's Repatriation Center in Peshawar, Pakistan, Thursday, June 23, 2016. The United Nations High Commissioner for Refugees Filippo Grandi urges inclusive education for all including Afghan refugees during his visit to the center. (AP Photo/Mohammad Sajjad)
South Korea Koreas Tensions
A TV news channel shows an image of North Korean leader Kim Jong Un published Thursday in North Korea's Rodong Sinmun newspaper, at the Seoul Railway Station in Seoul, South Korea, Thursday, June 23, 2016. North Korean leader Kim Jong Un on Thursday trumpeted the success of a powerful new midrange ballistic missile test that state media says propelled one of the weapons more than 1,400 kilometers (870 miles), saying it would allow strikes on U.S. forces throughout the region. The letters on the screen read: "Kim Jong Un attends the launch site." (AP Photo/Ahn Young-joon)
Chile Students Protest
Demonstrators are sprayed with a police water cannon during clashes that erupted at the end of a march for education reform in Santiago, Chile, Thursday, June 23, 2016. Students are demonstrating to demand free access to school for all ages, including university level. (AP Photo/Esteban Felix)
Chile Students Protest
Police in riot gear stand next to a door with the comic book character "The Joker" painted on it, before a march by students to demand education reform, in Santiago, Chile, Thursday, June 23, 2016. Students are demonstrating to demand free access to school for all ages, including university level. (AP Photo/Esteban Felix)
Gun Control Democrats
From left, Rep. John Lewis, D-Ga., Rep. Joseph Crowley, D-N.Y., House Minority Leader Nancy Pelosi of Calif. and Rep. Charles Rangel, D-N.Y., sing "We Shall Overcome" on Capitol Hill in Washington, Thursday, June 23, 2016, after House Democrats ended their sit-in protest. (AP Photo/Carolyn Kaster)
Skyscraper Slide
A member of the media prepares to take a ride down a glass slide during a media preview day at the U.S. Bank Tower building in downtown Los Angeles on Thursday, June 23, 2016. Starting this weekend, thrill-seekers can begin taking the Skyslide, a 1,000-foot high slide perched outside of the tallest skyscraper west of the Mississippi. (AP Photo/Richard Vogel)
White Sox Red Sox Baseball
Boston Red Sox's Xander Bogaerts, left, and TV reporter Guerin Austin are doused following Bogaert's' walkoff RBI-single during the 10th inning of a baseball game against the Chicago White Sox at Fenway Park, Thursday, June 23, 2016, in Boston. (AP Photo/Charles Krupa)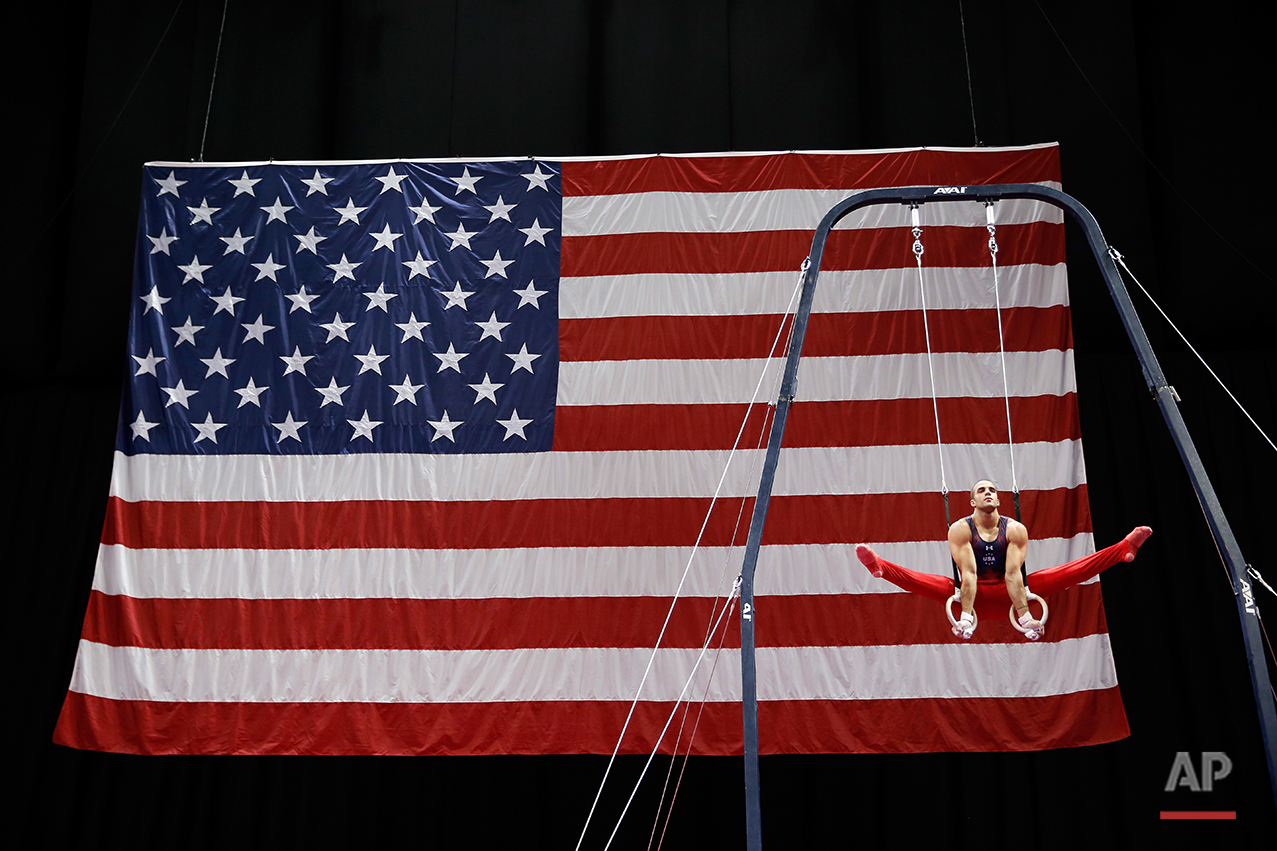 Olympic Trials Gymnastics
Danell Leyva competes on the rings during the U.S. men's Olympic gymnastics trials Thursday, June 23, 2016, in St. Louis. (AP Photo/Jeff Roberson)
Follow AP photographers on Twitter: http://twitter.com/AP/lists/ap-photographers
Spotlight is the blog of AP Images, the world's largest collection of historical and contemporary photos. AP Images provides instant access to AP's iconic photos and adds new content every minute of every day from every corner of the world, making it an essential source of photos and graphics for professional image buyers and commercial customers. Whether your needs are for editorial, commercial, or personal use, AP Images has the content and the expert sales team to fulfill your image requirements. Visit apimages.com to learn more.
Written content on this site is not created by the editorial department of AP, unless otherwise noted.
AP Images on Twitter | AP Images on Facebook | AP Images on Instagram
Nat Castañeda
Visual artist and Digital Storyteller at The Associated Press