Photos of the day
A selection of AP photos taken over the past 24 hours.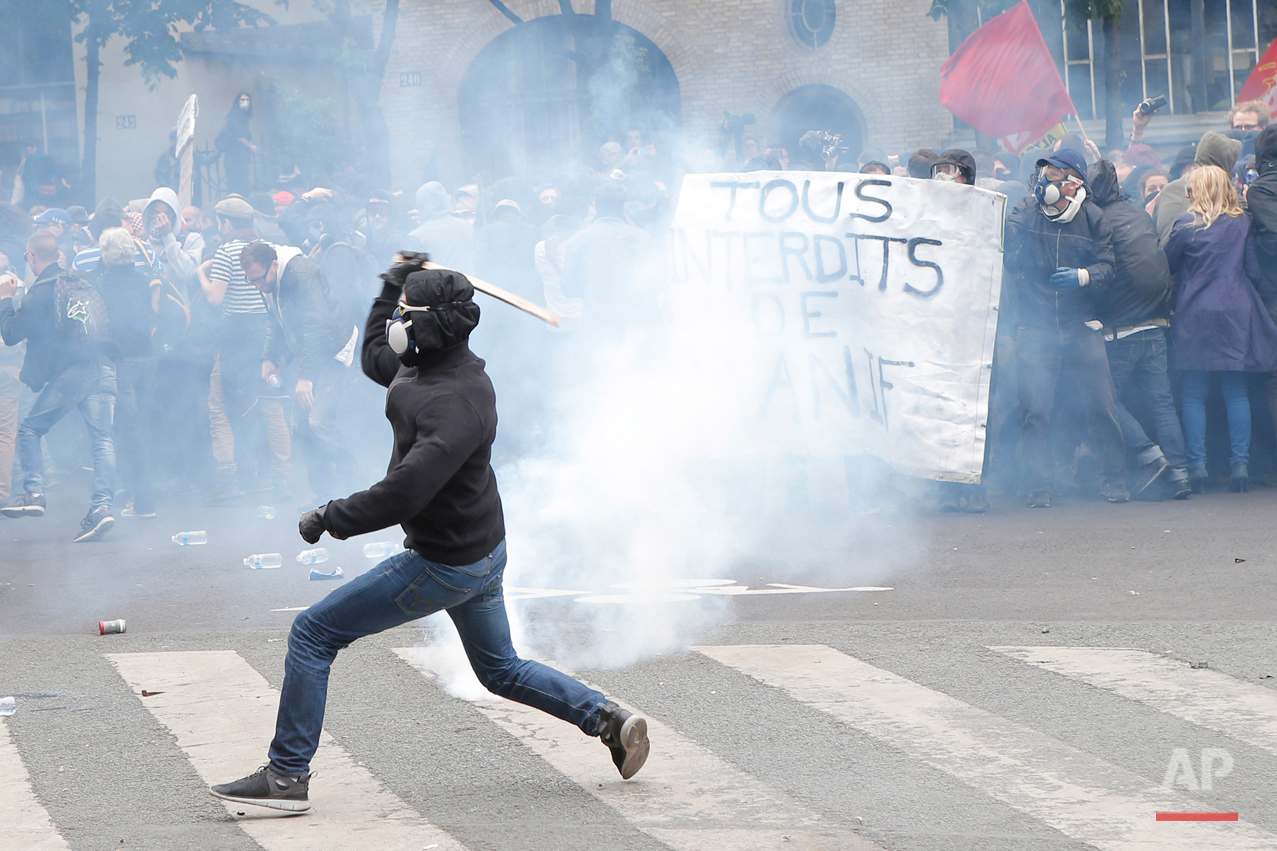 France Labor Protests
Youth throws a stick on riot police officers during a protest in Paris, Tuesday, May 17, 2016. Truckers blocked French highways and workers marched through city streets Tuesday to protest longer working hours, but President Francois Hollande is insisting he won't abandon the labor reforms that sparked their anger. (AP Photo/Francois Mori)
Bolivia Protest
Posters featuring Bolivian President Evo Morales are burned during a protest by recently laid-off textile workers, in La Paz, Bolivia, Tuesday, May 17, 2016. Workers of Bolivia's largest textile company marched in protest after the government announced its closure after the failure of a state bailout plan. (AP Photo/Juan Karita)
Cuba Rains
Religious statues are set aside near debris that fell from a roof, triggered by heavy rain, inside a home in Rancho Veloz in the province of Villa Clara, Cuba, Tuesday, May 17, 2016. A severe storm late Monday afternoon collapsed residences, made ceilings fall and uprooted trees, damaging power lines and telephone cables. (AP Photo/Ramon Espinosa)
Paraguay Kiss-A-Thon
Gays and lesbians attend a Kiss-A-Thon against homophobia, an event promoted by group "Somosgay," in Asuncion, Paraguay, Tuesday, May 17, 2016. Paraguay does not have any anti-discrimination laws. (AP Photo/Jorge Saenz)
Belarus Wild Life
A gull rests on a driftwood on a pond at a forest near the village of Svisloch, 30 km (19 miles) east of Belarus capital Minsk, Tuesday, May 17, 2016, as spring weather is established across Belarus. (AP Photo/Sergei Grits)
Cannes Julieta Photo Call
Actresses Emma Suarez, left, and Adriana Ugarte, right, kiss director Pedro Almodovar, centre, as they pose for photographers during a photo call for the film Julieta at the 69th international film festival, Cannes, southern France, Tuesday, May 17, 2016. (AP Photo/Thibault Camus)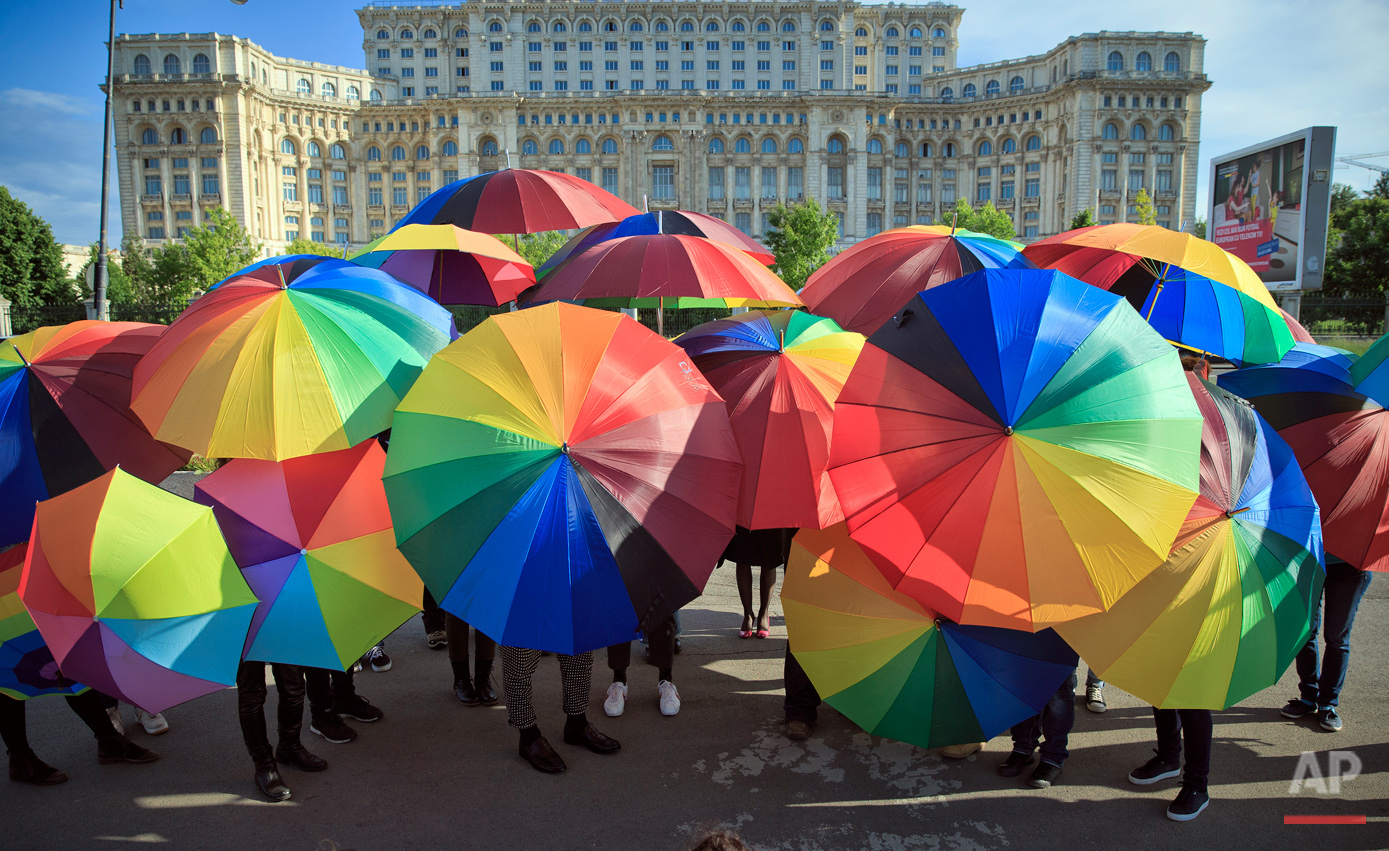 Romania International Day Against Homophobia
Young people hold rainbow colored umbrellas, back dropped by the Communist era built House of the People, now housing the Romanian parliament, while celebrating the International Day Against Homophobia in Bucharest, Romania, Tuesday, May 17, 2016. During the years of communist rule, before 1989, homosexuality was a crime, and it is still not widely accepted among many Romanian people, with many gays avoiding to disclose their sexual orientation to avoid discrimination. (AP Photo/Vadim Ghirda)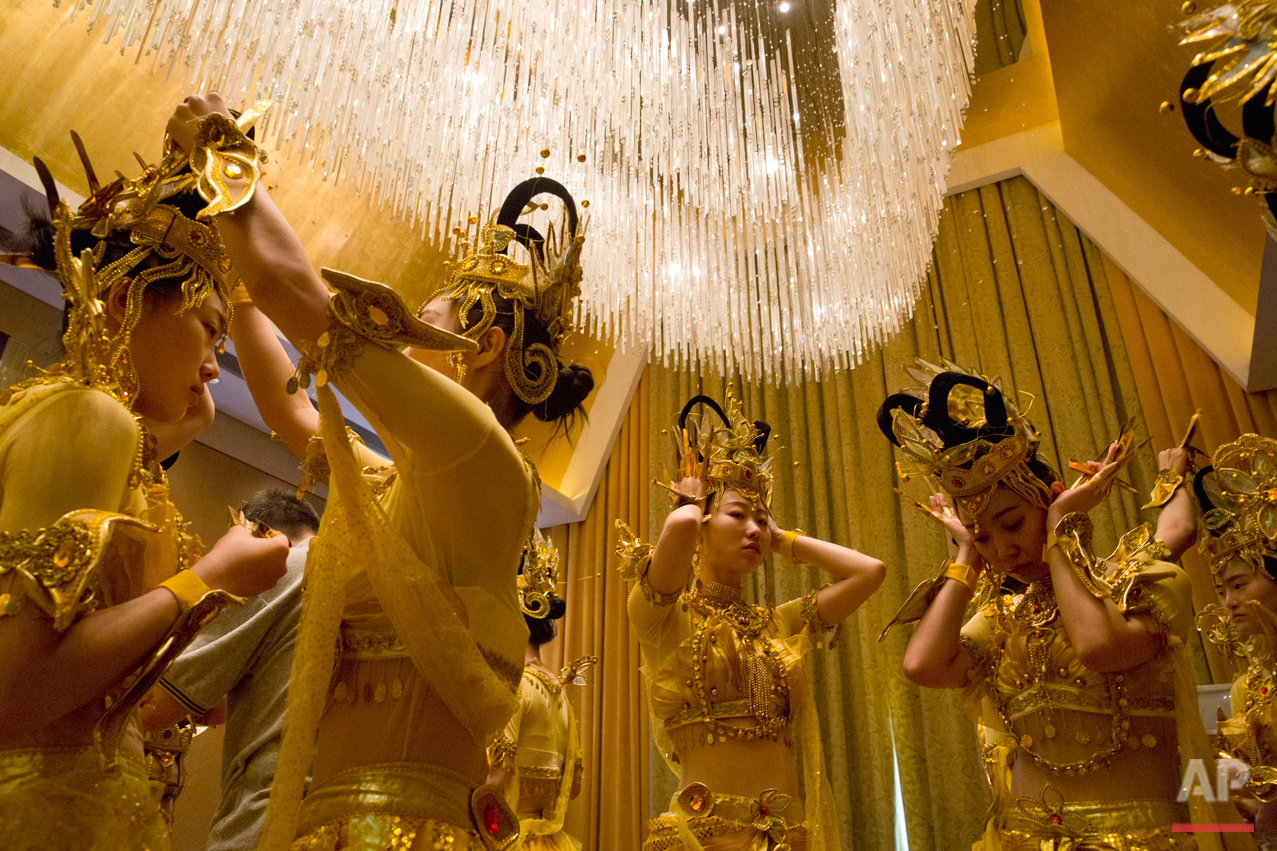 China Tourism Conference
Performers prepare backstage to take part in rehearsals ahead of the First World Conference on Tourism for Development to be held this week in Beijing, China, Tuesday, May 17, 2016. State leaders and tourism ministers from various countries are expected to attend the 4 days conference with the theme "Tourism for Peace and Development". (AP Photo/Ng Han Guan)
Nepal Festival
This photograph shot with a slow camera shutter speed shows the movement of devotees as they pull the chariot the Rato Machindranath chariot festival in Lalitpur, Nepal, Tuesday, May 17, 2016. Members of Nepalís Newar community believe celebrating this festival brings rain, good crop and prosperity. (AP Photo/Niranjan Shrestha)
India Weather
An Indian migrant daily wage worker fills water for bathing on a hot morning at a market place in New Delhi, India, Tuesday, May 17, 2016. Scorching summer temperatures, hovering well over 40 degrees Celcius, (104 Fahrenheit) are making life extremely tough for millions of poor across north India. Without access to air conditioning and sometimes even an electric fan, they struggle to cope with the heat in their inadequate homes. (AP Photo/Altaf Qadri)
Nepal Briton Detained
Supporters of Nepal's minority ethnic group chant slogans against the government during a protest outside the prime minister's residence in Kathmandu, Nepal, Tuesday, May 17, 2016. A British national has been detained in Nepal for questioning about his involvement in anti-government protests by ethnic minority groups, a government official said Tuesday. (AP Photo/Niranjan Shrestha)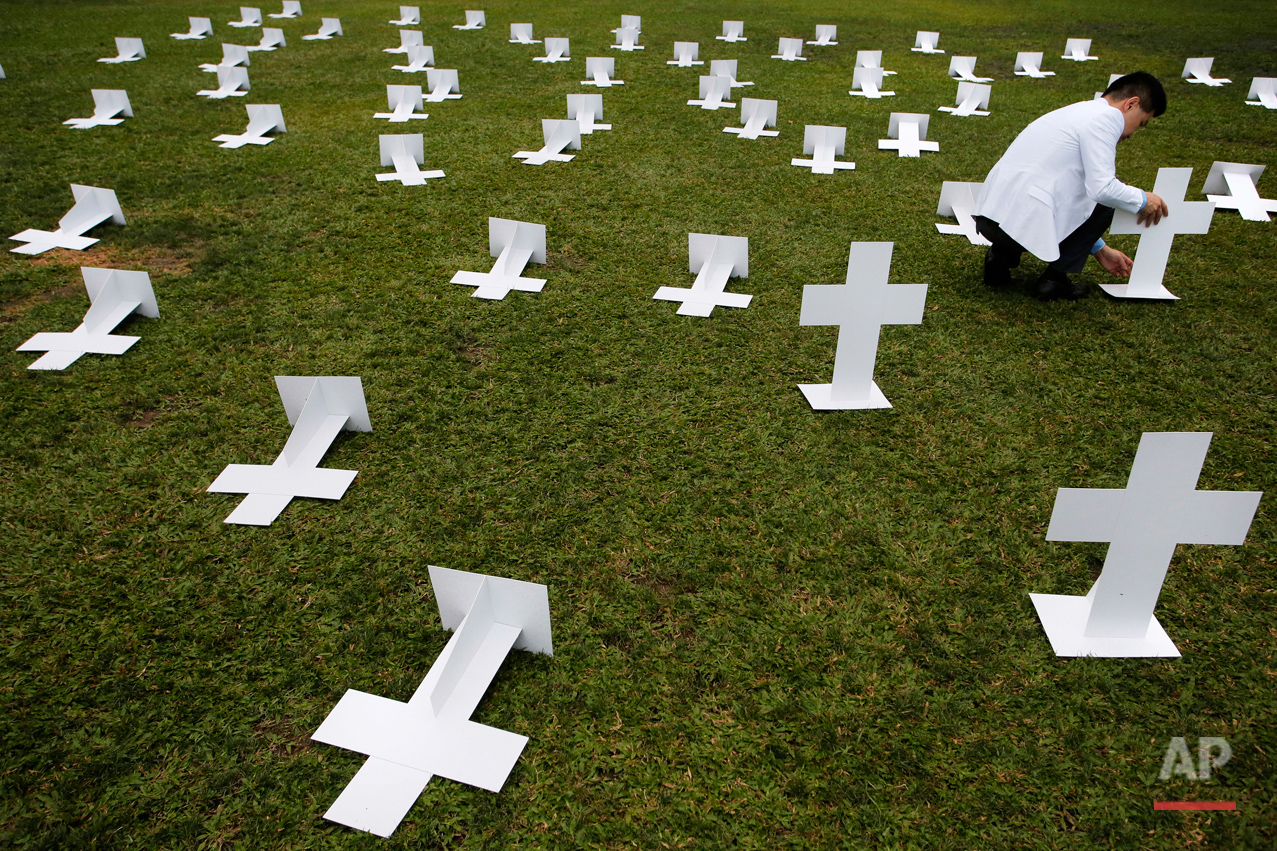 Hong Kong Beijing Official
A protester sets up paper grave markers during a protest to against the visit of Zhang Dejiang, chairman of China's National People's Congress, to Hong Kong, Tuesday, May 17, 2016. Hong Kong authorities rolled out a massive security operation on Tuesday as they brace for protests during a top Beijing official's visit to the semiautonomous city, which has been the scene of rising discontent with Chinese rule.Hong Kong, Tuesday, May 17, 2016. (AP Photo/Vincent Yu)
Mideast Lebanon Refugees Daily Life
A Syrian boy flies his kite as he stands on the top of his tent at an informal refugee camp, at al-Marj town in Bekaa valley, east Lebanon, Tuesday, May 17, 2016. (AP Photo/Hussein Malla)
Pakistan Daily Life
A Pakistani Muslim student and a teacher enter a madrassa, or religious school in Peshawar, Pakistan, Tuesday, May 17, 2016. The religious schools, most of them in mosques, are the only source of education for thousands of Pakistani children. (AP Photo/Mohammad Sajjad)
Greece Soccer
AEK Athens' players celebrate with the trophy after winning the Greek Final Cup at the Olympic Stadium of Athens, on Tuesday, May 17, 2016. AEK beat Olympiakos 2-1. (AP Photo/Thanassis Stavrakis)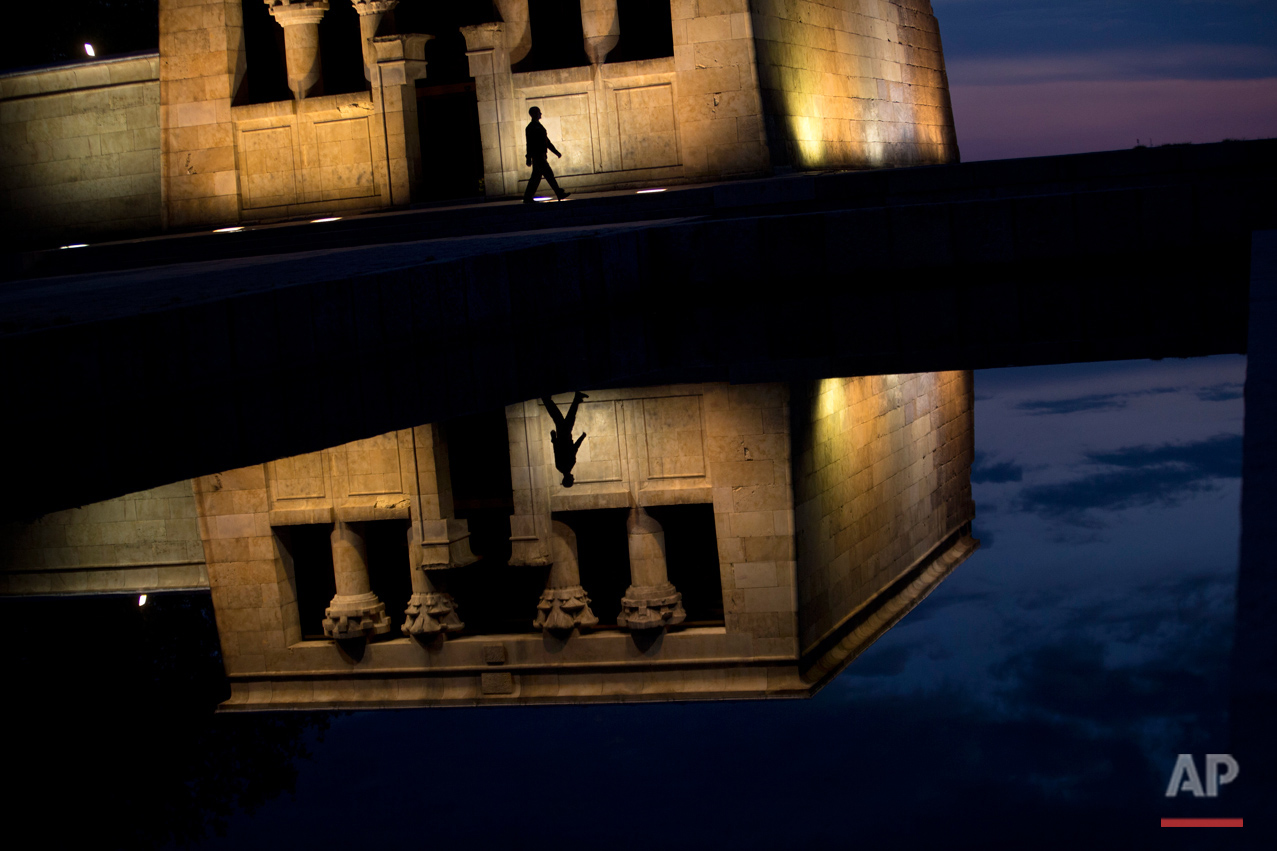 Spain Daily Life
A security guard walks around the Temple of Debod at sunset in Madrid, Spain, Tuesday, May 17, 2016. The ancient temple, which was originally built in Egypt, was dismantled and relocated in Madrid as a donation from the Egyptian state to Spain in 1968. (AP Photo/Francisco Seco)
Spain Bullfight
Spanish bullfighter Juan Leal jumps to call the attention of a Pedraza de Yeltes ranch fighting bull during a bullfight at the Las Ventas bullring in Madrid, Tuesday, May 17, 2016. (AP Photo/Daniel Ochoa de Olza)
See these photos on APImages.com
Follow AP photographers on Twitter: http://twitter.com/AP/lists/ap-photographers
Spotlight is the blog of AP Images, the world's largest collection of historical and contemporary photos. AP Images provides instant access to AP's iconic photos and adds new content every minute of every day from every corner of the world, making it an essential source of photos and graphics for professional image buyers and commercial customers. Whether your needs are for editorial, commercial, or personal use, AP Images has the content and the expert sales team to fulfill your image requirements. Visit apimages.com to learn more.
Written content on this site is not created by the editorial department of AP, unless otherwise noted.
AP Images on Twitter | AP Images on Facebook | AP Images on Instagram
Nat Castañeda
Visual artist and Digital Storyteller at The Associated Press