Photos of the day
A selection of AP photos taken over the past 24 hours.
Turkey Journalist Attacked
Dilek Dundar, journalist Can Dundar's wife, and his lawyer, 2nd left, overpower a gunman just after the attack on Can Dundar outside city's main courthouse in Istanbul, Friday, May 6, 2016. A man shouted "traitor" and fired two shots prominent Turkish journalist Can Dundar outside a courthouse where he is on trial accused of revealing state secrets for his reports on alleged government arms smuggling to Syria. Can Dundar, editor-in-chief of opposition Cumhuriyet newspaper, escaped the attack unhurt, but Yavuz Senkal, a journalist working for private NTV television was slightly injured in the leg. (Can Erok, Cumhuriyet via AP)
Kentucky Derby Horse Racing
A horse gets a bath after a morning workout at Churchill Downs Friday, May 6, 2016, in Louisville, Ky. The 142nd running of the Kentucky Derby is scheduled for Saturday, May 7. (AP Photo/Charlie Riedel)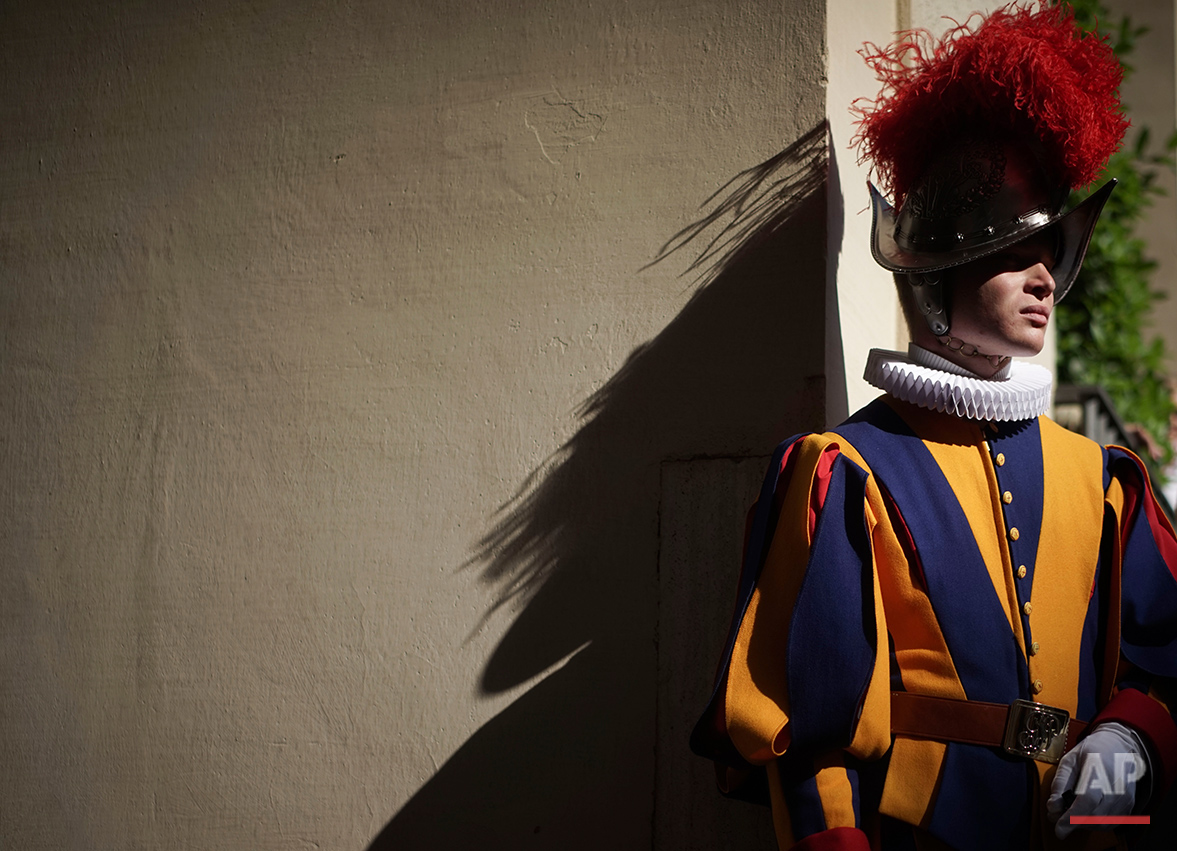 Vatican Swiss Guards
Swiss guards arrive for the swearing in ceremony at the Vatican, Friday, May, 6, 2016. The ceremony is held each May 6 after a commemoration for the 147 Swiss Guards who died protecting Pope Clement VII during the 1527 Sack of Rome carried out by the mutinous troops of Charles V, Holy Roman Emperor. (AP Photo/Andrew Medichini)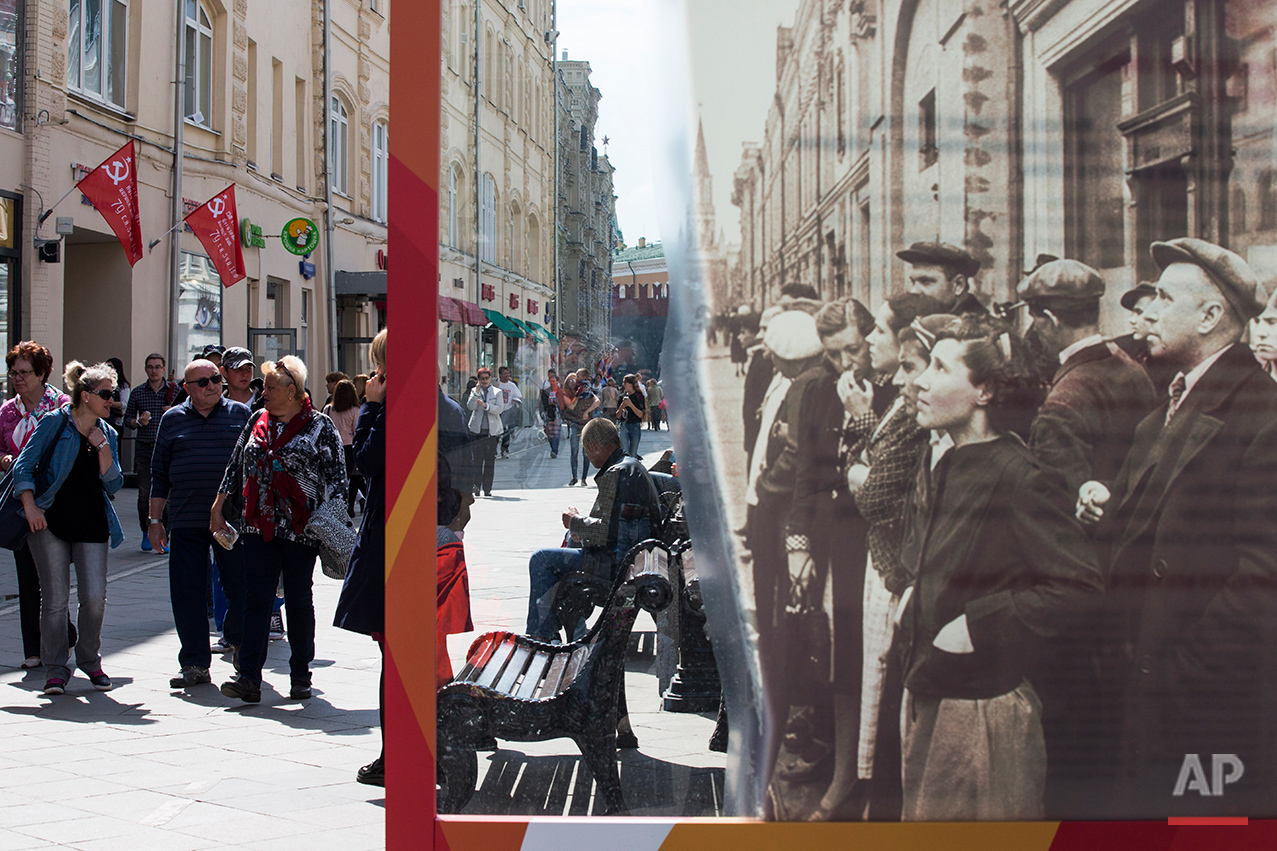 Russia Victory Day
People walk by a poster showing a World War II era photo of people listening to news, and installed in preparation for Victory Day celebration just off Red Square in downtown Moscow, Russia, Friday, May 6, 2016. Victory Day, one of the most important holidays on Russia's calendar, commemorates the 1945 defeat of Nazi Germany in World War II. Victory Day is marked in Russia on May 9. (AP Photo/Alexander Zemlianichenko)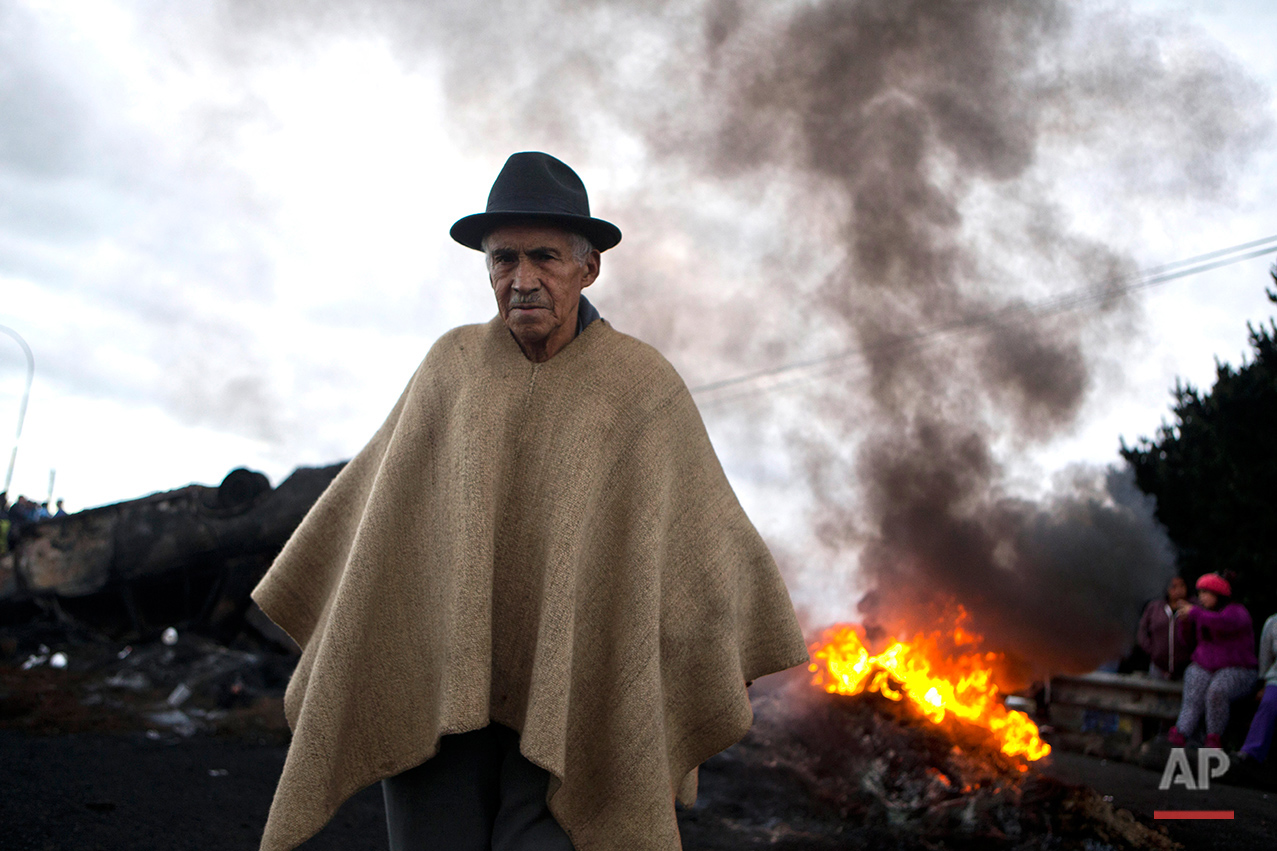 Chile Fishermen Protest
A man stands near fire led up by fishermen, who have lost their livelihoods due to to a toxic algae bloom, as they protest to demand government compensation on Chiloe Island, Chile, Friday, May 6, 2016. Fishermen have lit up flaming barricades for days restricting access to the island. The government has offered about $200 each to some 5,000 local fishermen as compensation. But they say that's not even enough to cover their basic needs. (AP Photo/Esteban Felix)
France Daily Life
A cruise ship cruises the Mediterranean off the coast of Nice, southeastern France, during the sunst, Friday, May 6, 2016. (AP Photo/Lionel Cironneau)
Kentucky Oaks Horse Racing
A fan waits for the start of the 142nd running of the Kentucky Oaks horse race at Churchill Downs Friday, May 6, 2016, in Louisville, Ky. (AP Photo/Charlie Riedel)
Turkey Politics
Turkey's President Recep Tayyip Erdogan waves to supporters as he leaves a mosque in Istanbul after attending Friday prayers, Friday, May 6, 2016. Turkish Prime Minister Ahmet Davutoglu, who had fallen out with Erdogan, announced his resignation on Thursday, paving the way for Erdogan to pursue a tighter grip on power. (AP Photo/Lefteris Pitarakis)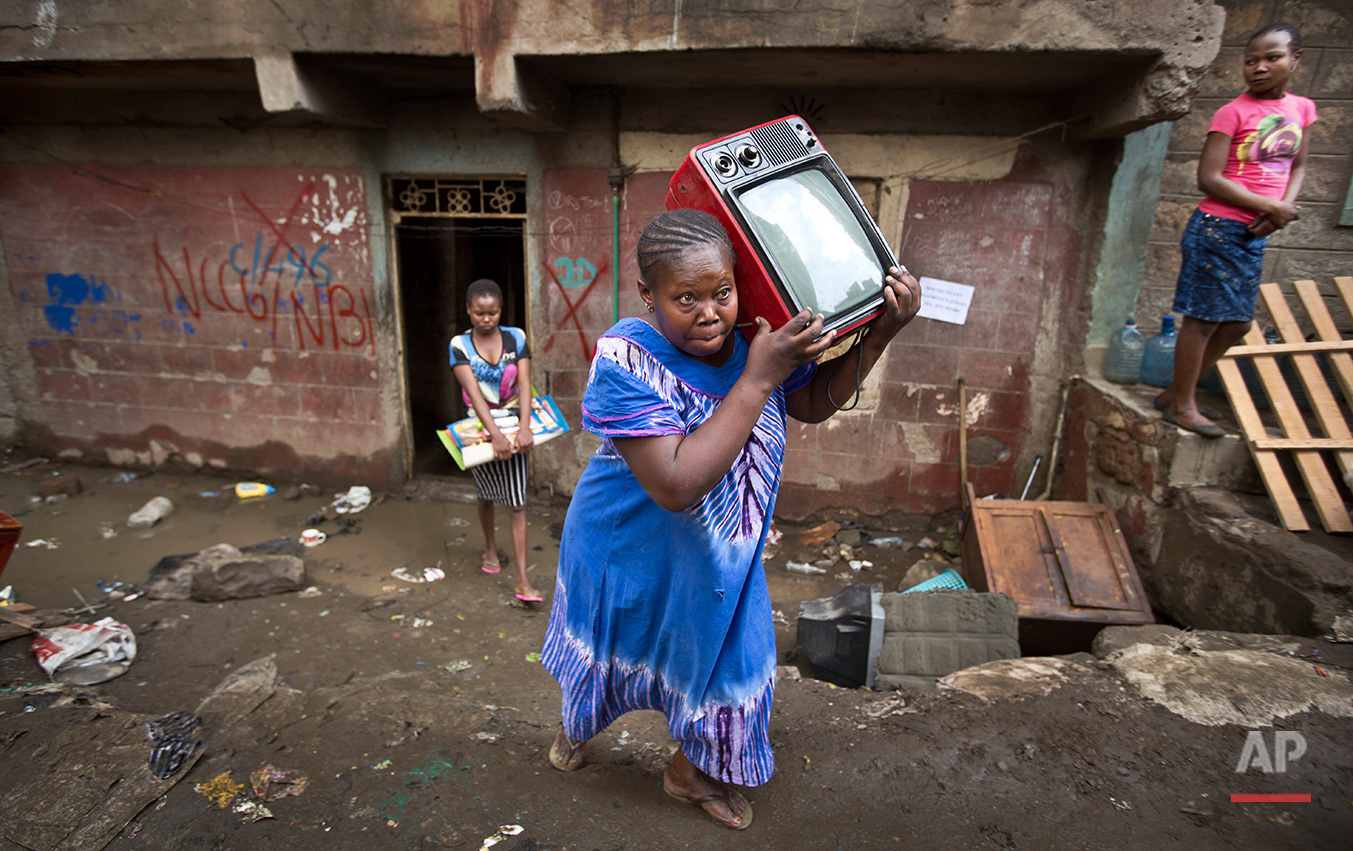 Kenya Collapsed Building
A woman leaves with her television set, as she and others are evicted from their apartment blocks close to the site of last week's building collapse, after their homes were deemed unfit for habitation and marked for demolition, in the Huruma neighborhood of Nairobi, Kenya Friday, May 6, 2016. As emergency workers retrieved more bodies from a building that collapsed a week ago, bringing the death toll to 41, hundreds of residents were evicted from nearby buildings that are being torn down to prevent other disasters. (AP Photo/Ben Curtis)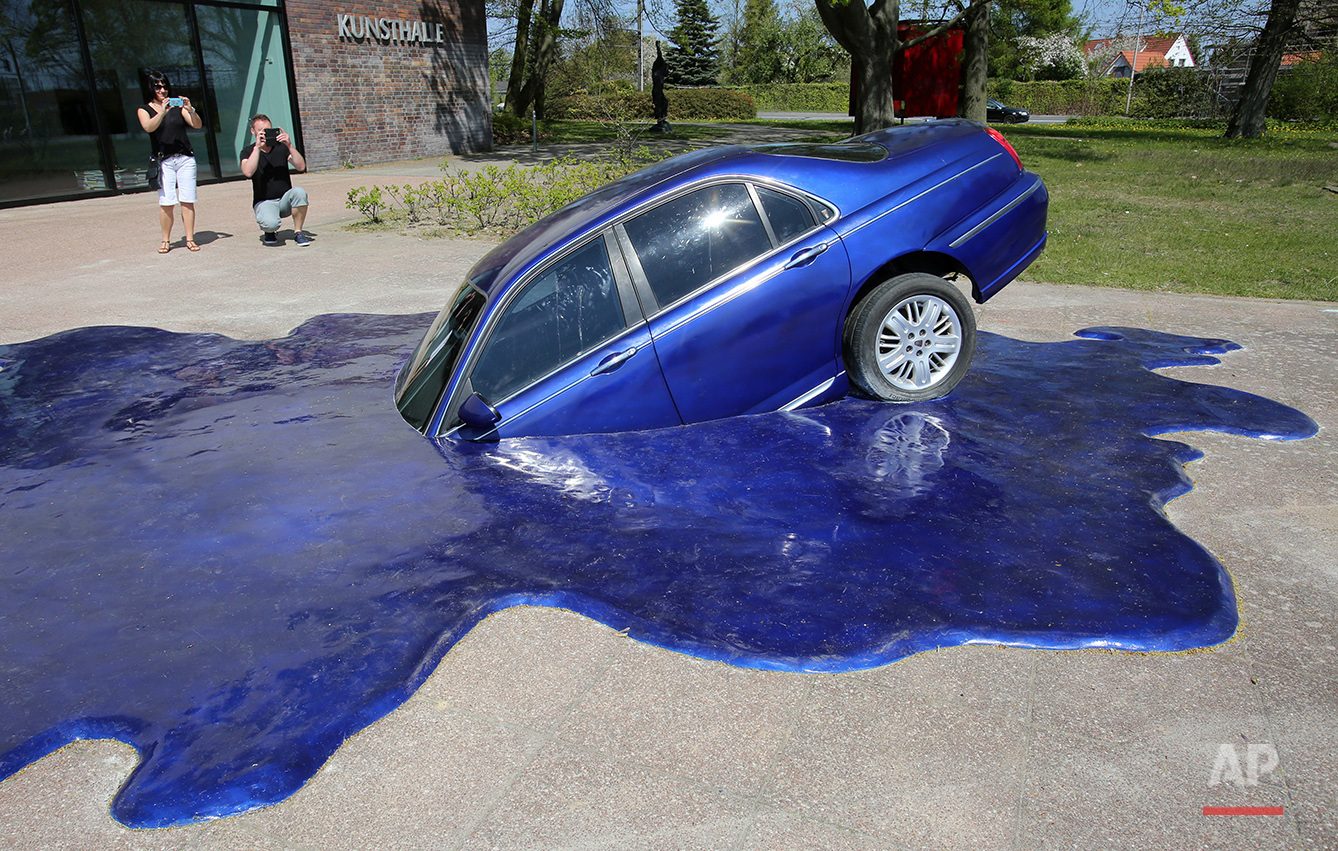 Germany Cuba Art
People take pictures of the installation 'Affluent No. 2' (2016) by Humberto Diaz in the exhibition 'Kuba Libre' at the Kunsthalle museum in Rostock, Germany, Friday, May 6, 2016. The exhibition of current Cuban art is open until June 19, 2016. (Bernd Wuestneck/dpa via AP)
North Korea Party Congress
A woman walks past a store where the streets in front of it is decorated with flags on Friday, May 6, 2016, in Pyongyang, North Korea. North Korea has been duly spruced up, the masses prepped for their rallies and leader Kim Jong Un appears to be set to take center stage Friday when North Korea pulls back the curtain on what promises to be the country's biggest political show in years, if not decades: the first full congress of its ruling party since 1980. (AP Photo/Wong Maye-E)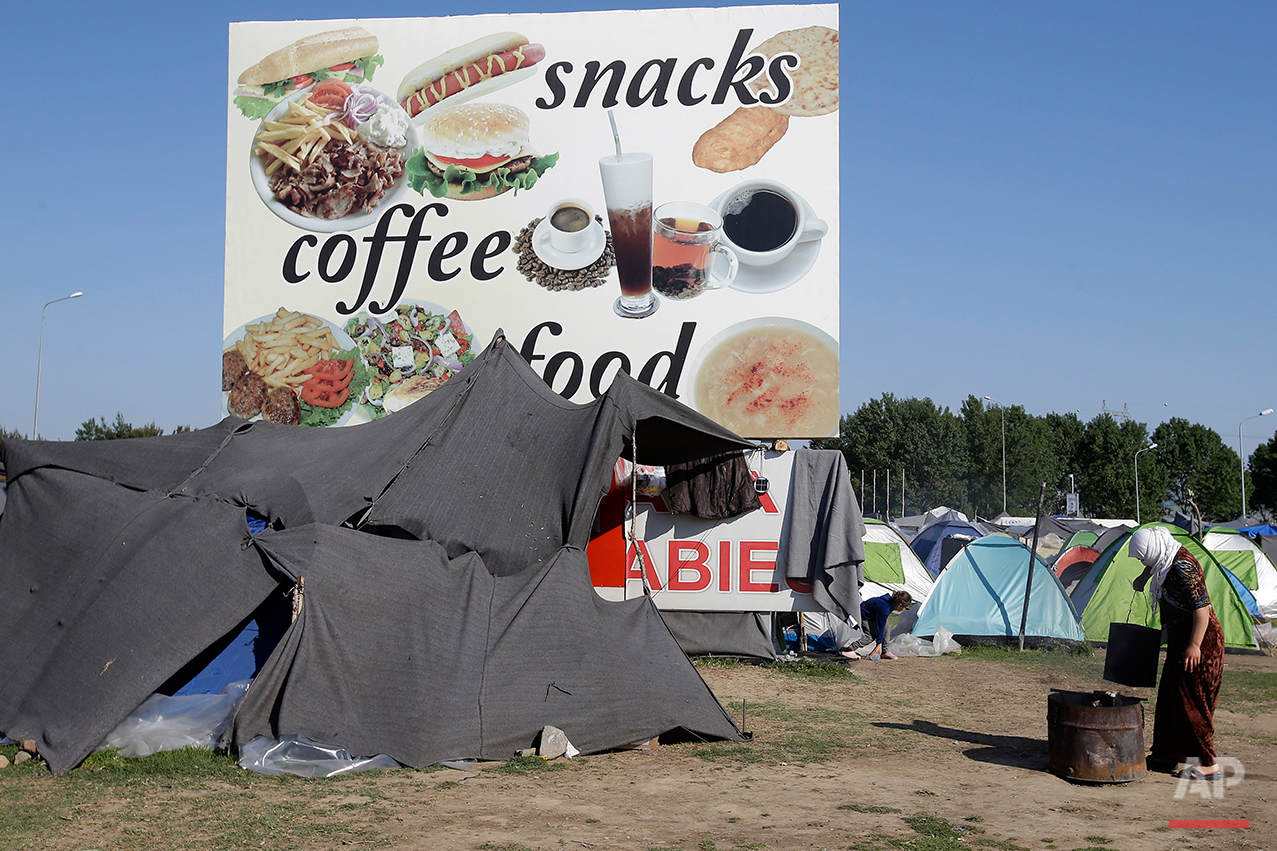 Greece Migrants
Alima Rammu, of damascus, Syria, warm up water for her family members outside a tent set at a gas station which was turned into a makeshift camp the northern Greek border point of Idomeni, Greece, Friday, May 6, 2016. Idomeni, once a little known Greek village of 120 permanent residents, has given its name to Europe's refugee crisis _ and those trapped by a policy aimed at stopping a repeat of 2015, when a million people traveled across the Mediterranean in dinghies and small boats and walked into Europe. (AP Photo/Gregorio Borgia)
Britain Weather
A man enjoys the sunny and warm weather with his dog in a park in London, Friday, May 6, 2016. Weather forecast predicts up to 25 Celsius (77F) for the upcoming weekend in London. (AP Photo/Frank Augstein)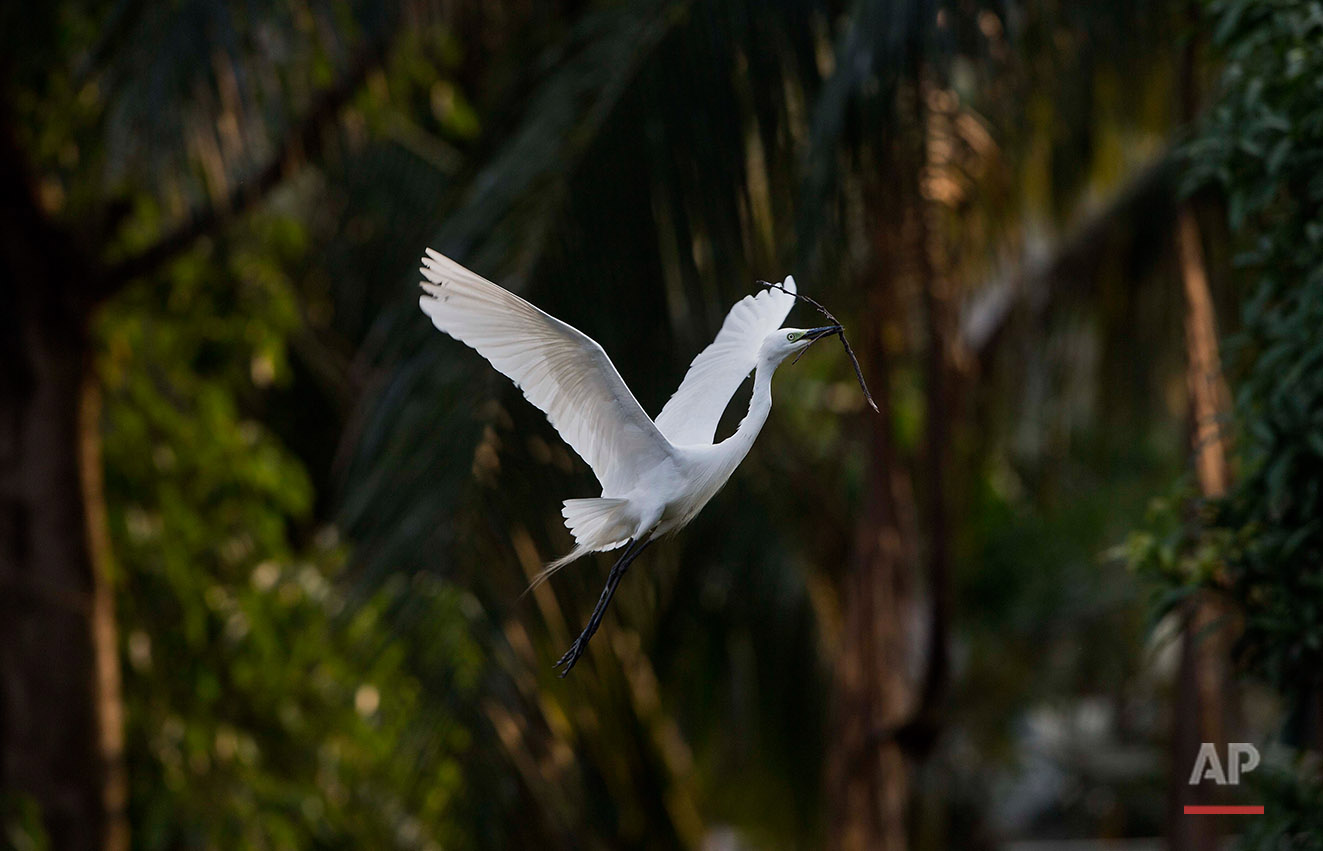 India Egret
An egret carries a twig to make its nest in a tree on the banks of river Brahmaputra in Gauhati, India, Friday, May 6, 2016. During this time of the year, hundreds of egrets build their nests in thickly populated trees along the Brahmaputra. (AP Photo/ Anupam Nath)
Spain Daily Life
A visitor walks at the entrance of the Museum of Modern Art in Huarte, near to Pamplona, northern Spain, Friday, May 6, 2016. (AP Photo/Alvaro Barrientos)
Spain Tennis Madrid Open
In this picture taken through glass, Andy Murray from Britain, bottom, serves against Tomas Berdych from Czech Republic, during a Madrid Open tennis tournament match in Madrid, Spain, Friday, May 6, 2016. Murray won 6-3 and 6-2. (AP Photo/Francisco Seco)
See these photos on APImages.com
Follow AP photographers on Twitter: http://twitter.com/AP/lists/ap-photographers
Spotlight is the blog of AP Images, the world's largest collection of historical and contemporary photos. AP Images provides instant access to AP's iconic photos and adds new content every minute of every day from every corner of the world, making it an essential source of photos and graphics for professional image buyers and commercial customers. Whether your needs are for editorial, commercial, or personal use, AP Images has the content and the expert sales team to fulfill your image requirements. Visit apimages.com to learn more.
Written content on this site is not created by the editorial department of AP, unless otherwise noted.
AP Images on Twitter | AP Images on Facebook | AP Images on Instagram
Nat Castañeda
Visual artist and Digital Storyteller at The Associated Press