Photos of the day
A selection of AP photos taken over the past 24 hours.
GOP 2016 Cruz
Republican presidential candidate Sen. Ted Cruz, R-Texas, right, is joined by Republican activist John Burnett as he speaks to black community leaders during a campaign event, Thursday, April 7, 2016, in New York. (AP Photo/Mary Altaffer)
Biden
Vice President Joe Biden, right, orders an iced drink with Catherine Cortez Masto, a candidate for the U.S. Senate, Thursday, April 7, 2016, in Las Vegas. (AP Photo/John Locher)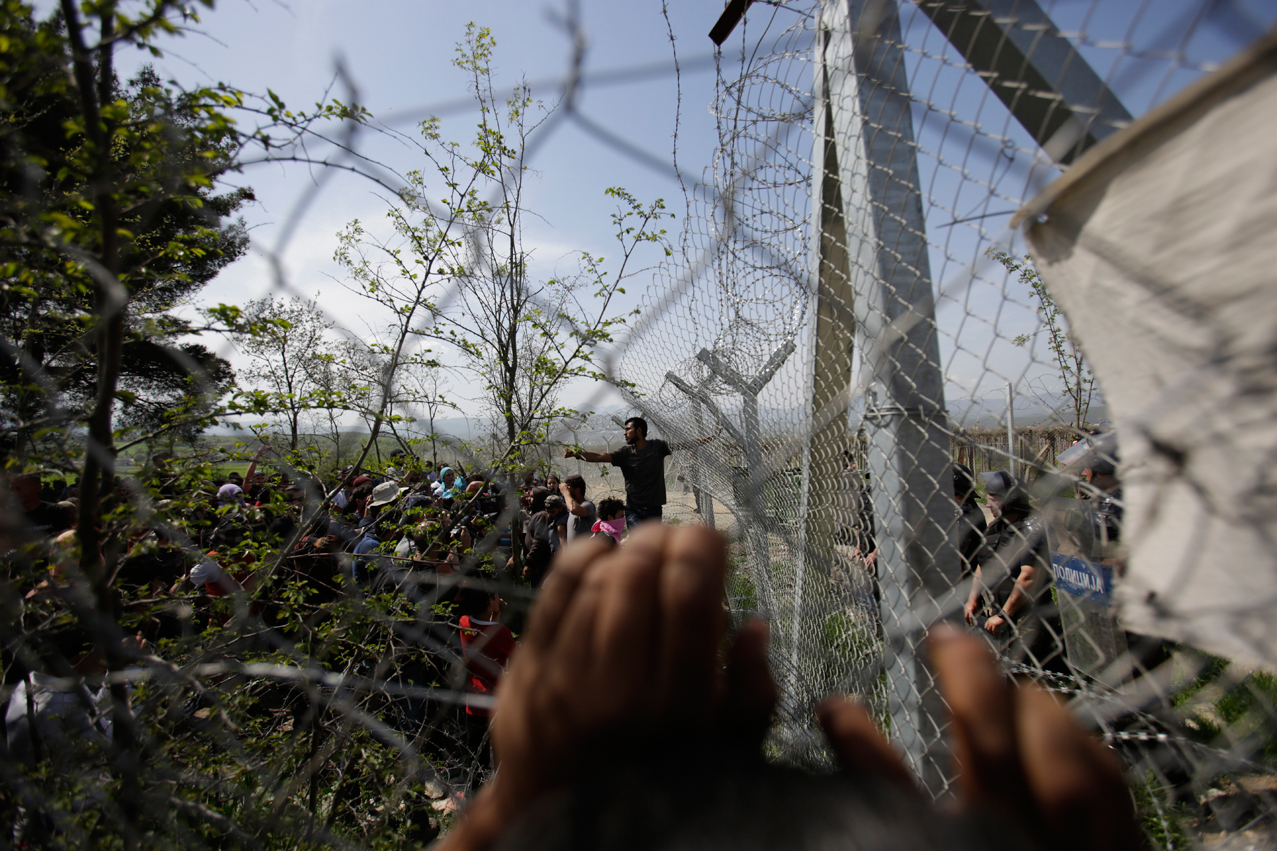 Greece Migrants
Migrants try to tear down part of border fence separating Greece with Macedonia, at the northern Greek border point of Idomeni, Greece, Thursday, April 7, 2016, during a protest against the closed border. When the migrants tried to tear down part of the fence, Macedonian police stepped in and stopped them. (AP Photo/Amel Emric)
Penguins Capitals Hockey
Washington Capitals goalie Braden Holtby (70) skates in front of the goal before an NHL hockey game against the Pittsburgh Penguins, Thursday, April 7, 2016, in Washington. The Penguins won 4-3 in overtime. (AP Photo/Alex Brandon)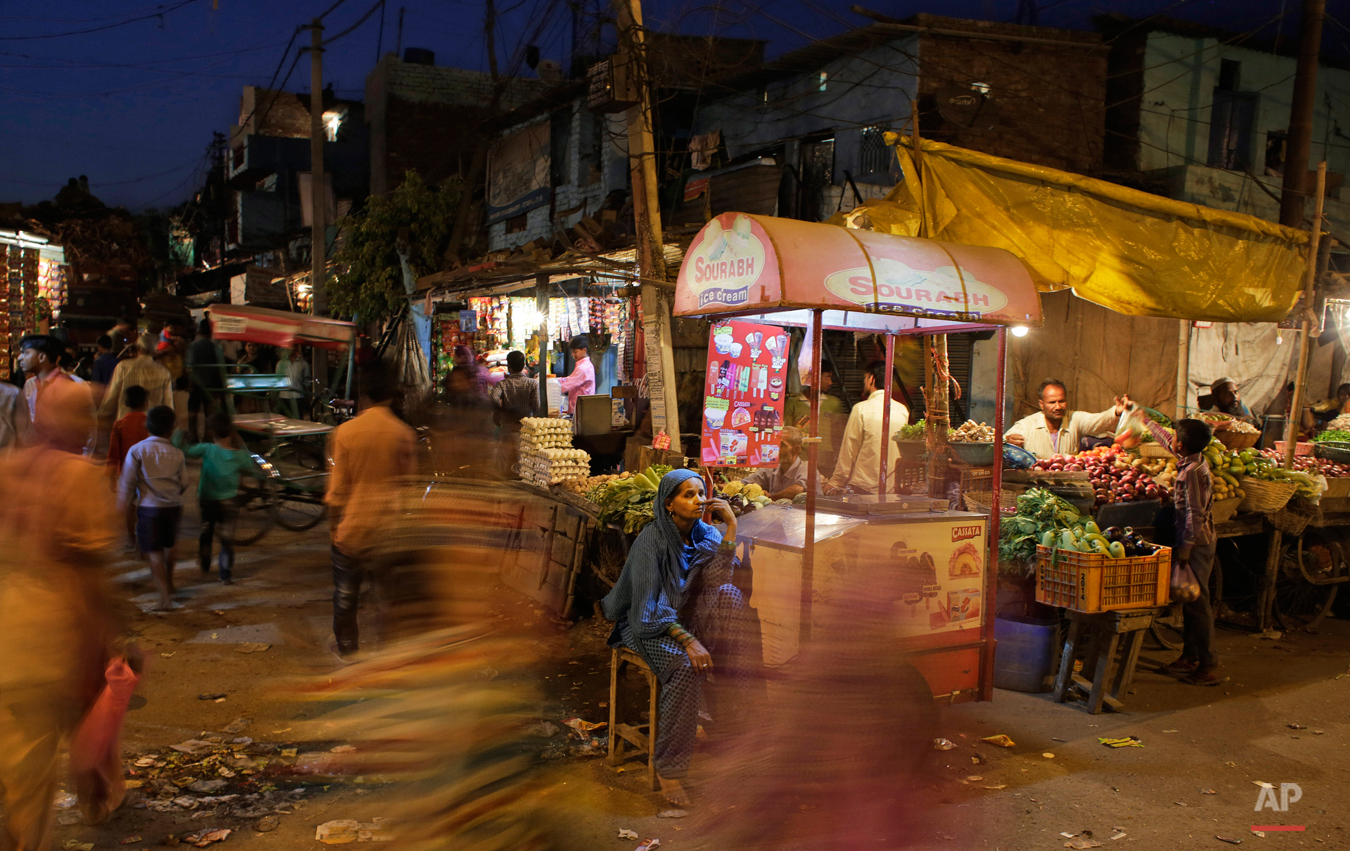 India Daily Life
A roadside ice-cream vendor waits for customers at a market in New Delhi, India, Thursday, April 7, 2016. The Indian economy is characterized by the existence of a vast majority of informal or unorganized labor employment. (AP Photo/Altaf Qadri)
Philippines Monaco
Members of the Presidential Security Group band wait for the arrival of Prince Albert II of Monaco at the Malacanang Presidential palace in Manila, Philippines on Thursday, April 7, 2016. (AP Photo/Aaron Favila)
Taiwan Hofesh Shechter Sun
Dancers from the Hofesh Shechter Company perform "Sun" during a rehearsal at the National Theater Concert Hall in Taipei, Taiwan, Thursday, April 7, 2016. The work will be performed from April 8 ~ April 10 at the National Theater Concert Hall in Taipei. (AP Photo/Chiang Ying-ying)
Bangladesh Student Hacked
Blood stained glass and a photograph of the Hindu goddess Durga is seen near the spot where three motorcycle-riding assailants hacked student activist Nazimuddin Samad to death while walking with a friend, in Dhaka, Bangladesh, Thursday, April 7, 2016. Police suspect 28-year-old Samad was targeted for his outspoken atheism in the Muslim majority country and for supporting a 2013 movement demanding capital punishment for war crimes involving the country's independence war against Pakistan in 1971, according to Dhaka Metropolitan Police Assistant Commissioner Nurul Amin. (AP Photo)
APTOPIX Greece Migrants
A girl looks out from a window in a mini bus as she arrives with her family to Karatepe municipality camp for refugees, on the Greek island of Lesbos, Thursday April 7, 2016. 135 refugees and migrants have been transferred Thursday to the camp from Moria detention center which hosts families and vulnerable people. (AP Photo/Petros Giannakouris)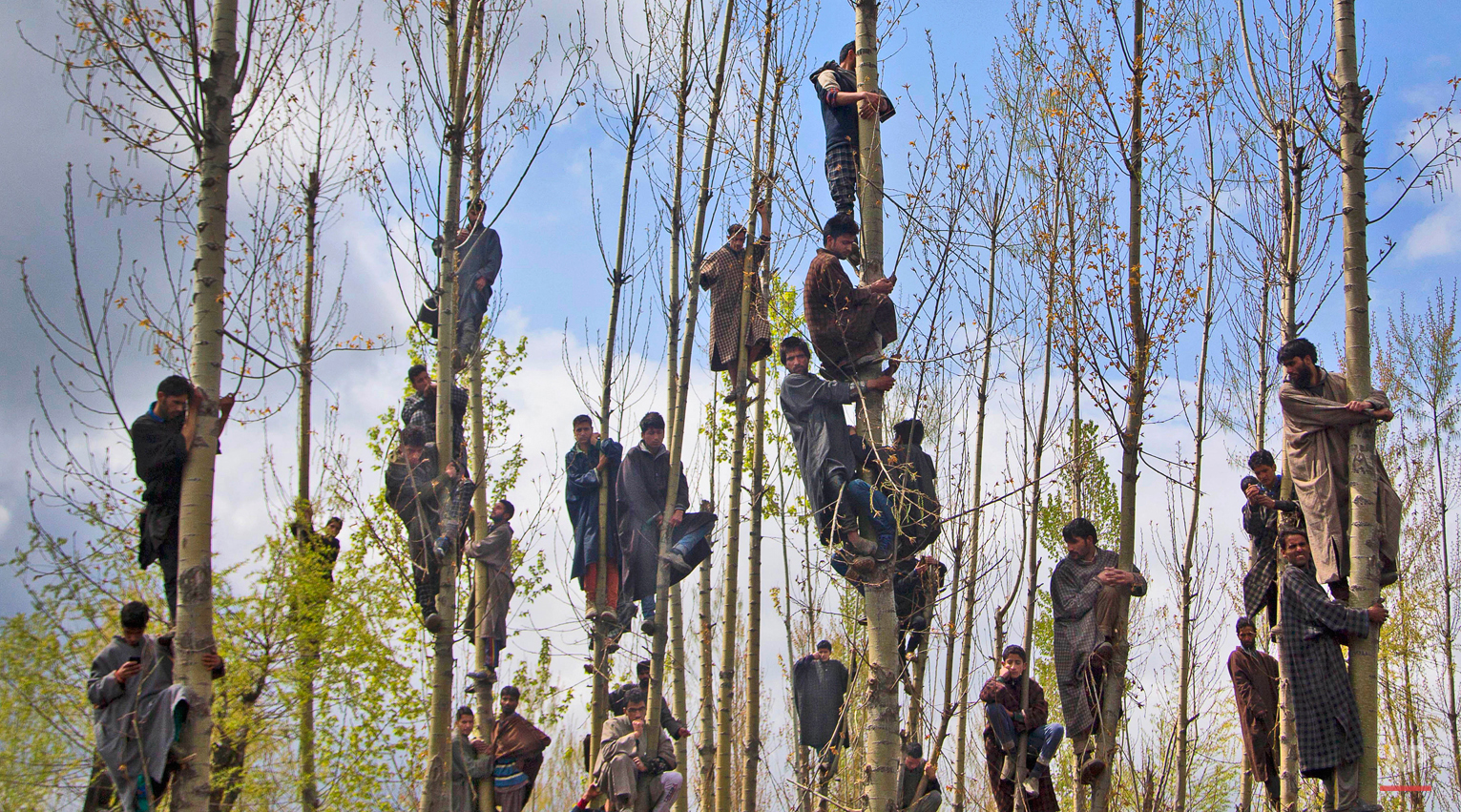 India Kashmir Clashes
Kashmiri Muslims climb trees to watch the funeral procession of Waseem Malla, a suspected militant of Hizbul Mujahideen, in Pehlipora, some 60 kilometers (35 miles) south of Srinagar, Indian controlled Kashmir, Thursday, April 7, 2016. Anti-India protesters attacked government forces with rocks and burned an armored vehicle Thursday as they participated in the funerals of two insurgents killed in a gunbattle in the disputed Kashmir region, an Indian official said. (AP Photo/Dar Yasin)
China Sri Lanka
A member of a Chinese honor guard is covered by a red flag as he waits for the arrival of Sri Lanka's Prime Minister Ranil Wickremesinghe during a welcome ceremony outside the Great Hall of the People in Beijing, Thursday, April 7, 2016. (AP Photo/Andy Wong)
Malaysia Panda
Seven-month old female giant panda cub Nuan Nuan plays inside the panda enclosure at the National Zoo in Kuala Lumpur, Malaysia, Thursday, April 7, 2016. The cub, the offspring of Xing Xing and Liang Liang, two giant pandas on loan to Malaysia from China in 2014, has been named "Nuan Nuan." (AP Photo/Vincent Thian)
Ecuador Pro Government Protests
Pro-government supporters attend rally in support of President Rafael Correa, in Quito, Ecuador, Thursday, April 7, 2016. The government and opposition called for demonstrations, for and against, the financial measures proposed by the the administration of President Correa to deal with the economic downturn caused by the slump in oil prices. (AP Photo/Dolores Ochoa)
Germany Echo Music Awards
The Weeknd performs during the 2016 Echo Music Award ceremony in Berlin, Thursday, April 7, 2016. (AP Photo/Markus Schreiber, Pool)
Washington Daily Life
The Washington Monument is seen through a fence lining the Ellipse, in Washington, Thursday, April 7, 2016. (AP Photo/Carolyn Kaster)
University of Texas Body
University of Texas students embrace during a gathering for fellow student Haruka Weiser on campus Thursday, April 7, 2016, in Austin, Texas. Weiser a first-year dance student from Oregon, was last seen leaving a university drama building Sunday night. Her body was discovered in a creek in the heart of the university's Austin campus on Tuesday. (AP Photo/Eric Gay)
See these photos on APImages.com
Follow AP photographers on Twitter: http://twitter.com/AP/lists/ap-photographers
Spotlight is the blog of AP Images, the world's largest collection of historical and contemporary photos. AP Images provides instant access to AP's iconic photos and adds new content every minute of every day from every corner of the world, making it an essential source of photos and graphics for professional image buyers and commercial customers. Whether your needs are for editorial, commercial, or personal use, AP Images has the content and the expert sales team to fulfill your image requirements. Visit apimages.com to learn more.
Written content on this site is not created by the editorial department of AP, unless otherwise noted.
AP Images on Twitter | AP Images on Facebook | AP Images on Instagram
Nat Castañeda
Visual artist and Digital Storyteller at The Associated Press