Photos of the day
A selection of AP photos taken over the past 24 hours.
South Korea Koreas Tension
Pictures of North Korean flags, the North's leader Kim Jong Un and North's missiles are burned by anti-North Korea protesters during a rally in downtown Seoul, South Korea, Thursday, Feb. 11, 2016. Under the gaze of armed soldiers, large white trucks streamed across the world's most armed border Thursday as South Korean workers on Thursday began shutting down a jointly run industrial park in North Korea. The South's suspension will end, at least temporarily, the Koreas' last major cooperation project as punishment over Pyongyang's recent rocket launch.(AP Photo/Lee Jin-man)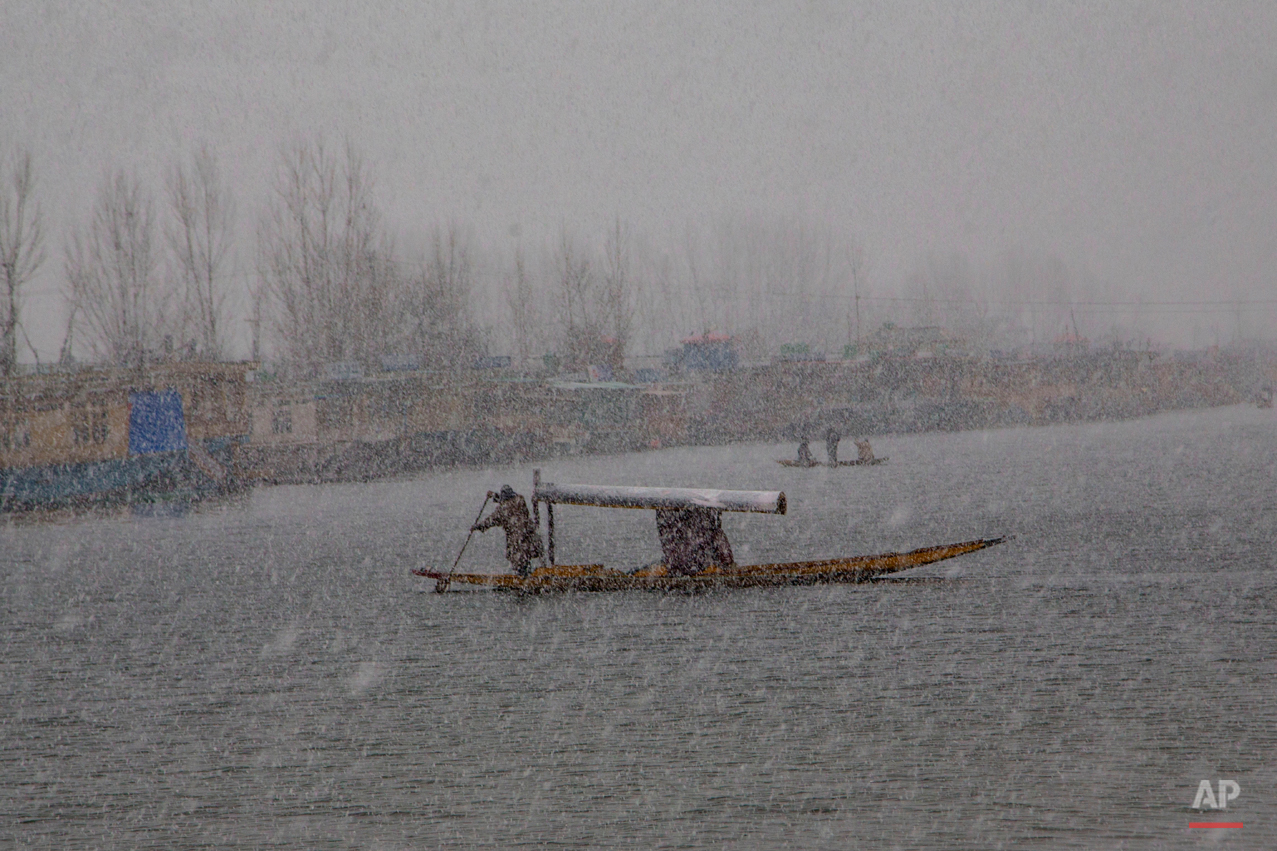 India Kashmir Weather
A Kashmiri man rows his shikara, a traditional wooden boat native to the region, in Srinagar, Indian controlled Kashmir, Thursday, Feb. 11, 2016. Following continued snowfall, the Jammu-Srinagar highway, that connects Kashmir valley to the rest of India, was closed to traffic, news reports said. (AP Photo/Dar Yasin)
Mexico Prison
Inmates from the female block shout from the Topo Chico prison after a riot broke out around midnight in Monterrey, Mexico, Thursday, Feb. 11, 2016. Dozens of inmates were killed and several injured in a brutal fight between two rival factions at the prison in northern Mexico, according to the state governor. (AP Photo/Emilio Vazquez)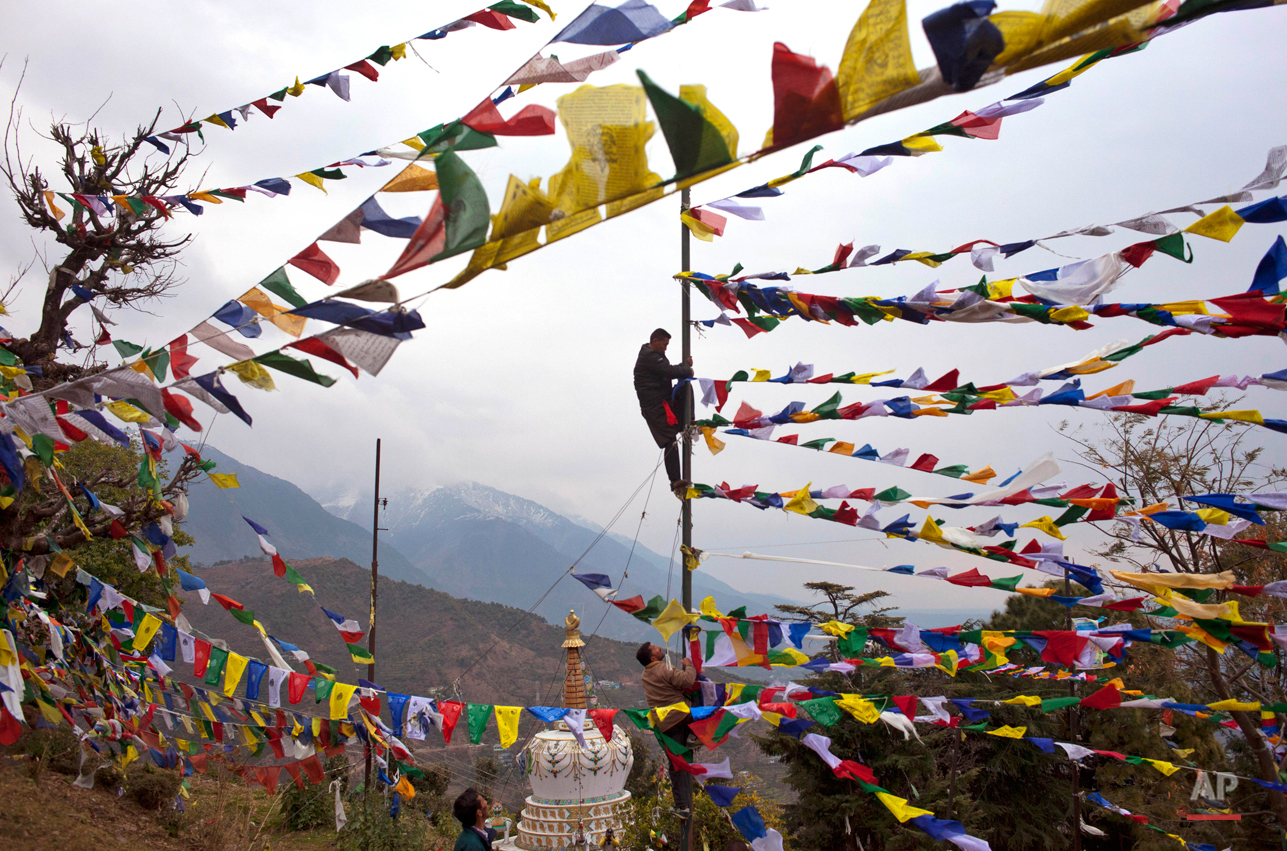 India Tibetan New Year
An exiled Tibetan climbs a tall post to tie multicolor prayer flags called wind horse or 'lungta' on the third day of the Tibetan New Year, in Dharmsala, India, Thursday, Feb. 11, 2016. Tibetans believe that the Buddhist prayers printed on these flags whose colors represent the five elements, earth, fire, sky, water and air, are spread on wind. (AP Photo/Ashwini Bhatia)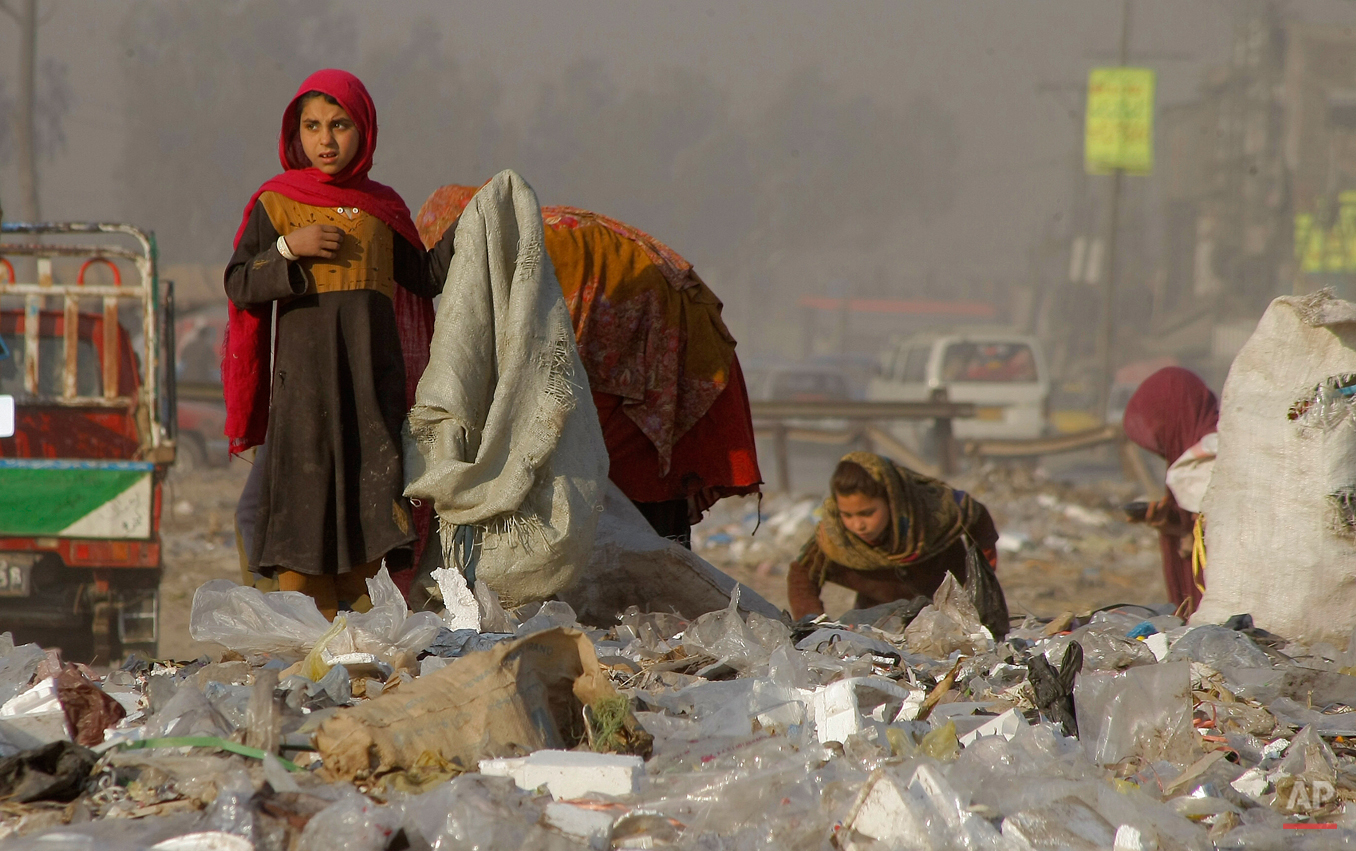 Pakistan Daily Life
Afghan refugees girls collect recycle-able goods from a garbage to sell and earn living for their families in Peshawar, Pakistan, Friday, Feb. 5, 2016. (AP Photo/Mohammad Sajjad)
Pope Francis in Mexico
A cutout of Pope Francis holding a dove decorates a shop selling religiously-themed souvenirs and jewelry, near the Basilica of Guadalupe in Mexico City, Thursday, Feb. 11, 2016. Pope Francis, who arrives in Mexico Friday for a week-long visit, will make a stop at the Basilica, home of Mexico's beloved Virgin of Guadalupe.(AP Photo/Rebecca Blackwell)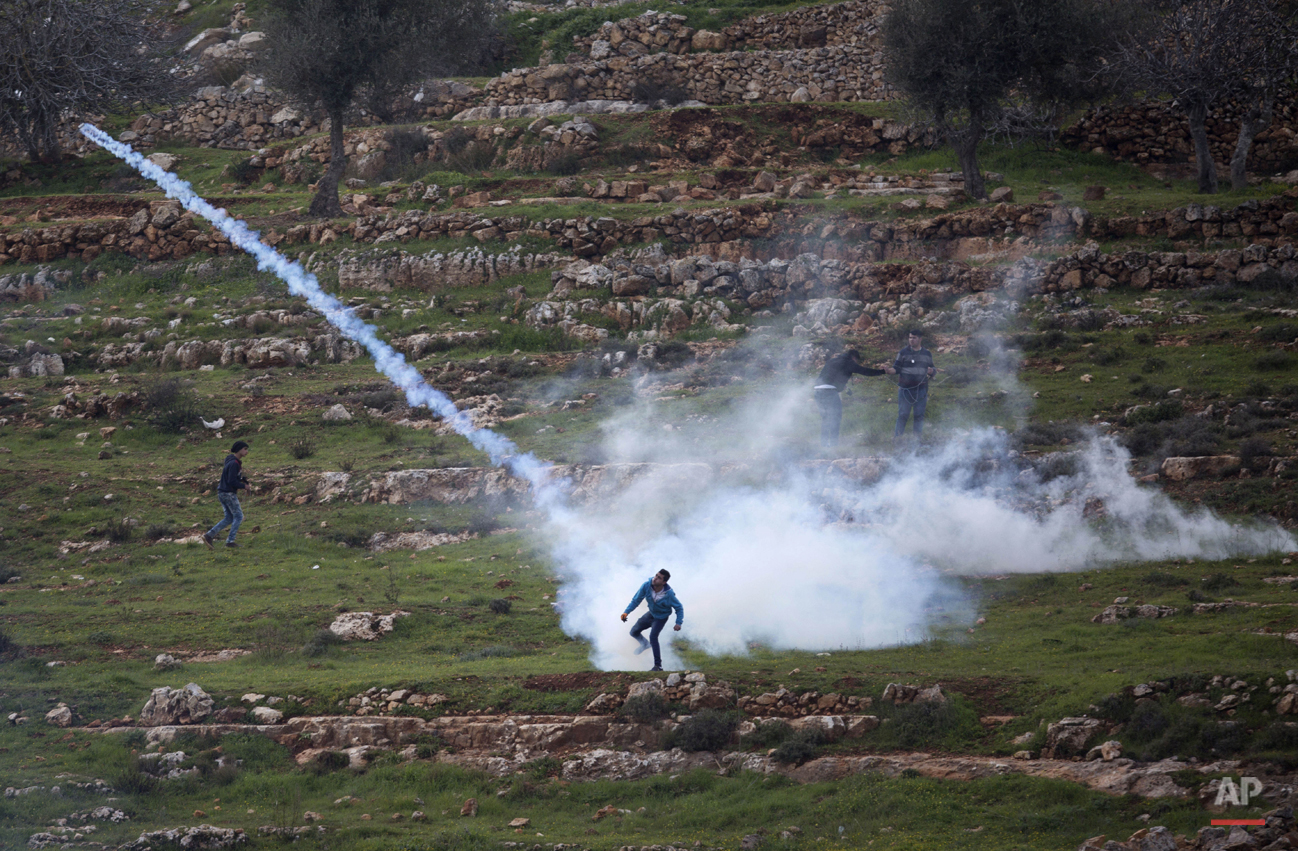 Israel and Palestine
A Palestinian demonstrator throws back a tear gas canister that was fired by Israeli troops during demonstration a calling for the release of Palestinian journalist Mohammed al-Qeq, outside Ofer military prison near the West Bank city of Ramallah, Thursday, Feb. 11, 2016. Al-Qeq has refused food for over 70 days to protest his six-month imprisonment without trial or charges, an Israeli practice known as administrative detention.(AP Photo/Majdi Mohammed)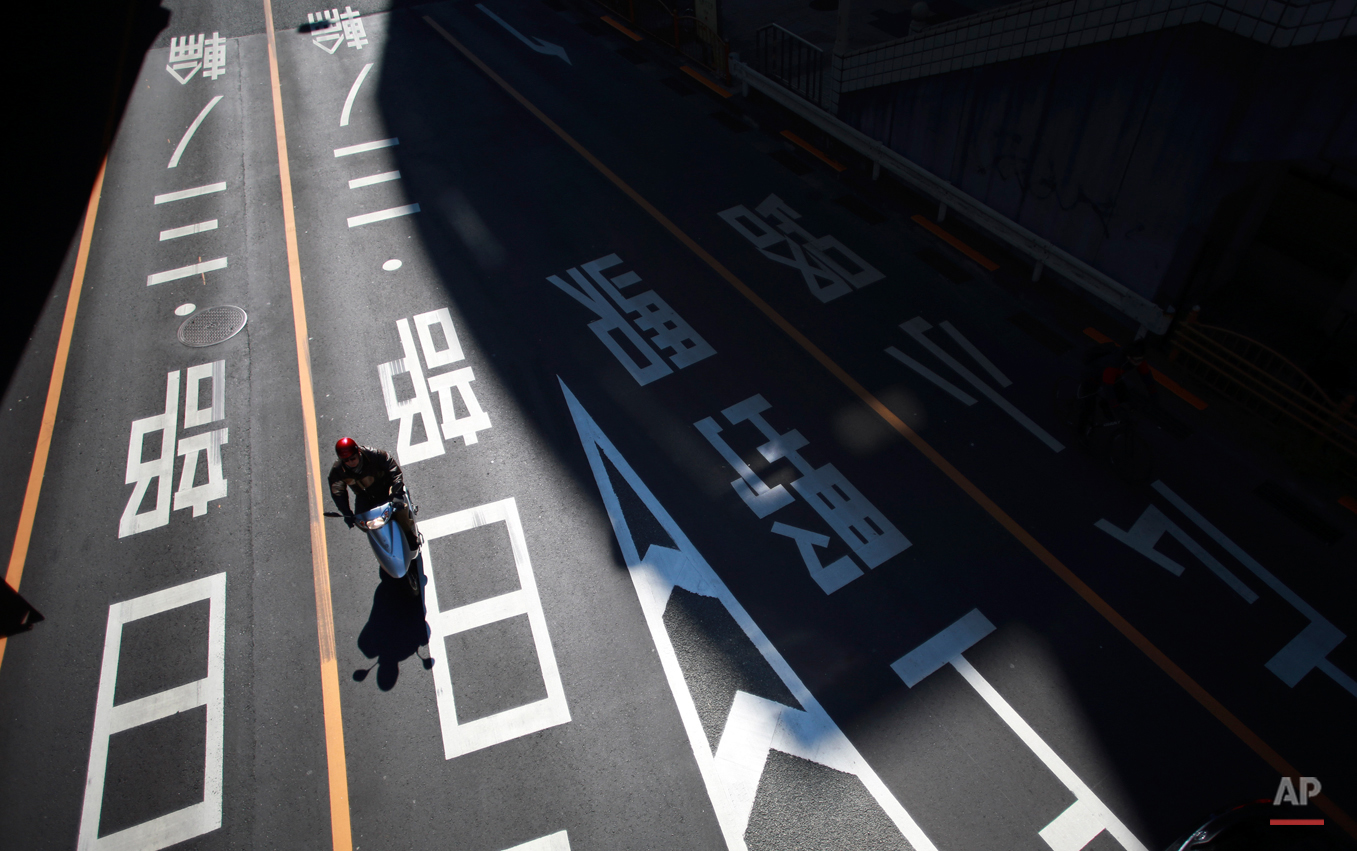 Japan Daily Life
A person rides a moped on an empty street in Tokyo, Thursday, Feb. 11, 2016 on the National Foundation Day holiday. (AP Photo/Eugene Hoshiko)
Afghanistan
Afghan President Ashraf Ghani speaks during Afghan Air Force aerial demonstration ceremony in Kabul, Afghanistan, Thursday, Feb. 11, 2016. Afghanistanís air force has recently taken delivery of aircraft from the U.S. and India to enhance air power in the war against the Taliban, now in its 15th year. (AP Photo/Rahmat Gul)
Stairwell Shooting Trial
Police officer Peter Liang reacts as the verdict is read during his trial on charges in the shooting death of Akai Gurley, Thursday, Feb. 11, 2016 at Brooklyn Supreme court in New York in New York. (AP Photo/Mary Altaffer, Pool)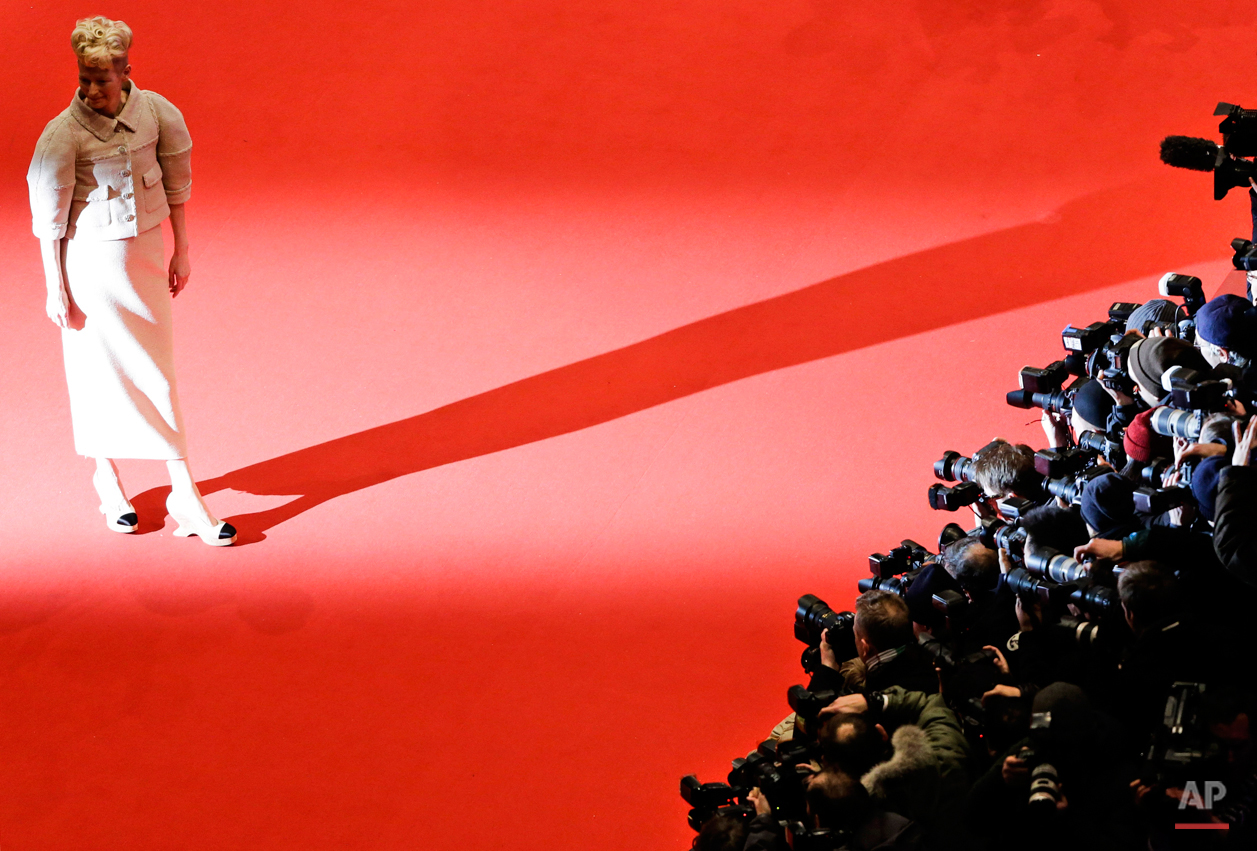 Germany Berlin Film Festival 2016
Actress Tilda Swinton arrives at the red carpet for "Hail, Caesar!" the opening film of the 2016 Berlinale Film Festival in Berlin, Germany, Thursday, Feb. 11, 2016. (AP Photo/Markus Schreiber)
Mideast Iran Islamic Revolution Anniversary
An Iranian woman holds the national flag during a rally commemorating the 37th anniversary of the Islamic revolution, in Tehran, Iran, Thursday, Feb. 11, 2016. The nationwide rallies commemorate Feb. 11, 1979, when followers of Ayatollah Khomeini ousted U.S.-backed Shah Mohammad Reza Pahlavi. (AP Photo/Ebrahim Noroozi)
Democratic Debate
Democratic presidential candidates Sen. Bernie Sanders, I-Vt, left, and Hillary Rodham Clinton take the stage before a Democratic presidential primary debate at the University of Wisconsin-Milwaukee, Thursday, Feb. 11, 2016, in Milwaukee. (AP Photo/Morry Gash)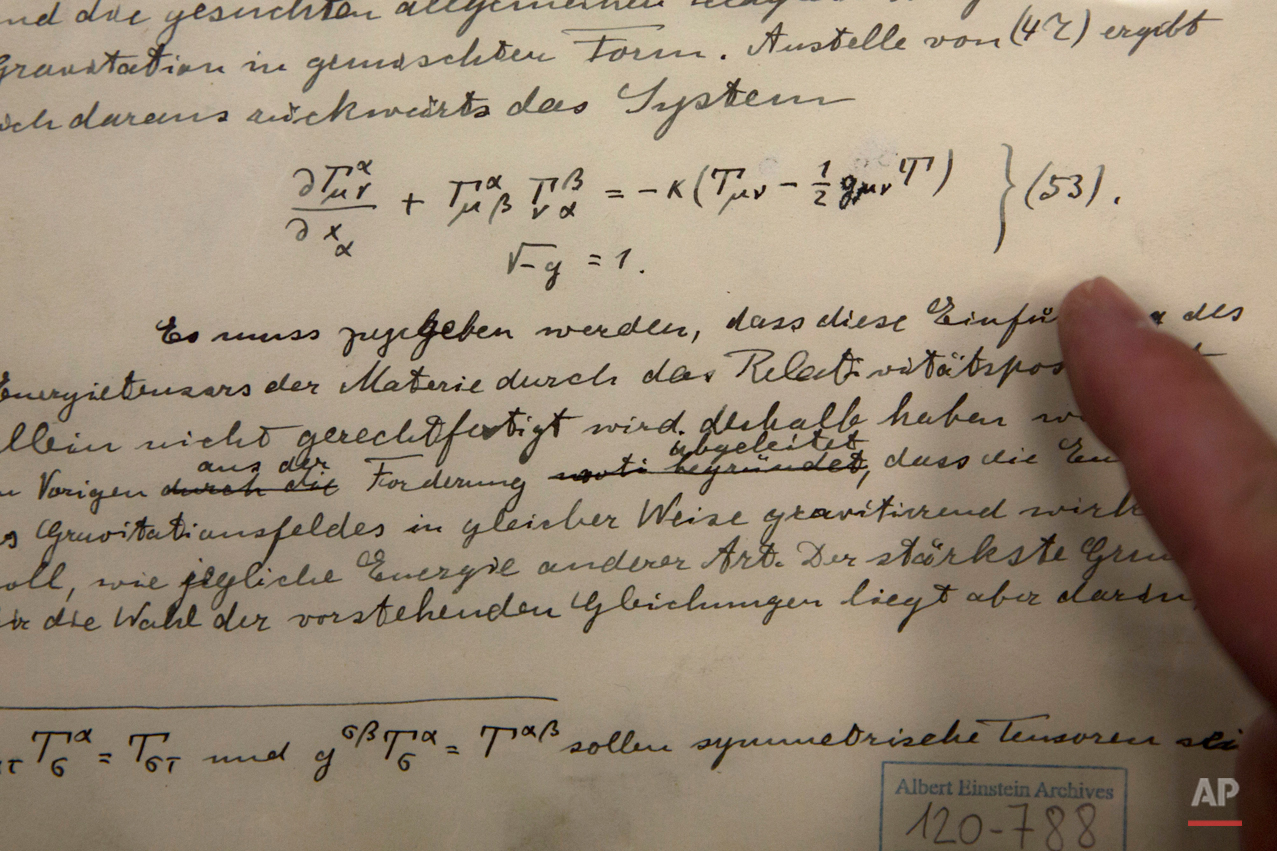 Mideast Israel Einsteins Waves
The original historical documents related to Albert Einstein's prediction of the existence of gravitational waves are seen at the Hebrew university in Jerusalem, Thursday, Feb. 11, 2016. In a blockbuster announcement, scientists said Thursday that after decades of trying they have detected gravitational waves, the ripples in the fabric of space-time that Einstein predicted a century ago. (AP Photo/Sebastian Scheiner)
Central African Republic Malnutrition
A young child lays in a bucket being weighed by nurses in Bangui, Central African Republic, Thursday Feb. 11, 2016. The U.N. World Food Program estimates that nearly half the country _ 2.5 million people _ are facing hunger as more than two years of violence has severely disrupted the countryís agriculture and health care sectors.Two former prime ministers, Touadera and Anicet Georges Dologuele, are running neck-and-neck in the second round of presidential elections Sunday Feb. 14 to end years of violence pitting Muslims against Christians in the Central African Republic. (AP Photo/Jerome Delay)
See these photos on APImages.com
Follow AP photographers on Twitter: http://twitter.com/AP/lists/ap-photographers
Spotlight is the blog of AP Images, the world's largest collection of historical and contemporary photos. AP Images provides instant access to AP's iconic photos and adds new content every minute of every day from every corner of the world, making it an essential source of photos and graphics for professional image buyers and commercial customers. Whether your needs are for editorial, commercial, or personal use, AP Images has the content and the expert sales team to fulfill your image requirements. Visit apimages.com to learn more.
Written content on this site is not created by the editorial department of AP, unless otherwise noted.
AP Images on Twitter | AP Images on Facebook | AP Images on Instagram
Nat Castañeda
Visual artist and Digital Storyteller at The Associated Press