Photos of the day
A selection of AP photos taken over the past 24 hours.
Snow Storm New Jersey
A child descends one of 10 lanes made for snow tubing at the Campgaw Mountain Ski Area, Wednesday, Jan. 27, 2016, in Mahwah, N.J. (AP Photo/Julie Jacobson)
India Daily Life
An Indian Sikh man looks on as others rest on a pavement outside a Sikh temple in New Delhi, India, Wednesday, Jan. 27, 2016. (AP Photo /Tsering Topgyal)
China US Kerry
A U.S. flag is tweaked ahead of a news conference between U.S. Secretary of State John Kerry and Chinese Foreign Minister Wang Yi at the Ministry of Foreign Affairs in Beijing, Wednesday, Jan. 27, 2016. Kerry was in China on the final leg in his latest round-the-world diplomatic mission. (AP Photo/Jacquelyn Martin, Pool)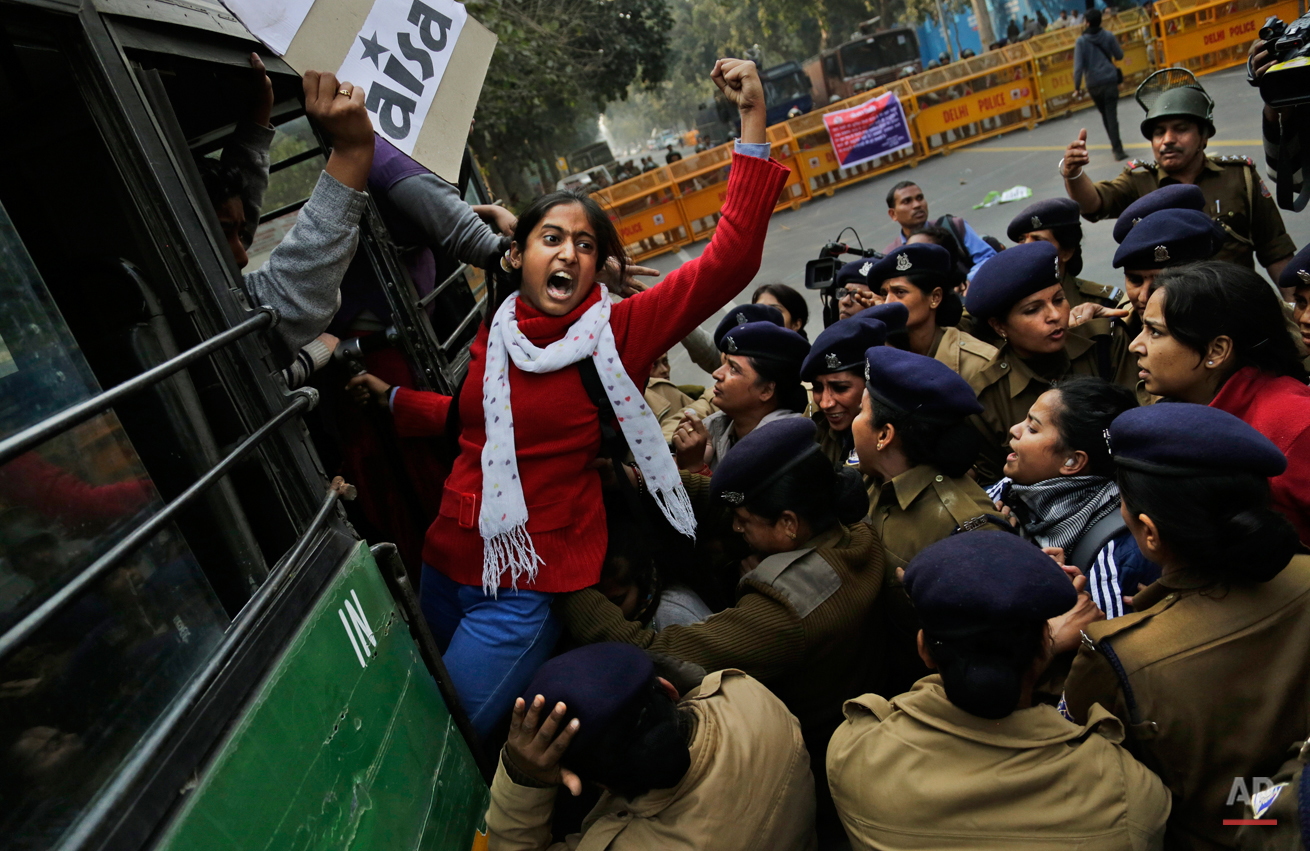 India Student Protests
An Indian student shouts slogans demanding resignation of Indian education minister as she is detained by police during a protest against the death of student Rohith Vemula in New Delhi, India, Wednesday, Jan. 27, 2016. The students were protesting the death of Vemula, who, along with 4 others, was barred from using some facilities at his university in the southern tech-hub of Hyderabad. The protesters accused Hyderabad University's vice chancellor along with two federal ministers of unfairly demanding punishment for the five lower-caste students after they clashed last year with a group of students supporting the governing Hindu nationalist party. (AP Photo/Altaf Qadri)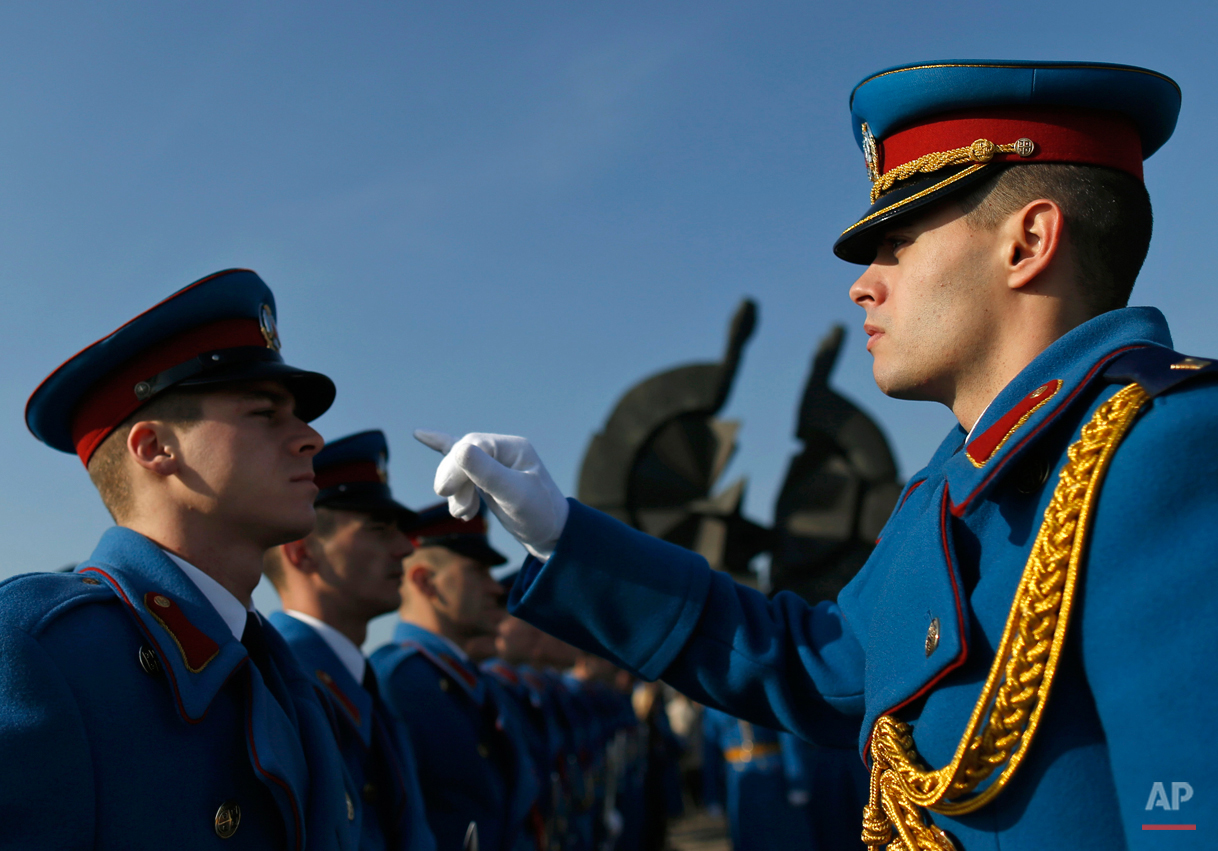 Serbia Holocaust
Members of the guard of honour of the Serbian army prepare for the memorial service for the victims of the Holocaust at a monument in World War II Nazi concentration camp Sajmiste, in Belgrade, Serbia, Wednesday, Jan. 27, 2016. The international Holocaust remembrance day marks the liberation of the Nazi concentration camp Auschwitz on Jan. 27, 1945. (AP Photo/Darko Vojinovic)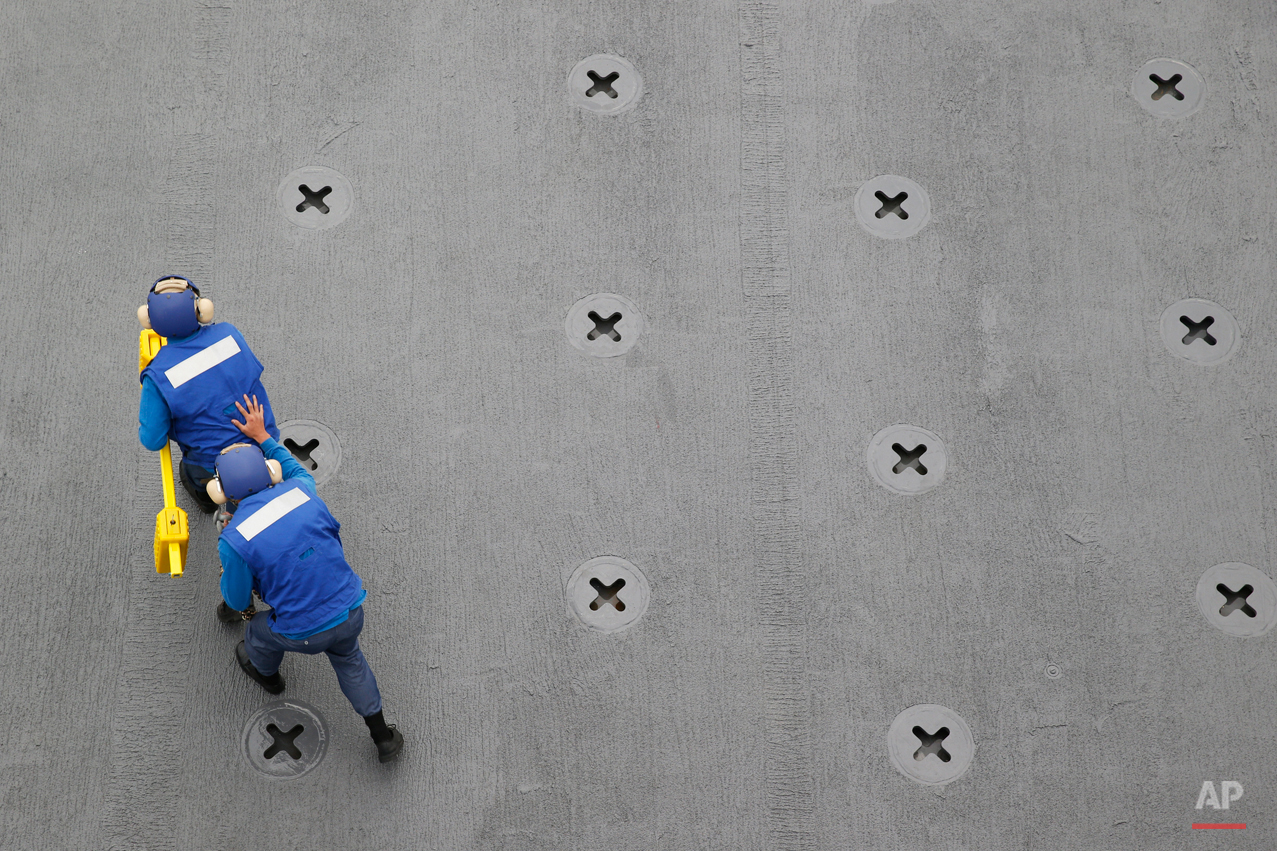 Taiwan Military
Taiwan Navy flight deck crew run to tie down an S70 helicopter after landing on the deck of a supply ship during exercises in the waters off Kaohsiung, Taiwan, Wednesday, Jan. 27, 2016. (AP Photo/Wally Santana)
New York Daily Life
New York State Police troopers are silhouetted in a glass screen at the State Street entrance to the state Capitol on Wednesday, Jan. 27, 2016, in Albany, N.Y. (AP Photo/Mike Groll)
Pakistan Daily Life
A vendor displays tropical fish for sale on the roadside of Islamabad's highway, Pakistan, Wednesday, Jan. 27, 2016. (AP Photo/Anjum Naveed)
Russia Leningrad Siege
People walk in snowfall from an eternal flame to the Motherland monument to put flowers at the Piskaryovskoye Cemetery where most of the Leningrad Siege victims were buried during World War II, in St.Petersburg, Russia, Wednesday, Jan. 27, 2016. People gather to marked the 72nd anniversary of the battle that lifted the Siege of Leningrad. The Nazi German and Finnish siege and blockade of Leningrad, now known as St. Petersburg, was broken on Jan. 18, 1943 but finally lifted Jan. 27, 1944. More than 1 million people died mainly from starvation during the 900-day siege. (AP Photo/Dmitry Lovetsky)
Greece Bailout
Bystanders wait to be handed bags of oranges during a free distribution of fruit and vegetables as a protest by farmers and vendors over proposed pension reforms, in Athens on Wednesday, Jan. 27, 2016. Greece's leftwing government is facing an escalating wave of protests over its proposed pension overhaul that has been demanded by bailout creditors. (AP Photo/Petros Giannakouris)
Brazil Zika Virus
Gleyse Kelly da Silva holds her daughter Maria Giovanna as she sleeps in their house in Recife, Pernambuco state, Brazil, Wednesday, Jan. 27, 2016. Brazilian officials still say they believe there's a sharp increase in cases of microcephaly and strongly suspect the Zika virus, which first appeared in the country last year, is to blame. The concern is strong enough that the U.S. Centers for Disease Control and Prevention this month warned pregnant women to reconsider visits to areas where Zika is present. (AP Photo/Felipe Dana)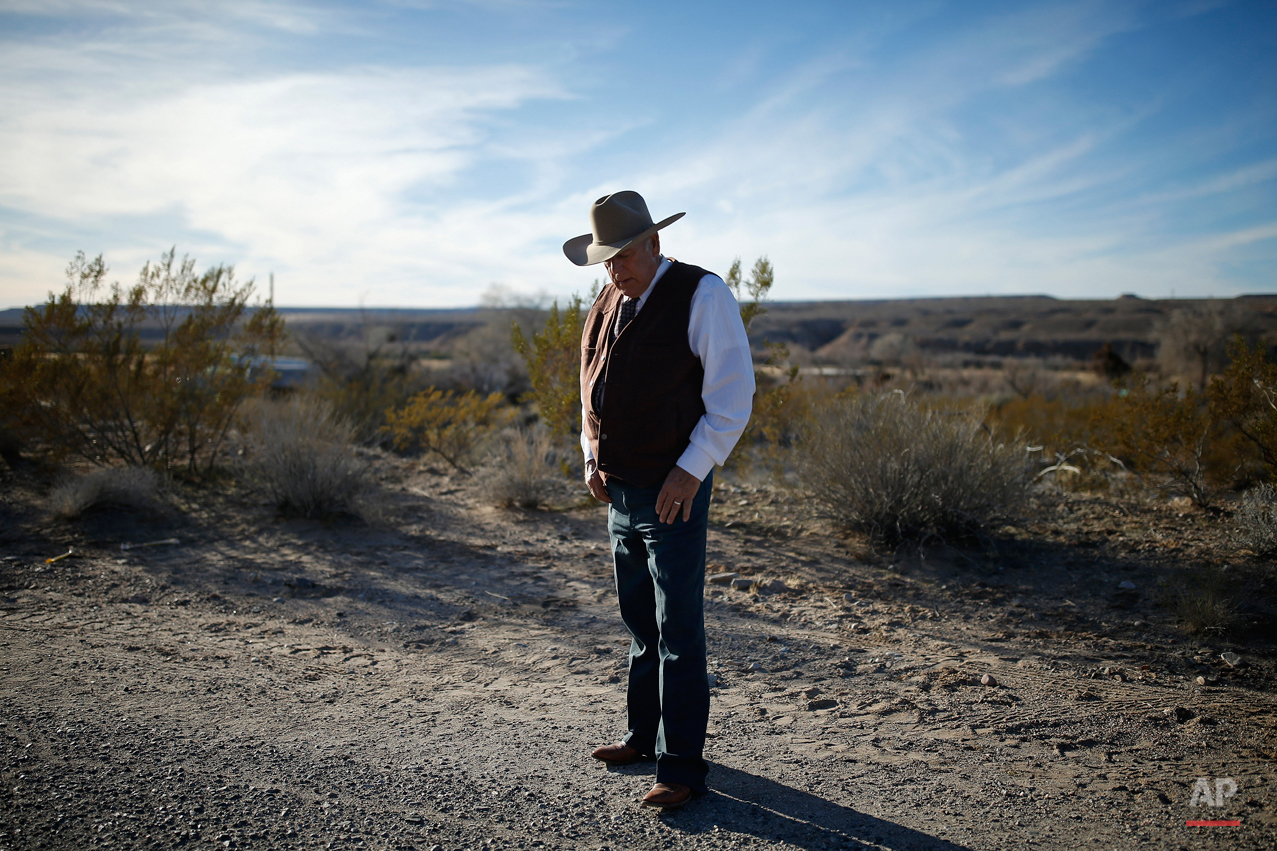 Ranching Standoff
Rancher Cliven Bundy stands along the road near his ranch after talking to media Wednesday, Jan. 27, 2016, in Bunkerville, Nev. Cliven Bundy and his wife Carol Bundy was returning from a trip to visit the family of LaVoy Finicum, a 55-year-old rancher from Cain Beds, Ariz., who died Tuesday after law enforcement officers initiated a traffic stop near the Malheur National Wildlife Refuge. It's unclear what happened in the moments before his death. (AP Photo/John Locher)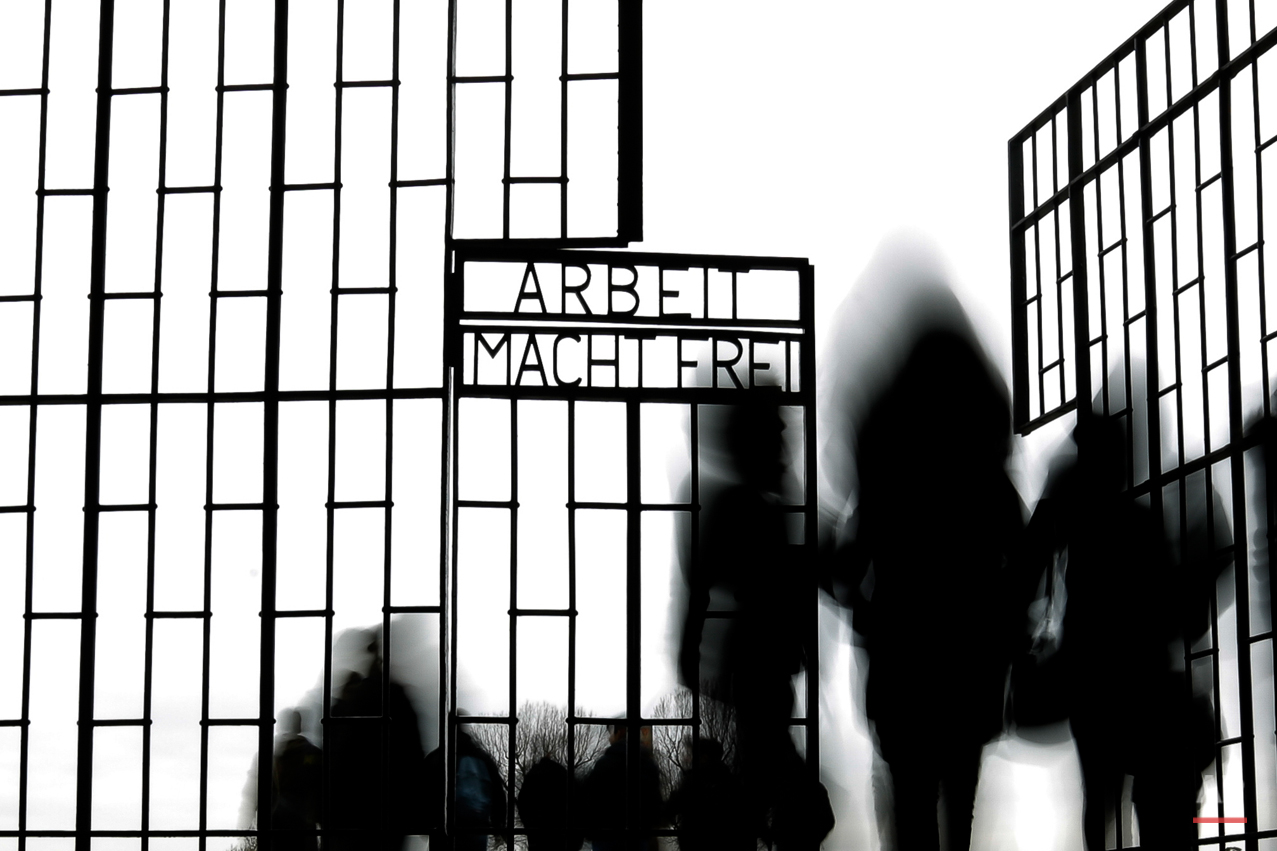 Germany Holocaust Remembrance
People walk through the gate of the Sachsenhausen Nazi death camp with the phrase 'Arbeit macht frei' (work sets you free) at the International Holocaust Remembrance Day, in Oranienburg, about 30 kilometers, (18 miles) north of Berlin, Wednesday, Jan. 27, 2016. The International Holocaust Remembrance Day marks the liberation of the Auschwitz Nazi death camp on Jan. 27, 1945. (AP Photo/Markus Schreiber)
See these photos on APImages.com
Follow AP photographers on Twitter: http://twitter.com/AP/lists/ap-photographers
Spotlight is the blog of AP Images, the world's largest collection of historical and contemporary photos. AP Images provides instant access to AP's iconic photos and adds new content every minute of every day from every corner of the world, making it an essential source of photos and graphics for professional image buyers and commercial customers. Whether your needs are for editorial, commercial, or personal use, AP Images has the content and the expert sales team to fulfill your image requirements. Visit apimages.com to learn more.
Written content on this site is not created by the editorial department of AP, unless otherwise noted.
AP Images on Twitter | AP Images on Facebook | AP Images on Instagram
Nat Castañeda
Visual artist and Digital Storyteller at The Associated Press