Photos of the day
A selection of AP photos taken over the past 24 hours.
Germany Weather Zoo
A polar bear enjoys the cold winter weather at the zoo in Gelsenkirchen, Germany, Wednesday, Jan. 20, 2016. (AP Photo/Martin Meissner)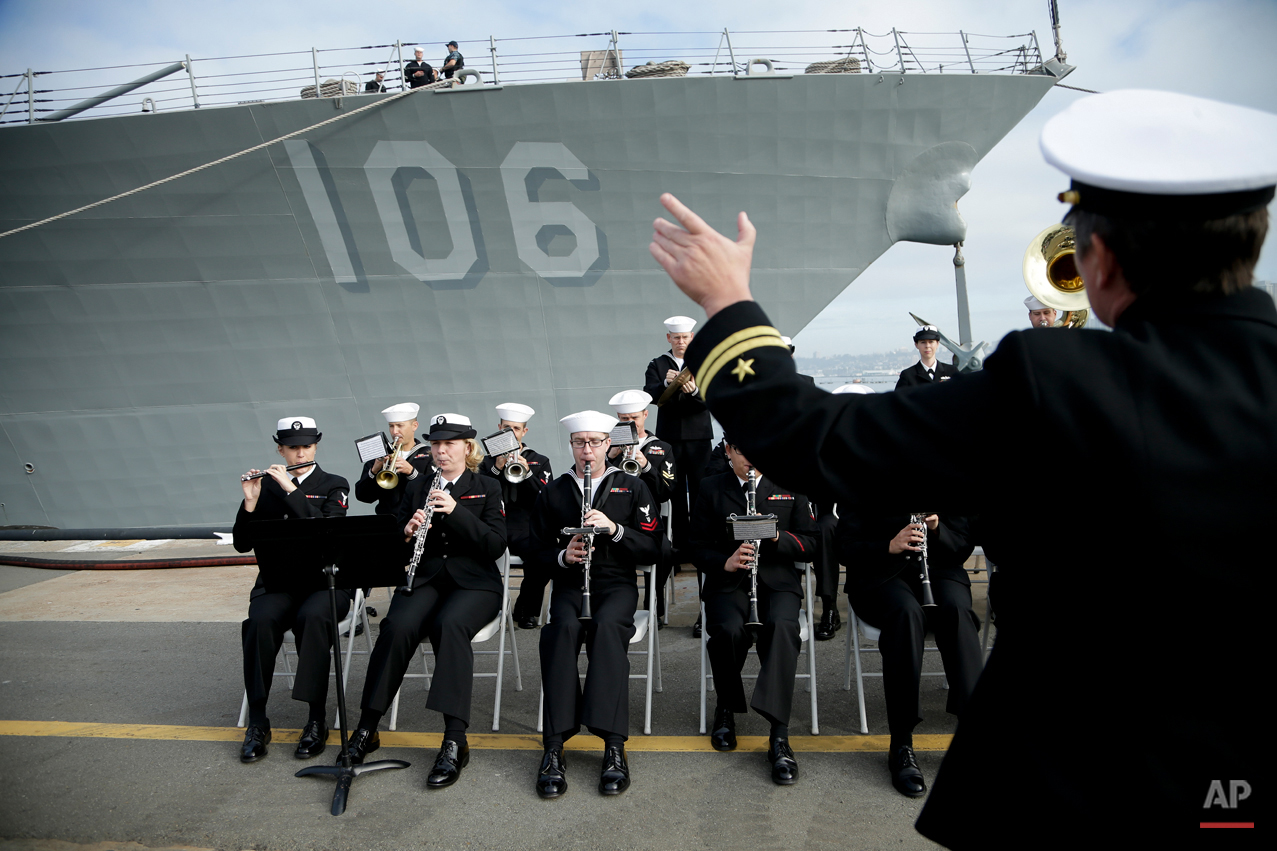 Navy Green Fleet
A Navy band plays in front of the guided-missile destroyer USS Stockdale before a ceremony Wednesday, Jan. 20, 2016, in Coronado, Calif. The U.S. Navy is launching a carrier strike group to be powered partly by biofuel, calling it a milestone toward easing the military's reliance on foreign oil. (AP Photo/Gregory Bull)
Germany Fashion Week
Two visitors shake hands over the runway prior to the fashion show of designer Dorothee Schumacher during theFashion Week in Berlin, Wednesday, Jan. 20, 2016. The Fall/Winter 2016/2017 collections are presented during the Berlin Fashion Week from Jan. 18 to 22. (AP Photo/Markus Schreiber)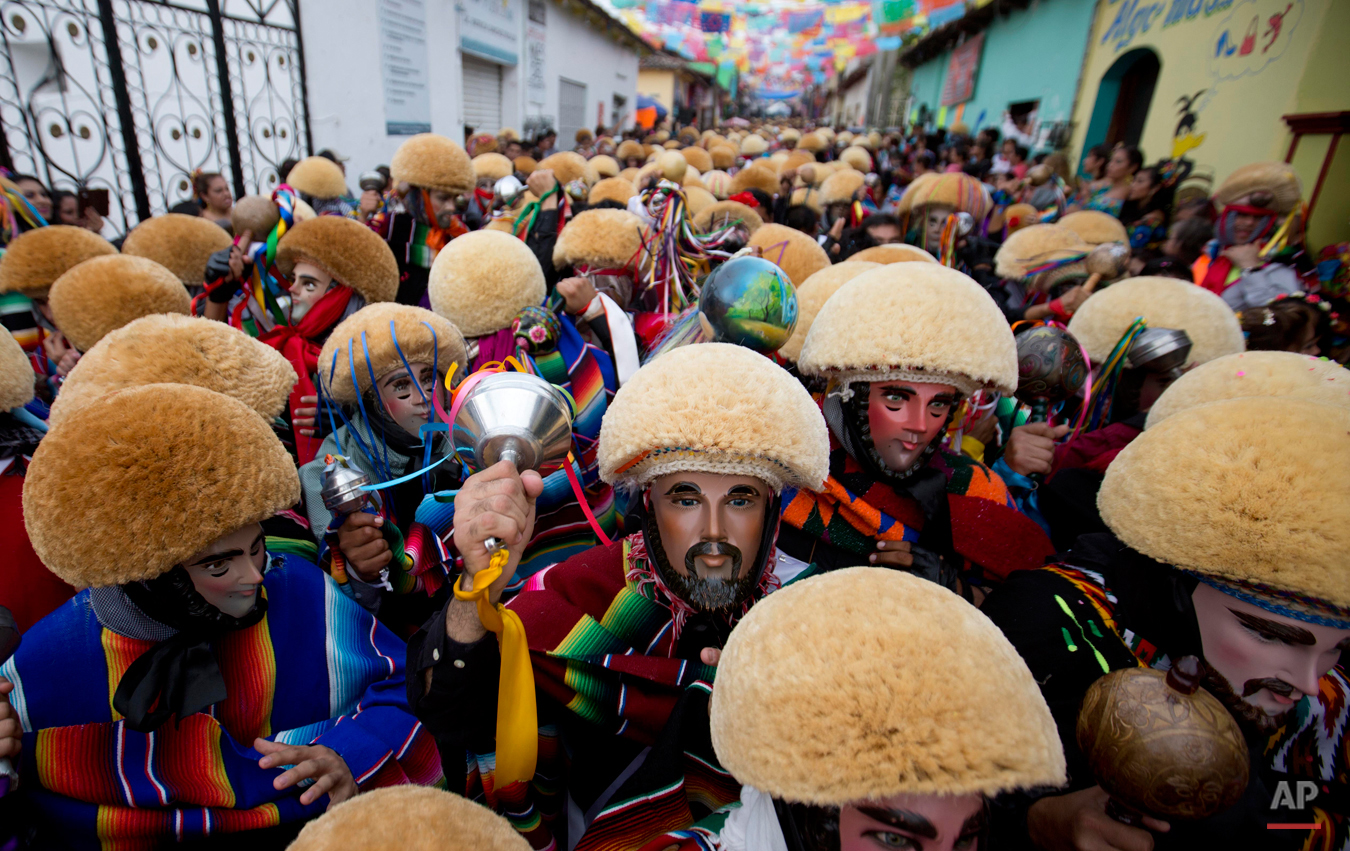 Mexico Parachicos
Traditional "Parachicos" dancers wearing wooden masks perform on the street during a Catholic celebration in Chiapas De Corzo, Mexico, Wednesday, Jan. 20, 2016. The festivity, which has been included in UNESCO's Intangible Cultural Heritage Lists, takes place from Jan. 4 to 23 every year in honor of the Christ of Esquipulas, Saint Anthony Abbot and Martyr Saint Sebastian. (AP Photo/Eduardo Verdugo)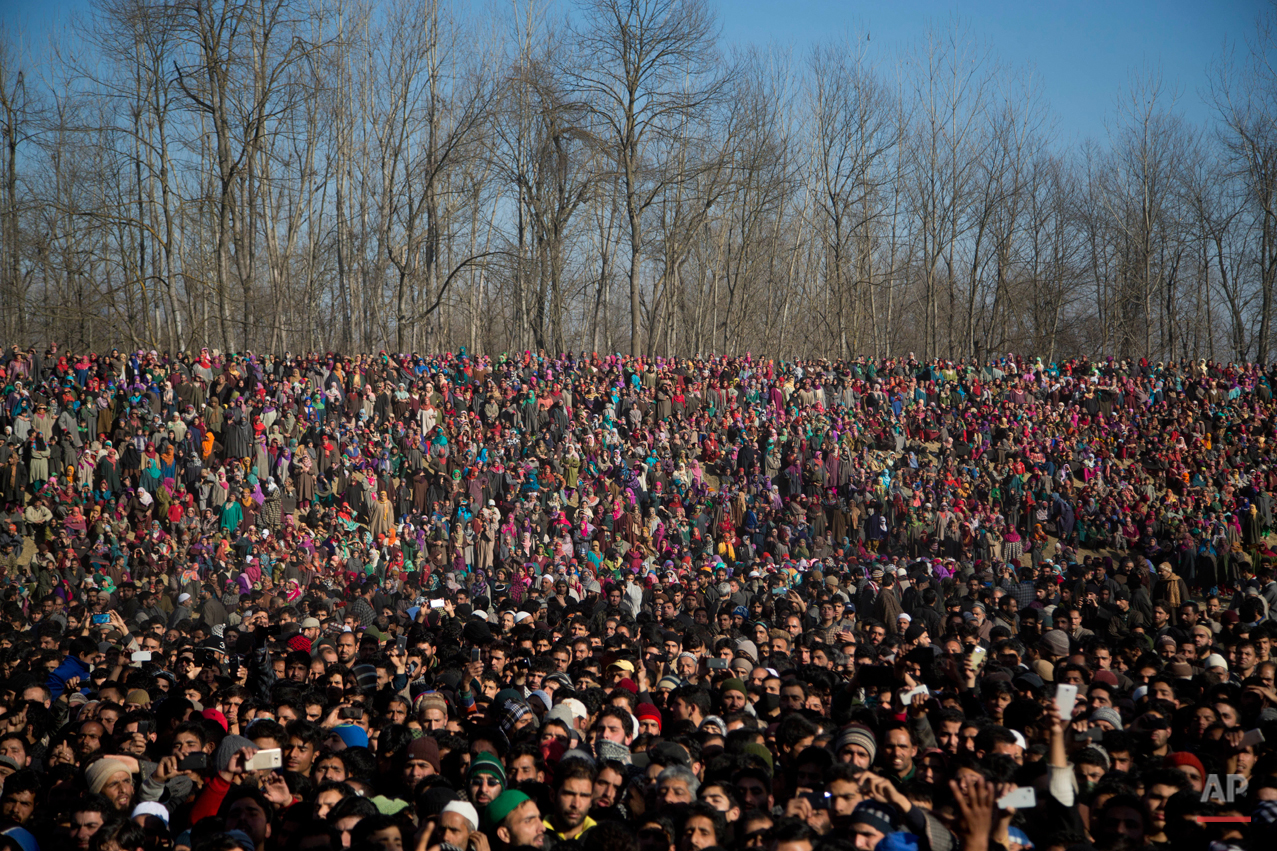 India Kashmir Fighting
Kashmiri Muslims watch the funeral procession of Shariq Ahmad Bhat, a suspected rebel, in Bandnu village, some 52 kilometers (33 miles) south of Srinagar, Indian controlled Kashmir, Wednesday, Jan. 20, 2016. Bhat was killed in a gunbattle with Indian government forces Wednesday. (AP Photo/Dar Yasin)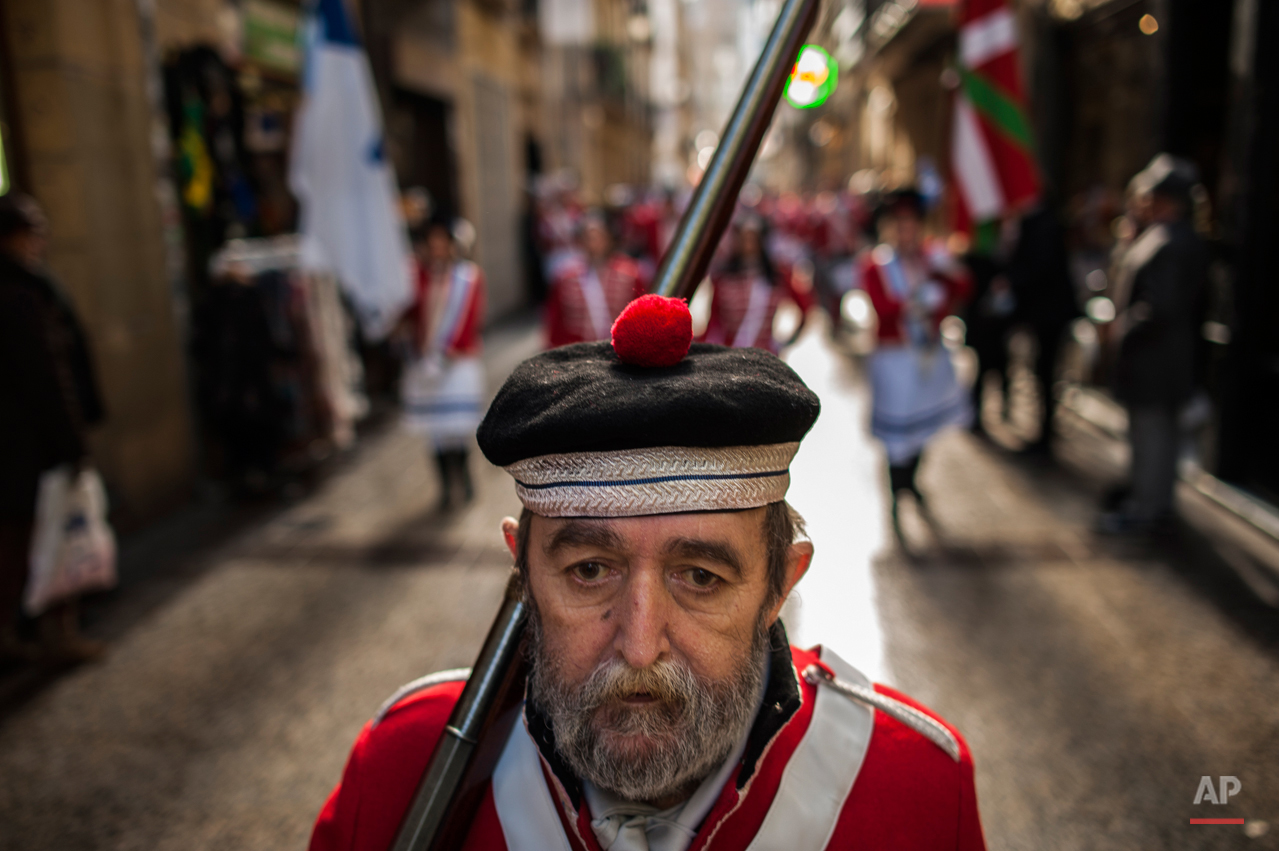 Spain La Tamborrada
An old "Tamborillero'' wearing his uniform marchs in the traditional "La Tamborrada'' the big day or "El Dia Grande", the main day of San Sebastian feasts, in the Basque city of San Sebastian, northern Spain, Wednesday Jan. 20, 2016. From midnight to midnight companies of perfectly uniformed marchers parade through the streets of San Sebastian playing drums and barrels in honor of their patron saint. (AP Photo/Alvaro Barrientos)
Germany US Iran Prisoners Release
U.S. journalist Jason Rezaian gestures next to his wife Yeganeh Salehi as he poses for media people in front of Landstuhl Regional Medical Center in Landstuhl, Germany, Wednesday, Jan. 20, 2016. Rezaian was released from an Iranian prison last Saturday. (AP Photo/Michael Probst)
Brazil Zika Virus
A health agent from Sao Paulo's Public health secretary shows an army soldier Aedes aegypti mosquito larvae that she found during clean up operation against the insect, which is a vector for transmitting the Zika virus, in Sao Paulo, Brazil, Wednesday, Jan. 20, 2016. A U.S. warning urging pregnant women to avoid travel to Latin American countries where the mosquito-borne virus is multiplying threatens to depress tourism to the region, one of its few bright spots at a time of deep economic pain. (AP Photo/Andre Penner)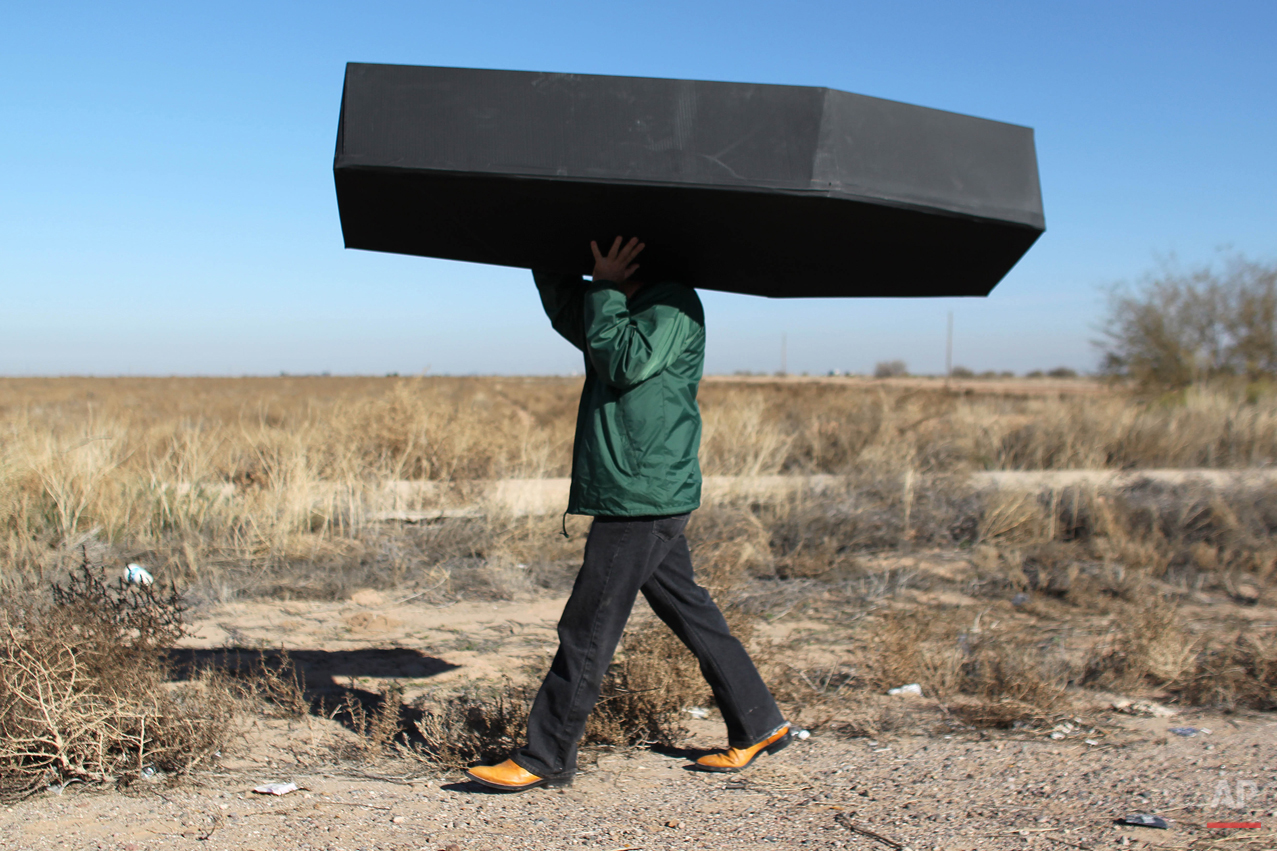 Juanes John Legend Migrants
A demonstrator carries a mock coffin, representing migrants who have died inside a detention center in Eloy, Arizona, Wednesday, Jan. 20, 2016. Colombian musician Juanes and singer John Legend met immigrants at the detention center before performing for a small crowd outside the facility to draw attention to immigration. (AP Photo/Ricardo Arduengo)
Greece Migrants
A Syrian woman with her children takes a shelter in a iron box during a rainfall, after they arrived from Turkey to the Greek deserted island of Pasas near Chios on Wednesday, Jan. 20, 2016 . Thousand of migrants and refugees continue to reach Greece's shores despite the winter weather. (AP Photo/Petros Giannakouris)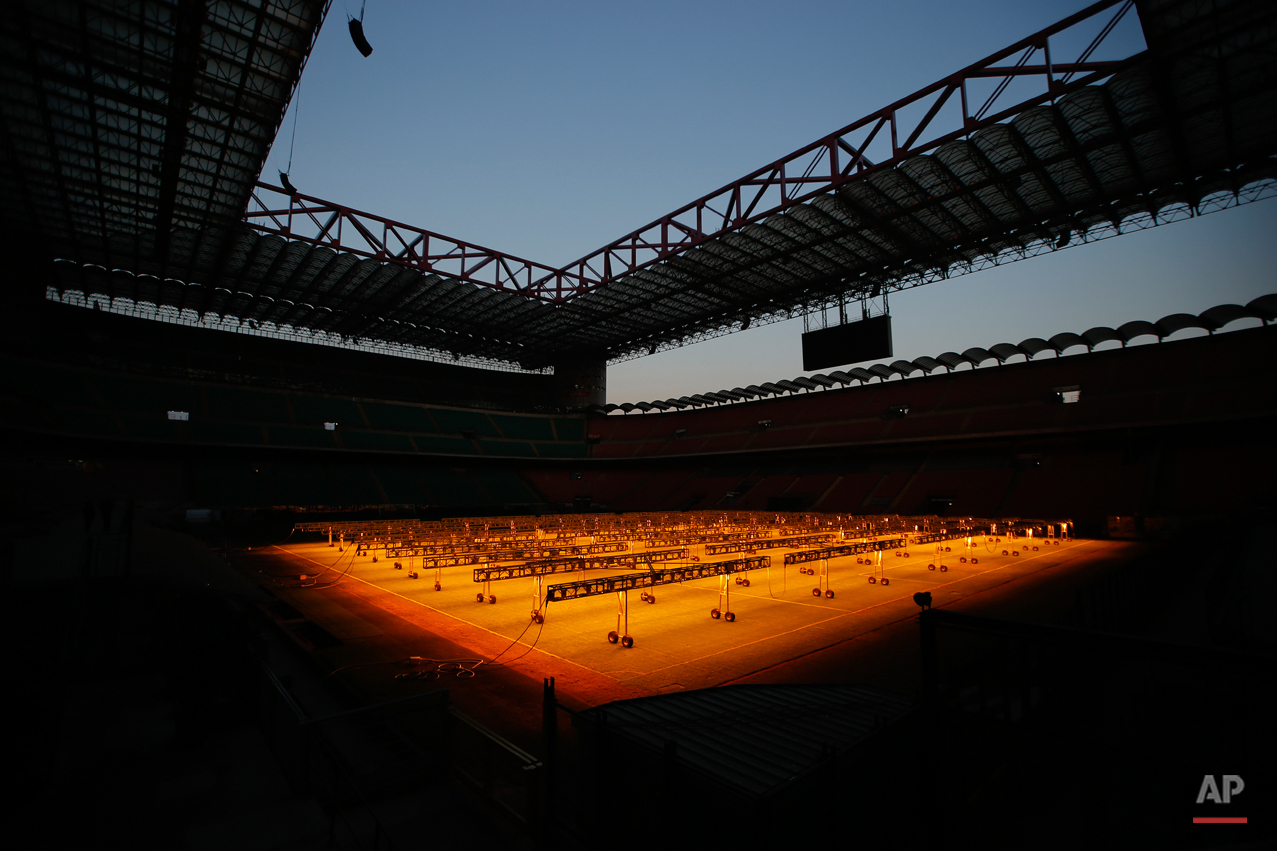 Italy Daily Life
Artificial lights illuminate the field of play of the San Siro stadium in Milan, Italy, Wednesday, Jan. 20, 2016. Sixty 1,000W lamps suspended on mobile rigs some two meters above the field, allow the grass to grow during the winter. The grass of San Siro stadium had suffered badly ever since the stadium was covered on occasion of the 1990 World Cup. (AP Photo/Luca Bruno)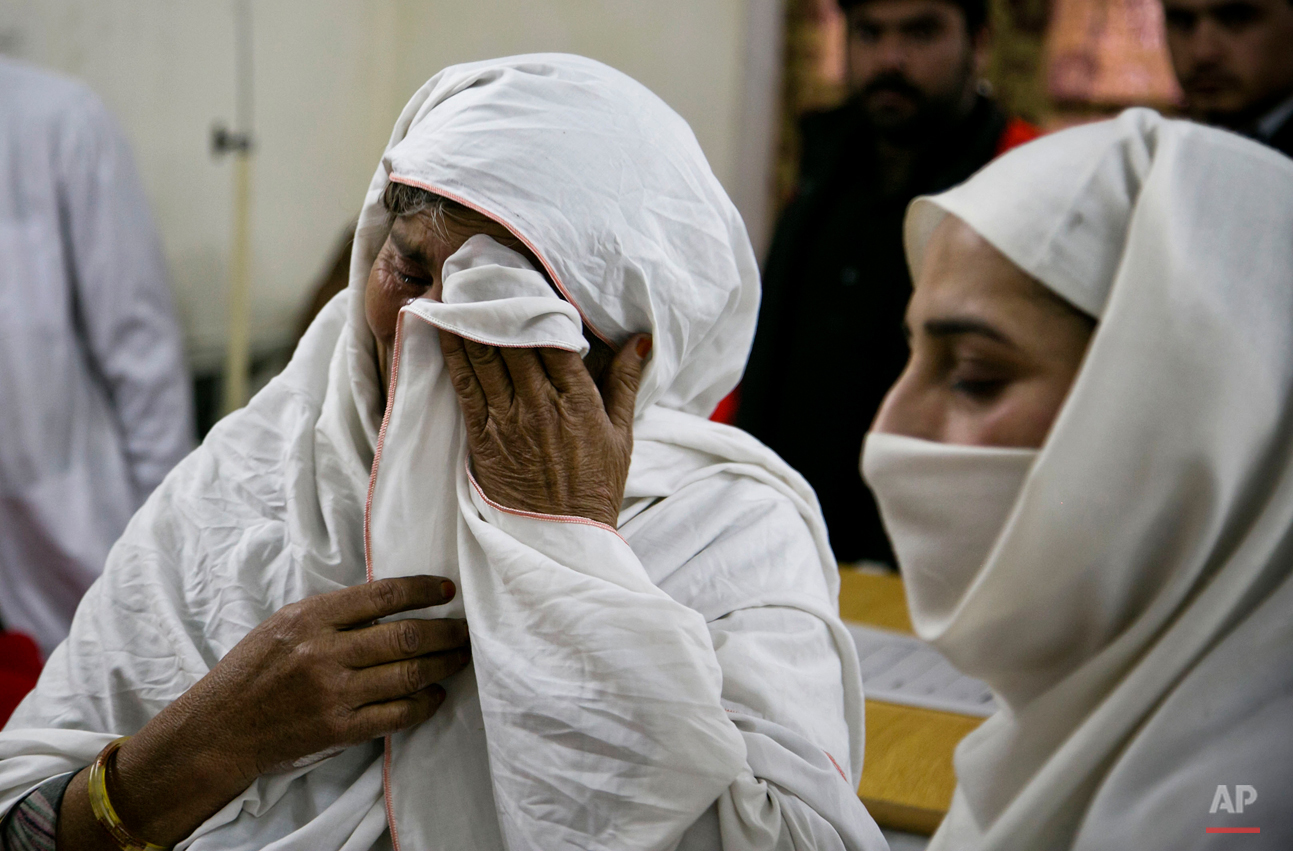 Pakistan
A Pakistani mother cries after her son was injured in an attack in Charsadda town, some 35 kilometers (21 miles) outside the city of Peshawar, Pakistan, Wednesday, Jan. 20, 2016. Gunmen stormed Bacha Khan University named after the founder of an anti-Taliban political party in the country's northwest Wednesday, killing many people, officials said. (AP Photo/B.K. Bangash)
Obama
President Barack Obama smiles while speaking at the United Auto Workers-General Motors Center for Human Resources, Wednesday, Jan. 20, 2016 in Detroit. While in Detroit the president visited the 2016 North American International Auto Show and speak of the progress made by the city, its people and neighborhoods, and the American auto industry. (AP Photo/Paul Sancya)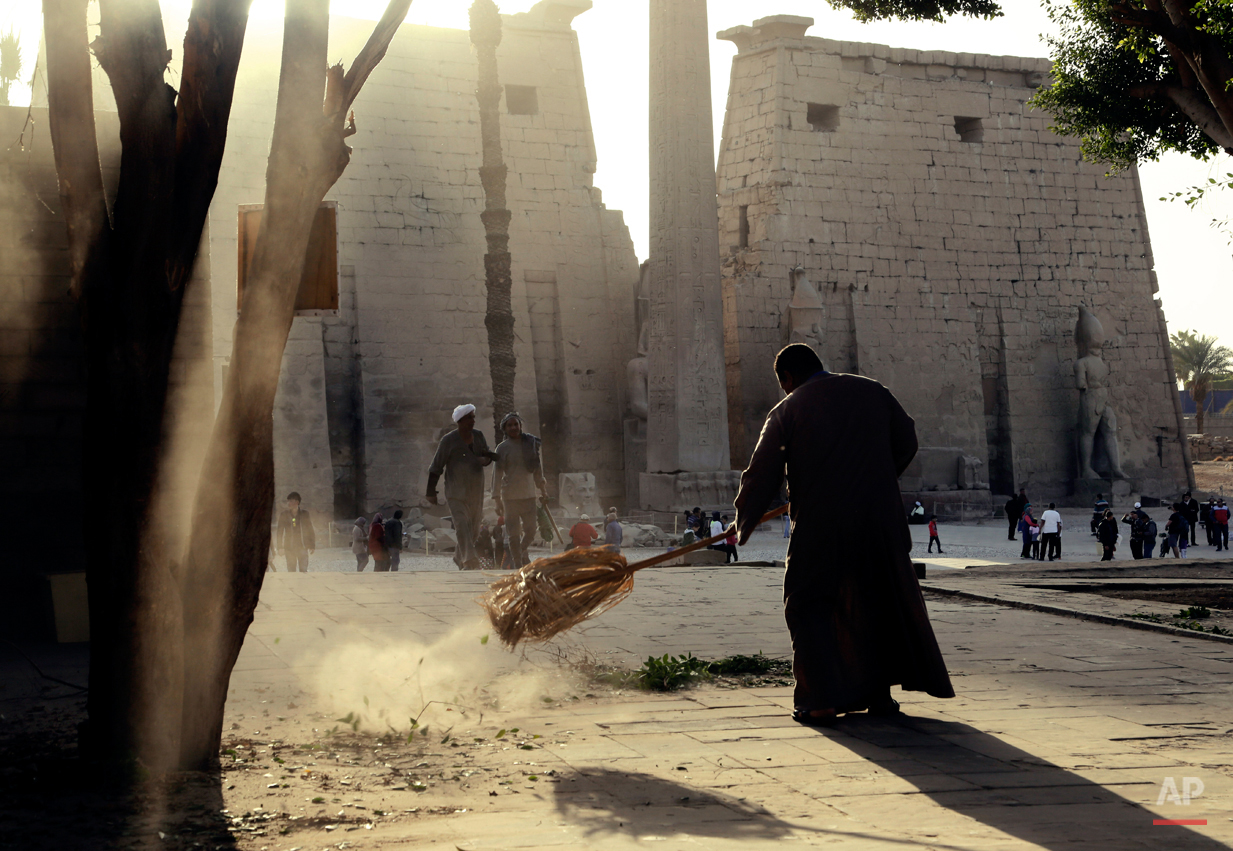 Mideast Egypt China
A worker sweeps the entrance to the Luxor Temple in preparation for a visit by Chinese President Xi Jinping, in Luxor, Egypt, Wednesday, Jan. 20, 2016. The Chinese president will arrive in Luxor on Thursday to attend a gala celebration at Luxor temple marking the 60th anniversary of Egyptian-Chinese relations. (AP Photo/Thomas Hartwell)
Spain Jarramplas Festival
People throw turnips at the Jarramplas as he makes his way through the streets beating his drum during the Jarramplas festival in Piornal, Spain, Wednesday, Jan. 20, 2016. Hundreds of people are running through the streets of a tiny town in southwestern Spain, chasing a fancy-dressed, beast-like figure and pelting it with turnips. (AP Photo/Francisco Seco)
India Student Protests
Indian police women detain an activist of India's opposition Congress party during a protest in Kolkata, India, Wednesday, Jan. 20, 2016. The activists were protesting the death of an Indian student who, along with 4 others, was barred from using some facilities at his university in the southern tech-hub of Hyderabad. The protesters accused Hyderabad University's vice chancellor along with two federal ministers of unfairly demanding punishment for the five lower-caste students after they clashed last year with a group of students supporting the governing Hindu nationalist party. (AP Photo/ Bikas Das)
Iowa Daily Life
A sign endorsing Democratic presidential candidate Sen. Bernie Sanders, I-Vt., is posted on a property off Interstate 35 near Sac City, Iowa, Wednesday, Jan. 20, 2016. (AP Photo/Mary Altaffer)
Afghanistan
An Afghan driver is seen through the shattered windshield of a car at the site of a suicide attack near the Russian embassy in Kabul, Afghanistan, Wednesday, Jan. 20, 2016. A suicide car bomb attack close to the Russian embassy in the capital, Kabul, has killed many people and wounded more than a dozen, an Afghan official said Wednesday. (AP Photo/Rahmat Gul)
See these photos on APImages.com
Follow AP photographers on Twitter: http://twitter.com/AP/lists/ap-photographers
Spotlight is the blog of AP Images, the world's largest collection of historical and contemporary photos. AP Images provides instant access to AP's iconic photos and adds new content every minute of every day from every corner of the world, making it an essential source of photos and graphics for professional image buyers and commercial customers. Whether your needs are for editorial, commercial, or personal use, AP Images has the content and the expert sales team to fulfill your image requirements. Visit apimages.com to learn more.
Written content on this site is not created by the editorial department of AP, unless otherwise noted.
AP Images on Twitter | AP Images on Facebook | AP Images on Instagram
Nat Castañeda
Visual artist and Digital Storyteller at The Associated Press